Thanks to the messengers we have now, we can stay connected to our friends and family 24/7. It also means a constant chatting where we usually send a lot of copied stuff. You probably find it annoying as well, when to send a certain text or a picture you need to save it to your phone first and only after you are able to send it.
What is more, the clipboards, where we have a chance to put all these items are often not effective and disorganized. And if you saved something and then forgot about it – it will probably be incredibly hard for you to find that note in a mess of other notes.
You may also like: 15 Free Lock Screen Apps for Android & iOS (widgets & wallpapers)
Clip Stack
No more losses of your clipboard history with this app since it remembers it all. It can recover and reboot the text. Clip Stack is made to be user-friendly and it is your GTD manager as well. The app works at multiple devices. Considering notifications here you got a chance to switch to 5 notifications simultaneously.
Notifications work only in case you are adding a new text and you can quickly remove it from the screen. If you want to start a background service for it to listen to your clipboard It only cost 6M – 10M RAM. When you don't need it anymore, you can close it in the settings.
WRITE_EXTERNAL_STORAGE and READ_EXTERNAL_STORAGE: For export clipboard history. This app won't write any other files to your SD card.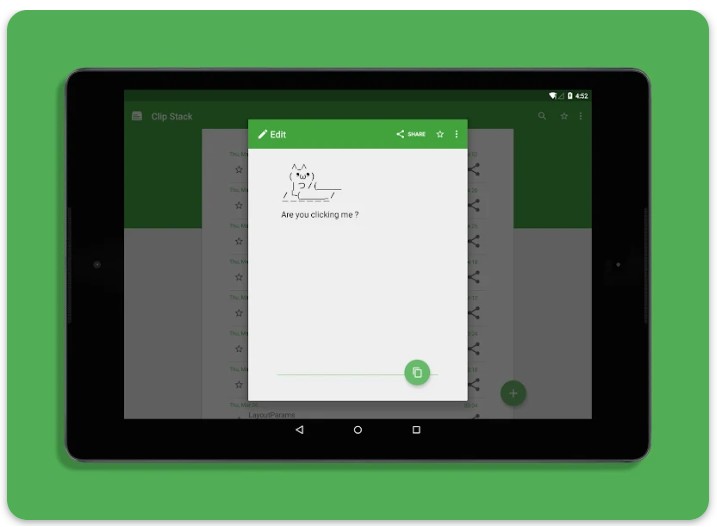 You may also like: 17 Best Clock Widgets for Android
Clipboard++
Clipboard++ is a popular productivity app available that allows users to manage their clipboard history and quickly access previously copied items.
The app's interface is clean and intuitive, allowing users to easily navigate through their clipboard history and find the item they need.
Clipboard++ automatically saves every item that users copy, including text, links, and images, and categorizes them by date and time. The app also supports custom tags, making it easy to organize and search for specific items.
One of the nuances of Clipboard++ is its ability to integrate with other apps. Users can quickly access their clipboard history from within any app by swiping down from the top of the screen and selecting the Clipboard++ widget.
The app also supports a share extension, allowing users to easily share their clipboard history with other apps.
Clipboard++ has a simple and clean design that fits well with the overall minimalist style of iOS.
While the app doesn't have any flashy graphics or animations, its design is functional and effective, allowing users to quickly find the information they need.
Although the app does an excellent job of managing clipboard history, it doesn't offer many additional features or tools. Users can also note that they would like to see more customization options or integration with other apps.
Advantages:
Simple and intuitive interface.
Automatically saves all copied items.
Supports custom tags.
Integrates with other apps.
Drawbacks:
Limited functionality.
No advanced features or tools.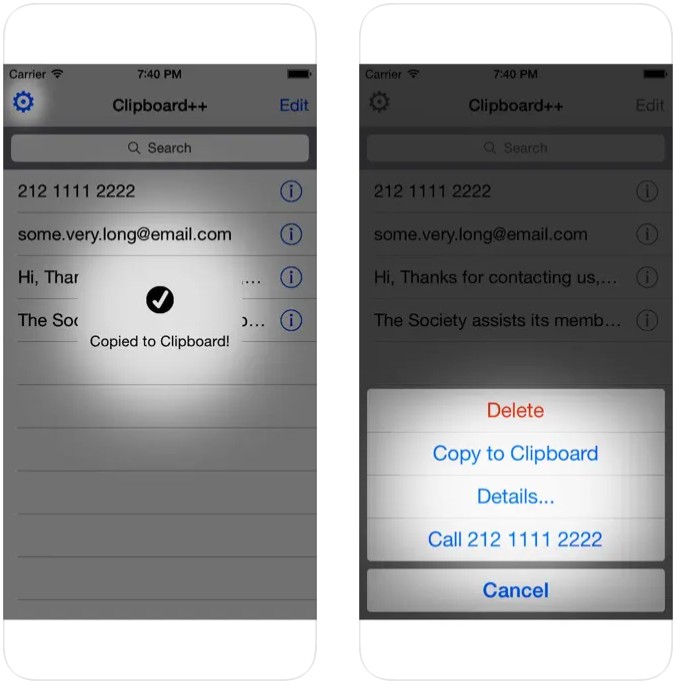 Clipboard PRO: Fast Copy Paste
Clipboard PRO: Fast Copy Paste app is a reliable and efficient tool for managing your copied content. Its easy-to-use interface, elegant graphics, and category organization make it a user-friendly app that's worth downloading.
Users can copy and paste any text, links, or images using this app with just a few taps. Moreover, it also allows the user to store frequently used texts, which can be accessed quickly and efficiently.
The app also has a feature that allows the user to organize their copied content into categories, making it easy to find and use them later.
Moreover, the interface is well-designed, and the app's color scheme is easy on the eyes. The icons used in the app are intuitive, and it doesn't take long to figure out how to use them.
However, there is only a limited number of stored clips. The user can only store up to 50 clips, which can be a problem for users who need to keep more.
In addition, there have been some negative comments from users who have reported that the app crashes when they try to copy large amounts of text.
Advantages:
Easy to use.
Category organization.
No annoying ads.
Elegant graphics.
Free.
Drawbacks:
A limited number of stored clips.
App crashes when copying large amounts of text.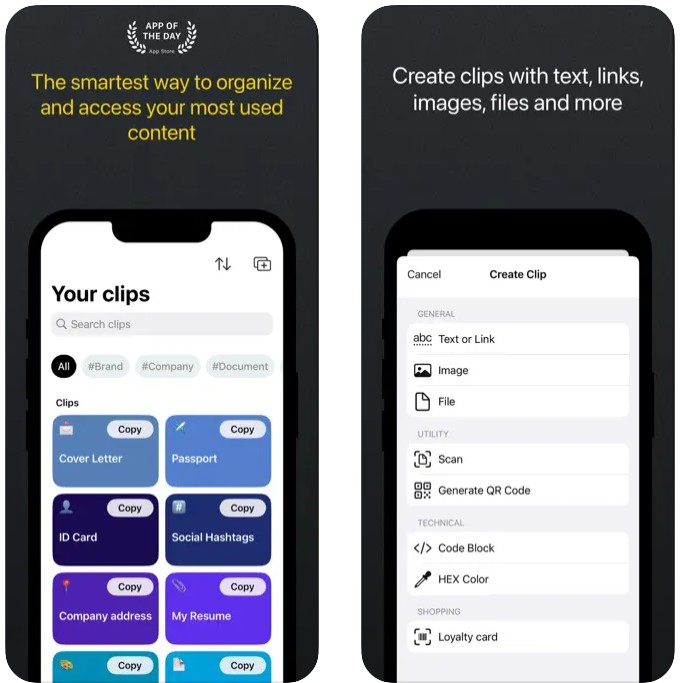 Clipper
This is an easy but at the same time powerful buffer manager, automatically saving everything that you copy. You have access to your saved notes at any time, so you can copy, paste, view, edit, group them into various lists or share them with your friends – it has never been easier.
Save the text information that you use frequently as notes, copy and paste it everywhere you want instead of manual typing. Take your buffer under control! Everything you copy is being saved automatically, that's why you can not to worry about missing any information.
You can also copy all the notes back to the exchange buffer in a single click. Create lists for productive managing all your database. From the information that you use frequently, you can create various notes to have quick access to it.
You can alter the settings of the interface and functions of the app, you can also switch of/off the notifications and many other things. After launching the app you will receive a short guide about how to use it. If you have a task killer on your phone, don't forget to exclude Clipper from there, otherwise, it doesn't work.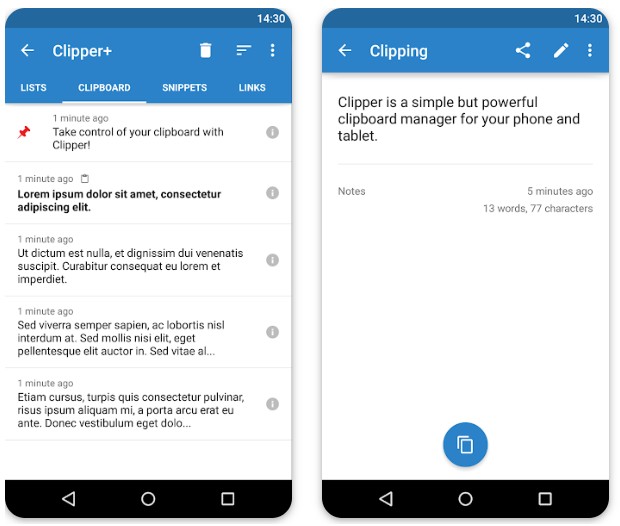 AutoPaste Keyboard
AutoPaste Keyboard is a unique app that helps you to copy and paste frequently used text and phrases with just a few taps.
To install the app, you simply need to enable it from your iPhone or iPad's settings. Once enabled, the app will appear as a separate keyboard on your device.
You can then access your frequently used phrases and text by tapping on the AutoPaste Keyboard's icon. From there, you can easily copy and paste the text to any app on your device.
One drawback of the app is that it can sometimes be slow to load the frequently used text and phrases. What's more, this app does not have compatibility with certain devices.
Advantages:
Easy access to frequently used text and phrases.
Saves time and effort by eliminating the need to type frequently used text repeatedly.
Sleek and modern design.
Drawbacks:
Can be slow to load frequently used text and phrases.
May not be compatible with certain devices.
Some users have reported frequent crashes.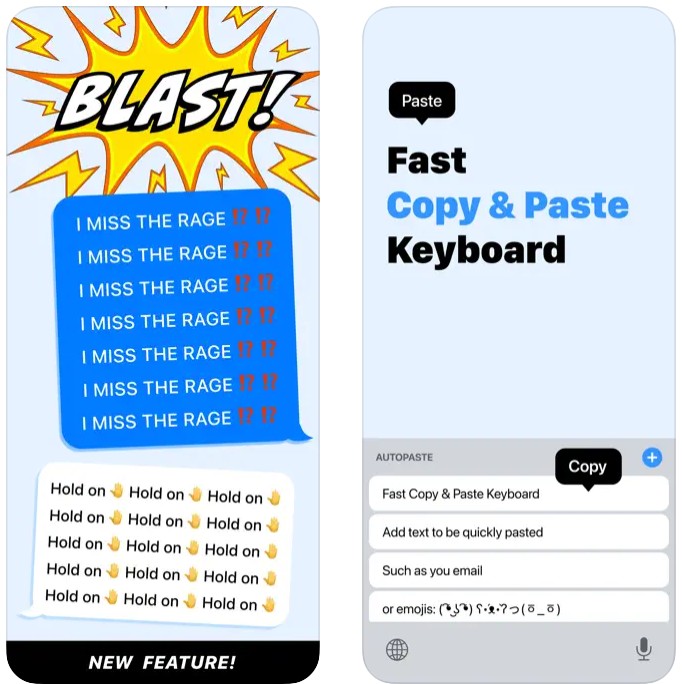 You may also like: 11 Best home painting apps for Android & iOS
Clipt – Copy & Paste
Clipboard is a useful app that helps users easily manage and organize their clipboard content.
When you copy something to your clipboard, Clipboard will automatically save it for you, allowing you to easily access and manage your clipboard history at any time. You can even create folders to further organize your content.
One of the nuances of the app is its ability to save images and other media to your clipboard, something that not all clipboard managers can do.
This feature makes it a great choice for bloggers and social media managers who frequently share visual content.
Also, the app has a minimalist design that is both functional and visually appealing. The colors are easy on the eyes and the font is clear and easy to read.
However, some users have noticed that the app's layout can be confusing at times, which can make it difficult to navigate.
There are also issues with the app's lack of synchronization across devices, which can be disappointing for users who use multiple devices.
The app's ability to save images and other media also makes it a great choice for social media managers and bloggers who want to streamline their content creation process.
Advantages:
Simple interface.
Saves images and media to the clipboard.
Drawbacks:
May have glitches and crashes.
Some users report difficulty with navigation.
Lack of synchronization across devices.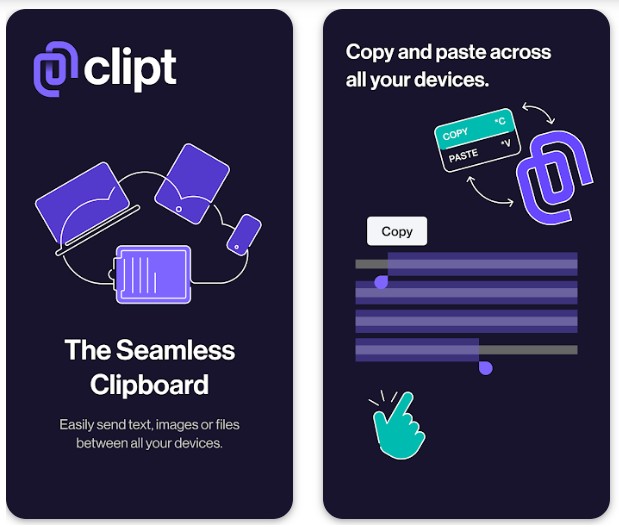 Clipto
This is a reliable and useful tool for managing clipboard content. Its customizable interface and variety of features make it a great choice for anyone looking to streamline their workflow and improve productivity.
Using this software, it is easy for users to access their clipboard history and manage saved content.
Clipto offers a variety of customization options, including the ability to pin frequently used items to the top of the list, create folders to organize content, and even set up custom gestures for easier access.
Moreover, this service recognizes and saves copied images, which can be particularly useful for designers or anyone working with visual content.
The app also supports multi-language recognition, which can be a handy feature for those who frequently work with text in different languages.
Furthermore, the app's interface is customizable, with a choice of dark or light themes, making it easy to personalize the look and feel of the app to your liking.
Advantages:
Efficient clipboard management.
Customizable interface.
Supports image recognition and multi-language recognition.
Drawbacks:
Some compatibility issues were reported by users.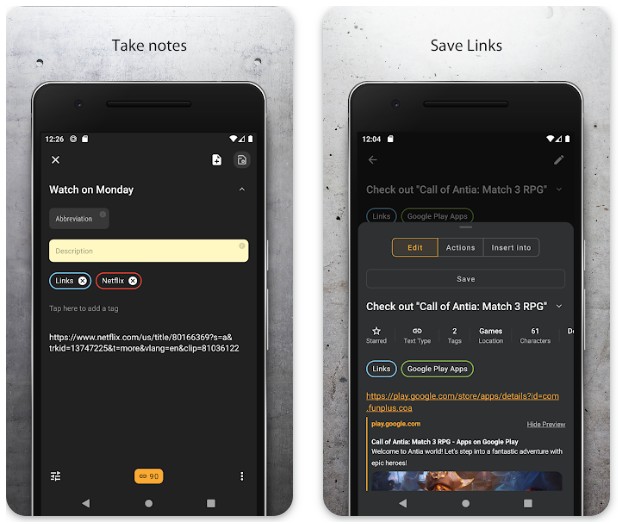 My Clipboard Manager
My Clipboard Manager is an easy, simple and powerful app to manage your clipboard stack, keep history, fast access to your notes in history and accomplish a number of other tasks. You probably know that it is always convenient for the export data from the backup storage without being afraid of losing it.
Here you can create lists of your favorite notes and thus you will always have quick access to them. Moreover, it allows to filter them out from the previous notes in-app history. My Clipboard Manager doesn't require network permission. Even if you are offline- you are still able to create, view and change notes. You got access to all the files there at any time you want.
You can always search for certain files in clipboard history by entered symbols or other indicators. The number of clipboards is unlimited. The keyword search is made in all your notes or articles so you get a result instantly. If you want you are able to clear all your clipboard whenever you want.
In general, it is a great way to sort out the endless flow of data consisting of texts and images without wasting much time on it.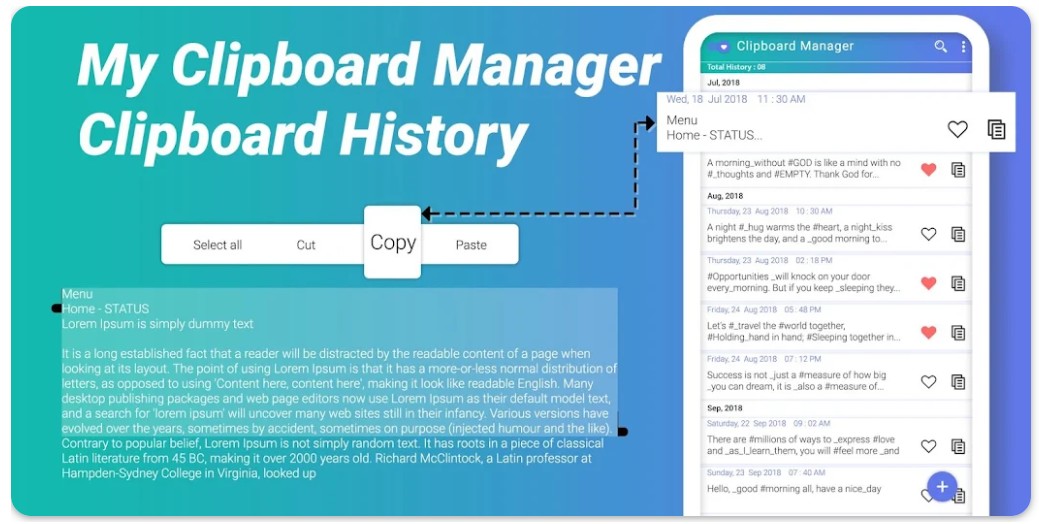 CLIP+
Clip+ is in the list of best iOS apps for managing clipboards. It is now optimized for iOS12. The app automatically recognizes the different types of content. For example, if you copied a phone number the app can make a call. Logically, when you copy an URL, the app redirects you to the source of the link. When you got an email address the app lets you write a letter to that email.
Clip+ supports GIFs as well. You can even share those GIFs from the app through messengers and social networks. It is especially helpful if you don't have enough memory on your phone but you still want to share a picture with your friends. Then you can just copy it to the clipboard and send it.
The app synchronizes with the iCloud. Paste clippings into Clip+ from other apps as well. What is more, you can preview pictures and animated GIFs right in the app. To edit items you need to swipe left. The app is also supported by Siri Shortcuts. To reorder items just drag them.
The function which is called Spotlight Search integration makes your clipped items available in the iOS search. Your clipped URLs are available in Safari's "Shared Links" tab. You can access your clipboard directly from the Notification Center, creating a widget for that.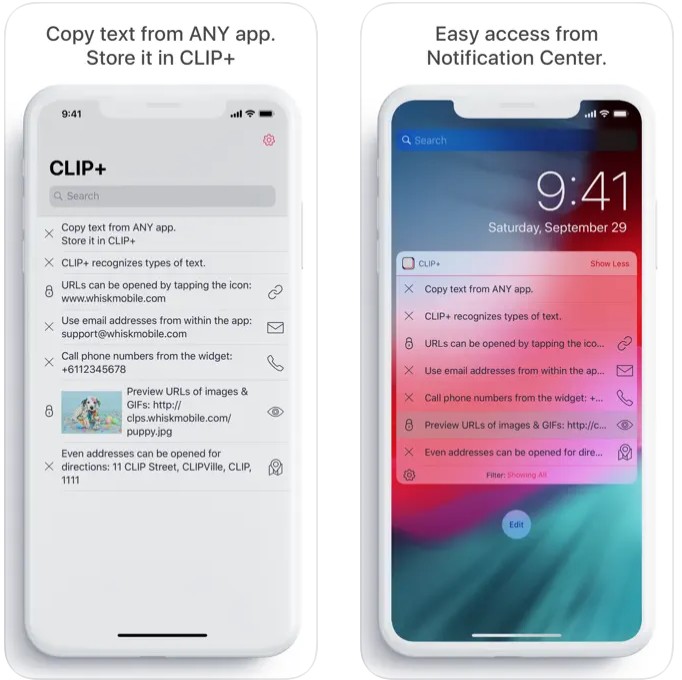 Clipboard
This app is worth using, especially for users who often copy and paste items on their devices.
It provides an easy and efficient way to manage copied items and saves users time from having to re-copy items they may have lost due to accidentally clearing their device's clipboard.
Once the app is downloaded, users can easily access the copied items from their device's clipboard within the app.
The app also provides additional features, such as the ability to organize copied items into folders and the option to back up and restore data.
In addition, users can customize the app's interface with various themes to make it more visually appealing.
The color scheme is also pleasant to the eyes, which is a plus for users who spend a lot of time on their devices.
Though, there are a lot of distracting ads, which can be annoying for some users.
Advantages:
Easy to use clipboard management tool.
Organize copied items into folders.
Backup and restore data feature.
Drawbacks:
Displays ads.
Some users have experienced crashes and glitches.
The backup and restore feature not working correctly for some users.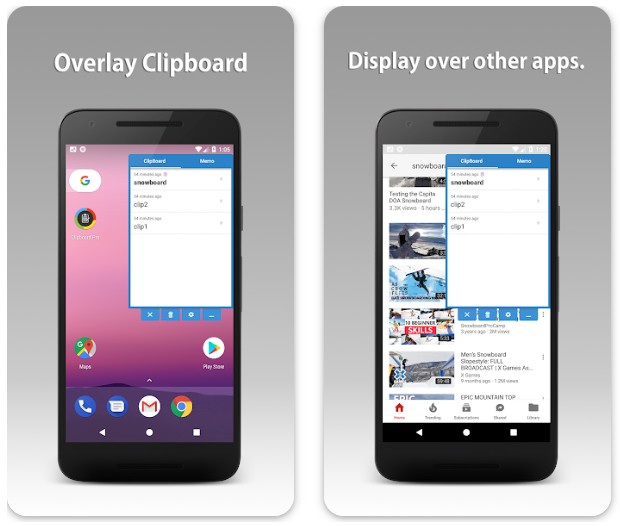 You may also like: 11 Best local chatting apps for Android & iOS
fridgi
This is an app saves all the items that you chose to copy to your storage. Thus you can paste them later whenever you need. What is more, you can save your personal notes in the app. In general, this is a powerful version of a clipboard manager.
It includes an agile and versatile notification banner that displays the current number of clips recorded and has buttons to instantly copy the 3 most recent clips copied. Moreover, the app contains easy layout for the content organizing, for clips and notes listing, with the specification of the data of creation and character counts.
And of course, you are always able to edit the content you have on your clipboard. It is compatible with emoji items. The interface is customizable and lets you choose the fridge style and font styles for your clips and notes. You can share all the items stored in the app as well.
In general, this app is easier than the previous ones and has a limited number of options. But it can be its advantage for those who just want to copy and paste items swiftly. The current number of clips you have is always displayed at the top of the screen on the table.