Solving crossword puzzles is an entertaining activity and now you can do it even on your devices, be it mobile crossword apps or PC programs. Yet, you can go further and start creating your own crossword puzzles that absolutely all users or your friends can solve.
If you are a fan of this game, then use your imagination and these free crossword puzzle makers. Surprise your friends and come up with an award for the smartest. These services will do the rest for you. Let's take a look at their features.
Wordapp: Crossword Maker
With Wordapp you have a great opportunity to show your erudition. This app is an electronic crossword puzzle builder. Now you can not only solve puzzles but also create them on your phone.
The program will offer you the best size and format of the crossword puzzle based on the words entered. The author will also find here a built-in database and dictionary, information which is constantly updated. This will help you choose the best words for the game.
Besides, you will get a lot of useful hints. Ready crossword puzzles can be published on your page on a social network or sent to contacts from the address book. Another player can solve the crossword in the app or upload it to another program.
When exporting the file will get the "puz" format. The crossword puzzle can be solved on a phone, tablet, or printed on paper.
Format your work in a professional manner. Title the crossword puzzle and choose a form. Next, enter one word at a time. You can choose them randomly at your discretion or use a dictionary. Then you will have to work with the clues.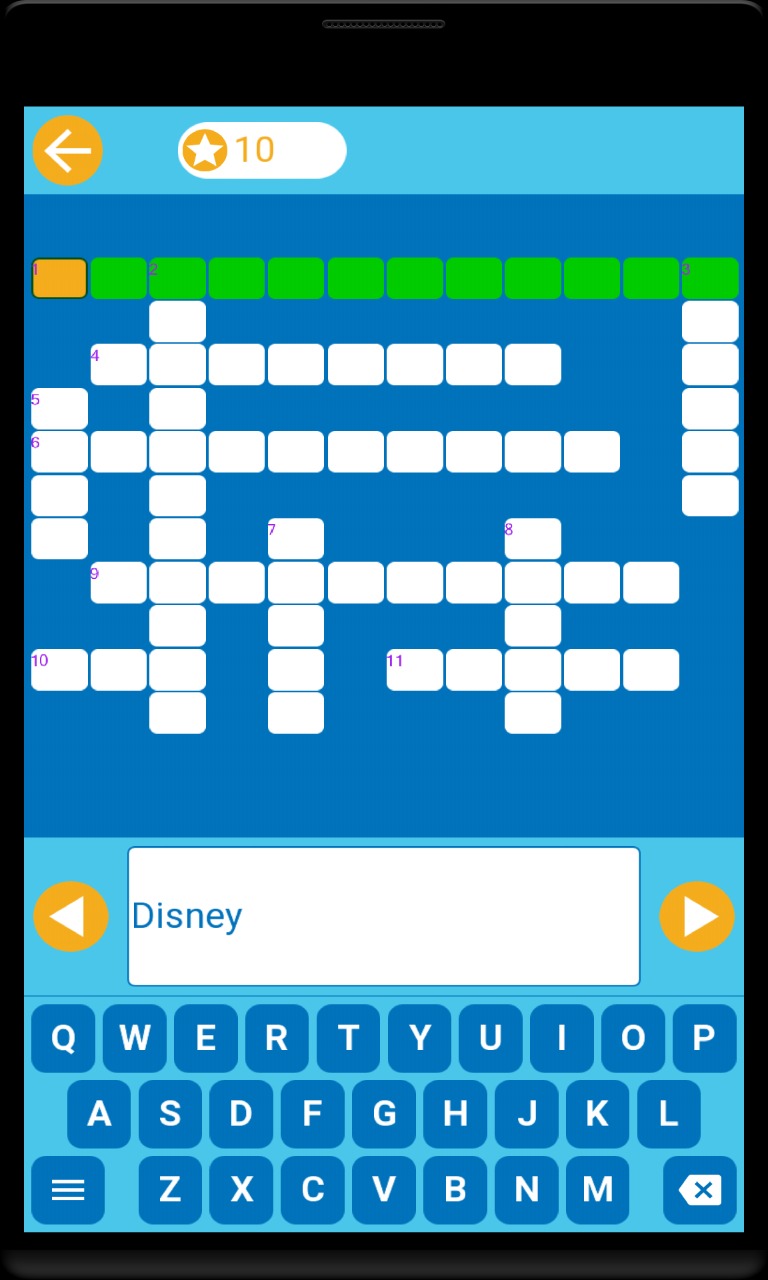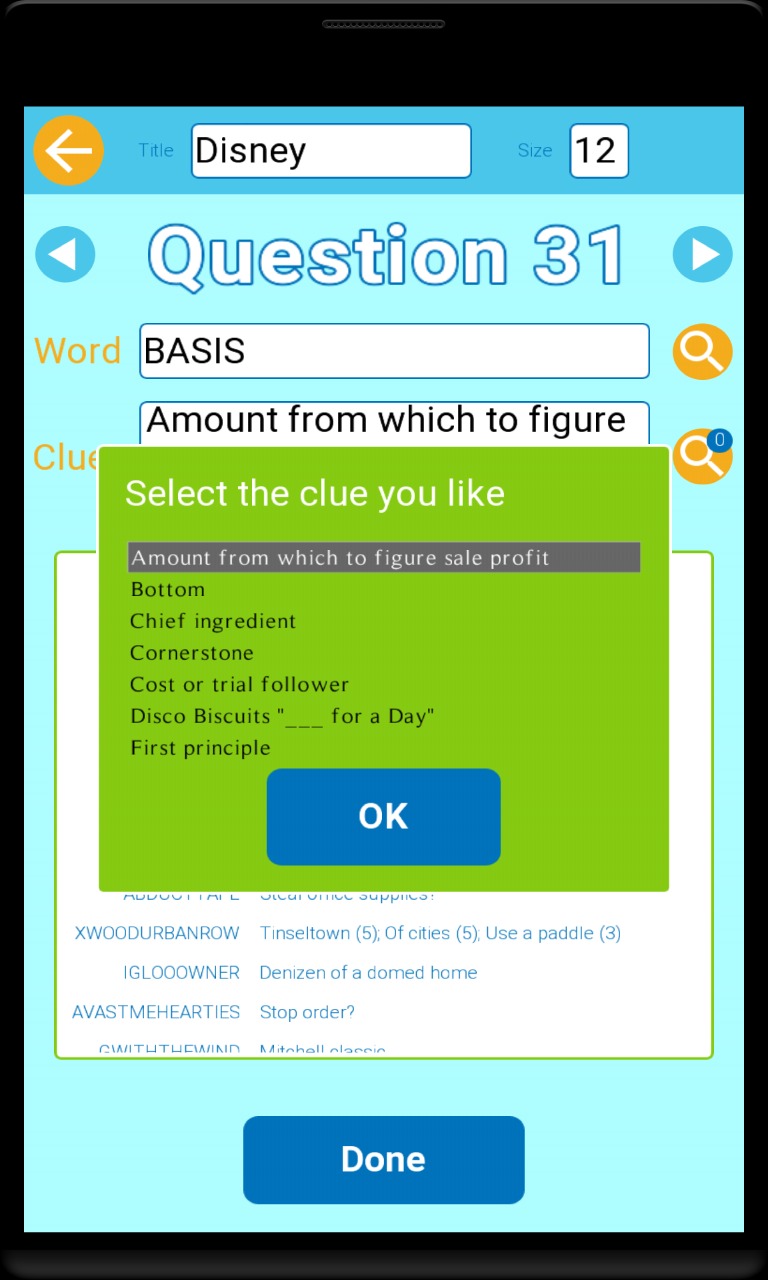 Your crossword puzzle can contain any number of words. At the end, click "Done" and evaluate the result. Have a great time creating interesting crosswords. Involve your friends and family, and organize a real competition.

You may also like: 15 Best Word Game Apps for Adults (Android & iOS)
Word Search Maker
If you like to solve crosswords and puzzles, it's time to take part in their creation. Word Search Maker helps you to spend an interesting time in any company.
To begin with, you need to prepare a task. You need to choose a list of words that you want to hide. These can be any nouns or only those that fit the chosen theme. The rules of the game are better to stipulate in advance with other participants.
The word list can contain up to 50 different words regardless of their length. Once the list is ready, go to the settings. The app has a lot of options for finding the puzzled words. The words can be arranged vertically, horizontally, downward, or upward.
Specify whether the program can use the right-to-left spelling option. After a few seconds, you can start the game. You can solve the puzzle either on your phone or on a sheet of paper after printing. Choose the appearance of the puzzle, and decide on the font and color of the cells.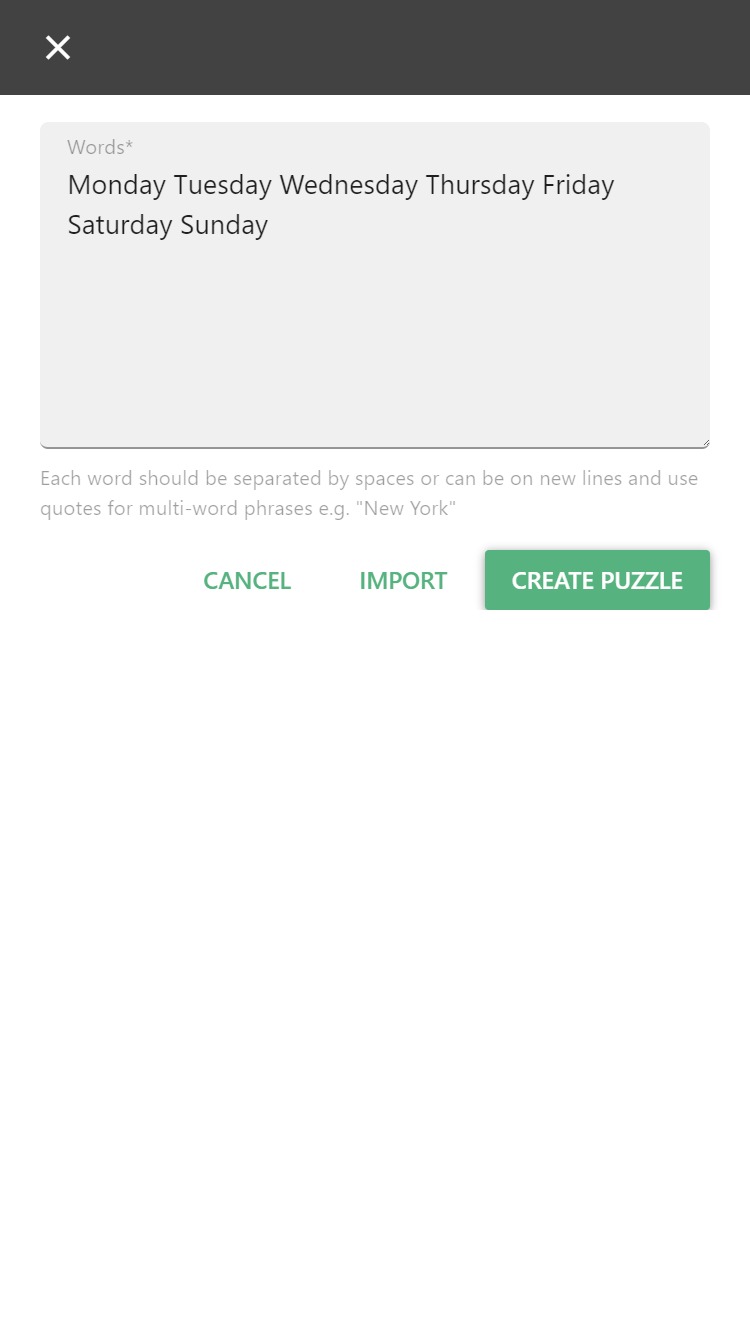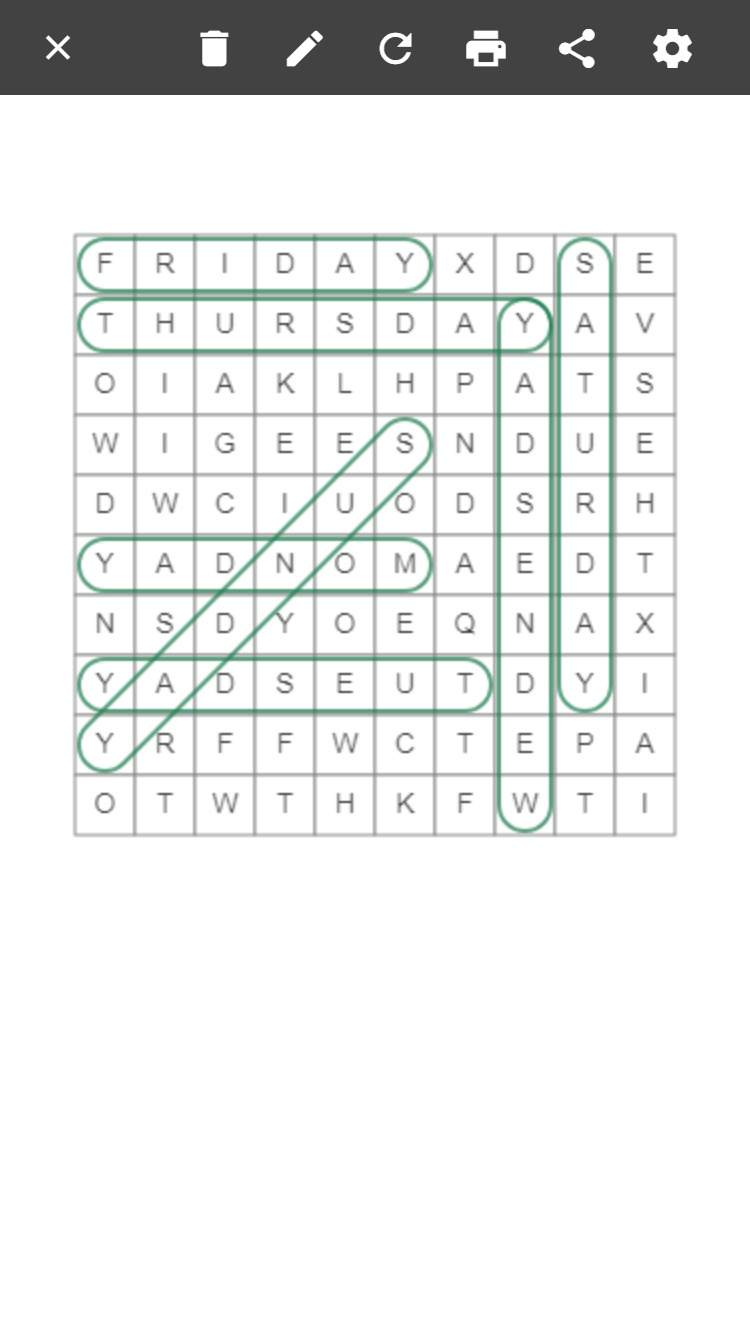 Specify the size of words for maximum convenience. You can share the file with other participants. Export your puzzle as a PDF or as an image. Word Search Maker does not affect other apps and weighs only 5.32 MB.


Crossword Generator
Crossword Generator is your chance to prove yourself in a new role. In this app, you will be able to create a crossword puzzle perfect for any occasion. Choose the category and theme in which the puzzle will be designed. Discuss the rules of the game with other participants.
To create your own crossword puzzle you can use words from the app's collection. It consists of 30 thousand words. You can always turn to the dictionary for support. Prepare an interesting entertainment for yourself and your loved ones.
Decide on the number of words and their theme. Give your work an unusual name. The app will help you choose the best form of a crossword puzzle. The presence of errors and repetitions is completely excluded. Enter hints, relying on the actual modern dictionaries.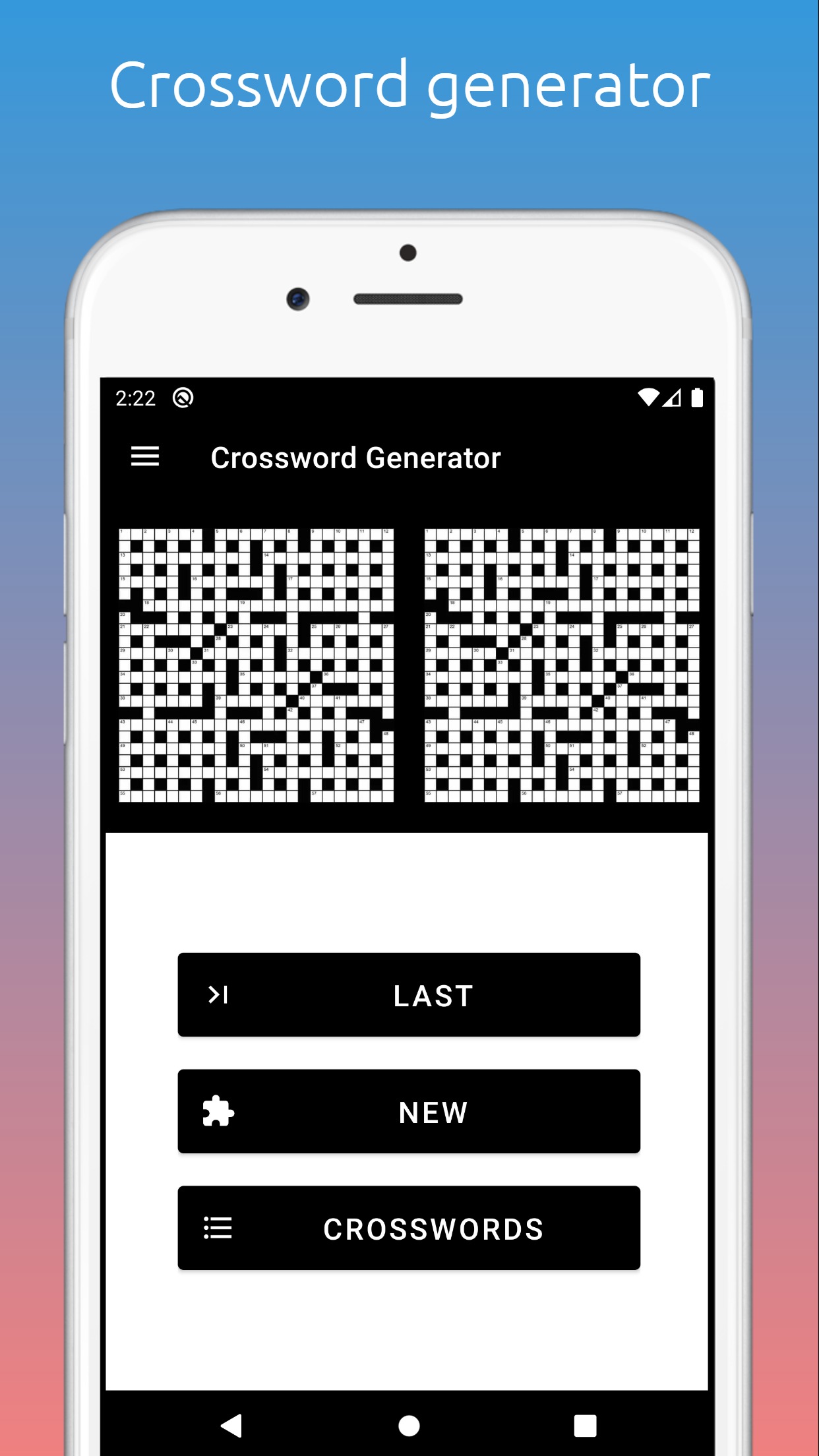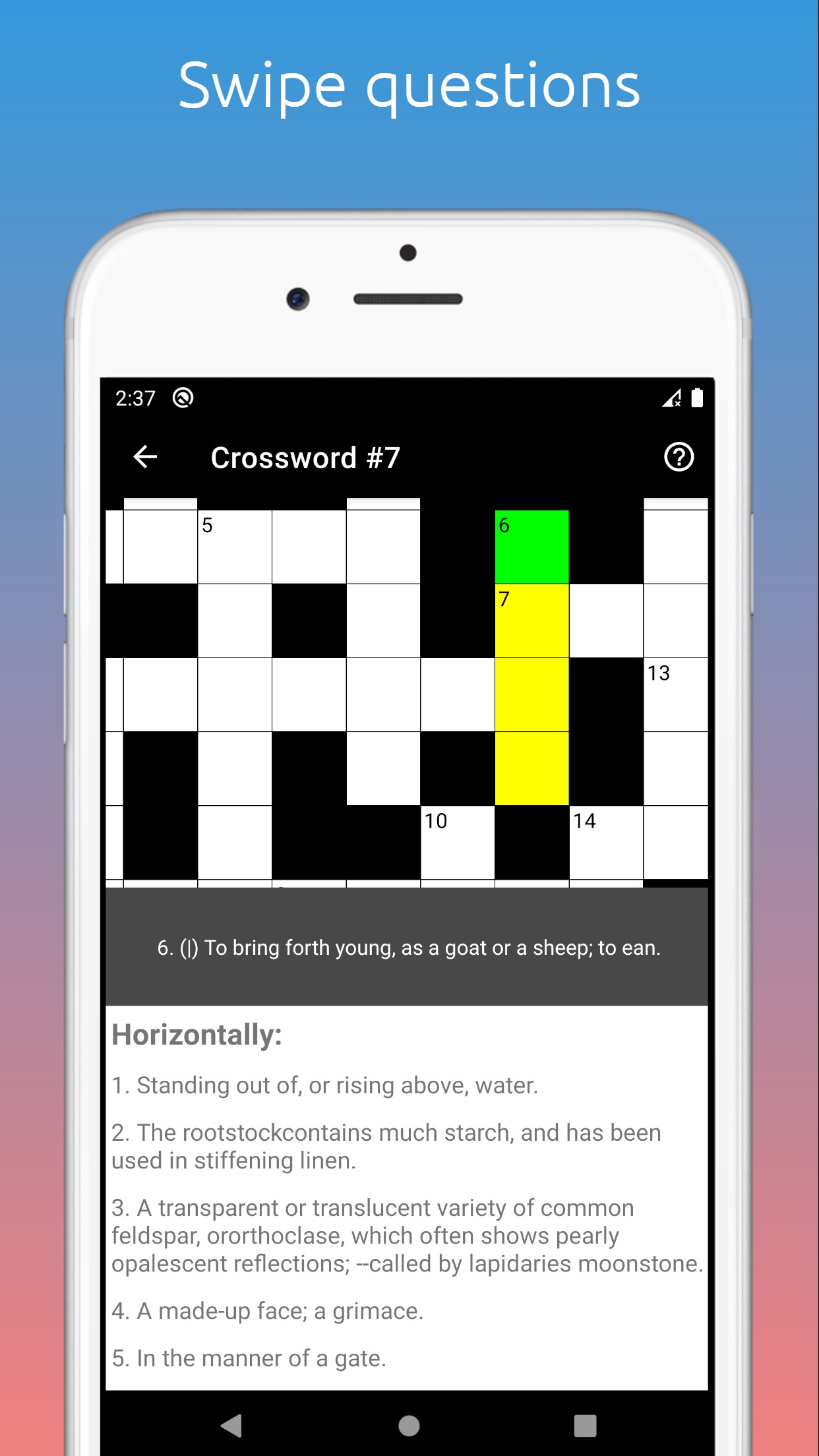 You can play without an Internet connection. Crossword generator also allows you to solve crossword puzzles. For activity in the app, you can get a daily reward. This app is created for fans of crossword puzzles based on their wishes and advice.

Crossword Labs
Get an interesting crossword puzzle-shaping experience at Crossword Labs. This online platform offers the most simple and easy-to-understand tools for constructing everyone's favorite puzzles. With it, you can solve other people's crosswords and create your own.
You will have to start from scratch. Come up with a theme and a name for your creation. It can be a movie universe, flora and fauna, books, and science. You can leave the puzzle untitled and use any words you want.
To protect access to answers and hints, use a strong password. Now you can pick up where you left off or get to work editing already completed crossword puzzles.
You can easily create a crossword puzzle and download it to your phone to print. Use Microsoft Word or PDF formats. Send it to your friends as a challenge to compete. Join the service for free. You will not be distracted by advertising, and the finished file will not have watermarks.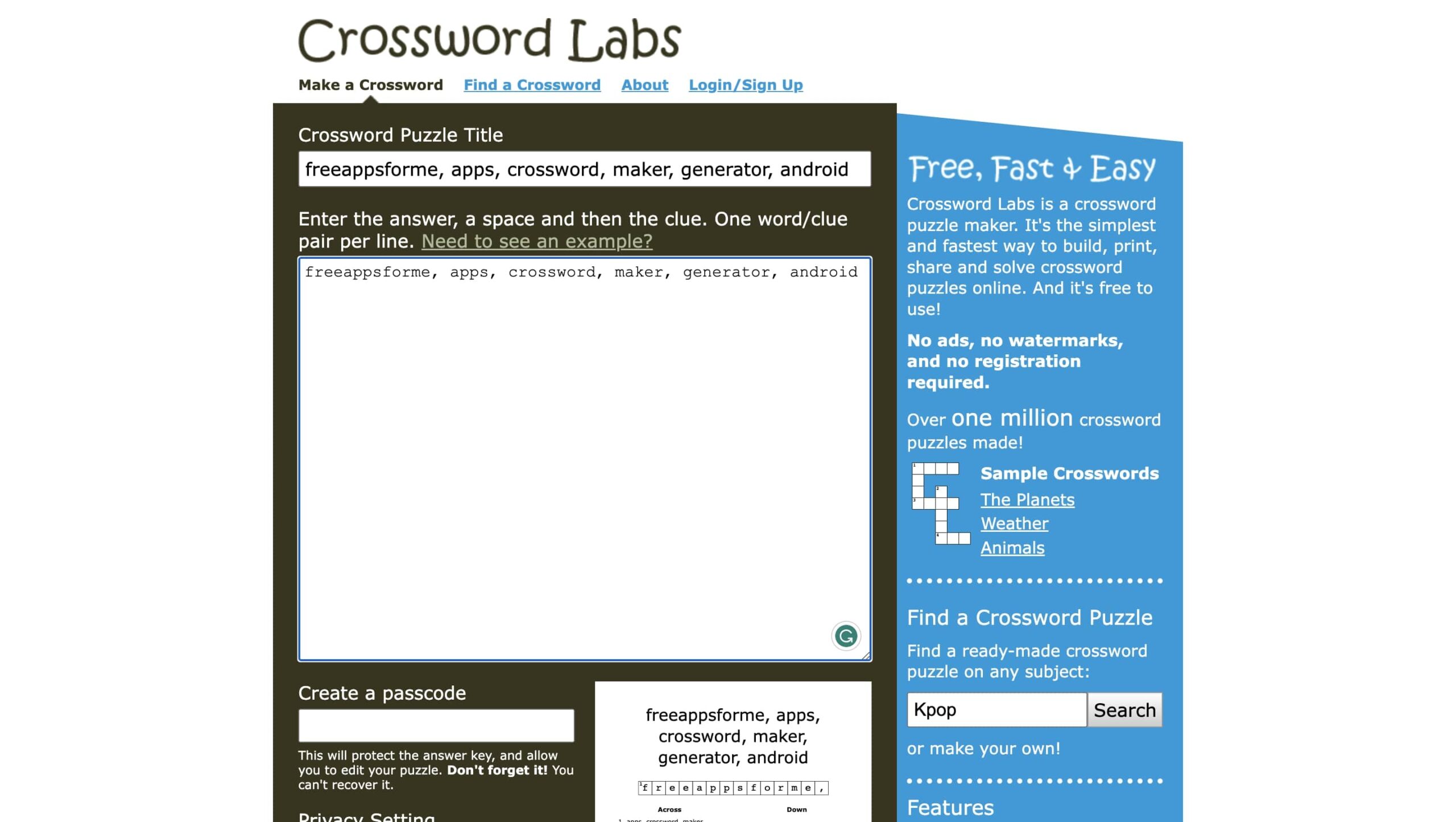 There is an extensive library of ready-made crossword puzzles from the service's visitors. Test your abilities and solve the most difficult puzzle. The website is adapted for use on any electronic device.

Discovery Education
Discovery Education is gladly used by children and their parents. The service for preparing tasks and puzzles is in demand among teachers and educators. Everyone is familiar with solving crossword puzzles and searching for scrambled words. Yet, hardly each of us is familiar with the process of creating them.
To get an interesting assignment, you do not need to perform complicated actions. Make a list of words that will be available to the app. The program will automatically analyze them and prepare a draft for you. Your task is to prepare the words that another participant will search for.
Change the difficulty level of the puzzles depending on the age and abilities of the players. The words can be long or short. Choose their number and variants of arrangement. To make the rules clear to everyone, discuss them before the game starts.
You can give the game a name and dedicate it to a certain event. Or choose words randomly and make the task difficult for another player. Write the word in the empty line, and through the space indicate the clue to it.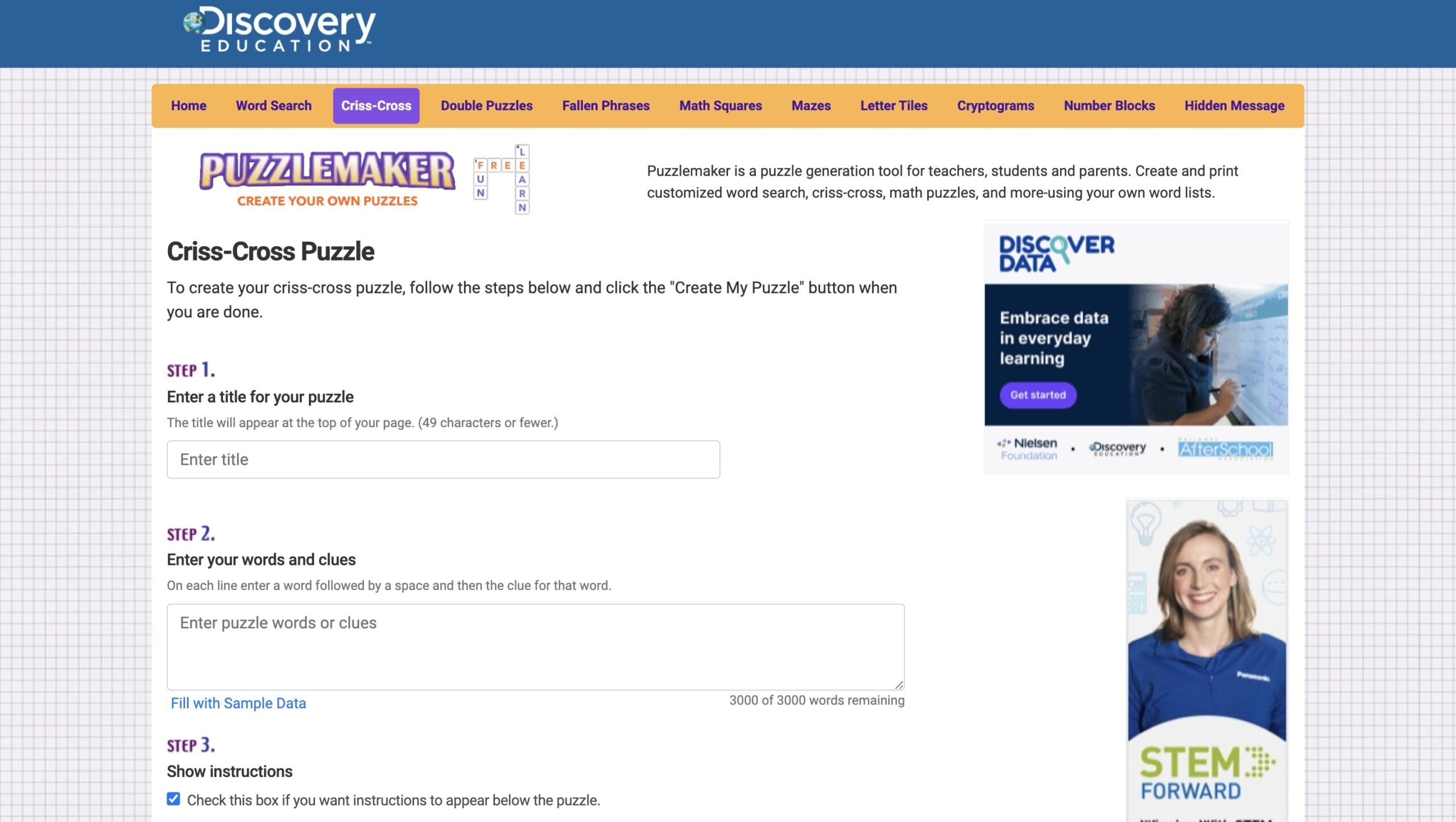 This service allows you to develop imagination and perseverance and also greatly expands your horizons. You can do the word search yourself or offer it to your children, students, friends, and colleagues.

The Teacher's Corner
A popular platform for creating professional crossword puzzles. By clicking on the Create a new crossword button, you start an extraordinary work.
The Teacher's Corner has a comfortable environment for both experienced participants and beginners. For your crossword puzzle, you need to choose a certain number of words, which will be arranged vertically and horizontally.
You do not need to arrange them yourself: the shape of the crossword puzzle and the order of words will be calculated automatically. Do not forget that when you print the file, the left side may be cut off.
The service allows you to quickly determine whether all the words are in the crossword puzzle and whether there are no repetitions. To avoid such problems, you can use the "Regenerate" feature. Every time you click this button, you will get a brand new duplicate crossword puzzle.
It is advisable to have a small number of open pages in your browser. This service requires a lot of memory, which can affect the performance of other websites. Make sure that all other browser windows are closed while you are working.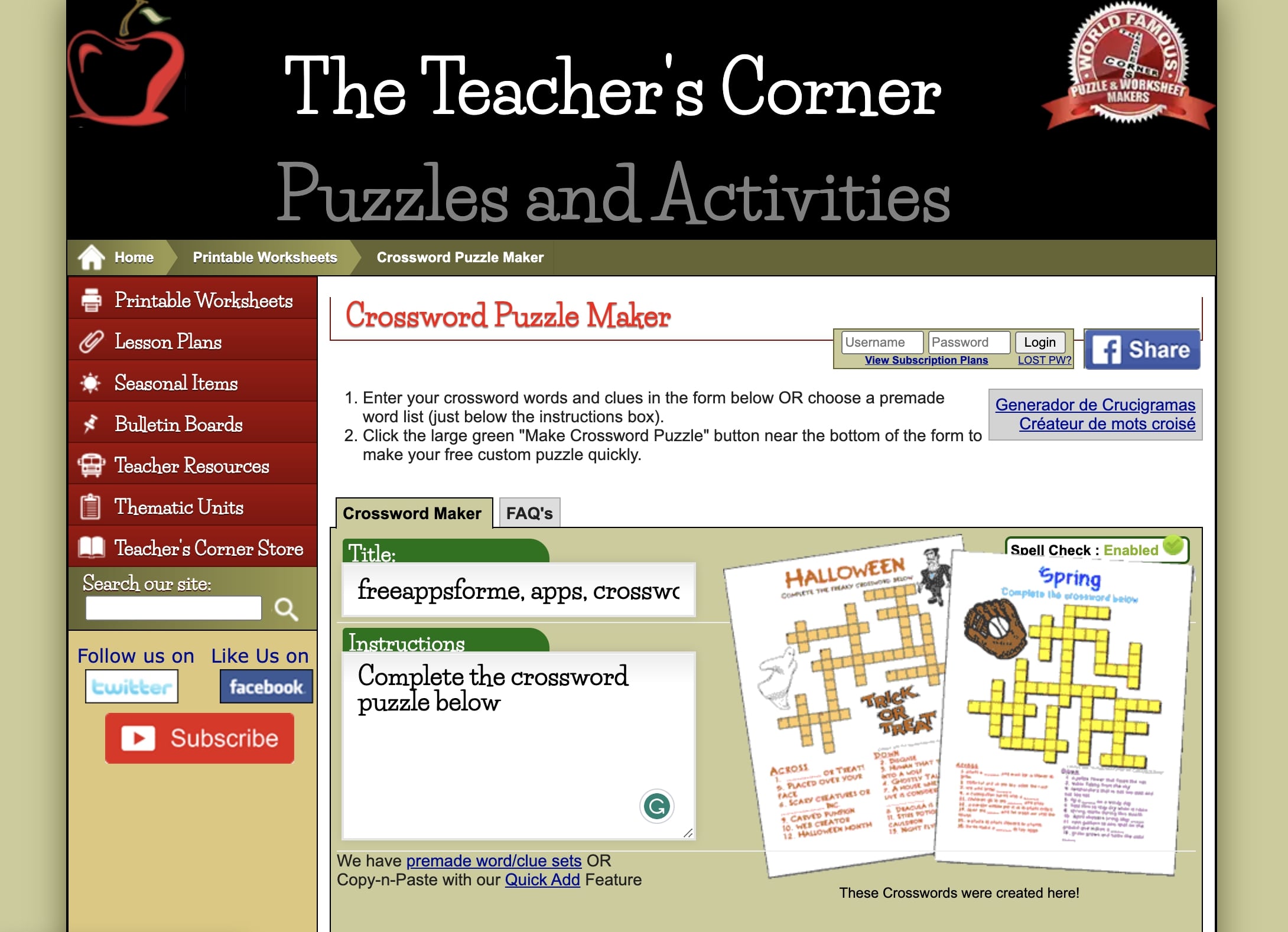 You may use the finished crossword puzzles for your own personal use. When placing them in any printed publications must indicate a link to the website.

Education.com
Education.com offers you an interesting puzzle activity. Writing down words and clues to them, you will get a full-fledged crossword puzzle. It can be solved directly on the online platform, and sent to friends via messengers or e-mail.
To get started, you need to choose the appropriate words and write down the detailed clues. In 1 empty line should be located the mystery word and its description. The data should be entered using commas. Evaluate the total in the review mode.
Make sure that all words are transferred to the crossword puzzle, and that the description corresponds to each word.
Often the app automatically notifies the user about the loss of a word or its repetition. Sometimes the service can not compose a puzzle based on the specified words. You will also receive a notification about this.
If you do not like the result, click Scramble. Then, the generator will start working on creating a new layout. The number of copies of the crossword puzzle is not limited. This website can be used for any purpose because it is absolutely free.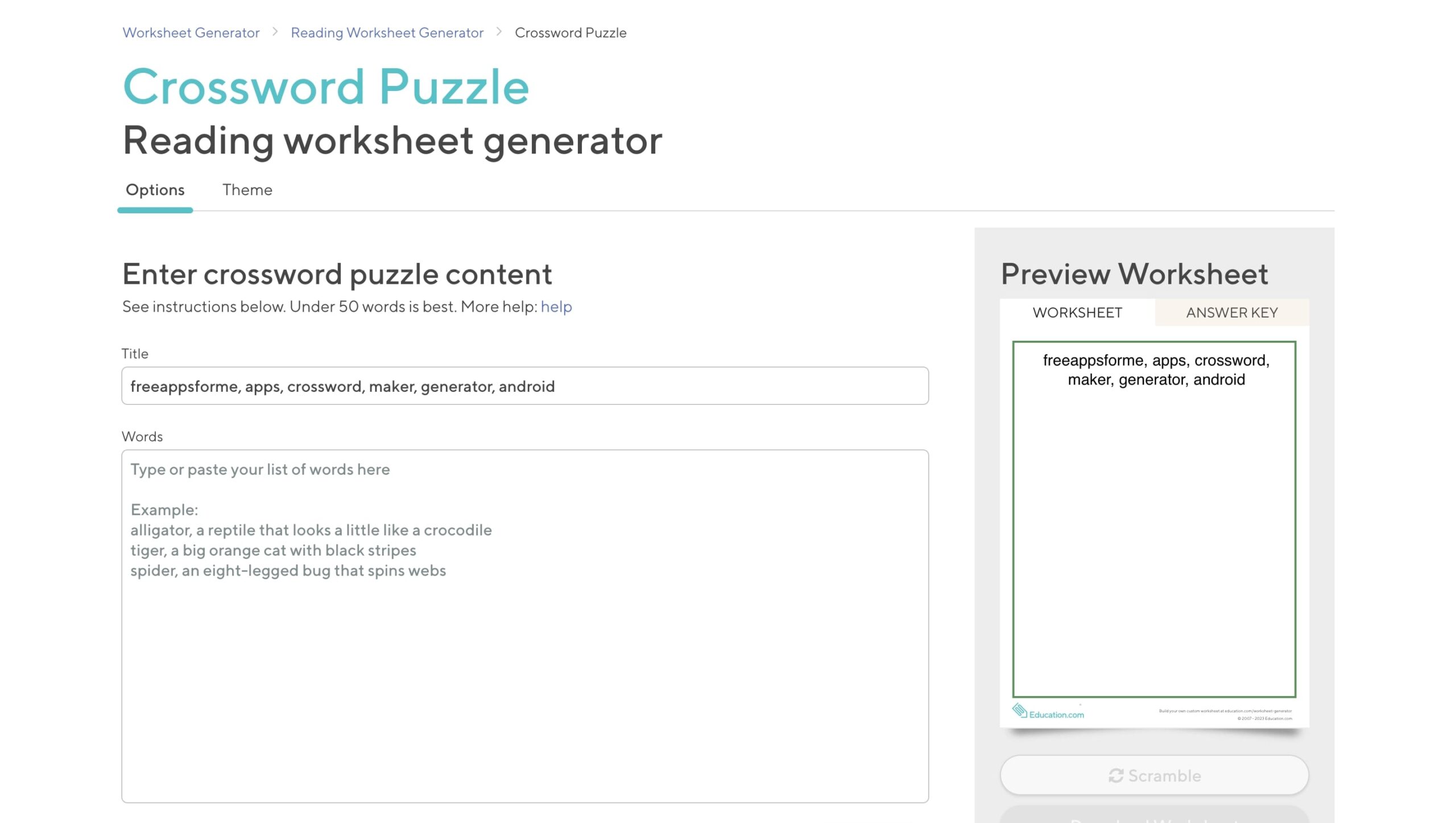 Create an interesting option for a children's party, use crossword puzzles in the educational process, or involve all the housemates so that the evening is not boring.

My Crossword Maker
This is one of the easiest and most interesting services for creating crosswords. It can be used by everyone: fans of intellectual entertainment, teachers and educators, editors of printed publications. Here you can use the help of artificial intelligence or arrange the words in the playing field yourself.
After the list of words is ready, enter one or several at once in the Automatic arrangement field. The most convenient will be to enter 6 words at a time. Then you will first know whether the generator will be able to make a crossword puzzle from the proposed words.
When all the words are recorded, click "Arrange". The generator will arrange all the words vertically and horizontally so as to create a crossword puzzle without errors.
You can open the account from any device. This gives you the opportunity to work on creating puzzles at your convenience. If you want to post the finished crossword puzzle online or print it, you need to make a payment. Click "Make to print" and get your work for personal use.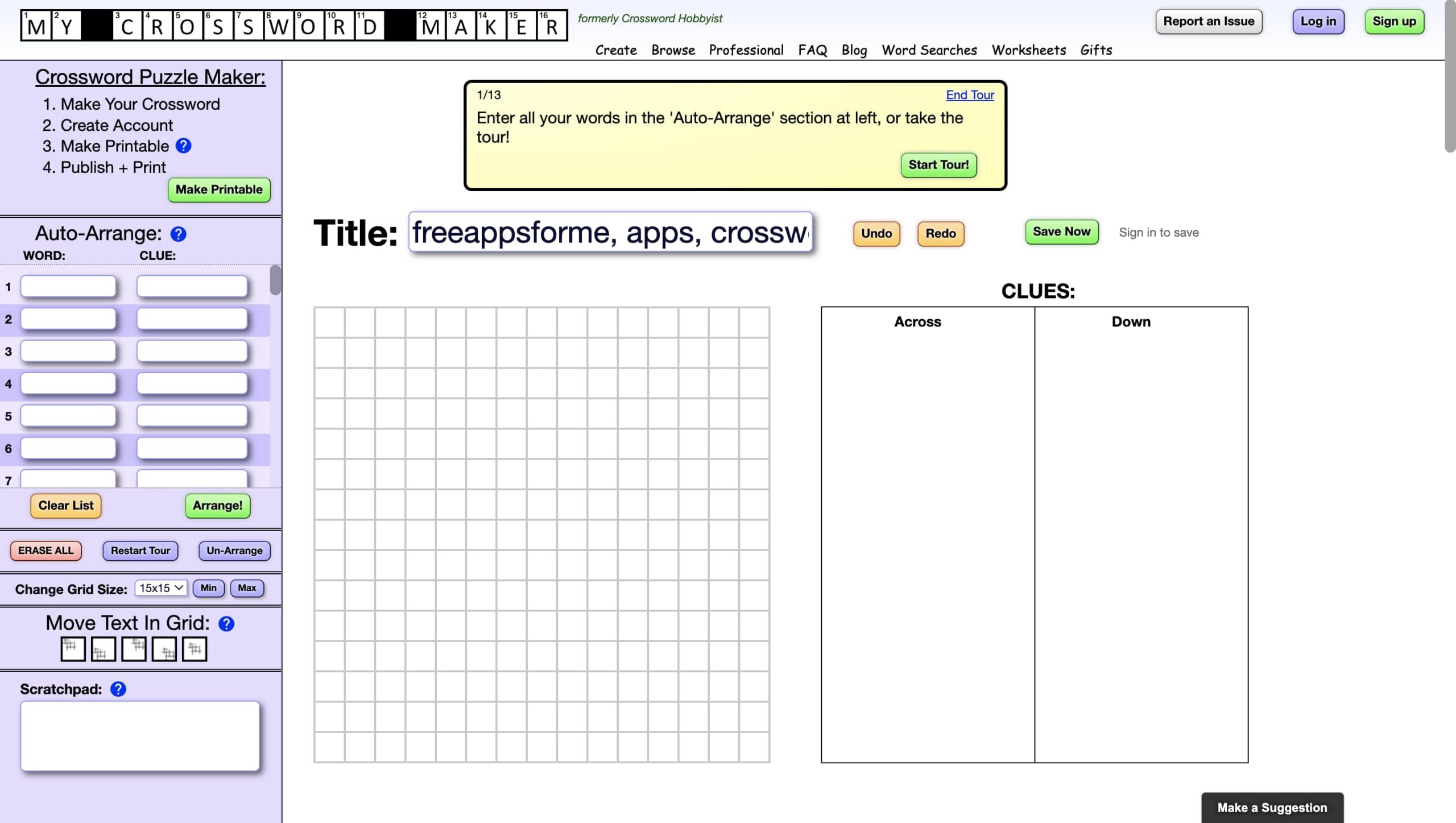 Payment is made on a separate page that offers secure payment options. Free use for 30 days allows you to get a closer look at the program's features and decide whether to go with a paid subscription.

Puzzel.org
Puzzel.org is designed for everyone who loves intellectual quizzes and competitions. On its basis, you can create an unlimited number of crossword puzzles of any shape and size. Choose the desired category or use a random selection of words.
The program takes care of words counting and creating a design. The more words, the more interesting and exciting the puzzle will turn out. Such a game will help to entertain children on the road, will be a great solution for the learning process, and will help to gather the whole family at one table.
It will be an interesting entertainment at the bachelorette party and anniversary. You will be able to shine with your intelligence and logistical skills.
To play was even more interesting, you could add a hidden solution to the crossword puzzle. This is a riddled word that is related to the chosen theme. It is different in color and formed from the letters of correctly solved words.
A hidden solution will help to find out the winner if there are many players. It also gives even more excitement and positive emotions during the game. When solving the finished crossword puzzle you will immediately know how much your answer corresponds to reality.
Checking answers manually is not required. In a separate tab, there is a copy of the crossword puzzle with clues. It is available only to the creator of the puzzle. Both can be quickly printed without leaving the site.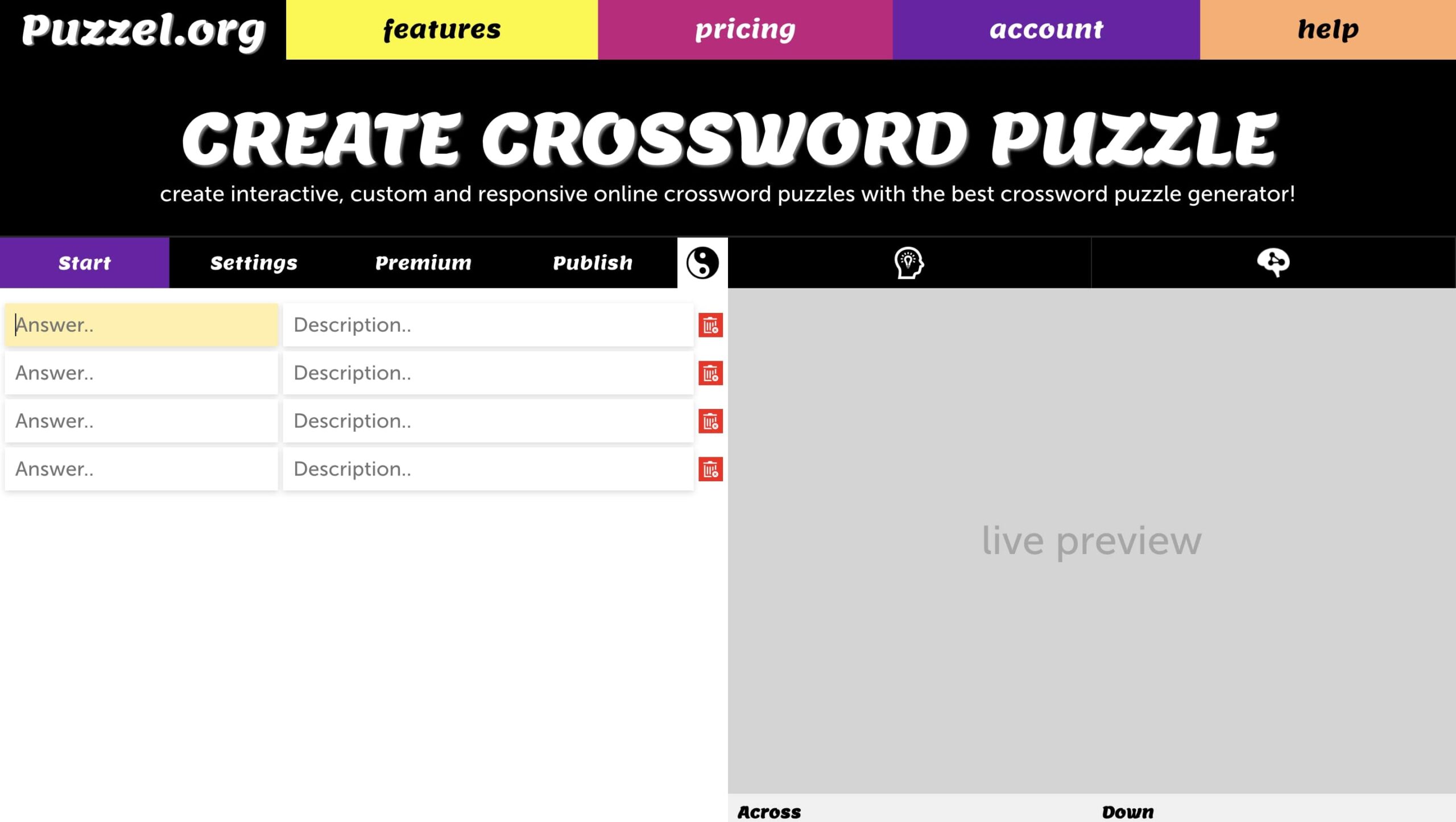 This program supports crossword puzzles not only with text input. For an interesting crossword puzzle, you can use personal photos and pictures from the Internet.

You may also like: 7 Best Minesweeper Games for Android & iOS
XWords
Use XWords to get crossword puzzles of different shapes and topics. Now you just need to set the desired settings and write down the encrypted words. The online constructor will automatically put them in the correct order and correlate them with the solutions.
If you are planning a family evening or a meeting with friends, this is a great reason to surprise everyone with new entertainment. When working with the Designer, it is advisable to upgrade the program to Premium XWord. Now you will have access to all the features.
Create a crossword puzzle with a single click. Check the result that the system offers you. If you wish, you can always create another copy of the puzzle using the same words. The developers have made this service free for everyone.
Yet, you can make a donation of any amount if you wish. This will help to improve the program and add more useful features. If you like to solve crosswords on paper, export them to a gallery on your phone or connect a printer.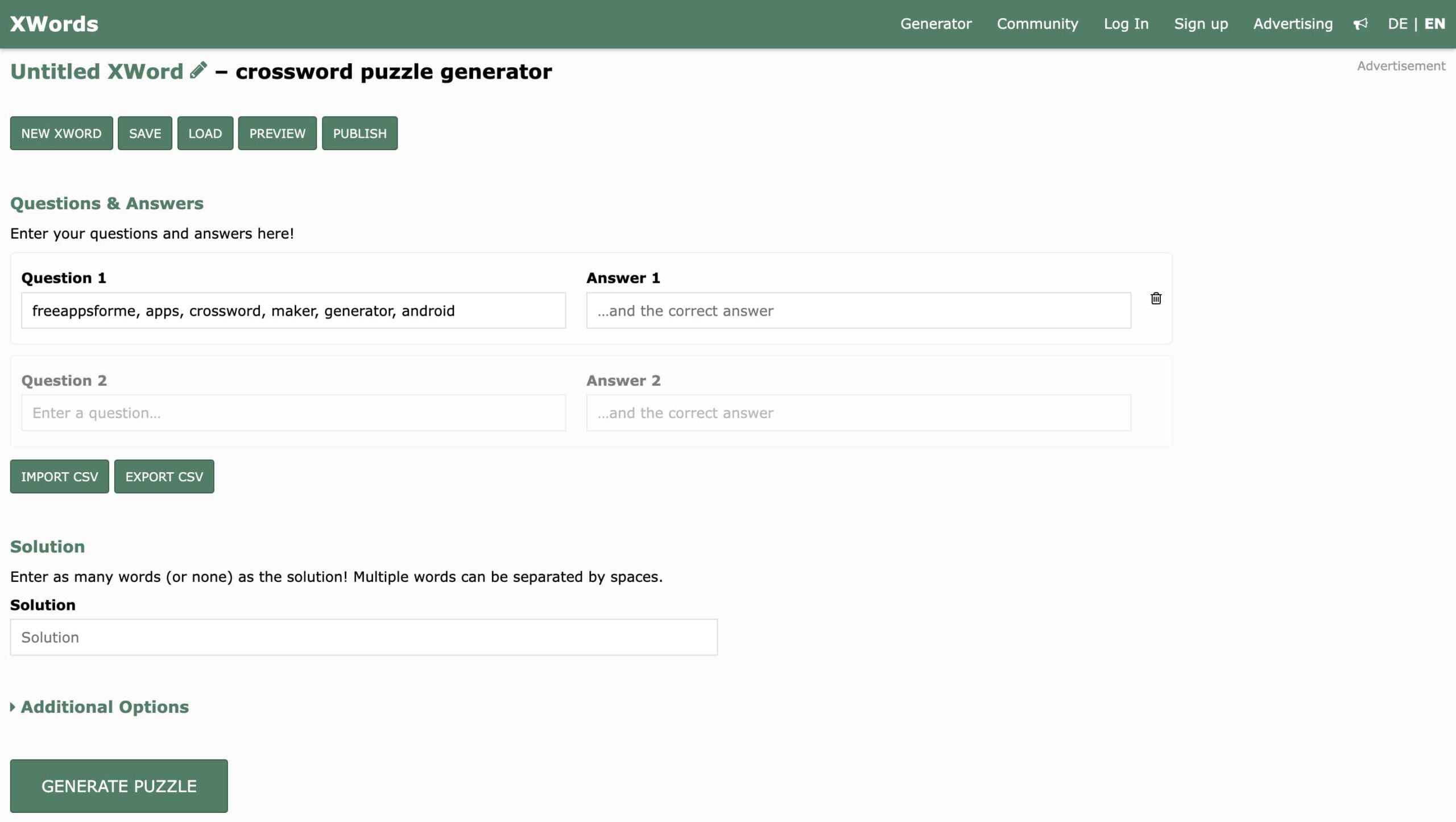 Files can be saved in SVG or PNG format. The finished crossword puzzle, created by you, belongs to intellectual property and can be published in printed publications and on other websites.

Crossword Spin
If you have always wanted to try yourself as a crossword puzzle editor, then Crossword Spin will help you do it right now. Go to the website and use all the features of the puzzle builder. Your crossword puzzle will become an interesting entertainment for children at home, school, and kindergarten.
By choosing words from a certain topic, you can use the crossword puzzle to reinforce the knowledge gained in class. You can also raise the degree of the party by puzzling out interesting and unusual words.
Besides, each description can sound funny and unpredictable. This service is suitable for everyone who enjoys solving puzzles.
Make a list of words that you want to see in a crossword puzzle. Next, you need to enter descriptions of the words so that players can understand what the words are about. For children's audiences, these can be excerpts from fairy tales and songs. For students – lecture material.
As soon as the preparatory stage is over, click the "Create New" button. You can independently choose the size and color of the font, and the shape of the crossword puzzle. Or you can leave it to the puzzle designer. Ready crossword puzzles can be solved right here or printed.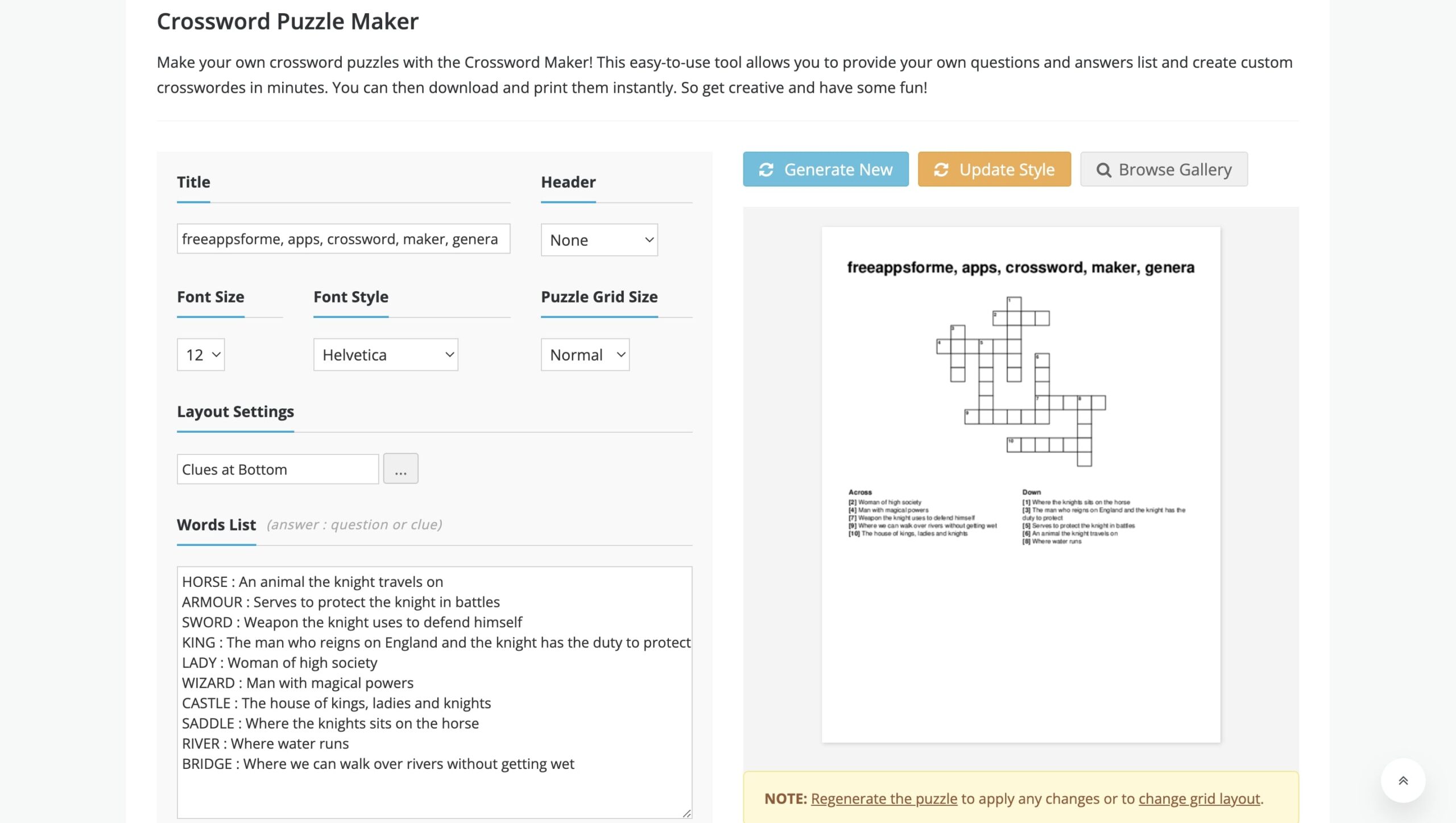 The service has a lot of interesting crossword puzzles that were created by other members. Download them and start solving. All crossword puzzles are checked for the presence of personal data of other users, profanity, and words with incorrect spelling.

Armored Penguin
Get a positive experience in creating real crossword puzzles at Armored Penguin. If you want to compose puzzles and watch as others work on their solution, this constructor will definitely help you.
Composing yourself with even the simplest crossword puzzle is quite difficult. This platform greatly speeds up this process and brings pleasure from the successfully done work. Ready crossword puzzle includes only those words that you specify.
Such puzzles are great for open classes, holidays, and fun evenings with the family. They can be both themed crosswords, and completely random. The finished file is freely available on the site for 2 months. You can make a copy and save it on your phone or computer for future use.
To avoid problems with writing down complex symbols, use the alphabet table. To create a puzzle, all you need to do is write down the words and their clues. Turn on your imagination and approach the task creatively.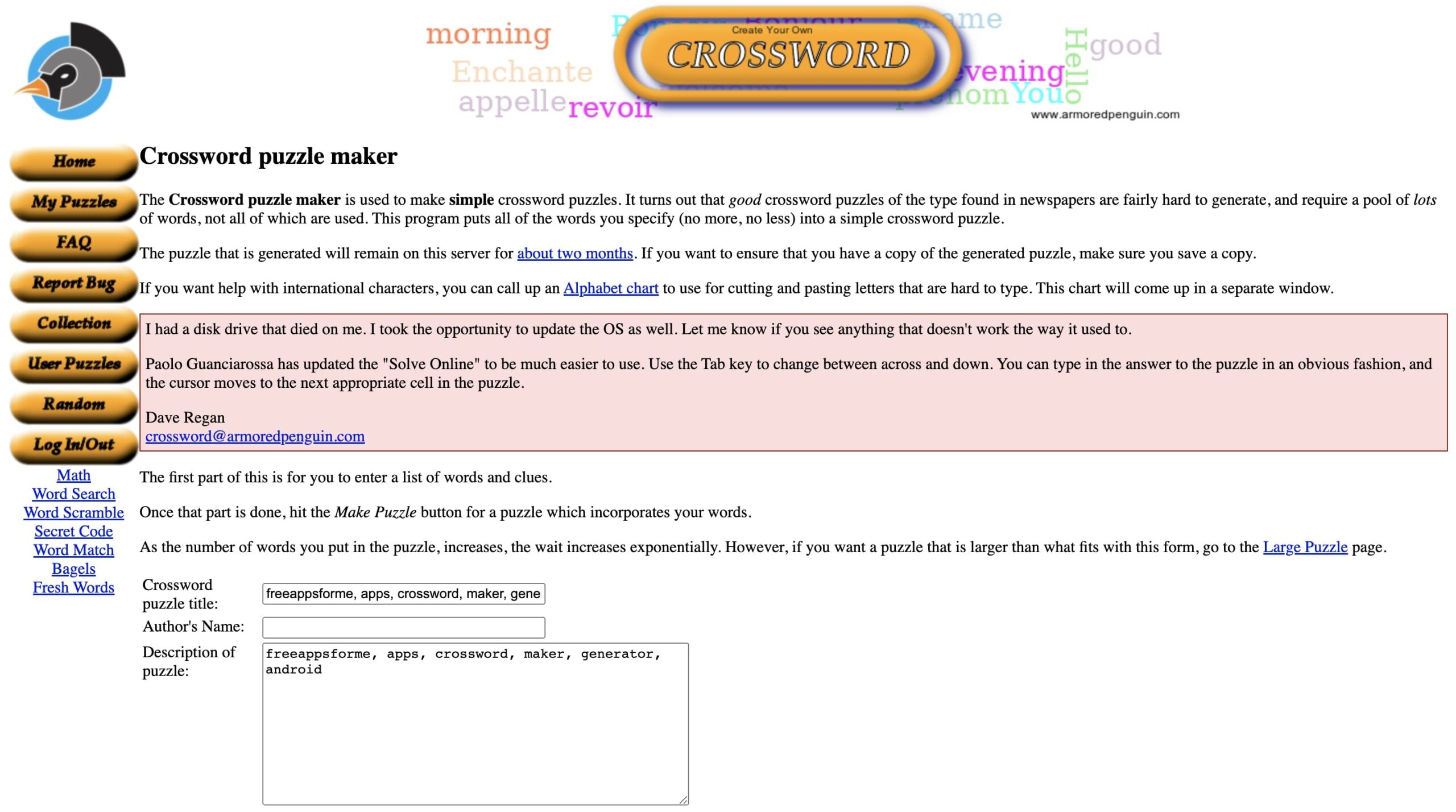 If you need a larger crossword puzzle, click on the "Large Puzzle" tab. The waiting time is usually no more than a few minutes. Sometimes the program cannot offer you a ready-made version that includes all the necessary words. Then it is recommended to revise the list of words or reduce their number.

Tools for Educators
With Tools for Educators you will create your own crossword puzzles in the classic tradition. Fill in the lines with the words you want to propose for the game. Make up original descriptions or take them from a modern dictionary.
Imagine how a party or an evening at home will be transformed with interesting crosswords. You can prepare a crossword puzzle as an unusual gift for a wedding or birthday.
Get to know your friend or partner better with a puzzle based on your memories and wishes. Your child's New Year's Eve will be more fabulous and exciting if you come up with a little quest about hidden gifts.
Create a classic crossword puzzle with puzzled words. Point out clues with different levels of difficulty. Wait until all the words on the list find their place. If you want, you can diversify the puzzle by using images and photos as clues.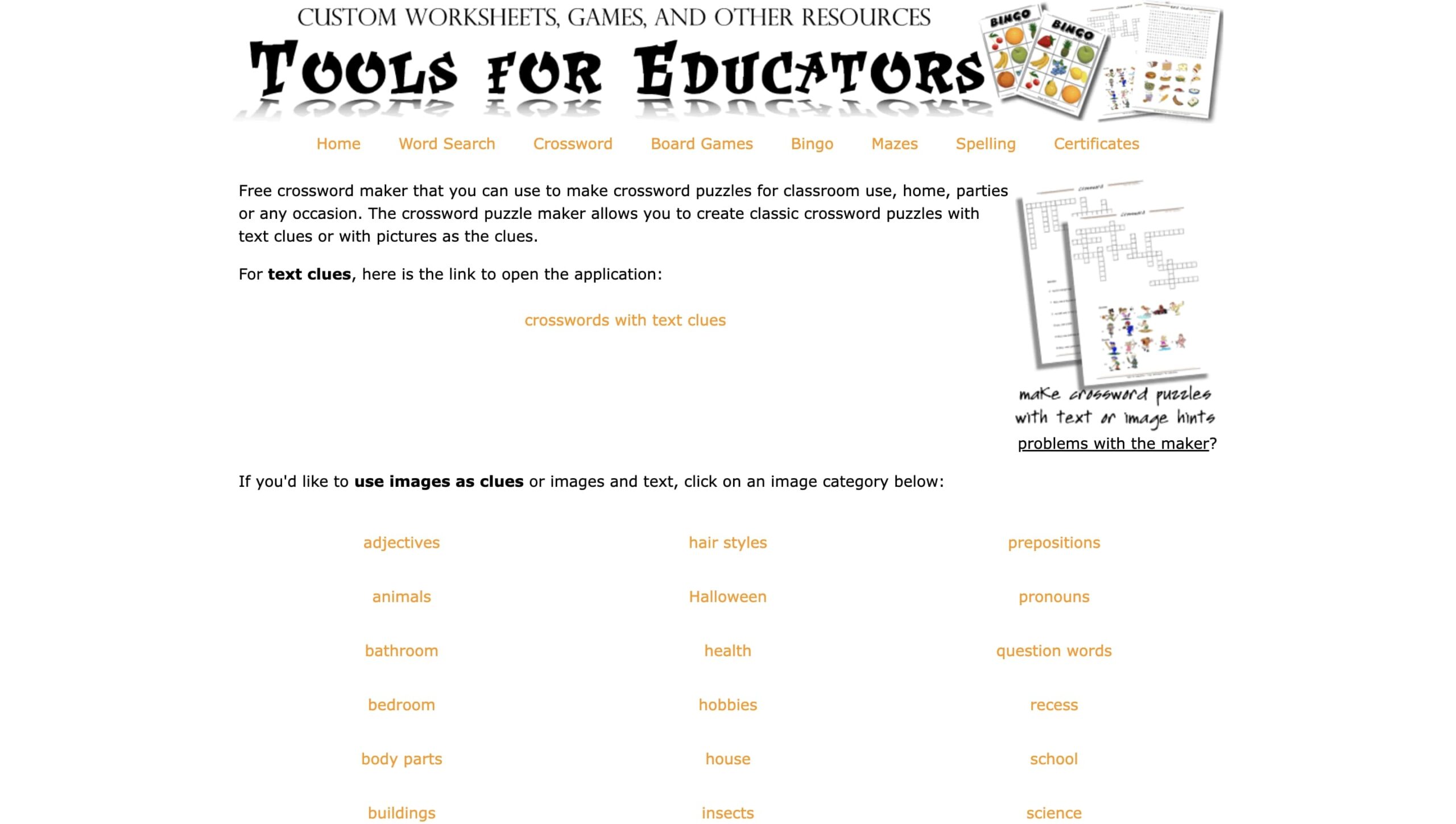 The program allows you to add up to 15 images in 1 file. Choose the level of difficulty for each puzzle. This is a great idea for leisure time for kids and adults of all ages. Be sure to share the crossword puzzle construction website with your friends and family.

Educaplay
Join a community of crossword puzzle fans. Educaplay has gathered in one place fans of creating and solving crossword puzzles. You are offered the most modern and powerful technology to create the perfect crossword puzzle.
All crossword puzzles are authorized for use in magazines, newspapers, and other Internet portals. This is an awesome service that works with maximum efficiency. You only need to specify the topic for the crossword puzzle. After that, the constructor will automatically select the words and arrange them in the correct order.
To create an interesting quiz, you can specify a link to a book or article. But that doesn't mean you can't use your own list of words. Choose an option that is your favorite. This will help make the learning process fun and not boring.
Your options are not limited to just words: make prompts from images, audio files, and GIFs. Add extra options. It can be hinted in clues, a certain number of lives, or a built-in timer. The crossword puzzle can be made up of characters from different alphabets, including Greek, Latin, Chinese, and Hebrew.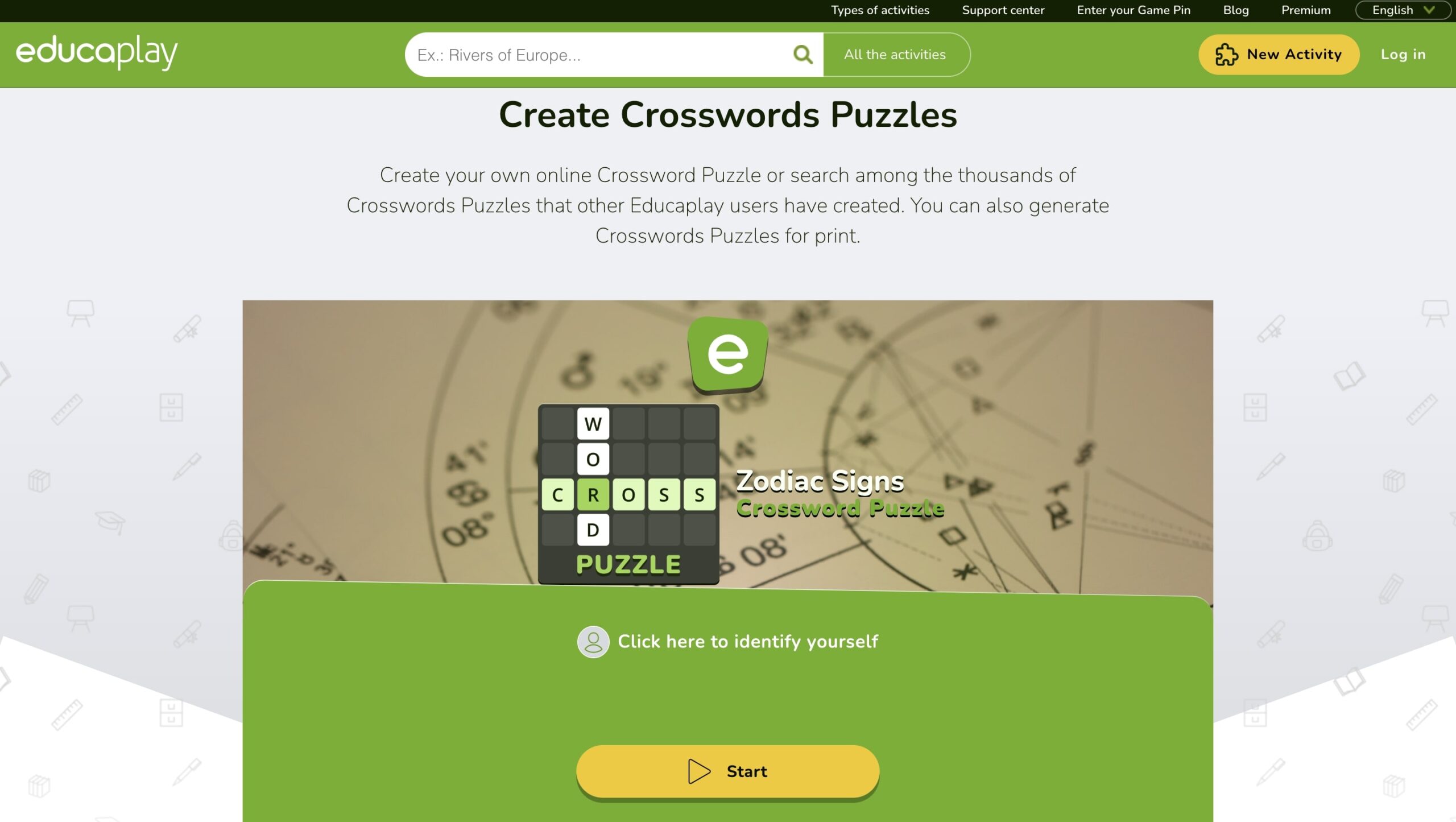 For those who like to solve crosswords, there is a large selection of ready-made options. Come in and choose one of the crossword puzzles that have been created by other users before.

Oh, My Dots
Oh, My Dots is more than a simple crossword puzzle builder. With its help, you can find a new interesting hobby, as well as share with friends and family members interesting and useful activity.
The service works on the basis of complex algorithms that are hidden from the user. Artificial intelligence needs much less time to create an original crossword puzzle from the words you have written down.
Start by preparing your desired words. They can be of any length, and the number of them is unlimited. Separately prepare useful hints that will help players in solving the encrypted words. They can be entered manually or recorded automatically.
Then the generator will determine the format of the crossword puzzle taking into account the use of words. Get a crossword puzzle grid, completely ready to play.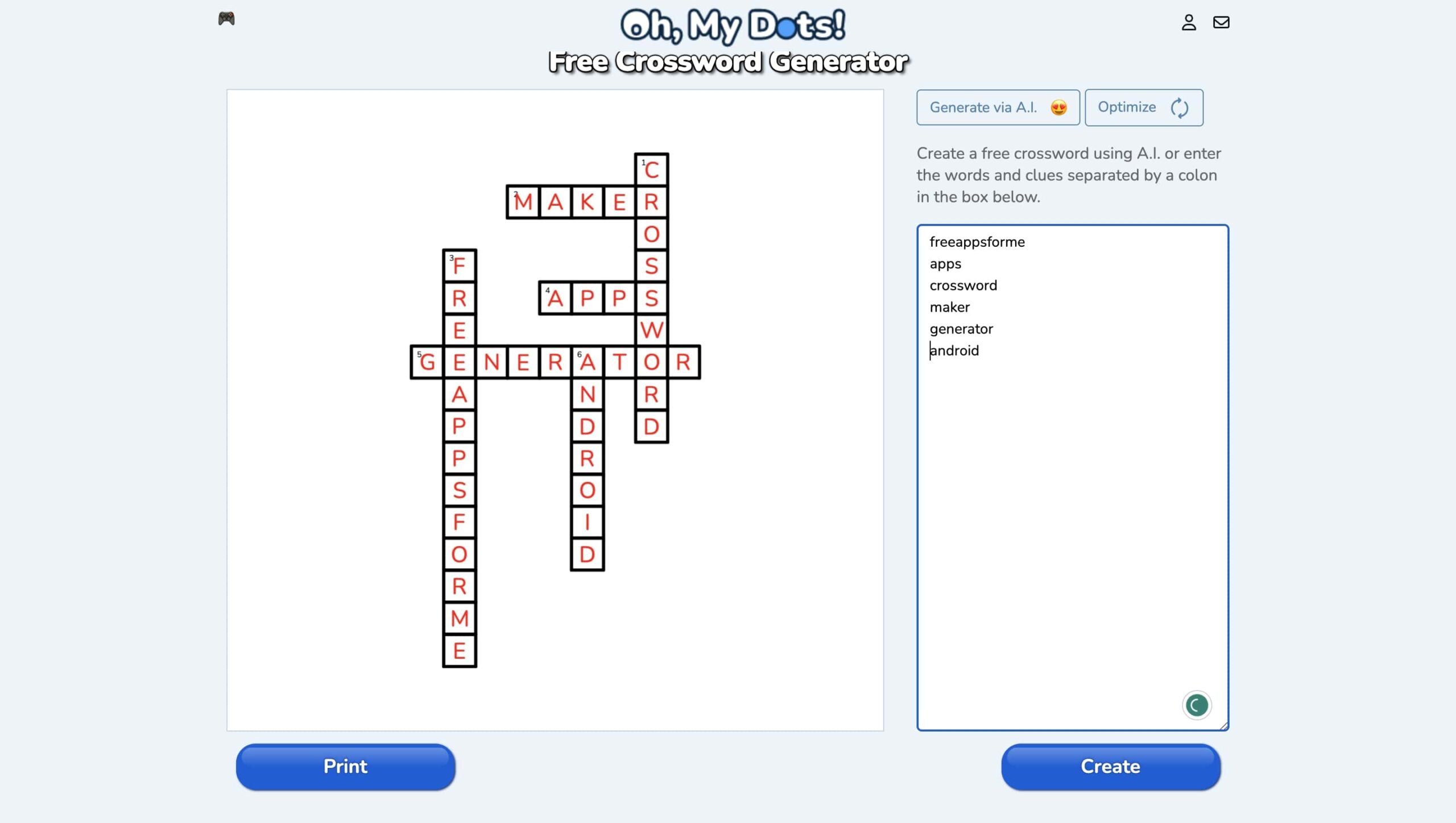 You may have to wait a bit, as the program will choose the most suitable layout. You can also take part in the process of preparing the crossword puzzle and choose the form you want.

More Puzzles
More Puzzles is the easiest and most convenient builder for experienced players and beginners. Here all the work is done step by step and is fully controlled by the user. You decide how the finished version will look like and what words should be used in the grid.
Visit this website and get the opportunity to create and save an unlimited number of crossword puzzles. All this is absolutely free. Title your puzzle to give players another clue. Choose words from a particular theme or use those suitable for your idea.
Each word must be accompanied by an understandable clue. You can write the information yourself or use the service of a dictionary. Decorate your creation with any images. This can be hinted at in the form of photos, pictures, and animations.
Such inserts will make the crossword puzzle brighter and more interesting. Print puzzles and share them with like-minded people. You can easily hold a crossword puzzle competition among students or colleagues. Or use it to paste it into your unit and share it on social media.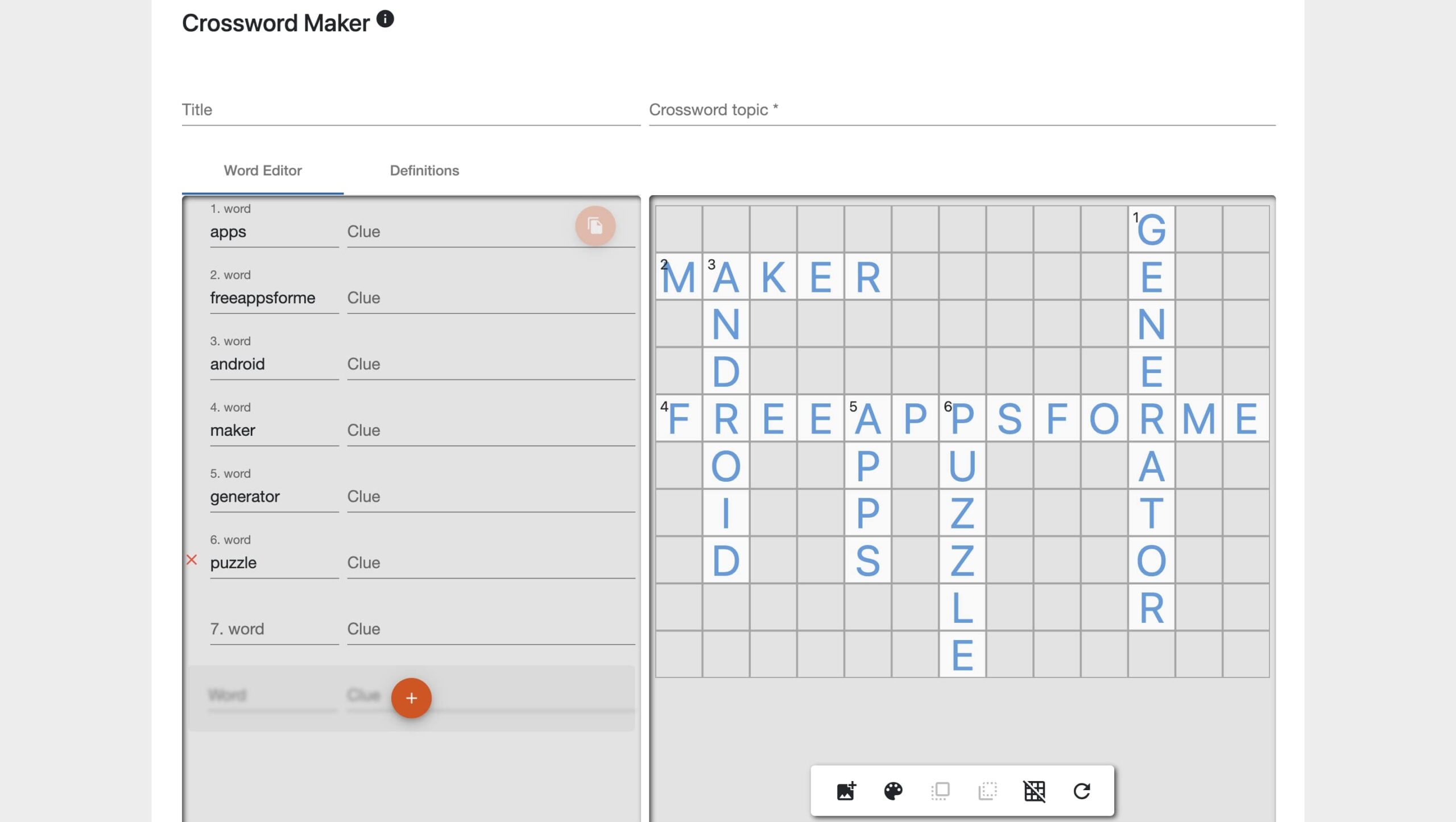 You can create many copies of the same crossword puzzle until you get a perfect result. Evaluate the finished crossword puzzle immediately after its construction.

You may also like: 16 Best Math Game Apps for Adults (Android & iOS)
Printable Creative
If you want to learn how to create crossword puzzles properly, then go to Printable Creative. On this online platform, you will get everything you need to create a quality crossword puzzle in the first few minutes.
Your word list should contain at least 10 items. Just write them in the empty field, and the program will arrange them in the desired order.
Do not forget to write down an understandable description for each riddled word. Hints should be placed in the line right after the word. Give your creation any name that best reflects its essence.
Your crossword puzzle will look like you intended. To do this, work with the settings of font, color, and size of the puzzle. By clicking the "Create Now" button, you invite the system to start working on creating your crossword puzzle. This can take some time, especially if the word list is quite long.
If you don't want to stop at the suggested option, you can always click the button again. The finished file can easily be downloaded to your phone or computer, printed, or sent to others.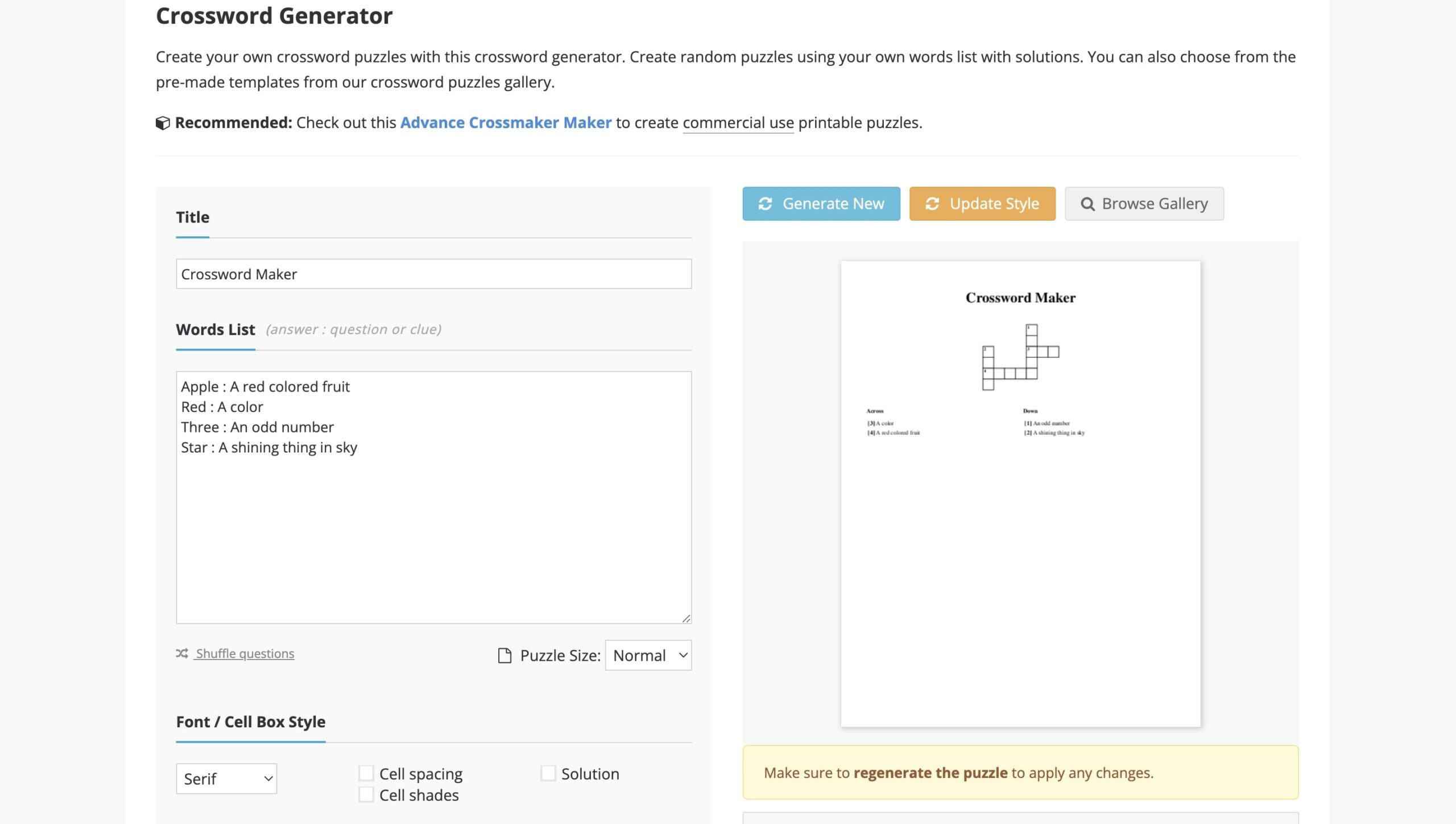 When you print it out, you will receive a 2-page PDF file. The first page will show the crossword puzzle and the second page will contain the answers. To make the answers visible on the screen, use the "Show Answers" option.