One of the Android phones' advantages is that they are very customizable. You can make your phone truly unique by changing themes, downloading third-party apps (which is not recommended though), and, of course, adding cool widgets.
Tired of your default clock? Wanna find something more interesting or, maybe, create a clock widget by yourself? The apps below will help you to do both! Just check the list and choose what you need!
You may also like: 10 Best Atomic Clock Apps for Android
Clock Widget
Clock Widget is a very customizable clock widget app. You can change widgets' style, text color, transparency, size, and so on. What's remarkable is that there are lots of amazing fonts to choose from, so you can create something that perfectly suits your theme.
Clock Widget reflects time and date, which is the only information most users usually need. When you tap an app's clock widget, you open alarm settings (as usual) and widget settings.
So, for all the minimalists out there, this app is what you truly need! The app works with Android 4.1 and all the newer versions.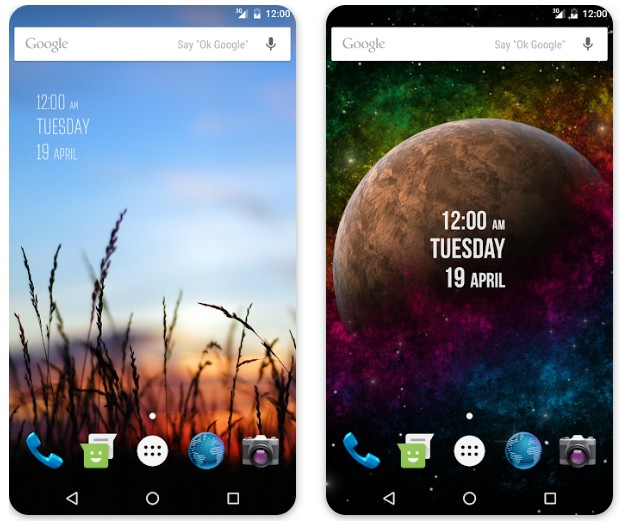 You may also like: 13 Best alarm clock apps for Android
Chronus
Chronus is an extended widget app. It not only has clock widgets but also weather, calendar, news, tasks widgets and others. All of them can be changed according to your taste. Not all of them are free though – in order to get access to some widgets, you gotta get premium.
The advantage of this one is that you can have lots of information in just one widget. If you are one of those practical people, get this app as soon as possible!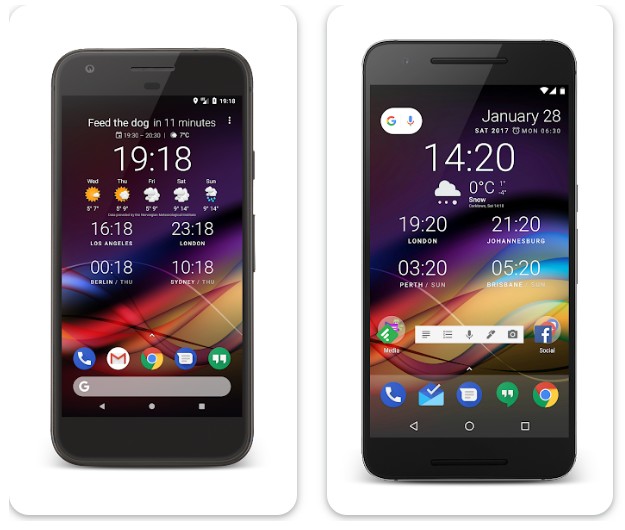 Ultimate Custom Clock Widget (UCCW)
UCCW takes full advantage of Android's easy customization. With this app, you can create a truly unique skin by changing layout, forms, fonts, images, and so on. You can download ready skin if you don't want to spend time creating your own one.
This gives us a huge clock widgets' choice! And not only clock widgets, but you can also create/choose weather and battery meters widgets as well – or mix everything all together.
Once again, it's worth mentioning that there are lots of stuff you can change or make up. If you created a very cool skin, you can share it with others. All in all, if you seek freedom to use your creativity or just lots of options at once, this is probably the best app to choose from!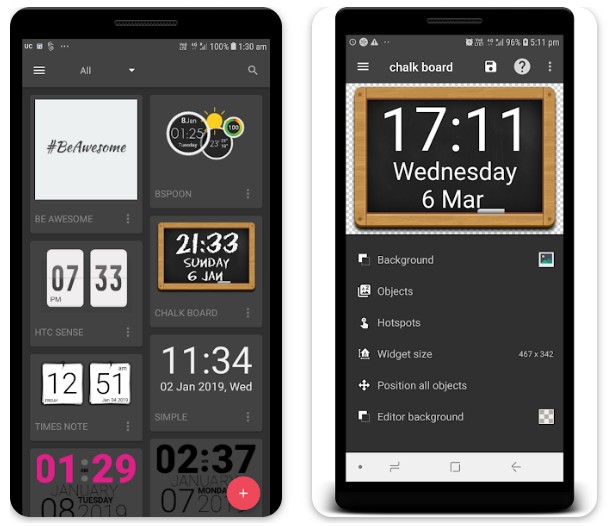 Neon Clock
There is a paid version of this app, but we managed to find the free one – a more simple, but still stylish clock widget in neon colors. If you like bright shades and non-standard designs, this widget can become a nice choice for you – along with demonstrating the time.
It is even not a widget – it's a live wallpaper that you install to the screens, but it works like clock. The size of the clock is customizable and you can make it smaller or bigger. Then, adjust the current date.
By the way, the fonts and colors are customizable as well, so you don't have to stick only with one all the time. Just one negative aspect here is it can be installed not on every device.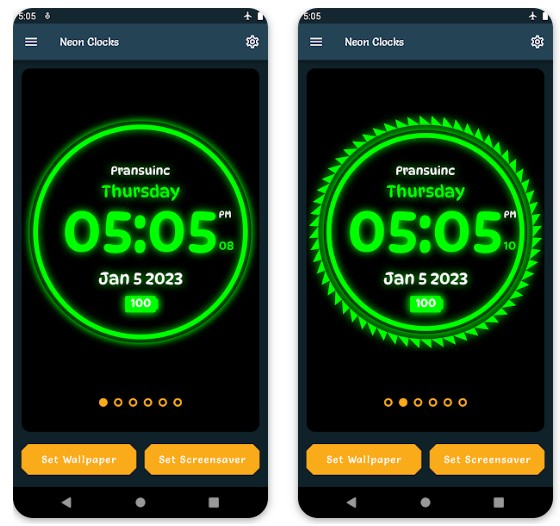 Minimalistic text
Minimalistic text is a name that speaks for itself. The app allows users to create time, date, and weather widgets using text. These widgets turn out to be very minimalistic and just nice to look at.
Needless to say, everything is highly customizable. So, one more great app for making personalized widgets!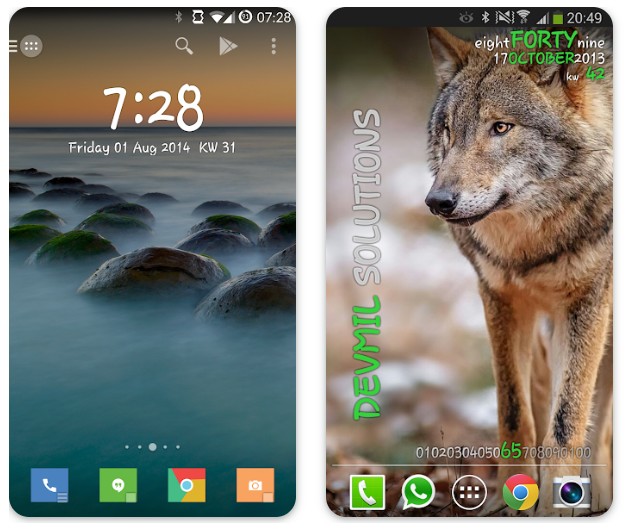 ClockQ
ClockQ is very similar to the app above. This one also helps you create personalized widgets for your home screen – you can choose fonts, colors, transparency, apply shadows, and change size.
A widget may consist either of time or of time and date. You can also add a battery level. So, if you like this simple nice app, just tap the 'Google Play' button down below!

Clock
Can there be anything more obvious than the clock widget by Google for Android devices? In fact, installing a widget from this trusted developer is a great idea. It's not going to be the most authentically looking widget ever but it does its job – it shows the time on the screen.
Apart from the widget, there is a number of features in the app such as an alarm clock, timer, etc. You can choose the colors for the widget and you won't have to stick with just one all the time. Clock by Google is applicable not only to smartphones – but for tablets as well.

Digi Clock Widget
Digi Clock Widget is suitable both for phones and tablets. It has 5 different formats of clocks – a small one, a small wide one with seconds, a big one, a very big one for tablets and a very very big one also for tablets.
Having chosen a format, you open up a huge customization set that allows you to choose fonts, colors, shadows, outlines, transparency, etc. What is special about this app is that you can upload your own fonts and your own picture to use as a background, which gives you unlimited freedom! Download the app now and start creating a clock widget you'll love!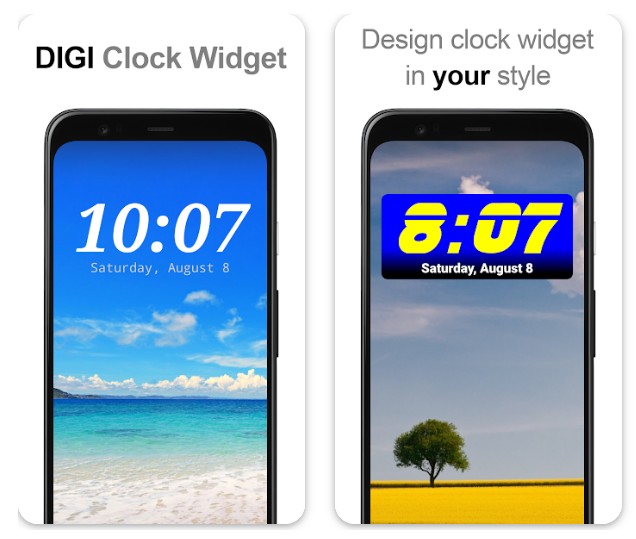 BobClockD3
BobClockD3 is a simple clock widget which somehow looks really good. You can change the size, color, date format. The app can launch your alarm app. Everything as usual.
So, if you like the design, no one's stopping you from downloading, you know? 😉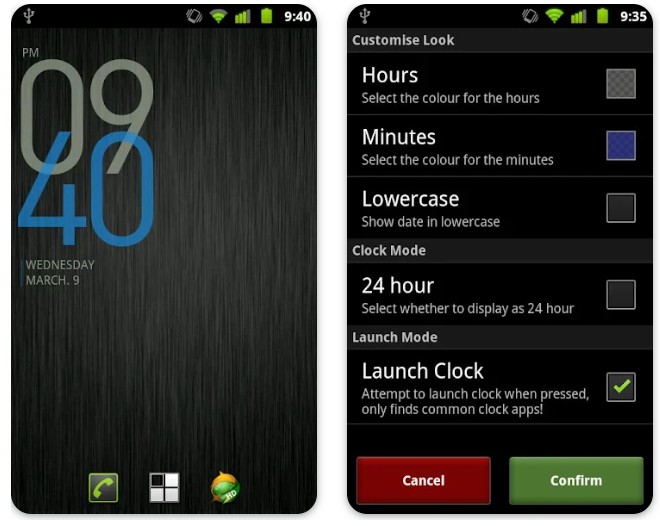 You may also like: 7 Epic countdown timer apps for Android & iOS
Minimal Clock
Minimal Clock is a very cute minimalistic widget. It shows time (hours in the middle and minutes on the side), day of the week, and battery level (optional; represents an arc around the clock).
You can change the colors of all the details separately. You can customize transparency. You can choose what app to open at the tapping of the widget. You can get this app!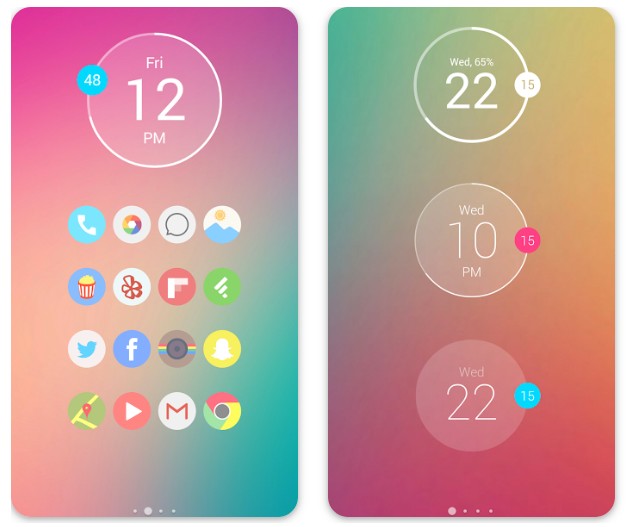 Onca Clock Widget
Onca Clock Widget is very similar to the app above. It also combines digital and analog clock and it also offers lots of customization features – you can change the size, the color of every element, transparency.
What's special about this one though is that you can add seconds if you want to (will be shown on the arc) and date (will be located near clock widget and not under it). It's up to you to choose which widget app is the best!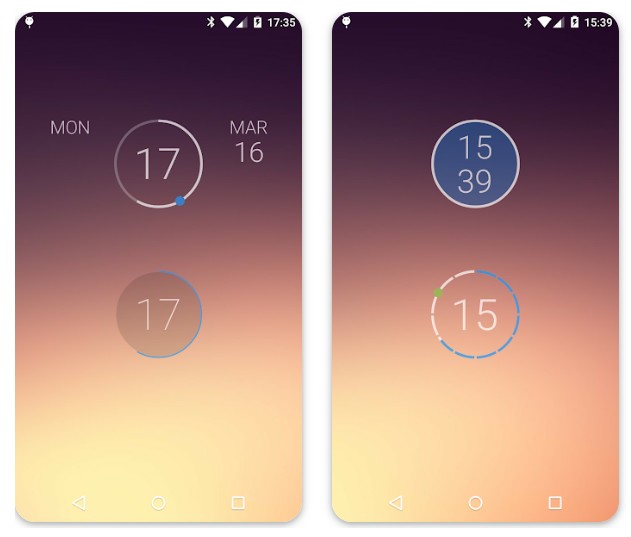 Android 12 Clock Widgets
You don't want to go for just one app, but change widgets all the time in order not toget bored? Then we got an option for you here! This app includes the whole 12 various widgets for your device and you can alter them anytime.
What is more, this app works just like you could compile your own design of clock. You open it and you need first choose the shape of clock and then the style of it with details – along with the color palette. Then you need to set up the time and place the widget to the home screen. Here you go!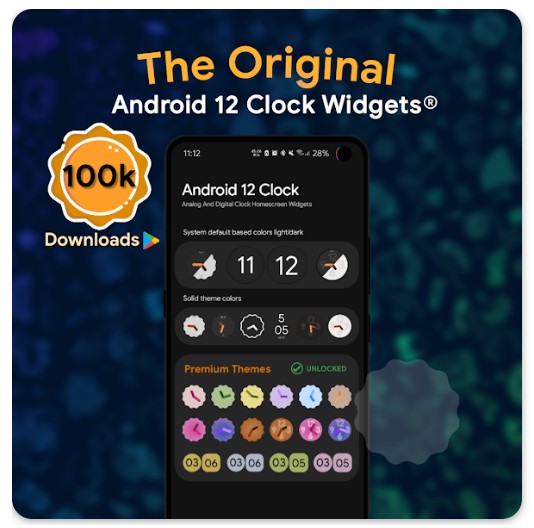 Sense Flip Clock & Weather
Sense Flip Clock & Weather is a clock widget app that displays time in a convenient form.
After downloading, users can easily add the Sense Flip Clock & Weather widget to their home screen. From there, the widget will display the time and weather information for their chosen location.
The app also provides additional customization options such as choosing the clock style and weather units.
The flip clock animation is a nice touch, adding a touch of nostalgia to the widget. However, some users may find the design to be too simple or lacking in variety.
However, the app may not work well with certain launchers, causing the widget to appear distorted or misaligned on the home screen.
Advantages:
Sleek and modern design.
Easy to use.
Customizable clock styles and weather units.
Drawbacks:
Potential reliability issues with weather updates.
May not work well with certain launchers.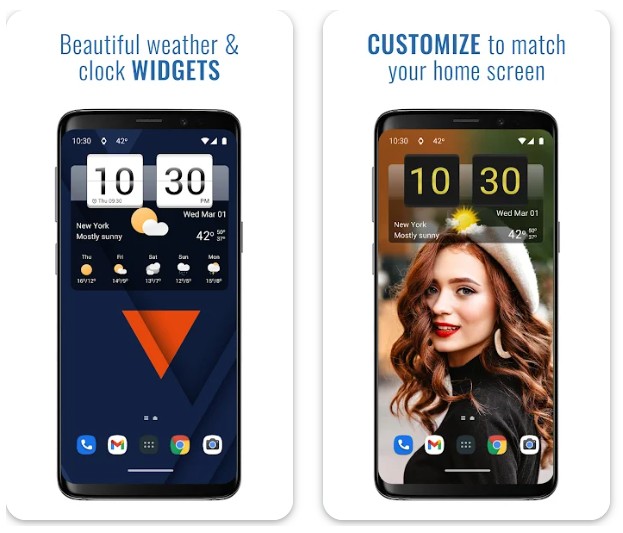 Analog Clock Widget
An insanely beautiful clock widget for those who appreciate elegance in everything. If you want to add some spark to your smartphone's interface, then this widget might be that something you have been looking for.
Here you have 5 variants of the beautiful old-fashioned clock to choose from. It's completely free and doesn't contain any ads.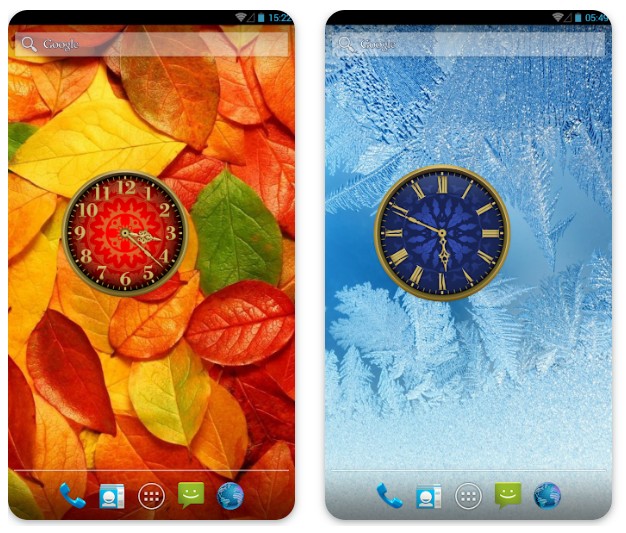 Retro Clock Widget
For all the retro theme lovers – this is a cool option for you. This widget has been on the market for some time now and was downloaded by more than a million users all around the world. It is quite simple, and, as you might already guess, has a significant retro style.
This app provides a home screen clock and date widget based on the classical mechanical flipping clock. The widgets act as shortcuts to the systems alarm clock and calendar applications.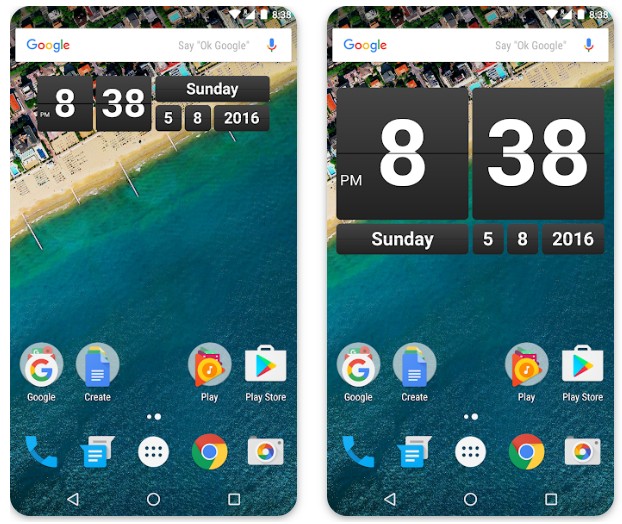 Seven Time – Resizable Clock
Seven Time is a minimalistic widget that fits any type of screen and background. It's fully customizable so you can alter it according to your preference.
You can select the type and the size of fonts. There is an option to choose between 12 and 24-hour time.
By the way, another essential point is your clock widget would not be too energy-consuming. Seven-Time helps to save the battery charge, saving the energy. The colors are customizable as well.
For better looks, there is a shadow effect that makes Seven Time a great decoration for the home screen of your smartphone.

You may also like: 9 Best clock widget apps that shows seconds (Android & iOS)
GO Clock Widget
One very nice clock widget that is getting more and more popular thanks to its beautiful design. Both analog style and digital style are supported. Depending on which part of the world you live, you can alter the time indicators from 18:00 and 6 p.m. – type.
What is more, this widget allows you to get the alarms. It works great both on the latest and older Android gadgets. There are lots of possibilities for the customization of the design of the clock – you can find, basically, everything you want.