One of the Android phones' advantages is that they are very customizable. You can make your phone truly unique by changing themes, downloading third-party apps (which is not recommended though), and, of course, adding cool widgets.
How to use widget apps? When you download a widget app, there is no way to use it just by tapping its icon. In order to place downloaded widgets on your screen, you need to go to the app drawer and tap the widgets tab. If you're in the right place, new widgets will be there to choose from. 
You may also like: 15 Free Background and Wallpaper Maker Apps (Android & iOS)
Tired of your default clock? Wanna find something more interesting or, maybe, create a clock widget by yourself? The apps below will help you to do both! Just check the list and choose what you need!
Clock Widget
Clock Widget is a very customizable clock widget app. You can change widgets' style, text color, transparency, size, and so on. What's remarkable is that there are lots of amazing fonts to choose from, so you can create something that perfectly suits your theme.
Clock Widget reflects time and date, which is the only information most users usually need. When you tap an app's clock widget, you open alarm settings (as usual) and widget settings. So, for all the minimalists out there, this app is what you truly need! The app works with Android 4.1 and all the newer versions.
Also read: 13 Best alarm clock apps for Android
Chronus
Chronus is an extended widget app. It not only has clock widgets but also weather, calendar, news, tasks widgets and others. All of them can be changed according to your taste. Not all of them are free though – in order to get access to some widgets, you gotta get premium.
The advantage of this one is that you can have lots of information in just one widget. If you are one of those practical people, get this app as soon as possible!
Ultimate Custom Clock Widget (UCCW)
UCCW takes full advantage of Android's easy customization. With this app, you can create a truly unique skin by changing layout, forms, fonts, images, and so on. You can download ready skin if you don't want to spend time creating your own one. This gives us a huge clock widgets' choice! And not only clock widgets, but you can also create/choose weather and battery meters widgets as well – or mix everything all together.
Once again, it's worth mentioning that there are lots of stuff you can change or make up. If you created a very cool skin, you can share it with others. All in all, if you seek freedom to use your creativity or just lots of options at once, this is probably the best app to choose from!
Lines Clock
Lines Clock is an example of skin created with UCCW. In order to use this clock widget, you gotta have the UCCW app installed on your phone. If you do, great! – means you can use this fantastic clock, date, weather widget. The best thing about this widget is that it will fit into basically any interface design.
Minimalistic text
Minimalistic text is a name that speaks for itself. The app allows users to create time, date, and weather widgets using text. These widgets turn out to be very minimalistic and just nice to look at. Needless to say, everything is highly customizable. So, one more great app for making personalized widgets!
ClockQ
ClockQ is very similar to the app above. This one also helps you create personalized widgets for your home screen – you can choose fonts, colors, transparency, apply shadows, and change size. A widget may consist either of time or of time and date. You can also add a battery level. So, if you like this simple nice app, just tap the 'Google Play' button down below!
Fancy Widgets
Fancy widgets are one more app that is suitable for all the versions of Android. This one is a bit more interesting though. It shows both time and weather, both separately and together – any way you want. There are also such fancy features as moon phase calendar, sunset/sunrise calculation, battery level, and others. Get this one if you want to! Or not. This is your choice!
Digi Clock Widget
Digi Clock Widget is suitable both for phones and tablets. It has 5 different formats of clocks – a small one, a small wide one with seconds,  a big one, a very big one for tablets and a very very big one also for tablets.
Having chosen a format, you open up a huge customization set that allows you to choose fonts, colors, shadows, outlines, transparency, etc. What is special about this app is that you can upload your own fonts and your own picture to use as a background, which gives you unlimited freedom! Download the app now and start creating a clock widget you'll love!
BobClockD3
BobClockD3 is a simple clock widget which somehow looks really good. You can change the size, color, date format. The app can launch your alarm app. Everything as usual. So, if you like the design, no one's stopping you from downloading, you know? 😉
Minimal Clock
Minimal Clock is a very cute minimalistic widget. It shows time (hours in the middle and minutes on the side), day of the week, and battery level (optional; represents an arc around the clock). You can change the colors of all the details separately. You can customize transparency. You can choose what app to open at the tapping of the widget. You can get this app!
Onca Clock Widget
Onca Clock Widget is very similar to the app above. It also combines digital and analog clock and it also offers lots of customization features – you can change the size, the color of every element, transparency. What's special about this one though is that you can add seconds if you want to (will be shown on the arc) and date (will be located near clock widget and not under it). It's up to you to choose which widget app is the best!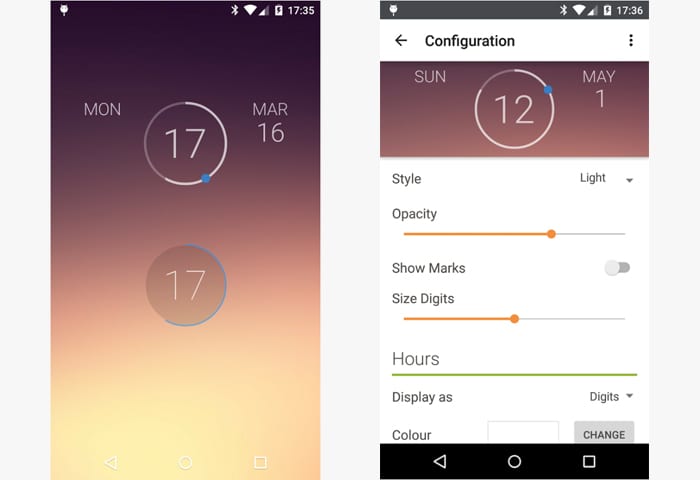 3D Clock Widget
If the next app will be more suitable for girls, then this one looks like it would be suitable for the male audience (even though, let's not discriminate). This is a very stylish 3D clock the design of which is made in dim colors. However, you still can customize this clock and choose the level of transparency for it.
You can also choose the size of the clock. Apart from that, there is a set of wallpapers that comes together with this widget – you can install them to reach the best matching of the background and the widget.
Cute Clock Widget 2
Probably, the girls will like this widget the most. There are the following sizes of this widget: 4×2, 4×1, and 2×1. You will get access to the dozens of cute and girly designs, and, basically, will be able to install a new widget every day if you want.
Besides the clock feature, this widget enables you to launch a calendar and alarm. Simply tap on the date for the calendar and time for the alarm. If you want to use a browser, simply tap on the bottom right of this widget.
You may also like: 7 Epic countdown timer apps for Android & iOS
Analog Clock Widget
An insanely beautiful clock widget for those who appreciate elegance in everything. If you want to add some spark to your smartphone's interface, then this widget might be that something you have been looking for. Here you have 5 variants of the beautiful old-fashioned clock to choose from. It's completely free and doesn't contain any ads.
Retro Clock Widget
For all the retro theme lovers – this is a cool option for you. This widget has been on the market for some time now and was downloaded by more than a million users all around the world. It is quite simple, and, as you might already guess, has a significant retro style.
This app provides a home screen clock and date widget based on the classical mechanical flipping clock. The widgets act as shortcuts to the systems alarm clock and calendar applications.
Digital Clock Widget Xperia
Well, maybe the Sony Xperia smartphone was something that was gone in the past, but it left a nice legacy behind itself as this Digital Clock Widget. The best feature of it is the broad possibilities for customization. All colors are adjustable and the backplate is semi-transparent. Moreover, here you can choose even the fonts and the colors for them.
Apart from that, this clock widget includes not only info about the current time, but there is also a short banner about the weather. If you tap on it, the widget will redirect you to the weather forecast. If you want, you can also complement this widget by downloading an additional calendar to it.
You may also like: 9 Best clock widget apps that shows seconds (Android & iOS)
GO Clock Widget
One very nice clock widget that is getting more and more popular thanks to its beautiful design. Both analog style and digital style are supported. Depending on which part of the world you live, you can alter the time indicators from 18:00 and 6 p.m. – type.
What is more, this widget allows you to get the alarms. It works great both on the latest and older Android gadgets. There are lots of possibilities for the customization of the design of the clock – you can find, basically, everything you want.
So, these were 17 cool clock widget apps for Android. Hope, this article helped you find what you were looking for! Stay tuned and be smart in choosing apps (and widgets)!