Text support for photos and messages sometimes plays an important role in communication. It can also affect your mood when communicating – bright, juicy letters will lift your mood, and allow you to look at the messages of the person you are talking to more easily and without much tension.
There are also a number of apps that can be used to add bright text to your photo. Only your fantasy decides everything here! Remember that this way you can more accurately convey your mood or even the idea of a photo. Size, color, style and more are up to you.
We've found the 13 best apps for you that turn boring text into something very special.
You may also like: 9 Free AI Art Generator Apps from Text
Texty: Text on Photos
Texty is a modern application designed to process photos. The application allows you to easily and quickly add various text to your photos without making them look like the writing of a small child.
With Texty you will get a real piece of graphic art, and you will also have the opportunity to try yourself as a designer. A variety of settings will only help you get the perfect result.
Mostly text editing in photos is used in social networks such as WhatsApp, Pinterest and Instagram. Texty allows you to edit it right in these applications!
The application has a lightweight interface, so the whole creative process will go smoothly for you. Although challenges can occur: there are over 700 fonts for different languages in the Texty catalog, so you'll have to choose from that variety of typography.
Do you often use the same style? Turn it into a template by using not only standard tools but also erasing unnecessary elements with an eraser. Most importantly, all fonts included in Texty are free to use.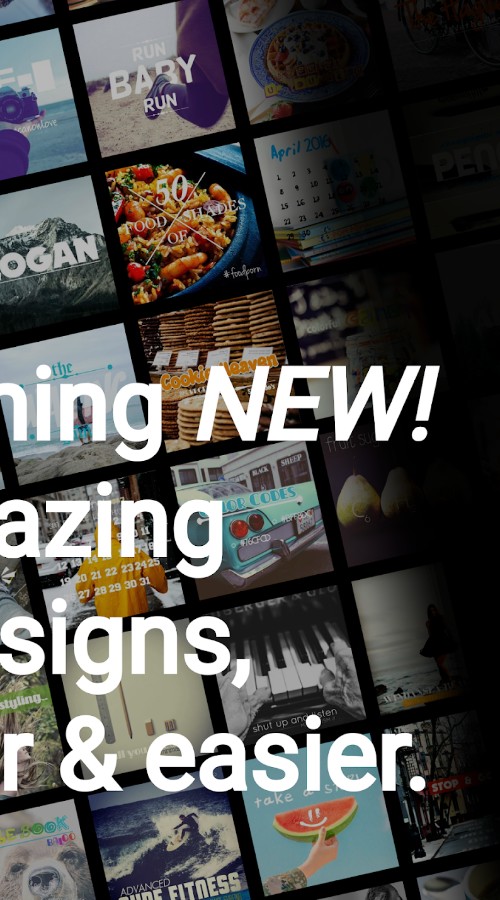 You may also like: 11 Best apps to write text on videos (Android & iOS)
Color Text Messages – customizer colorful texting
Constantly using SMS messages to keep in touch with your friends? Or do you write a message much faster than calling a person? However, we are sure that you have noticed that the design of SMS applications is always the same and boring.
Color Text Messages will make them more vivid, catchy and interesting – it will be appreciated not only by you but also by your friends.
Color Text Messages applies various fabulous effects to your messages. In addition to replacing the background, you get a variety of colored and painted fonts, bubble effects, and incredible patterns.
If you can't choose for yourself, just click "Random" and the application will choose the design for you. Now your friends will be looking forward to receiving messages from you, because each time they will receive something unusual and original.
In order to get templates, you will need to press only one button. All fonts and colors are available for you to choose from, as well as a huge number of different bubbles.
Before you send the message, evaluate its final appearance and make the finishing touches – so you will bring it to perfection.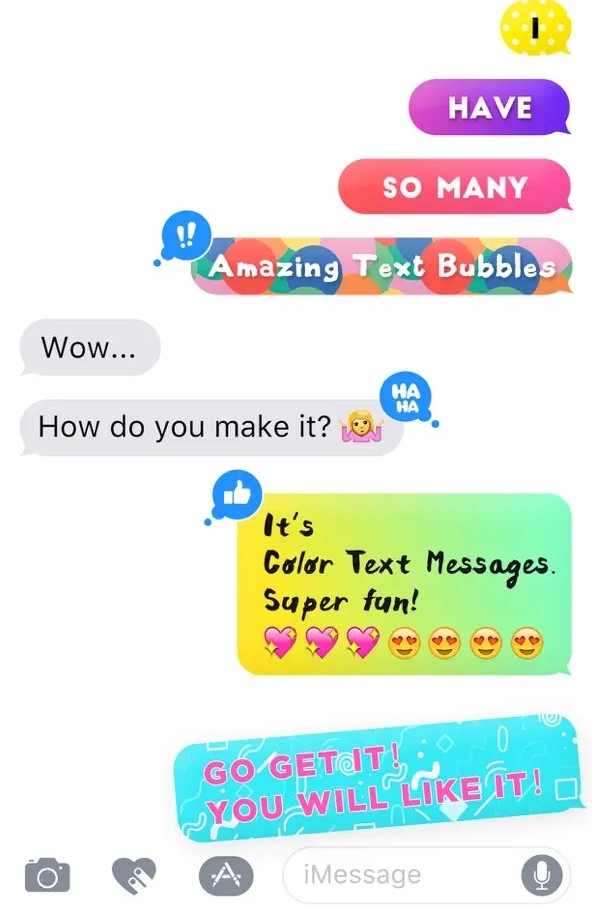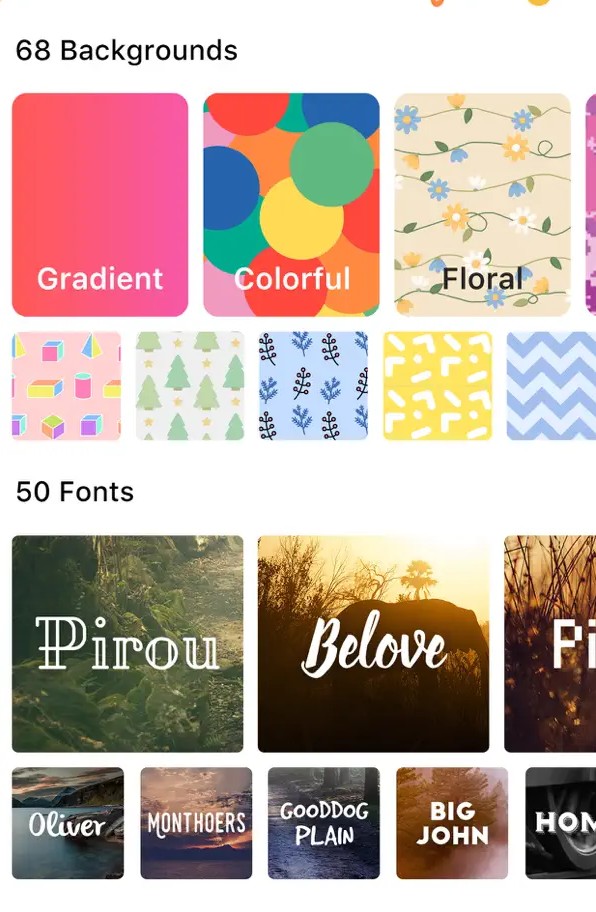 Phonto – Text on Photos
Phonto is an application that is available on both iOS and Android. The application has a different appearance and functionality on different platforms, so before downloading it, please study the service in detail.
We can say that it is a handy application, which will allow you to add text and phrases to photos.
There are more than two hundred fonts in Phonto, which will be enough for any of your ideas. You didn't find what you need? Then you can upload your own fonts to the application and work with them.
The size of letters, as well as their position is easily adjustable by the user. If you wish, you can add a gradient or give the inscription a certain form – for example, to set it on a circle. You can make each letter a separate color – even if your phrase consists of many letters.
We found a small minus at Phonto, despite its convenience. The application only works with photos that match certain sizes. So if you plan to add text to photos of large sizes, be prepared for Phonto to compress them.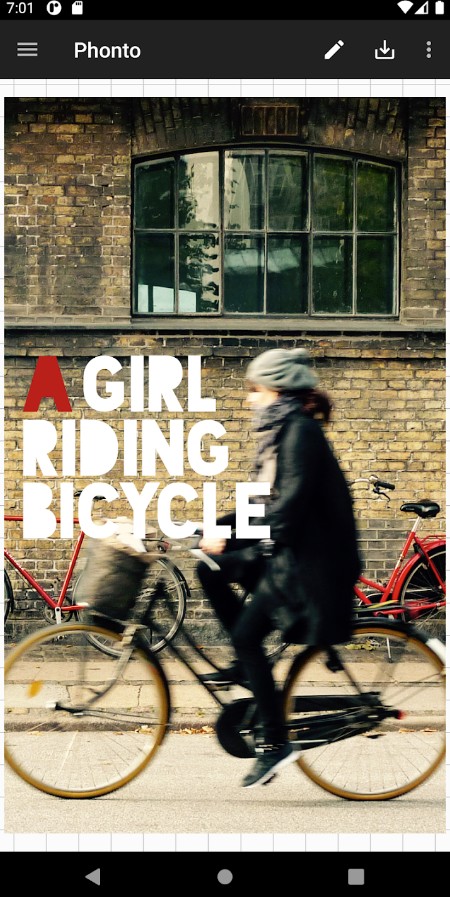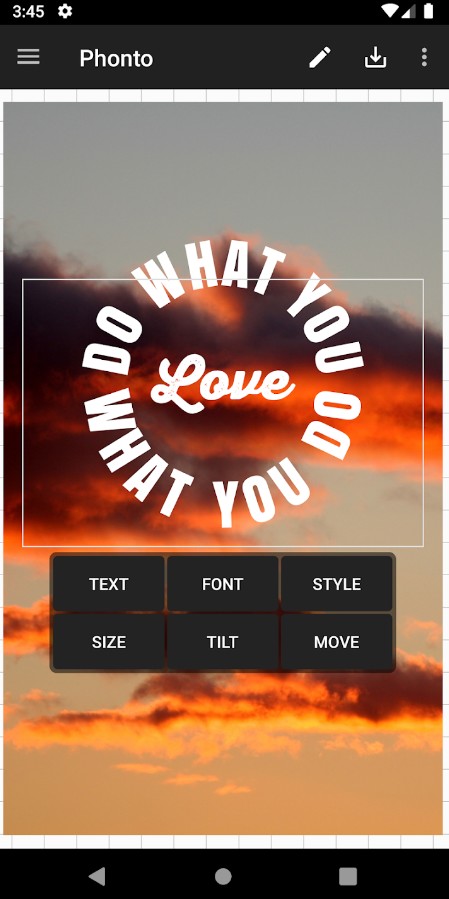 Photo Editor – All-in-one Photo Editor
It is already clear from the name that the application is designed to work with text on images. In fact, this is one of the many features that are presented in the Photo Editor – the developers did a really good job here.
In just a few seconds you will get a more elaborate and unique photo, and you can make it completely ideal.
You can add both handwritten fonts in the photo (just by writing something with a brush on top of the image) and using one of the custom fonts. It should be noted that Photo Editor does not have a huge number of fonts, but you have many options to change it to your liking.
Like many applications, Photo Editor has a Pro version. It costs less than $2, but a short trial period is available. Not sure if you will use Photo Editor so much?
Then just try adding colored text to any of your photos during the trial period and you will see if you are satisfied with the features. Simple lettering editing is available even in the free version.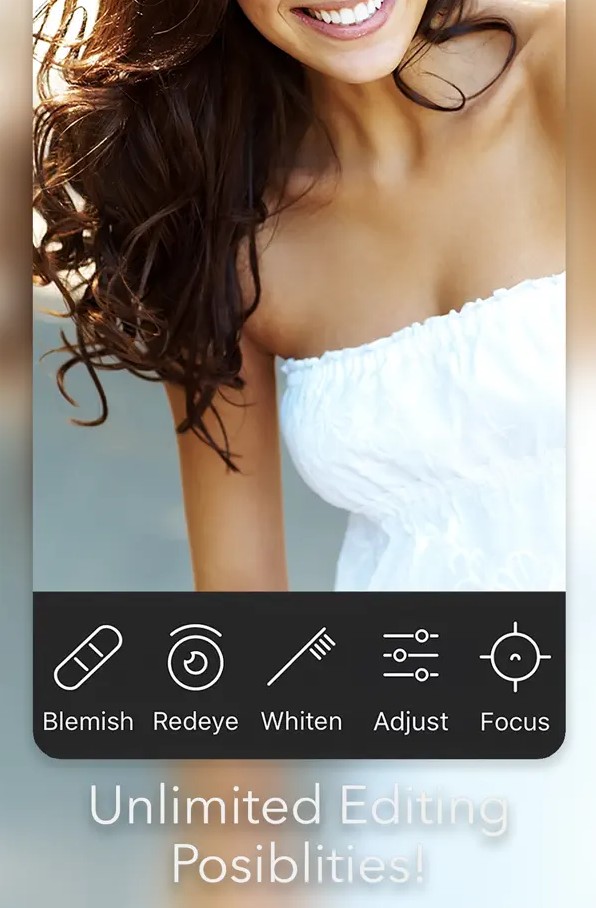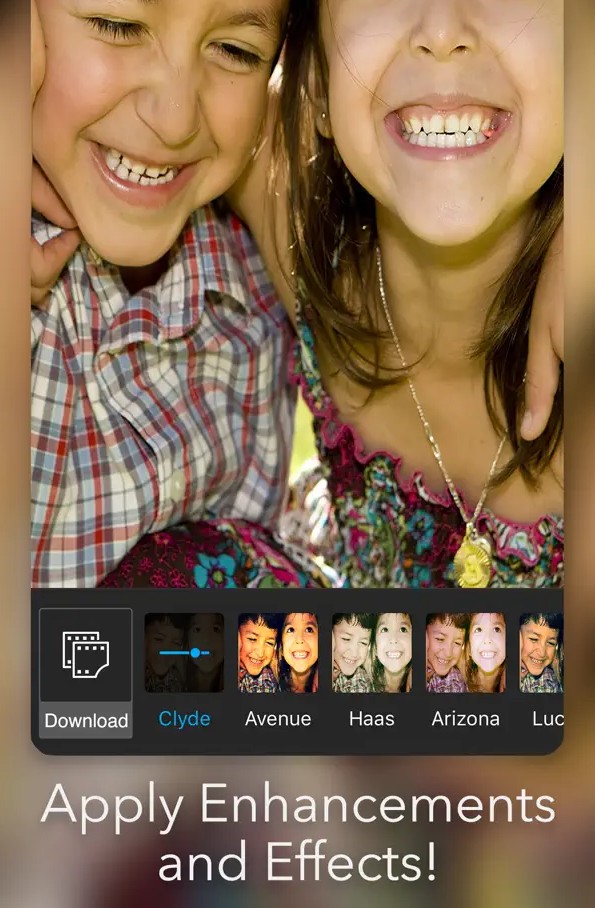 Font Rush
Font Rush has been specially designed so that you can beautifully express your statements or quotations. Even if the quote is not yours, it doesn't matter, you can still design it effectively and present it exactly as you understand it.
Font Rush is one of the coolest tools to work with text in graphical format on your smartphone. With just a couple of clicks, boring and typical text can become something amazing, with unusual fonts and bright colors.
No matter what you want to create – a poster, diversify your photo, or even create a greeting for a friend – in any case the result will be great. Font Rush can also be considered an application for all people, regardless of their experience.
Both pictures and photos can be edited. You make up the inserted quotes, add beautiful graphics and add your memories to the pictures. If the photo was created in one of the most memorable moments of your life – this is a great option to make the picture even better.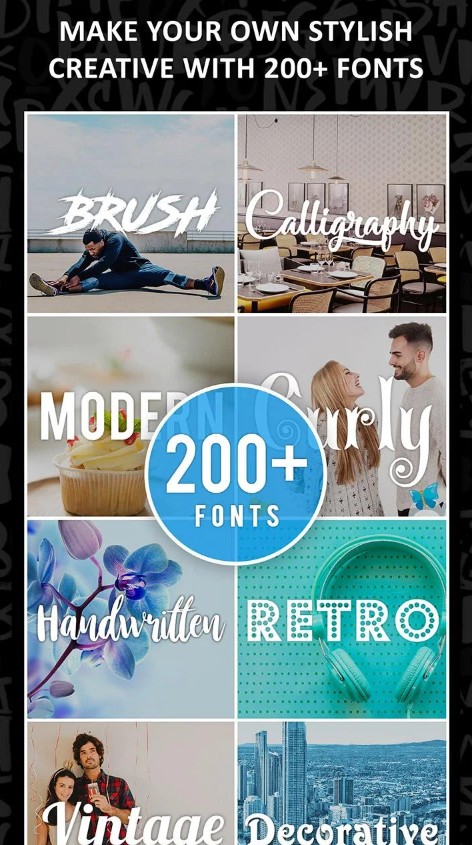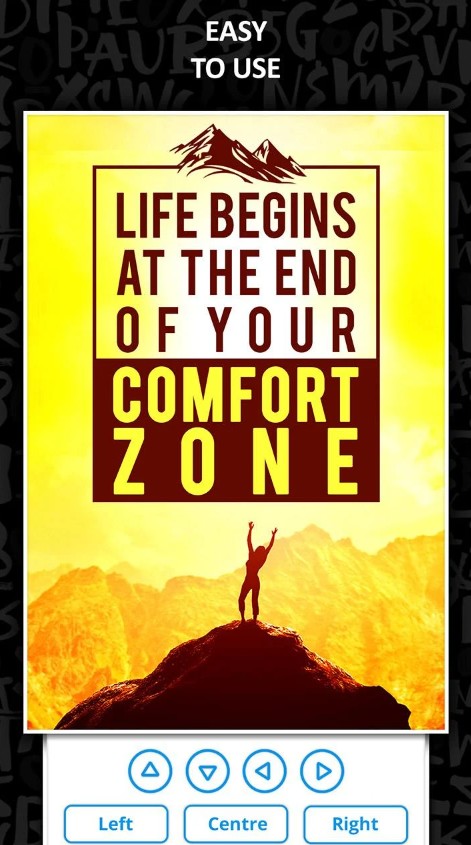 You may also like: 11 Free Text Tones Apps for Android and iPhone
Typo Style – Add text on Pictures, cool fonts
If you think that any inscription or text is a separate piece of art, then you are in perfect harmony with the developers of Typo Style.
They created the application precisely so that people could create something new and interesting, without spending a minute of their personal time on other editing applications.
In Typo Style, you will find a typographic modern picture that easily traces the current influences and fashion trends among fonts. Many design professionals acknowledge that the application is up to date and collects a lot of novelties.
Here you can record all your memories, thoughts and ideas in a beautiful format in pictures that you choose.
For spectacular publications on Instagram you can create cute and elegant pictures with inscriptions about love or quotes. Social banners, pictures you can immediately publish in social networks, without adding anything new when publishing.
Your phrases can become a complete project, which you will change with the help of filters.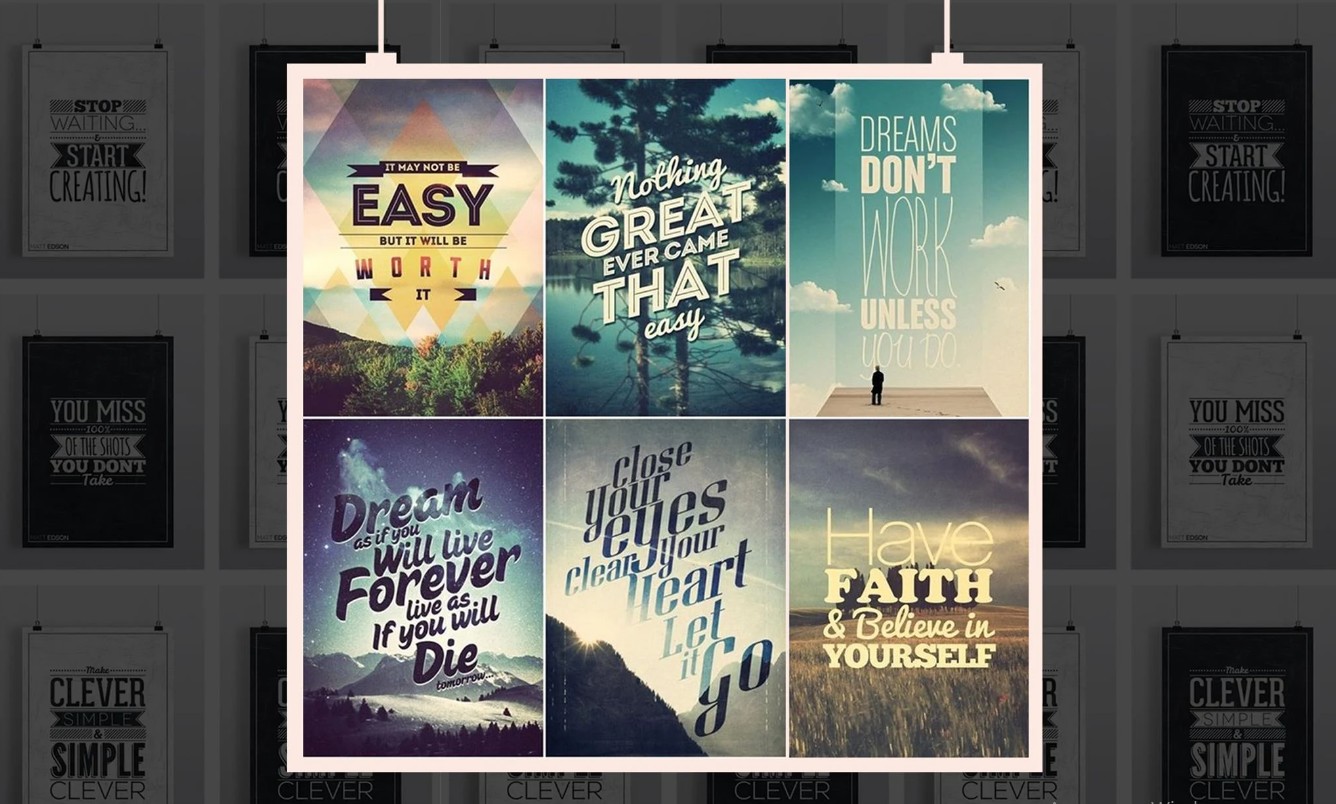 Text On Photo.s & Font Edit.or
Even the name of this application already looks unusual! In Text On Photo.s you can express yourself without using complex tools. Do you want to write down any of your statements, ideas or anything like that?
Then good news for you: in Text On Photo.s you can easily implement your idea directly in camera mode, and immediately share it with your audience.
The application collection has many different artistic fonts, whose settings can be changed individually. Want to change the color, add a gradient or a shadow?
Text On Photo.s will give you this opportunity! With a minimum of movements and actions you turn soulless photos into something unique and funny.
Texts can be adjusted right at the moment of editing. Rotate the text, add new lines and change colors and shadows with gestures.
All actions are very simple in management, and as it is necessary to notice that Text On Photo.s constantly updates filters for maintenance of modern tendencies.
Do you want to stay in the trend, but to express your own thoughts brightly? Then this app is for you.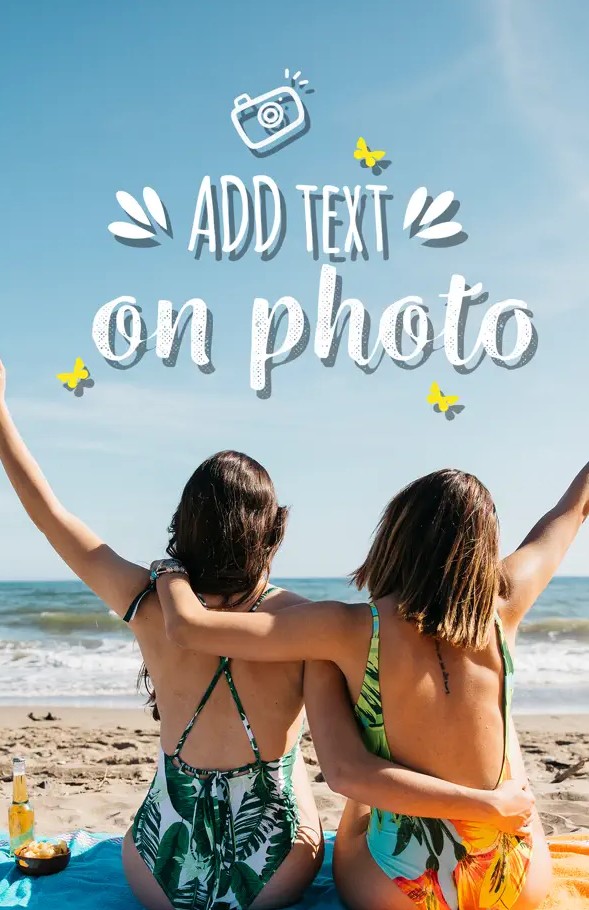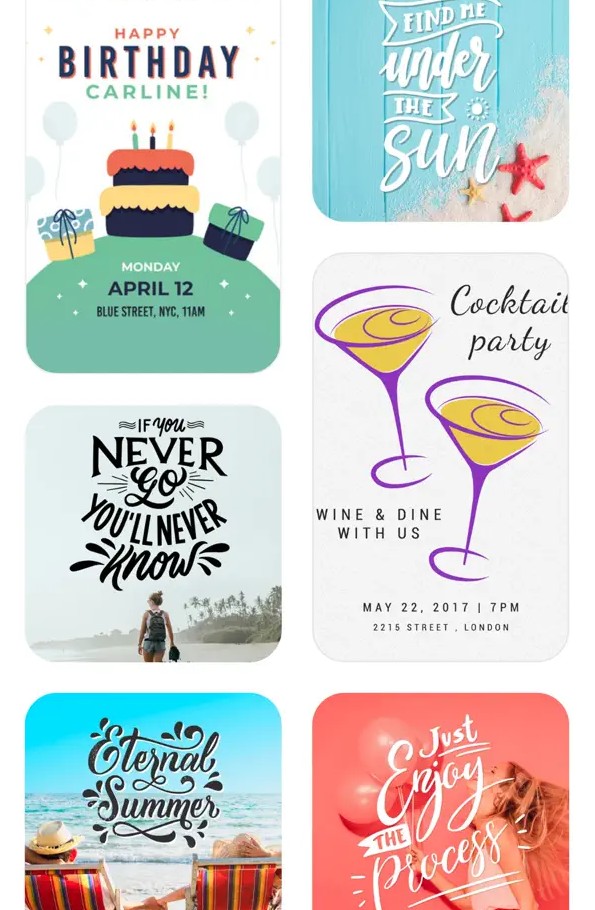 Design Keyboard – Fonts, Emoji
This app will be helpful if you're a social media enthusiast, a chatty texter, or someone who simply enjoys sharing thoughts.
Design Keyboard takes your typing experience up a notch. Choose from a wide range of fonts, each with its own unique style, and watch your words transform into a personalized work of art. Add emojis, symbols, and stunning keyboard themes to captivate your audience.
With an array of fonts and the option to add eye-catching effects like shadows and gradients, your messages will never be the same again. Elevate your text game without any design skills – it's that simple!
Finally, I found this app quite convenient to make your notes colorful, however, it is possible to find even better apps on this list.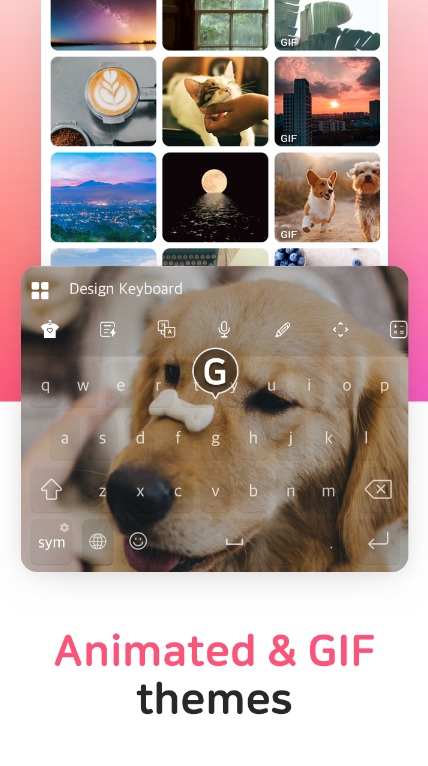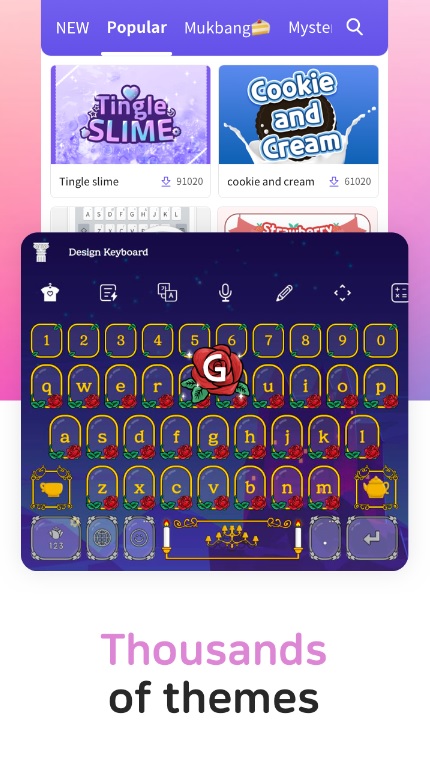 Color Fonts for FlipFont #7
Previous applications were designed to create something new, such as original images, but here all the work is designed to change the design of your smartphone.
Do not like the standard fonts that are used by manufacturers when setting up your phone? Now you have the opportunity not only to change the font itself but also change the color and shades of the letters.
Color Fonts for FlipFont is a package of color fonts, which is suitable for smartphones Samsung and HTC (and for some other brands). The package consists of 13 different colors, from them you can choose the one you like.
Here you can find the perfect style that suits you. All settings are made in the basic settings of the display or digital settings of your device system.
It should be emphasized that the application is designed specifically for FlipFont and works exclusively with its support.
Color Fonts does not require any permissions to your smartphone data or your personal data, so you do not risk losing your data by installing this application.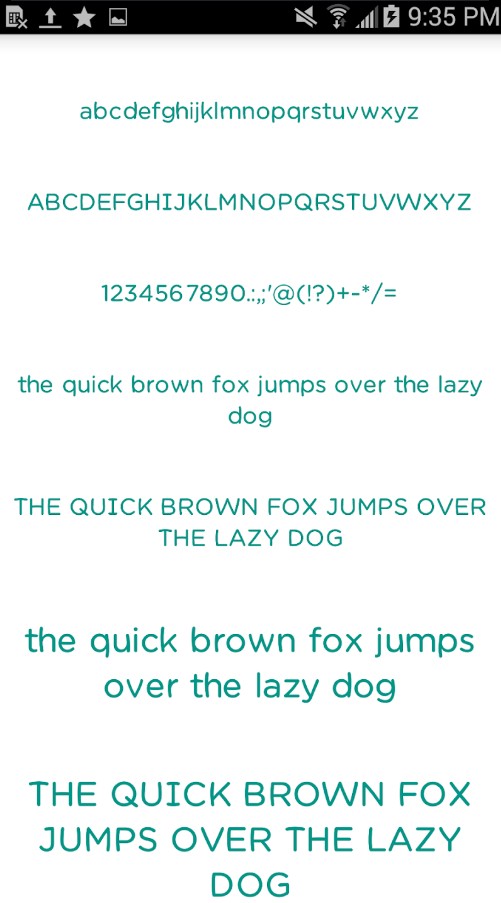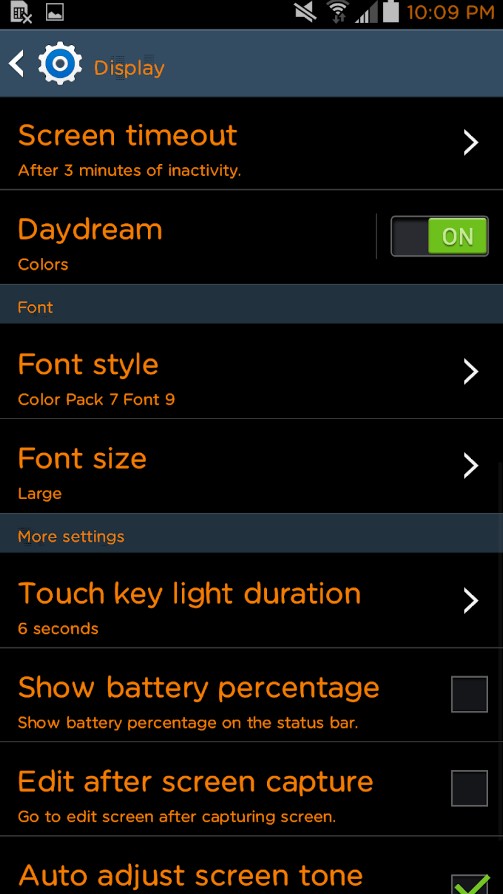 Fonts Art: Keyboard Font Maker
Fonts Art: Keyboard Font Make is an app that turns your ordinary messages into extraordinary pieces of art.
This app offers a collection of more than 100 fonts that range from elegant scripts to bold and edgy styles. But it doesn't stop at fonts – there are also various effects like shadow, gradient, and even rainbow, allowing you to transform your text into something truly eye-catching.
The key benefit of Fonts Art lies in its ability to add personality and emphasis to your text. Whether you're sending a birthday message or posting a status update, the app's variety of fonts and effects can help you convey your emotions and style in a visually appealing way.
While the focus is on fonts and effects, the app also comes equipped with a range of emojis, stickers, and symbols to further enhance your messages. This feature ensures that your communication goes beyond words and becomes an artistic expression.
To sum up, Fonts Ats is a good tool for creative people who would like to get beautiful texts or to get more attention for their posts.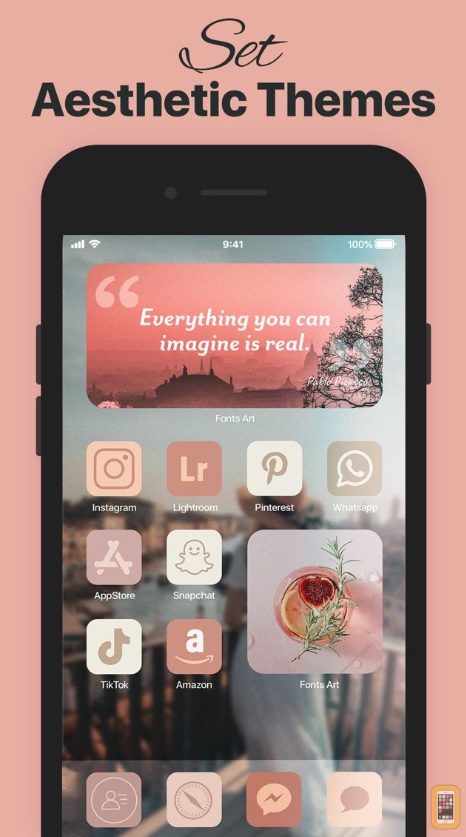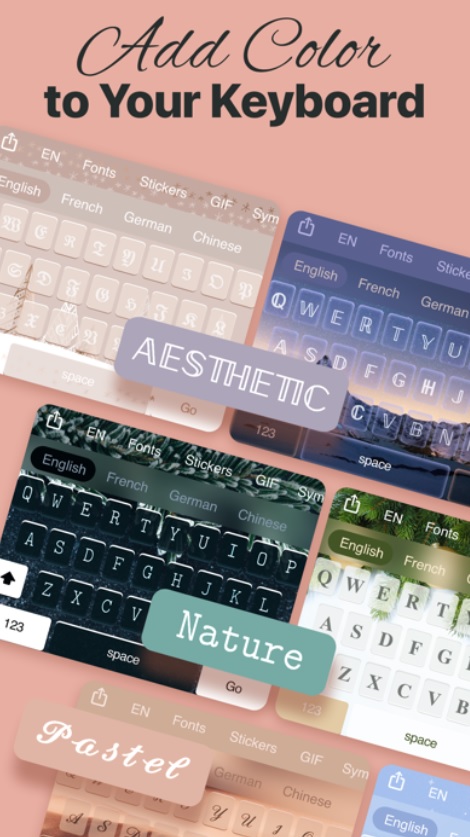 Fonts – Fancy Fonts Art
Fonts – Fancy Fonts Art offers a wide array of fonts that go beyond the ordinary. But it doesn't stop there – the app also lets you apply various text effects like shadows, gradients, and highlights. Your text will never look the same again!
The app's creative fonts and effects can instantly make your messages stand out. By using this app, you can capture attention, express your personality, and emphasize your words in ways that regular text simply can't.
This app doesn't just offer fonts and effects – it also comes with emojis and symbols to enhance your messages further. With Fonts – Fancy Fonts Art, your text transforms into a visual conversation that's engaging and expressive.
Overall, I can say that this is a tool that lets you make your notes more individual and colorful.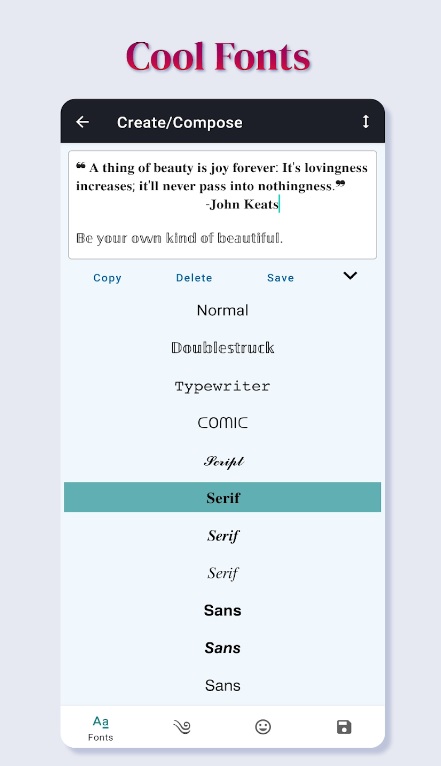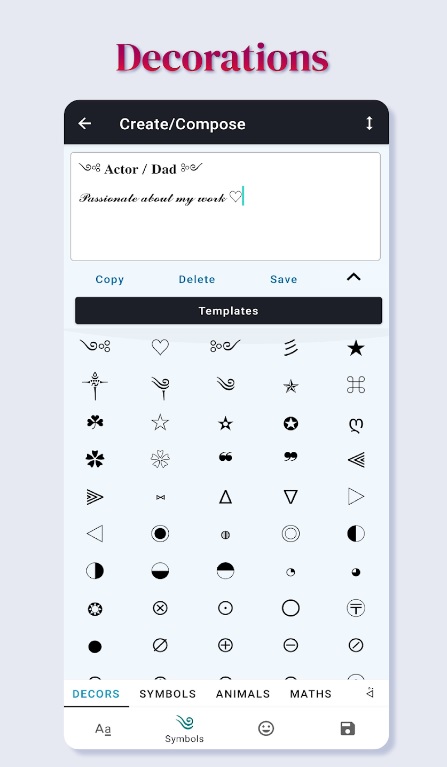 Stylish Color Text Effect
With a diverse range of over a hundred fonts, the app lets you choose the perfect one to match your mood or message.
The app's main strength lies in its ability to help your text stand out. Whether you're creating social media posts, personalized messages, or eye-catching captions, stylish text can grab attention and leave an impression.
While the app primarily focuses on text, it also offers a collection of emojis and symbols to add a little extra flair to your messages. This feature is especially handy for those who want to convey emotions or ideas beyond just words.
To my mind, Stylish Color Text Effect is a simple yet effective app that offers a creative outlet for anyone who wants to make their words pop.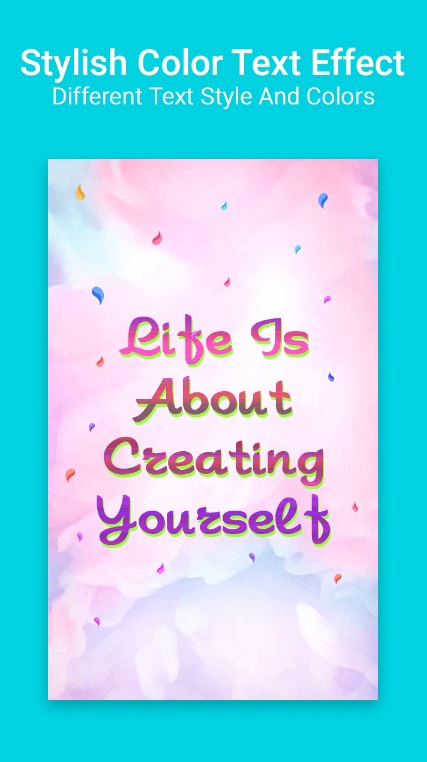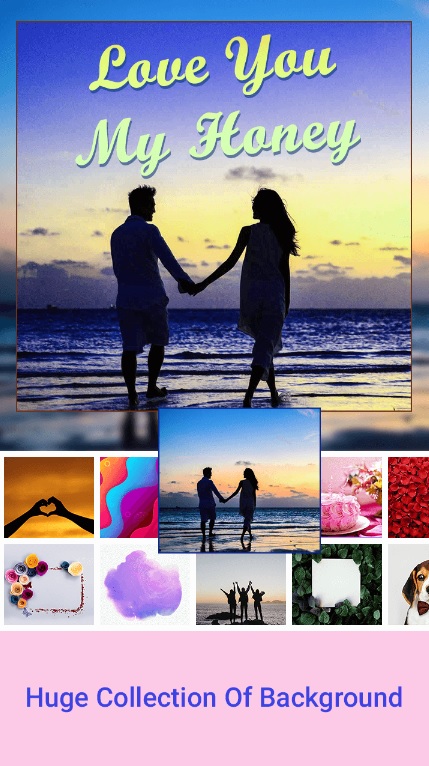 You may also like: 11 Best Handwriting To Text Apps for Android & iOS
Color Text Messages+ Customize Keyboard Free Now
Iridescent and vivid texts are direct specialization of this application. If you want to make something really bright, unusual and original, Color Text Messages+ can offer you this.
The application is perfect for social networks and mobile applications, as it allows you to quickly adjust the style of text and its other characteristics as you wish.
Color Text Messages+ has a huge color palette, with which it is easy to paint text in all colors of the rainbow. Tried all the colors that were in the application? Apply a random shade and then the text will be a surprise even for you.
Black and white messages are a thing of the past, and they look boring and old fashioned. Your messages will play with new colors if you just add something unusual to them.
You can edit and review your existing posts before you post them. By the way, you can select the users who will receive this message directly from Color Text Messages+.
Are you chatting with friends in a group? Even this won't be a problem for Color Text Messages+.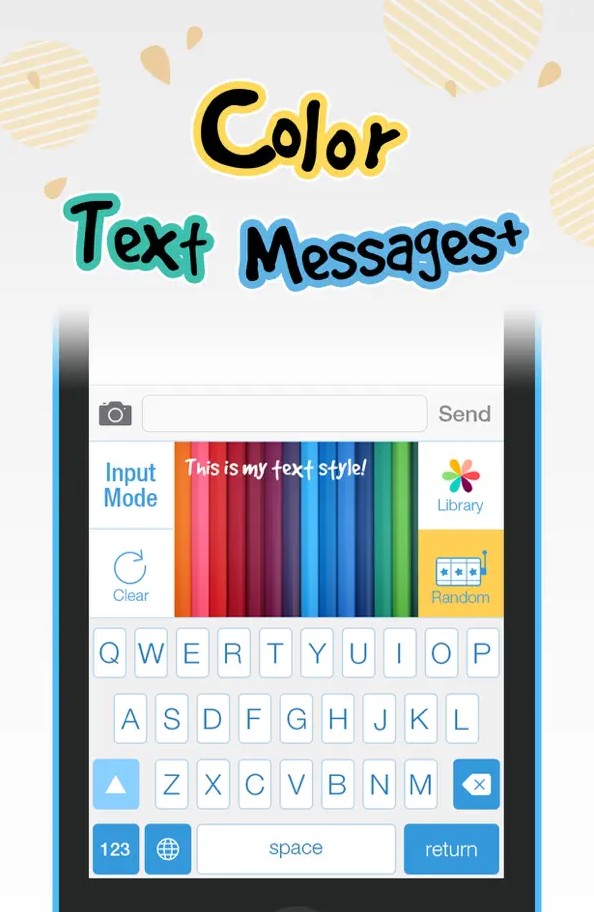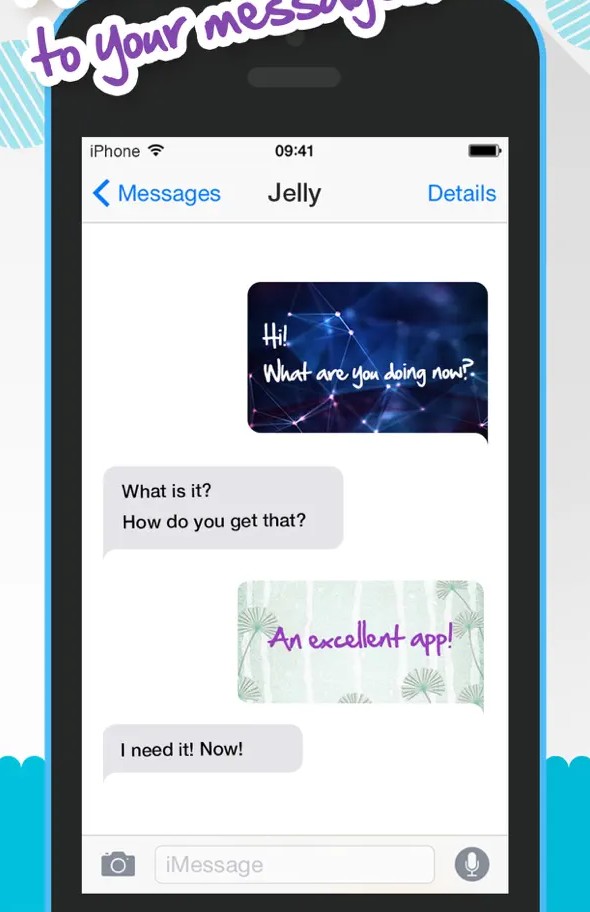 Perhaps, changes in the text can be called creativity as well. You express your own thoughts and ideas in the text, transforming it into a picture. Some of the presented applications can be similar to each other, but most of them are unique.
Want to change the colors, font, stroke, and even any other parameters of your written text? Then quickly select the right application and download it. And we hope that our article has helped you and now you will try to do exactly that.