People can forget the simplest and most important things. They asked to remind them of important events. Do not bother others when you can remind yourself. COL Reminder is a great app for reminders of important events. COL Reminder attracts with its bright and user-friendly interface. The main menu of the application displays all configured events.
Do you feel like there are too many calls that you have to make? Are there too many unknown numbers trying to reach you? Make your life easier by getting a call manager app – it will help to filter out trashy call, leaving only ones which are really essential.
The app includes various types of reminders that are easy to customize. Users can set up reminders for the following types "Birthday", "Phone Call" and many others. Fast and friendly technical support provides assistance in resolving questions and problems. Fill out your question in detail and send it to the support specialists. Everything is done for your convenience.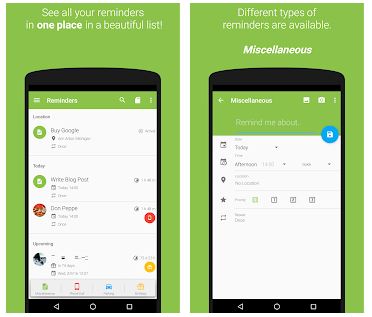 The bright style of the interface in pleasant green tones does not strain your eyes. Convenient interface control allows you to enjoy your workflows as much as possible. In order to set up a reminder, the user needs to select the type of event, name it. Then select reminders, specify the time, place, and frequency of the repetition. After all, save the item. All created events users will see in the main menu.
The application is designed intuitively, simply, and clearly. Dealing with the process is easy for new users. It is enough to stay for a couple of minutes and you will understand all the subtleties of the work. No special knowledge and skills are required.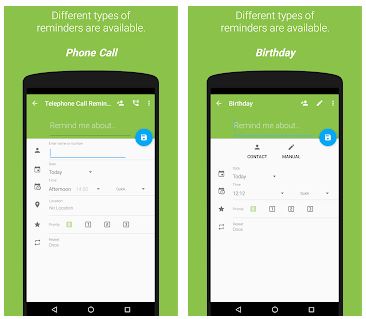 COL Reminder is the perfect assistant to remind important events on your phone. What's more, Google Drive backup is available in over 40 languages. It is a convenient and practical addition for users from all over the world.
More reminder apps can be found here. 
Customize events, choose times and wait for reminders. Easy integration into the work environment will allow users to quickly understand how it works. A simple interface with a bright design will be the perfect complement for the convenient use of the application.