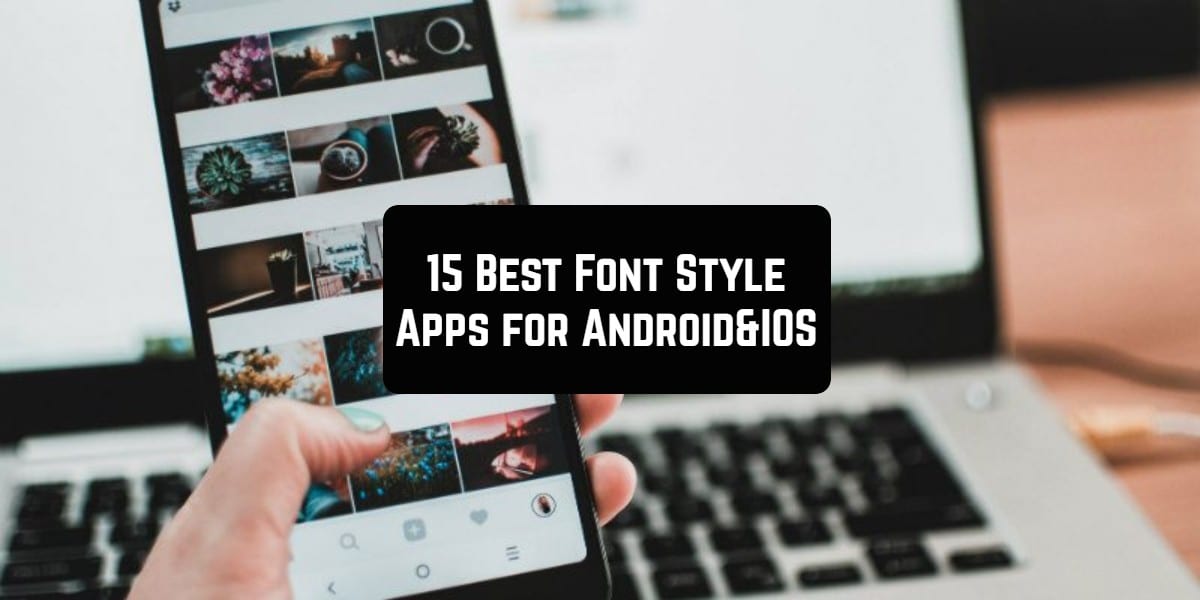 Sometimes your photos need a little extra something before being shared on social media. It could be an inspirational quote, a funny joke for your friends, or just a little bit of creativity. And simply overlaying text on your photo can be a great option.
Nowadays, the best thing you can choose for it is an app always available on your phone.
That way you can improve your graphic design skills and make your pictures more customized and attractive. Moreover, these apps are intuitive and incredibly fun to use.
Here are 15 best font style mobile apps for Android and IOS users that you can use to apply, edit and create cool text on your photos.
Font Candy Photo & Text Editor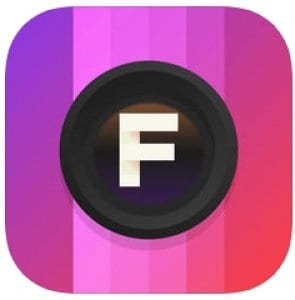 The Font Candy is an app that instantly makes your photos ready for sharing on your social media accounts.
The Font Candy app has over 45 artistic and hand-picked fonts which you can choose from to add text or captions to your photos.
This app is capable of text curving, opacity controls, and text shadows so it's quite useful
Font Candy helps you make your edits more unique because you can add multiple captions and manipulate them separately.
It also has built-in custom templates for Artworks and Quotes which are ready for you to use it.
Moreover, it allows you to design your own iPhone cases, posters, T-shirts, magnets, and many more with the Font Candy App.
So you will definitely like this app, be sure.
Price: free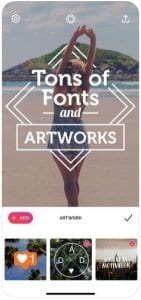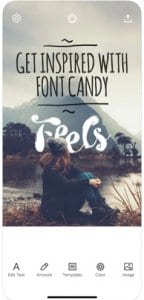 Check also: 11 Best apps for watermarking photos for Android & iOS
back to menu ↑
Canva – Graphic Design Creator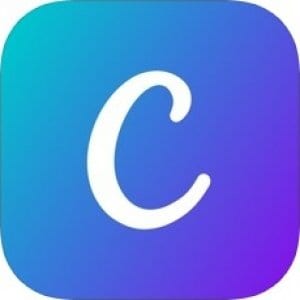 Canva is an app that makes design amazingly fun simple!
Whether you need an Instagram post, story, logo maker, or even a book cover—this app has you covered. It also has a web version so you have access to your designs from any device.
Canva includes 60,000 free templates created by professional designers. It also has 700+ options of fonts to choose from.
You can change its size, color, spacing, position and even add text on video. Impressive, right?
Canva enables you to upload pictures from your device's gallery or pick from the library of premium photos and illustrations.
You have the ability to share your designs directly to Instagram, WhatsApp, Email or save it to your device.
To sum it up, Canva is a perfect app to create stunning designs with your photos and videos, definitely worth trying.
Price: free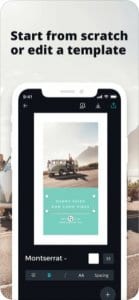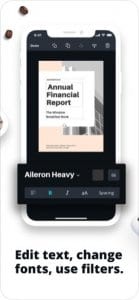 back to menu ↑
Mix on Pix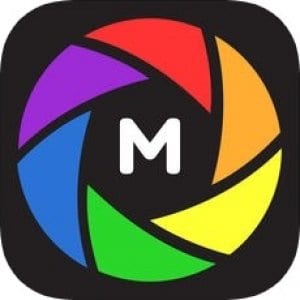 Mix on Pix is a professional, iOS-based typography app that has around 5 million users.
This app offers you to choose from over 500 fonts along with filters, light leak effects, and frames.
This is a very versatile app. You can use it to add anything to your photos – texts, quotes, artworks, handwriting, drawings, and much more. It also lets you install your own fonts if you can't find anything that suits your needs.
The app has a unique feature that allows you to group your items to create a composite object which you can save for future editing.
Its functional tool kit will definitely inspire you to create a true masterpiece. With this app, you can make a meme or a greeting card as well as simple artistic pictures.
One of its notable features is adding your logo to your photos. The app allows you to add up to 4 versions of your company's or personal logo, which you can store in the app and used to sign all your photos. This is a cool feature great for promoting your business!
Overall, Mix on Pix is a useful, user-friendly and highly-functional app, which that you can download for free.
Price: free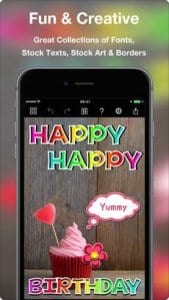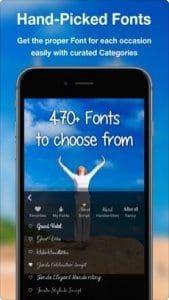 back to menu ↑
Phonto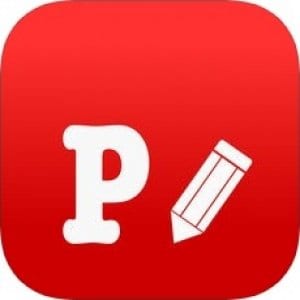 Phonto is an app that has tons of features without any limitations. Phonto is created to edit your photos with beautiful typography and make all the basic edits.
You can use over 200 free fonts for Android users and about 400 fonts iOS users which you also can customize. On top of that, you can even install other font styles in the app.
Moreover, you can change the color, resize, rotate, add shadows and manage the spacing.
The app also enables you to play with lighting and shadow borders to give attractive looks to your artwork
The only con is it's ad-supported. So If you are not comfortable with ads, you will probably need to remove it by paying $.99 as an in-app purchase.
The complete package for a typography app right? That is why you should try it.
Price: free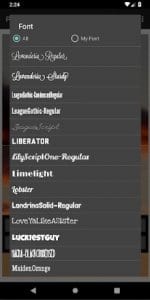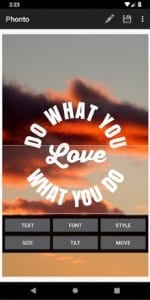 back to menu ↑
PicLab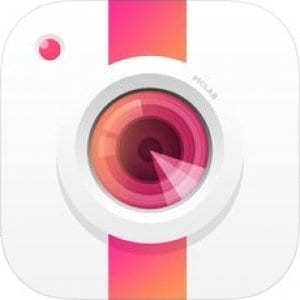 PicLab markets itself as a full-fledged photo-editing app.
It features filters, stickers, textures, patterns and much more to make your snaps social media ready.
In addition to all this, PicLab has an extensive text overlay feature. The app allows you to rotate, resize, set the opacity, add multiple text layers or add a drop shadow on your font.
The biggest advantage of PicLab over the others is the fact that you can create picture collages and can then overlay text onto them. New tools are added on a monthly basis to ensure you get the best experience.
The interface of PicLab is intuitive and makes it simple to edit your photos.
Unfortunately, PicLab adorns all your creations with a watermark, but you can easily remove it with a small, one-time payment.
Price: free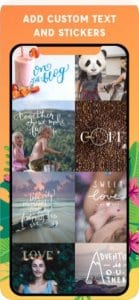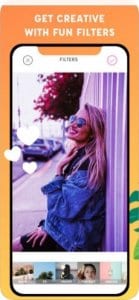 back to menu ↑
Paletto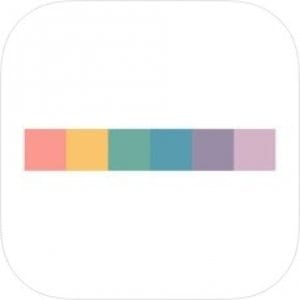 Palleto is a great app if you want to create unique photos and express yourself.
It is an app that doubles up as a diary & note app; that will enable you to keep a record of your day. It is a typographic app aiming to treasure your feelings by keeping your memories. The app does this by allowing you to write about your day with a variety of typographic fonts & colors that will best express how your day felt.
It can also work well as a journal, so you can write what you've heard being said during the day.
Just like you would use a palette to paint, Paletto enables you to paint each day in different colors.No a more boring white-background diary! You can create an awesome diary and a note with a simple screen-touch or two.
With Paletto, you can capture the ordinary, little joys in life, treasure sweet memories with your friend or record the diary of your precious baby. Try it and your memories will be as beautiful as ever.
Price: free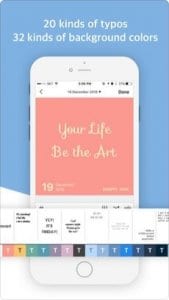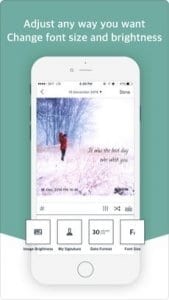 back to menu ↑
Font Changer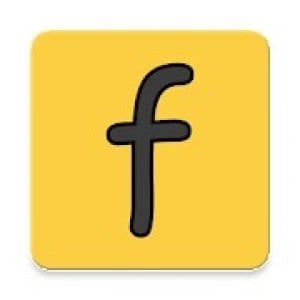 As the name suggests, Font Changer apps are used to replace existing fonts on smartphones and tablets Android.
Font Changer app does not install fonts on your phone. You can type a message with a selected font and copy. You can paste copied text in any other apps.
This app provides more than 60+ unique and cool fonts that you can use for free. It is a great app to create your coolest messages, Facebook updates, Instagram or tweets.
The app helps you to customize your device with tons of different fonts that can be used everywhere you can type a message.
Font Changer can also be extremely useful for your task management in your to-do lists.
You should definitely try all 110+ texts and see how they look!
No more talk, download free Font Changer app through the Google Play Store.
Price: free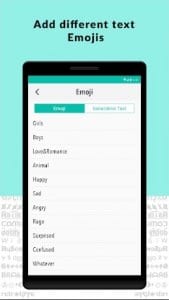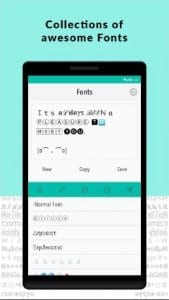 back to menu ↑
Typorama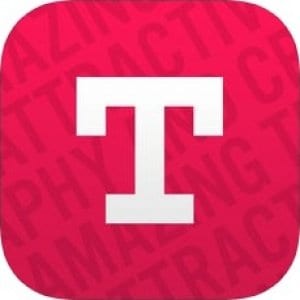 If you don't have much time for design, then Typorama is for you. This is the iOS-only app that "automagically" transforms your photos and text into impressive typographic designs. It allows you to save time and effort by automatically providing you complex text layouts with different fonts and typefaces.
Typorama automatically generates text layouts in 35 typographic styles from hundreds of available font.
Users just need to select a photo and enter their text. Typorama then creates complex text layouts with different fonts and typefaces. And if you don't like what the app comes up with you can simply tap to explore randomly-generated designs to create unique images.
You can also play with 3D distortion, shadow, gradient, filter and add ribbons, badges, or ornaments to enrich your design. You can then use the result to post on your Facebook or save as a wallpaper.
Price: free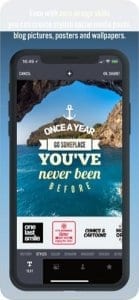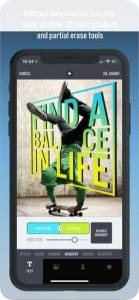 back to menu ↑
eZy Watermark Photo – Lite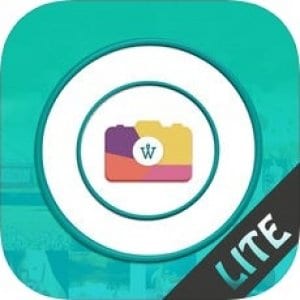 There are endless opportunities when you use eZy Watermark Photo – Lite. In this multifunctional app, you can improve your pictures by adding the text, watermarks, signature or logo.
The app enables you to import photos quickly from Camera, Library, Instagram, and Facebook.
After that more than 150 fonts and colors, regulate opacity and even drop shadows will make your sign 100% unique. Here you can add an autograph as well. When you finish creating, share photos to Instagram, Facebook, Twitter, email, WhatsApp, etc.; or just save them to your Phone Gallery.
You create your custom templates and save them. Templates remember your watermarks and its position so you don't need to add them over and over. Use, whenever you need them, either on a single photo or batch photos
Give it a try!
Price: free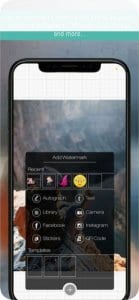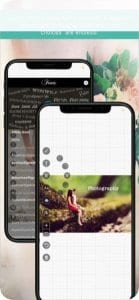 back to menu ↑
SALT – Watermark, resize & add text to photos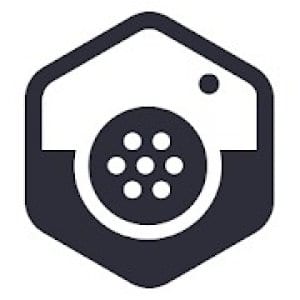 The SALT app makes it easy to automatically add logo, watermark or text on your photos and share them directly from the app.
The app enables you to easily add text to photos and choose your font out of a verity of free fonts – handwriting fonts, fancy fonts, girly fonts, stylish fonts, and many others.
The main distinguishing feature of the SALT app is an option to resize and crop photos in a wide verity of sizes. It also has many templates such as Facebook Ads, Facebook Cover, Facebook Page Post, Pinterest Ads, and Youtube Art.
This app is an amazing option if you run a blog and want your content to be creative.
You can also add your contact details to your photos, so your friends or customers can reach out to you.
So there's no doubt you'll have various options if you choose the SALT app – to text on your photos and edit them.
Price: free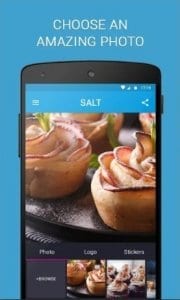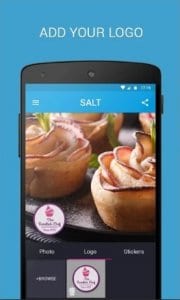 back to menu ↑
WordSwag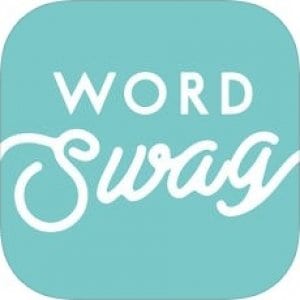 Like the many typography tools you can find on the web, WordSwag automatically designs the words you put on your photos.
The app basically puts some creativity into your quotes or captions. And if you do not like what the app comes up with, just pick any alternative from other choices. Then, save your design or share it with friends.
In addition to a ton of different font styles, Word Swag also gives you access to hundreds of thousands of gorgeous photos. The app draws upon the picture library of Pixabay, one of the Internet's largest stock photo providers.
You will have the ability to browse these photos to use in your designs for free. But if you want to use some fonts and more advanced features you will need to make a one-time payment.
Price: free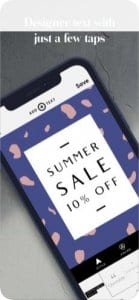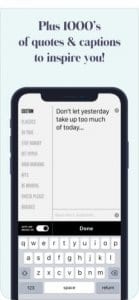 back to menu ↑
Over: Edit & Add Text to Photos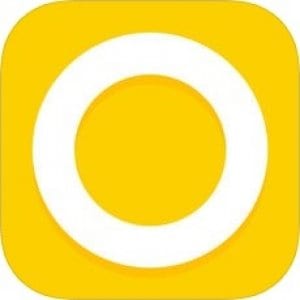 Over is the app that enables you to freely create an art piece with many options for illustrations and fonts.
Over lets everyone to be creative with more than 800 illustrations and 300 fonts to give you a big range of possible combinations.
The app allows you to create greeting cards, Instagram posts, business cards, and add captions, quickly and easily with Over. It also pulls images from Unsplash and Pixabay and makes it easy to share with your favorite social networks
Some of its other features include color matcher, add shadows, position objects, crop photos, add custom fonts and hide photo parts.
So if you are really into photo editing, then Over might be the best solution.
Price: free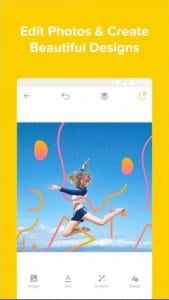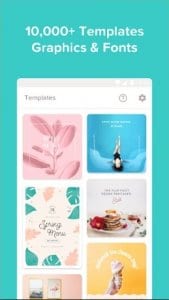 back to menu ↑
WhatTheFont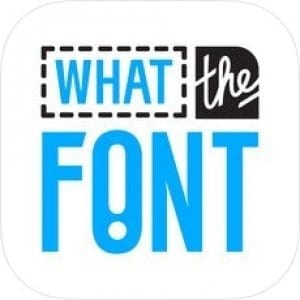 As the name suggests WhatTheFont app identify fonts in a snap. The app is a mobile version of the website previously developed by MyFonts and recognizes any font you point at with your camera, including a variation of similar fonts to go with it.
All you need to do is to take a photo of a design you love – the app recognizes the fonts and shows you matches.
WhatTheFont is a great app for designers, crafters, and anyone who loves typography. It is also perfect for when you see a great design and want to identify the fonts, or when your client sends you an image but doesn't know what fonts were used.
Moreover, you can get ideas and inspiration for font options for your own projects. The app also allows you to enter your own text to try them out on the spot.
This app is an absolute designer's dream, try it out.
Price: free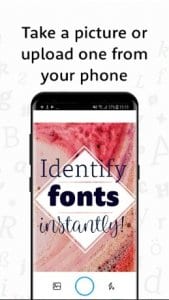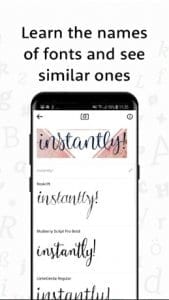 back to menu ↑
Font Style Candy
Font Style Candy is an app that offers you a diversity of tools you can use these tools to express yourself and make your photos look more unique. There are such options as text size, font styles, text color, shadow, text format, alignment, and many more.
The app allows you to choose from more than 63 font styles and lets you to easily add text and captions to your photos. If you're into comics, this app has the capability to create comics-like text for your photos.
You can also choose from 70+ quotes you can add to your photos. Moreover, Font Style Candy enables you to easily resize, rotate, move, and change in the existing color effect.
The app also has different photo filters and colors embedded so you can edit until you get the right look and feel.
To sum it up, Font Style Candy has many interesting options to try.
Price: free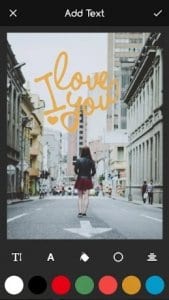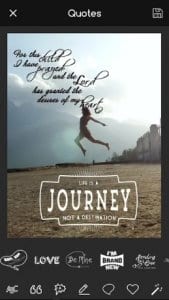 back to menu ↑
Fontspiration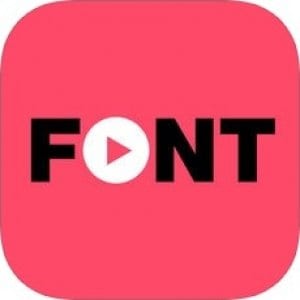 Fontspiration is an app that lets you create custom typography with animation.
There are more than a hundred fonts available in this app and plenty of inspirational pictures to draw which showcases typography art from designers around the world. You can create custom typographic designs using hundreds of fonts and dozens of built-in animations.
All your creations can be saved as an image, GIF, video or directly shared to Instagram, Facebook, Twitter or any other social media.
Fontspiration allows you to make your own masterpiece – you can choose a font, customize the size, alignment, kerning, color, and animation of it. Instagram, Twitter, more.
Improve your creativity by trying the Fontspiration app – you won't regret it.
Price: free