Are you fond of astronomy? Or, maybe do you want to explore the solar system? In this case, we would like to present to you the Cosmic Watch app. It is full of magnificent features, so let's get a glimpse at them.
Cosmic Watch app provides a great 3D planetarium, sky guide, an astrological clock. Check constellations, star names, planets in real-time!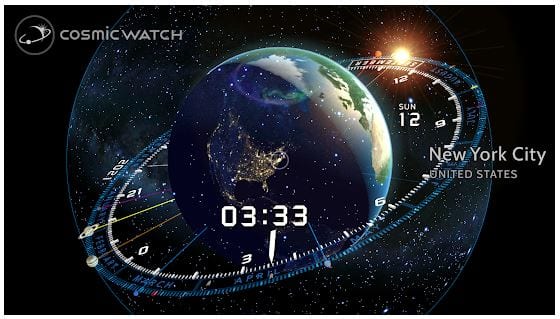 On the menu, you will find a wide range of options. There is nothing complicated in this app. All you need to do – point your tablet or mobile phone to the night sky and enjoy exploring stars and constellations.
Cosmic Watch app contains the real-time world clock function that enables you to monitor the time in any place of the world. Click on the globe button, rotate it to choose a preferable city, and finally, you will see the local time.
In this app, you can use the timer that allows you to find out the way all the cosmic objects move and revolve around the Earth. Moreover, you can set the time and date to see various astronomical events – for example, the solar eclipse. The app will send you a special notification, so you will not miss anything!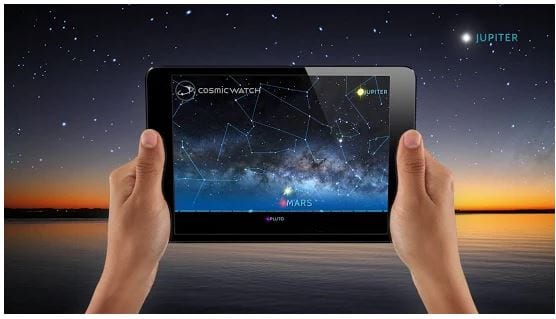 One of the major advantages of this app – you can set the timer and check a planet's position in the future, past, or present. We have to admit that we were impressed by a well-developed intuitive design. Cosmic Watch app boasts a user-friendly interface, stunning visual effects, and real-time graphics.
The app comes at a quite reasonable price. In this app, you will not find any ads or purchases. It is available for both IOS and Android devices.
All in all, Cosmic Watch app is truly worth downloading. We have not found any flaws in this tool. It will certainly help you to understand the way our universe works. Cosmic Watch app ideally adapts to anyone – both amateurs and advanced astronomers.