Nowadays, life around us is just rushing and buzzing, we are always running on some business, always on the road, and afraid to waste an extra minute in vain. Thoughts are always buzzing in our heads like bees, a thousand ideas, and a lot of the nearest events.
And so lives most people today – residents of megacities are constantly in the cycle of affairs and daily routine. Working issues require immediate resolution, friends want to meet, family affairs too, in no case can be postponed – and you need to have some time to rest.
You may also like: 11 Best event planner apps for Android & iOS
And how do you keep everything in your head? Naturally, we instantly forget everything that is not required of us "here and now". Important dates, birthdays, trips – the dates of all the events are sometimes so rapidly approaching that we can not even believe it – "what is it my birthday already?".
So that you do not forget about important events in the life of your environment, do not miss the main holidays of your family, and remember yourself, programmers have developed applications, timers.
They can always remind you at the right moment about the holiday and more. You can also track the approaching of important events with the help of such widgets. So, we would like to present to you 21 best applications for timekeeping on your smartphone.
Universal
Big Day – Event Countdown
Big Day is an excellent application for the iOS platform, which is designed to count down the time to important events in your life. It has a modern design, pleasant animation and can easily create more and more goals, events, and dates.
You can use Big Day as a widget – right on your desktop or on your smartphone's lock screen. This way, you can always keep track of how much time you have left to do a particular job.
In addition to plans and tasks, you can count down the days to the most important events in your life. It can be an anniversary, wedding, birthday, or moving date. You can put your own image on each of the events.
For example, you can put a joint photo on the anniversary and a photo of the person whose birthday it is a holiday on the anniversary. So you will also visually remember the events.
You can share your events and countdown in social networks. Especially often this is done by pregnant girls – to layout, the countdown before the birth of the child seems nice to them, and at the same time, they notify all friends and family about their pregnancy.
Big Day can send you an extra reminder sometime before the event. That is, he can remind you of your birthday the day before, of the meeting – a couple of hours and so on.
This is convenient, because you may not be in a hurry to keep track of the time. Take Big Day as a widget to your desktop and keep an eye on the dates! That way, you won't miss a thing.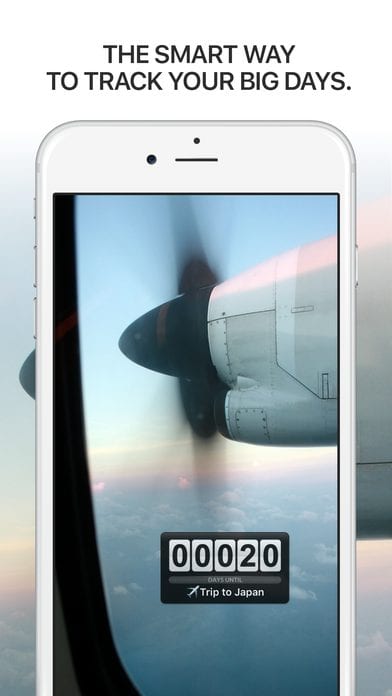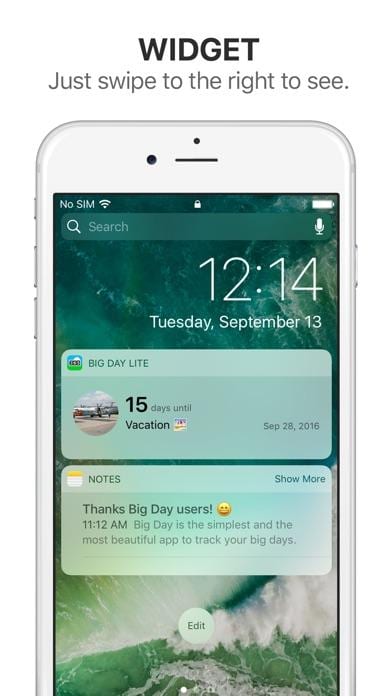 You may also like: 25 Best productivity apps for Android & iOS
Countdown+ Widgets Calendar Lite
Holidays, birthdays, trips, vacations – all these are joyful events that we are looking forward to. Now you will see that they are getting closer to you literally every moment. Countdown+ will help you to count down the time to the joyful moments.
Initially, you create your own profile. When you create a profile, you will be asked to fill in basic information about yourself, your country of residence.
After registration, you will be immediately offered a list of public holidays in your country – such as New Year, Christmas, Easter, and others. That is, you will learn about popular holidays immediately and you will not need to drive them as separate events!
For personal events, you will need to give a couple of minutes. Create a date with a title, and you can also attach your photos to it. You can bring Countdown+ as a widget to your smartphone desktop. So you will always know how many minutes and even seconds are left till the long-awaited event.
If you are still afraid to forget, then the notification function. In a certain time, Countdown+ will remind you, and then you will not miss anything important. Adjust the style and design of the widget as you like – the list, photos, or interactive panel. Don't miss anything worthwhile in your life with Countdown+.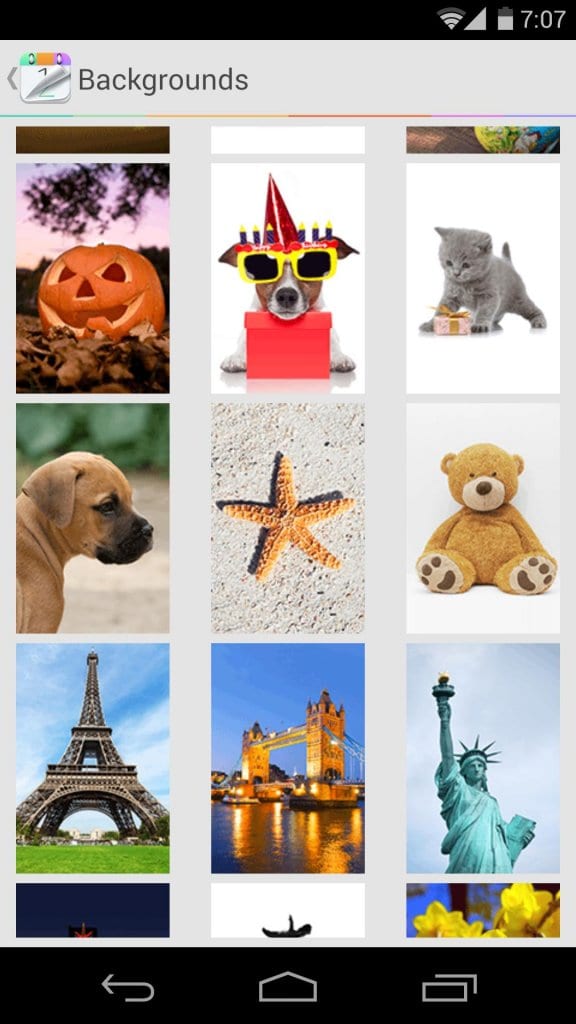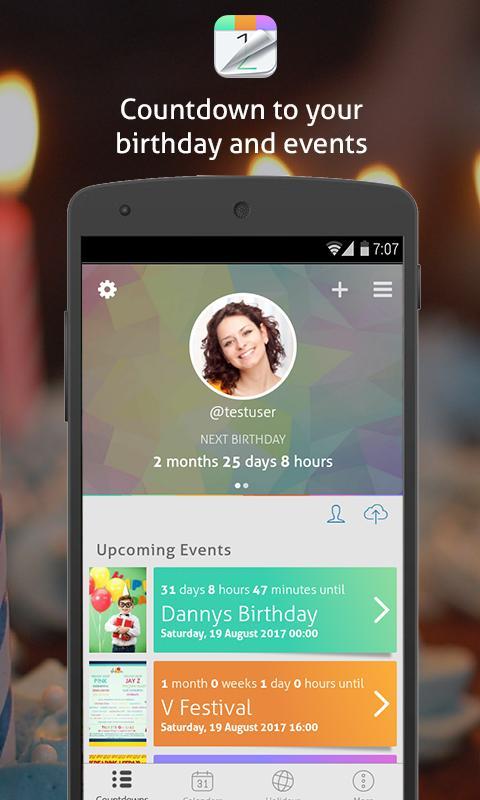 Countdown by timeanddate.com
The very classic countdown timer, that allows you to set the timer for anything. The best advantage of this app is that its interface design is highly customizable.
If you are setting up the countdown for a Birthday party, you can decorate the app with the pictures of Birthday cake, ribbons and so on, if you are setting the wedding date, set up a picture of a groom and bride and so on.
What is more, it is often a problem that when you change a timezone, the countdown is still working according to the previous one. It won't happen in the case of this app – it changes the timing automatically.
The app will be singing the notifications for events which will soon expire. Another feature worth attention is that you can start the countdown literally from any time and period – you can start it even from the era of the dinosaurs.
You can also share the countdowns here with friends.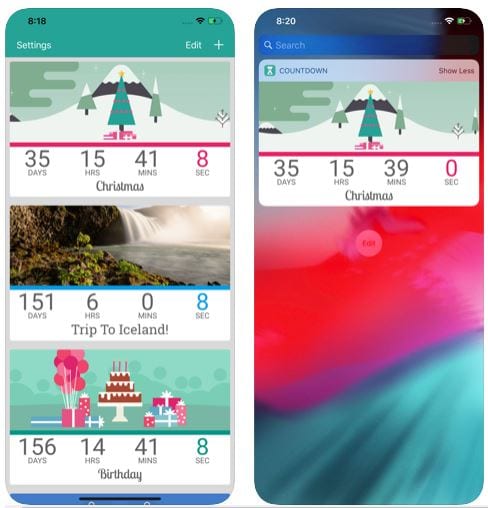 Countdown Days App&Widget
The application is made in the format of a calendar, which under each month describes the events expected by you in this period of time. You can easily keep track of major holidays, birthdays, and other important dates.
For each event, Countdown Days App&Widget prompts you to enter a title, put a picture on the screen saver, and enter a brief description. Maybe it is some business, a holiday, for which you should buy a gift or something else. The widget does not care – just enter the necessary data as a description of the event.
The picture will be seen opposite each event as an icon. On the desktop Countdown Days, App & Widget is displayed as a list of dates that will occur in the near future. You can count down to them or just keep track of the date on the calendar.
The timer also supports recurring events – daily, weekly, annual, and so on. The format in which you will be counting you choose – Countdown Days App & Widget to choose between 1×1, 1×2, 1×3, or 3×4.
One of the convenient features of the application is back up. Now, when you delete all the data or use a new device, all the dates will be saved in your account and you will not have to set them again! Watch your time so you don't miss anything.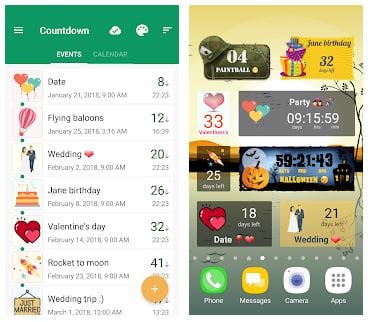 Countdown Star
Another classical countdown app, for those who don't want any extra features, but still want to have the possibility to customize the app up for the events that the users expect.
Here you can set your own background pictures for the countdown, for example, for the holidays you can set up the beautiful beach scenery and for the birthday you can set the big circle of friends cheering on.
Apart from the outstanding holiday type events, you can set the timer for more routine subjects, for example, for counting how many months are already passed from your birthday.
The app is synchronized with Apple Watch and you can also convert Countdown Star into a widget for better convenience. If you don't want to add your own wallpapers, there are 25 presets in the app.
Here you can also share any even with your friends – it is more efficient this way. Don't forget to set up the time zone and choose the timer position on the screen.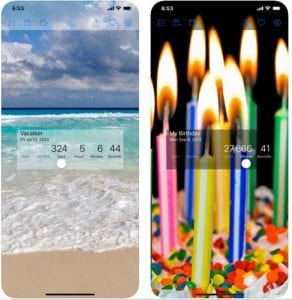 Countdown‼
Users with iOS-based smartphones have already heard exactly what this application is all about. It is one of the most popular applications in the AppStore. It is not without a reason: the application provides a wide range of functions.
You can count the time left before the event as you like – in hours, minutes, and even in heartbeats! Especially suitable is the option of counting down for any romantic dates or weddings.
You can count the time not only before any event but also after it: for example, "123 days after John was born" or some annual events. Manage your personal calendar as you like!
You can put your photos from the gallery on the background – Countdown‼ even provides a few filters for them. In the Premium version, you can add your own phrases to your events and even set up a slideshow in the background.
New filters, features, and the number of simultaneous events on the desktop are also adjustable in the Pro version. Count every second of your time and measure the proximity of events in your heartbeat, so it's even more important!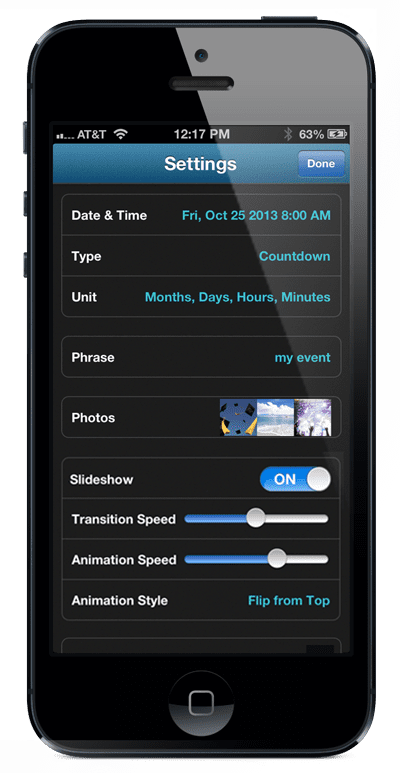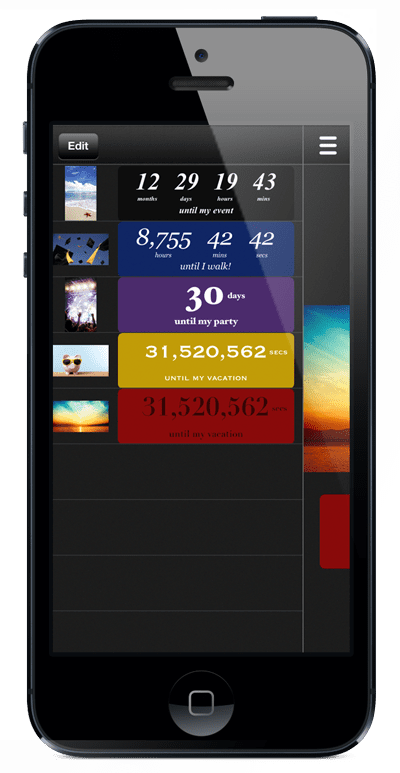 TheDayBefore
If you are planning any big great party and you need a special countdown for that event then there is no better app than TheDayBefore. You can put in any special occasion into the app and then set the timer. The distinctive feature of this app is that it contains around 120 customizable themes that you can tailor up to the theme of your event.
And here you can set up not only how many days are left before an anticipated event but also how many days are passed since that big day (in case somebody wants to keep track of that as well).
TheDayBefore is also convertible into a widget – but that's not it – you can also choose the icons for those widgets in order to make your countdown even more special. The app is also compatible with Apple Watch.
Overall, the interface design is a little bit simplified here and if you like the app with the high-level graphics visuals then this is going to be not your first choice. However, if you like simple, but multi-functional apps and looks are not that important to you then this is a great choice.
You can upload your own images and set them as a background for the countdowns. Apart from the traditional countdown features, TheDayBefore also includes guest management, personal invitation, and functions reminders. The only aspect you should keep in mind is that this app gets access to your personal contact and phone data.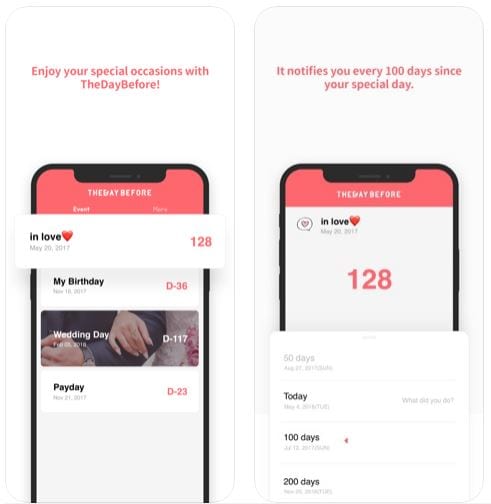 Tally Counter
There are situations in which you need to keep count. This will be useful in sports, and just to make fun of friends. This app is perfect for these purposes.
Install the app and open it to start the counting down. There are big numbers on the dark display of the main screen – they are in the main roles here. They are large and bright, so they can be easily seen even from afar.
Users can set which digit the countdown will start from – ten, one hundred, one thousand. It is possible to set it up so that the app automatically counts down, or do it yourself, just press the volume buttons.
Also, the countdown is accompanied by sounds. This will help you keep track of the numbers, even if the user is accidentally distracted. It is possible to add vibration if just the sounds are not enough.
The design of the app is very simple. It will be difficult to get confused.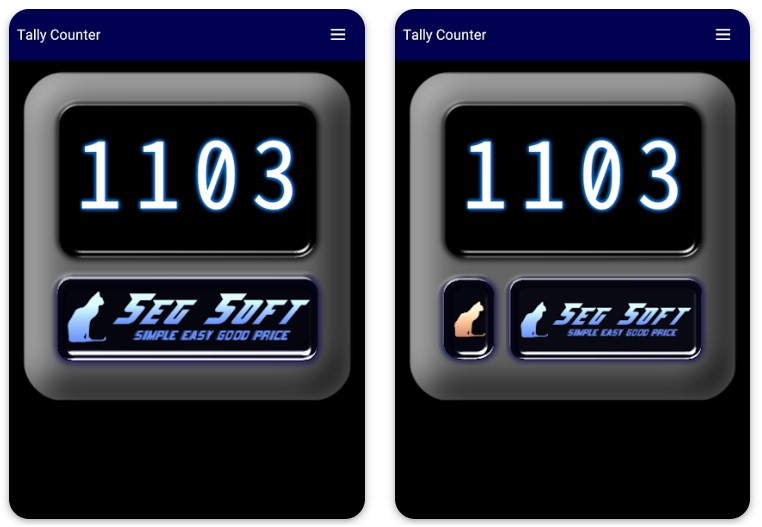 You can also check: 17 Best time tracking apps for Android & iOS
Retirement
Retirement Countdown
In case you are tired of working and as long as you remember, you have worked all the time – then, most likely, you did it for a reason. All people work also to live in peace and quiet in old age and retire.
Contributions to the retirement account become a guarantee of well-being in the future. If it seems to you that you work already the infinite amount of time, and the retirement and long-awaited rest do not become closer – it is necessary to install for this application!
Retirement Countdown will show you that time does not stand still and every moment separates you from your regular work. On the main page of the application, you can choose the desired date – the date of the beginning of your retirement age.
Install the app as a widget on your smartphone screen and you can watch the countdown in real-time every time you unlock your phone!
The retirement is getting closer with every minute, and the timer is a direct confirmation of that. Also in Retirement Countdown you can choose the interface you need – theme, colors, fonts, and much more.
In addition to the counter, you should not forget what you want to retire for. Make plans for the essentials so you do not forget to do them right after the timer is reset!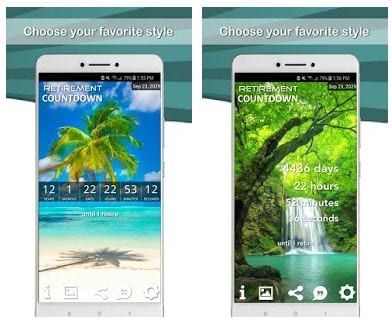 You may also like: 12 Free calendar apps for Android
Dreamdays Countdown V
This is a universal countdown but you for sure can use it as your retirement countdown – and even the name of this timer app says it. Dreamdays Countdown V is a popular app developed by Guxiu Design Inc.
The feature that helps Dreamdays Countdown V to stand out from the crowd is that it provides the possibility to search for the countdowns by categories and time. And as in all good countdown apps, here you can customize your countdowns with your own pictures and even record the voice notifications.
You can also use Lip Sync Apps to change your voice and add it to your event countdown. In case you don't feel like you want to customize the individual countdown you can choose one from the following categories in the app, in total there are 6 of them: anniversary, birthday, holiday, life, school, and trip.
Another cool feature of Dream Days Countdown V is its beautifully designed user interface. It is visible that the designers have put thought into the app's visuals and not all the countdown apps can brag for the same feature. Great app for counting down the retirement!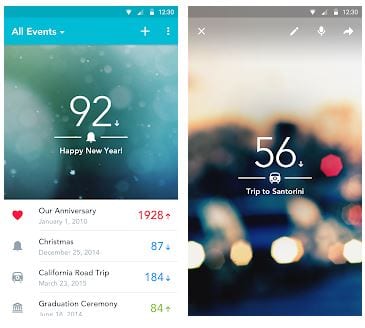 Countdown to Retirement
An application with very funny design and this is what attracts users. Countdown to Retirement is positioned by the developers as an application with a humorous bias, that is, you set it already tired of working and counting the last days before retirement.
The main page shows "Big Bosses" – they are connected by chains and money. You are also connected until a timer is zeroed out – as soon as the timer shows zeros, you are free from working red tape! Zeroing means retirement and you get rid of the shackles of boring work.
First of all, Countdown to Retirement asks you when the long-awaited "Big Date" is coming. This day will be considered the day of your freedom.
As soon as your pension comes, you will be offered to share this important event in social networks. Tell us about your great joy on Twitter or Facebook!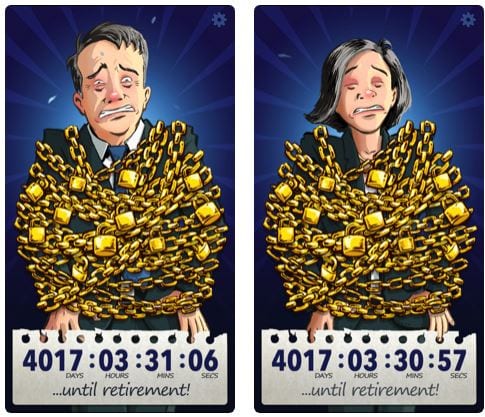 Wedding
Big Days – Countdown
We all have our own that special day that means a world for us. For some people, there can be several days in life like this or even dozens, for other such events happen just once in a lifetime. Everyone is different – and that is ok, but that "big day" will seem even more exciting with the special countdown app.
The app is perfect for the wedding planner. Just set the time, date, and upload the background picture. You can also add the place in the settings and the time zone. The app allows you to share events in the social media and direct messages – just send to the friends the countdown about your upcoming wedding day!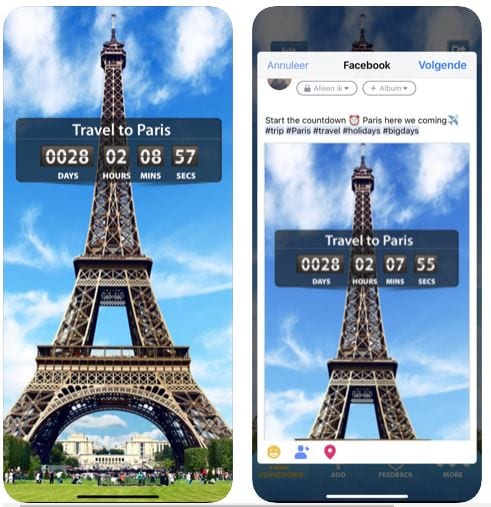 Wedding Countdown Widget
Already serious about the wedding? Have you applied and sent out invitations to your guests? Warned all family members and friends, and even called the grandmother from Detroit? Then you definitely need to remember all that!
In the hustle and bustle of preparation for the holiday, you will have a lot of things to do – from choosing the color of bridesmaids' dresses, choosing the style of the wedding itself, ordering flowers, and a thousand other important things that do not have to wait. As if not to forget about the most important date!
Wedding Countdown Widget will help you to know exactly how much time you have left before the most important event in your life. Now the question "When is the wedding?" can be answered as accurately as possible.
Wedding Countdown Widget offers you to count down the time before the wedding in different units – kisses, heartbeats, and classic minutes and seconds. In addition to the photos, you can play romantic music in the countdown.
The free version provides a widget format 4×1. In the paid version, you get a dimension of 4×4, and in addition to that, you also delete ads and have the opportunity to put a background is not just pictures and the whole slideshow.
A wedding is unforgettable. Watch out for its approach with Wedding Countdown Widget and then you will remember the date exactly for a long time!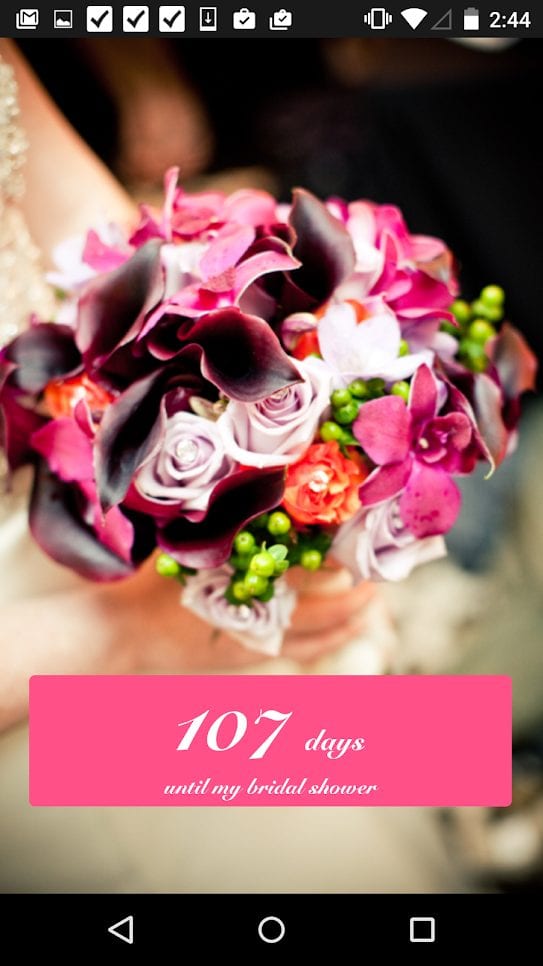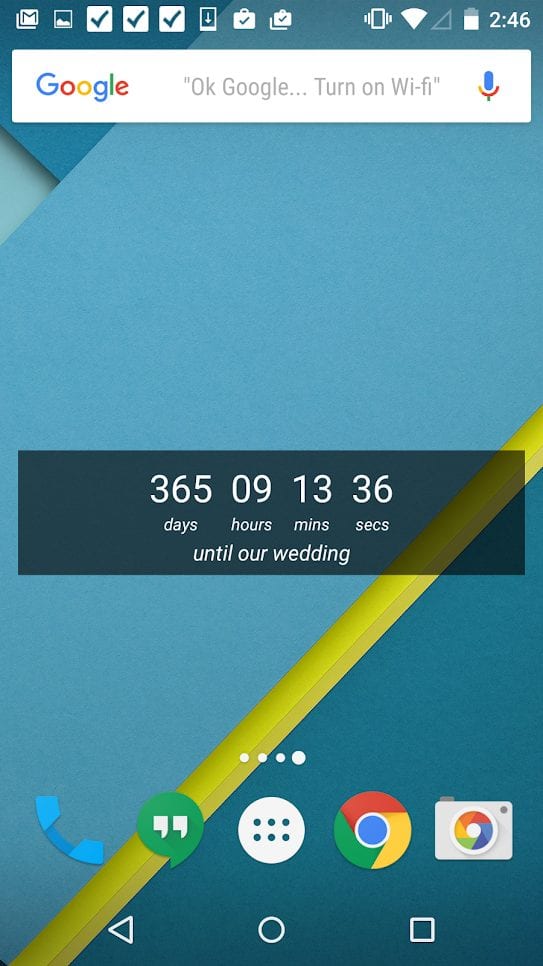 MyWed ❤ Wedding Planner with Checklist and Budget
In case you need more functionality for your wedding, consider the wonderful MyWed application. MyWed Helps you to plan your wedding budget, make a list of guests, specify important details – such as a list of things to do or a shopping list, as well as, of course, to count the remaining minutes before the holiday.
You can plan two events at the same time – for example, a wedding, including the ceremony and celebration with friends and a personal wedding – where only you, your love and priest will be there. The countdown will be up to two dates.
You can put the timer on your smartphone screen – the last days before the wedding will pass much faster if you watch the time on the nice and beautiful widget on your smartphone.
However, to get additional functionality in the application, you will need to buy a premium version. Make a complete guest list, connect the app to Facebook, and share the rest of your time with friends before the party!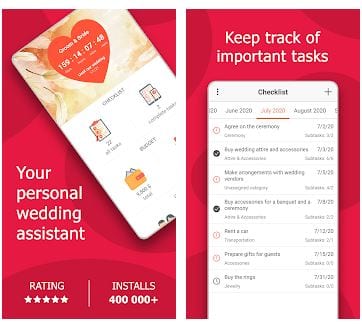 Christmas
Christmas Countdown!
Christmas is one of the most magical holidays of the year. Of course, the developers could not leave this beautiful holiday without attention.
We, as well as children, are waiting for a miracle every year with all our hearts. Since November, shops, and shopping malls have been decorating their garlands and Christmas symbols, supermarkets have been selling products for Christmas, and people are starting to count down.
Watch the time with the Christmas Countdown widget! It will keep track of the time instead of you, and will always tell you how much time you have left to prepare.
The app also contains cute Christmas symbols – a snowman, reindeer, Christmas spruce, and, of course, Santa Claus himself! In the company of these cute creatures waiting for the holiday will become even more fun.
The application is presented as a timer on your smartphone screen. Of course, you do not have to count down the desktop, but it is more convenient and you can always see how much time is left. Christmas Countdown can be turned on right now by simply setting Christmas Countdown!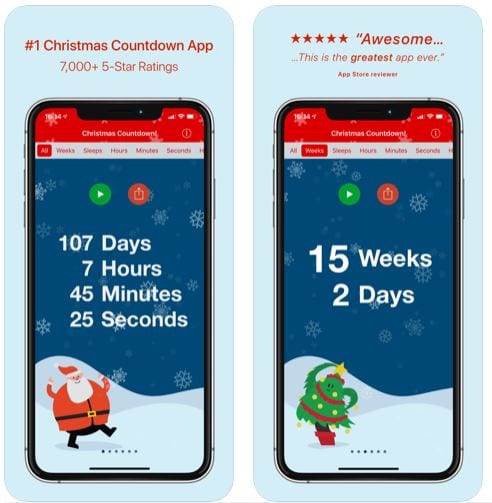 Sleeps To Christmas 2
Another application that will help you watch the approaching magical Christmas holiday. Feel this magic, which captures people around the world long before the date.
Sleeps To Christmas 2 includes Christmas tunes and traditional hymns, which together with the counter will give you even more festive mood. Christmas symbols are also present – for example, a snowman, Santa, and a magic fairy. They are animated and look funny in the background of a widget.
The snowman gets into ridiculous situations all the time, Santa laughs, and also there is Gingerbread Man – he dazzles in front of you and cheers up his appearance.
In the Premium version, there are additional characters, but as they do not affect the work of the widget. The functionality is fully available in the free version of Sleeps To Christmas 2.
If you shake your smartphone when it counts down, you can even hear the bells ringing. Keep an eye on the approach of the holiday and watch the ringing of the bell!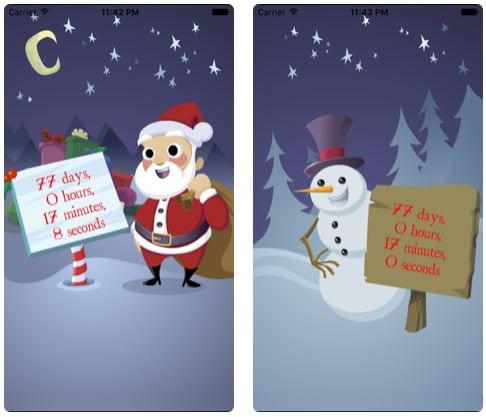 Christmas Countdown Timer Free
Christmas, the ringing of bells, Christmas deer, and Jingle Bells – have you already felt the approaching holiday? Increase your expectations with Christmas Countdown Timer Free!
The widget can be easily brought to the desktop of your smartphone. The functionality of the application already includes traditional Christmas carols and melodies.
Christmas Countdown Timer Free updates the timer every second, so you can always be aware of how much time is left until the most important holiday of the year. Gather with friends, family, or friends to celebrate all together just in time.
The countdown on your smartphone screen will show you the remaining hours, minutes, and even seconds. Change the design of the widget to the one you like the most.
The developers of the application offer to celebrate Christmas together with Christmas Countdown Timer Free – as soon as the timer is reset, the birth of Christ will come and you will be able to celebrate with the people closest to you!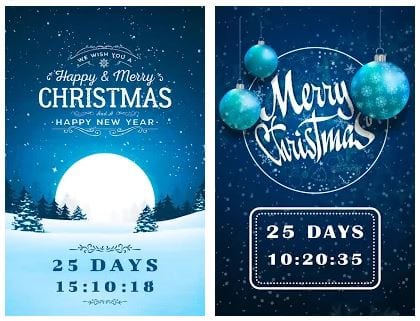 Christmas Countdown by Jupli
Lift up your Christmas mood with this magical countdown timer. Here you don't even need to do the setup and enter the exact date – it is already in the app (what is logical, because this is a Christmas countdown app) and this is not the only feature that makes this app stands out in this category.
There are also lots of facts and articles about Christmas in the app. The background picture will be changing every day – there are many funny and cute Chrismas images.
In this app, along with the countdown timer, you will find the Christmas music as well. You will hear such familiar and cozy songs as Deck the Halls and We Wish You a Merry Christmas.
Apart from that, the best feature of this app (which is quite rare for the free countdown apps) is that it has absolutely no ads. You can anticipate the Christmas without it.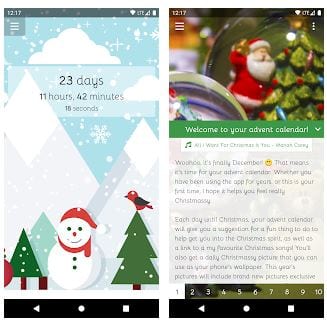 Birthday
Birthday Countdown
Forget about incredibly important dates all the time? Tired of hearing blame for forgetting someone else's birthday? Or are you such a busy person that even your own holiday seems distant to you, and then suddenly comes?
Birthday Countdown will help you not to get confused in dates and numbers! To always remember your own holiday, just install the application and that's it. Birthday Countdown will offer you to enter the necessary holidays.
In addition to your own birthday, you can also keep track of your friends, family, or colleagues' birthdays. In order not to get into an awkward situation, it is better to watch the dates. This simple widget on your desktop will remind you about the event and you can prepare a gift or make a call.
It would seem that we are all adults and not so much fixated on the holidays. But another person can be offended if you do not congratulate him on such an important day. Do not be ruthless and keep an eye on the birthdays of your friends and colleagues. After all, now with Birthday Countdown, it is so easy to do!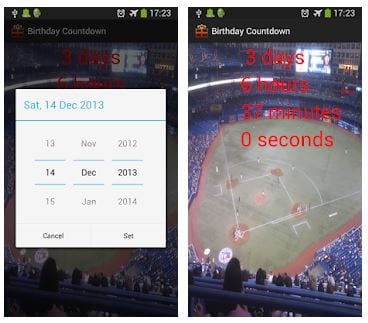 Birthday Countdown by Kulana Media
It would seem that the application is simple in design and so functional! Birthday Countdown allows you to keep track of your birthdays as well as those of your closest friends.
Your family members will be incredibly happy to know that you do not forget about them! And a colleague will be pleasantly surprised by the box of chocolates from you on your birthday.
Birthday Countdown is a widget with the countdown of days, hours, and minutes to a certain celebration. With its help, you will be able to monitor – how many days to your personal holiday. So you will be able to plan a party, for example, and always know how much time you have left to prepare.
Plan your party with Birthday Countdown. In the application, you can also make a list of desired gifts and share them in your social networks. This is incredibly convenient – this is how your friends will know what you really need.
The app keeps in touch with Facebook and Twitter. So you can even share the timer with your subscribers – just use this feature in Birthday Countdown.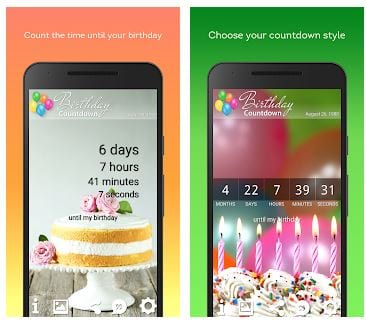 Birthdays
Do you always hear complaints about forgotten birthdays? Or do you feel uncomfortable when everyone around you congratulates a colleague, and you completely forgot about it and didn't even buy a postcard? Now you won't face such a problem! The Birthdays app is designed specifically for Android smartphone users.
Just enter your friends' and colleagues' birthdays into the app and it will automatically remind you of it. Birthdays syncs up with your contact list, so even if you missed a date when you filled out, it is no problem. Your Phonebook will enter a holiday with the person's name into the app itself.
Due to synchronization, the application provides you with a full backup of your data. That is, even if you lose your smartphone, you will not lose the list of such important dates.
In addition to synchronizing with Contacts, you can also connect the app to Facebook. This way, Birthdays will have access to your friends' list and all data will be filled in exactly the same way.
Now it is very easy to pay attention to your family and friends on such an important day. Install Birthdays on your smartphone and don't forget anything.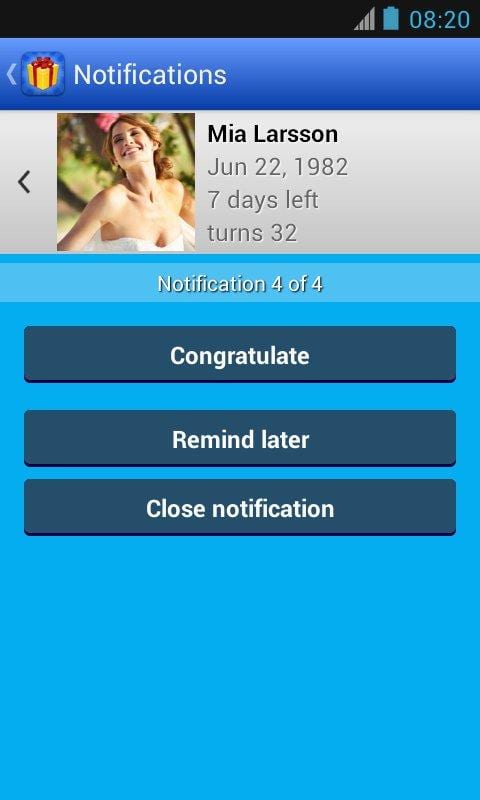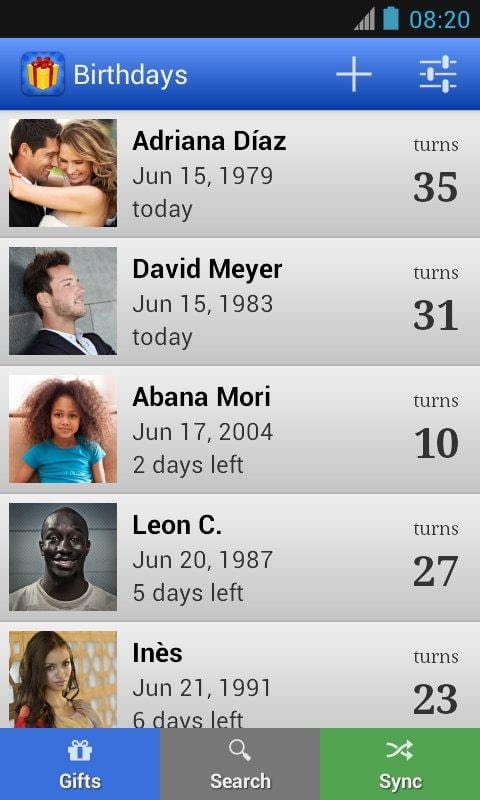 You can also check: 17 Best time killing apps for Android & iOS
hip: Birthday Reminder App
At the very least, this application can only be installed because of its symbol. The sweetest hippo on the icon will decorate any iOS device desktop!
hip: The Birthday Reminder App syncs easily and in a few clicks with your built-in calendar, contact list, and Facebook account. From all of these resources, the Hippo gathers information about birthdays and other major holidays for people.
With the help of the widget, you can celebrate all major dates – from anniversaries and birthdays to graduation. Simply put a notification and Hip will remind you of the celebration.
When you open the application itself, you will see a countdown to each holiday: of course, the time is not in seconds, but in days, but it is very useful if you are watching the time and dates.
In addition to reminders, the hip: Birthday Reminder App offers you interactive greeting cards that you can easily send to the birthday person directly from the app. And also for the residents of the United States available feature to select gifts – if you are really busy, then you just need it!
You can share your list with mutual friends. So you will be all aware of the holidays and it gives you a guarantee that no one will forget about your celebration.
A paid subscription is available at the HIP. Functionality in it is mostly related to the design and appearance of the widget, but if you think carefully about your desktop – then you will find this functionality useful. Install the hip: Birthday Reminder App and keep an eye on the upcoming holidays with style!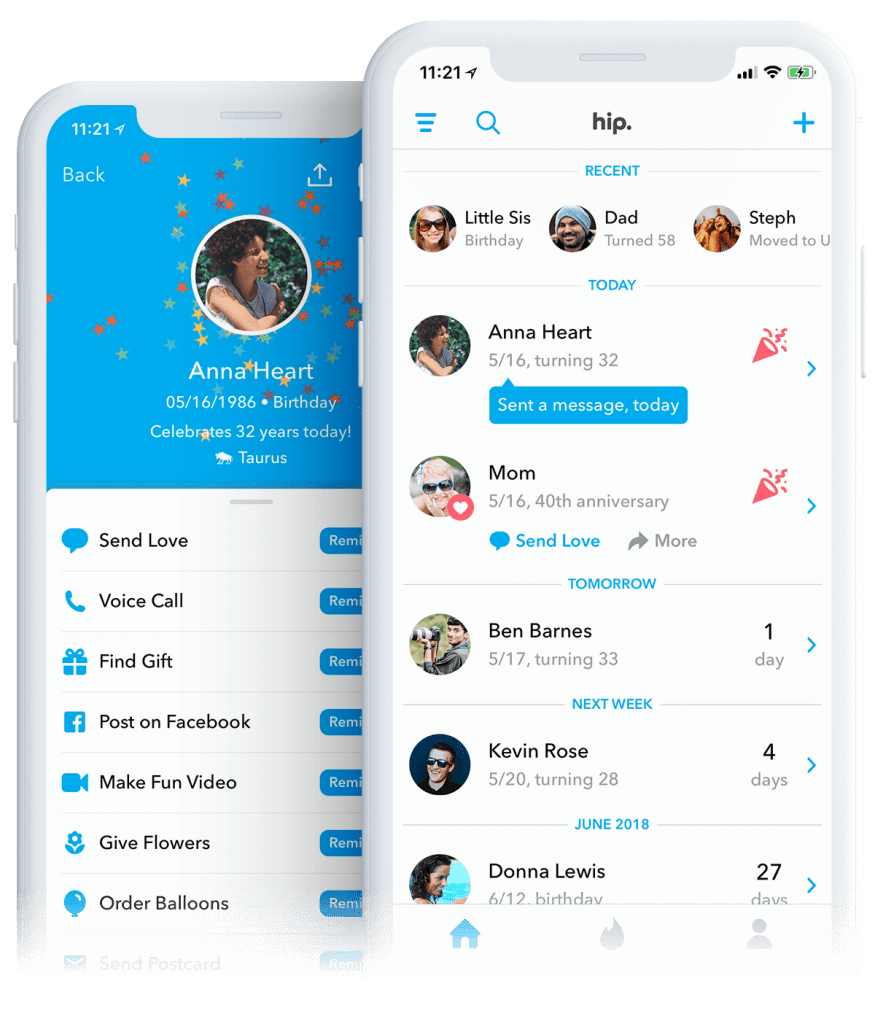 Nowadays, we are very busy at work and in our spare time. Sometimes it is so easy to forget about the most important things in the hustle and bustle of business. But our smartphone is always ready to help us! It is not important what platform your device works on.
It can be both Android and iOS – for any phone, you will find the necessary application. If desired, any countdown can be brought to the desktop and constantly see a mention of the holiday. If you do not see this need – then just set up a notification system.
Now you will not hear any complaints about forgotten holidays. You can even look forward to certain events such as vacations, retirement, or weddings. Just choose the right app from the list of apps and always keep an eye on the time – it goes so fast.