The community of gamers includes millions of people. It is indeed a large group that is united by a common goal and interest. Video games are able to give new emotions, that's why they are so popular. This industry is rapidly developing, so don't be surprised if your new acquaintance is also an avid gamer.
Yet, sometimes it is difficult to find a like-minded person who shares these interests. There are many special apps with which you can find your love. But what if you want your soulmate to be your teammate as well? Try these best dating apps for gamers whose users are sure to share your interests.
Kippo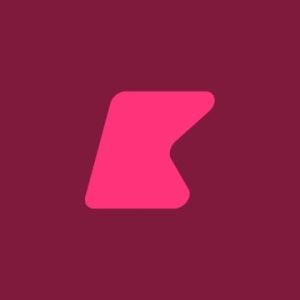 The Kippo app was created specifically for communication and dating gamers. Here you can quickly find the right couple for a date.
The participants are a limited range of people who are fully immersed in the game world. They will definitely share your interests.
Matching the main theme, you can create an interesting profile with information about yourself. It is presented in the form of a deck of cards, which you have to fill in according to the special fields.
You will also need to specify your favorite games. This is definitely something you haven't seen in regular dating services.
This app has received many positive reviews due to its high performance and user-friendly interface. Moreover, this app is free. Communication here complies with certain rules, the latter must be followed by all participants.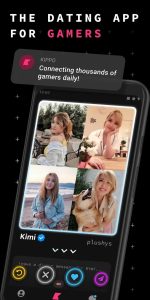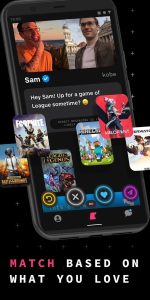 A team of moderators works around the clock to block rude users, scammers, and those from whom threats may be received. That way, the community stays positive and friendly forever.
You may also like: 13 Best Apps for Video Chatting like Facetime
Noobly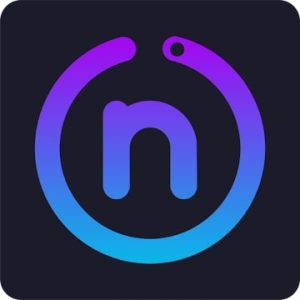 Noobly is an app for finding new acquaintances among a huge community of game lovers of different genres. Here you can find your new teammate, who can later become your soulmate.
Get a new partner for a game online or a meeting in real life – everything depends only on you. You can browse through user profiles with a swipe.
There are players from completely different places around the world. This is fascinating, as you get to know how the gaming industry works in other countries.
There are more than 1,500 games in the app's library. Among them, you can find your favorites and choose to display them in your profile. This way, other users can get to know your interests better and start communicating.
By the way, if you invite your friend to this service, you will receive an unusual reward. There are Noobloons, by collecting which you will have access to various profile decorations. Even more, personalizing your profile will help you with brightly colored themes.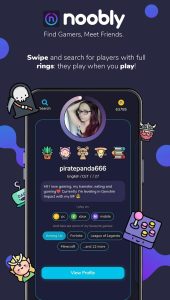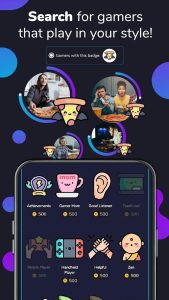 This app is created first of all for true gamers, who really love this activity. It will allow you to find out not only what your friends play, but what their character traits, daily interests, and life objectives are.
Geeky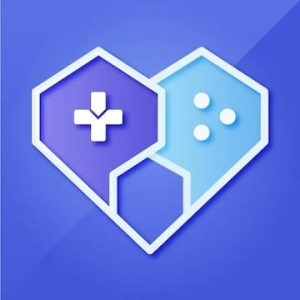 We recommend the Geeky app to all lovers of video games, new acquaintances, and communication.
Here you can chat with like-minded people on topics that interest you. Join the general chat and find new partners. You can also chat with the selected user in person, which can later lead to a date.
Use your Gmail account to create a profile. To help other users get to know you better, add your photo.
You can include your favorite music, books, and other interests. But choosing your favorite games is key. This question should be taken into consideration with great attention because this point is decisive in this service.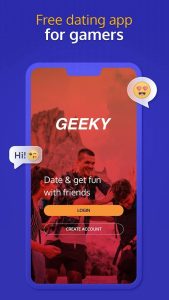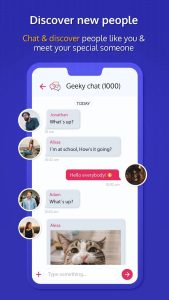 Gradually you will begin to receive invitations to communicate with other users. Use search for users according to certain parameters to avoid differences in interests.
eHarmony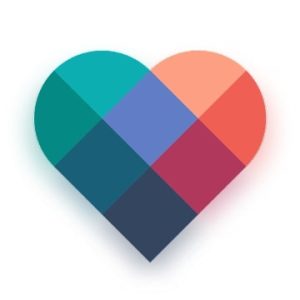 The eHarmony service is based on a unique algorithm of partner search, taking into account the peculiarities of character.
This system is aimed at creating strong and happy relationships between people. After completing the installation process, you have to log in or register as a new user.
Next, you will be asked to complete a questionnaire. It consists of a small number of questions and will not take much time.
Upon completion of the questionnaire, the resource will offer you the best user profiles. They are based on the data in your profile and the data of other people.
Once you've read the options, you decide whether to start communicating or open your profile for a conversation partner. It is not difficult to understand the interface of the program. The app itself, based on an algorithm, offers you the most suitable profiles.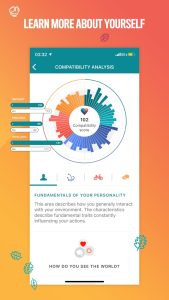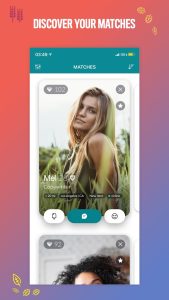 eHarmony is a mobile app with a huge number of registered users from different countries. This provides a great choice and an excellent chance of success. It is suitable for those who are ready to create a serious relationship.
You may also like: 9 Free Secret Dating Apps for Android & iOS
OkCupid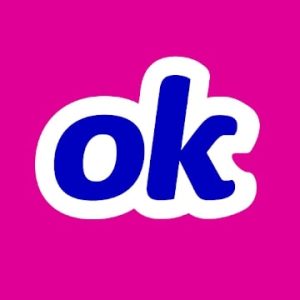 OkCupid is an app for meeting people around the world. You can rate likes, exchange text messages and emoticons, and view the profiles of other users.
With this utility, you can find new friends or a partner for communication and meetings. View the profiles of users, express sympathy, and correspond in text chat. The function of selecting a partner by specified criteria is available.
To use the service, you need to create an account by specifying and confirming the cell phone number. You can also log in with your Facebook account. Then you should fill in your profile and add an avatar.
Provide information about yourself and your interests, including favorite video games. Make a short description, which will be displayed under the photo when the profile is shown in the feed.
The utility allows you to specify your partner's preferred gender and age, as well as other selection criteria. After that, the best profiles will be displayed on the main screen. You may like or dislike profiles of those you see. In the case of a match of likes, you will be able to start a correspondence.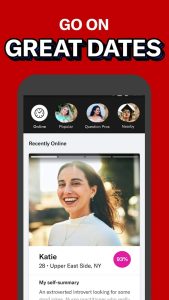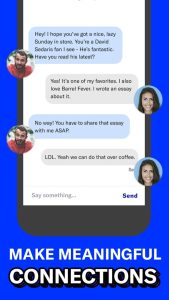 You can search for users based on their location. To do this, you will need to enable access to the tracking of coordinates and turn on GPS. It is possible to improve the quality of partner selection by filling out a questionnaire.
Tinder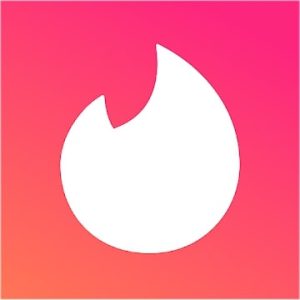 Tinder is one of the most popular dating apps. Look for friends, chat, flirt, and date.
The app is designed to help you find your soulmate or even your friends. Make new acquaintances for a serious relationship or just to expand your social circle.
Finding someone to talk to is easy. Swipe your finger across the screen to browse profiles and "Like" if you adore a profile. Chat by text or make calls.
You can adjust filters to get the other profiles and find people near you who are also looking to chat.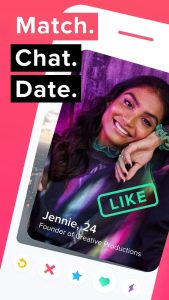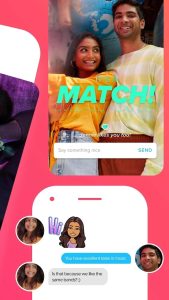 This is a special app where you can find a date in just a couple of minutes thanks to the huge number of users. The easiest interface makes the experience of using the app as pleasant as possible.
You may also like: 9 Anonymous Chat Apps that Don't Require Phone Number
Zoosk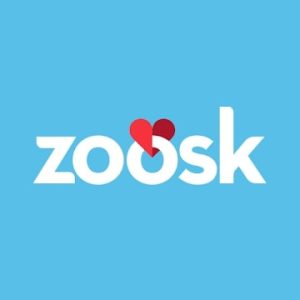 The Zoosk app is a dating service that you can use to find new friends. It also offers a search function to find a companion nearby.
With the help of the utility, you can find friends or a partner for a serious relationship. It is possible to view user profiles, give likes, and correspond in chat.
To use the service, you need to create an account with your email address. You can also sign in with your Facebook account. After that, you should fill out a questionnaire. Enter your name, date of birth, gender, interests, and hobbies.
The app allows you to search for a companion by gender, age, and interests, among which are various video games. Besides, the function of searching for people near you is also available. To do this, you need to allow access to the tracking coordinates of your mobile device. Then the profiles of other users will appear on the screen.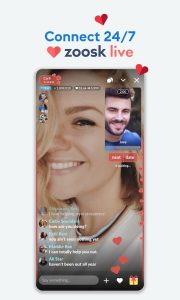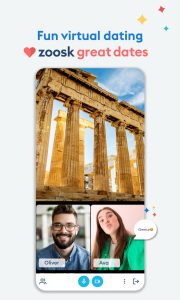 You can either like or reject the profile. In the case of a match of sympathy, a text chat for correspondence will be available. It is possible to send messages and stickers.