Christmas is coming very soon. It is high time you prepared gifts for loved ones, and in order not to forget anything, it is better to use the help of a special app. In this article, you will find the best free Christmas shopping list apps & websites.
And before going shopping, don't forget to make a wishlist! The best wishlist apps can be found in this article.
Christmas List App
You can create your list of gifts and important purchases for Christmas not only in notepad but also with the help of a convenient service. This will not allow you to forget anything that you wanted to do.
Install the app and start planning your shopping list. Add the person and the gift you are going to present.
You can just write the name of this thing, select it through any online store and add it to the app, or just take a picture right on the shelf in the mall and attach it to the list.
It is also available to share your shopping list with other people.
The service provides a budget-tracking feature. This way you will always be aware of how much money you should spend.
Advantages:
The app has a modern and user-friendly design.
The service offers various ideas for Christmas gifts.
It is possible to control expenses.
Drawbacks:
The app can hang up at the check-in stage.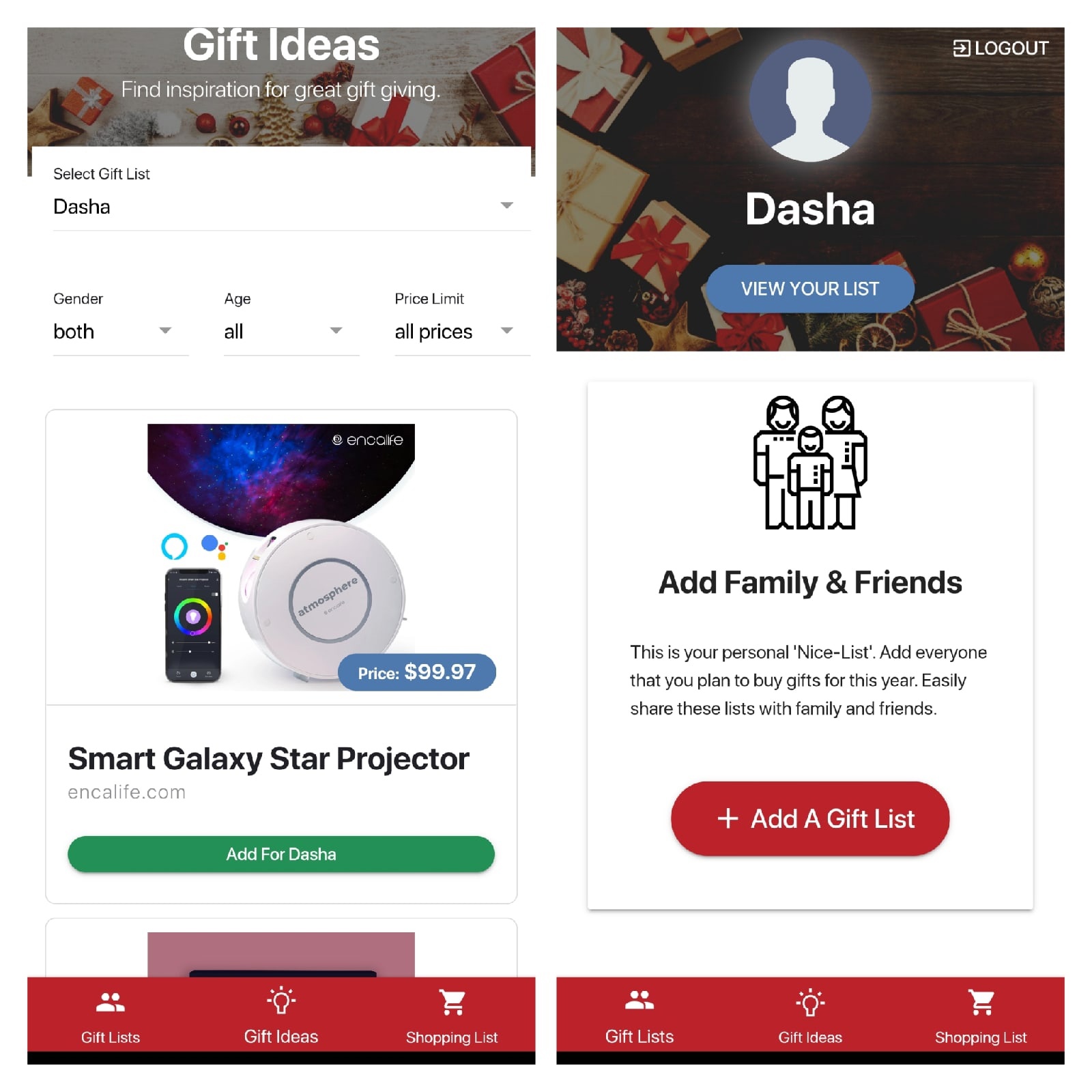 You may also like: 11 Best Gift-Giving Apps
My Christmas Buddy – Gift List
This app is perfect for those people who do not know what to present to their family members and friends.
Get it installed on the phones of your loved ones and they should indicate what they would like to receive for Christmas as a gift. In turn, you have to share your desires too.
Thus, everyone will be satisfied they received exactly the gift which they dreamed of and no one will puzzle over what to buy.
The app also provides a shopping list function. Add gift ideas and then mark what you have already purchased and how much money has been spent.
There is a little Christmas elf in the app – this is your assistant who will help you make a shopping list.
Advantages:
The appearance of the app reminds you of the approaching Christmas.
There is an opportunity to find out what gifts your family and friends want.
Drawbacks: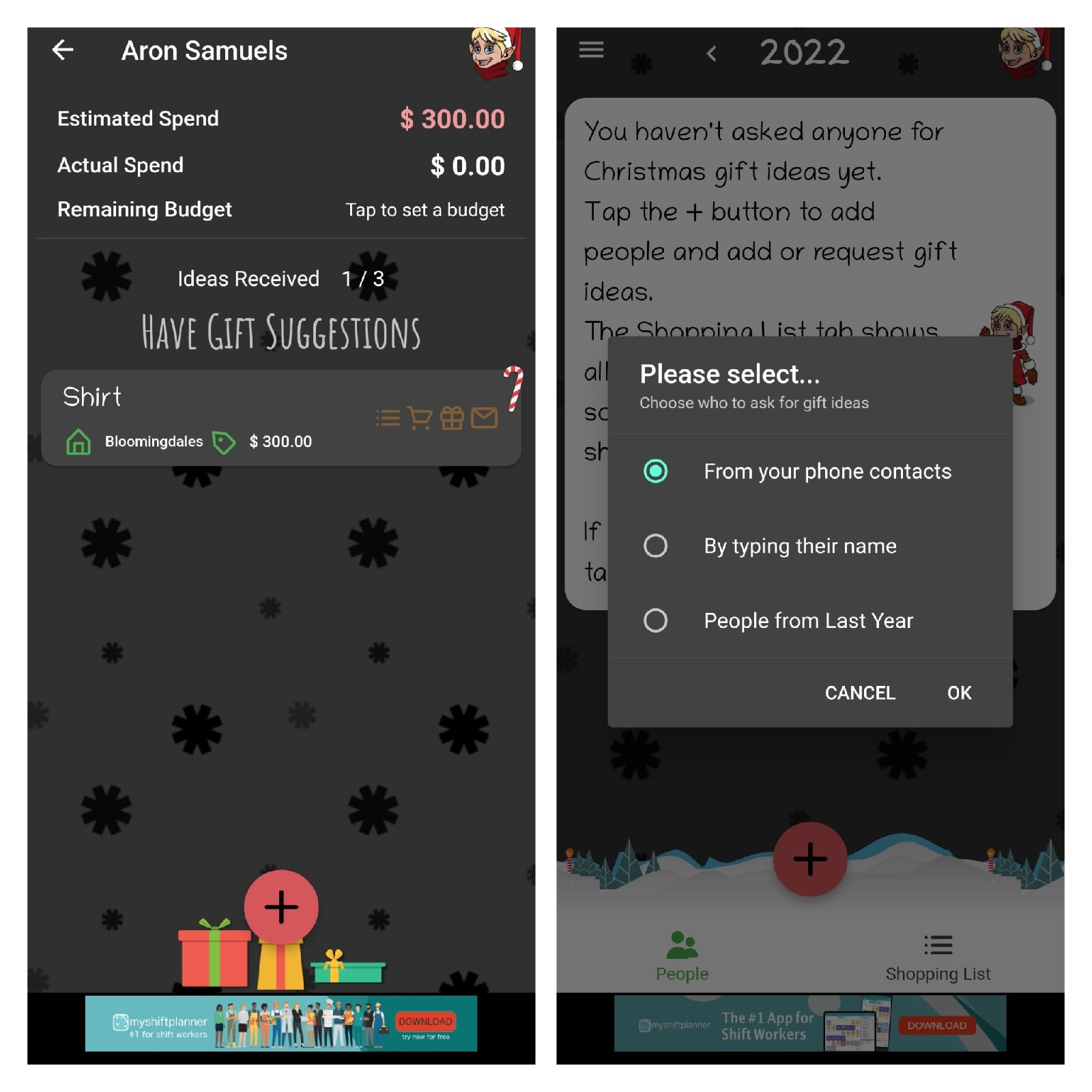 Christmas Gift List
This is a simple and useful app that will be a great helper for Christmas shopping. To begin with, the service counts the days before the holiday.
It doesn't matter if you have started preparing for the celebration of Christmas in a few weeks or a month – you always have the opportunity to check how soon the long-awaited day of winter magic will come.
Add the total amount of money you plan to spend on all the gifts. Then create profiles for each person to whom you are going to buy something special.
Write down what and where to buy it, as well as the maximum sum of money that can be spent on this gift.
All you have to do is check the gifts that you have already purchased and also keep track of the current amount of expenses and the target budget.
Advantages:
There is a countdown to Christmas Day.
You can set the target amount of expenses.
Drawbacks:
It is possible to have problems logging into the app if you set a password.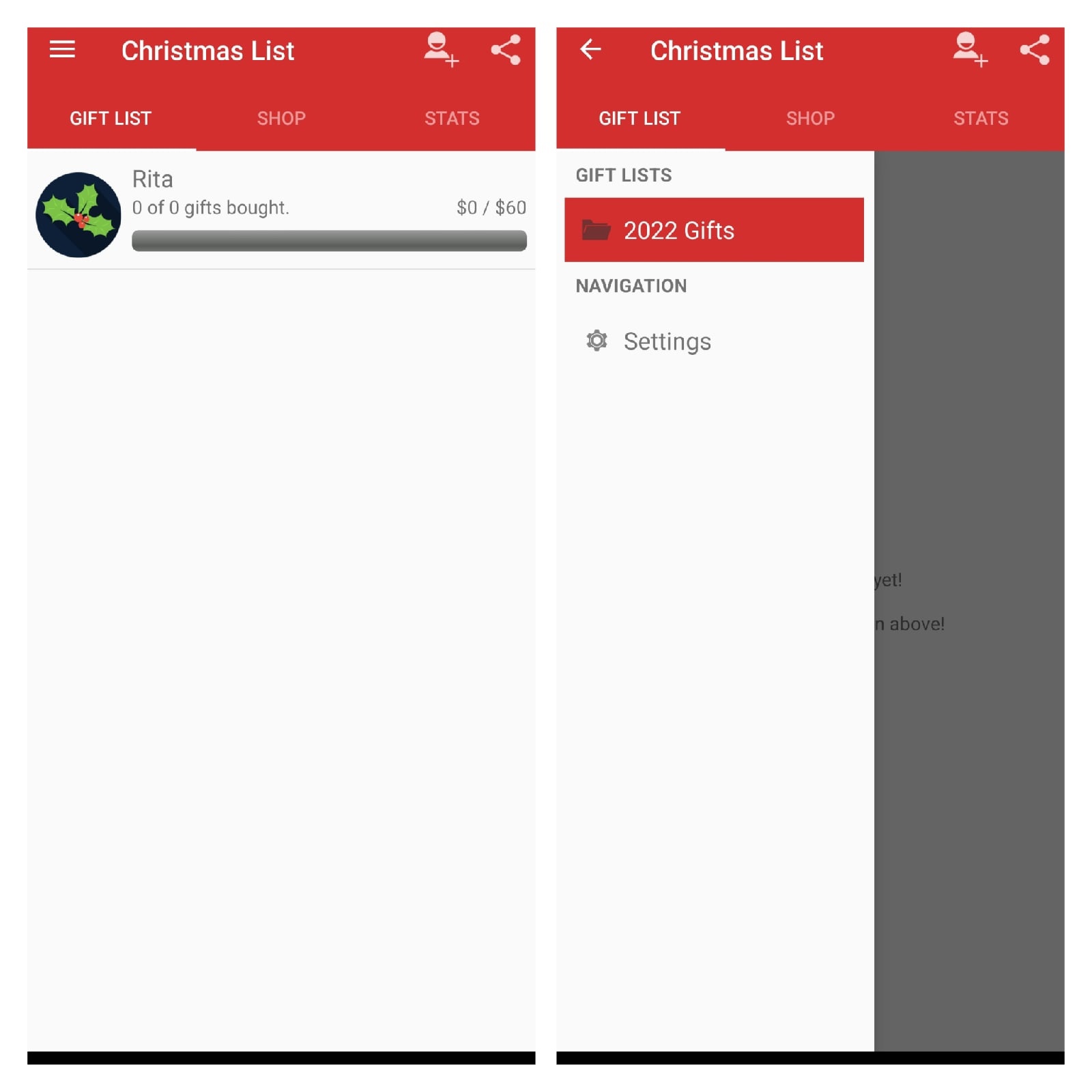 Christmas Gift List
This is a different app (not the one that has already been described) that allows users to easily keep track of the necessary buyings that need to be done by Christmas.
It's interesting why the developers decided it would be a good idea to name different apps the same, but it will remain a mystery.
The main feature of this service is the creation of a shopping list. There are all the required tools here. Users can divide people into categories, for example, family and friends, so as not to forget what and to whom they are going to give.
You can indicate at what stage your gift is now. Whether it is already wrapped or just ordered. It is very convenient to control the process.
There are statistics among the functions of the app. You have access to information about how much money was spent on gifts in different years.
Advantages:
There is a countdown of days to Christmas Day.
It is possible to specify the phase at which the gift is located.
There is a convenient group division of people.
Drawbacks: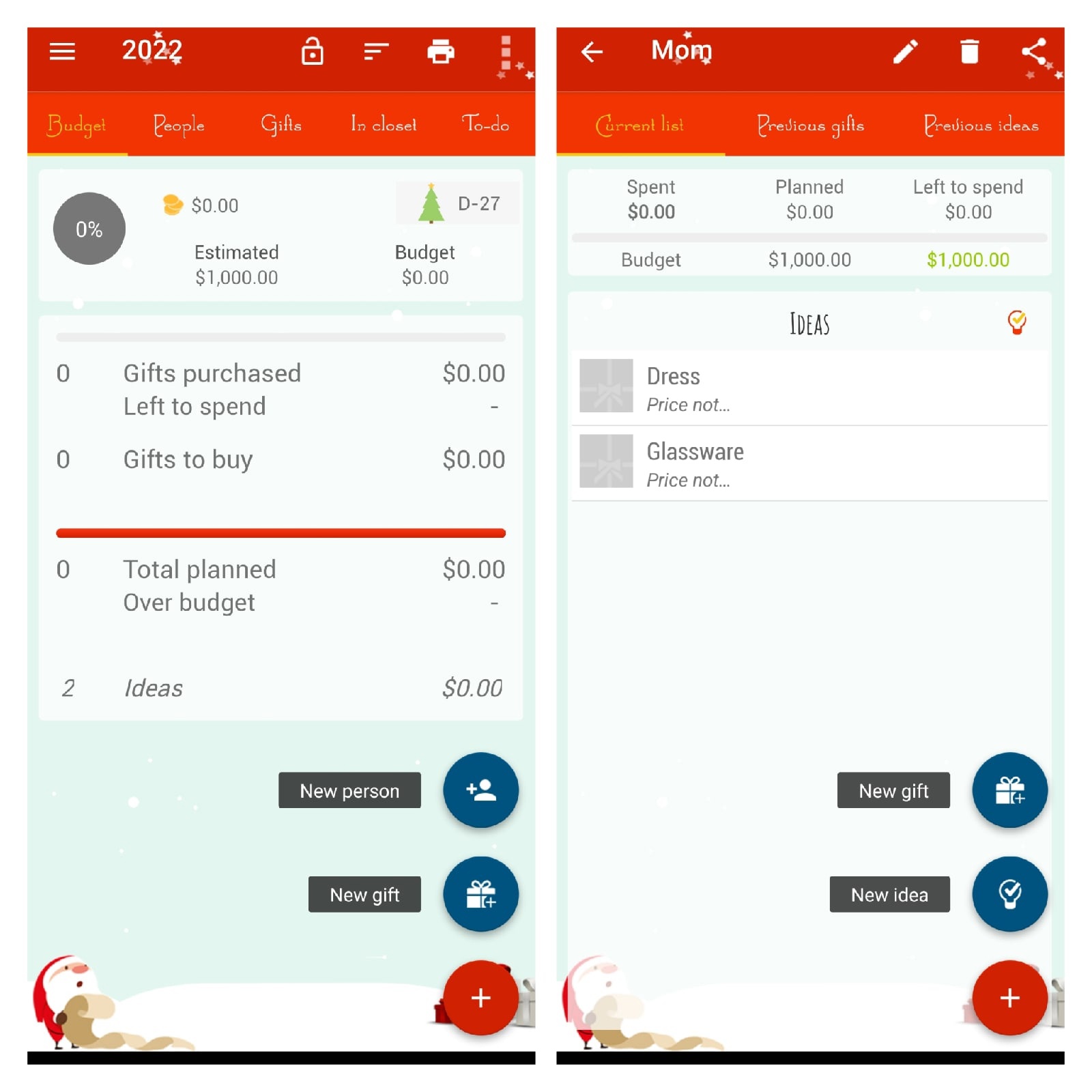 Gift Tracker – Christmas
This app is a tracker where you can mark which gifts have already been bought and which have not yet. This way you won't forget anything and will have a wonderful Christmas.
It's cute that the app's design is green. This shade resembles a Christmas tree and every time you use it to write down a new idea for a gift, you will be immersed in the holiday atmosphere.
Add people to whom you have to prepare gifts. Then specify the planned amount of money that you can spend, as well as the idea of a gift, if you are not sure yet and only think that this person could like some of the things.
However, if you have already chosen, then just attach a photo of the gift, and also mark the store where you are going to buy it. Moreover, it is possible to set the status "wrapped" when you have already packed a gift in a box or paper.
Advantages:
It is very easy to keep a gift tracker.
There is a convenient budget planning system.
The service may be suitable not only for creating a shopping list for Christmas but also for other holidays.
Drawbacks:
Sometimes the app can freeze.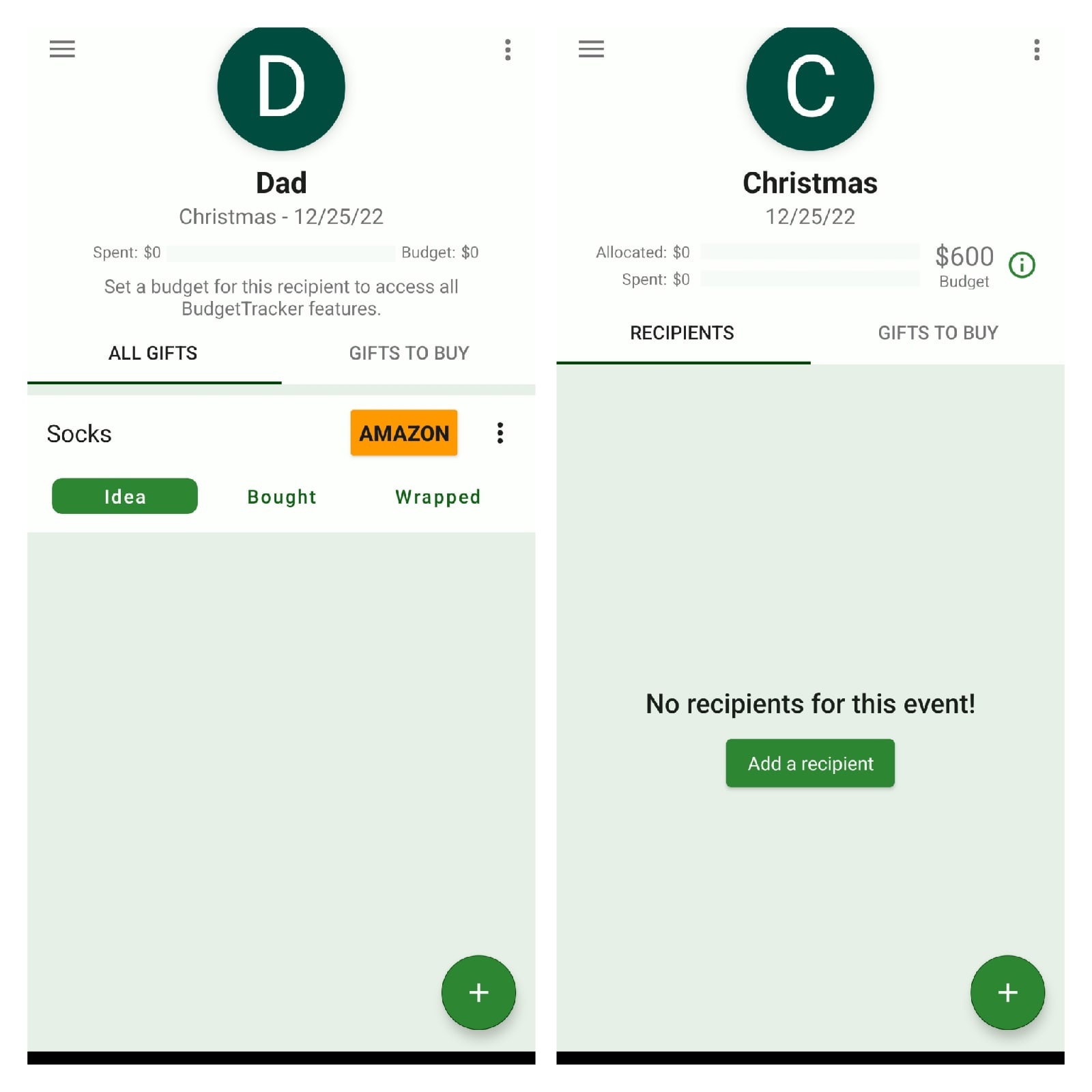 You may also like: 6 Merry Christmas Apps for Android & iPhone
Fotor
This is a website specializing in the creation of various lists, planners, and checklists. Although it is not directly associated with Christmas planning, you can still use it for these purposes.
The site has additional features that are included in the paid subscription. To create a Christmas shopping list, you will have enough of those elements of the service that are available for free.
After logging in on the site, you can start creating your own aesthetic Christmas planner. Use patterns that the service provides. These are already created pictures that can be edited. For example, add more lines and a title.
On the other hand, if you want to create a completely original shopping list, then start with a clean slate. Add decorative elements as well as spaces where you will write.
You can print out the shopping list to always carry with you.
Advantages:
There are many features to make a personalized shopping list for Christmas.
The site is suitable for creating planners for any situation.
It is possible to print a shopping list.
Drawbacks:
There is no budget calculation feature.
It can be difficult for beginners to figure out how to create a list.


You may also like: 11 Free Wishlist Apps & Websites For Family
PicMonkey
Many people enjoy creating something individual and beautiful. Why not make exactly such a shopping list for Christmas? This website will be a great help in this matter.
The website can be used for various purposes: scheduling, creating booklets and invitation letters, menus, multiple calendars, and more. This is a huge constructor for designing lists.
Use the already generated version of the shopping list and just write there what gifts and for whom you plan to buy, then print it out and check completed points.
It is possible to use a large number of tools to design your list for Christmas. On the left side of the site, there are all the necessary functions such as effects, pictures, frames, and textures. Experiment to get a masterpiece.
Advantages:
There is an opportunity to get unique shopping lists.
There is a guide tour on how to use all the tools to create planners.
Drawbacks:
A limited number of features in the free version.