Due to the fact that people began to actively take a great interest in photography, absolutely different kinds of tools for image processing began to appear in application stores.
These are make-up, hairstyles, color processing, and filtering – everyone can find the service to their liking. Depending on your needs, you can choose the applications themselves. As it turned out, it is sometimes so difficult to find the right one among all this diversity!
You may also like: 11 Best Background Remover Apps for Android & iOS
The queries rise and complicate the services themselves. They often have facial recognition, automatic processing, and artificial intelligence. But the most basic function – "copy and paste" – may simply not be in them!
Do you want to make a little joke about your friend and insert his face into another photo? Make an original collage? We've compiled 13 best apps for you to help you do this.
Auto Cut Paste Photo, Cut Paste Photo Editor, AI
An app that allows you to process snapshots. It helps to quickly cut out any frame from a photo, thanks to the automatic selection function, and then make it the background of the second image or paste it on it.
With this tool, you can easily and quickly create beautiful photos with your own hands. You just need to touch the selected area that you planned to remove, and then the automatic insertion will determine the full area itself, since it can automatically perceive colors.
Auto Cut Paste Photo was developed with a considerable number of tools that are available in professional photo editors. We will present these functions below:
auto-erase, which allows you to erase the background with one click;
manual erasure – the usual self-removal of the background;
selection of the area that needs to be completely removed;
mark, repeat and zoom: give an accurate result.
You need to open access to your gallery to the application and you will immediately be able to start editing. The most important advantage of the application is the selection of objects and the removal of the background.
When working manually, you can use a magnifying glass: it will help with enlarging photos in order to notice all the small details.
In total: you can cut, edit a photo, replace faces and backgrounds, erase and copy a picture.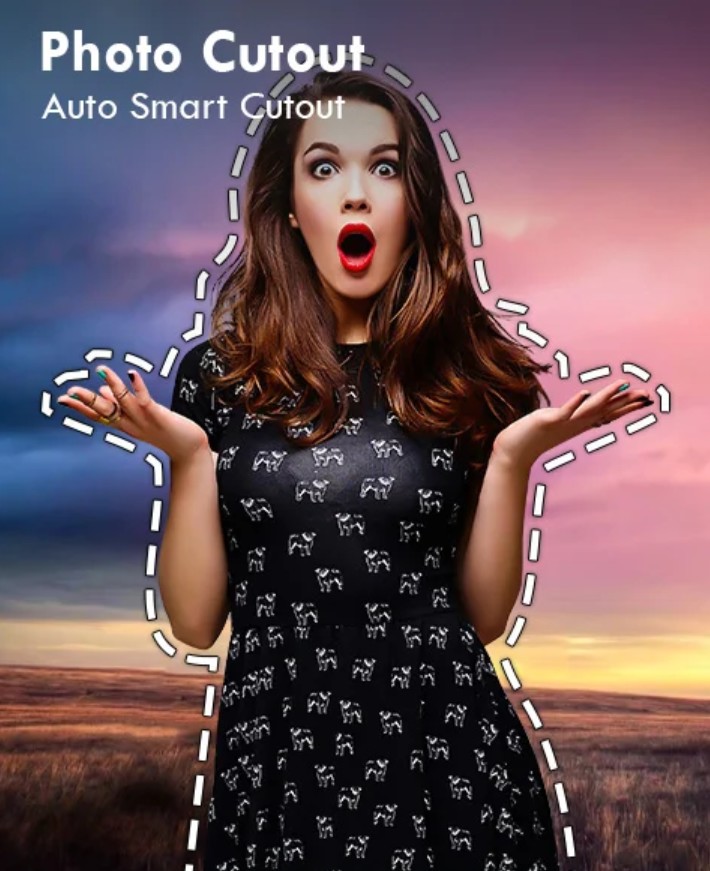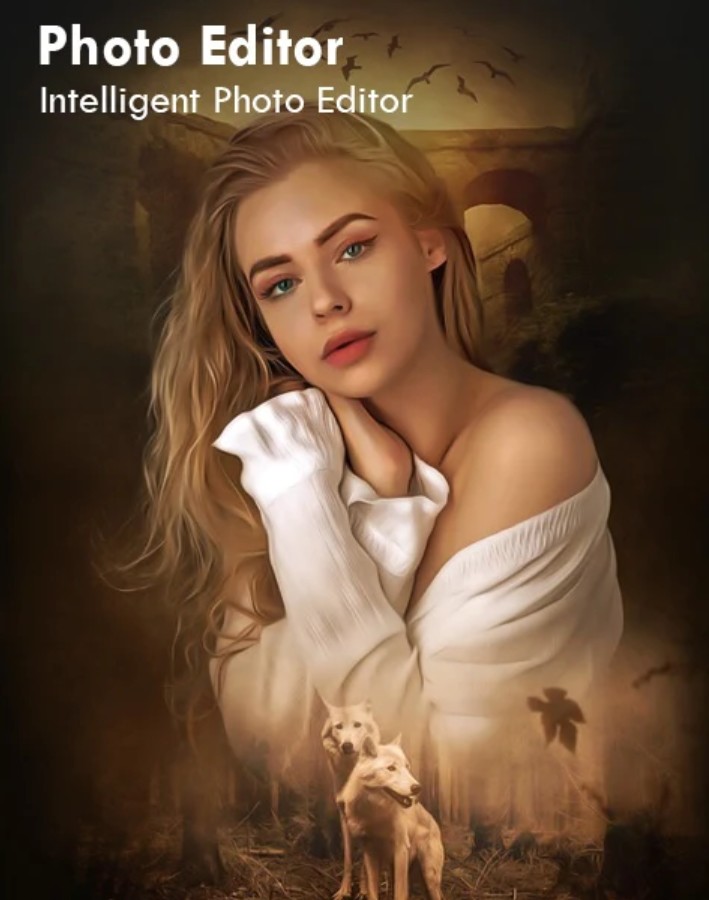 You may also like: 15 Best baby photo editor apps for Android & iOS
Cut Cut Cut – Cutout & Photo Background Editor
Sometimes you take an amazing picture, but the background lets you down. For example, you have shown all your advantages, but the dirty socks lying on the chair, spoil the whole picture!
Don't despair, there is a way to save the picture. Cut Cut Cut will become the assistant in replacement of a background if you need to make all quickly and qualitatively.
The application works on the artificial intelligence system – that is, in this mode, you apply a minimum of effort to highlight the object. There is also a manual mode – where you will be able to remove any unnecessary items or what is left of the processing. Cut Cut Cut immediately presents background templates that you can use for your snapshot.
In addition to the selection, you can also apply effects to the cutout image. Have you ever seen the mesmerizing effect of a flying mosaic? In Cut Cut Cut, you can do it with your photo!
Simple and fast – that's the secret to the popularity of Cut Cut Cut. Immediately after changing a photo, you can upload it to Instagram, Facebook, or Twitter – share your creation with friends.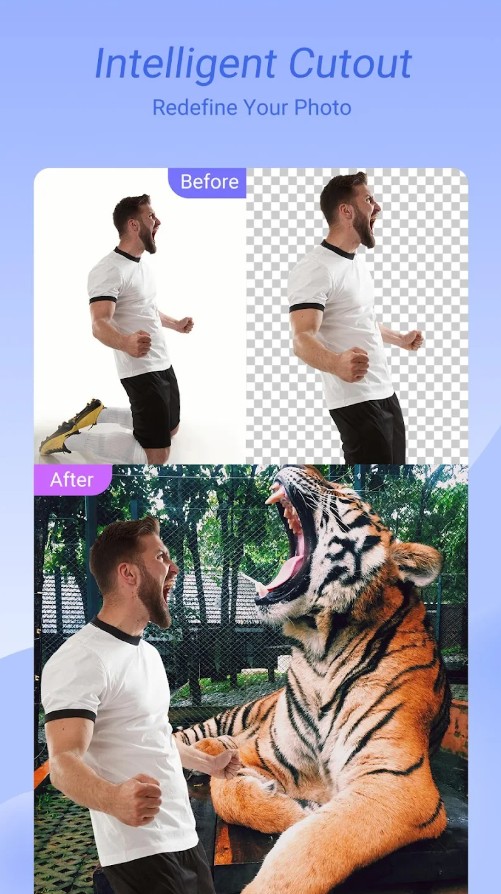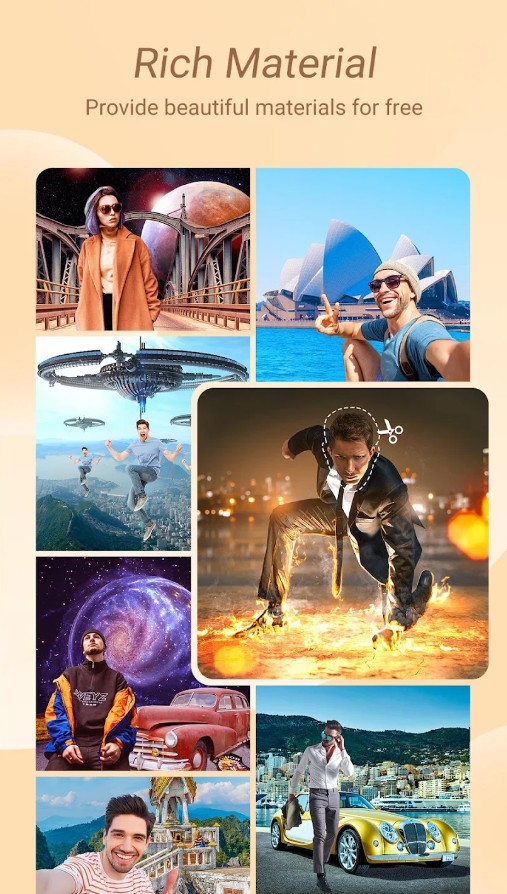 Cut Paste Photos Pro Edit Chop
Mafooly has developed one of the most famous photo editors for iOS devices. This application allows you to combine several images into one without using standard and boring collage templates, as well as to complement the pictures with the details you think are necessary.
You can not only upload a snapshot for editing from the gallery but also make it directly in the application. In addition to the main subject, you can capture several elements of one image at once. If you don't have any ideas for the background, you can use the Cut Paste Photos Pro Edit Chop collection.
The application has a paid version, which allows you to use all the functionality in an unlimited amount. The infinite number of images available for processing, effects, stickers, and smileys – that is, for a certain price you expand the set of tools that are available.
Subscription costs less than 6 dollars a month or less than 12 dollars for 3 months. To see if it's convenient for you to use, try all the features in a 3-day trial period. Cut Paste Photos Pro Edit Chop will try to help you implement all your ideas and ideas with photos.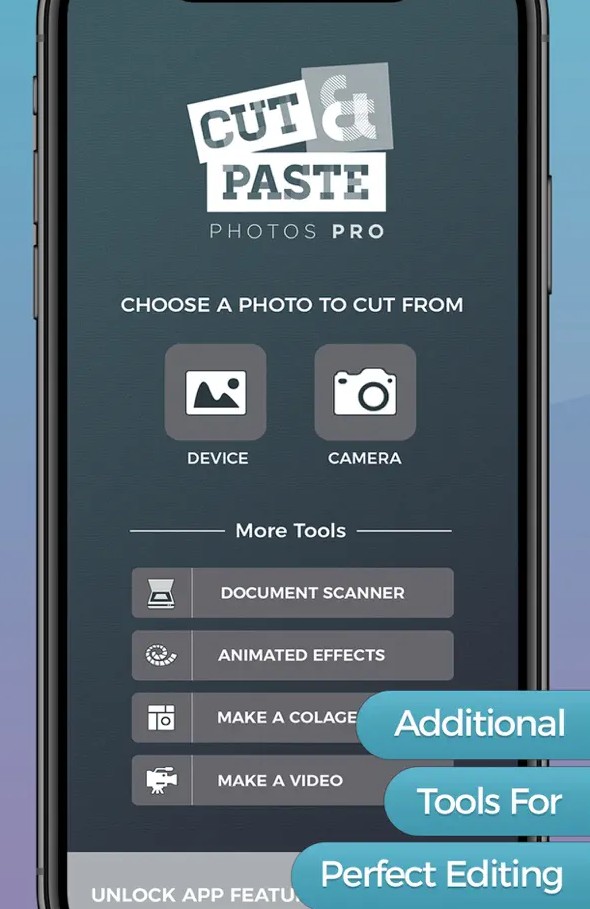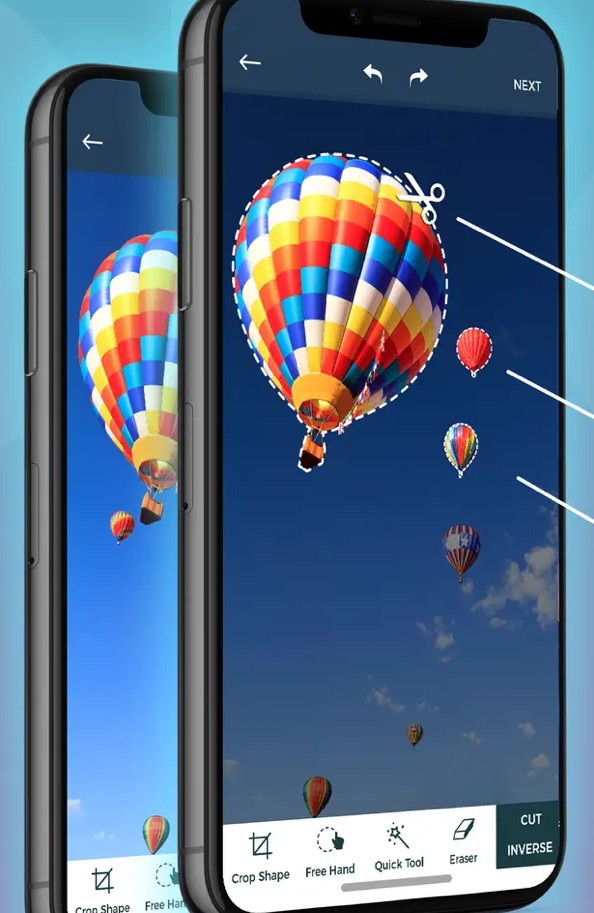 PhotoLayers〜Superimpose, Background Eraser
You want to make the background transparent, but you don't know how? Of course, in the computer version of the Photoshop program, you will remove the background in just a few clicks, but in the mobile version, it is a problem.
PhotoLayers works mainly with automatic detection of objects and people in photos. At the beginning of editing, you will have to choose the background image and the main one – the one you want to cut out. You can also use the data from Google Drive.
You can divide the image into layers and edit it individually – almost like in Photoshop. Crop the image to a convenient format. Dimensions, orientation, transparency – all this can be changed directly in PhotoLayers, the main thing – do not forget to save the result after all the innovations.
The eraser can also be used as a point eraser, removing only certain parts of the background. You can combine up to 11 images at a time – up to 11 layers of the image.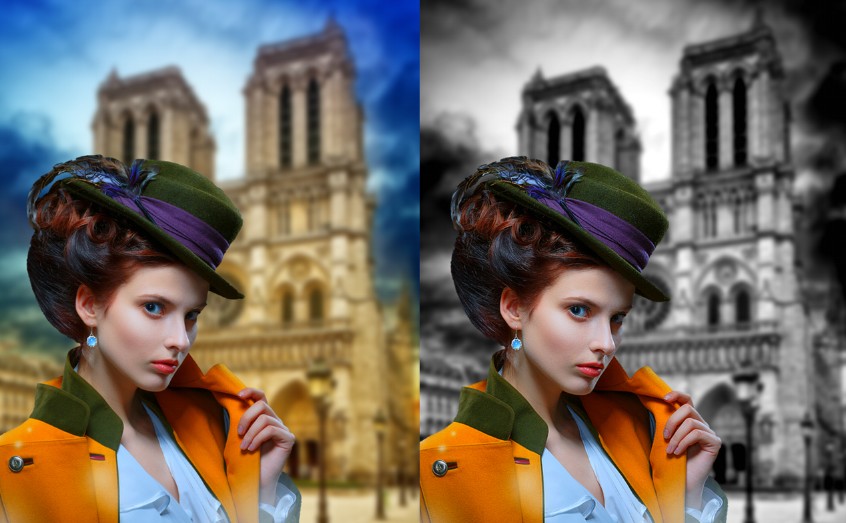 Cut Paste Photo Seamless Edit
This is one of the most popular apps on Google Play – well, to be completely honest, it has gained its huge popularity because it was one of first apps that occurred, ever. On the other hand, its functionality is still quite decent – you can accomplish here what you came for – cut and paste photos.
One of the most prominent feature of this app is that it allows quickly to replace faces on the photos, the automatic cut is available as well. Still, sometimes the cuts can remain visible – in order to solve this problem, try to replace the a background with 'transparent' texture.
Overall, this is quite a simple app, but that's why so many users choose it – just in a couple of clicks, you can easily cut&paste any picture you want. It is also quite a lightweight app. The only significant drawback here is that it includes lots of ads that sometimes don't let you to use the app without getting annoyed.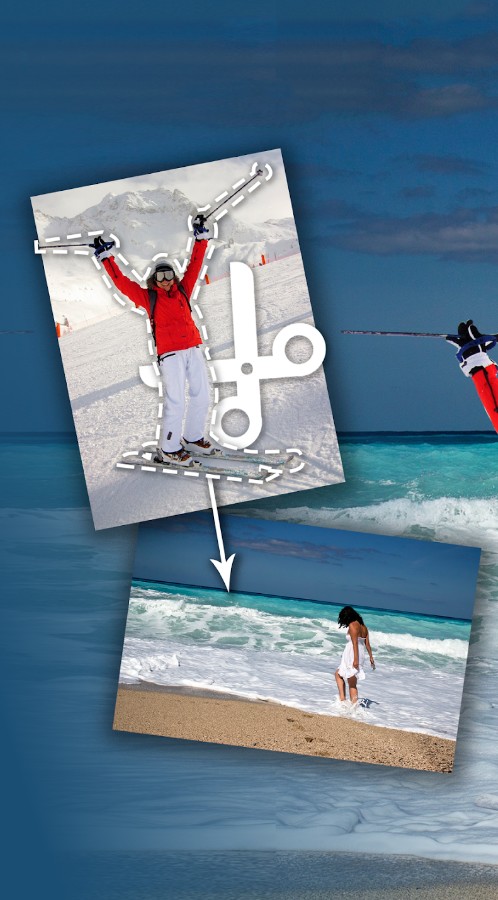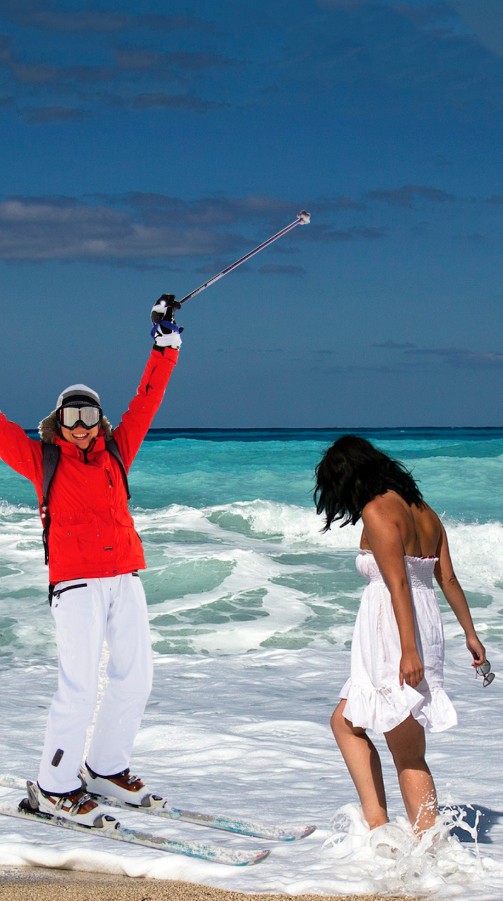 Auto Photo Cut Paste
The mobile application industry is developing at an incredible speed, and Auto Photo Cut Paste is the second generation of such applications. Automatic selection and highlighting of the area allows you to quickly and easily achieve the desired result in a short period of time.
The application has a large enough gallery of basic background images. It can be urban landscapes, coasts, beaches, and so on. You can also download your own background if you don't find anything suitable.
You will need to highlight the background on the photo and artificial intelligence will replace this area with a transparent one. Apply the resulting fragment on any other image. The removal of the background can also be done manually. In case of a mistake, use an eraser – it will cancel all your actions on a certain area of the photo.
There is also a function of the automatic exchange of persons. Swap Face recognizes everything in the photo and applies the effect without your involvement. How convenient it is when everything can be done by artificial intelligence instead of you!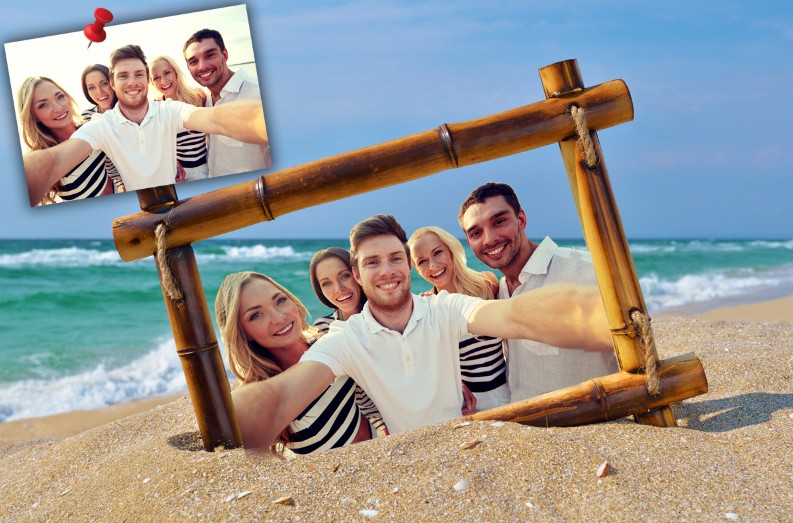 MagiCut – Cut and Paste Photos
The editing process in MagiCut is more like a creative activity. Stickers, fonts, images, additional processing, and other tools give you plenty of room for creativity. Realize all your daring fantasies and post them on social networks – the result should be seen by all your friends!
MagiCut uses Auto Trim and Auto Detect of objects and people, which greatly simplifies the whole process of changing the image. You just choose the right objects and in a few moments, you can insert them on the background you like.
If you want to experience the whole process in person, you can process every detail of the photo yourself, highlight the edges of the areas, and much more.
It often happens that two images do not coincide in color scale or exposure. MagiCut adapts them to each other and the final result looks like a single whole. If you don't have enough of this functionality, the application can offer paid tools for editing.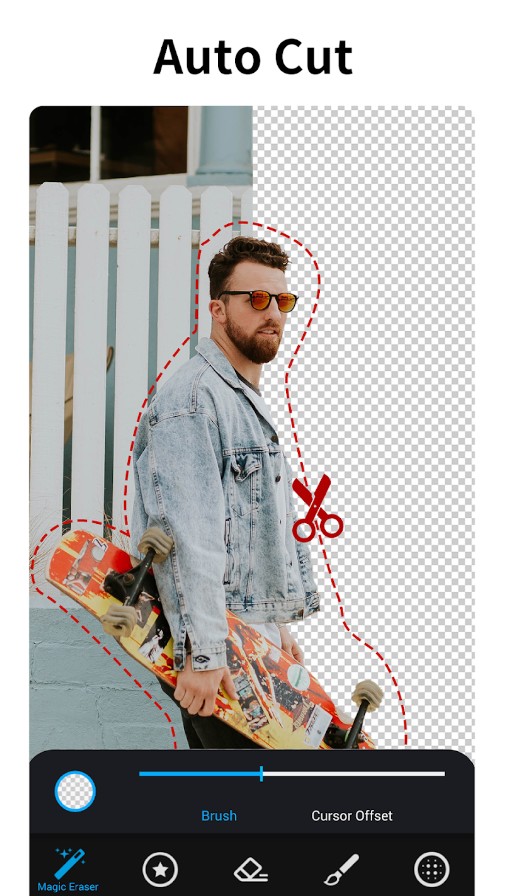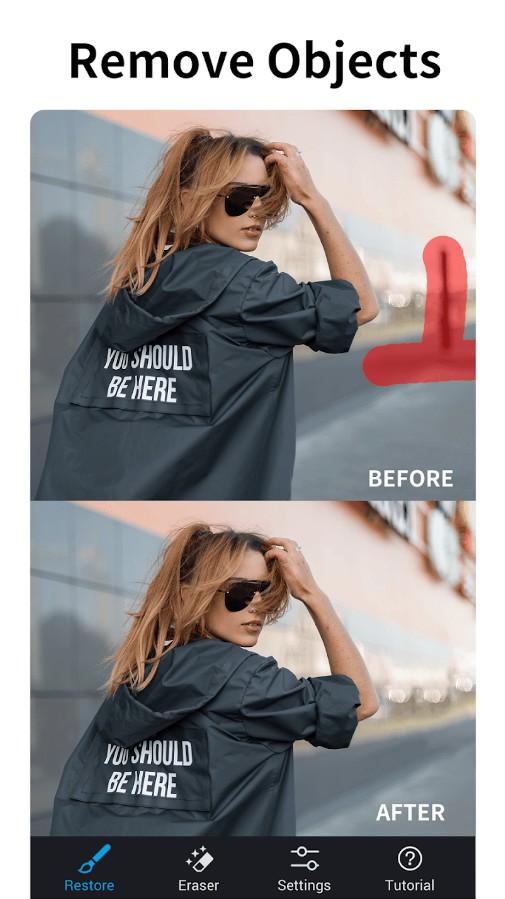 You may also like: 10 Best Blending Photo Apps for Android & iOS
PicsArt Photo & Video Editor
On the other hand, why would you install a separate app for each action of editing the photo when you can have all in one? PicsArt also includes an option of cut&paste the pictures. Well, it doesn't work here as good as on some other specific apps of this category, but at least you won't have to install a separate app.
Probably, one of the best features of PicsArt is its super user-friendly interface. As you open the app, everything is clear to you. All the features are divided into the categories and you can see them at the bottom of the screen while you are editing the picture.
For cut&paste, you can o straight to the very first category in the row ad see which options it provides. By the way, PicsArt supports the automatic choice of the elements on the picture as well, however, it is not always precise. You can also pick up the objects manually – just scale the picture to make that accurately.
The biggest disadvantage of PicsArt is probably the fact that it decreases the quality of many pics after editing. Also, in order to get access to all the features, you need to buy the Gold subscription.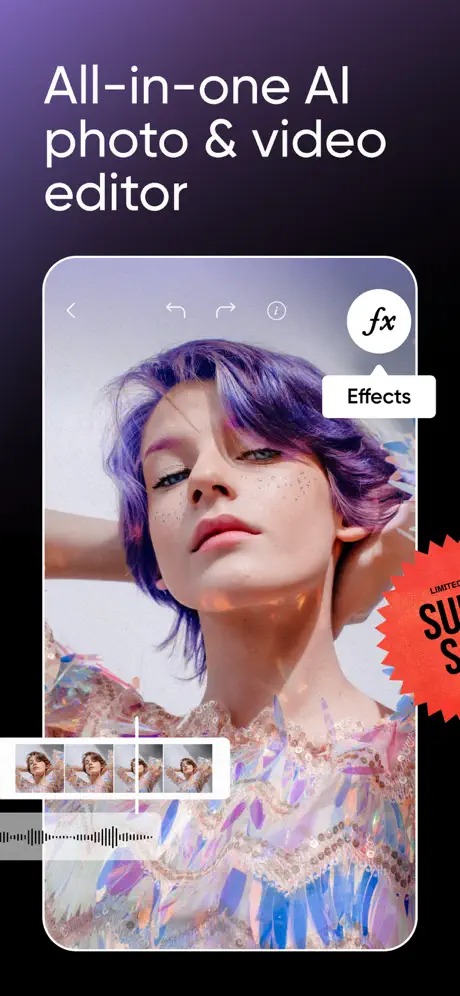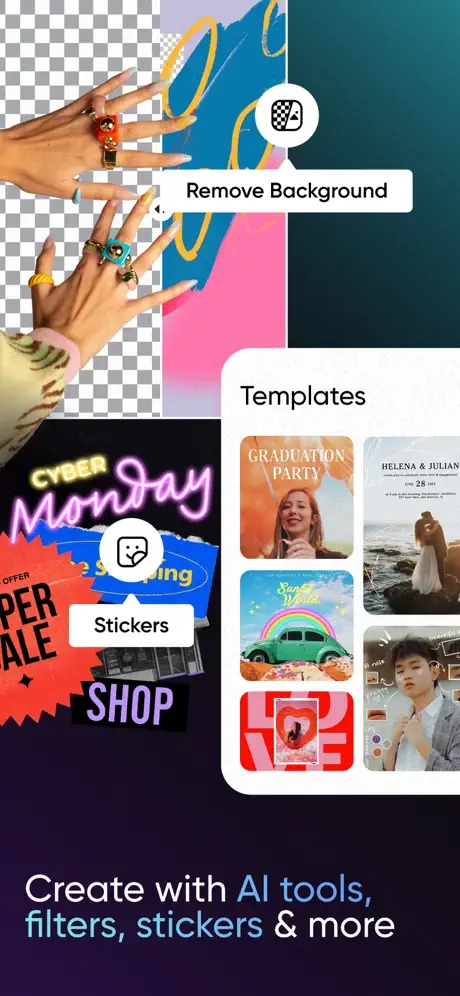 Cut Paste Photos by Dexati
Cut Paste Photos allows users to create stunning photo montages with ease. With its versatile range of options and powerful editing tools, this app has become a go-to choice for anyone looking to craft captivating visual compositions.
Cutout tools that enable users to select and extract objects or subjects from their photos precisely 
Photo blending that ensures a smooth transition between different elements within the composition
Photo effects and filters
In addition to cutout tools and background editing, Cut Paste Photos also allows users to resize, rotate, and flip images.
Besides, Cut Paste Photos offers users an enjoyable and intuitive photo editing experience. Its precision cutout tools and versatile background editor enable users to create professional-looking photo montages without the need for complex software or skills.
The app's wide range of editing options, including photo blending and effects, empowers users to transform their ordinary photos into imaginative and visually appealing compositions.
In conclusion, I can be sure that Cut Paste Photos is a versatile and user-friendly app that offers a wide range of options for creating captivating photo montages.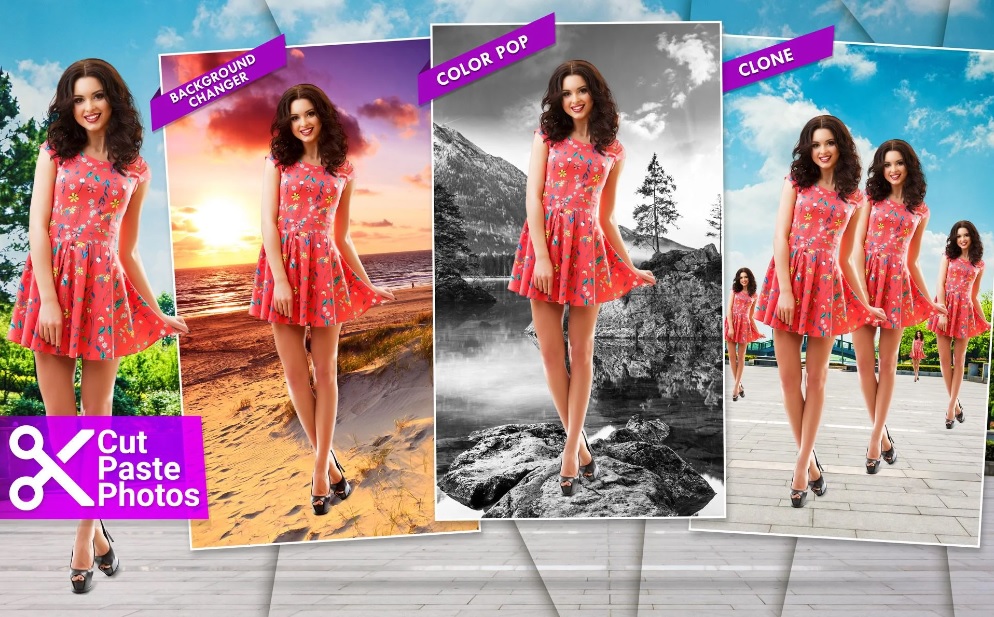 Photoshop Express Photo Editor
It is also available for Windows management computers. The developers offer the following:
1. Support JPEG, PNG and RAW format photos.
2. More than 15 different languages that are automatically set to match your device. That is, you cannot change it yourself.
3. Everything is absolutely free – even those tools that were once only in the premium version can now be used simply in a registered account.
4. Creative Cloud, which combines all the features of Adobe programs – from retouching to web design. In addition, it allows you to store files in the cloud.
40 different filters to suit your taste. We also did a good job on cropping photos, in addition to the usual formats, there are many others – even ready-made sizes for social networks.
Plus, there are standard brightness, contrast, temperature and sharpness settings.
Adding text written by you with a choice of different fonts.
Masks, highlights, stickers, frames and much more.
You can put your own watermark, images, and place them wherever you want.
The most important advantages include the removal of the well-known redness in the eyes from the flash of the device. In addition, this function is divided into both animals and humans.
In total, we get a convenient, fast app with sufficient functions for a photo editor. Also, in the new version of Adobe Photoshop Express has become more convenient and more efficient in its work.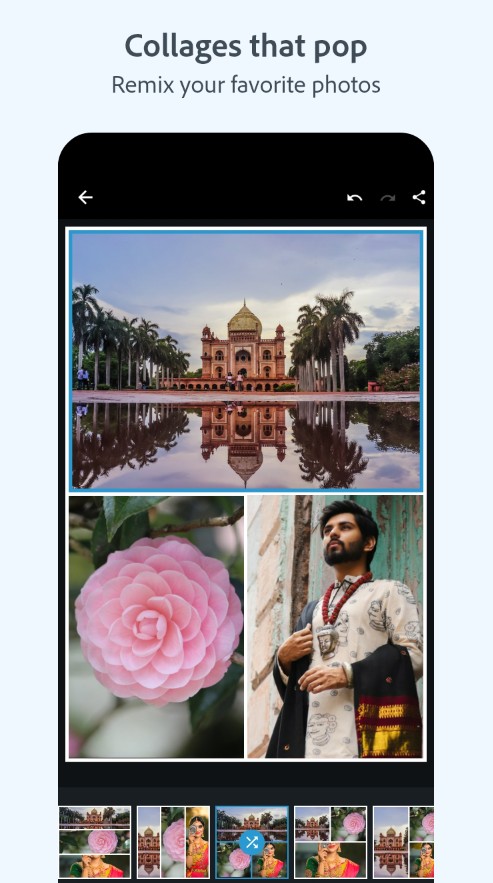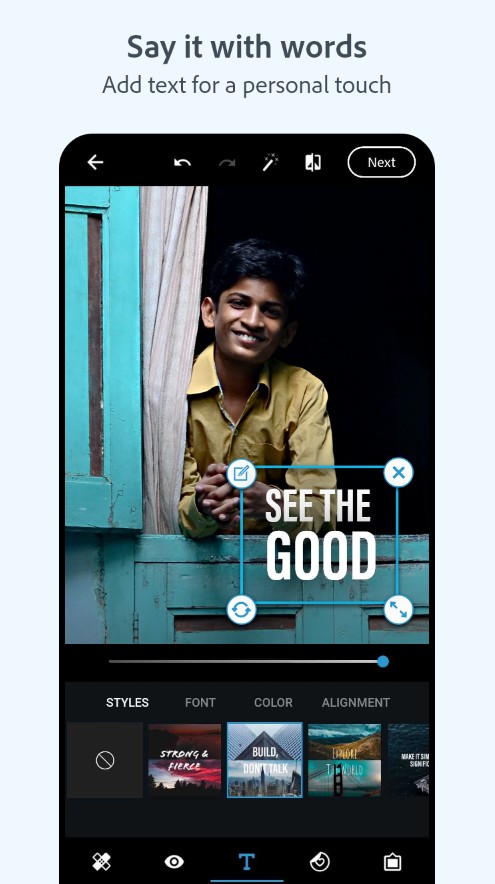 Cupace
Cupace is a powerful photo editing app that allows users to create captivating photo montages with ease.
The main highlight of Cupace is its precise and user-friendly cutout tool, which enables users to effortlessly extract subjects from photos and place them onto different backgrounds. This feature is perfect for creating fun and artistic collages or even removing unwanted elements from images.
Moreover, Cupace provides a background editor, offering a selection of pre-set backgrounds to choose from or the option to use personal images as backgrounds. Users can also resize, rotate, and flip images to achieve the perfect composition for their montages.
Also, the app's intuitive interface and simple controls make it accessible to users of all skill levels. Its efficiency and convenience make it an ideal choice for creating stunning photo edits without any hassle.
Whether it's crafting funny memes, designing impressive social media posts, or simply having fun with friends' photos, Cupace is a great platform for photo enthusiasts and content creators alike.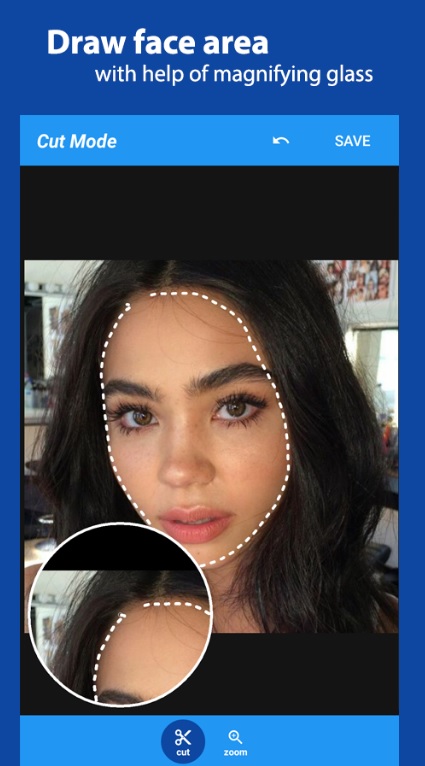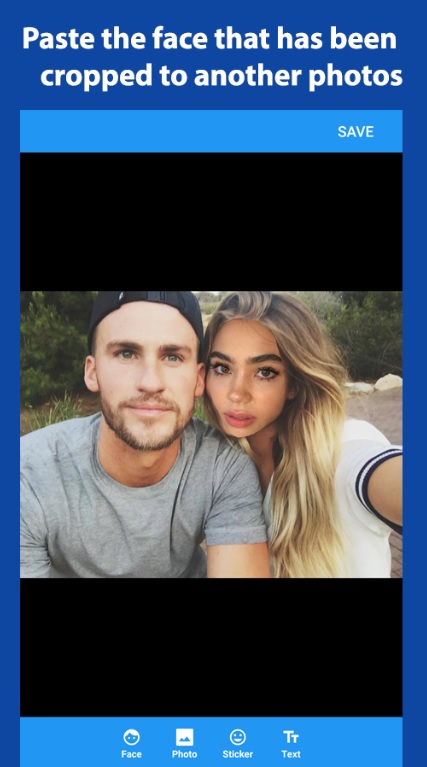 Adobe Photoshop Mix – Cut out, combine, create
In this top, of course, we couldn't miss out on the application that had become a classic and legendary image processing. Of course, Adobe Photoshop in its mobile version is inferior to the functionality of a full-fledged computer version, but all the basic tools work just as well on iOS and Android smartphones.
If you want to get more than just insert elements from one image to another, then Adobe Photoshop Mix can solve all your problems. For better processing, you work with image layers, so when editing one element you do not change the other.
Retouching and changes are applied as effectively as in the full version. When you merge and superimpose layers, you get a magical effect of completely transforming the image. Replace objects, cut out unnecessary elements and duplicate them – now it's incredibly easy.
Professional photographers and amateur photographers can easily transfer their projects to mobile mode and stay productive even when away from your computer. Especially when you're working in drawing mode, it's even faster and more efficient to cut out items.
Adobe Photoshop Mix offers you to connect to their cloud to store all your projects, but this feature is paid for. So if you don't process images on your smartphone in huge quantities, you can do it without extra costs.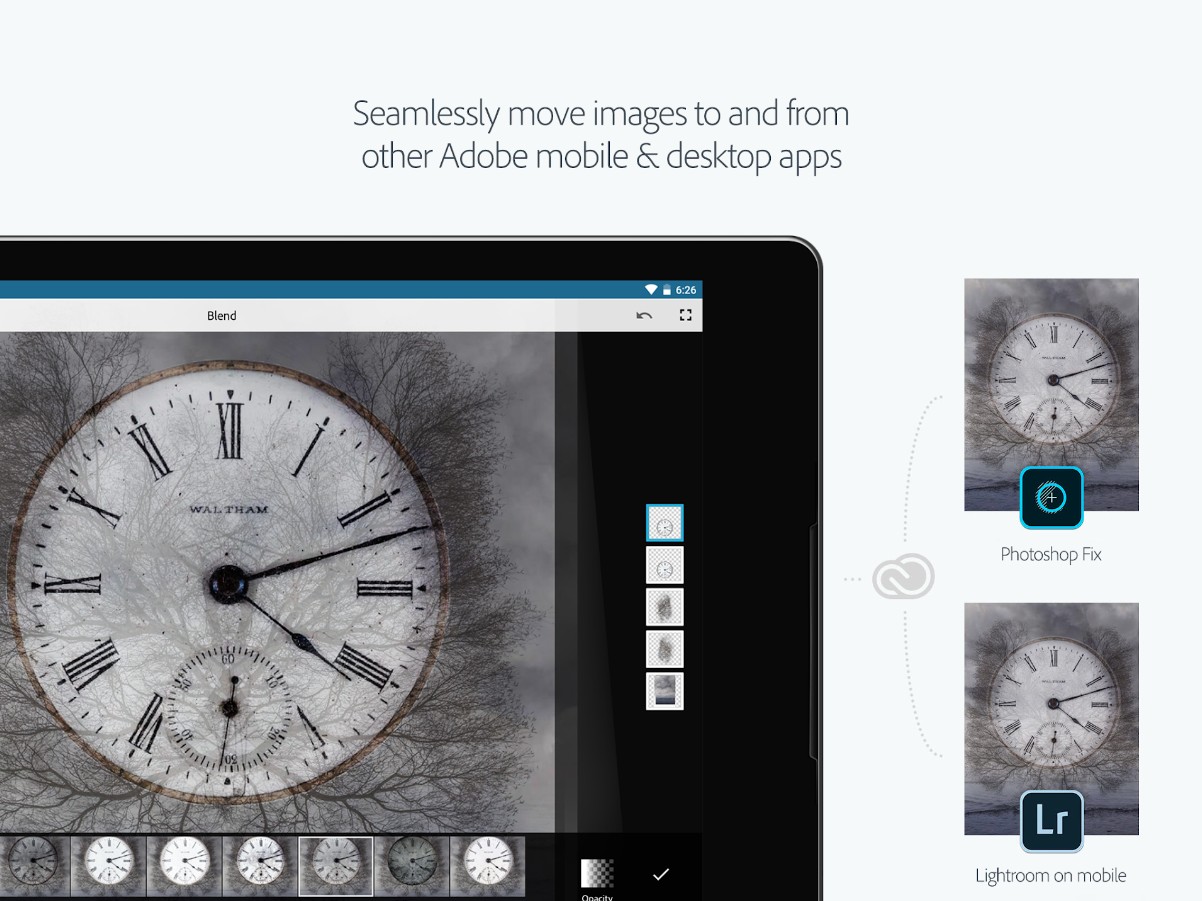 You may also like: 17 Best photo zoom apps for Android & iOS
Background Eraser: superimpose
Eraser in reality? The one that can erase mistakes and elements from the photo? Easy! Background Eraser helps you to eliminate all unnecessary things from the picture or even just remove the whole background, replacing it with a new one. Add transparency with just a few simple moves.
The monotonous background is removed in moments. You just click on the desired area, and the artificial intelligence itself determines wherein these places in the picture can be removed background. You can simply create an image with a transparent background and then use it in other photo editors or directly in Background Eraser.
The application has the basic tools necessary for all these operations. You can cut out the area you want to save or use the "target area" function. This tool removes all homogeneous background from the image. In case of an error or if you simply do not like the result – you can always return to the original state with the help of the "Restore" tool.
Does it seem that the resulting image is too sharp? Can you see the edges and it stands out against a new background? Adjust the smoothness of the outlines of objects – so they will look harmonious on any image.
There's also an auto-color gamut: two images can be adjusted to suit each other by adjusting brightness, contrast, and other exposure elements. In general, the result will not disappoint you.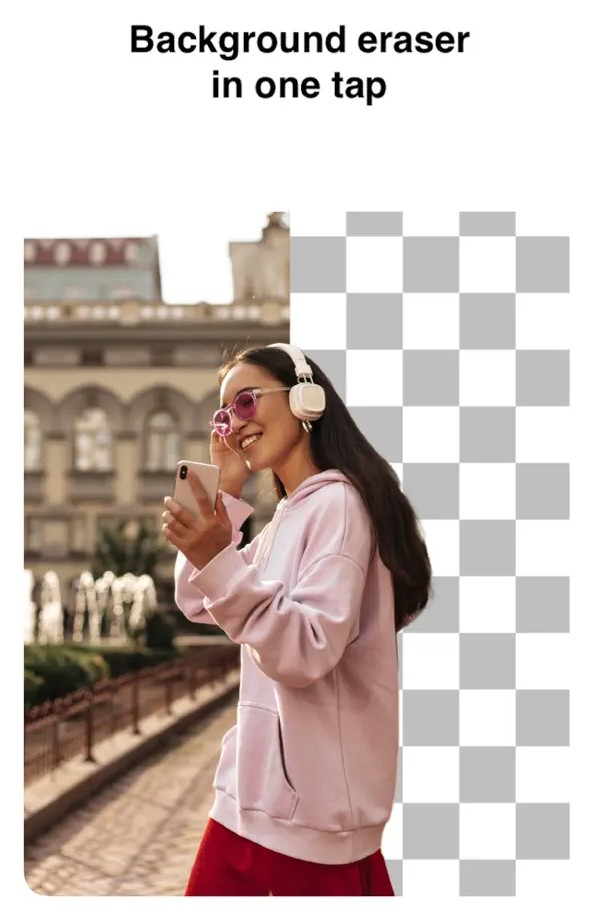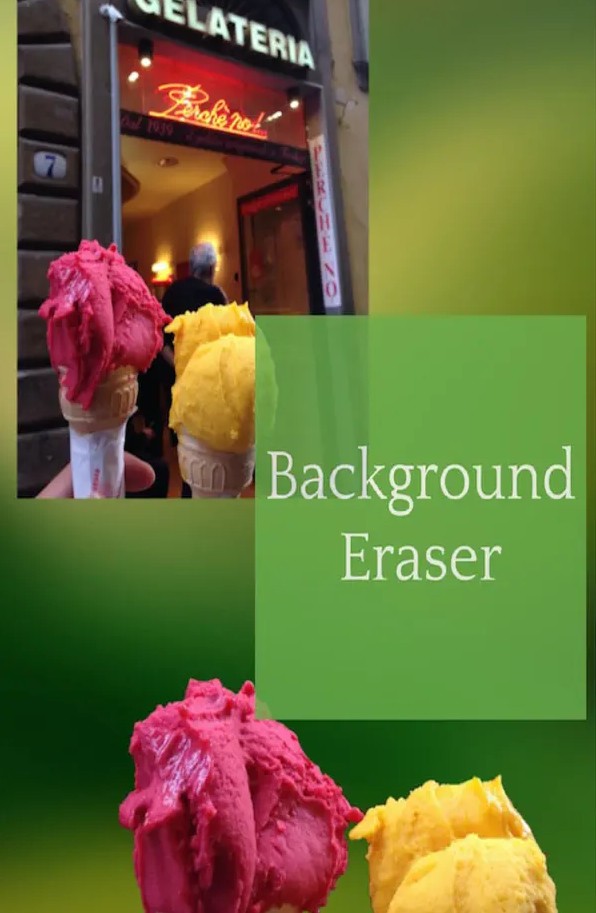 It doesn't matter what your purpose is in processing the photo. Maybe you're just changing faces, putting yourself in a celebrity photo, or just want to change the background. Each of your goals will help you to achieve one of the presented applications.
Both iOS and Android platforms offer a wide range of programs and tools to remove the background and shaped trim photos. Many of them not only perform their basic function but also give you space for creativity. You are limited only by your creativity – to embody all your bold ideas, we have already found the tools.