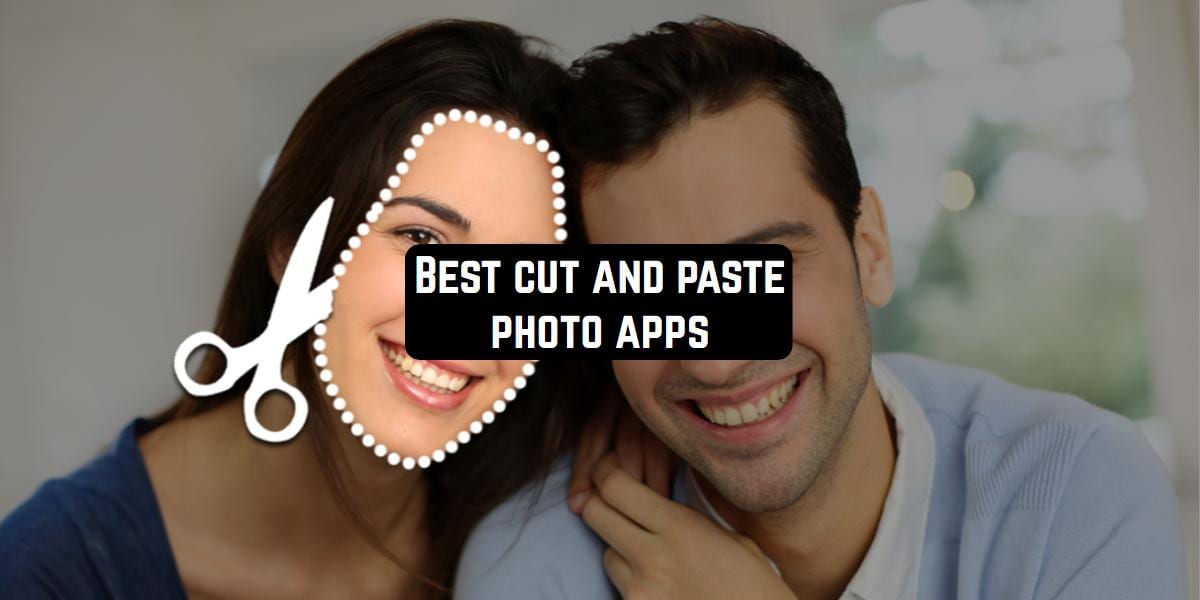 Due to the fact that people began to actively take a great interest in photography, absolutely different kinds of tools for image processing began to appear in application stores.
These are make-up, hairstyles, color processing, and filtering – everyone can find the service to their liking. Depending on your needs, you can choose the applications themselves. As it turned out, it is sometimes so difficult to find the right one among all this diversity!
The queries rise and complicate the services themselves. They often have facial recognition, automatic processing, and artificial intelligence. But the most basic function – "copy and paste" – may simply not be in them!
Do you want to make a little joke about your friend and insert his face into another photo? Make an original collage? We've compiled 11 best apps for you to help you do this.
Cut Paste Photos
This application is a functional photo editor that allows users to make all the desired manipulations with the snapshot. Do you want to be in the same photo with a celebrity? Just put yourself in the picture!
All you need to do is give Cut Paste Photos permission to access images from your device's gallery. Once you've added the necessary images, you can start working. The main tools we are interested in object selection and background removal.
There are several ways to select something – manually or with the help of an artificial intelligence system. The system automatically recognizes the borders and erases all unnecessary things from the image! To help you work in manual mode, there is also a Magnifying glass, which allows you to examine and highlight the required contours in more detail.
In addition to the basic tools, there are other tools. For example, cloning of fragments or their reflection. Create a twin in the photo – it will be just like you, but reflected! You can also take advantage of standard image processing – effects and so on.
back to menu ↑
Cut Cut Cut – Cutout & Photo Background Editor
Sometimes you take an amazing picture, but the background let you down. For example, you have shown all your advantages, but the dirty socks lying on the chair, spoil the whole picture! Don't despair, there is a way to save the picture. Cut Cut Cut will become the assistant in replacement of a background if you need to make all quickly and qualitatively.
The application works on the artificial intelligence system – that is, in this mode, you apply a minimum of effort to highlight the object. There is also a manual mode – where you will be able to remove any unnecessary items or what is left of the processing. Cut Cut Cut immediately presents background templates that you can use for your snapshot.
In addition to the selection, you can also apply effects to the cutout image. Have you ever seen the mesmerizing effect of a flying mosaic? In Cut Cut Cut, you can do it with your photo!
Simple and fast – that's the secret to the popularity of Cut Cut Cut. Immediately after changing a photo, you can upload it to Instagram, Facebook or Twitter – share your creation with friends.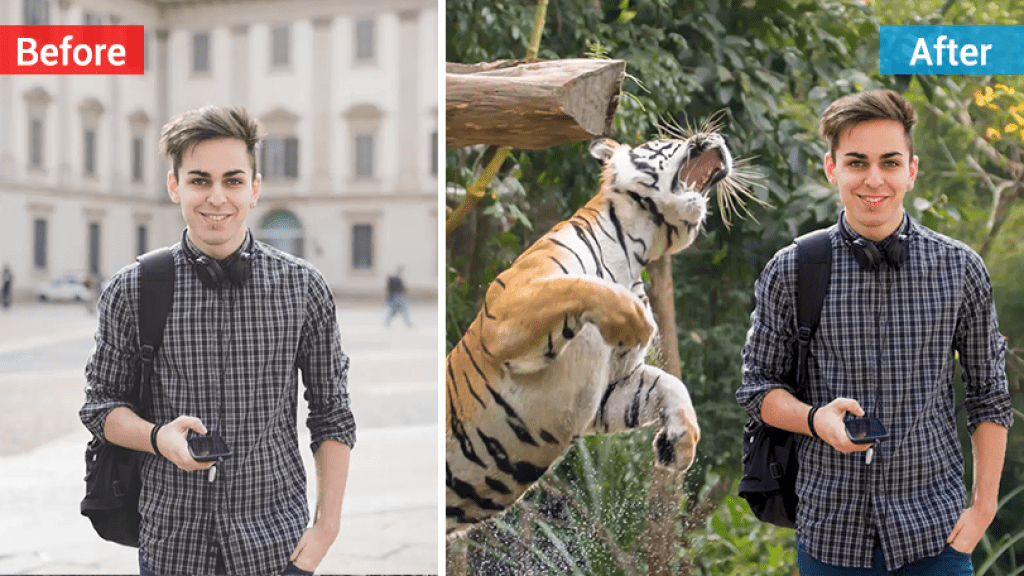 You may also like: 15 Best baby photo editor apps for Android & iOS
back to menu ↑
Cut Paste Photos Pro Edit Chop
Mafooly has developed one of the most famous photo editors for iOS devices. This application allows you to combine several images into one without using standard and boring collage templates, as well as to complement the pictures with the details you think are necessary. You can not only upload a snapshot for editing from the gallery but also make it directly in the application.
In addition to the main subject, you can capture several elements of one image at once. If you don't have any ideas for the background, you can use the Cut Paste Photos Pro Edit Chop collection.
The application has a paid version, which allows you to use all the functionality in an unlimited amount. The infinite number of images available for processing, effects, stickers and smileys – that is, for a certain price you expand the set of tools that are available.
Subscription costs less than 6 dollars a month or less than 12 dollars for 3 months. To see if it's convenient for you to use, try all the features in a 3-day trial period. Cut Paste Photos Pro Edit Chop will try to help you implement all your ideas and ideas with photos.

back to menu ↑
PhotoLayers〜Superimpose, Background Eraser
You want to make the background transparent, but you don't know how? Of course, in the computer version of the Photoshop program, you will remove the background in just a few clicks, but in the mobile version, it is a problem.
PhotoLayers works mainly with automatic detection of objects and people in photos. At the beginning of editing, you will have to choose the background image and the main one – the one you want to cut out. You can also use the data from Google Drive.
You can divide the image into layers and edit it individually – almost like in Photoshop. Crop the image to a convenient format. Dimensions, orientation, transparency – all this can be changed directly in PhotoLayers, the main thing – do not forget to save the result after all the innovations.
The eraser can also be used as a point eraser, removing only certain parts of the background. You can combine up to 11 images at a time – up to 11 layers of the image.
back to menu ↑
Cupace
Do you like to make memes, collages, and funny pictures? Are you always joking about your friends and acquaintances? Then you should install it on your Cupace smartphone. It's a handy app that lets you create new images by combining personalities and places, as well as adding nylons, text, and smileys, giving you individuality.
You will need a little patience and care to cut out your face. Use the zoom tool to make the head area bigger and gently highlight the face. The resulting physiognomy can be saved in the so-called "face gallery" – An album in Cupace where you can see all the photo fragments you've used.
Select the desired photo and insert the face. Basically, you can say that the processing is complete! You can insert several images into one background and share them instantly on social networks. Save the result to the gallery and send it anywhere – even to 9gag!
back to menu ↑
Auto Photo Cut Paste
The mobile application industry is developing at an incredible speed, and Auto Photo Cut Paste is the second generation of such applications. Automatic selection and highlighting of the area allows you to quickly and easily achieve the desired result in a short period of time.
The application has a large enough gallery of basic background images. It can be urban landscapes, coast, beaches and so on. You can also download your own background if you don't find anything suitable.
You will need to highlight the background on the photo and artificial intelligence will replace this area with a transparent one. Apply the resulting fragment on any other image. Removal of the background can also be done manually. In case of a mistake, use an eraser – it will cancel all your actions on a certain area of the photo.
There is also a function of automatic exchange of persons. Swap Face recognizes everything in the photo and applies the effect without your involvement. How convenient it is when everything can be done by artificial intelligence instead of you!
back to menu ↑
MagiCut – Cut and Paste Photos
The editing process in MagiCut is more like a creative activity. Stickers, fonts, images, additional processing, and other tools give you plenty of room for creativity. Realize all your daring fantasies and post them on social networks – the result should be seen by all your friends!
MagiCut uses Auto Trim and Auto Detect of objects and people, which greatly simplifies the whole process of changing the image. You just choose the right objects and in a few moments, you can insert them on the background you like.
If you want to experience the whole process in person, you can process every detail of the photo yourself, highlight the edges of the areas and much more.
It often happens that two images do not coincide in color scale or exposure. MagiCut adapts them to each other and the final result looks like a single whole. If you don't have enough of this functionality, the application can offer paid tools for editing.
back to menu ↑
AutoCut: cut and paste background changer
Afraid that if you cut out the image yourself, you might make a mistake? With AutoCut, you don't have to worry about it. The app includes a smart tool called Smart Cutout – Auto Erase that instantly identifies and cuts the area you want. Simply click to select the objects and you can now insert them into a new background.
You can download the background from your own archives or use one of the AutoCut files. You can even erase something extra by hand with an eraser – self-processing is also available. The background image changes automatically according to your wishes – you do not have to cut out the necessary objects from the original image again.
With AutoCut, you can also make your photo look cuter or funnier – use stickers or text inserts to complete the picture. Develop creative ideas as you process them.
back to menu ↑
Photoeditor Imagecutter
Do you want to put incredibly nice effects on your photo? Add images, stickers, smileys or text? Or maybe all at once? Photoeditor Imagecutter will satisfy all your needs in editing such images. Follow the step-by-step instructions to refine your image to the state you want it to be.
Photoeditor Imagecutter offers you a set of background images with a specific theme. For example, there is even a background that is a soaring Superman! Cut out your face or your friend's face and overlay it on the picture – now you're afraid of Kryptonite and you're fighting the world's evil.
Or have you always wanted to take a picture on Goa? In any case, the automatic selection and trimming tools will be your helpers.
The service has a pleasant and convenient interface. It combines all the main photo editing tools – stickers, text, and effects, in addition to the main torch. Photoeditor Imagecutter weighs a little so that your smartphone will not be sacrificed.
back to menu ↑
Adobe Photoshop Mix – Cut out, combine, create
In this top, of course, we couldn't miss out on the application that had become a classic and legendary image processing. Of course, Adobe Photoshop in its mobile version is inferior to the functionality of a full-fledged computer version, but all the basic tools work just as well on iOS and Android smartphones.
If you want to get more than just insert elements from one image to another, then Adobe Photoshop Mix can solve all your problems. For better processing, you work with image layers, so when editing one element you do not change the other.
Retouching and changes are applied as effectively as in the full version. When you merge and superimpose layers, you get a magical effect of completely transforming the image. Replace objects, cut out unnecessary elements and duplicate them – now it's incredibly easy.
Professional photographers and amateur photographers can easily transfer their projects to mobile mode and stay productive even when away from your computer. Especially when you're working in drawing mode, it's even faster and more efficient to cut out items.
Adobe Photoshop Mix offers you to connect to their cloud to store all your projects, but this feature is paid for. So if you don't process images on your smartphone in huge quantities, you can do it without extra costs.
You may also like: 15 Best photo zoom apps for Android & iOS
back to menu ↑
Background Eraser: superimpose
Eraser in reality? The one that can erase mistakes and elements from the photo? Easy! Background Eraser helps you to eliminate all unnecessary things from the picture or even just remove the whole background, replacing it with a new one. Add transparency with just a few simple moves.
The monotonous background is removed in moments. You just click on the desired area, and the artificial intelligence itself determines wherein these places in the picture can be removed background. You can simply create an image with a transparent background and then use it in other photo editors or directly in Background Eraser.
The application has the basic tools necessary for all these operations. You can cut out the area you want to save or use the "target area" function. This tool removes all homogeneous background from the image. In case of an error or if you simply do not like the result – you can always return to the original state with the help of the "Restore" tool.
Does it seem that the resulting image is too sharp? Can you see the edges and it stands out against a new background? Adjust the smoothness of the outlines of objects – so they will look harmonious on any image.
There's also an auto-color gamut: two images can be adjusted to suit each other by adjusting brightness, contrast and other exposure elements. In general, the result will not disappoint you.

It doesn't matter what your purpose is in processing the photo. Maybe you're just changing faces, putting yourself in a celebrity photo or just want to change the background. Each of your goals will help you to achieve one of the presented applications.
Both iOS and Android platforms offer a wide range of programs and tools to remove the background and shaped trim photos. Many of them not only perform their basic function but also give you space for creativity. You are limited only by your creativity – to embody all your bold ideas, we have already found the tools.