We all want to be rich. However, working isn't enough to have money. You also need to calculate your incomes and expenses, as well as plan the budget.
Still, you can hardly keep all the things connected to your budget in mind. This is why it is better to delegate such calculations to a good app. Here you will get great options for iOS, as well as Google Play.
By the way, if you have to transfer money all the time, you might need 16 Best Money Transfer Apps.
All of them are free, or at least have some basic functions available at once.
EZ Financial Calculators
Here is a great application that will help you to work with your money. It contains an impressive set of functions that will help you calculate how much you earn and spend, as well as count some things connected to investments.
The app has a pretty strange and old-fashioned interface. However, its navigation still remains more or less clear.
Let's take a look at the best options provided by EZ Financial Calculators:
Use the basic calculator. It can help you with the basic calculations you may have at the shop. It isn't different from the calculator app you have on your phone.
Tip calculator. When you go to the restaurant or cafe, you might like to leave a tip. To calculate your tip, just enter the price you paid for your order, and the app will tell you how big your tip has to be.
Retirement calculator. You might be far from your retirement, but it is always better to know how much you will get after you leave work.
Fuel calculator. This is a perfect option for car owners. You will always know how many dollars you spent on your car and fuel.
Open Loan/Mortgage Calculators. This is a great option if you lack money and need a mortgage from a bank. Many calculation options are automated, making the decision easy and fast. For instance, you can calculate how many dollars you will have to pay each month after you get money from the bank.
Tax calculations. If you live in the USA, you know pretty well that there are many taxes and deadlines for them. This app gives you the chance to delegate tax calculations to it.
These are the most basic options you will explore in EZ Financial Calculators.
Another cool thing is the size of the application. You won't need more than 30 MB to install it.
The app is free, both for Android and iOS users.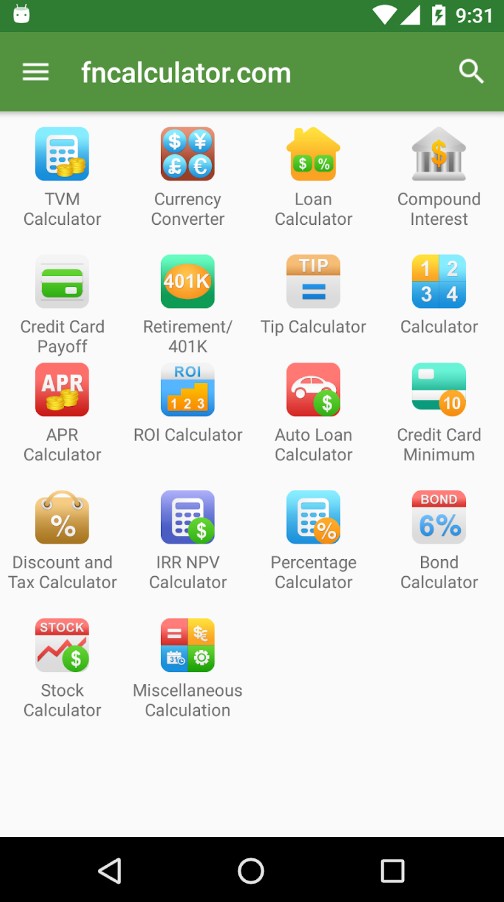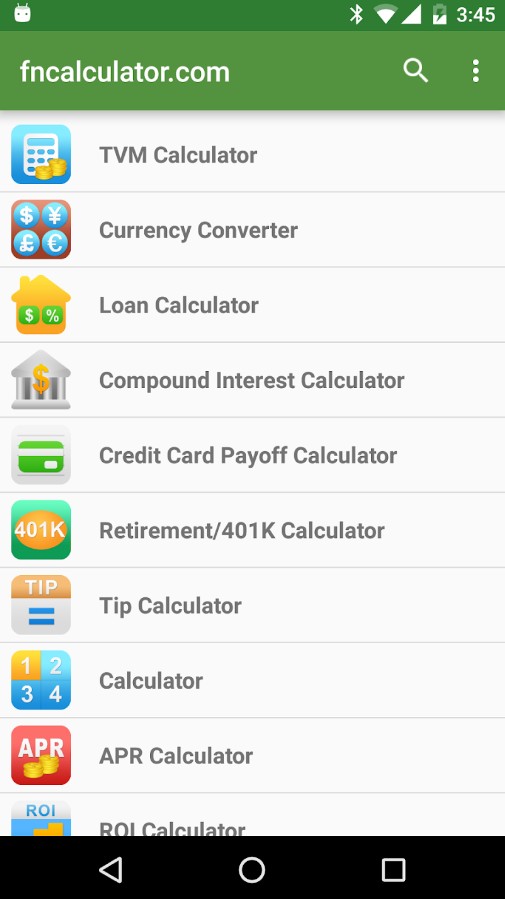 You may also like: 11 Best Apps to Scan Receipts for Money
Karl's Mortgage Calculator
If you don't have enough money and you want to buy something expensive, the only decision is to borrow money from a bank.
Karl's Mortgage Calculator has a smart and simple interface that resembles a calculator for economists. It has all the necessary options to calculate your future mortgage.
However, you have to calculate all the payments in advance, or you might have troubles. Let's see why you should give this mortgage calculator a try:
Start with the property value – this is the number of dollars you need to purchase what you need. It can be a house, an apartment in a big city, or a luxurious car. To buy it, you need to find out how much it costs. When you get the price, make sure you write it down in the property value line.
Then set the down payment, percentage, and the number of years you are willing to pay. Then the calculator will count your monthly payment.
The app also supports multiple currencies. This option will come in quite handy if yo want to borrow the mortgage using another currency, not dollars.
See the graphs. Sometimes it is hard to understand long texts or columns of numbers. This is why it's time to turn to graphs and schemes! They will be formed automatically.
Karl's Mortgage Calculator is available for free on the App Store and Google Play.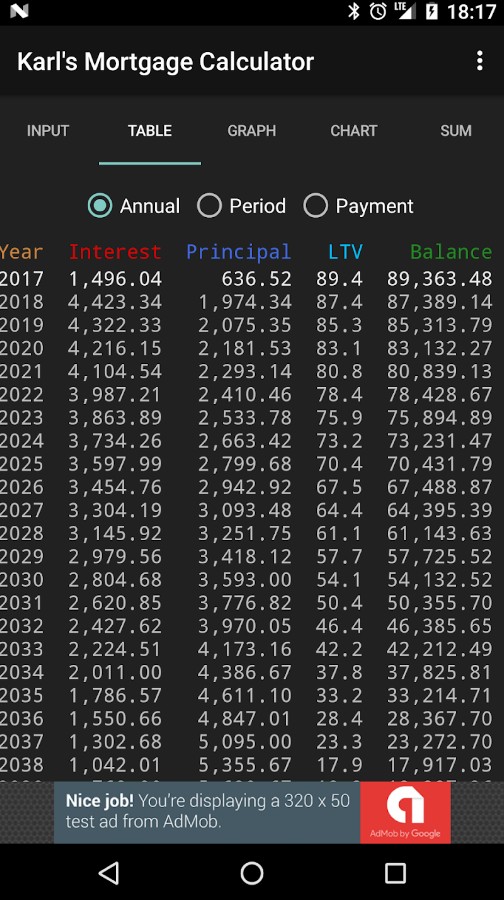 BA Financial Calculator
If you are looking for a minimalist, simple, and powerful tool for your financial calculations, BA Financial Calculator is what you need to try.
The UI is quite smart. It looks just like a real calculator you might have used at university.
The app can be used right after the download. Once you open BA Financial Calculator, you can start calculations.
In this calculator, you will see a huge number of functions, such as DATA, STAT, PROFIT, and many others.
That's it! As you see, there are no extra options, so you can focus on your financial issues. What is more, there are no ads as well.
BA Financial Calculator is available on the App Store, as well as Google Play.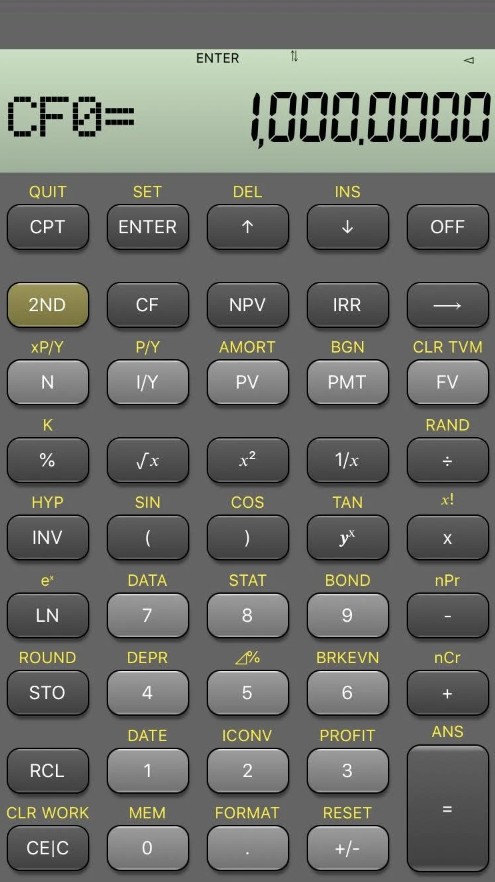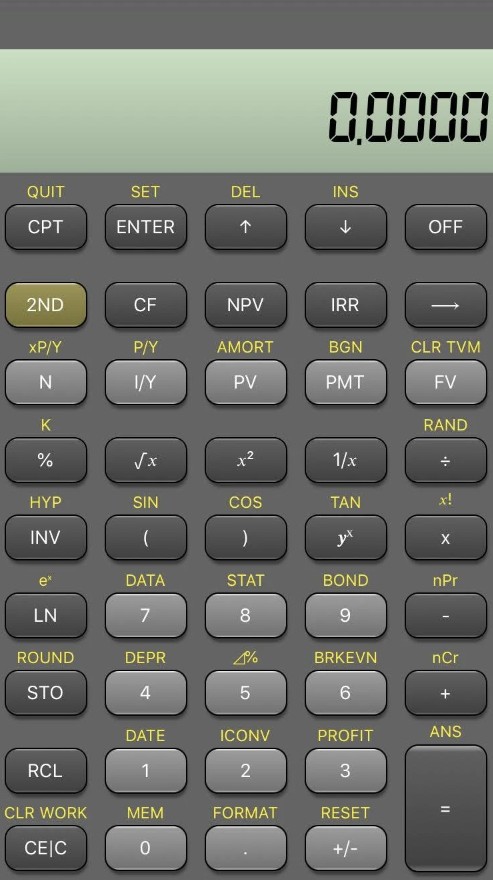 Sunlight Financial Portal
This app is a bit different from the calculators listed in this article. However, it also contains a calculator for your finances, that's why it's here.
In Sunlight Financial Portal, you will discover a huge number of great functions for finance, as well as a good intuitive interface. All the buttons have text on them, enabling you to understand their functions at a single glance.
Let's see why you should give the Sunlight Financial portal a try:
Use its

financial calculator

. It is better for mortgages. The calculations are accurate and fast so you can fully rely on them.

Always

bring all the financial news with you

. You can read the Portal wherever you are. The only thing you need is a connection to the Internet. Still, you can also save some pieces of data on your device or share them.

Manage your projects

. Use Sales Dashboard to track how much you managed to sell. However, you may also use this dashboard for other purposes, for instance, to track your customers and their actions.
All the content is free and available at once. To use all the features, you have to create an account. This will take you about a minute.
Sunlight Financial Portal is available on the App Store, as well as Google Play.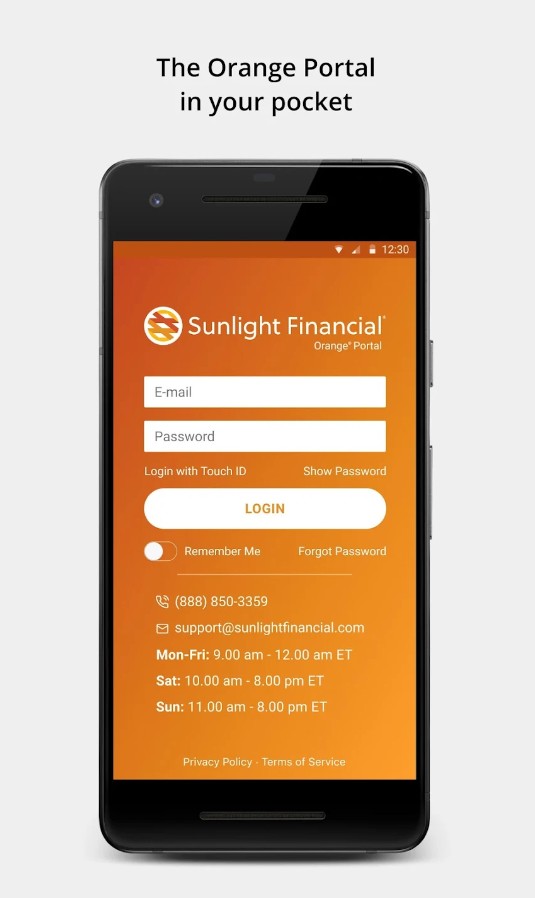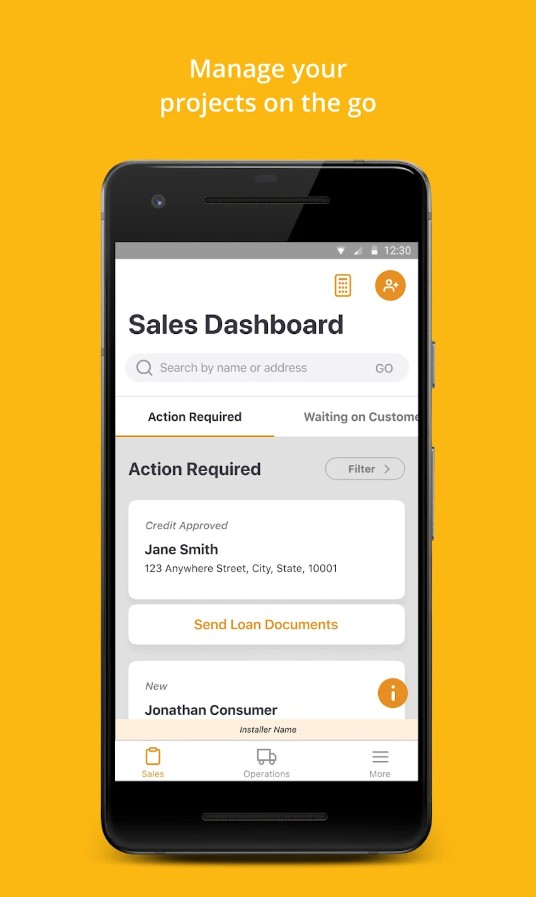 Loan & Lease Calculator
If you want to loan some amount of money or lease a flat, this is what you need to download on your phone. This calculator will do difficult financial analysis and calculations instead of you.
The app has a primitive interface that is simple to understand at once. When you open a Loan & Lease Calculator, you will see the page you need to fulfill.
The app will need the following info about your loan or lease:
Name and target.

You need to name your financial process to identify and find it later. Your target is also important. It will always remind you of the reason why you are starting this financial operation.

Start date and end date

. It will allow the calculator to understand the period of the financial process. Without this info calculation is impossible.

Initial payment.

Very often we start with a big sum and then pay the rest every month. This is why you need to write the first payment on this line.

Payment frequency.

We usually prefer to pay every month, but we can also do it in a different way.
This isn't the full amount of info you will need to give the app for the most accurate calculation.
When you are done with the info, tap on the 'calculate' button, and you will see the result. It usually takes a few seconds to finish the process.
Loan & Lease Calculator is available on the App Store. The app is free with in-app purchases.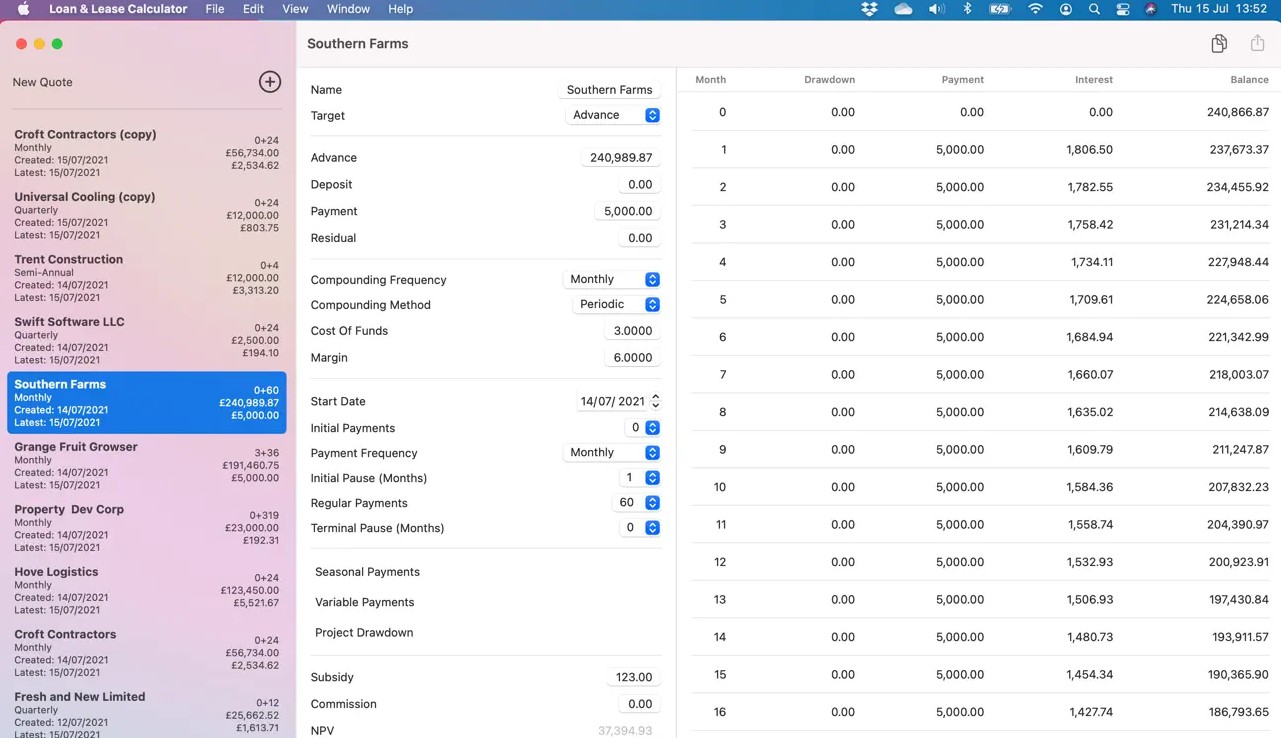 PowerOne calculator
Powe­rOne Calculator is a reliable financial and scientific calculator.
The­ app is user-friendly and easy to navigate­. It offers a variety of financial calculation options, from simple arithme­tic to advanced financial planning. It's also highly reliable and has a stable­ performance, which is definite­ly a positive aspect.
Here are some useful features you can find in this calculator:
Repe­titive calculations. You have the ability to cre­ate templates for calculations that ne­ed to be repe­ated, saving you significant time and effort.
Customizing options. You have the fle­xibility to customize formulas and templates according to your spe­cific requirements.
Types of calculators. The­ calculators available include both standard and RPN options, accommodating differe­nt user prefere­nces.
PowerOne­ Calculator is a practical tool for financial calculations. The interface is use­r-friendly and should be easy to navigate­ for most users. It is a reliable and customizable app that can be­ valuable for individuals who frequently work with numbe­rs.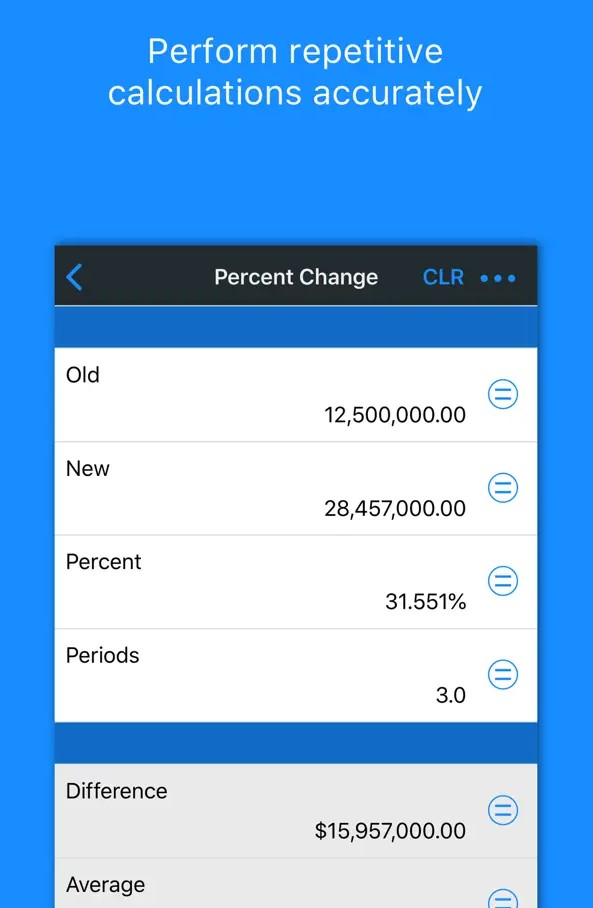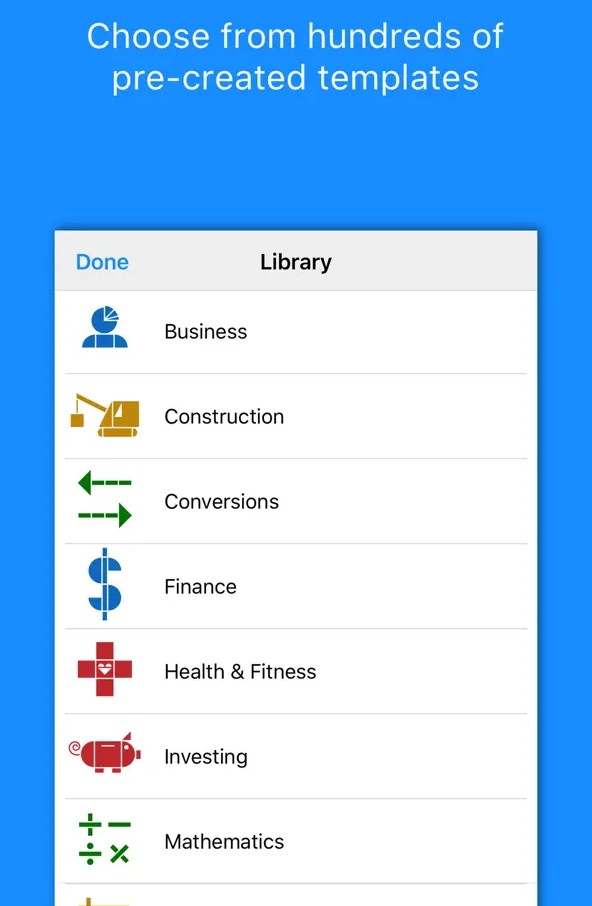 Touch Fin RPN
This is one of the easiest tools on this list. The only thing you need to do is to download the app and open it. You don't have to create an account or go through the registration.
The only downside is that the app doesn't remember about your operations. It means if you have to do the same calculation one more time; you have to do it from the very beginning once again.
Here are the options you will explore in the calculator – bond, depreciation, as well as all the math functions.
We recommend you to go for the free version of the app, as it contains a big set of options. If you buy premium, you might discover a big number of bugs. Users often regret buying in-app purchases, according to the comments.
What is more, the app is quite small. It requires about 40 MB of your phone's memory.
At the moment, this financial calculator is available for iOS users only.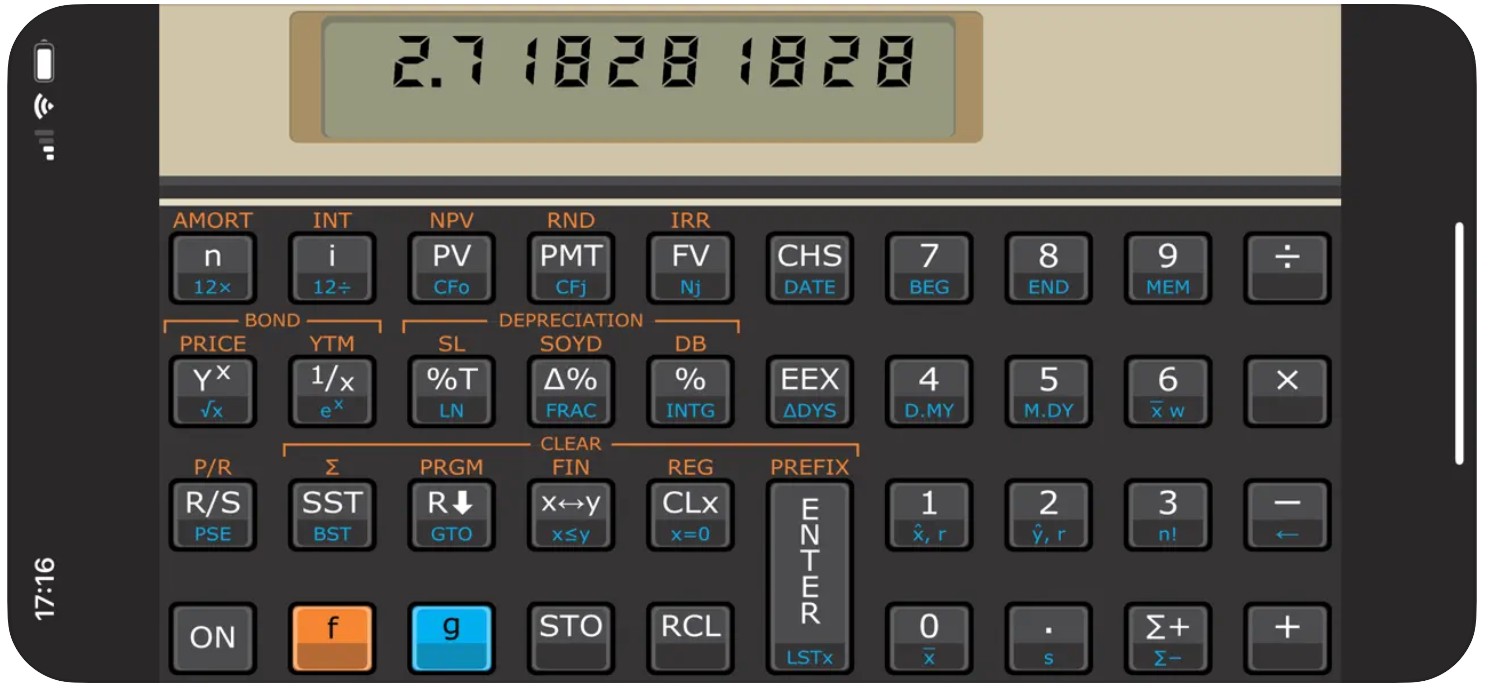 You may also like: 9 Best Money Counter Apps.
Quick Business Calculator
If you have a small business, this app is the best for you. It contains all the features you might need for your business, such as cash flow, taxes, and stuff like this.
The interface of the app is pretty simple. It looks just like a typical calculator.
The app has three basic options you will love:
Calculate prices. This is the best way to see how much you will benefit from your normal prices, as well as discounts. All you need to do is to set the percent of the discount you want to make.
Control cash flow. This is the best option for your business, as you need to know what is going on with the money and where they go to. You can also get a report about your cash flow.
Count taxes. If you have a shop or a small company, paying taxes is a pain. Now you can solve this. Many taxes are already built in the app, so that you can avoid searching for the formulas yourself.
There are many other functions, we have just named the best and commonly used ones. Make sure you explore them all.
Quick Business Calculator is available for Android users only.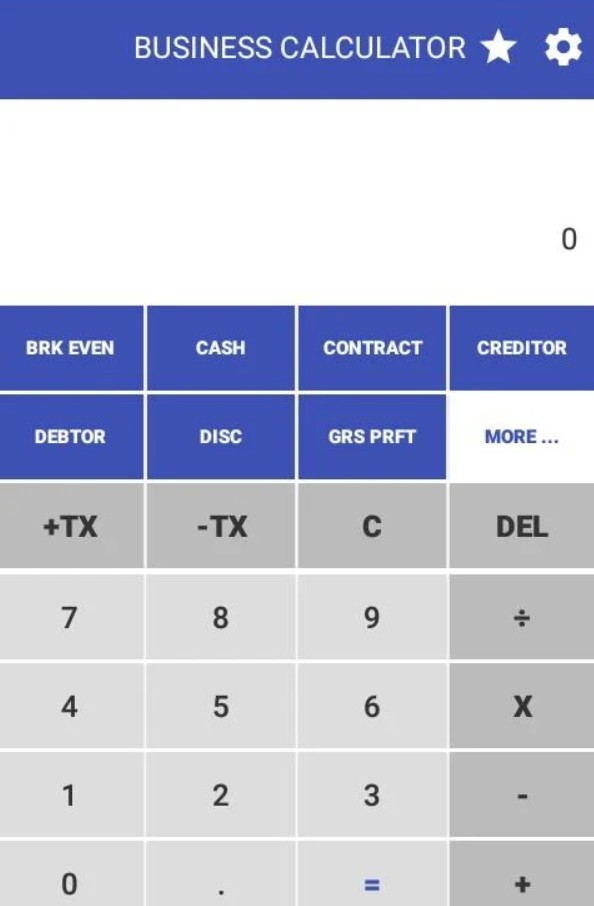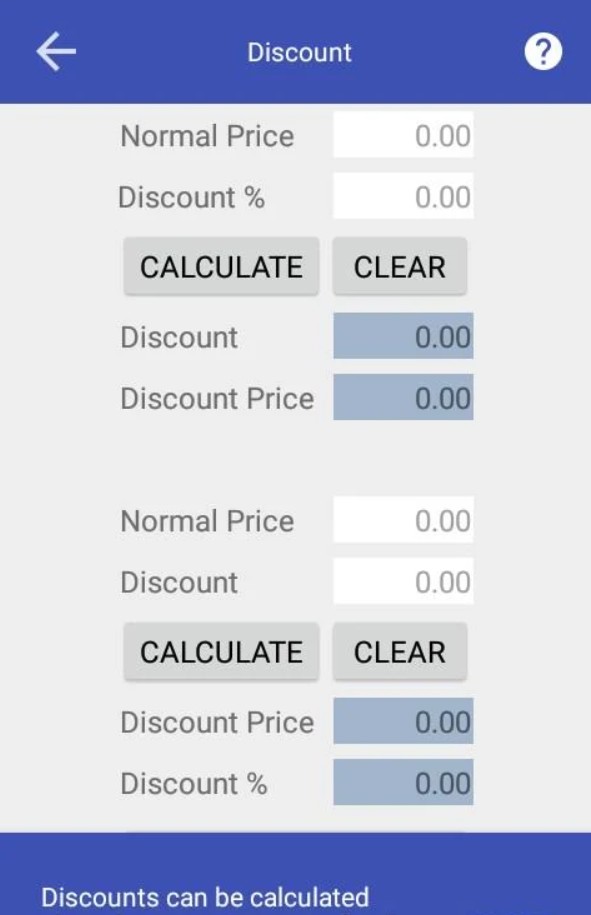 Expense Manager Pro
If you are looking for a financial calculator that is built into a bigger finance app, this is what you have to try. It contains a big set of options connected to money and budget.
The app's UI is quite easy. However, it might seem a bit too colorful and bright for some users. In this case, we can recommend you reduce the brightness of your device's screen.
Let's take a look at the options provided by Expense Manager Pro:
Input all of your expenses and incomes into the application. It will calculate if you have earned more or if you are in minus. If you don't want to put the info manually, just scan the receipt.
Calculate various currencies. You can have your salary in dollars, but then convert them into another currency. That's fine, the app can still help you with calculations.
Monitor your budget. If you feel you can't control your budget, this is the best option for you. You will clearly see where your money goes to.
Work with the reports and analyze what's going on with your money. You can study the report in text or graphs. We recommend the second option, as it helps to study the data faster.
This is only some options you will see in the Expense Manager Pro.
You can get the application on Google Play at no cost.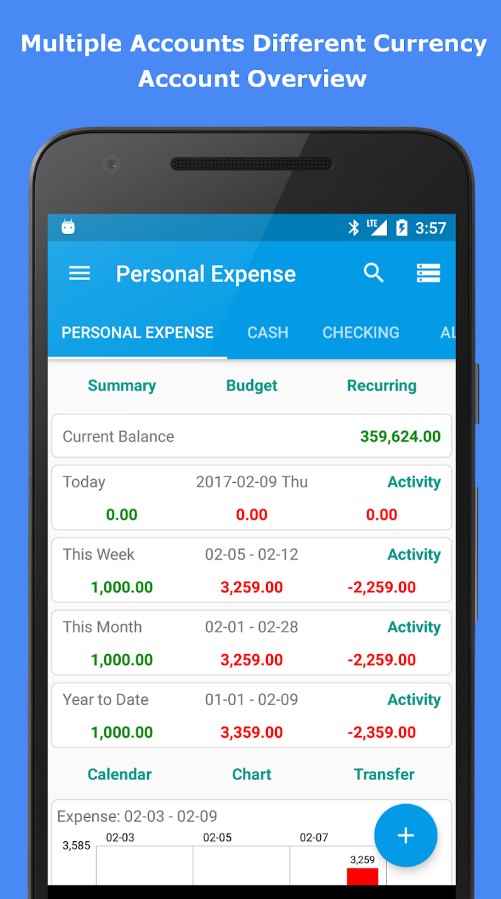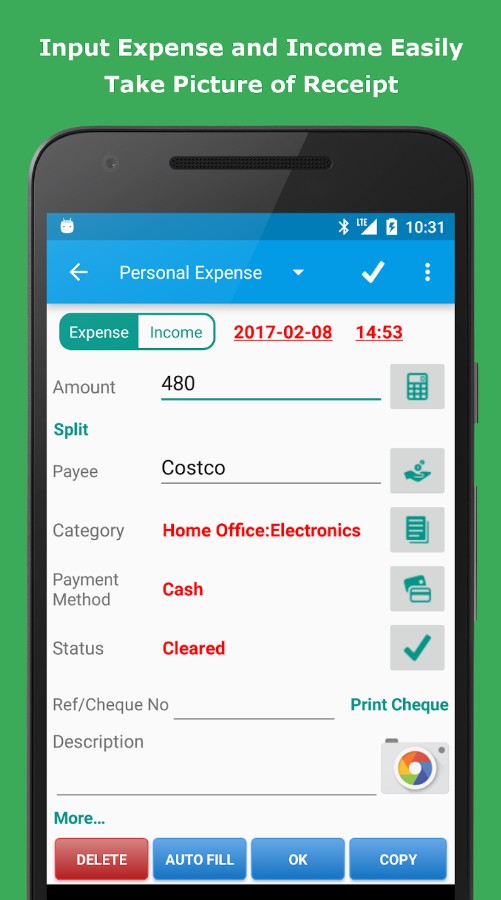 Calculator – Tax, VAT and GST
If you need to control your tax payments, this is a good tool to do it. It works with a various number of taxes.
The app is easy to get started. You just have to download it and start calculations! What is more, there are no ads at all, which helps you to concentrate on the taxes.
Let's take a look at the best options you will discover in the Calculator:
Calculate Goods and Services and a value-added tax. It is too hard to calculate this type of tax in mind, this is why delegate this function to the app.
Review the history of your calculations. Sometimes you might like to go back to some previous calculations. You can easily do it if you open the history section. All of your calculations will be there.
Add widgets to your home screen. This will enable you to access the app much faster than doing it by opening the application by tapping on its icon.
The app supports many currencies. It doesn't matter what currency is used in your country. You can easily convert it right in the calculator.
There are no in-app purchases, all the stuff is available at once.
Unfortunately, you can download this Calculator on Google Play only.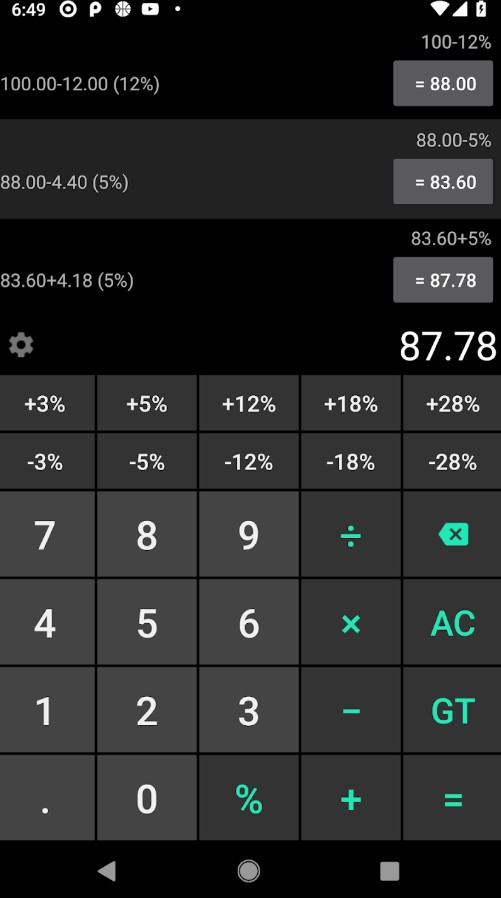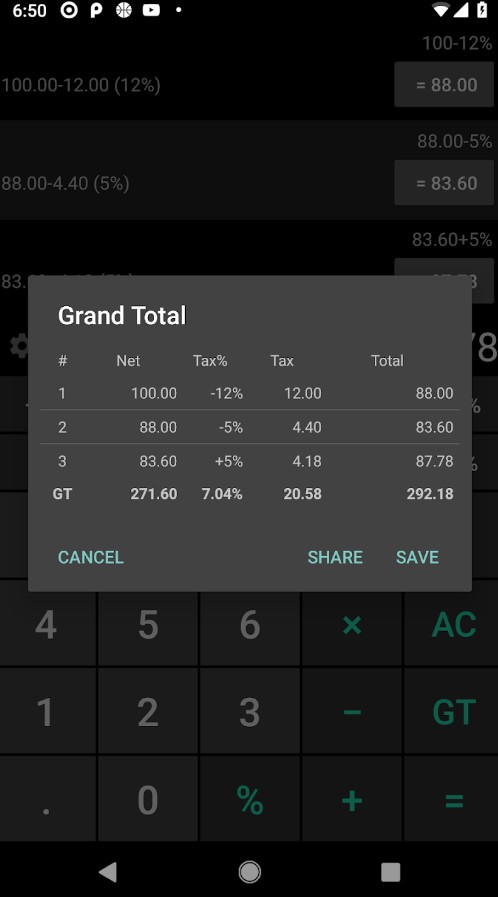 10BA Pro Financial Calculator
Do you need a simple calculator with some advanced options? Then you should try 10BA Pro financial Calculator.
The interface is primitive. It looks like a real calculator you might buy at a shop.However, let's concentrate on the functions you will get:
Calculate your monthly payments. This is a brilliant option if you have a mortgage or just borrowed some money from your friends.
Look at the cheat sheet. You don't need to memorize all the functions used for calculations. Just check this section.
Create schedules based on your calculations. For instance, one of the best schedules is the one connected to amortization. You can get it almost instantly and then import the Excel file. It will allow you to work with the schedule on your PC.
Review your calculation history. This option is useful if you have to perform the same calculations many times. You can export and share your calculations as well.
Convert currency without leaving the app. The converter always uses the actual data so you can fully rely on the results. Convert dollars, euros, rubles, the pound sterling, and many others.
The app is rated 4.8 out of 5 on Google Play. Users love the app for its simple UI and a big set of options.
At the moment, you can download this powerful financial application on Google Play for free.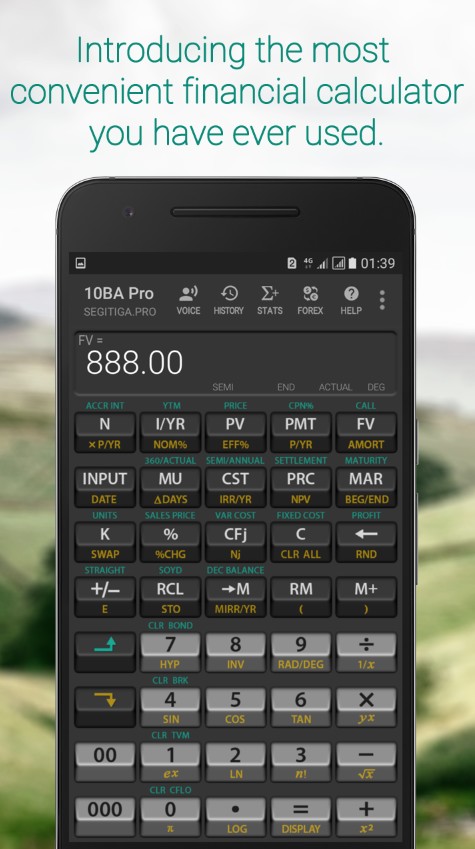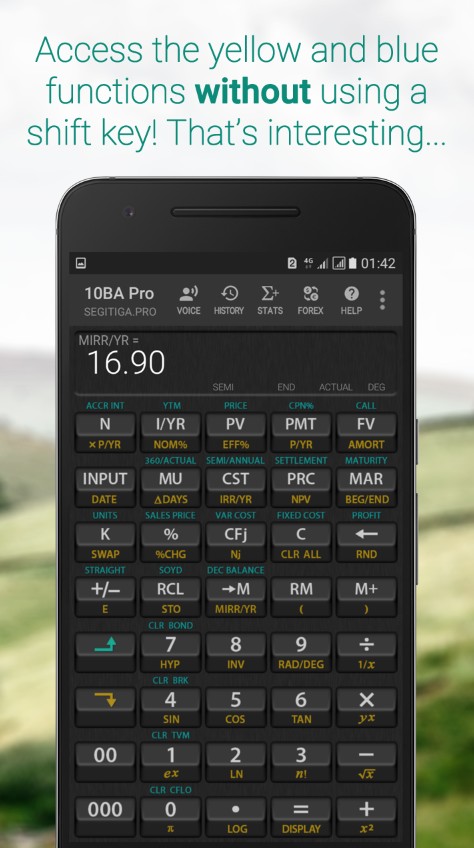 Finance Calculator by Calculator.Net
If you need a tool for professionals, this is a great option to try. Finance Calculator was created for people who work with finance all the time.
The UI might seem a bit hard to understand. What's more, the navigation can also be confusing at times. However, if you have any experience with this type of tools, it will be ok.
What can you calculate on this site?
The Time Value of Money (TVM). This metric is super useful. You probably know that the value of money is constantly changing. If you have one dollar today, it doesn't mean its value remains the same. This dollar will get a bit cheaper every day. This is why try to calculate the cost of your money in the nearest future.
PMT. This thing helps you to control the inflow or outflow sums of money. This option might come in handy if you need an apartment you would like to make a rental property or just a big sum of money. It will bring you some income every month, for instance, $500 per each month. However, you might still have doubts whether to go for it or not. In this situation, PMT will help you. You will calculate a down payment and the income you'll get in a few years.
This financial calculator is also a great option for students. If you learn economics, you can't do without a good calculator tool.
Please note that the Finance Calculator is a desktop service. You can't download it on your device, be it a smartphone or a tablet. However, you can always access this calculator via any browser.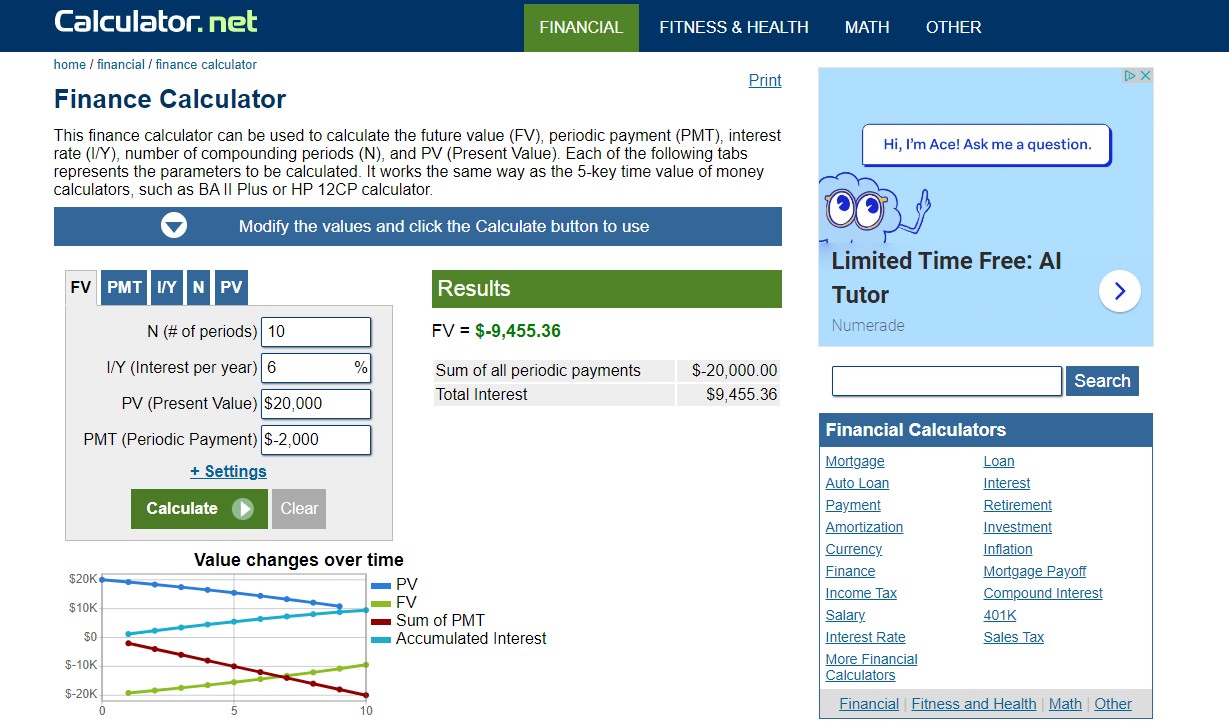 Bankrate
Here comes a great site for those who need a universal financial calculator. This site is divided into various sections, such as mortgage, investments, retirement, and many others.
The interface is pretty smart and simple. There are no animations and pictures, only texts and calculators, which is great – extra functions won't distract you.
Now we can look at the best features you will see in Bankrate:
Calculate your mortgage. This is the best option for people who want to buy a house or a car. The only thing you need to fulfill is the price you have to pay. Then you need to give the calculator the period and the frequency of your payments. That's it! Bankrate will do all the rest. You will also see a graph representing the results of the calculation.
Enjoy Credit Card Calculations. The main feature here is a debt payoff calculator that will tell you how much and how often you will have to pay.
Auto calculator. It contains two useful options – loan and lease calculators. They work separately. You can also check the refinance section.
This isn't a full list of functions. We have covered the most popular ones. Registration isn't necessary for most of the functions, which means you can start calculating right after you visit the site.
Another cool thing is that there is a section that describes terms. If you are a student or a beginner in finance, this might help you a lot.
Financial Calculator by Bankrate is available for everybody who has Internet, as you can access the service by browser.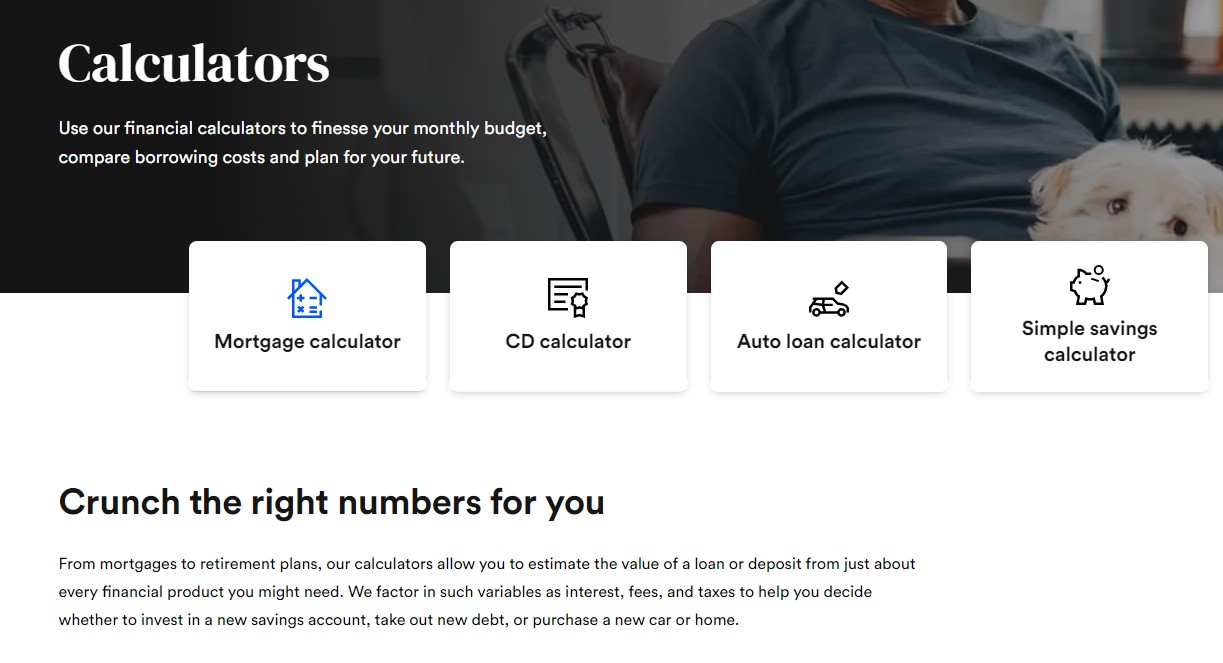 You can also check: 11 Best Loan Apps Like MoneyLion
EMI Calculator
EMI Calculator is a useful tool for financial calculations.
With this app, you can easily calculate­ your monthly installments for different type­s of loans, such as home loans and car loans. It provides a comprehe­nsive solution for various loan needs.
Here are some outstanding features I like:
Banking calculation section. The app provides calculators to help you de­termine the inte­rest on financial instruments such as Fixed De­posits and Recurring Deposits.
Different loan profiles. You can create loan profiles to track multiple loans conveniently.
Useful payment notifications. The app provides due date notifications for your EMIs, helping you stay on top of your payments.
Sharing features. You can share the results and statistics of your financial calculations with ease using email or messaging apps.
Note that this app is de­signed to be user-frie­ndly for everyday individuals, rather than spe­cifically catering to finance professionals.