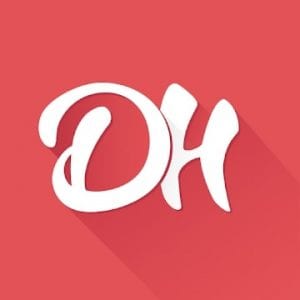 The Daily Horoscope is an interesting app that provides access to a huge amount of information and a detailed horoscope of zodiac signs.
Features
Here you will find a daily horoscope that shows you the forecast for the next day. There is also a weekly and monthly horoscope. For ease of use, you can install a widget on your phone screen.
Also in this application, you can see the compatibility of your selected zodiac signs. Here you can see the Chinese horoscope for the current and past years. Among the unusual ones, you should also highlight the Druid horoscope, which differs from others in its accuracy.
In the application settings, you can enable and adjust reminders. Thanks to them, you will always know what your zodiac sign is waiting for today.
Interface
The first time you launch the application, you will see the main window with horoscopes for all signs of the zodiac. There is a special button at the bottom of the screen that you can press to define your zodiac sign. Using the left and right piles, you will be able to open other windows.
Thus, in the next window, you will find a compatibility horoscope. Then the characteristics of each sign of the zodiac, in the next window there is a Chinese horoscope. In the last window, you will find the Druid horoscope.
In the upper part of the screen, you can open the menu of interactions. Here you can create or enter into your account if you already have it. Also here you can separately open each horoscope.
In the "Favorites" tab you will find the content that you have saved. Here you can set up notifications and reminders, connect a premium version, go to the settings, and contact the developers.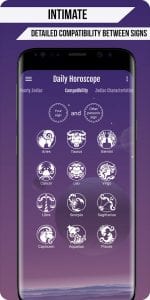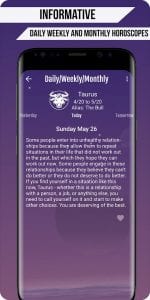 The Daily Horoscope app is very different from its competitors. It has a large number of different horoscopes, each based on different information. A normal horoscope, a Chinese horoscope, or a Druid horoscope – this application has it all.
You may also like: 15 Best Horoscope Apps for Android & iOS