Post-apocalyptic worlds are like each other. Often, one planet that has survived a nuclear war does not differ from dozens or hundreds of others. Everywhere there are sure to be scorched wastelands, ugly mutants and gangs of crazy raiders.
Everyone knows the game Fallout, which underlies the principle of the game "DUST", which takes place in the desert after the world. At every step, the danger of death awaits you, but to make the choice to live or not to accept you.
If you like this game we also recommend playing Stealth games – you can find them here.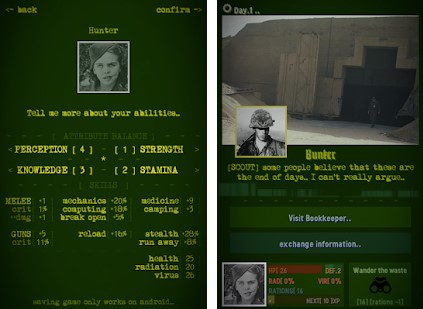 The user needs to customize his character, choose artifacts and weapons for successful survival. Complete quests and tasks and learn valuable information from the surviving inhabitants of the desert to make the right decisions in life.
If you have questions or problems when using the application, Dust – A Post Apocalyptic Role Playing Game, you can always contact the support service. The reply from the support services always comes fast, so you don't have to worry. More detailed information can be found on the developer's website
Its unique concept and graphics distinguish the game. Retro color scheme and post-apocalyptic soundtrack will immerse you in a survival atmosphere. The application has a simple interface for easy use. No distractions to interfere with your gameplay.
Convenient control system and high performance will allow you to immerse fully yourself in the game.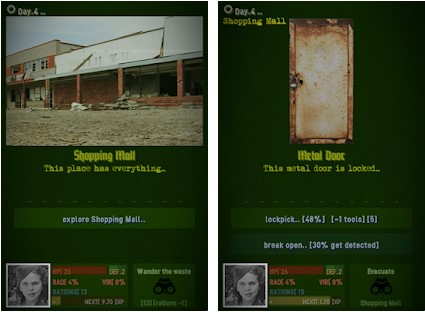 The game is regularly updated with new content, expanding the post-apocalyptic nuclear world of DUST.
Moreover, you will have to open new locations and fight mutants. Keep in mind that every step you take has certain consequences and they can be beneficial or fatal. The developers really want to make the perfect mobile RPG dream.
This game doesn't require the Internet connection to play. In case you want to find more war games that work offline, click here.
Every aspect of Dust – A Post Apocalyptic Role Playing Game was clearly worked out with great diligence, both in the amount of content and in the variety of mechanics.