If your child is a mover and shaker, you may even need more than just signing them up for dance classes. You know the kids—the ones who are always moving and seem to have the energy to spare.
One of the best ways to give kids an outlet and promote dance and movement is through dance apps. Dance apps are easy to use.
You can bring them anywhere on a mobile device, and they encourage fun exercise while teaching your kids some new moves. They're also fun to do with friends and can be a great social activity for kids.
There are a lot of dance apps out there, but here are the 11 best dancing apps for kids that they will definitely love.
You may also like: 11 Best Dance Workout Apps
Just Dance Now
This coolest application will allow you not only to hone your dance skills, but also a very fun time with friends. Designed for the Wii U console, now this toy is available on smartphones.
You can play Just Dance Now everywhere, the main thing is that there is a computer (laptop, TV, tablet) connected to the Internet, and a smartphone that will act as the controller.
All you need to do is follow the dancers on the screen and repeat their movements as accurately as possible, gaining points and moving to the next level.
How will the game "understand", how exactly you repeat the dance? Very simply – you need to hold your smartphone in your right hand, then the signal about your movements will come from it directly on the screen.
It is great that together with you in Just Dance Now can play an unlimited number of people. So, you can have a great party at home with real dance battles.
You will also be able to share your dance achievements on all social networks, as well as watch the rating of friends.
A similar Dance Party toy also turns your smartphone into a controller and reads all your movements. But its difference is that only 4 people can play it at a time.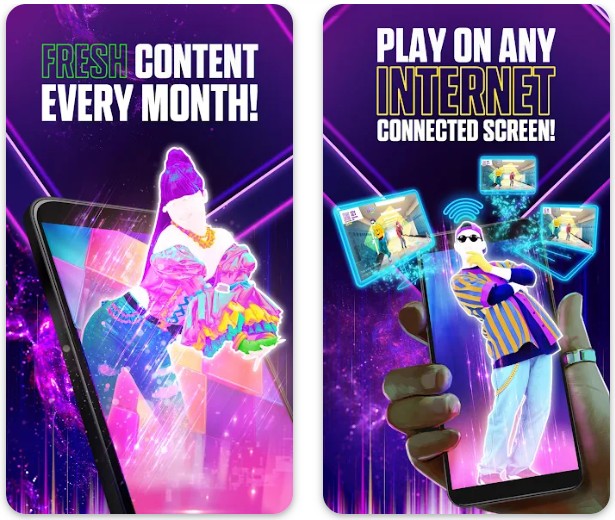 You can also check: 5 Free Dance Formation Maker Apps & Websites
Toca Dance
Toca Dance Free is a popular app that puts the dance power in kids' hands.
Kids can design everything about a dance performance from the choreography and music to the location and costumes.
Toca Dance Free is great for dancers at all levels and lets their creativity shine. Users in Toca Dance Free don't actually dance; they simply plan the moves for the animated characters.
It's the perfect way to unleash creativity and tap into enthusiasm about dance. Toca Dance Free is totally customizable.
Kids can create their own dance moves and put them together for a show-stopping performance. Kids are in charge of teaching the dance to their dancers, leading a rehearsal, and then putting on a performance.
You can even record the performance and turn it into a shareable video. With tons of songs and characters, Toca Dance Free is sure to keep kids entertained for hours.

DanceTime Deluxe
The specialized application can change the rhythm, cyclic in the existing music, and even offer a style from rumba to breakdance.
That is, for example, the melody, which you liked, is not suitable for the performance of your style – the application provides a suitable option.
Or, for example, you and your students need to go again to the music a difficult movement, but slowly – no question: change the rhythm, and the music sounds slower.
The application is conceived mainly for fans of ballroom dancing, but it may also suit other dancers.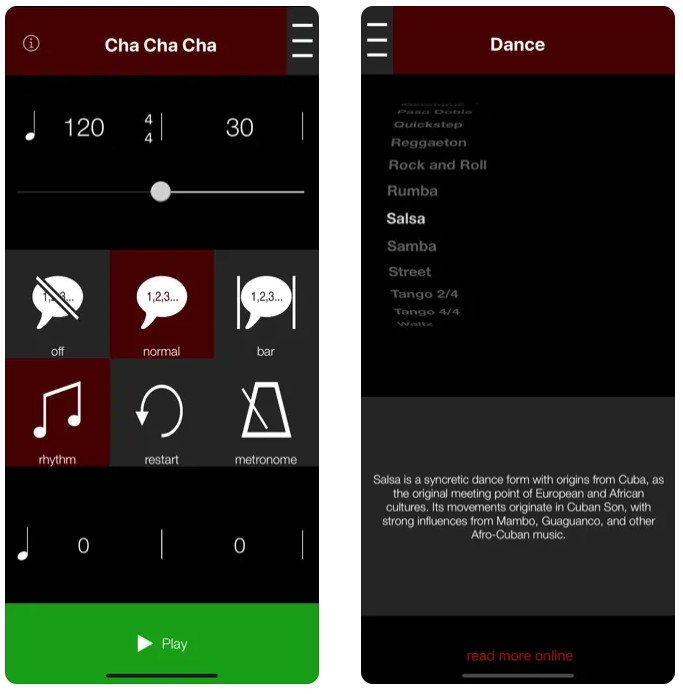 Steezy
Steezy is a sort of one-stop-platform for passionate dancers. What makes this app stand out is a growing collection of fully structured classes with step-by-step instructors.
Thus, understanding movements and techniques will be pretty straightforward for you.
Apart from being very helpful for beginners or novice dancers, the app can also be a great asset for professional choreographers.
Times when you may want to shake legs with all of your buddies or kickstart a competition, the option to cast all of our classes from your mobile device to your TV can come into play.
Besides, you can also download classes so that you can practice dancing without having to encounter a poor internet connection.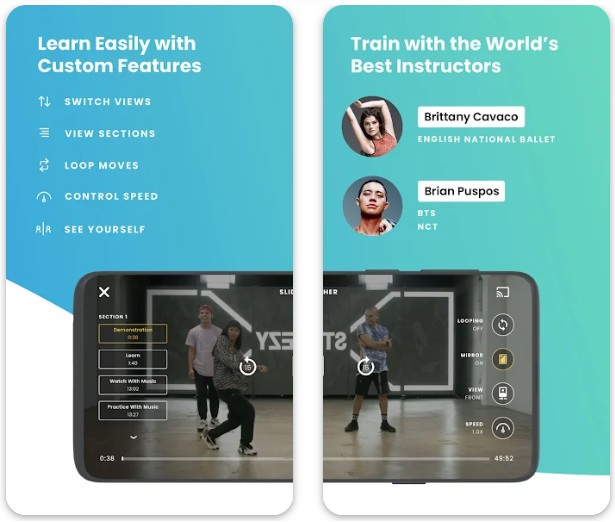 Hip Hop and Street Dance School
This app has the best of both worlds— it is a game that also teaches kids new dance moves.
Users start by learning dance and following the instructions of the dance mentor.
To score a contract with the talent agent in the game, kids learn new dances and perform for the judges.
They get to choose their costume, dance crew, and dance location before their big performance.
The more dances they do, the more chances they have to earn points and climb up the charts. It's about more than just dance, it's also about creativity and finding the right look.
Users can get their hair done in the salon, practice balance in the gym, and choose a killer outfit for the performance. This app is sure to keep kids dancing and busy as they try to impress the judges.

GoNoodle Kids Videos
GoNoodle Kids Videos is a mobile app designed to keep kids active, entertained and focused with short interactive videos. The app is designed for kids ages 4 to 10 and offers a variety of fun activities, dances and mindfulness exercises that promote physical activity and mental health.
GoNoodle Kids Videos works by providing a wide range of videos featuring favorite characters like Blazer Fresh, Awesome Sauce and more. The app uses colorful and engaging visuals to keep kids moving, dancing and stretching while having fun.
The videos are updated frequently to keep the content fresh and exciting.
One of the app's most noteworthy features is the ability to customize playlists and schedules to suit the individual needs of kids. Parents can create a daily routine or specific exercises according to their child's interests and goals.
The app also offers a timer and tracker to help kids stay motivated and engaged.
While GoNoodle Kids Videos has received mostly positive reviews, some users have expressed dissatisfaction with the app's limited content and occasional technical issues. However, such complaints are very few compared to the overwhelming number of satisfied customers.
So, if you're looking for an app that will get your kids moving and having fun, check out GoNoodle Kids Videos!
Application features:
The ability to cheer up children and make them move
Not only entertaining, but also an educational application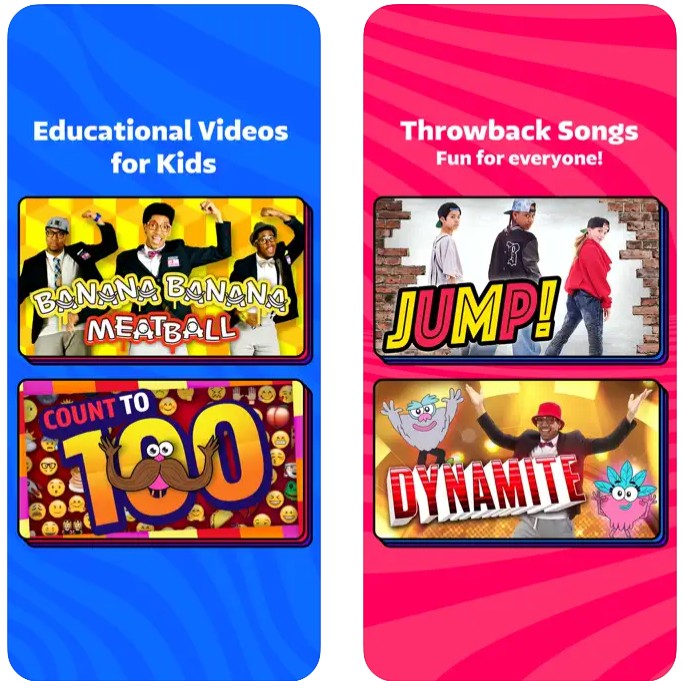 You may also like: 9 Free Christmas Dance Apps for Android & iOS
Dance Fit Studio Lite
How about mastering the stunning steps of several dance forms?
"Dance Fit Studio Lite" can appeal to those who are looking for a dance-learning-cum-fitness app.
Using this app, you can practice dance steps, hip-hop, yoga, cheerleading, Bollywood-style dancing, Hollywood-style dancing, and more.
With an ever-growing library of video tutorials at hand, you can watch the videos and practice to perfect each move.
As you go ahead, the app will not only enhance your dancing skills but also make you look stronger and fitter.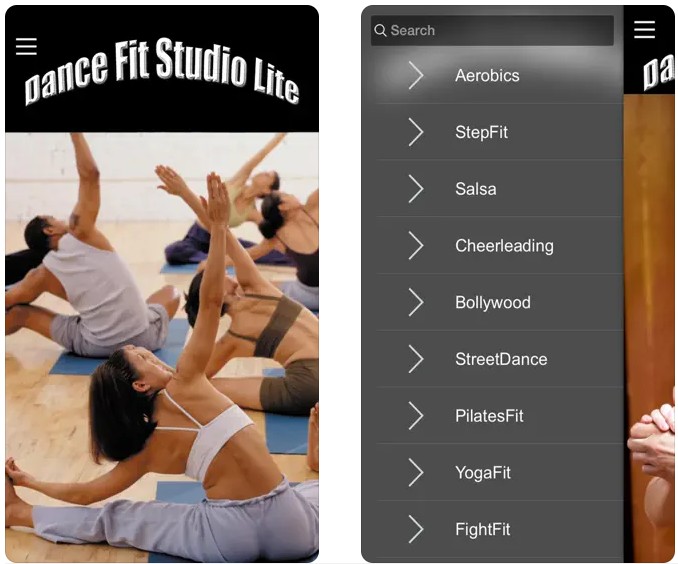 Dancy
A great mix of fun and dancing, Dancy can let you master over 120 cool dance steps with ease.
By dividing the dance steps and moves by music genres such as jazz, belly dancing, break-dance, samba, salsa, and more, the app makes it a tad easier for you to learn dancing.
Moreover, it also features three 3D models who perform various dance steps so that you can follow the models and practice each step with precision.
Thanks to the 360° rotation, you will get a better idea about how a specific move is performed.
With the in-app purchases, you can unlock more models, if you wish to dive a little deeper into learning. What we have found appreciable in this app is the collection of 10 different music dance tracks that are designed to teach different dance moves.
Besides, the beautiful animations and helpful visual instructions ensure you will enjoy shaking legs with your buddies without being confused.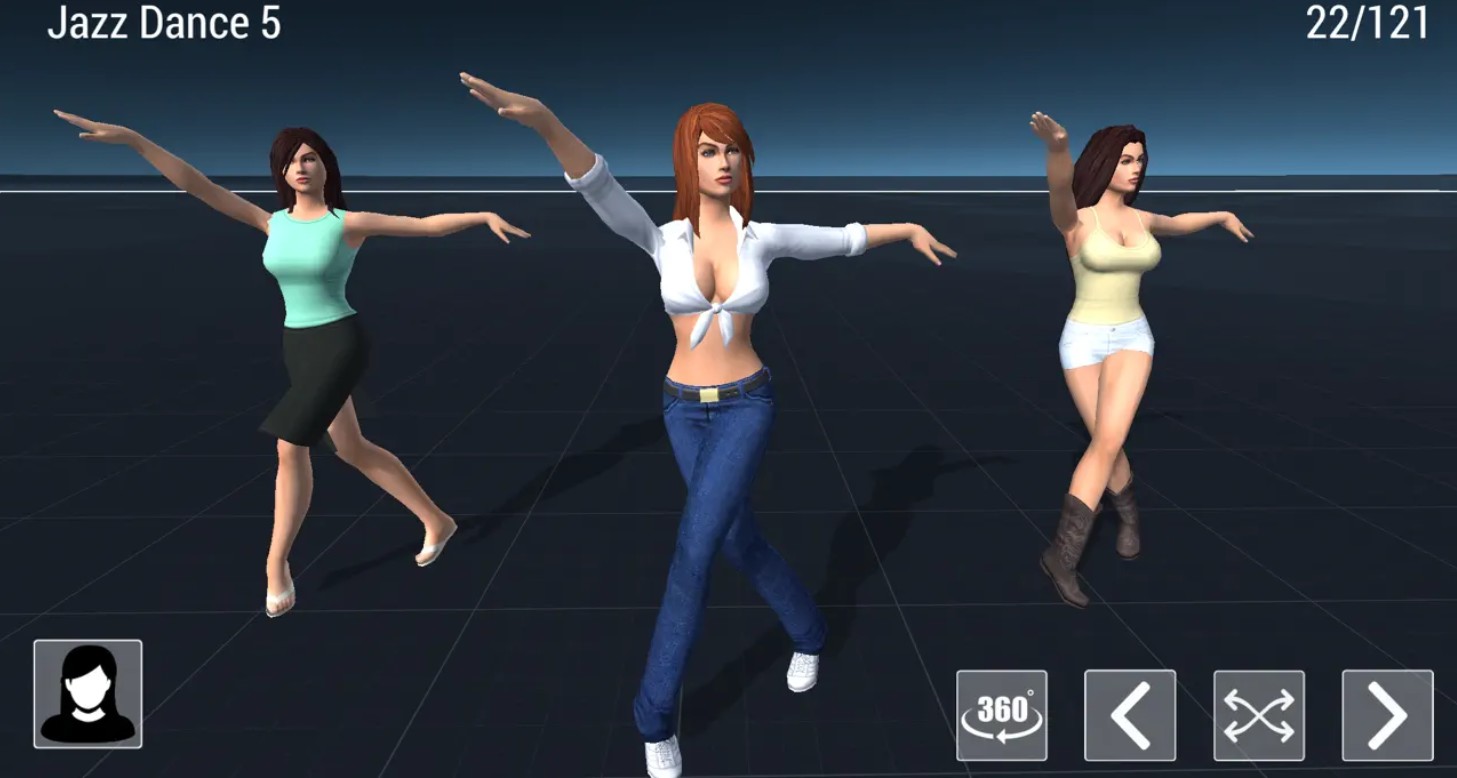 Danssup
What you can't learn by practicing for hours in a closed environment, you can learn by interacting with global dancers and watching their top-notch performances.
Danssup is a sort of all-in-one platform where you can explore tons of dance videos and learn a lot by watching the vivid performances of famous dancers.
What's more, you also have the option to upload videos to either showcase your skill or share some tips with dancing enthusiasts.
As the app also offers a monetization feature as well, your masterclass can fetch you some quick dollars as well.
On top of all, Danssup lets you conduct dance auditions as well so that you can spot amazing talents.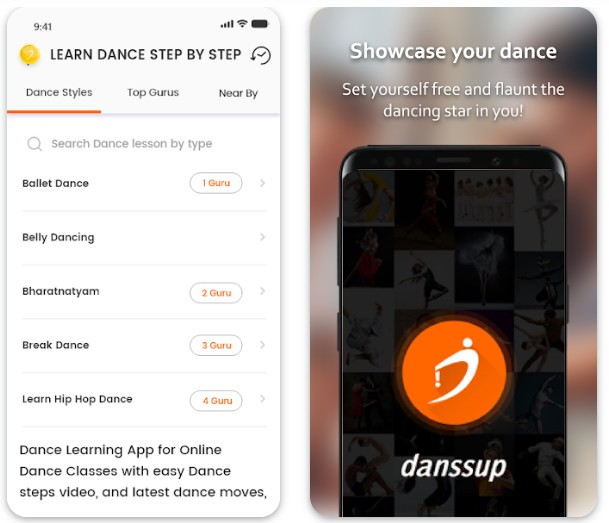 Learn to Dance
Learn to Dance thanks to this application, you can turn your room into a real dance studio. Learn to dance on your own or with your loved ones. Even the kids won't be left out
After downloading the app, users can create a profile and start logging their daily experience. The application invites users to record their mood, and energy level and captures progress during the session.
The app then generates personalized insights based on this information, highlighting patterns and areas for improvement.
One of the main features of the application is customizable reminders. In addition, users can set goals and track progress toward them.
But we also have to note that the app can sometimes be slow and buggy, while others have suggested that the premium features are not worth the money.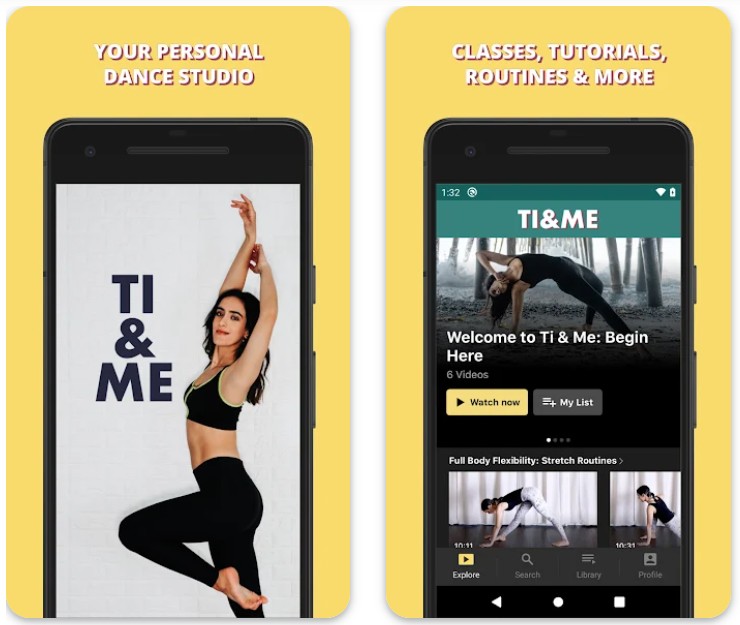 You can also check: 7 Best Apps to Learn K-POP Dance (Android & iOS)
Learn Dance At Home
Learn Dance At Home is a fun and quirky app that lets you send dancing cards to your friends and family. you may even want to repeat the dance you see.
Funny app that can cheer you up
Ability to create your own dance moves
The app is very easy to use. Just select a dance from the list of characters, personalize the message, and hit send. Your recipient will receive a fun animated card with your chosen dance and message. The app has a variety of characters to choose from, including ninjas, unicorns, aliens, and many more.
One of the best features of the app is that it allows you to create your own dance moves. This will add personality to your postcard and make it even more fun and unique. You can also add your own music to the dance, creating a truly personalized experience.
But some users have complained about the limited number of dances available on the app. In addition, the application does not allow you to share your e-card on social networks, which may be a disadvantage for some.
With tons of fun characters, personalized dances, and unique features, it's sure to put a smile on any face. Just be aware of its limitations before downloading.