Crusader Kings III is a real-time strategy computer game. It is the 3rd part of the popular game Crusader Kings, which has a great success among the users. The popularity of the game didn't fall even due to bad optimization and outdated graphics, so the developers decided to release the next part.
The main principles of the Crusader Kings III are that you are not ruling the state, but the dynasty. You have to take on the role of the real head of the dynasty, whose representative can change over time.
You should, of course, make connections with other realms, marry, and more. Unfortunately, Crusader Kings III is a computer game, but for mobile gamers, there are also alternatives similar in mechanics and themes. We found 13 Best Games Like Crusader Kings III for Android & iOS.
You may also like: 9 Best NFT Strategy Games (Android & iOS)
Rise of Kingdoms: Lost Crusade
Construction is a key element in the development of any civilization. Building houses, castles, defensive structures, and even entire infrastructures – all of this drives a society forward and allows it to evolve.
Rise of Kingdoms: Lost Crusade is a multiplayer game where players have to build their own city, explore the map of the surrounding game world, capture resources, and enter into relationships with other cities and users. If you crave adventure and want to feel like a real ruler and feel the power in your hands – this game is for you.
In the beginning of Rise of Kingdoms: Lost Crusade you will be offered to choose one of 11 represented civilizations. Each one is unique, with its own warriors, culture, and even its own weaknesses.
Of course, as you play and evolve you will be able to change the civilization as you like – but the basic definitions and settings will still remain. You will have to choose the direction of your development – for example, a strong economy, resources, or large territories.
Either way, in Rise of Kingdoms: Lost Crusade you will be able to implement all your ideas for development with the help of special commanders.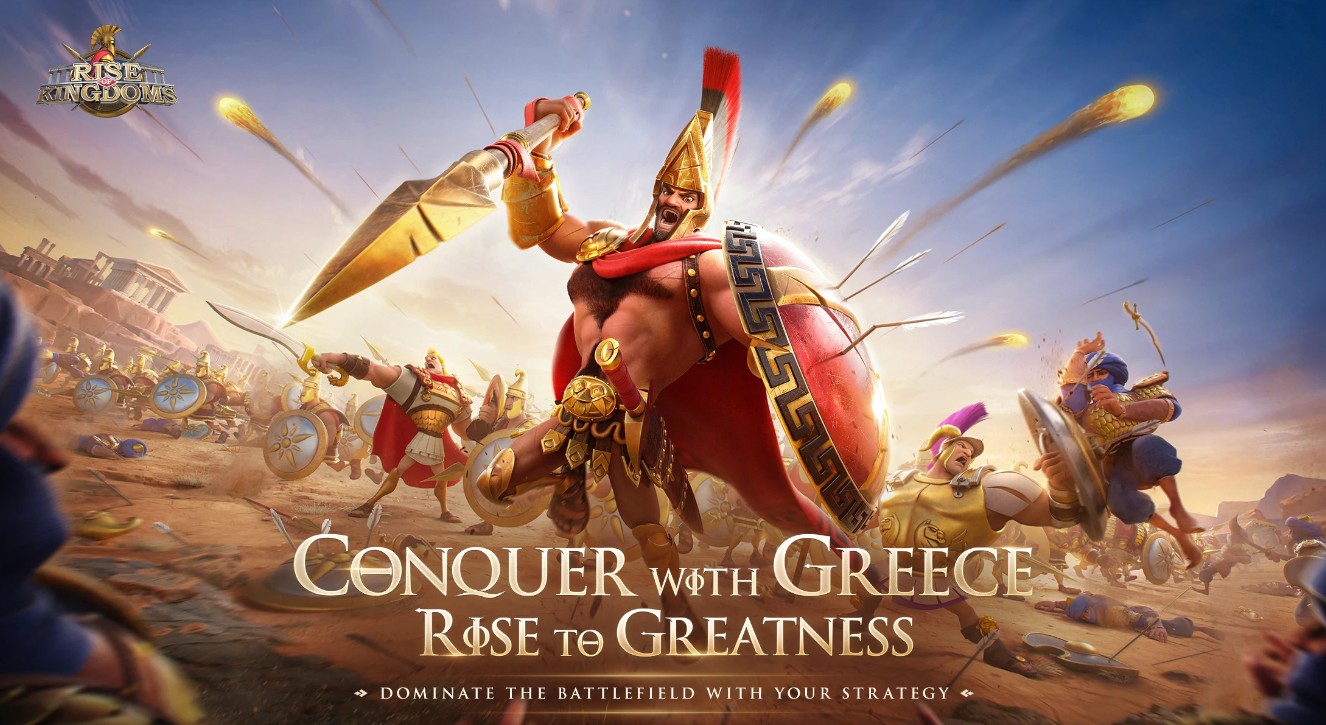 You may also like: 21 Best Multiplayer Strategy Games for Android
DomiNations
The name of the game DomiNations itself is a very speaking one. Here you will try to come to world domination, starting from just one small barbarian settlement. Of course, at first, you'll be doing completely standard things – like building farms, developing road connections, hunting, and so on.
Over time, in DomiNations, your settlement will evolve: each time you improve the main building, the entire population will make a jump in development. Your empire will gradually grow, and you will be able to go all the way through historical development.
In order to become a brilliant ruler, you will need to learn the sciences and the arts. For example, at one point you can learn from Leonardo da Vinci himself, and then you will observe the historical achievements of civilization and science.
This development in DomiNations is not very fast – but you can speed up this process and simplify your life. For in-game currency, all processes become faster, but you have to pay real money for this.
At the same time, any player can develop his civilization and rebuild the city without financial investments, at the same time fighting with other players in PvP battles or joining forces in alliances.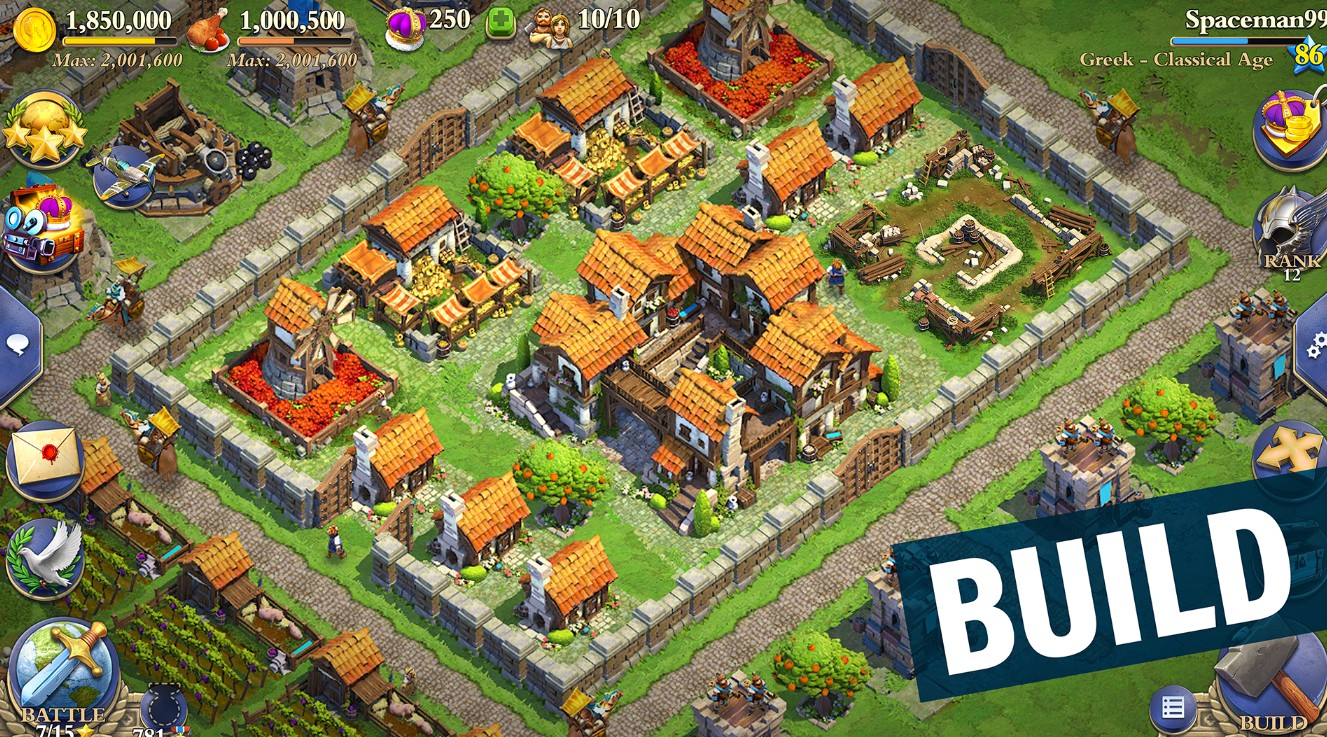 European War 6: 1804 – Napoleon Strategy Game
Great commanders, warriors have gone down in history forever because of their actions. For example, the whole world knows who Napoleon was. In European War 6: 1804 you will be able to feel like a participant of this epic war and watch the actions of Kutuzov, Blucher, Washington, and of course Napoleon.
You will need to think of your own war strategy that would lead you to victory. In European War 6: 1804 you choose which general you want to be – there are more than 200 military geniuses of the time. It also includes a scenario-based game and a global map with complete freedom of action.
However, if you are a fan of history and crave historical accuracy, in European War 6: 1804 you will not find it. All the accuracy is purely in the map and the position of the states. You have the main mission – the capture of large cities, loud victories, and no less interesting military actions.
You will have to fight with Russia, the Ottoman Empire, face the revolution in France, and other things. There are 10 chapters in total in European War 6: 1804, each of them has its famous military events that you can see with your own eyes as a participant.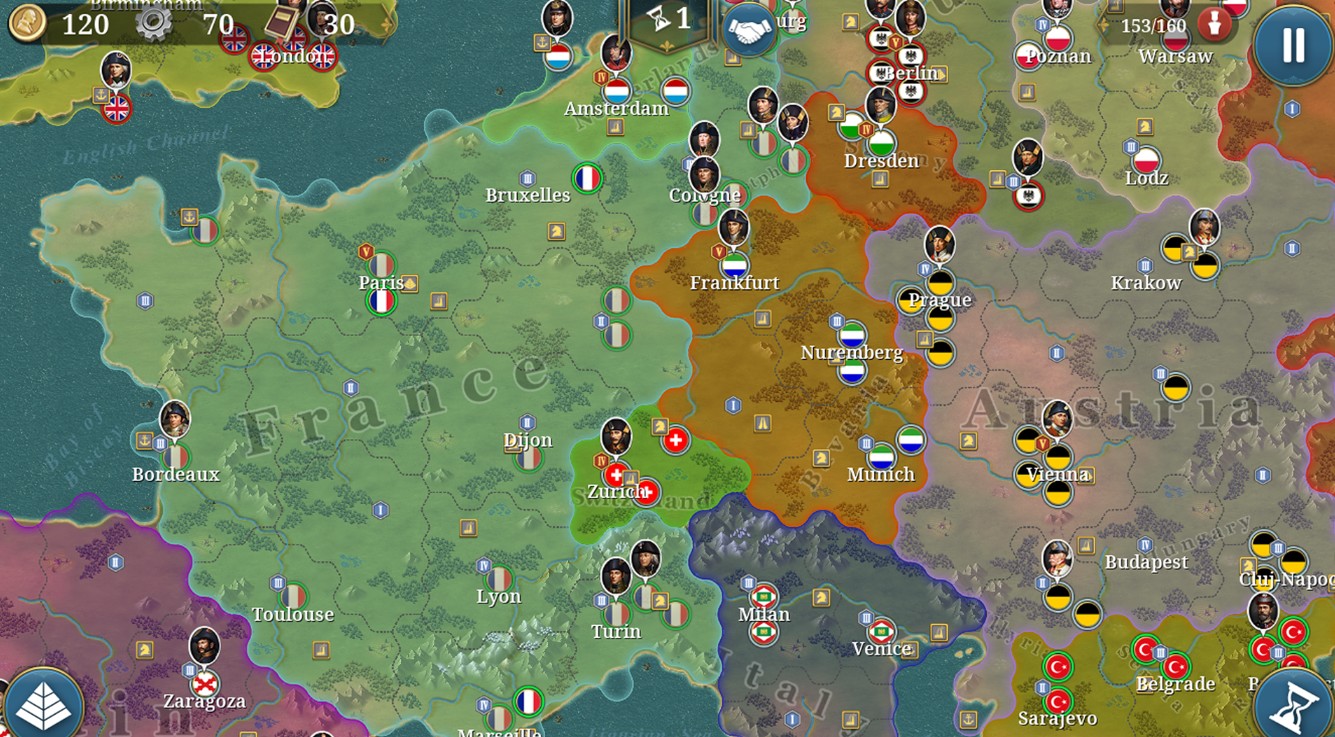 Age of Conquest IV
Age of Conquest IV is a turn-based strategy for mobile devices, where you can lead one of the ancient or medieval nations. You'll need to gather and train troops, fight your neighbors, conquer new territories, and so on.
Do not forget about the development of other areas of civilization in addition to the army – such as the economy, demography, diplomacy, and others. In Age of Conquest IV you can play with other users over a local network, over the internet, or even with artificial intelligence – you make your own choice.
According to the plot, you become the king of a small medieval kingdom, which has a small army. It's up to you to develop it the way you want – to unite with other kingdoms or to start conquests.
Be prepared that in Age of Conquest IV you will not only win, but you may at some point lose all your power because of bad strategic decisions.
You will be able to divide the gameplay into two parts: one where you control your nation and give orders, and another where you watch how things are done. As in any state, here you will receive taxes, collect tribute, and so on – in general, everything is quite plausible.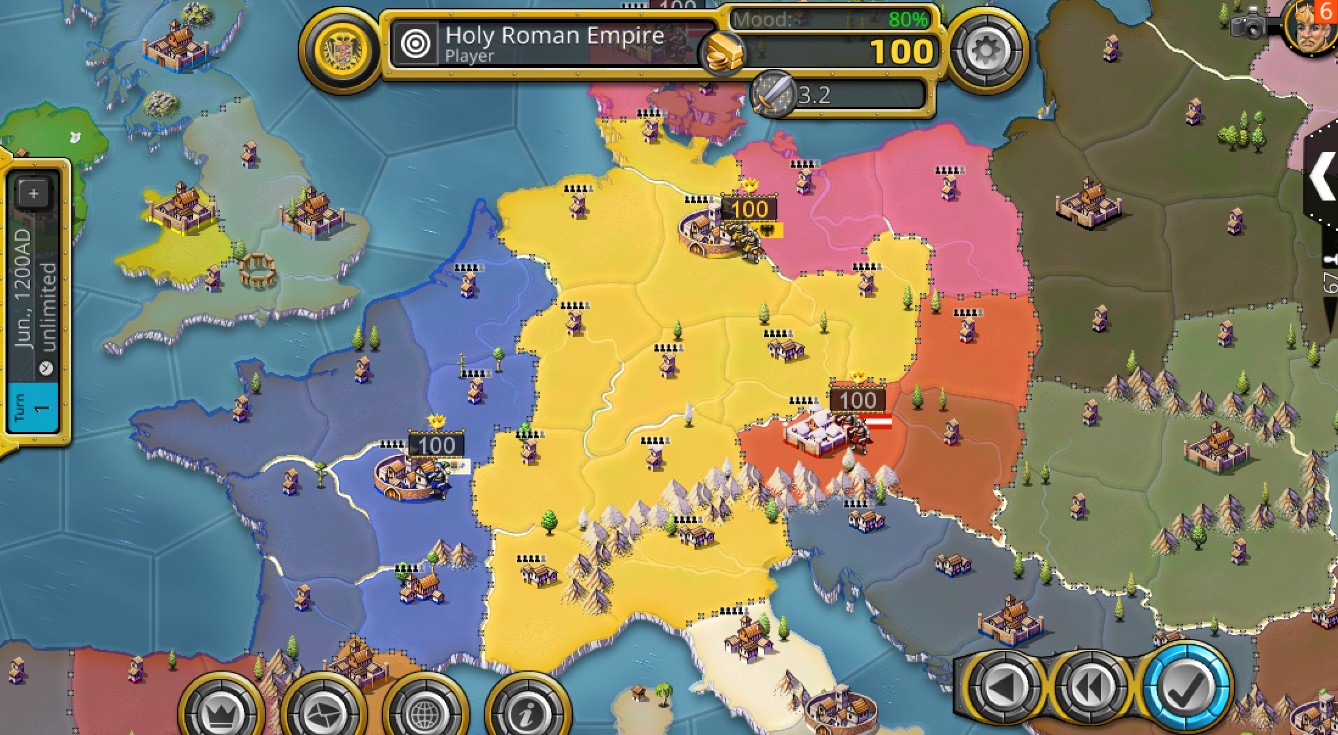 Great Conqueror: Rome – Civilization Strategy Game
The Roman Empire is considered to be a really great ancient state. In Great Conqueror:Rome you can feel yourself a great ruler and emperor of Rome. The peculiarity of the game is that you will feel all the difficulties of ruling a huge state while being immersed in a certain historical period.
The player in Great Conqueror:Rome is offered missions that take place in different historical periods. In each of them, you will need to manage the actions of the army with certain methods and tactics, to defeat the enemy and gain another victory.
To develop your state and army you will need to give them certain tasks, allocate funds from the state treasury, and even identify commanders. Each leader of an army has their own talents and skills, which you will use to judge their effectiveness.
In Great Conqueror:Rome you can go on campaigns to conquer a new land or play a single-player campaign, completing various missions. It's also worth mentioning that the developers took care to preserve the real history and didn't make any significant changes to the iconic battles of Rome.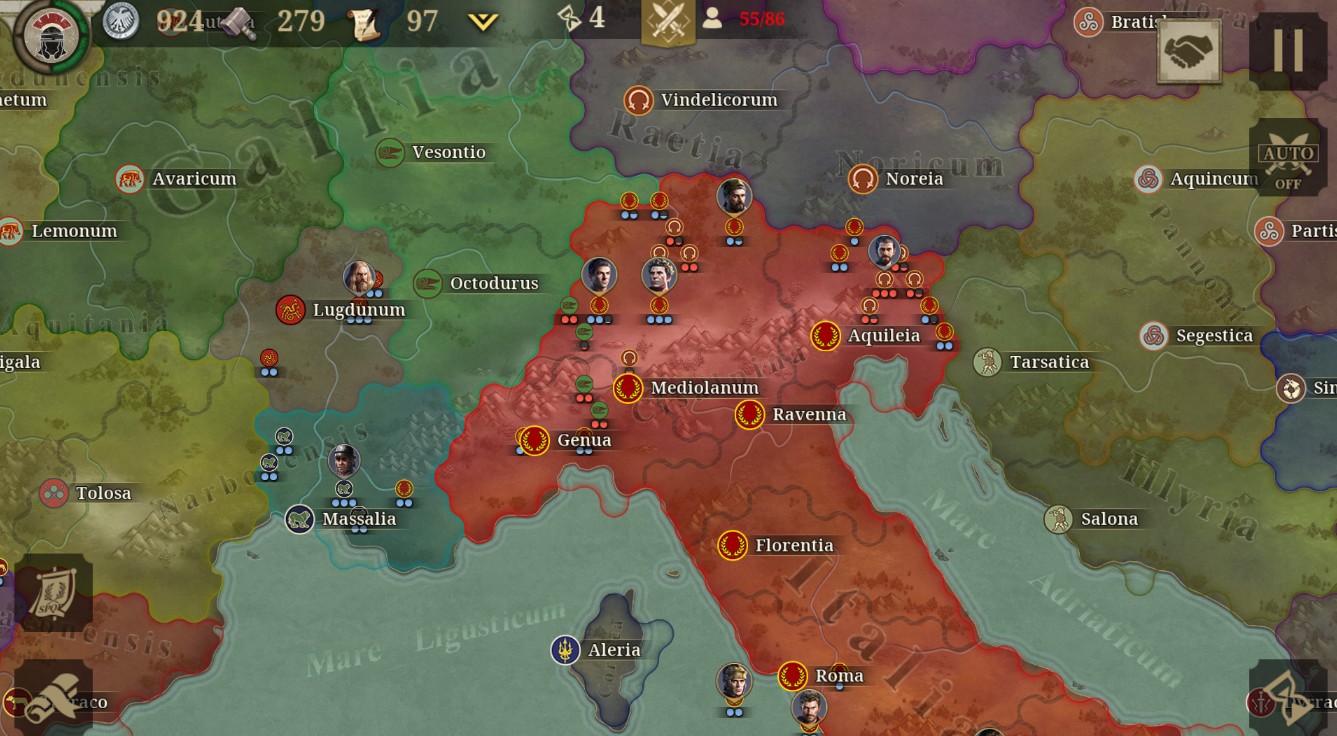 Sid Meier's Civilization VI (Civilization VI – Build A City | Strategy 4X Game)
Sid Meier's Civilization game interest never wanes, even over time. The gaming industry has cemented the title of one of the best game series for Sid Meier's Civilization, despite the fact that all of their releases are about the same and do not contribute anything unique to the story.
As with any other part of the game, in Sid Meier's Civilization VI you have to take over the world. The method of this capture is up to you – it may be war, cultural achievements, religious sermons, and more.
But according to the statistics the majority of players choose military action – so everything becomes much more interesting, spectacular, and effective.
Each of the countries in Sid Meier's Civilization VI has its own characteristics. For example, France has espionage, Spain has faith, and Greece has politics. You choose your own minions and can choose sides in world conflicts.
In Civilization VI you get to play the role of a real leader, you can define areas such as industrial, military, commercial, and so on, as you develop your city. Each important building has to be located in a certain zone, so you'll need to employ strategy even in such simple actions as layout.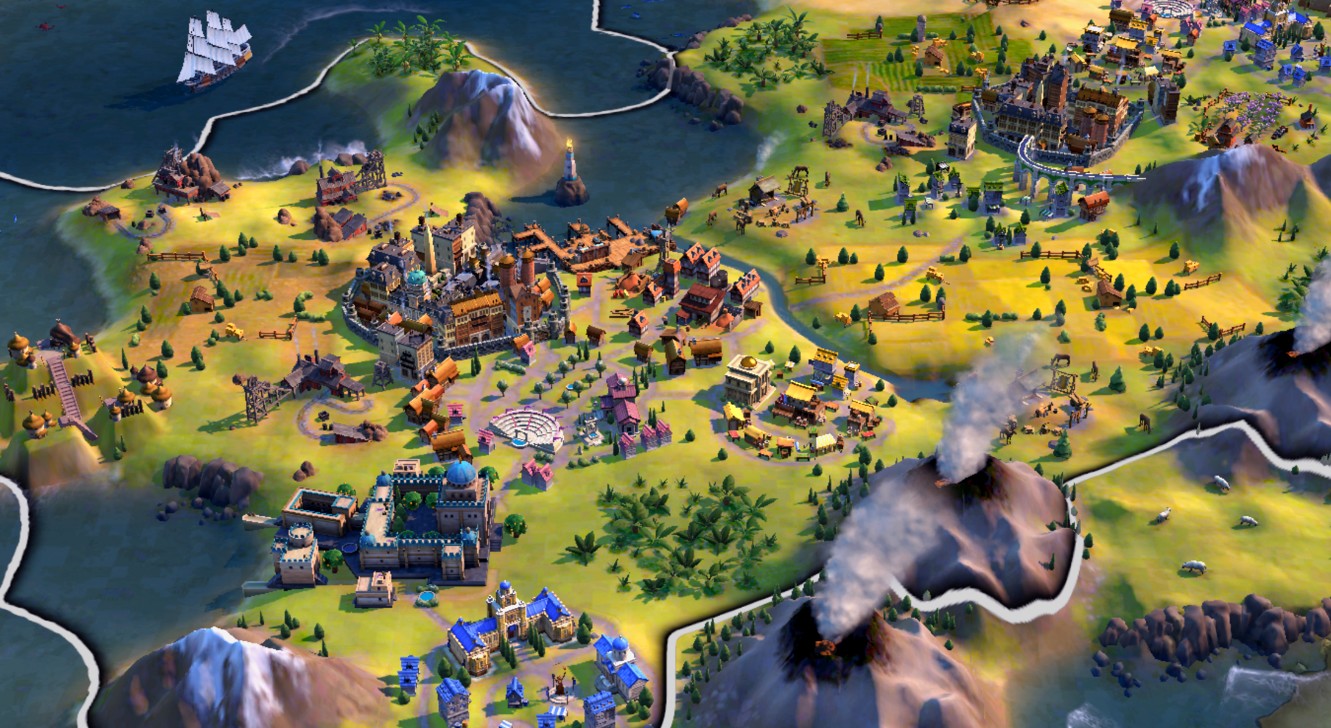 You may also like: 15 Best Turn-Based Strategy Games for Android
ROME: Total War
ROME: Total War for PC was released back in 2004, so maybe there are some old fans of this game. More than a decade later, the developers have introduced a mobile version that perfectly replicates the original.
Here you will find all the features that players liked so much in the classic version – for example, country management, diplomatic conclusions, rebellions in the cities, and much more. In ROME: Total War you will find yourself in the era before Christ, where the rules, laws, and even the system of city development are completely different.
The battles in the game are incredibly complex. Leading an army, you'll need to select individual divisions and units for specific actions. For example, you need to have time to control the archers, call in the cavalry to help, activate the troops, and so on.
In ROME: Total War you will need to keep up with all the moves and actions of your opponent's army, which is going to be quite difficult. Of course, you won't be fighting all the time.
You need to conclude diplomatic treaties, have time to develop their city and improve it, monitor the residents, and so on. It's also worth noting that you need to constantly monitor your warlords. For example, if a diplomat is surrounded by a gay lover, it will add points to his credibility – all in the best traditions of ancient Rome.


Age of History II
Love history and historical events? You can try to pass the whole history of mankind in Age of History II game. It is a good military strategy where you need to put a lot of effort in order to succeed.
Your main aim in the game is to become one of the most important people in the world, but the way you do it is up to you. You can unite the whole world into one big alliance or you can go the way of cruelty, conquering state after state. You'll need to start with the earliest eras in history for such a large-scale conquest.
In Age of History II you can play for many different civilizations of your choice – just determine the country or region you want to start with. As history progresses and you move through the eras, the borders of the states on the map will change, and you'll also need to watch for changes in their military might.
The map, which displays literally everything in Age of History II, is quite detailed. Not only do you see the states on the map, but also the events that are taking place within them, like revolutions, wars, and peace negotiations.
You can also see the terrain so you can think through your war strategy and send only certain units to the battles.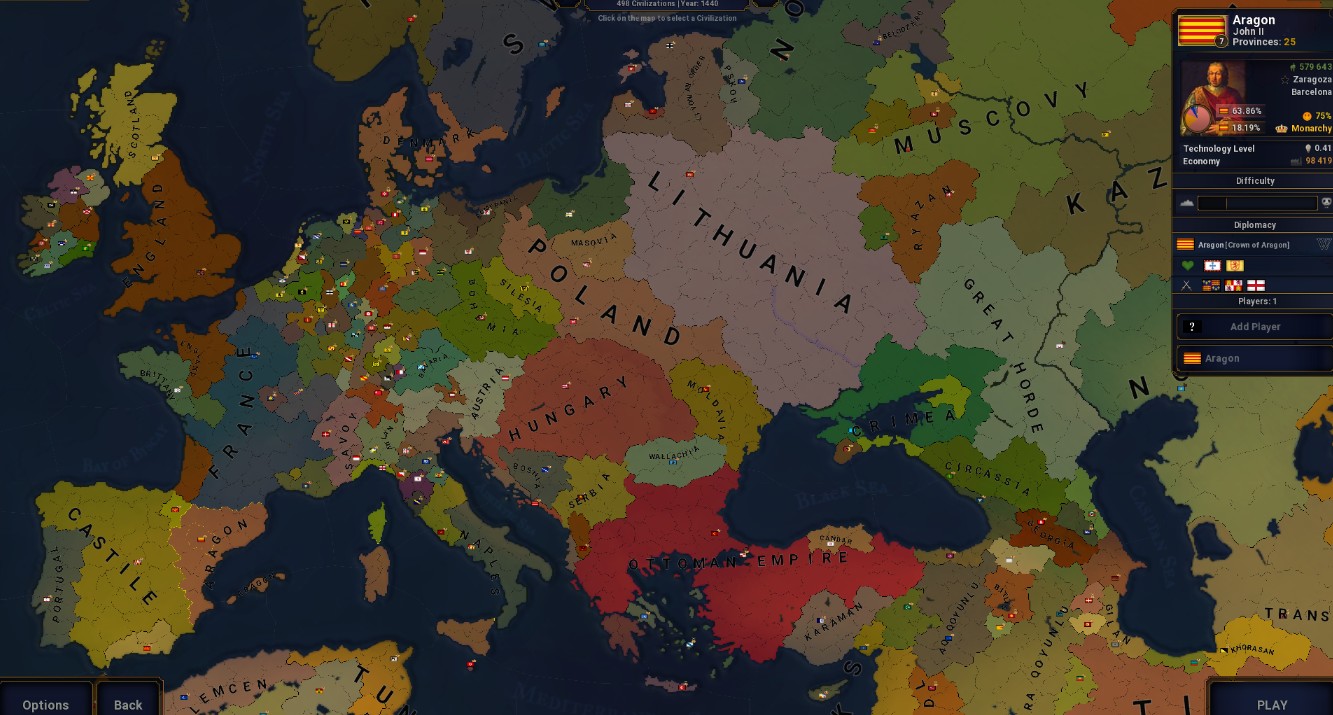 European War 5: Empire – Civilization Strategy Game
European War 5: Empire is another strategic historical game, where you will be observing the civilization over several centuries. The game covers a total of 20 centuries and starts in the Middle Ages.
The gamer can start the development of his nation in the Middle Ages, gradually reaching even the firearms and more modern wars.
In European War 5: Empire you will have to participate in various conflicts (some of which take place between completely different states), seize lands, and expand territory while keeping an eye on the state of your own empire.
In order to regularly replenish the treasury of your state, you can not only collect funds from the population but also trade on the market various resources and goods. This will allow you to better supply your army, which will capture the cities of your enemies or neighbors.
Also in European War 5: Empire you will face the greatest rulers in History – for example, Genghis Khan, Caesar, and even Barbarossa. But don't get hung up on war, because you can use diplomacy or simple threats to get support from other empires and cities.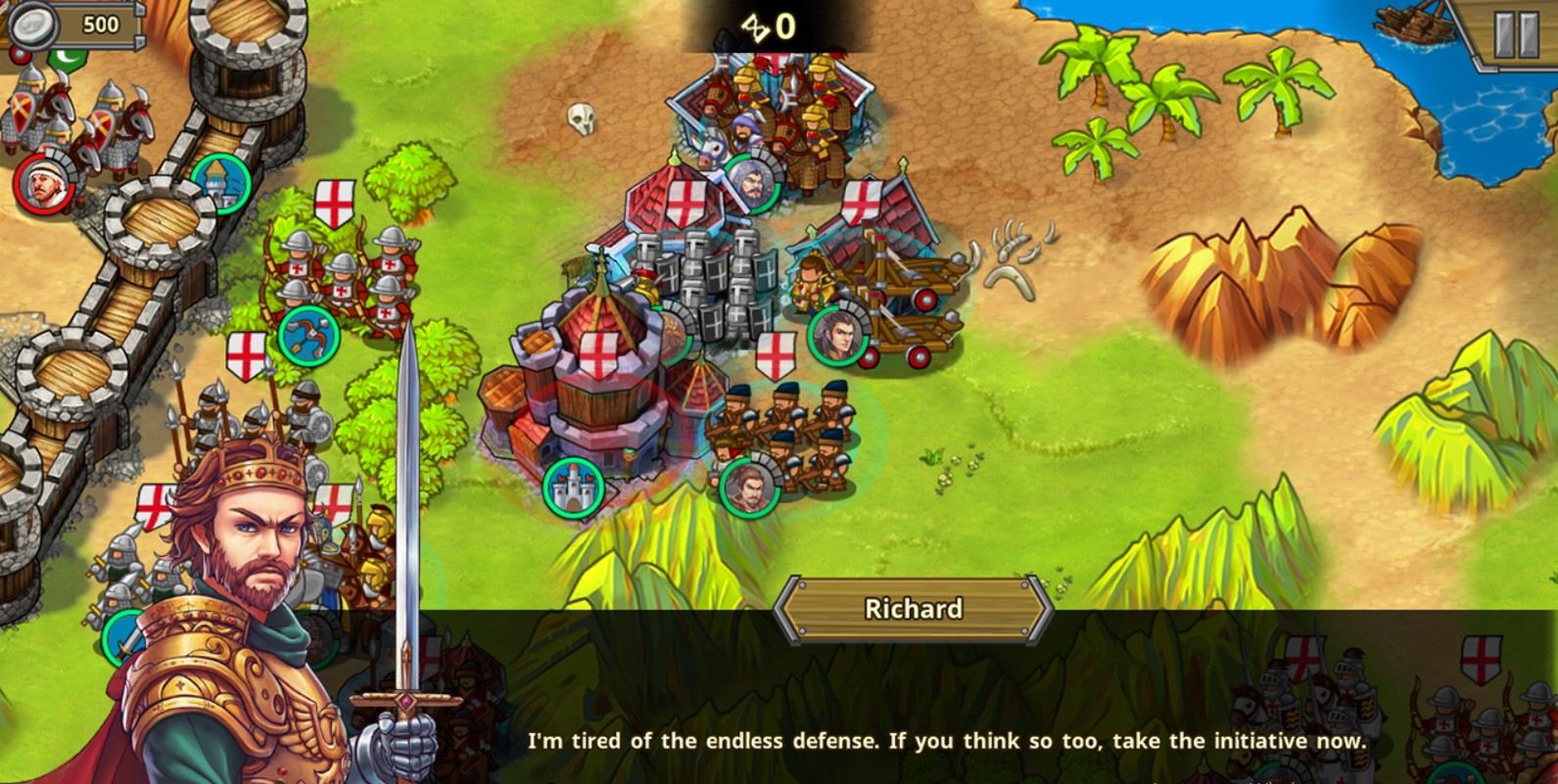 March of Empires: War Zone RTS
In March of Empires: War Zone RTS, the choices you make and the strategies you employ will determine your fate in this vast and dynamic world. Forge powerful alliances with other players from around the globe. Collaborate with your allies, exchange resources, and wage wars together to dominate the realm.
This game has plenty of gameplay elements that will impress you. For example, it is possible to train and command a formidable army of knights, archers, and siege weapons. Engage in tactical battles on a massive scale, where your strategic decisions can alter the course of history.
What is more, you will have to prove your dominance on the global stage by conquering cities and territories. Participate in exciting PvP battles and sieges to claim your place as the mightiest ruler.
Manage your resources wisely and invest in research and development to unlock advanced technologies. Strengthen your economy to support your growing empire. Experience the thrill of dynasty building as you raise your heirs to become formidable leaders, ensuring your legacy lives on.
In conclusion, I can say that this game is one of the best on this top list. Download the app now and begin your journey to become a legendary ruler!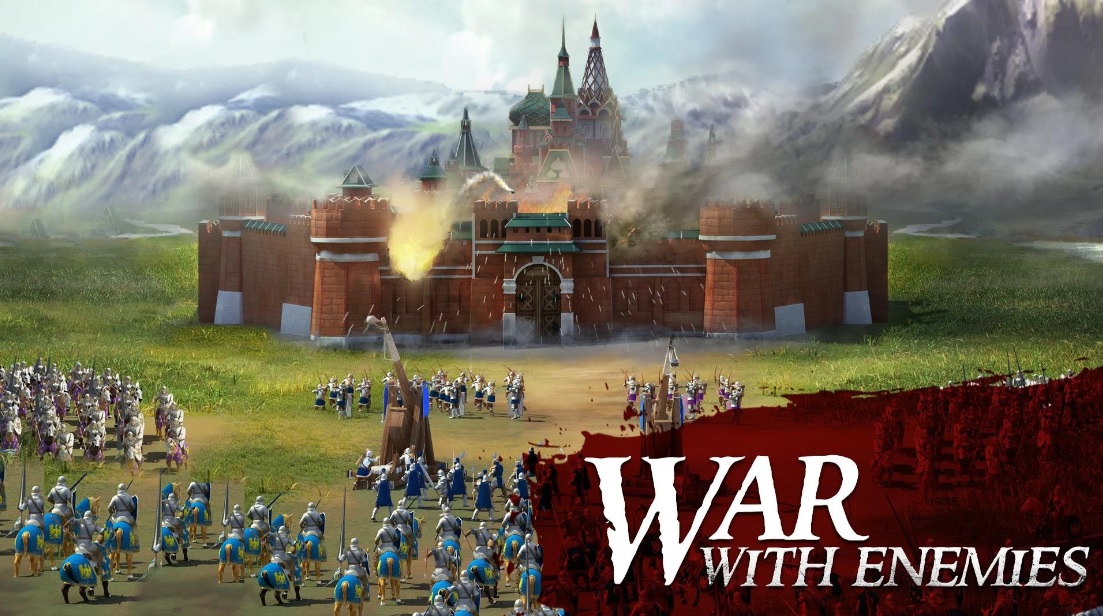 Majesty: The Fantasy Kingdom Sim
What do you think it means to be the ruler of a fantasy kingdom? We have already encountered real historical games where you will learn moments from the world history you studied in school.
You won't find that in Majesty – you'll be the head of such a magical kingdom where there are evil monsters, peasants, and even goblins! If in other fantasy games you were the warrior that fights with evil creatures, in Majesty you will be the leader of all warriors simultaneously.
That being said, the game starts with your kingdom in shambles, monsters advancing from everywhere and you need to start the process of liberation.
Once you start Majesty on the map, you'll find yourself… In Warcraft! Many players point out the striking similarities between the two games and that really can't be denied.
The game has elements of RPG, strategy, and many other genres that blend seamlessly together. Despite the fact that you will be the head of the state, not all the heroes and warriors will obey you.
Each of them has their own goals and desires, and they also don't want to die in the battles. You will need not only to develop the kingdom but also to gain authority in front of your subjects.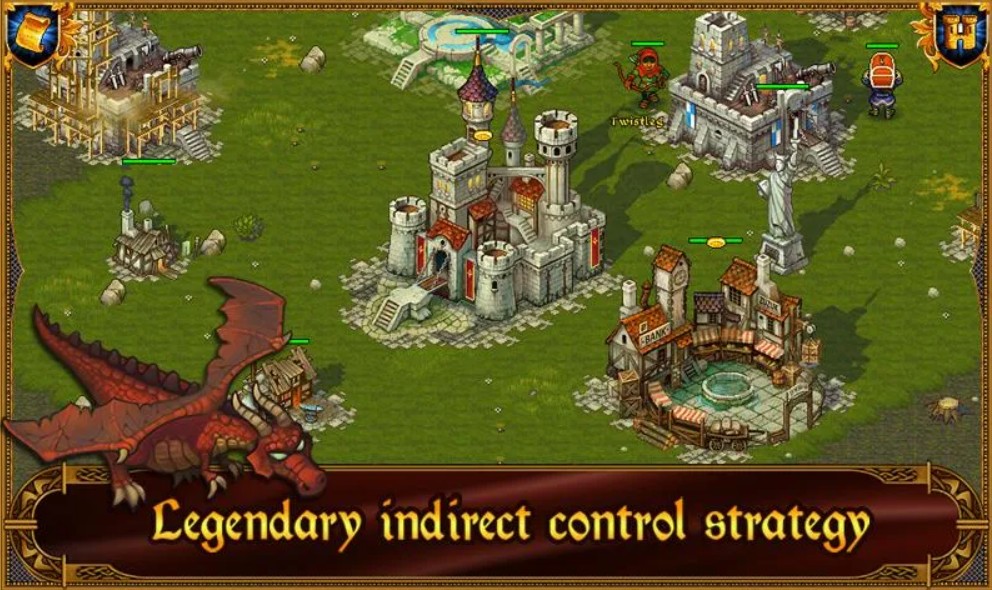 Age of Warring Empire
In Age of Warring Empire, the fate of your empire rests in your hands. Will you be the architect of a legendary civilization or fall into the annals of history?
Rally powerful heroes from different eras and cultures to aid you in your quest for glory. Each hero possesses unique skills and abilities, making them crucial assets in your battles.
What is more, this game provides you with the ability to forge alliances with other players across the globe to strengthen your forces and face enemies together. Cooperation and coordination with allies can lead to conquest and fame.
Engage in thrilling real-time battles against players and NPCs alike. Command your troops strategically, and unleash devastating attacks to crush your foes. Explore a vast and diverse world map, teeming with resources, ancient ruins, and opportunities for expansion.
Finally, Age of Warring Empire is a great choice for gamers who want to unleash their strategic prowess to become the ultimate rulers!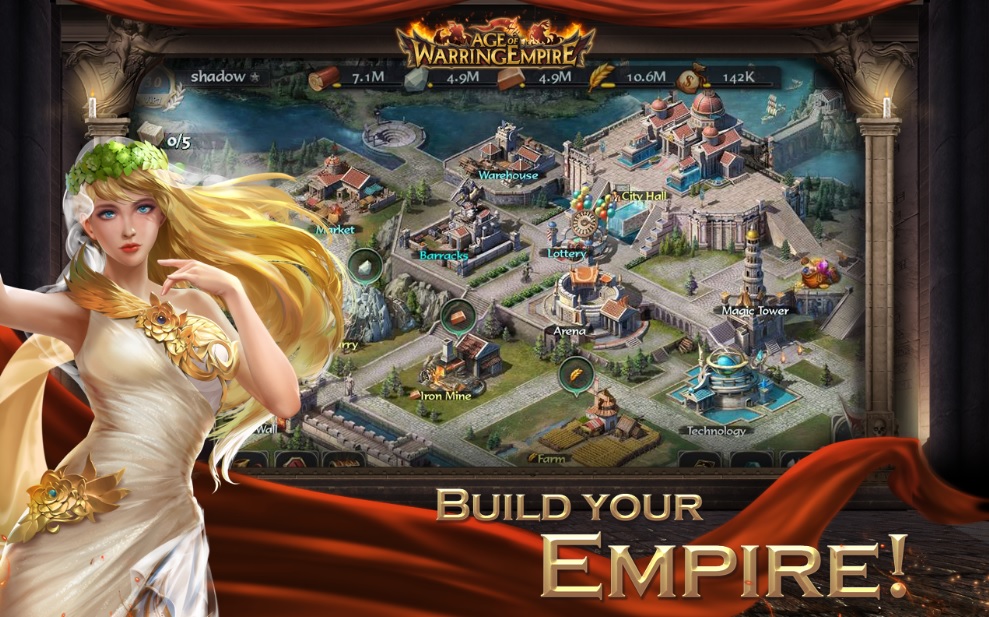 You may also like: 12 Best Space Strategy Games for Android & iOS
Through the Ages
Through the Ages was originally a board game, which is loved by players of all ages. More than 10 years after the release of the board game, a digital version was released, which is more convenient and accessible to most people.
Like the classic version, you start the development of civilization with a small tribe, which has to go a long way to become a state and the modern world.
Such a game will fascinate you for a long time, as you will start worrying about your people more than ever. Especially, in Through the Ages you can compete with your friends in progress.
If you haven't played a board game before, you're probably unfamiliar with the rules. You can read them directly in the application in a separate tutorial. In it you can also look directly in the game, checking your actions and the actions of opponents.
Through the Ages is a card game, you'll have a few hundred cards at your disposal, each of which has its own effect and influence on the course of development. You have many different paths to victory, but this will require keeping an eye on resources, wars, military power, and other branches of government.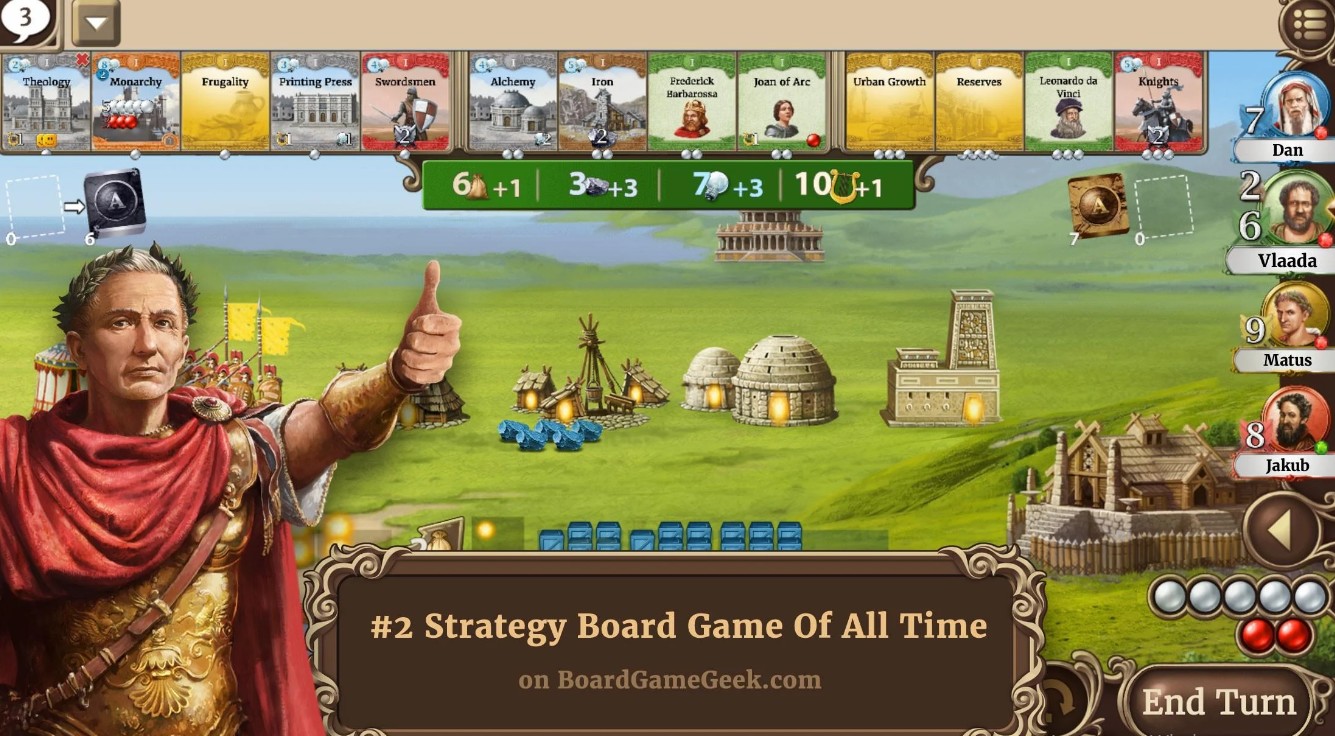 Strategies are a great way to kill time without playing another pointless clicker. You can build empires, observe the development of civilization, understand how important historical events took place, and much more.
A lot of games have the theme of the kingdoms, medieval and ancient states. As we all know, the rules and politics in them were different from what we have now.
Some of these events are really interesting to watch, and the game even gives you the opportunity to feel yourself the leader of the European army, or become the representative of the whole royal dynasty.
We hope that our article was interesting for you, and at least one of the presented applications you will want to install on your smartphone.