Wanna feel like a hero defending your castle? We've got you covered!
There are plenty of defend the castle games for Android & iOS that lets you use your tactical skills placing your arms and towers to protect your land from intruders. Needless to say, this type of game is great to dive into the setting of the past, but what about the future? Zombie defense games are just as fun and give an unrepeatable post-apocalyptic vibe.
We've gathered together the 15 best games in that genre you may try. Take a look!
Kingdom Rush
Let's start with the classics. Kingdom Rush is a strategy game where you'll need to defend your kingdom.
As for the plot, it's quite standard for the genre — evil forces are attacking your kingdom, and you need to stop them whatever it takes. To cope with that, you'll get to use a wide range of armor, spells, and towers. Plus, you'll lead the kingdom's greatest army, so the winning chances are quite high.
There are 12 types of heroes you'll get to command, and each one has unique abilities. However, your enemies are just as powerful as you are, so you'll need to use all the strategic skills to win. You'll stand against 50+ unique villains — from demons to goblins.
Besides, make sure to consider the environment around your battlefield and build the tactics around it. The game covers plenty of locations — from forests to mountains, and all that. Loads of challenges and easter eggs may also boost your powers so pay attention to the details as well.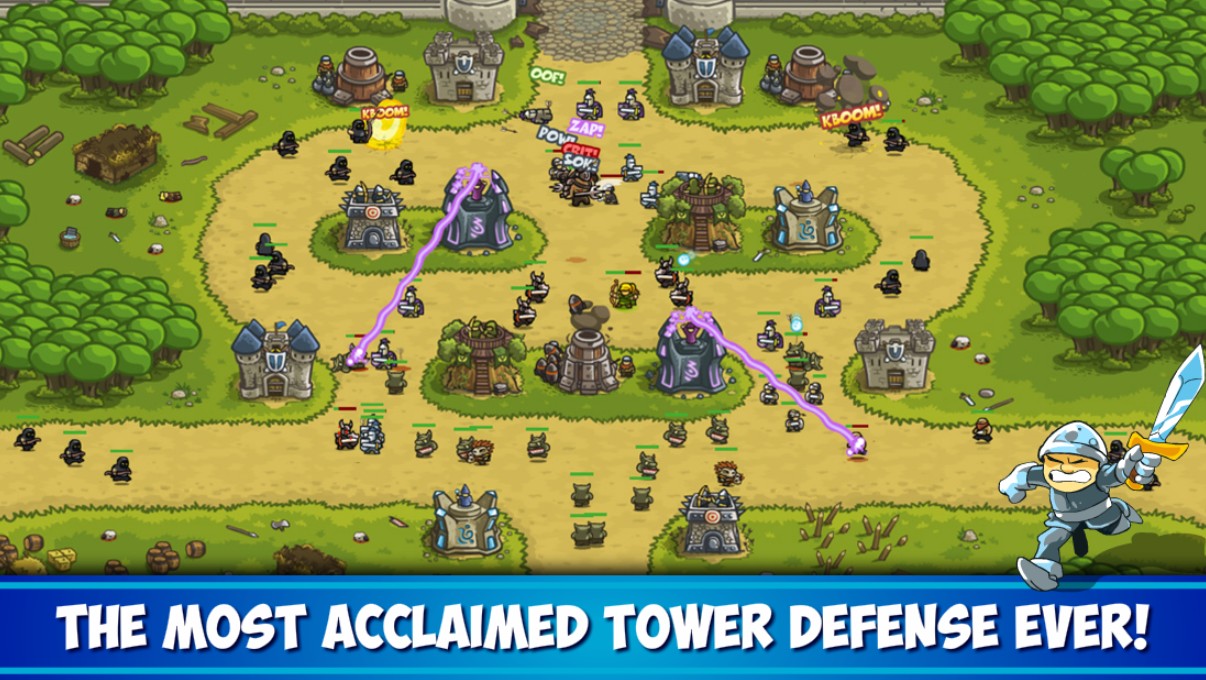 You may also like: 11 Best War Defense Games for Android & iOS
Crazy Defense Heroes
Wanna feel like an actual hero? You can't go wrong with this game!
This tower defense game lets you stand up on your kingdom's defense and fight the hordes of dark forces. Herewith, this game has some card game elements as you'll need to collect cards to wing the fights. For now, there are over 400 cards with unique heroes, towers, spells, and armor, and you'll need to get them all.
Then, you'll need to come up with a strategy and make sure you will beat your enemies. Along with the heroes, the game covers various types of villains — orcs, skeletons, dragons, and even minotaurs. You'll also face the bosses from time to time and each new one will be more powerful than the other.
You may also build or join a clan with worldwide players if needed. Plus, there are over 1K rounds, so the game will keep you busy for a long time. In case that's not enough for you — there are weekly raids and challenges for you to join.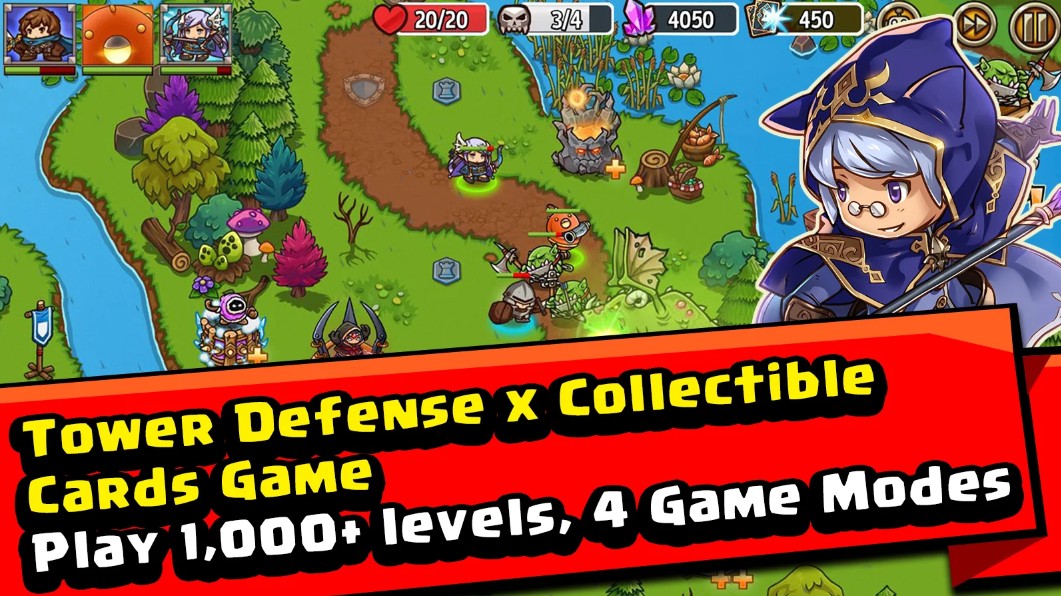 Clash Royale
This is another card-based strategy game that lets you compete with worldwide players.
It needs to be said, the concept of this game is a bit different from a classic tower defense. The thing is your opponents are not soulless demons and orcs — there are real people with their tactics and strategies. Herewith, the forces you have fully depend on your decks.
This game is bundled with classic TD tropes such as setting the king and the princess free out of the tower, collecting powerful treasure, and more. Plus, the game lets you form a clan with your mates or random players to join your forces against the opponents. The game comes with a built-in chat, so it's easy to communicate with your teammates.
There are plenty of Arenas for you to fight on so no concerns about that. More to say, the game covers PvP mode and 2v2 one. Some challenges come out every week — join them to get extra exp and rewards. Your goal is always the same — to destroy the opponent's towers and keep yours safe and sound.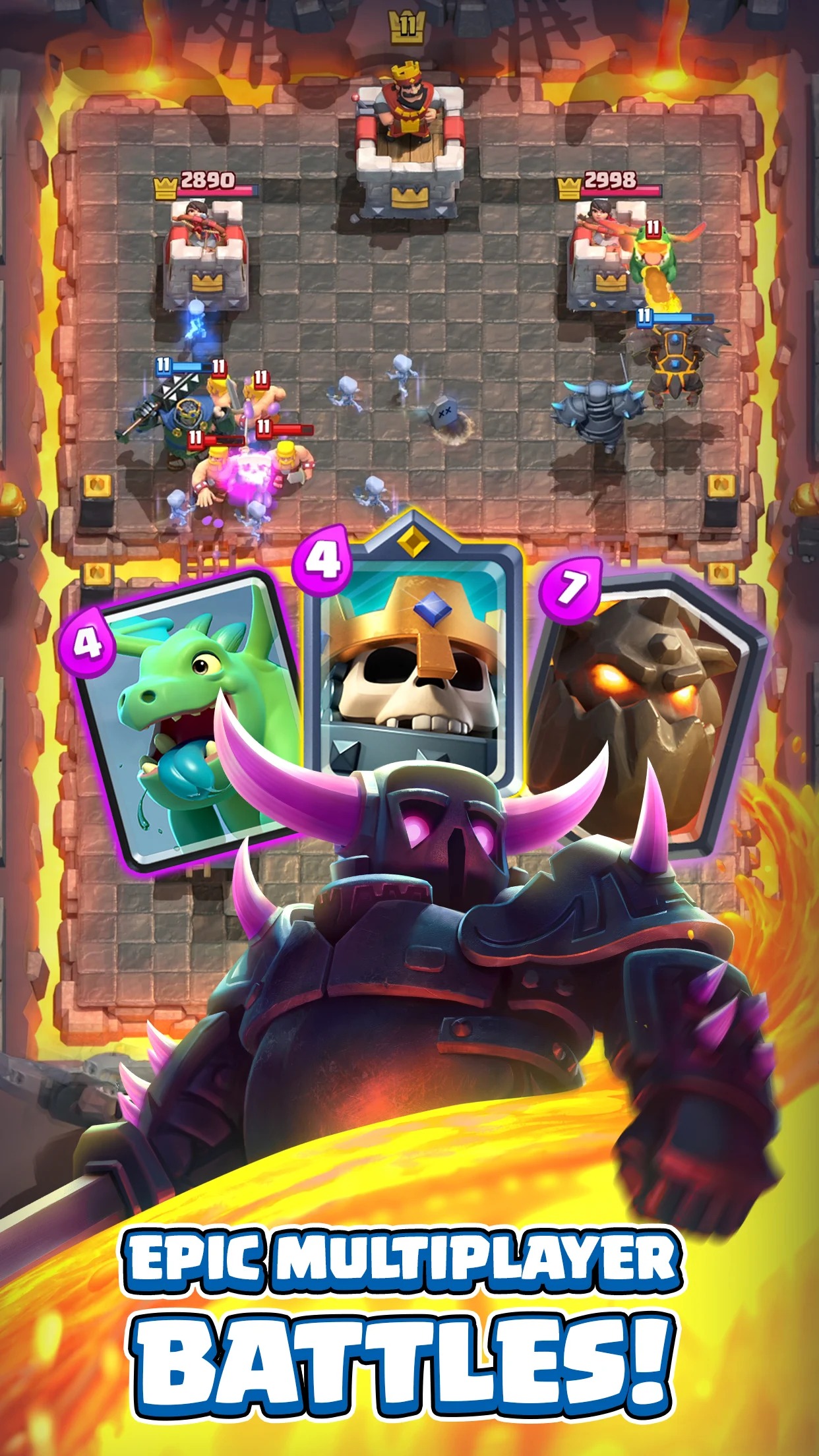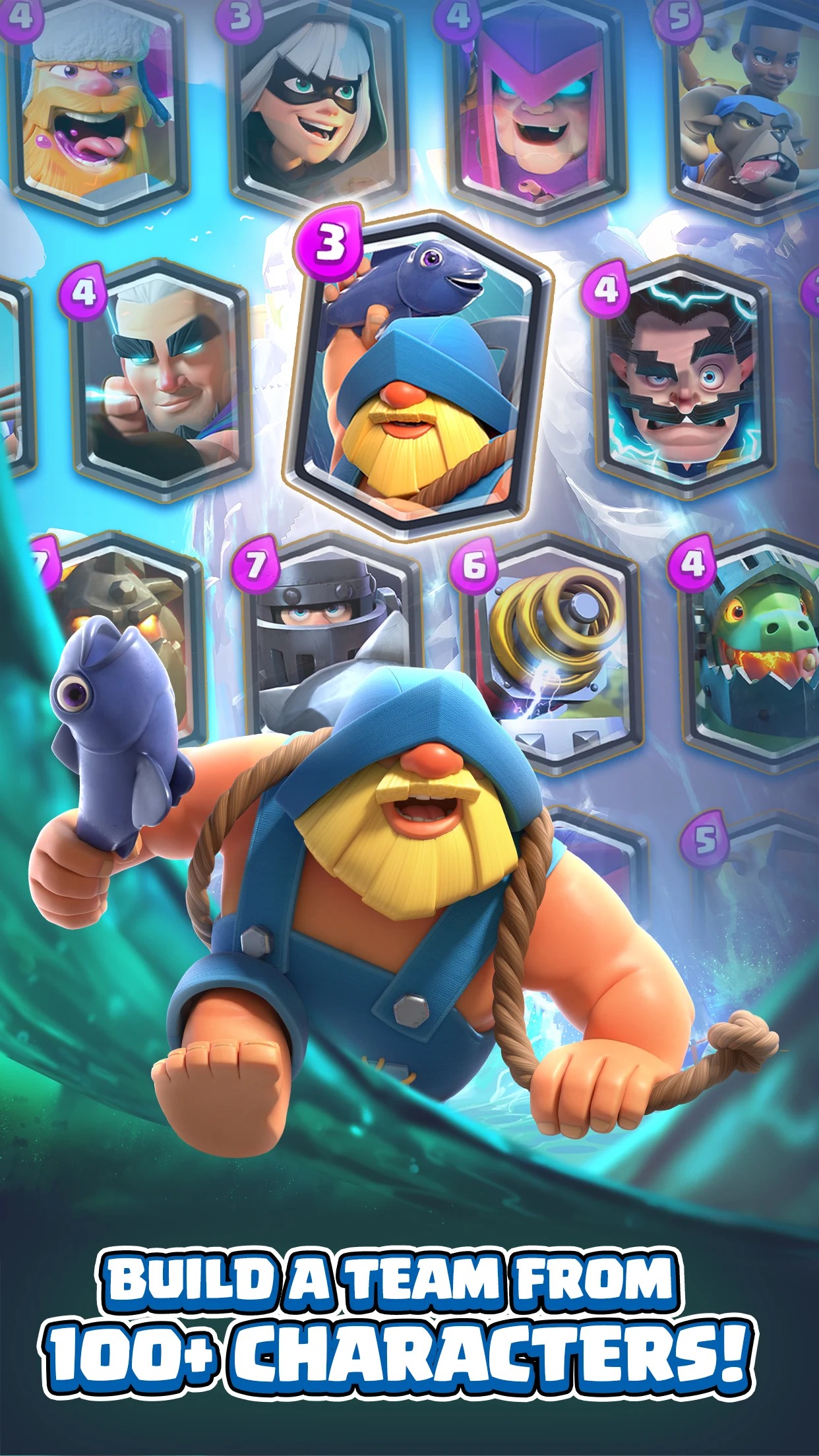 Castle Creeps
It's a fantasy castle defense game that lets you fully enjoy the taste of battles.
The concept is quite simple — you'll need to go through plenty of rounds and stand against various enemies to protect your tower. The new chapters come up regularly, so you won't run out of material You'll get to face orcs, demons, goblins, and other dark creatures.
Herewith, all the villains have their skills and weaknesses you need to consider while building your fighting strategy. As for your forces, the game covers multiple heroes you may take under command. Not all heroes will be available at the beginning, but you'll get to unlock them while moving through lvls.
All the heroes are free so the only way to get them is to pass the missions successfully. You may also team up with your mates or random players to build a clan. Plus, you mat upgrade your towers by raising their repairing features, protection, and all that.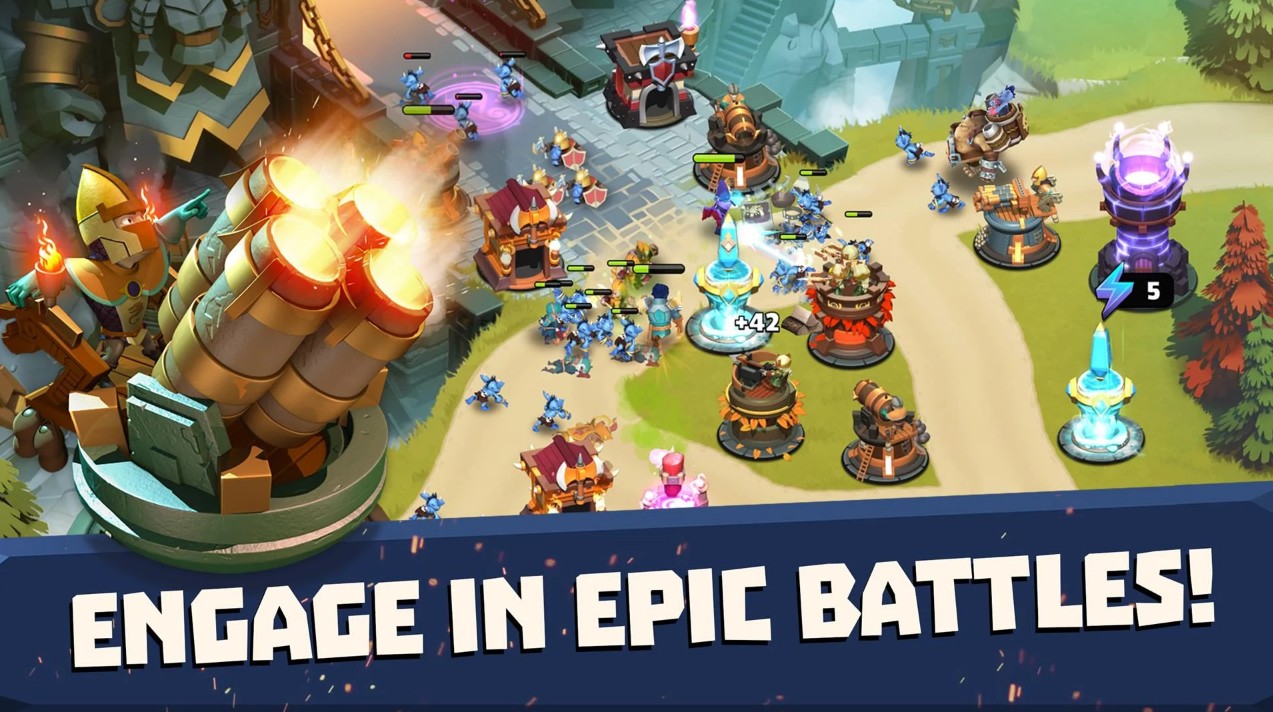 Tower Conquest
As you may guess by the name, this game aims for you to join a contest and protect your tower (or castle).
Your goal in this game is to develop your forces as much as you can to get rid of all the opponents easy as pie. To cope with that, you'll need to recruit heroes and create a perfect shattering army that can crash any tower. Plus, you'll be able to develop your towers by increasing their repairing mechanism, shield, and so on.
For now, the game covers over 70 characters, towers, and armor pieces you may use to your benefit. All the characters come with individual skills and abilities you need to consider while coming up with a strategy. You'll also need to collect cards that will unlock special skills and boosters.
Thousands of card combinations will help you build an extraordinary team. Besides, the game covers over 50 different areas you'll get to explore. Each arena you unlock will also bring you extra points and rewards. There are also daily quests and raids you may join if needed.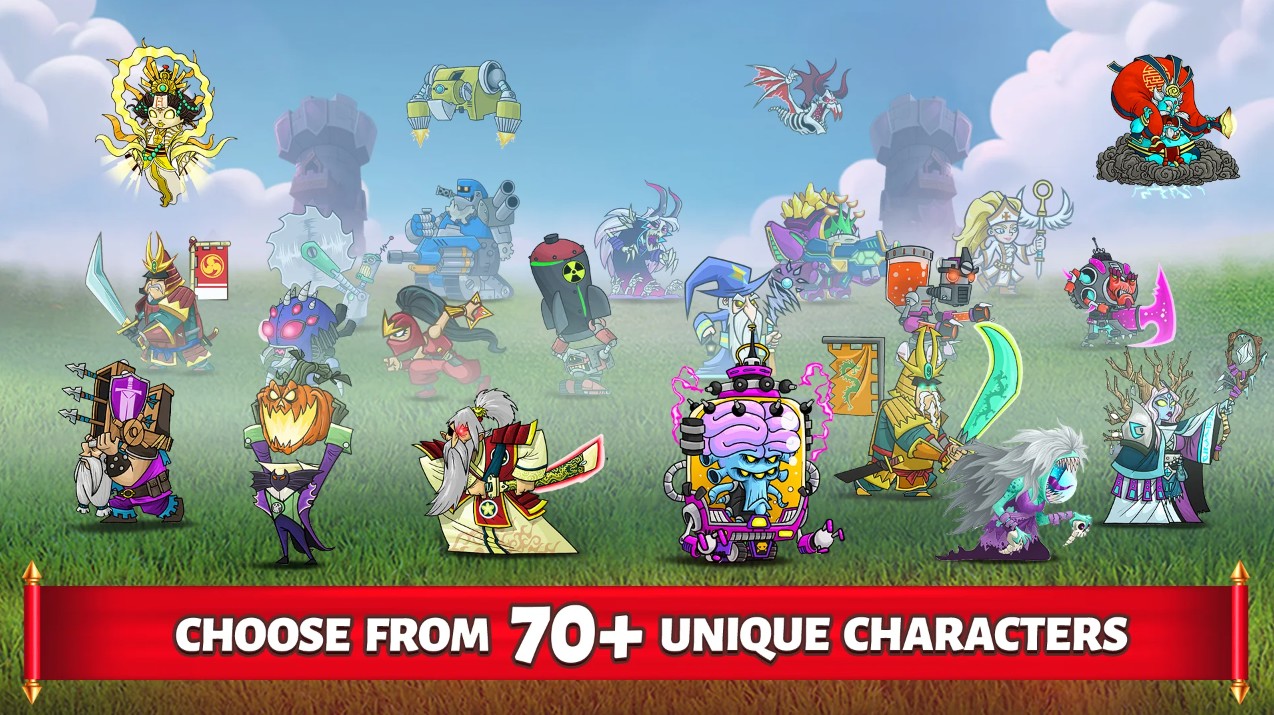 Grow Castle
Next, we have a game a castle protection game that lets you build your castle.
The mechanics of this game are quite predictable — you'll need to use all your powers to protect the castle from intruders. Herewith, you have over 120 heroes to lead and each one with its strengths and weaknesses. For instance, some heroes are gifted archers, others know how to use a sword, and so on.
Make sure to consider the skills of your heroes while building tactics as it's the key to victory. You'll get to place all the heroes manually along with your strategy so no concerns about that. Besides, also need to consider that all the heroes need to improve their skills, and the faster you'll do that — the better.
The thing is, the attackers will become stronger with each round and your soldiers need to correspond. You may also hire workers and build colonies to level up the protection of your castle. The game runs on a guild system, so you can join clans and cooperate with worldwide players.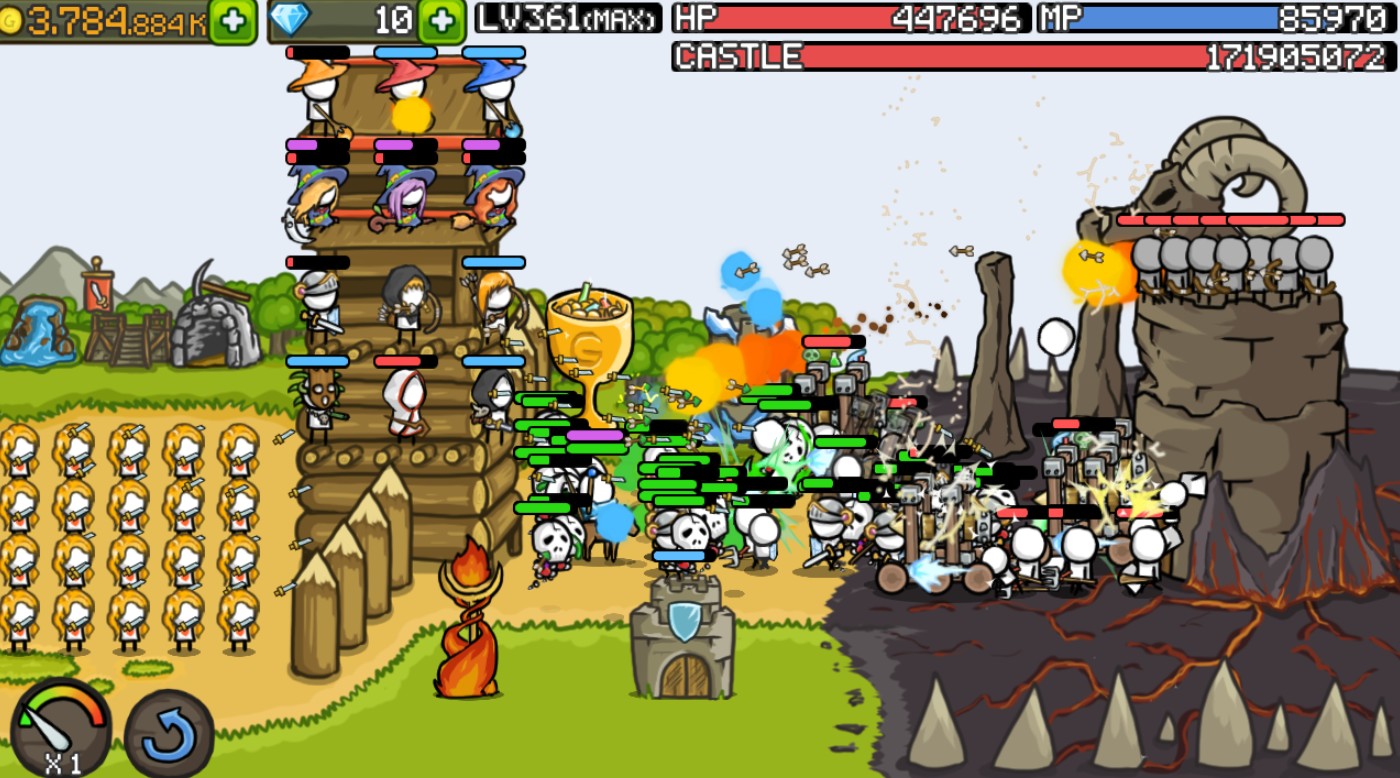 Clash of Clans
This game is a classic (and one of the most popular) representative of the TD genre.
You'll get to build your village, build a clan and participate in the clan's war to become the best. It needs to be said, you may rather start a new clan or join a pre-made one. Herewith, you may forge alliances with other clans and build unique cooperative strategies.
As for the strategy, the game gives you plenty of options to plan it — you'll get to combine various spells, heroes, and troops by your will. Plus, you'll get to record and rewatch all your fights to analyze them and find all the mistakes. Not all the heroes will be available at the beginning, but you'll get to unlock them with time.
Each win will bring you rewards and resources you may use to raise your forces. In case you don't mind playing dirty you may even steal the resources from your opponents. You may also participate in PVP fights and special challenges to get more bonuses.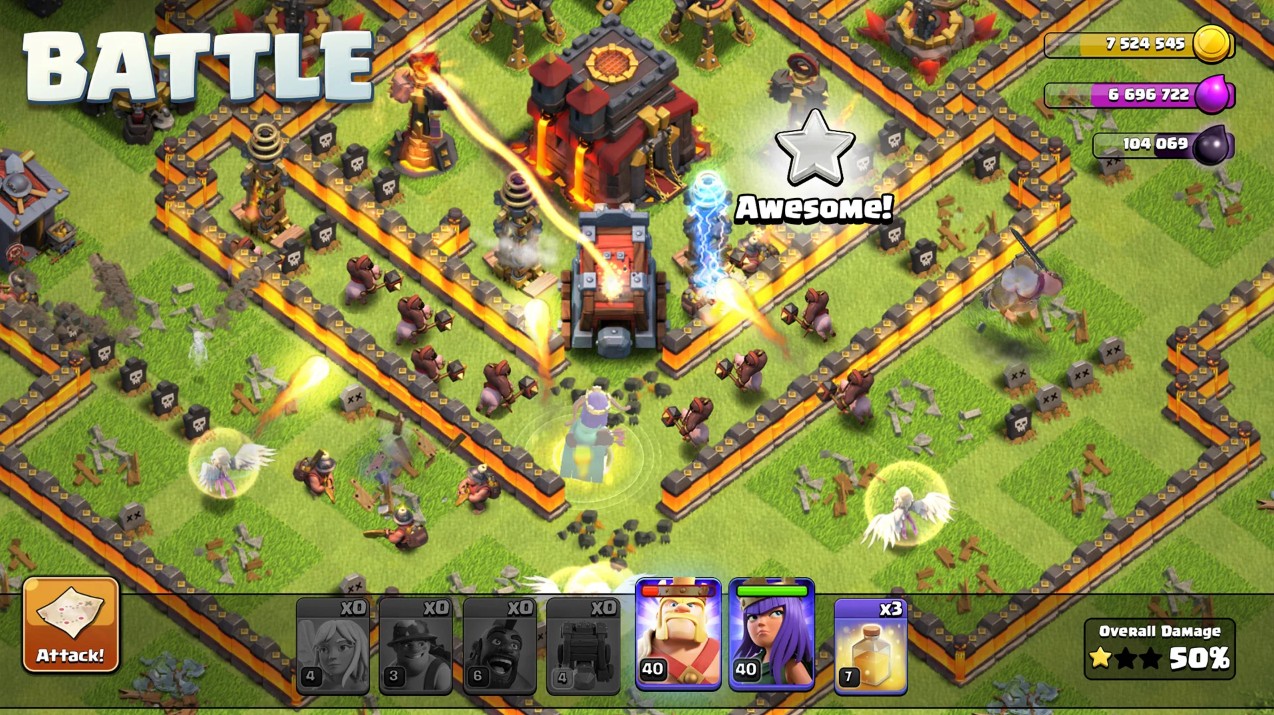 Check also: 11 Best Space Strategy Games for Android & iOS
Castle Defender
Castle Defender is a thrilling mobile game that challenges you to protect your kingdom from relentless waves of enemies.
In this game, you must stand as the last line of defense for your kingdom. Hordes of enemies are approaching, and it's your duty to stop them. Strategically place defensive towers along the enemy's path and use your heroes' unique abilities to thwart their advances.
What sets Castle Defender apart is the ability to upgrade your heroes and towers. As you successfully fend off enemy attacks, you'll earn rewards and resources that can be used to strengthen your defenses and level up your heroes, making them more powerful with each battle.
Also, Castle Defender offers a range of heroes, each with their own special abilities, adding depth and variety to the gameplay. With numerous maps and challenging levels, you'll need to adapt your strategy to conquer them all.
The game boasts high-quality graphics and smooth animations, creating an immersive gaming experience. The intuitive touch controls make it easy to place and upgrade towers, ensuring you have precise control over your defenses.
Finally, I strongly recommend Castle Defender because you have a chance to get an unforgettable gaming experience.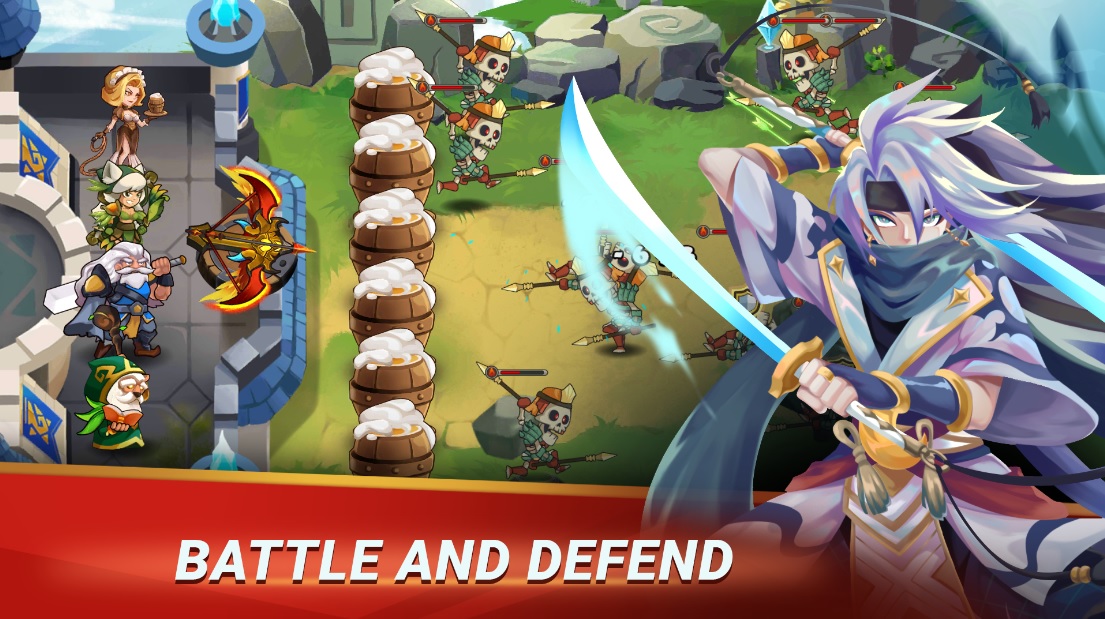 Realm Defense
In the mood for an epic tower defense game? This is the one for you.
This game challenges you to take command of magical heroes to protect the kingdom from hordes of evil. This time, your enemies are slimes, skeletons, and powerful bosses that are hard to defeat. Herewith, you'll have solid heroes to oppose them — wizards, dragons, and other mysterious creatures.
Beyond that, the game covers plenty of sources you may use in your favor. For instance, there are archers, towers, barricades, and loads of armor pieces that will help overtake your enemies. Needless to say, you'll need to use your strategic skills and successfully pass several rounds before the sources items will be unlocked.
Along with that, the game covers multiple locations for you to explore — from icy tundra and underground dungeons to breathtaking sky cities and all that. For now, there are over 300 rounds and more are on the way. You may also participate in special events to diversify the gaming process if needed.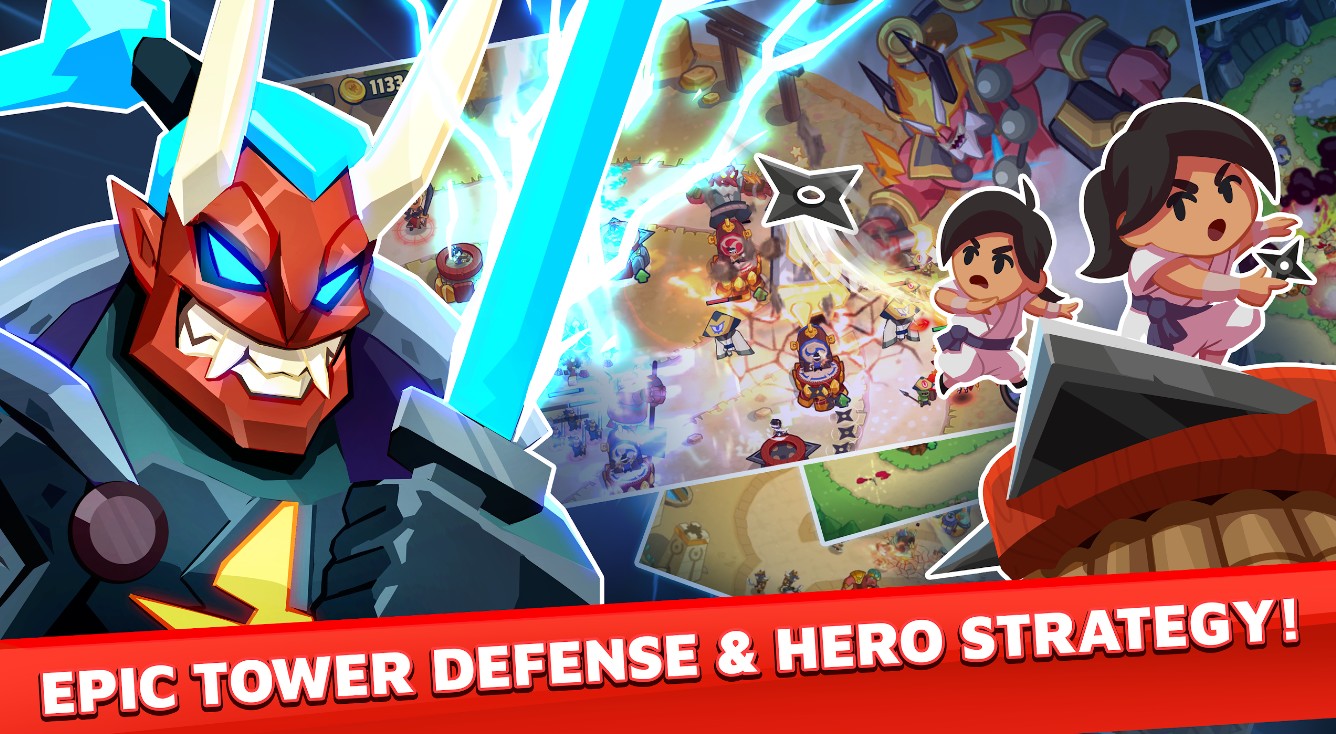 Digfender
If you're a fan of TD games but wanna try something fresh and unusual — you'll definitely like this one.
As you might've guessed this game has quite a unique concept that gathers together the elements of tower defense and dogging. Yeah, that's right — this time you won't need to protect the entrance of the castle — you'll need to protect its underground.
According to the plot, your enemies are hiding beneath your castle waiting for a perfect moment to attack. That's why you'll need to dig into the ground to collect valuable resources, powerful treasures and kick your enemies out. Plus, you'll get to place traps and towers to slow the opponents down and get the advantage.
The game covers over 70 unique chapters with increasing difficulty so get ready to think strategically challenge your brain. In case that's not enough, there's also a survival mode that will test your reflexes and fortitude. Plus, there are plenty of special events that are great for getting some extra bonuses. And the cherry on top — this game has no paid resources, so your money is safe and sound.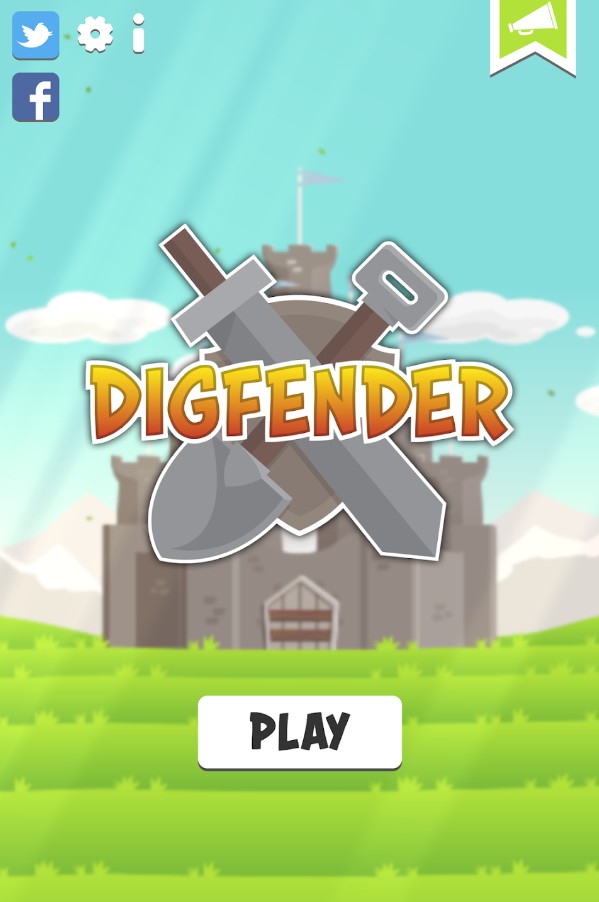 Defenders 2 TD
This is another card TD game that takes place in a fantasy 3D world.
Openly speaking, this game is made by all the genre canons- there's a wide variety of heroes, monsters, locations, and types of resources you may use during fights. In other words, if you appreciate the classics — you'll enjoy this one but if you're looking for something new — that may not be it.
Herewith, it needs to be said that this game is pretty well-made — the gameplay is great, the graphic is on the level, and the in-game world is detailed. The mechanics are simple — the monsters attack your castle, and you need to keep them away from it.
Your main goal here is to develop a defense strategy and make sure you will be losing minimal resources. As it was already said, the same covers loads of monsters and each one has unique abilities. Some of them are easy to kill when the others will take more time to be defeated. The good news is — this is an MP game, so you can team up with your mates if needed.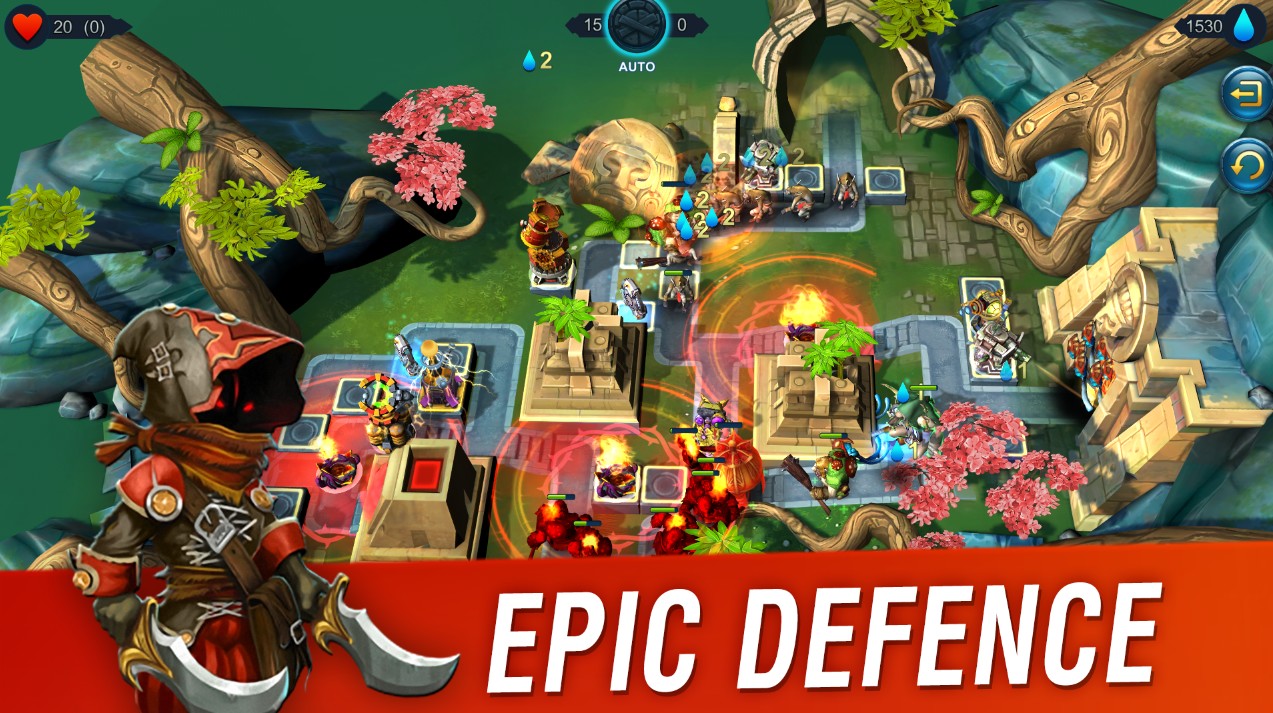 Rush Royale
Here's the game that reimagines the genre of tower defense.
The unique thing about this game is it replaces the towers with heroes — wizards and warriors. Differently speaking, hero resources is the only thing standing between the castle and enemy forces. Thus, there is no armor or traps you may use — only the powers of your people.
The game runs on increasing difficulty, so each attack will be more intense than the other. Herewith, you'll get to develop your heroes and learn new tricks while moving through the rounds, so you'll be able to handle the attacks. Plus, the game has card game elements, so you'll get to build a perfect deck with powerful heroes.
Additionally, this game is not fully dependent on your tactics — you'll need to reduce the rolls to define your moves as well. There's also an MP mode, so you may compete with your mates or random users to find out who'll protect the castle first.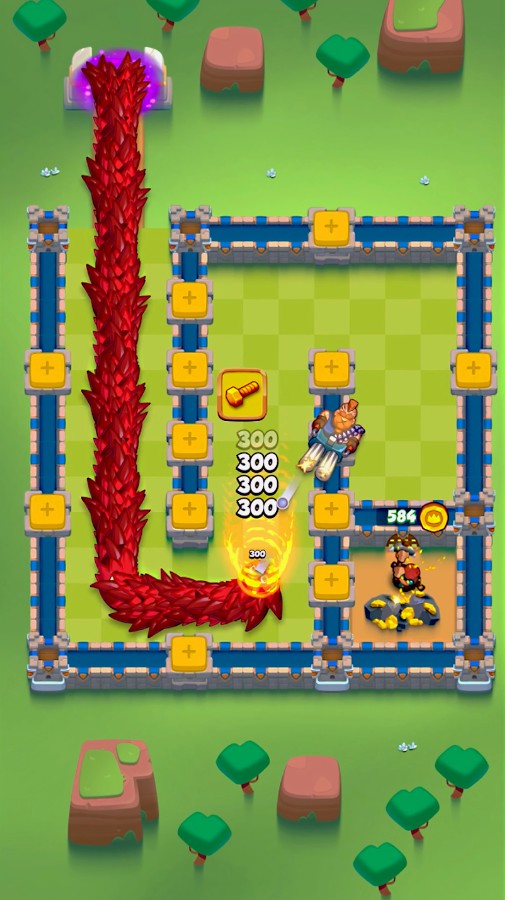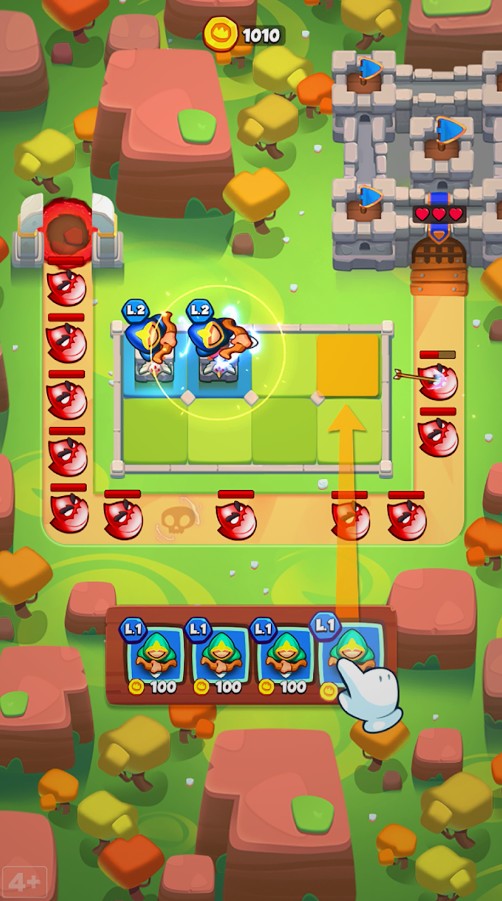 Idle Kingdom Defense
Idle Kingdom Defense lets you build and fortify your kingdom to withstand the challenges it faces. Construct powerful structures and defensive towers to fend off hordes of enemies.
As you progress, you can upgrade your buildings to enhance your kingdom's defenses. In your quest to protect the kingdom, you'll have the opportunity to recruit heroes, each with their own special abilities.
Even when you're offline, your kingdom continues to thrive, gather resources, and defend against invaders. You can return to the game at your convenience to collect rewards and manage your kingdom.
Its stunning visuals and user-friendly controls make it accessible to players of all ages. Whether you're a strategy enthusiast or new to the genre, Idle Kingdom Defense offers an engaging and enjoyable experience.
In general, this is a decent game that lets you feel like a powerful knight, however, it is possible to find even better games on this list.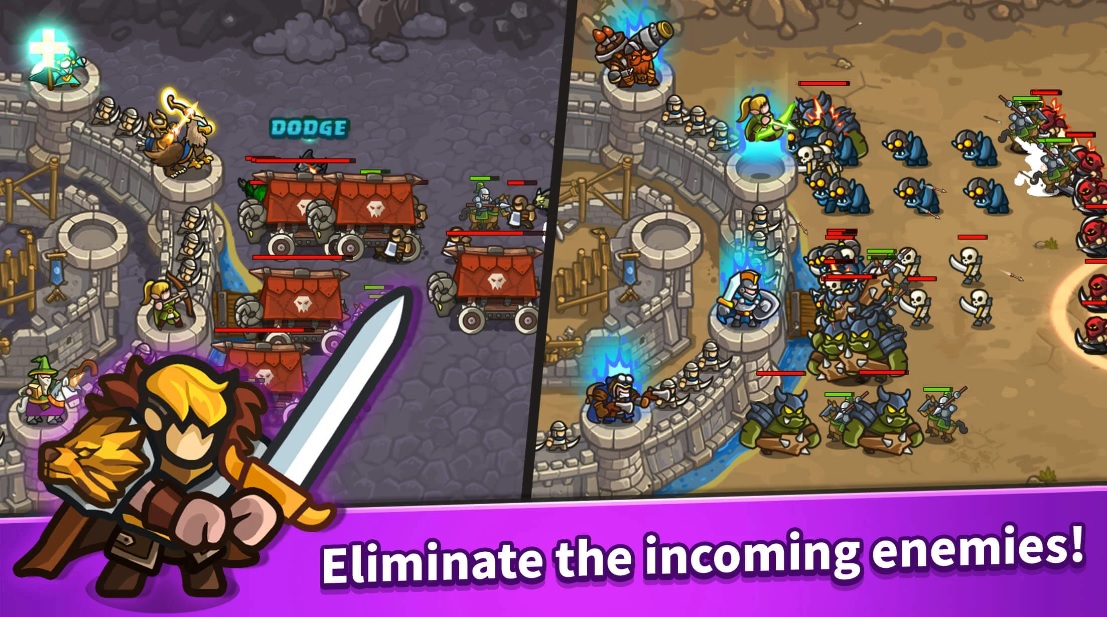 Kingdom Castle
In Kingdom Castle, your kingdom is under constant threat from enemies, and it's up to you to protect it. To do this, you'll strategically place defensive towers and upgrade them to fend off waves of adversaries.
As you earn rewards and resources from battles, you can enhance your towers, heroes, and troops, making them more formidable in the face of danger. Kingdom Castle offers both a single-player campaign and the option to play with friends.
Also, you can join forces with allies to tackle challenging multiplayer modes, adding a social dimension to your gaming experience.
The app comes loaded with features like a variety of heroes, a diverse selection of towers, and a wide range of enemies to keep the gameplay fresh and engaging. The graphics and animations add to the immersive experience, making battles come to life.
To sum up, this game is an ideal choice for fans of castle defending.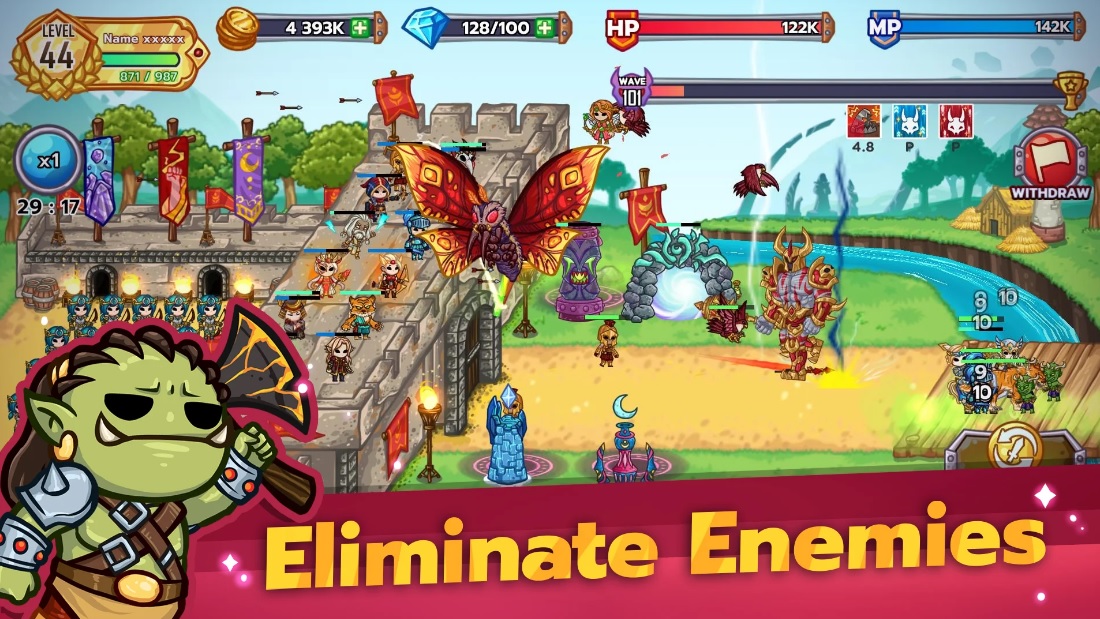 You may also check: 10 Best Naval Strategy Games for Android & iOS
Towerlands
And lastly, we have a strategic base defense game with RPG elements.
This game gives you a role of a castle lord living in a fantasy world. Herewith, your goal is not only to defend your land but take over some new ones. To cope with that, you'll need to build a city and fill it up with protective mechanisms and armor pieces.
The game covers plenty of equipment pieces, towers, and heroes, so you won't struggle with a lack of choice. Herewith, there are also various kinds of villains you'll need to overtake — from casual bandits to orcs and even zombies. As you may guess, all the monsters have different levels of lethality that you'll need to consider while developing tactics.
You'll get to overcome over 8K waves of enemy attacks and each new one will be a little more intense than the other. Each win will bring you gold that you may exchange on resources and my development by your will. The game runs on a clan system s you can cooperate e with other players.