We all love music. It reminds us of precious moments in the past and gives inspiration. Listening to music also helps us relax and have fun. But have you ever tried to make music or mix it?
By the way, if you are in love with anime, check 7 Best Anime Music Apps for Android & iOS.
In this article, you'll find the best DJ apps for your iPad! try them and become a DJ!
edjing Mix – DJ App Mixer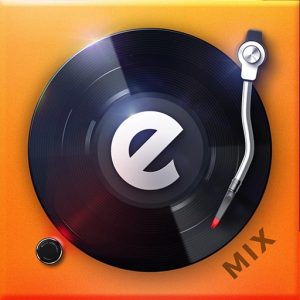 This application was created with the help of professional DJs and musicians. When you open the app for the first time, you will see a great DJ set.
You can use this setup anytime you have your iPad with you.
Now let's concentrate on the best features of edjing Mix:
Find the largest music library

. if you want to mix music, you need to have at least one track. Thanks to the library, you won't need to browse the Internet and download music manually. At the moment, there are over 70 million songs available. It will save you time and energy.

Upload your music files

. If you don't want to use the music from the library, feel free to import your tracks thanks to integration with Google Drive, iCloud, Dropbox, and many other services.

Cool music effects

, such as loops and unique beats.

Check

advice and tips

. If you are new to DJ-ing, these tips might come in handy.
At the moment, the app is available on the App Store. It is rated 4.5 out of 5. Users love its simple interface and a big set of free options.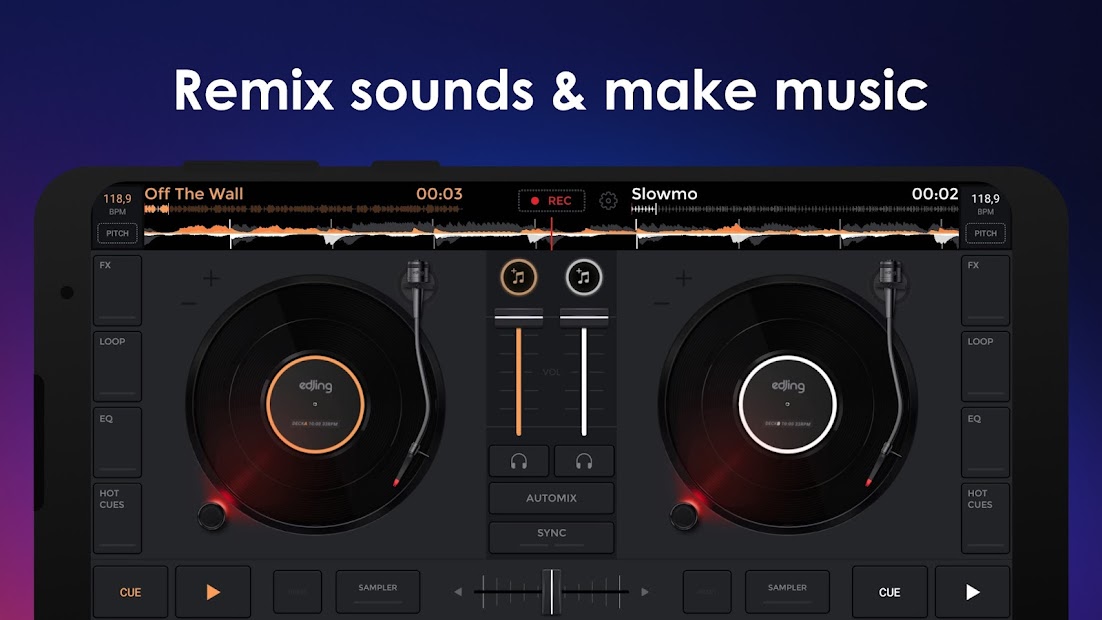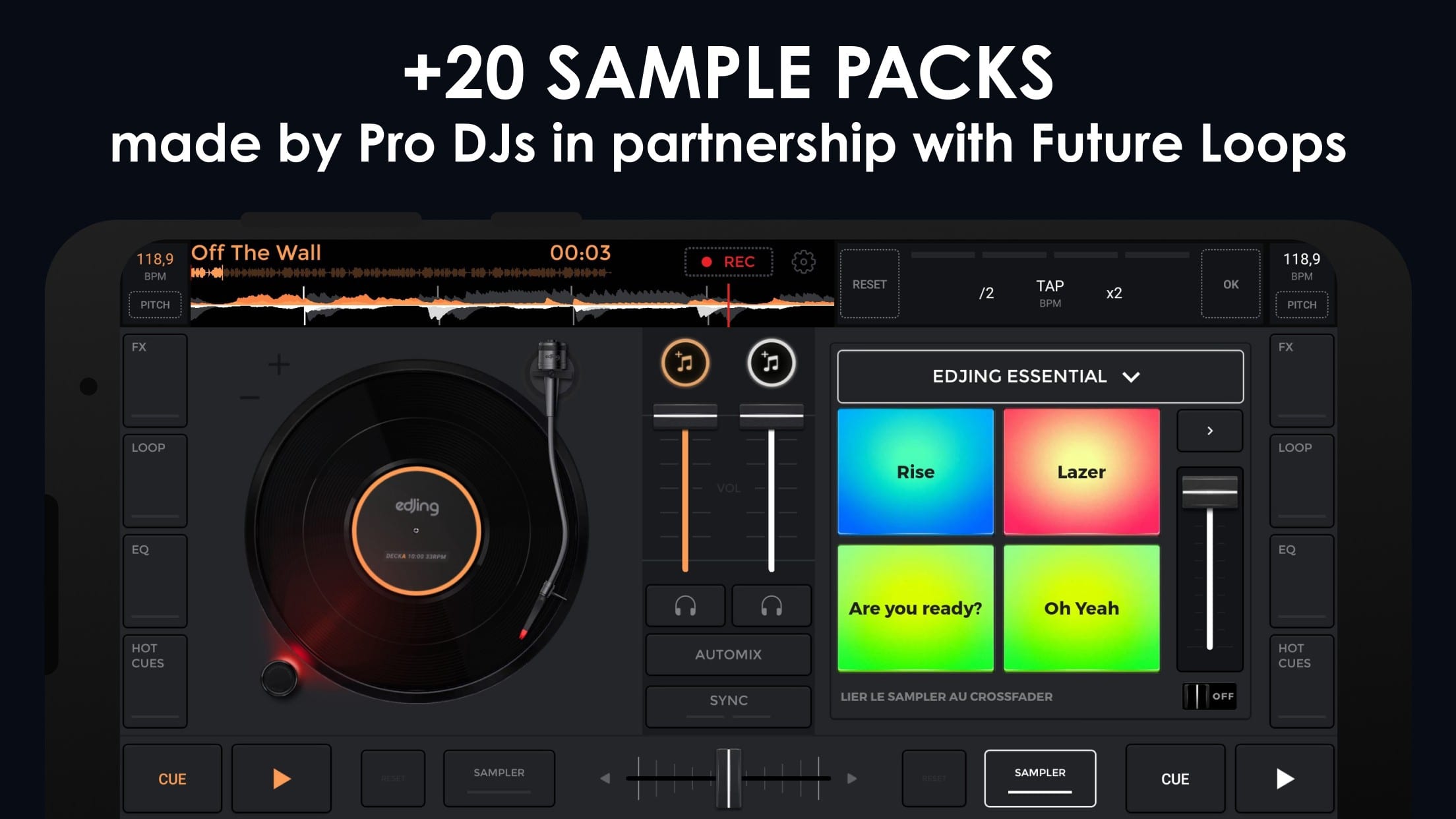 You may also like: 9 Free Apps for Music Mixing (Android & iOS)
djay – DJ App & AI Mixer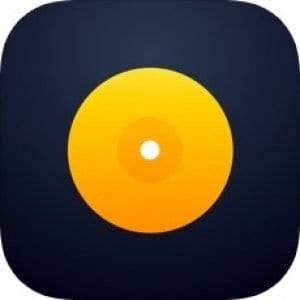 Do you want to make music from scratch? Then this is the best tool you can find on the App Store.
It was created by professionals for professionals. This is why we wouldn't recommend this app for beginners – it might seem too complicated.
Here are the best options you will love about djay:
Use isolated instruments. You can work with isolated vocal sounds, drums, and beats, and use them the way you want. If you want to create a new song, you can't do it without this function.
Go for loops. If you need to create a song when another one is playing in the background, the loop feature will help.
Try auto mix. This feature will mix music instead of you. Sometimes it might be even cooler than mixing manually!
Enjoy a smart UI. There is a big number of buttons and options, and it might be easy to get lost. Thanks to a simple navigation and UI, it will never happen to you. There is also a dark theme that looks so smart.
Use built-in audio effects. There are about 50 of them. The good thing is that you don't need to import these sounds.
Make music anywhere you want. The app will work perfectly on your PC, iPad, or iPhone.
djay supports various foreign languages, such as French, Italian, Japanese, and Chinese.
At the moment, the app has a pretty high rating, 4.8 out of 5.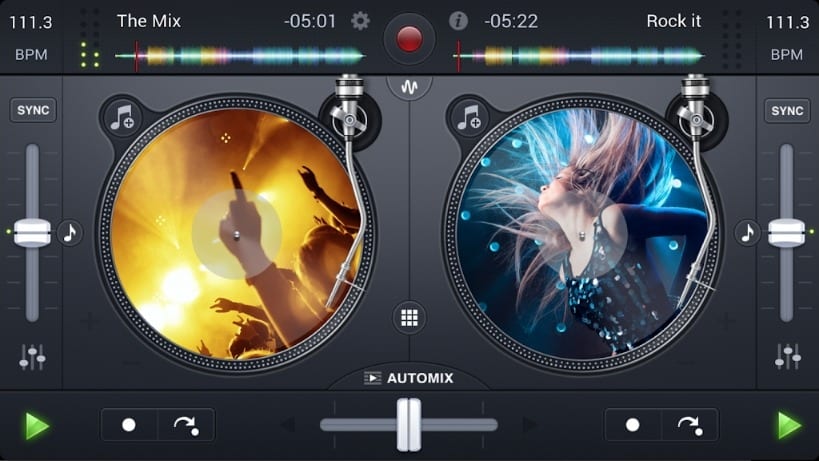 Beat Maker Pro: DJ Drum Pad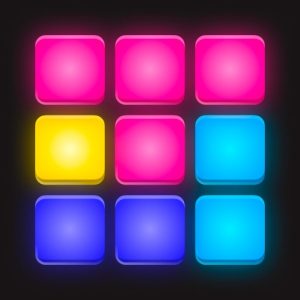 If you are interested in making cool beats, this is the right app for you. This is the best application for beginners who have no idea about how to make music.
The greatest thing about Beat Maker Pro is its simplicity. You don't need to know anything about music and beats.
When you open the app, you will see

big colored buttons

. When you press a button, you'll hear the sound. That's how it works! The drum pad is intuitive and simple, allowing you to start from scratch.

If you know nothing,

tap on 'Lessons'

and watch videos on how to make cool beats. It will take you about 15 minutes to learn the basics.

Choose your favorite style

of music. For instance, if you are in love with hip-hop or jazz, stick to these styles.

Share your music

and try to earn

Superstar status

. To do it, you need to get reactions from other users.
And all of these features are available at no cost. There is also a premium subscription that allows you to expand the options available.
You can get Beat Maker Pro on the App Store.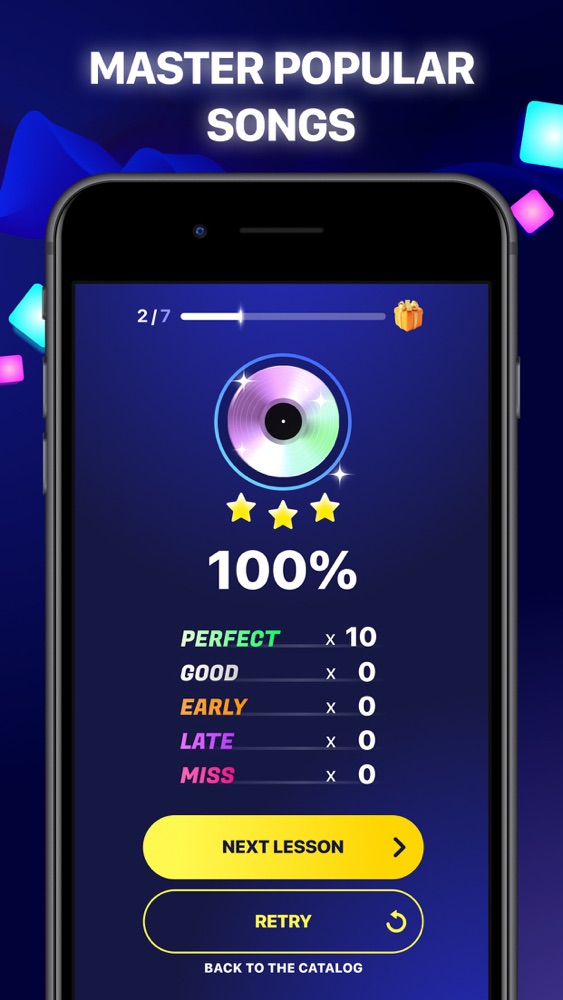 DJ Mixer Studio: Remix Music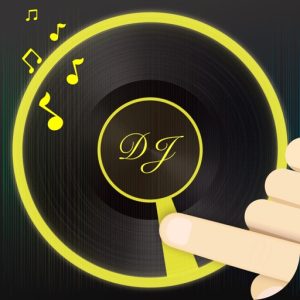 If you have a little experience in DJing and mixing tracks, then you might need a powerful app with impressive options and a simple UI at the same time.
This app will be a great solution both for beginners and skilled people. Let's see what you can do with the help of DJ Mixer Studio:
Advanced music editor and player

. You can just listen to music or make mixtapes.

Import music

from anywhere you want. If you store your music files in Google Drive or Dropbox, you can import your files at the click of a button.

Make your tracks

and store them in order. One of the best ways to do it is using playlists. You can divide music by their genre, for instance.

Loop the songs

you like most of all.

Save you music

on your iPad or share it in the social media.

If you are afraid of losing your precious results, feel free to synchronize the app with iCloud. This backup will ensure that nothing will be lost.
We recommend this DJ app for everybody – it is simple and contains enough functions for editing and mixing music.

Cross DJ – dj mixer app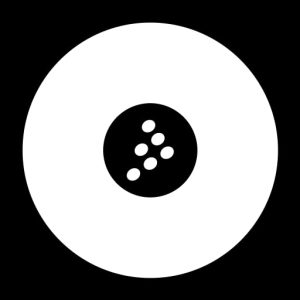 It's high time you started mixing like a pro! With Cross DJ, it will happen very fast. The interface is realistic, it reminds you of a real DJ setup, and the range of options is also impressive.
What can you do to be a new DJ or a king of music at a party?
Use the split audio option – if you want to listen to the music before you start working with it, it's not a problem – do it as many times as you need.
If you can't start mixing from scratch, don't worry – just use the built-in samples. There are over 50 of them.
Go for auto-sync. If you need to merge 2 tracks, and you don't know how to do it correctly, this is a good solution.
Integrate with your iTunes account. It will allow you to import the files instantly, as well as export the result.
All the functions above are available at no cost. There are in-app purchases as well. If you go for it, you will get some additional options:
New

fresh samples

. Your music will be different from others, as you will have more tools to make it diverse.

Better sound effects

, such as delay and various types of bass.
Unluckily, some bugs haven't been fixed yet. For instance, if you try to log in via Facebook, you are likely to face the 404 Not found error. The only solution is to use other ways of authentication.
By the way, if you want to find the best heavy music, you need to look at 7 Best Heavy Metal Music Apps for Android & iOS.
However, if your aim is to start, having basic features is enough. You can download the app and start mixing on your iPad!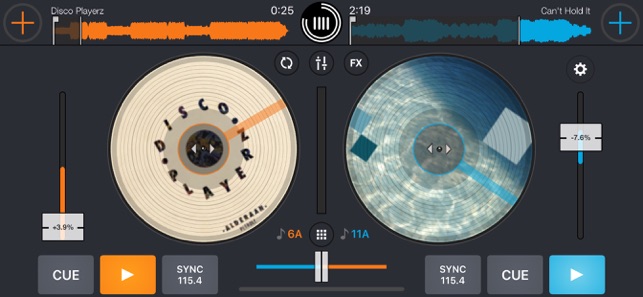 Pacemaker – AI DJ app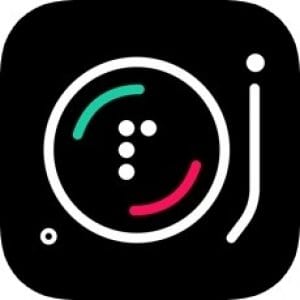 Here comes a great app for people who want to surprise their friends and become the main DJ at a party!
Even if you have never tried mixing music, it's never too late to start. Just open Pacemaker and let it teach you how to become a DJ.
What can you do with the help of this application? To make a long story short, it combines 2 main options – a DJ set and a social network devoted to music.
Import music

from popular services, such as Spotify and Apple Music. The synchronization will help you import your favorite songs in a few seconds.

Edit the music you have

. To do it, go to the Studio section. It contains all the necessary tools.

Share the mixtapes

you have made. Instant reactions will let you know if people like your music.

Follow people

whose music seems cool to you. Others can follow your account as well.

Leave comments

under other people's mixtapes. It allows you to interact with others, share impressions and collaborate.

Use the app on all the devices you have. You can do it even on your wearable devices, such as Apple Watch!
Please, note that the app will collect data about your location, contacts, and some other details. There is no way of rejecting this.
Get Pacemaker now and start creating charming and dynamic mixtapes!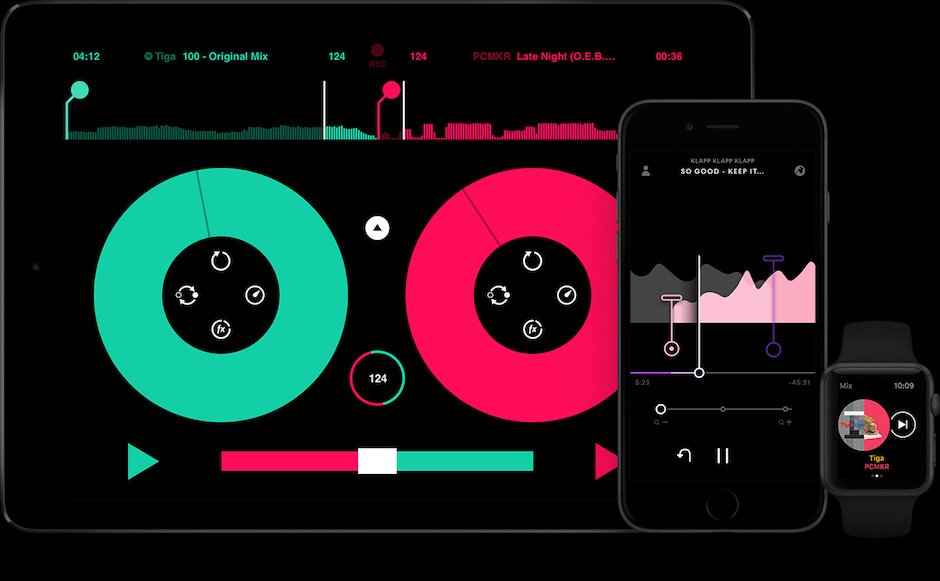 Remixlive – Make Music & Beats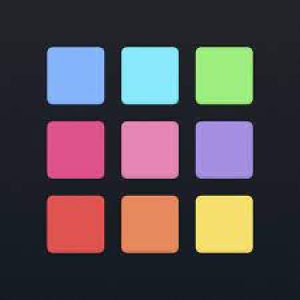 Here comes a truly universal application for everybody who loves music. Your skills and experience don't matter – you can start from scratch.
As you see from the title, this app is about remixes. Let's see how you can make them:
Get access to

the best samples

. At the moment, there are over 26000+ of them. Mix them the way you want!

Import sounds

from various sources. It can be a site on the Internet or your device.

Record tracks

right from the app. If you don't have a sound and you have to record it – just tap on the screen.

Remix your tracks using an

advanced AI algorithm

that will analyze the beat and the rhythm.

New sounds and samples

are being added every week! Don't miss new features and don't forget to update.

The app is

free of charge

. If you start with the basic options, you don't have to pay at all. And basic options are extensive – they cover most of the needs of DJs.
Another great thing is the size of the application. The full DJ set will need only 50 MB of your iPad memory.
What is more, Remixlive collects no data about you. This is great for those who worry about their security.
Download the app and make your unique music!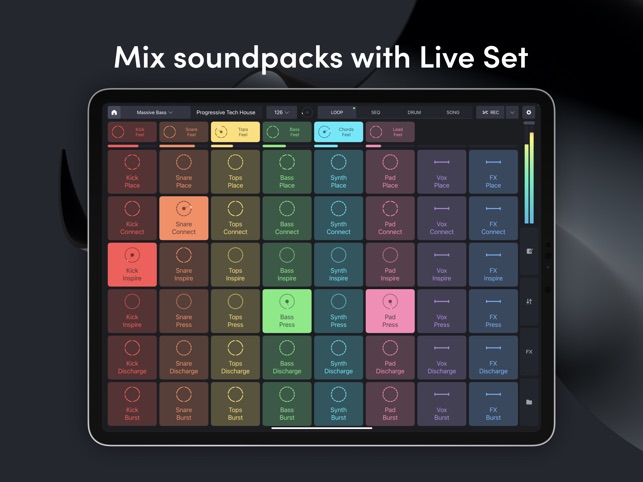 Song Maker : Music Mixer Beats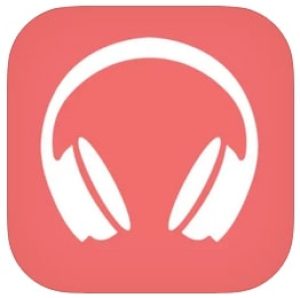 This application will be a good solution for people who have some experience in mixing and making music from scratch.
If you are keen on creating new hits and using your imagination, Song maker is what you need. Why should you give it a try?
Explore the world of different musical instruments and the sound they make. You can add drums, guitar sounds, gentle piano, or hard bass. The library of sounds and samples is truly impressive.
Enjoy the 3-in-1 feature – if you download the app, you will get a great music editor, maker, and mixer.
Choose your favorite style. It can be anything, from hip-hop to jazz.Song Maker allows you to choose the best style and then make music according to it.
Save your amazing tracks and then share them with the world! You can share via social media or export the file and send it directly.
The app will collect data about your location and device usage, and you can't prevent this.
However, the app lacks some important functions, which makes the process so uncomfortable and hard.
First of all, there are no mass functions. For example, if you want to add (or delete) 100 samples, you will have to do them one by one. Secondly, there are too few bass samples.
Download Song maker for free on the App Store.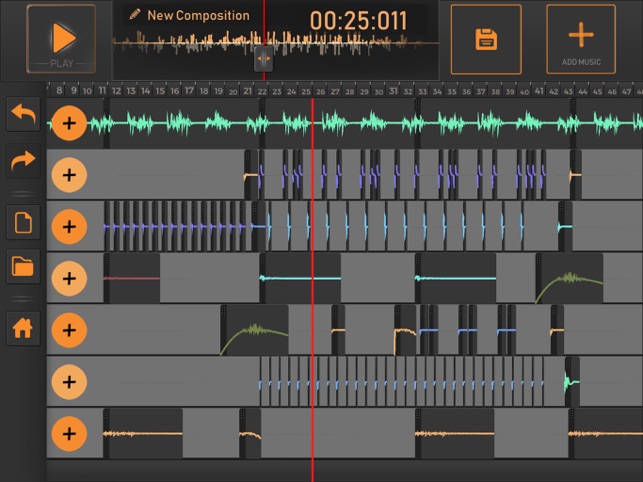 Traktor DJ 2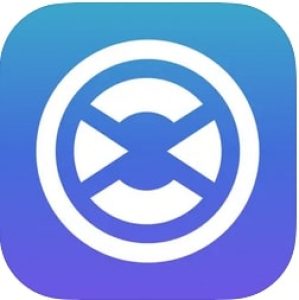 If you are a DJ and you are looking for top-notch and free software, you need to take a look at Traktor 2. It will be particularly useful at a party.
How to use it? Download it on your iPad and start:
Always

mix tracks

! If you have two dynamic and cool tracks, make sure to mix them. Thanks to the auto-mix option, you can do it instantly and just enjoy a new masterpiece.

Use sound effects

, such as loops, freezes, and many other features that will make your tracks so unique and outstanding.

Record your music

. If you love improvisation, and you would like to save its result, don't hesitate to record your mix tape.
Nevertheless, there are some problems connected to Traktor. For example, some users complain that they can't use the music from their iPads – the app just doesn't 'see' it.
Secondly, the app lacks stability. Users report instant crashes and progress losses. This is totally frustrating for most of them.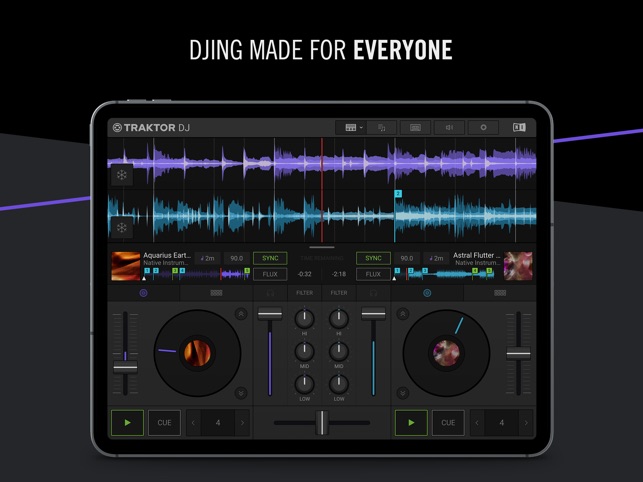 You can also check: 7 Best Music Speed Changer Apps 2022 (Android & iPhone)