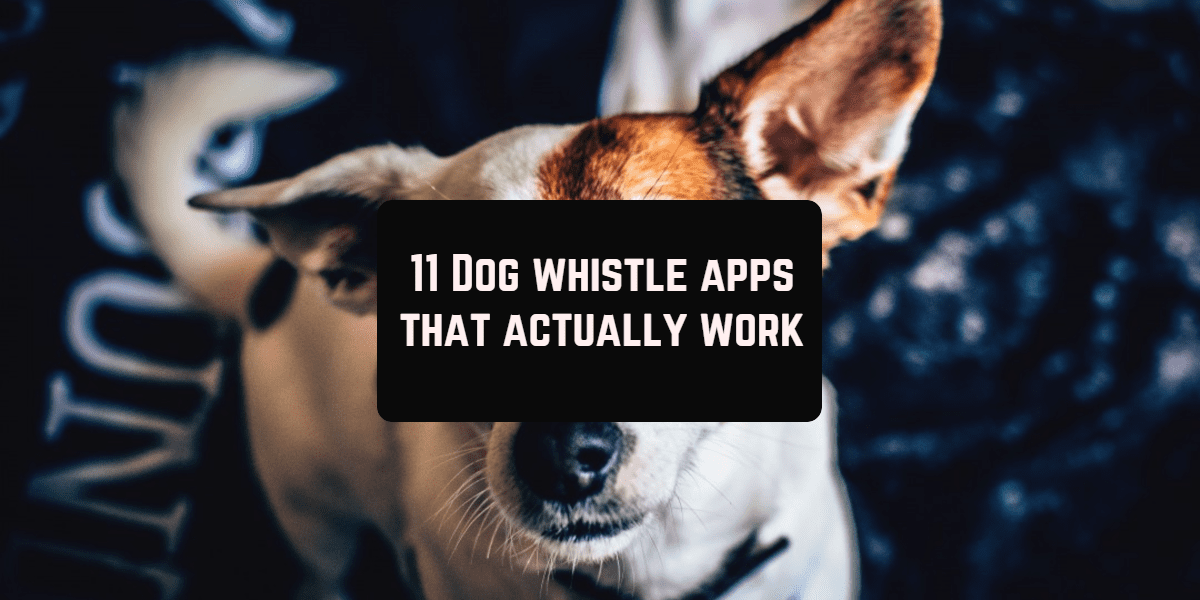 Dogs are humans' best friends. It is a known fact that people are interested in everything relating to their favorite pets and they do all they can do so their dogs could have the best life possible. However, dogs' training can be complicated and requires a lot of effort.
Moreover, many people simply don't understand how to communicate with their dogs so they could have good relationships. Luckily, today we have many apps which are imitating whistling which will make the dogs obey or, at least, make their behavior a little bit better.
Dog Whistler
With this app you can train your dog or annoy your friends using whistling tools. The system allows to choose a number of various sounds with different frequency. You can regulate the tone of whistle, set short or long beeps, choose slow 500Hz oscillation, What is more, you can create even a ringtone using these sounds! You can share your achievements and remarkable cases via Instagram and Facebook.
Create your own whistle which your dog will respond to. Or try different frequencies and sounds and find out which of them actually work for your dog. Sounds can be applied in a variety of ways.
For example, if you want to teach your dog to stay away from a certain place at home you can just set an alarm with the sound from this app. Some users even say they can use it as an anti-mosquito device.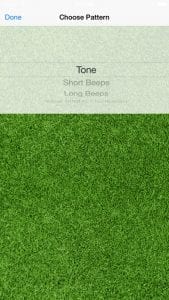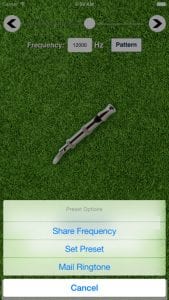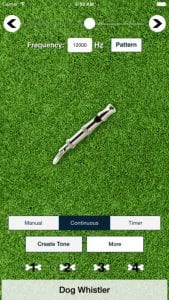 back to menu ↑
Dog Whistler Free: A Step by Step Guide to Teaching Your Puppy and Dog clicker sound
This one app was created for training your dog using whistle sounds and it contains the full guide and practical advices on how to train a puppy or a grown dog better.
Teach your pet all the basics, watching special video tutorials which will explain to you all the aspects of this activity. Your dog will learn how to do interesting tricks. And how we all know, tricks are a great way for you and your dog to communicate with each other. And guide you how to teach your dog Sit, Down, Up and Stand, "Play Dead", Roll Over, Catch a Frisbee in the Air, not to Bark…
Launch the app and click on the circle with the type of dog which is related to that one you have. Then you will be lead to the list of available pieces of training and sounds to start. The app will also tell you about special features which every kind of dog has.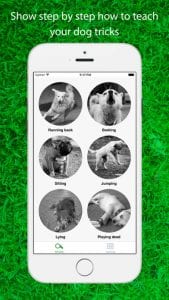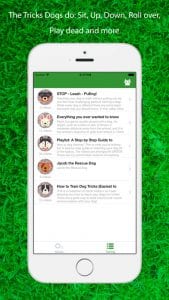 back to menu ↑
Dog Whistle Free clicker training and stop barking
Yes, we know that dog's barking is probably one of the most annoying things related to having a dog, but the solution is also here. Once again, it is a known fact that dogs are sensitive to ultra sound, so here you can choose a frequency and apply it on a dog. Train your dog, teach it how to do tricks, recall your dog without trying to whistle yourself like crazy.
It is also can be used as anti-dog repellent. These sounds can be also heard by different animals – cats, for example. The app has fun animated, yet simple interface. Remember to not abuse your animals! Don't play too loud or too long – it might cause headache or damage hearing. It might be a crime, so don't use this app on puppies or other small pets.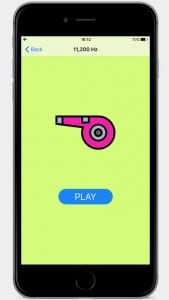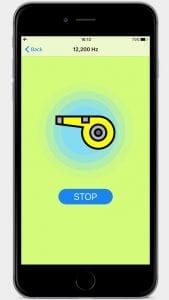 back to menu ↑
Dog and Cat Whistle & Clicker
Do you have problems while training your dog? Things must become easier after you start using this whistling app for pets. Choose different sound patterns and see which one is better for your dog's reaction. You can also change the frequency of the sound (like in all the previous apps).
What is more, in the app you will find a list of valuable tips on how to get on well with your pet, how to train it right and how to use the sounds from the app. There is also an option "tip of the day" where you can learn some interesting facts about dog's behavior. So make your problems disappear with this Dog and Cat whistle.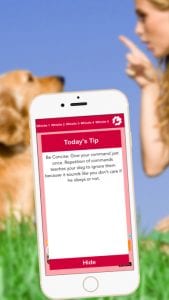 back to menu ↑
Dog Whistle, Trainer 2017
Another fun app to train your dog using whistling sounds. This app includes 12 different types of sounds. And unlike the others, this one app has a really nice interface which is not boring and pleasant for an eye. You can choose the type of a sound with different frequency by clicking on different whistles. Here you will also find instructions on how to apply all these whistles in the best way on your dog.
For example, you go for a walk with your dog and it sees a cat and runs away in unknown direction chasing it – just launch the app and harness the appropriate sound. Besides, you can teach your dog to do distinguishing tricks when it hears a sound.
Some people may be displeased when your dog is barking so you can use this app to calm it down too. In general, you can prevent any type of bad behaviors of your dog by simply using this app.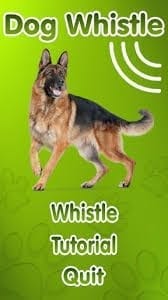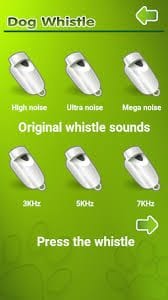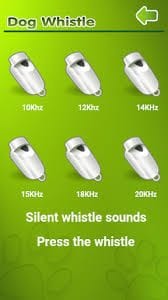 back to menu ↑
Dog Whistle. Train your dog
If you are confused on how to communicate with dogs these apps will fix the situation. Besides it has various sounds with different frequencies, it also includes timer and tips on how to train dogs. There is a possibility to use this app in the background mode. Just keep in mind that some phones have not really good dynamics so they are not able to play these sounds.
When you play the sound you can regulate the volume or press pause button. After you have chosen which type of whistle you want to play you will be suggested to chose the frequency to affect your pet.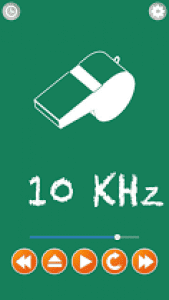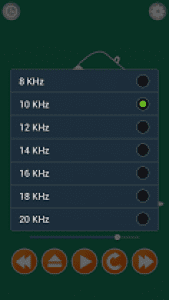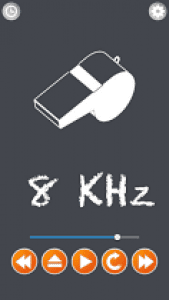 back to menu ↑
Dog Whistle Free Animated
This is an extremely simple, yet funny app. It also has various types of whistling for dogs. We all know that they can be manipulated by choosing different frequencies. You can choose many frequencies from 1333Hz to 20000Hz.
When you have chosen the sound, you play it and you see a funny and cute picture of the dog on your screen. Just like in case with previous apps you can use these whistling to scare dogs away. But whatever, your pieces of training with a dog will become more fun and interesting if you add an app like this.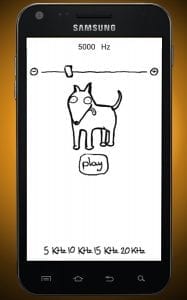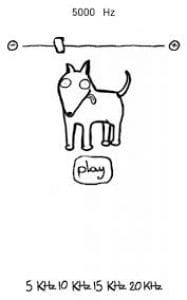 Currently unavailable
back to menu ↑
Dog Whistle – The best dog whistle of Dog Training
Normally, a dog whistle is within the range of 16000 Hz to 40000 Hz with only the frequencies below 20000 Hz audible to the human ear. These high-frequency tones have the effect of immediately getting a dog's attention. Our dog whistle has adjustable sliders for active control of the frequency produced. There is one more interesting fact – you can use this app also for testing the sounds of which frequency you are able to hear like a human. Use a tone generator to set the signal. Regulate the level of the sound.
There is also saved setting bar which will save all your corrections. Remember that the dog needs to associate a sound with a command. Just keep repeating the sound until your dog will start to understand it in a correct way. Then you will teach your dog tons of commands and tricks. This will also improve your relationships. Moreover, it is much easier for a dog to remember commands by a tone than by some verbal signs. For example, two short bursts could mean stop and one long burst could mean lie down. Dog whistles are great training tools and has been used successfully with all breeds.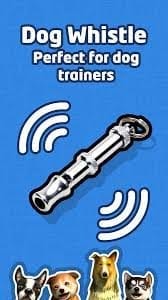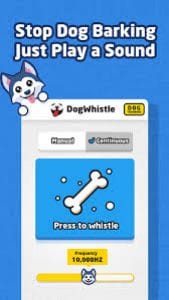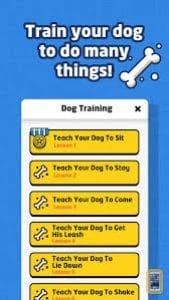 Currently unavailable
back to menu ↑
Dog Whistle PRO
It is a known fact that domestic pets are able to hear the sounds which are non-accessible to the human ear. Using this method of ultrasound influence on training people nowadays can train their dogs with the help of smartphones. In this app you will find different types of dog whistle.
If you are unlucky to have a dog which is not used to obey to its owner, probably this app will improve the situation. Or you can use it to protect yourself from an aggressive animal. Some sounds which have certain frequencies you will not be able to hear. All you will hear will be weak noise. But you can be sure that your dog will hear and percept those signals. Remember that this also can irritate animals so do not overuse it.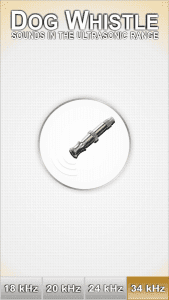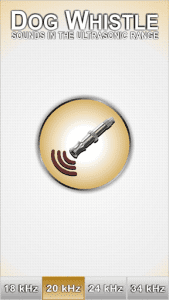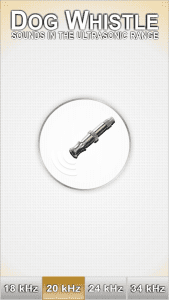 Currently unavailable
back to menu ↑
Free Dog Whistle
This app has ultrasounds which animals can hear but humans cannot. However, it will not hold you back from training your dog using Free Dog Whistle. Or use it to disperse teenagers, since teenagers can hear certain frequencies that adults can't hear.
As in the case with the previous app, you can change the frequency of the sound, choose the volume of the sound, pick a certain sound type, choose between different pulsed sound modes.
The app has a non-complicated interface and easy to use, but it is all you need to train your dog. You can use this app to scare away mosquitos too, by the way.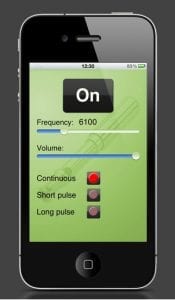 Currently unavailable
back to menu ↑
Dog Whistle, Free Dog Trainer!
For all dog owners out there, have you ever had a problem when your dog is barking at your neighbors and they get mad? Now you can solve this problem using this dog whistling app.
Teach your animal friends how to do cool tricks, adjust your dog behavior. For those people who do not have a dog, but maybe afraid of them – you can also use it in dangerous situations to make a dog go away. Or maybe you are the one who is annoyed because your neighbor's dog is barking all the time. Then you also can calm it using sounds from this app. Your dog will finally stop barking anywhere and you can use this app to annoy your friends.
Application generates frequencies ranging from 100 to 22000 hertz. Dogs are perfectly capable to hear these sounds. Just remember not to overdo and keep in mind that abusing animals is not allowed. The app also contains useful information about dog's training, basic tutorials on how to make them work and setting so you can adjust your sound to the appropriate level.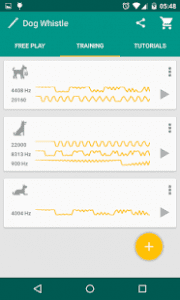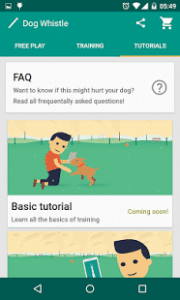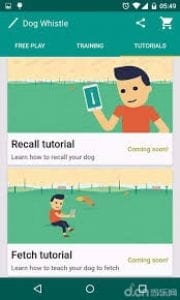 Currently unavailable