I recently came across a nice little game called Don't Be A Hypebeast, and let me tell you, it's an absolute blast! If you're into casual games that are simple yet addictive, this one is a must-try. Plus, there are some quite tangible benefits to win.
You may also like: 7 Best Frogger Games for Android & iOS
So, it's a fast-paced, reflex-testing game where you play as a character called "Dopestein" who moves across the screen and fires bullets. Your task is to swipe your finger across the screen to move him, and tap to fire. You need to shoot and destroy all the Hypebeast logos to get a high score. As you can see, the game is very intuitive and easy to pick up.
You have three lives, but you lose one each time you miss a Hyperbeast logo. Occasionally, you may get an extra life. But if your character collides with the Hyperbeast logo, you lose and die. Basically, it's a test of your observational skills and quick thinking.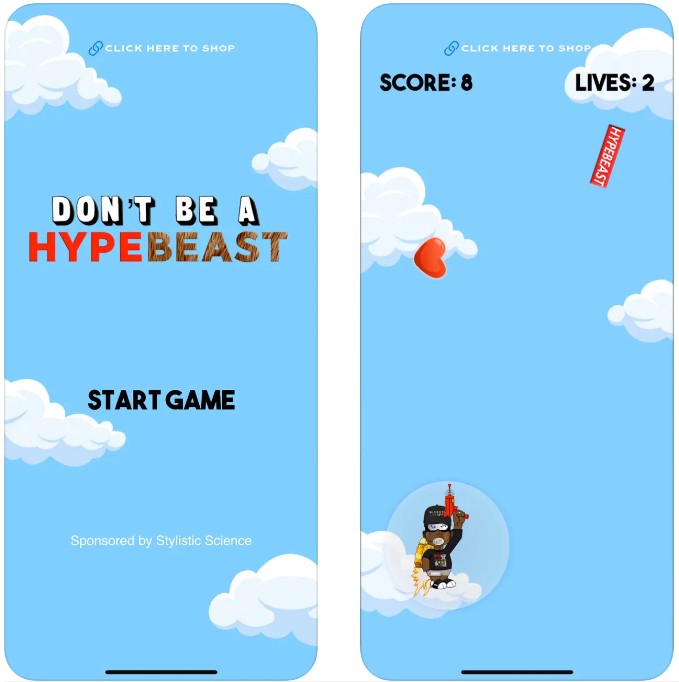 The best part is that when you achieve a high score, you receive not just a sense of accomplishment, but also something more tangible. If you score 50, free shipping on a "Stylistic Science" online order is yours. And if you manage to beat the game, you'll get a discount of 25% off of one "Stylistic Science" product. You just need to send a screenshot of your high score to the brand to get your promo code.
You may also like: 11 Best Adult Party Card Games for Android & iOS
What I wanted to say, is that Don't Be A Hypebeast is a fantastic game that combines simplicity with addictive gameplay. It's a test of your quick reflexes, and the satisfaction of winning is pretty real.
Don't Be a Hypebeast is a unique mobile application available on the Apple App Store designed to educate and entertain users about the world of sneaker culture and streetwear fashion. The app aims to bring awareness to the dangers of consumerism, hype-driven purchasing, and the negative impact these behaviors can have on both individuals and the environment.
The app provides a wealth of information in an engaging format, offering users access to a comprehensive database of iconic sneakers, streetwear brands, and their histories. With detailed descriptions, high-quality images, and even user reviews, the app allows users to explore and learn about the latest releases, collaborations, and trends in the sneaker and streetwear industry.
Furthermore, Don't Be a Hypebeast encourages responsible consumerism by offering educational content about sustainable fashion practices, ethical production, and the importance of being mindful consumers. The app also provides tips on how to differentiate between genuine products and counterfeits, empowering users to make informed purchasing decisions.
In addition to its educational features, the app provides an entertaining component with quizzes, games, and challenges that test users' knowledge of sneaker culture and streetwear fashion. Users can compete with friends and earn achievements as they progress, enhancing the overall user experience.
You may also like: 17 Free RPG Games for Android
With its dual focus on education and entertainment, Don't Be a Hypebeast serves as a valuable tool for sneakerheads, streetwear enthusiasts, and anyone interested in learning more about the sneaker culture phenomenon while promoting a more conscious and responsible approach to fashion consumption.