Modern and stylish clothes are expensive. What if you have a party tomorrow but don't have a new dress? You can rent your perfect dress. You will pay a lot less money. You don't need to spend large sums of money on clothes.
You may also like: 17 Best Online Shopping Apps for Android & iOS
Rent a dress and you can change your image several times. Amaze everyone at the party. No one will guess that you rented a dress. There is a list of the best dress apps for Android and iOS. Try them all or choose only one.
Rent It BAE
This app allows you to rent a dress for any occasion. This app is very simple to use. You will be given 2 pieces of clothes and one accessory. You can keep them as long as you want.
Then you can exchange this clothing and accessory for a new one. Do it again and again. You can rent the dress of your dreams. You will be the soul of the company.
The app will allow you to rent not only dresses but also clutches, bags, jewelry, and watches. You can choose the perfect look for going to the theater or corporate party. The app has an excellent search engine. You can search for clothes by color, price, size, or patterns. You have never seen such a convenient search system.
Luxurious and popular brands await you. Add products to the favorites section. You will quickly find them at your next rental. You can share your favorite products with your friends and family members using social networks.
They will feel the attention of you. Try renting yourself a new outfit every day. The app has been downloaded more than 50 thousand times.
You may also like: 15 best apps to buy clothes on IOS & Android
Rent My Wardrobe
Download this app and you will never wear the same thing twice. You can rent clothes at local stores at low prices. Everyone will be surprised by your huge wardrobe. Are you planning a party?
Rent the best dress and shine bright. This is a great way to save money on clothes that you only wear once. The app has a huge selection of clothes and accessories.
Search for clothes is simple in this app. Use search filters. Sort clothes by size, color, location, and other filters. You will quickly find the perfect outfit for yourself. Discover and try new styles.
You can select the available rental dates after choosing clothes. You can only wear clothes once. Update your image every day. The app will allow you to write to the owner of the clothes. You will have a nice conversation.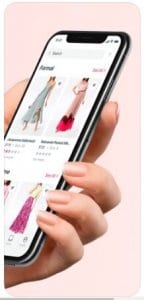 Style Theory: Rent, Wear, Swap
Do you dream of changing your outfit every day? Your dream may come true. This app allows you to rent 3 styles at once. This is great for fashionistas.
All the clothes are ironed and dried. It is clean and you won't have any problems wearing it. Only you can choose the place and time of receipt of clothing. Rent a princess dress for prom. You will be stunning.
The app has ready-made outfits. Professional designers and stylists create beautiful looks for you. You are waiting for more than 200 different fashion brands.
Choose accessories for your dress. The app has a huge selection of bracelets, chains, and pendants. Choose hair accessories. You can become the most beautiful girl in the world. You will be surrounded by the attention of your mate soul. The app has been downloaded more than 100 thousand times.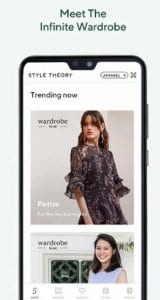 Flyrobe
This app is suitable for both women and men. You will find tons of beautiful clothes. You will find an intuitive user interface. Are you looking for a wedding outfit or party?
The app will allow you to pick up any outfit. Rent what you like. You can wear something new for every occasion. Your friends will be in shock. Nobody will know that you rent your stylish things.
The app has products at different prices. You will definitely find what is affordable for you. Most of the clothes are of high quality and nice material. You won't have an allergy to these natural components.
You can select the premium clothing section and find something for yourself. The app has many sizes. You are waiting for more than 1000 different styles for women and men. Don't forget to choose the accessories. You will look beautiful.
Rent the Runway
Rent the Runway is one of the most trending apps at the moment that involves a great idea of using the clothes. Moreover, it fits this list just perfectly. Here you can find the finest designer dresses, and rent them for a couple of hours, for a day, a couple of days – as long as you need.
Actually, in this app, you can rent not only dresses but any kind of clothes from the most diverse brands. This idea of the app is actually really cool since nowadays, with all the Instagram fast fashion many people just need an outfit for one photoshoot and then they will never wear it again.
So why waste time, money, and, what is more important, pollute the atmosphere by throwing clothes, that you wore one time, away? Just take it for a lease!
You may also like: 7 Best clothes swap apps for Android & iOS
The Clothing Rental
This is not the most popular clothing rental app ever, but you can give it a try. If you go to the reviews section, you will see that they are not very positive – however, for some reason, users expect that the prices in the app would be lower than on the official website of this company.
And by the way, this company has been existing on the market since 2005 so it has a certain history. In general, the app is quite simple and reminds of a standard Android app – but maybe that is a plus since you open The Clothing Rental and can easily navigate yourself on the app.
In the app, you will also find several categories that will make your user experience even easier – men's wear, women's wear, and so on. After you picked up the items, you just check at which address you can pick them up or order a delivery.
Your Closet – Smart Fashion
This app will allow you to rent dresses and clothes. You can also lease your clothes to make money. If you go on a trip, you don't need to take a whole suitcase of clothes.
You can rent it at the place of travel. Open the app and enter your location. The app will show you all the available clothing rental points. It is simple and fast. You don't need to puzzle what dress to take with you. You can select it locally.
The app has a special calendar. You can book a date and rent clothes in advance. Are you going to an important event? Choose a date and dress, no one can rent it. It is convenient for business people.
You will keep everything under your control. The app will help you organize your wardrobe. It is an extremely popular app. It has been downloaded more than 1 million times.
Le Tote – Fashion for Rent
Do you urgently need to change your outfit? Don't you want to spend large sums of money on new clothes? We have found a solution to your problem. Download this dress rental app.
You can rent not only dresses but also any other clothes. The app has a huge range. You will definitely find something you like. Look at the clothes and choose the price to rent. You can use product search filters.
You can use the filter of size, color, model to find the clothes of your dreams. Select a pick-up point. You can rent clothes and dresses for a specific date. The app has a special booking calendar.
You will discover a new world of fashion. You don't have to spend thousands of dollars on clothes anymore. Just rent it for a while. It is convenient for those who travel a lot.
You may also like: 20 Best Black Friday Shopping Apps for iPhone and Android
MADThread
The hallmark of this app compared to all other ones is that here you will find the prevailing amount of dresses. The app mostly includes the brands of clothes that focus on elegant dresses, classic style, and office style. It might even seem that the app's target audience is 35+ however, young girls can find a lot of interesting options for them as well.
Another feature that distinguishes MADThread from other apps on this list is that here you can both shop for the clothes and rent it.
The assortment of dresses that you can find here is extremely diverse: you can find a dress for a wedding, for a date night, for a prom, and any kind of other special events. The app used to be available on both platforms, but now it can be found only on Google Play.