Modern and stylish clothes are expensive. What if you have a party tomorrow but don't have a new dress? You can rent your perfect dress. You will pay a lot less money. You don't need to spend large sums of money on clothes.
Rent a dress and you can change your image several times. Amaze everyone at the party. No one will guess that you rented a dress. There is a list of the best dress apps for Android and iOS. Try them all or choose only one.
You may also like: 17 Best Online Shopping Apps for Android & iOS
Poshmark – Buy & Sell Fashion
This app is a huge online store with the ability to buy, sell, rent various items, both new and used. The list of items includes cosmetics, home decor, fashion items from famous brands such as Michael Kors, Louis Vuitton, Nike, MAC Cosmetics, Brandy Melville, Anthropologie and so on.
According to statistics, more than 70 million people in the United States and Canada use Poshmark, it is a proven service.
In order to post your items to the app, you need to register with it as a seller. This type of registration does not take away your right to buy the items you like. Once you register, you post a photo of your item, set a price, and give a description.
In order to rent an item, you can search for items you want by tag, and negotiate rental terms with the seller online. You pay the deposit for the item, if provided, and the seller sends it to you, or gives it to you if you can see in person.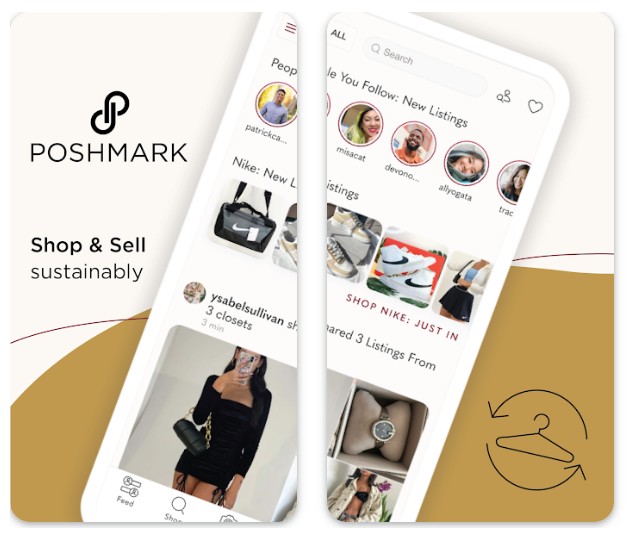 You may also like: 15 best apps to buy clothes on IOS & Android
Designer-24: Rent The Look
Designer-24: Rent The Look is an innovative fashion app that allows users to rent designer clothing and accessories at affordable prices.
The app has a user-friendly interface that allows users to browse through a wide selection of designer clothing and accessories.
Users can filter their search results based on their preferences and can also view detailed information about each item, including its rental price, availability, and size.
The app features high-quality images of all the designer items, which allows users to see the details of each item before renting.
However, there is a limited selection of items available for rent. Some users have reported that they were unable to find the items they were looking for, which can be disappointing.
Moreover, the rental prices of some items can be quite high, which may not be affordable for all users.
Advantages:
Affordable designer clothing and accessories.
User-friendly interface.
Impressive graphics.
Drawbacks:
Limited selection
Occasional glitches
High rental prices for some items.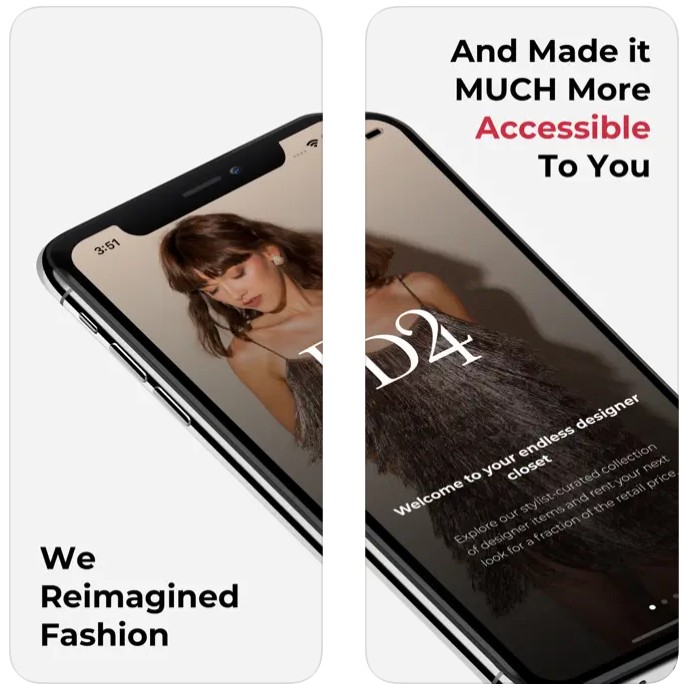 Style Theory: Rent, Wear, Swap
Do you dream of changing your outfit every day? Your dream may come true. This app allows you to rent 3 styles at once. This is great for fashionistas.
All the clothes are ironed and dried. It is clean and you won't have any problems wearing it. Only you can choose the place and time of receipt of clothing. Rent a princess dress for prom. You will be stunning.
The app has ready-made outfits. Professional designers and stylists create beautiful looks for you. You are waiting for more than 200 different fashion brands.
Choose accessories for your dress. The app has a huge selection of bracelets, chains, and pendants. Choose hair accessories. You can become the most beautiful girl in the world. You will be surrounded by the attention of your mate soul. The app has been downloaded more than 100 thousand times.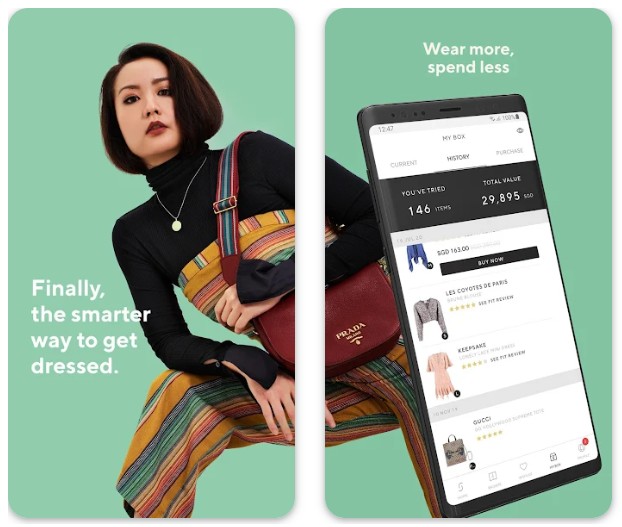 OhLook
OhLook is the first world online service for men that allows you to get clothes every day. You can forget about choosing, ironing, and washing your things.
You will first have to register in the app to proceed. After, you will need to select the city in which you are located and then subscribe to the most suitable plan.
Once you are done, very cool and modern stylists will select clothes for you 365 days a year and you will also be able to explore over 12000 different unique designs of the clothing.
In OhLook there are some different types of boxes, from which you can choose the one you like. So how does it precisely work?
This service consists of just 6 simple steps: 1. Choose your box; 2. Select the clothes; 3. Choose duration; 4. Receive your box; 5. Wear for a month; 6. Return and get a new box.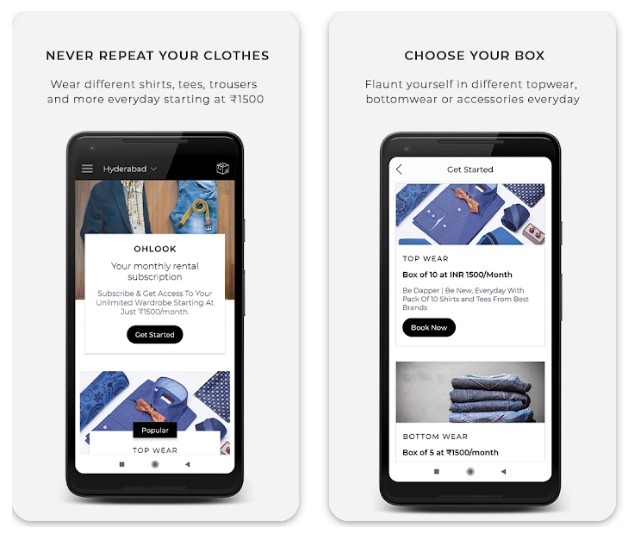 Rent the Runway
Rent the Runway is one of the most trending apps at the moment that involves a great idea of using the clothes. Moreover, it fits this list just perfectly. Here you can find the finest designer dresses, and rent them for a couple of hours, for a day, a couple of days – as long as you need.
Actually, in this app, you can rent not only dresses but any kind of clothes from the most diverse brands. This idea of the app is actually really cool since nowadays, with all the Instagram fast fashion many people just need an outfit for one photoshoot and then they will never wear it again.
So why waste time, money, and, what is more important, pollute the atmosphere by throwing clothes, that you wore one time, away? Just take it for a lease!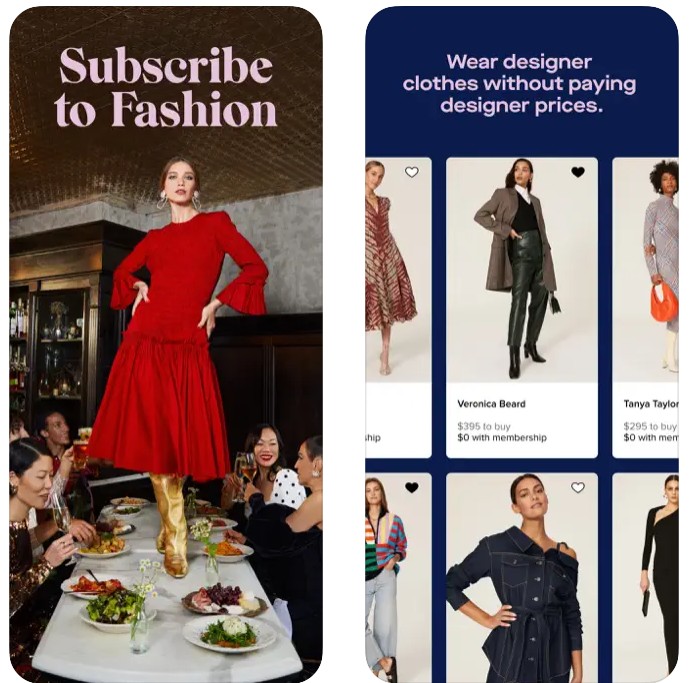 You may also like: 7 Best clothes swap apps for Android & iOS
thredUP
ThredUP is an online application for buying kids' and women's clothing with great discounts, up to 90%.
In TherdUP you can find very different brands from MassMarket to very elite brands like Gucci. It is also possible not to buy but to sell your secondhand clothing.
Inside the app there are some cool promotions like free shipping for orders 79$+, easy returns, and even an extra 50% discount for new customers.
ThredUP has a very nice and modern black and white design. From the main screen, you can access tabs such as Home, My ThredUP, Search, Account, and Cart.
From the Home screen, you can also search for the included type of clothing or brand. There are some buttons like Find an item, Shop the brand, Just brose, and Clean my closet that make your life easier and nicer.
One of the features of the ThredUp app is leasing the dresses for a very affordable price.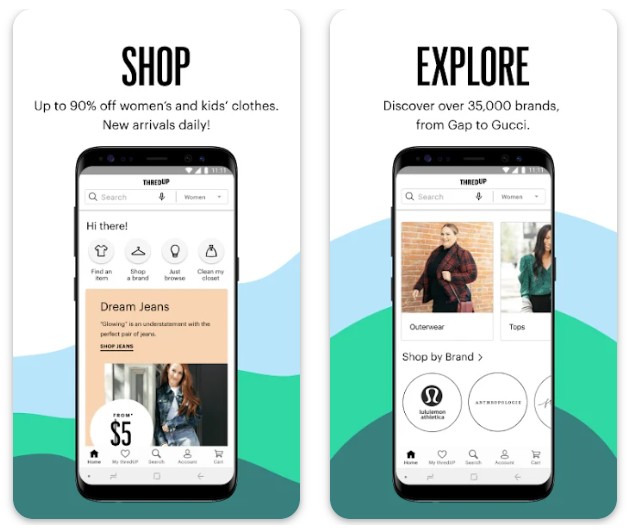 Your Closet – Smart Fashion
This app will allow you to rent dresses and clothes. You can also lease your clothes to make money. If you go on a trip, you don't need to take a whole suitcase of clothes.
You can rent it at the place of travel. Open the app and enter your location. The app will show you all the available clothing rental points. It is simple and fast. You don't need to puzzle what dress to take with you. You can select it locally.
The app has a special calendar. You can book a date and rent clothes in advance. Are you going to an important event? Choose a date and dress, no one can rent it. It is convenient for business people.
You will keep everything under your control. The app will help you organize your wardrobe. It is an extremely popular app. It has been downloaded more than 1 million times.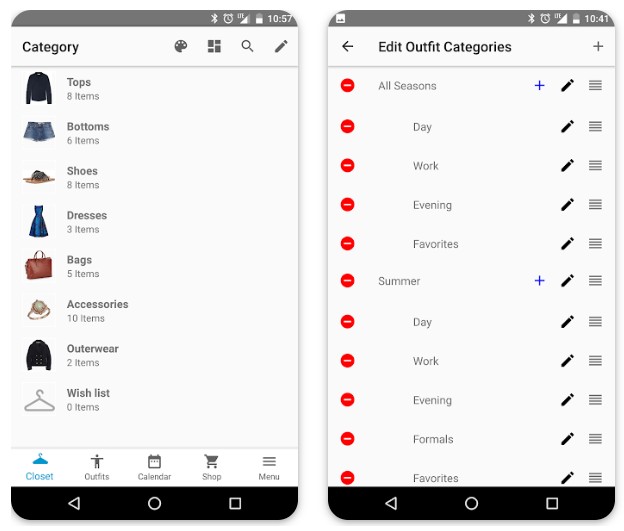 Le Tote – Fashion for Rent
Do you urgently need to change your outfit? Don't you want to spend large sums of money on new clothes? We have found a solution to your problem. Download this dress rental app.
You can rent not only dresses but also any other clothes. The app has a huge range. You will definitely find something you like. Look at the clothes and choose the price to rent. You can use product search filters.
You can use the filter of size, color, model to find the clothes of your dreams. Select a pick-up point. You can rent clothes and dresses for a specific date. The app has a special booking calendar.
You will discover a new world of fashion. You don't have to spend thousands of dollars on clothes anymore. Just rent it for a while. It is convenient for those who travel a lot.

MADThread
The hallmark of this app compared to all other ones is that here you will find the prevailing amount of dresses. The app mostly includes the brands of clothes that focus on elegant dresses, classic style, and office style. It might even seem that the app's target audience is 35+ however, young girls can find a lot of interesting options for them as well.
Another feature that distinguishes MADThread from other apps on this list is that here you can both shop for the clothes and rent it.
The assortment of dresses that you can find here is extremely diverse: you can find a dress for a wedding, for a date night, for a prom, and any kind of other special events. The app used to be available on both platforms, but now it can be found only on Google Play.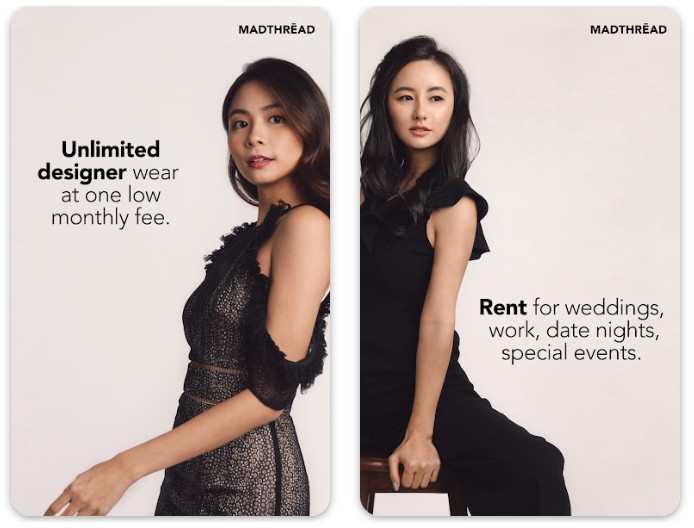 Rentique
Rentique is an app that provides users with the opportunity to rent designer dresses for various events.
You can filter dresses based on size, color, and occasion, making it easy to find the perfect dress quickly.
In addition, the app provides a convenient feature where users can select the date they need the dress and schedule a delivery and pickup time.
This ensures that the dress is delivered on time for the occasion and picked up afterward, saving users from the hassle of returning the dress themselves.
The app has a modern and sophisticated feel that is consistent with the high-end designer dresses available for rent.
However, the app does have a size chart that users can use to ensure they order the correct size. Additionally, some disappointed comments have been made about dresses not being available for the desired date or location.
Advantages:
Convenient delivery and pickup options.
User-friendly interface.
High-quality graphics.
Variety of designer dresses available.
Drawbacks:
Sizing and fit issues were reported by some users.
Dresses are not always available for desired date or location.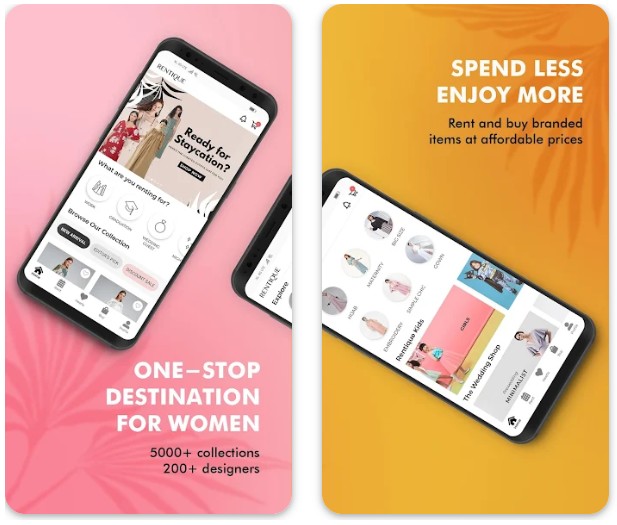 You may also like: 20 Best Black Friday Shopping Apps for iPhone and Android
Designer Wardrobe
Designer Wardrobe is a fashion app that offers an online marketplace for buying and selling designer clothes, shoes, and accessories.
Users can create their profiles, upload images of the items they want to sell, and browse listings from other sellers. The app's search feature allows users to filter items by category, brand, size, and price range.
It also has a feature that lets users save items to their wishlist, making it easy to keep track of items they're interested in.
Unfortunately, there is a lack of a buyer protection policy. This means that if a user purchases an item that doesn't match the description or arrives damaged, there is no guarantee of a refund or return.
The app has high-quality images that showcase the items for sale in great detail. However, sometimes it takes quite a long time until the images to download.
Designer Wardrobe is an excellent app for fashion enthusiasts looking to buy and sell designer clothing, shoes, and accessories. Overall, if you're willing to take the risk and exercise caution when making purchases, Designer Wardrobe is worth using.
Advantages:
User-friendly interface.
Visually appealing graphics.
Wide variety of designer items available for sale.
Drawbacks:
Lack of buyer protection policy.
Issues with customer support.
Slow image loading times.