We are all obsessed with our pets. Obviously, we care a lot about their safety and well-being. One nerve-racking thing about the petcare is that these pets are always in motion – therefore there is always a stake to lose them. Luckily, nowadays we have GPS tracking.
And below you will find the very best GPS pet trackers.
And in case you want to track the location not only of your pets but your lovers as well, you can use these apps.
Tractive GPS Pet Finder
This pet finder offers to monitor cats and dogs in real-time mode. It allows you to follow the exact path of your pet.
History of movements is presented to owners if they want to recognize their pet's usual walking strategies.
Owners mostly care about their pets' safety, so the developers made a special feature – a virtual safety zone. The zone's barriers should be drawn by the owner of a pet to set a place, where the pet would be allowed to walk, whether it is a park, yard, or some ground.
Pets' owners will get instant notifications on the phone or e-mail, showing that the pet has left the safety zone. It can be really useful for those, who want to get rid of anxiety and be sure of the pet's whereabouts. The app will send the exact GPS of your pets at any time.
Special features:
Shows other pets, which also have Tractive GPS.
Enables to add as many pets, as possible.
Have different types of maps: ordinary mode, and 3D modes.
You can set fitness aims for your pet: check activity and rest time, and count burned calories.
However, this app has a disadvantage. Its work depends on the net quality, if the internet signal works badly, it wouldn't be able to track the pet's collar signal.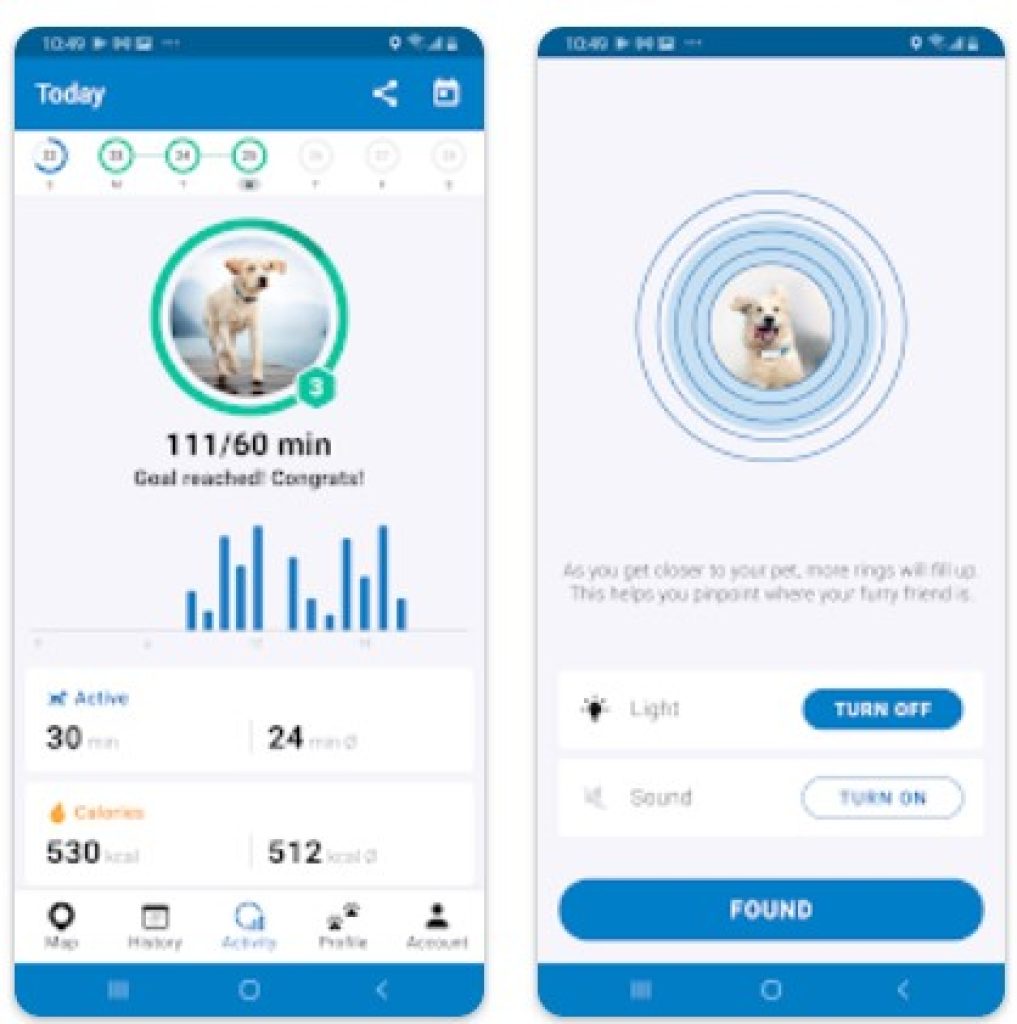 You may also like: 15 Free Apps for Pet Lovers (Android & iOS)
Pawfit GPS Pet Tracker
This is a smart and convenient app to monitor your pet`s activity, location and security.
This app's screen shows 4 main features: Map, Activity, Trip, and Profile.
The activity of your pet is counted with a number of steps. You can see the exact distance, which your pet has walked, its rest and active hours, and the number of calories burnt. You can also set a number and percentage of steps for your pet to accomplish.
Activity is divided into days, weeks, and months. You can set different fitness goals, fix the average amount of steps (usually thousands of steps) to accomplish, and recognize days when your pet was the most active.
To register your pet owner should enter basic facts, such as name, type, breed, gender, age, weight, and goal. Tracker uploads the locations every 5 seconds.
This app's main features are:
Sound alarm.
The sound alarm is a useful function, when you are trying to get, how far your pet has gone.
Light-tracking
This function will turn on special colored LED lights on your dog's collar.
It is helpful, when you are trying to find your pet in the dark or when your pet is hiding from you somewhere.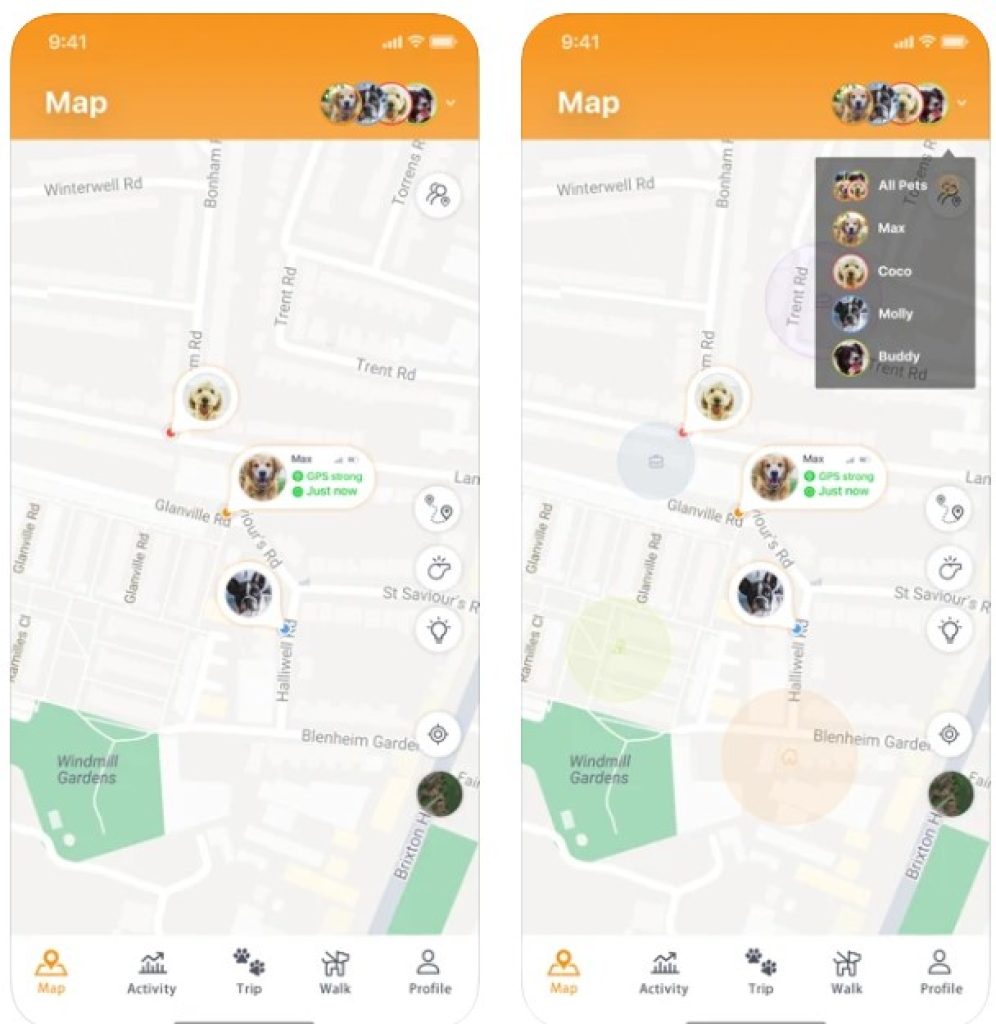 iPet – GPS tracker
Another quite popular tracker for pets.
The algorithms of this app are pretty standard – it connects to the microchip in the collar of your pet and therefore you can see it on the map and track its location.
The geofence function sends an alert when your pet leaves the safety zone. The app incldues history data, which you can review and check the walks that your pet has made. Tracker settings are easy to use; you can set a picture of a pet and its nickname.
iPet has a super-simple interface, which shows three main functions:
Location
History of locations
Geozone


Animal Tracker
Wanted to observe wild animals once?
Surprisingly, the market now offers you, trackers, not only for pets but also for wild animals. You can follow wild animals' locations and become sort of a scientist with the help of this tracker.
This app enables you to track wild animals, presented now on the planet.
You also will be able to share your observations of animals and post information about them, therefore creating new sources for the scientific community. The map of these trackers shows not only your nearest yard or playground but the whole world with all its countries and regions.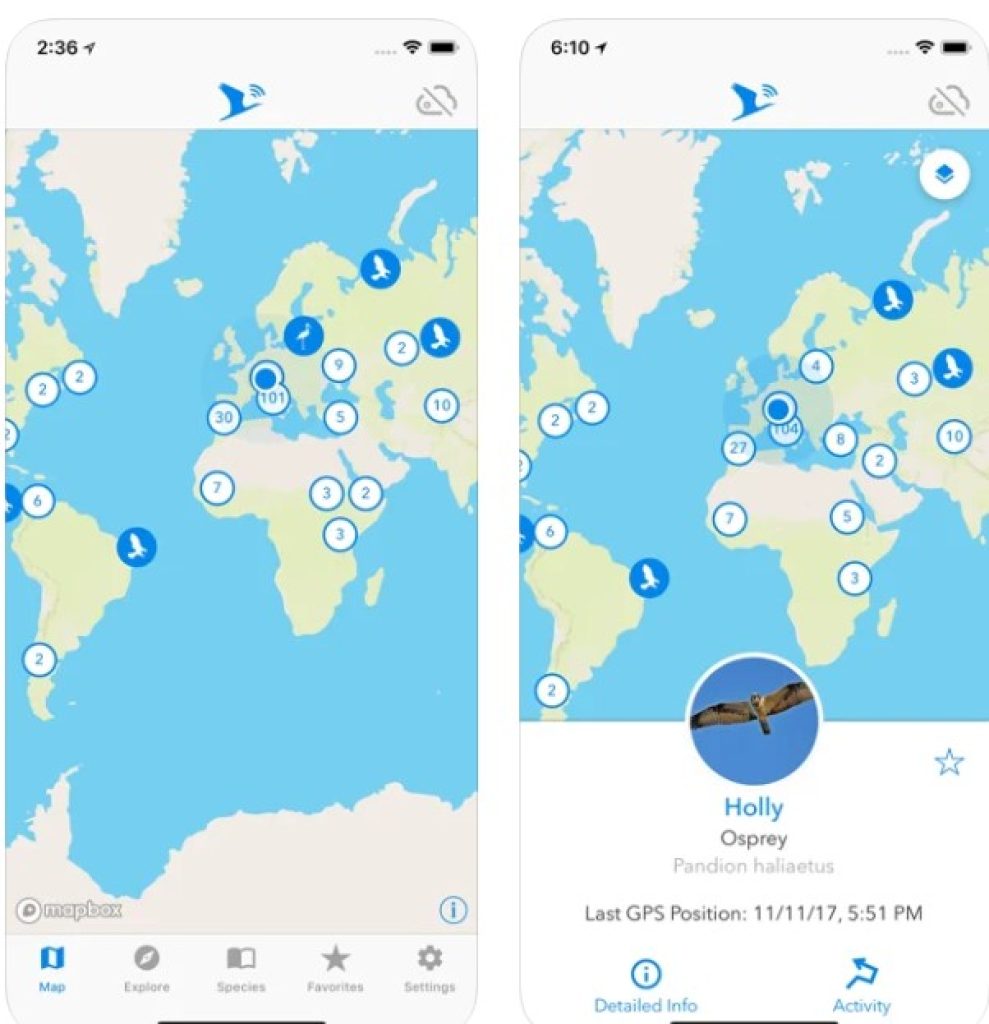 You may also like: 7 Best pet camera apps for Android & iOS
Pet Tracker
Another tracker, that will help you to get peace of mind and not think about the location of your pet.
This tracker is designed specifically for dogs.
You have to get GPS ultra-light pet collar with an integrated radio search function. Besides finding your dog's location, this app also enables you to check your own location.
For tracking your cat you also need to purchase a pet tracking collar and a subscription. The app works in the way that it connects to the chip in the collar of a pet and thus tracks its location 24/7.
Radio search can be really useful, as GPS is not working inside buildings. So, if your cat hides inside a garage or house, the GPS signal will not find its collar. Radio search, on the contrary, works excellent and delivers signals even in the buildings, where you can find your dog.
Main features of this app:
This app has 2 types of technology: radio and GPS search.
Ultra-lightweight
It is light and comfortable to use.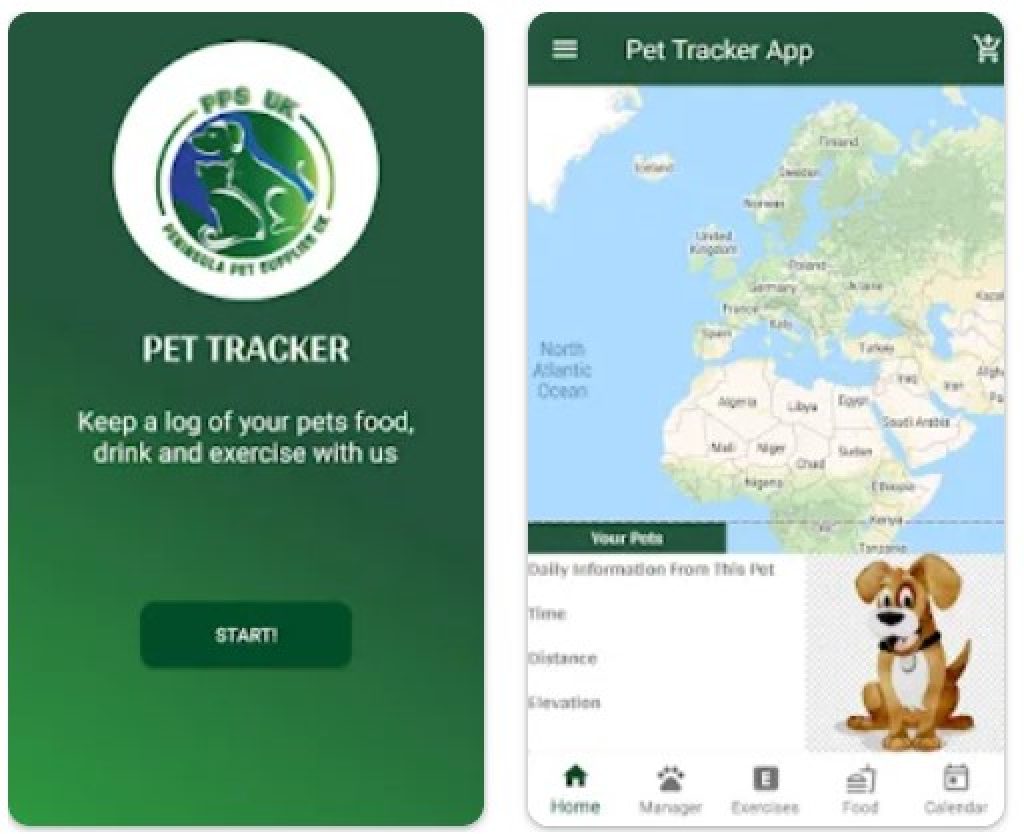 Whistle: Smart Pet Tracker
This app is dedicated to your pet's well-being.
It has functions to score sleeping, eating, drinking, and other routines. The app collects an even number of your pet's scratchings, which can be quite fun.
It enables you to monitor your pet's health, see changes and take action if needed. Functions of pet tracking are standard in this app.
It enables to:
Track your dog or cat location.
Create a special safe zone for your pet's walking.
The app also sends notifications, when your pet leaves safe locations.
Moreover, it is even possible to call the vet using Whistle. Among other dignities of this app, we can highlight the cool interface design, which is not often found in this category.


DogLog – Track your Pet's Life
This app is suitable both for cats and dogs. It checks the activity, health, and walks of your pets.
You will be able to know how your beloved pet has spent its walking days in detail. You will also know when exactly your pet has eaten, where it has pooped, where it has peed, and at what streets he exactly has peed.
All of the events, important to your pet are classified into 2 categories:
diet (food, water, treat and even vomit)
outdoor activities: walking, peeing, pooing, and meeting with the dogs.
You will also have reminders – so you will not miss anything important. Reminders are very helpful for those, who monitor medicine time (if their pet is ill), dates of food time or grooming. All the pets' information is accumulated statistically, which will help to collect all useful info.
You will see all important for pet events, their time period, days and number of events, this will help to understand your pet's behavior and notice if there are some unusual trends in your pet's well-being.
Fun function: you can also share photos of your pets on the net. All gathered info can be useful for your dog's vet.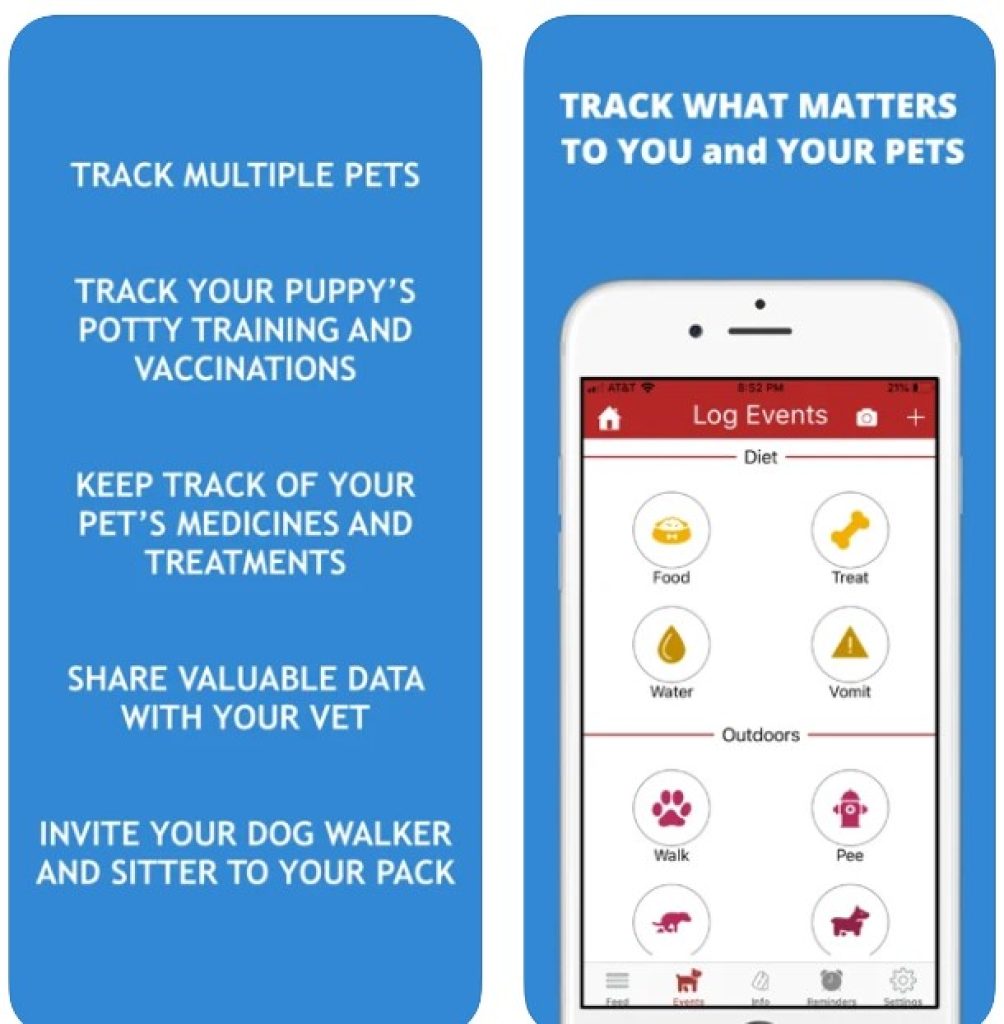 Missing Pets – Find Lost Pet
Quite a famous app that has already helped thousands of owners to reunite with their lost furry friends.
Its main function offers info about the pet: added photos, location, name, and other useful facts so that people could know what pet to search for.
You also can add info about lost pets in case it happened you discovered a lonely pet on the streets. This app is free, though it has some features, which can be purchased for money. If you don't need to find lost pets or post about found ones, you can spread info and it can be helpful.
This will be a fast and effective way to help, those, who want to help. This app also has a specific message section, where people and those, who have lost pets can share messages about their lost or found pets.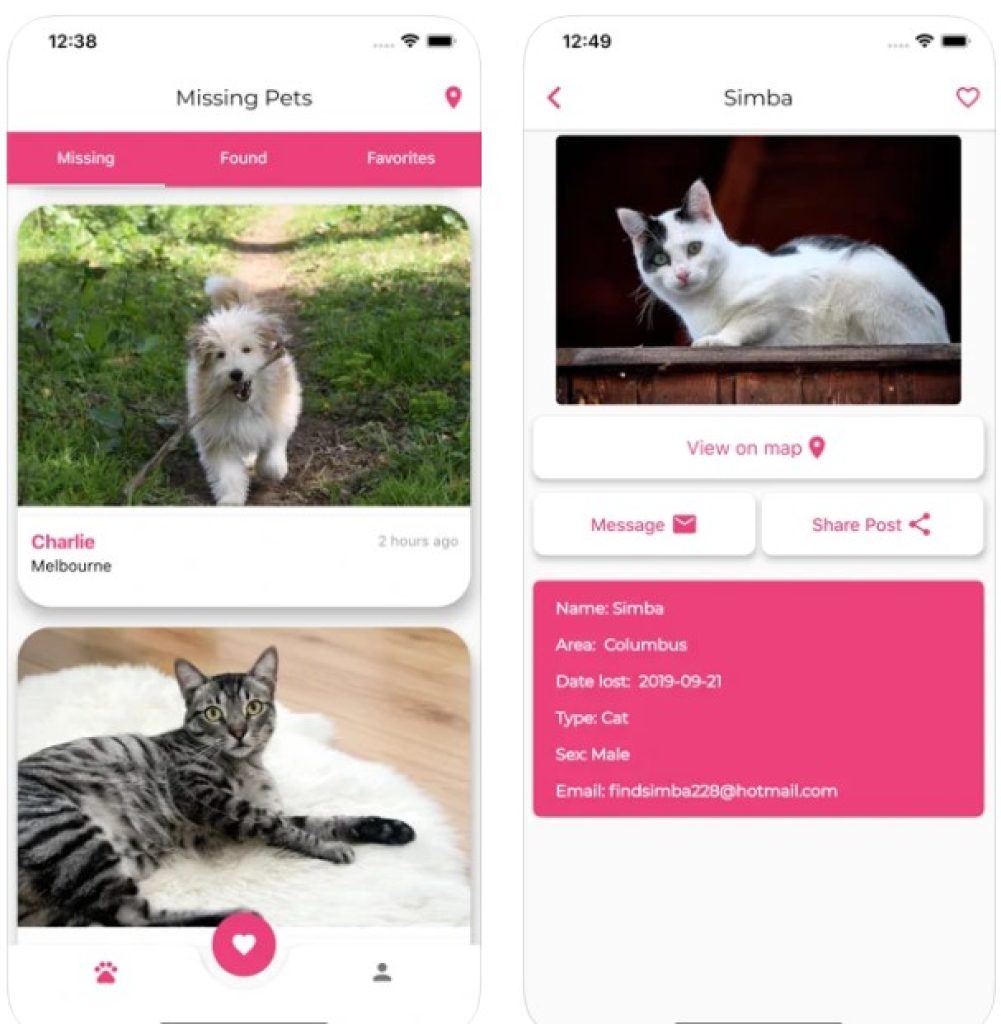 Pawscout
Just like the previous app, this one is not exactly a pet tracker, however, it doesn't demolish the usefulness of this app. The main goal of Pawscout is to help people to find their lost pets, and dozens of pet owners have already appreciated the benefits that Pawscout brings.
It is highly recommended to create an account for your pet before it actually gets lost (hopefully it won't get lost) so the people who will find it will know the right way to treat it.
The regular tracking of your pet is possible here as well. If your pet has a microchip you can connect it to the app. This function works poorly, though.
The overall interface is pretty standard and you will easily understand how to use the app.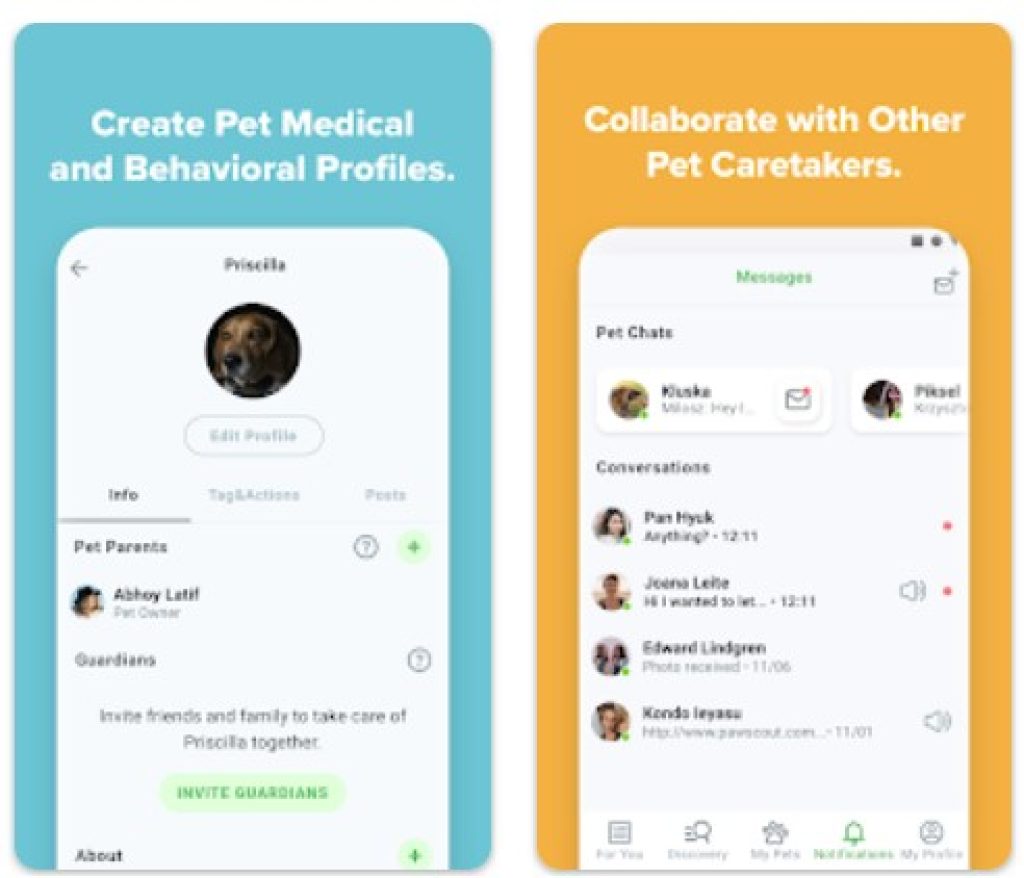 Petfon
Petfon is another decent tracker for your pets, which works better in the long-range. Moreover, the remarkable thing about Petfon is that it can synchronize with Google Maps and therefore, present the GPS location of your pet on 3D maps.
Here are the features of Petfon:
GPS location of your pet on 3D maps
Tracking the pet's daily activity
Ability to define the safe area on the maps
Thus, you will be able to find your dog or cat even in twilight. The app claims it can use the light alarm to help you with that, but it's not really clear if they offer you s special device for that or not.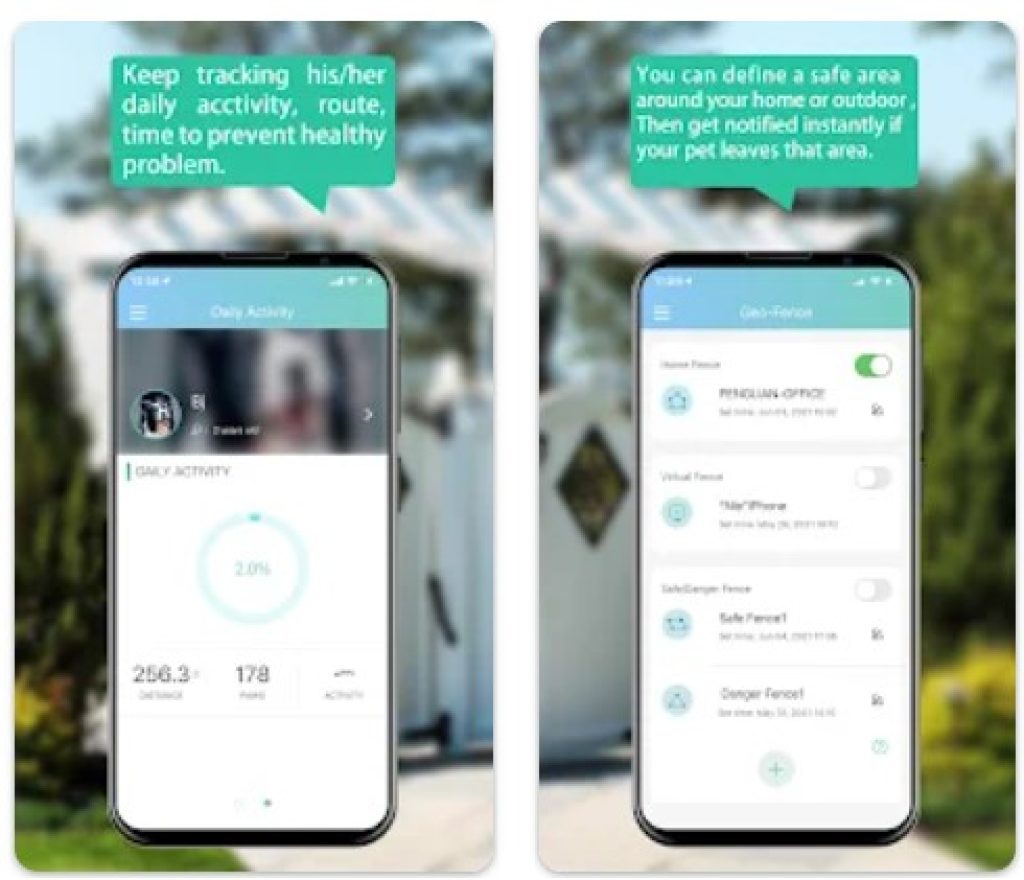 You may also like: 11 Best apps for veterinarians (Android & iOS)
Pawtrack GPS Cat Tracking
In this list we have explored enough GPS trackers for dogs, but what about cats? By the way, the risk of losing your cat can be higher in case you are living in a private house. It's better to keep your cat safe and install the tracker right away.
First of all, in order to keep an eye on your cat's location, you will need to acquire a special collar that will synchronize with the app. Then put it on your cat and therefore you are ready to track its GPS location all the time.
You will see the map and the cat's location will be highlighted. Don't forget to change the batteries in the collar!
By the way, to make the routine of the usage of the app more pleasant and fun you can add a photo of your pet to the profile and add a funny description.