Have you actually noticed that even despite the fact that SMS seems an obsolete way of texting we are still using it every day? At least they are essential for getting notifications and so on… But you know what is one of the worst things about it? The design. It's still like it was decades ago and it's incredibly discouraging.
However, who said you can't make it more eye-pleasing? You can pick up one of those SMS background themes apps and forget about how it was before! And the next time, when you will not only need to change the theme but schedule your SMS so they can all be sent on time you can use Free SMS Scheduler Apps.
Textra SMS
Textra SMS is a classic app for receiving SMS and MMS, which will become an excellent replacement for the one you already have pre-installed on your phone. It is also should be mentioned that it is the fastest of all in this list, which means that working with it will be both easier and more enjoyable.
The main feature of the application is numerous settings – including appearance, which are very lacking in the stock SMS messenger on Android. Therefore the users can edit and change almost the entire interface themselves: background color, theme colors (there are a huge number of them, any color), the colors of the dialog boxes, the color of the Textra SMS icon, and even the bubble style in which new messages will appear.
Moreover, it is possible to change the font and its size. Well, if you want to dilute the dialogue with emoticons, then Textra has several emoji styles to choose from for every taste. In addition to customizing the application, you also get the ability to customize notifications and even change the color of the notification LED.
The application is not only convenient but also smart: you can enable a setting thanks to which the color of the contact icon will be automatically selected.
The ultimate reason why we placed this app the leader of our list is its popularity and reliability – basically, all the users are satisfied with its functioning and there are no lags or errors. However, sometimes the developers release updates which corrupt the working system and some inconveniences may still occur.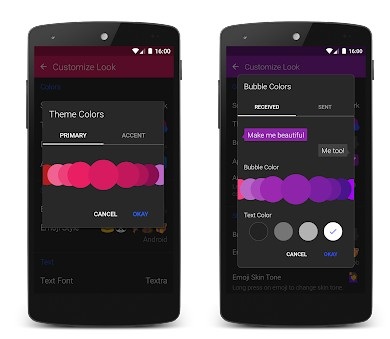 You may also like: 5 Best Fake Text Conversation Apps for Android & iOS
Go SMS Pro
Another representative of alternative messengers for receiving SMS for Android. Here you can put any picture or photo of yours as a background, change the color theme, emoji style, and font color. Just like in Textra, the color of the indicator and the notification icon can be changed. To install a specific theme, you need to select it from the store inside the app. Most of the themes are free and their set is enough to roam in the customization of the messenger.
There are also animated stickers in the store to express your emotions even brighter and more clearly. And something that is really outstanding about this app is the ability to create your themes: this can be done through another app. What is more, you can create a private folder to hide your secret dialogs there.
No one will be able to access it when not having a PIN code. In addition, numbers and contacts can be blocked, thereby filtering SMS messages from unwanted people or organizations.
And the ones you want to remember and have as a keyboard shortcut – add to favorites. Regarding calls: if you are often disturbed by unfamiliar numbers, then Go SMS will collect them in a separate folder so that they do not disturb you.
And if the previous app didn't erect any issues about its work, then here everything works like… Let's say so so. Go SMS Pro is OK to use, it's still a beneficial choice compared to all the other apps in this field but be prepared that it's not flawless.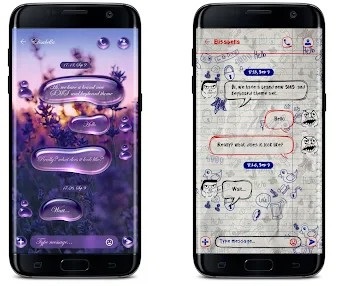 Mood Messenger
Peacock among all applications for receiving messages. Lots of preset themes shop with free, even animated themes, theme color selection, and background selection from your gallery. This messenger has all the tools to give your phone personality. There is also a choice of emoji style, animated emojis, and stickers.
Moreover, it is worth noting that Mood Messenger has a so-called "Party Mode", which pauses all sent messages to protect you from awkward situations. It looks like this: to send any message, its sending must be confirmed.
In order to enable this setting, you need to go through a small game: remember a certain sequence of appearance of cubes, and repeat their route. We don't know about you, but we really appreciated this cool virtue added to the app by developers.
The same must be done to disable it. It will protect you from messages that you will regret later. Save yourself tons of nerve cells! If you have accumulated a lot of SMS messages, you cannot be afraid of losing them. The application has a built-in backup and recovery tool. You can transfer all old messages and access them at any time in a couple of clicks.
You might also ask about the reason why this app isn't the pacesetter of our list? The problem lies in its updates… It looks like the developers can't really synchronize the functioning of all the new features with already existing once and it turns out Mood Messenger works more poorly with each new update.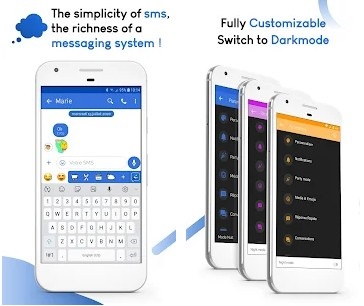 Handcent Next SMS
An app with an extensive selection of themes and rich opportunities for customization. Next SMS has a built-in store, from where you can download a new design for the program. But that's not all; the store also offers alternative fonts, background images, and new forms of dialog boxes.
By the choice of themes, Next SMS bypasses all previous messengers by a wide margin: hundreds of backgrounds from festive sets to soothing landscapes. Each background is loaded separately, and in the app itself, you can look at the preview. After the theme is installed from the Play Market, it can be installed in the messenger.
You can choose a separate background for the theme so that it becomes unique. If you get tired of the classic font, and you want to change it to a more original one, you can also always turn to the preview first. By the way, all themes and fonts are free.
To choose the design of the message windows, you need to click on the corresponding item in the menu and choose the kind of them that suits your vision the most. And soon your emoticons will be available for selection in the app.
Plus, speaking from a technical, not a visual aspect, there is a backup in Next SMS. Well, the driving mode, which is useful for those who are constantly on the road. In addition, it is worth mentioning the "Anywhere" function, with which you can create an account and link all SMS messages to it.
This way you will be able to access your messages from any other device by logging in. By the way, if you are inclined to clutter up your phone's memory with unnecessary messages, the "Garbage" function was invented for you. Messages older than 30 days will be deleted automatically.
If you run through the main functionality, you can find the favorites folder-save your favorite messages to it for memory and just the information that may be useful. All this will remain at your fingertips. And backup is created for the most prudent – you can take care of the safety of all SMS. Sending some messages can be planned and done in the Next SMS.
Then, for example, you won't need to get up early in the morning to take time off from work – the app will do it for you. Of course, all the standard messenger functions are preserved in the application, and the design itself is generally minimalistic. Custom themes dilute it and make each correspondence brighter and richer.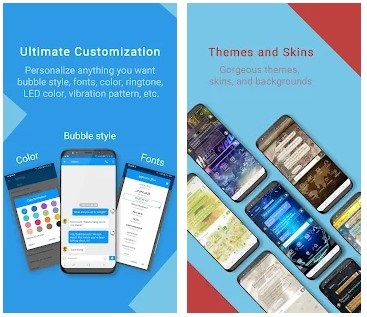 You may also like: 7 Best Apps to Fake Instagram Direct Message for Android & iOS
Messenger for SMS
The application has rich functionality: there is a driving mode so you could always stay safe on the road and won't get distracted. By enabling it, you will temporarily disable notifications for all SMS messages, but you will still be able to receive calls. The application has gone even further: for your loved ones or colleagues to understand that you are busy and will be able to call them back later, it is possible to set up an auto-reply to messages.
To restrict access from outside interference, there is a function of a personal mailbox. With it, no one will see your correspondence without your password. This will ensure even greater user privacy. Now about the themes. In this application, as well as in the others, there is a store with them.
Anyone can find a theme to their liking here, because the choice is very wide, and all backgrounds are free. In messages, you can put any photo or picture in the background. Among other things, you can also customize both the font and its size in the dialogs. This program repeats all the previous applications but has its twist. One of the features is just the stickers.
They are presented as different sets in the built-in app store, all different and unique. There is also a large selection of animated emojis, doodle texts. And their styles can also be changed – for example, install such as in Android, Twitter, or just stop at the system ones. Messenger for SMS has a backup function so that messages are not lost anywhere. And there is also a built-in blocker. It is needed to include unwanted numbers in the blacklist.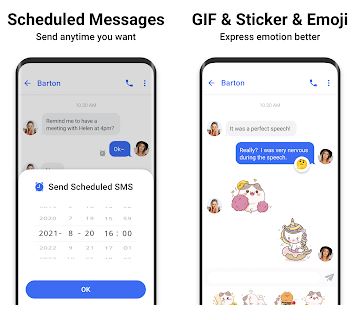 Chomp SMS
Compared to other applications in this list, Chomp SMS does not have such a rich arsenal of settings, but it can also surprise and find its user. As usual, there is a built-in theme store. By default, there are only two available: the default light and dark. For the rest – welcome to the built-in store.
A nice addition is the ability to install your own fonts-this expands the scope for the realization of the fantasies of the most sophisticated customizers of their messengers. The program already has an automatic ability to change the style of stickers and change the color of the notification indicator: green, blue, red, orange, purple, and blue – everything to adjust your messenger to the appropriate mood.
Also in the app, there is a function of backup and recovery of messages, blacklist management. What's more, Chomp SMS has an interesting feature of scheduled messages, which is not present in any default stock messenger, but it makes life much easier. You can schedule sending SMS – once or periodically, with which you will not forget about significant events.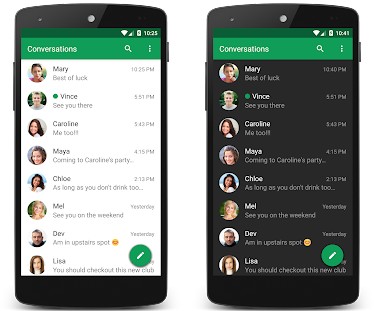 Pulse SMS
This one resembles Textra and Telegram at the same time: setting colors for when any of the interface elements can be painted to your taste, a font to choose from, and sets with emojis. One of the features is message backup and gesture settings for dialogs.
For example, you can make swiping to the left delete the dialog, or highlight the SMS as read. These settings are also available for the gesture on the right; it remains to choose what is more convenient for you. An important feature of Pulse CMS is the ability to correspond from a tablet or PC.
To do this, you need to create an account and pay for a subscription. Your conversations will be synchronized with all devices where there is Pulse SMS or in the browser. For the user's comfort, the list of dialogs, unread and encrypted messages can be accessed from the panel on the left – just one tap and you have found the right chat.
You can also create templates for answers in advance – this helps when there is no time for detailed explanations at all. And in the scheduler, you can even set the message to be sent at a certain time. There is also a blacklist for unwanted numbers.
All in all, Pulse SMS is one of the leading apps on this list – of course, it has some peculiarities in its work, but just like each app on this list. The major problem may occur in its multifunctionality – sometimes there are way too many features that you simply don't need and that distract you from the real process.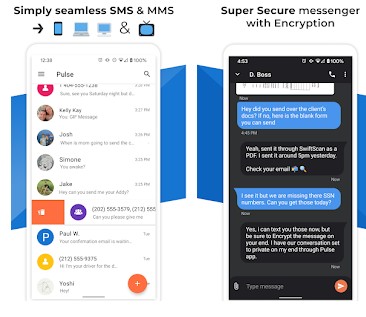 YAATA – SMS/MMS messaging
The design of the application immediately refers to the previous one in this list. If you need to send a message to several users at once, the automatic message forwarding function is built-in. For example, it will be useful when organizing events or when creating an advertising newsletter, as well as for managers who have a staff subordinate to them.
An answering machine is a message that will be sent if you cannot print it for some reason, or when a large number of SMS messages are received to your number. Then it's easier to send out templates to everyone than to respond individually.
There is also a blacklist – your assistant in blocking unnecessary and unwanted numbers. And last but not least, the color customization is there! This feature is similar to themes in Textra, where you can change the colors of any element in the interface. Yet, most of the mentioned features in YAATA are available on a paid vesrion.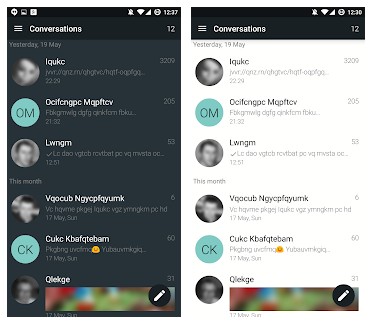 You may also like: 9 Best GIF Keyboard Apps for Android & iOS
Smart Messages SMS, MMS, RCS
The latest app from today's list is smart and with a bright design. Its customization looks like this – the user can change the background colors, the color of the buttons, choose background images from pre-installed ones, or put your own – whatever their heart desires.
Dialog boxes can also be customized: you can change their color to any color you like. When using the app at night, you can turn on the dark mode to make your eyes more comfortable – pretty much a standard feature, but it's still nice the developers applied some effort to it. And you can set it to turn on automatically, and then it will activate itself with sunset and turn off with sunset.
The most interesting feature of the application is intelligent answers, available so far only in English. Thanks to her, the application offers you an automatically generated phrase to send. Smart Messages, like all previous apps, has a built-in blacklist function – so annoying ads won't bother you. This means that using the messenger will become more reliable and enjoyable.