Do you know how handy it is to have multiple monitors to boost your own productivity? Guess what? I found a bunch of the best dual monitor apps that will help you become much more productive!
And in addition to them, you can also explore the best apps to use Android tablet as a second monitor as an alternative.
Duet Display
Duet Display is an app that can convert your smartphone or tablet into a convenient second screen for your computer, enhancing productivity and improving workflow. This feature is particularly valuable when you're working on multiple windows simultaneously and need to remain organized and efficient.
Setting up Duet Display is a breeze. The user can easily download the app on their device and install the desktop companion app.
Once both devices are connected, they will be amazed at how seamlessly they work together. The app even takes advantage of touch functionality, allowing the user to interact with their computer using gestures on their tablet's screen. Overall, using Duet Display feels intuitive and natural for any user.
One of the aspects that drew my attention to the Duet Display was its exceptional performance. The software responded smoothly and without lag, easily handling the user's requirements for a variety of tasks, including Internet browsing and document editing
Duet Display provides the option to connect both wired and wirelessly, giving the user complete freedom over how they set up their display. The wireless setting is great for convenience while having a wired backup adds peace of mind. This feature offers optimal flexibility for all situations.
In terms of enhancing workspace and productivity, Duet Display is a game-changer. This app is incredibly trustworthy and simple to install, performing like a Swiss watch with seamless efficiency.
No matter your background or occupation – whether you're a student, professional, or simply someone who loves multitasking – this software deserves attention. The application is very useful and easy to set up.


You may also like: 11 Best Screen Mirroring Apps for Android & iOS
iDisplay
I recently discovered an intriguing app called "iDisplay," which they think is worth considering as an option for a second monitor. The app essentially acts as an extra monitor on your phone or tablet, which may prove useful for some users. I will now go over the advantages and disadvantages of the app so we can determine if it meets our needs.
Setting up iDisplay is a breeze. The user easily downloads the app on their phone and installs the desktop software on their computer. Without any hassle, both devices connect seamlessly providing flexibility to switch between wireless or USB depending on preference or situation.
When it comes to performance, iDisplay does a commendable job. It allows users to effortlessly extend their computer's screen onto their mobile devices, making multitasking a breeze. By dragging Windows and apps from the computer directly to the phone, one can enjoy them seamlessly as if they were on a regular monitor. This amazing feature truly makes iDisplay a valuable tool!
I identified minor flaws when working with graphically intensive programs or scrolling through heavy web pages, which is noteworthy, but not critical. It is important to note that the image quality on the screen may not be as accurate as on the monitor, for those who need detailed visualization.
iDisplay has a drawback: it does not support touch input on the device. Therefore, it requires a mouse or trackpad to control your computer. Enabling touch input would be a great solution, but unfortunately, the app is not up to the task.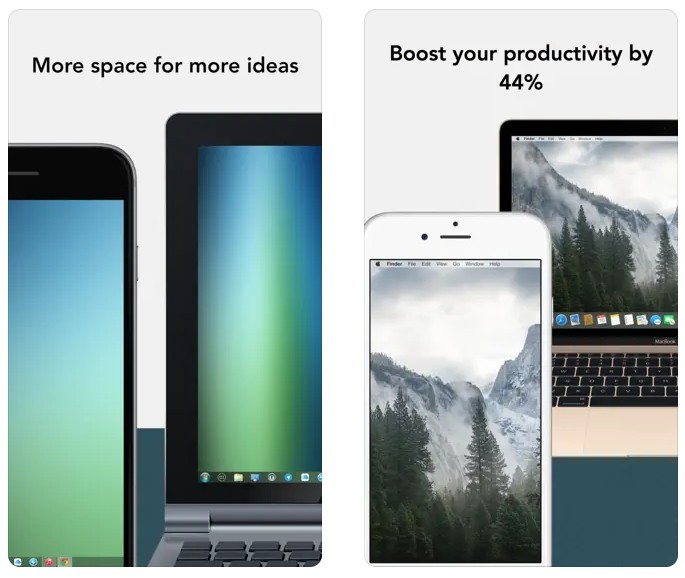 Splashtop Wired XDisplay – Extend & Mirror
While searching for apps, I came across the app "Splashtop Wired XDisplay – Extend & Mirror" which caught my attention. The app allows users to display a computer display on their devices, just like other similar apps on the market.
Installing Splashtop is easy! Once you're connected, you can get to work right away.
Splashtop offers the great benefit of a smooth operation that makes the application user-friendly. The response speed of the app is remarkable, with minimal lag, and can handle multiple tasks efficiently without any inconvenience for its users.
The discussion will now focus on the advantages and disadvantages of Splashtop. On the positive front, it supports both wired and wireless connectivity providing flexibility as per your preference. I have preferred a wireless setup since it allowed freedom of movement while retaining access to Extended Display.
The app has some drawbacks, it may drain the battery of your device when used for an extended period. As a precaution, it is advisable to have a charger nearby.
Additionally, while the app functions smoothly most of the time, occasional connection issues may require troubleshooting and reconnecting measures. Splashtop Wired XDisplay offers a convenient way to extend your computer screen on your device. It has plenty of useful features, and performs smoothly!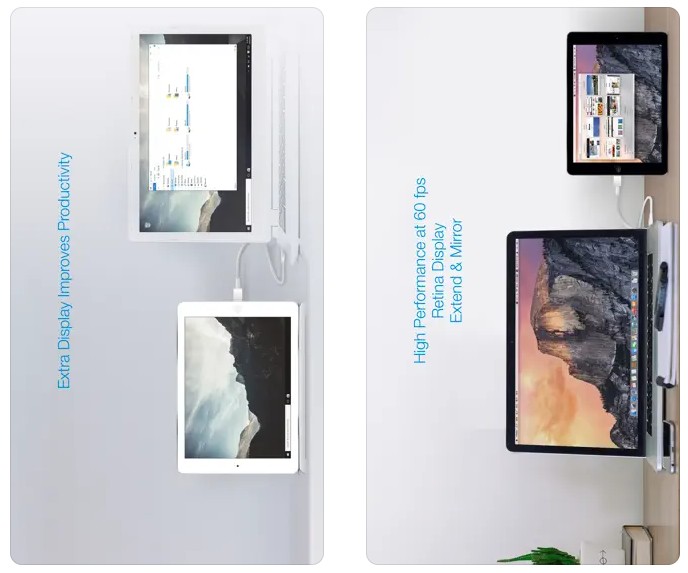 Air Display 3
The Air Display app deserves attention. Imagine needing an extra screen to increase your productivity when working with a PC – with Air Display you can easily turn any of your devices into an extra monitor.
The first time I tried out the Air Display, I was deeply impressed with the convenience and ease of setup. All I had to do was load the app onto my PC and phone, connect them to the same Wi-Fi network, and voila! I had a whole new work screen at my disposal. The connection was very quick and allowed me to explore the app's impressive graphical capabilities.
Air Display impressed me with the quality of the graphics. The app displayed crisp and colorful images that made the screen of the device feel like a high-end monitor. Whether the app was used for design projects, photo editing, or video playback, the graphics remained crisp and engaging.
It felt like there was a portable "retina" display right in front of me!
The Air Display exceeds all expectations with its touch interaction feature. It allows the user to use their device as a touch monitor for a laptop, including pinch, zoom, and gesture controls, which enhances the user experience.
Air Display is a remarkable application that effortlessly converts your iPad or Mac into a wireless secondary monitor with dazzling visuals and smart touch interaction.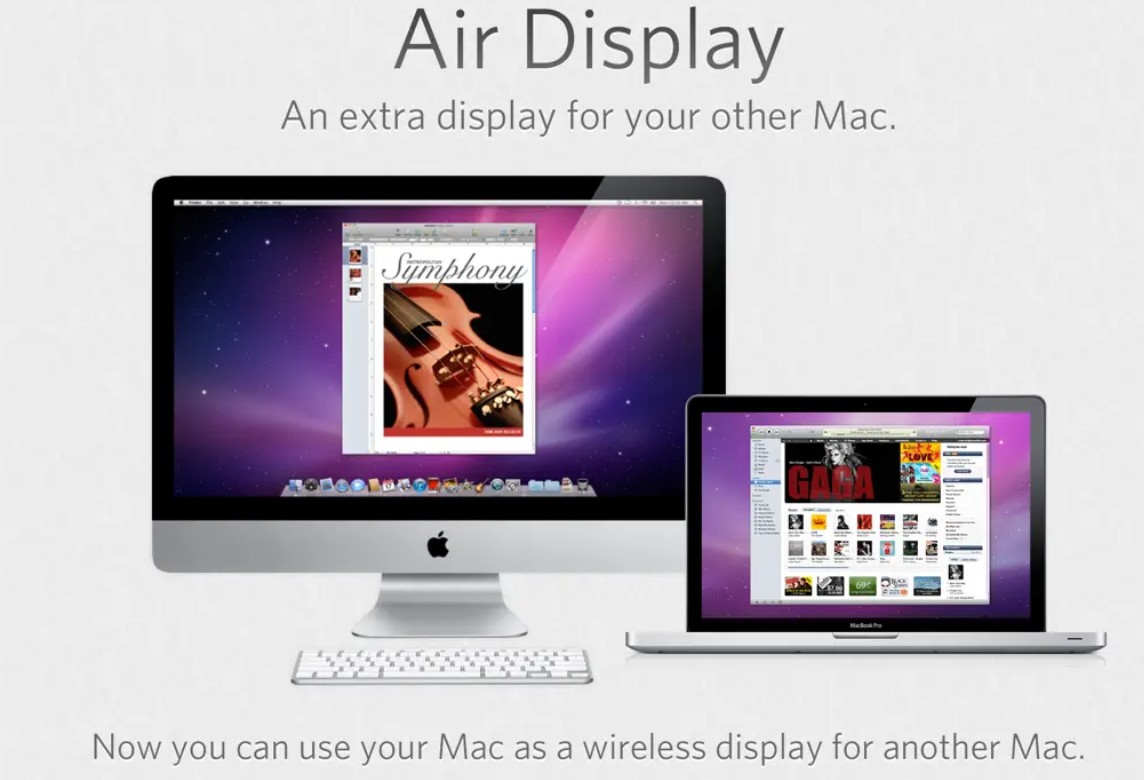 Twomon USB – USB Monitor
An extra monitor for your computer without the need for a network or Bluetooth connection is no longer just a wish. There is an application called "Twomon USB – USB Monitor".
What sets this app apart from others is its use of a USB connection instead of the typical network or Bluetooth connections. It comes in handy when your PC doesn't have Wi-Fi on the motherboard.
Setting up is easy. I downloaded the app on my device and installed the companion software on my PC. After connecting the device to the computer using a USB cable, i am had access to an instant expansion of their workspace with my phone screen transformed into a functional second monitor in seconds.
Twomon USB impressed users with its smooth and lag-free performance. The app facilitated the seamless dragging of windows from the computer screen to the device and vice versa, regardless of the task at hand—be it working on documents, editing images or streaming videos.
The pictures were sharp, vibrant, and true-to-life on the screen, making it feel like having an additional high-resolution monitor at one's fingertips. This app has utilized the full potential of a device's display, providing a delightful and efficient experience that caters to both work and entertainment purposes.
With seamless performance and stunning image quality, Twomon USB offers fantastic improvements to your workspace. Give it a try today!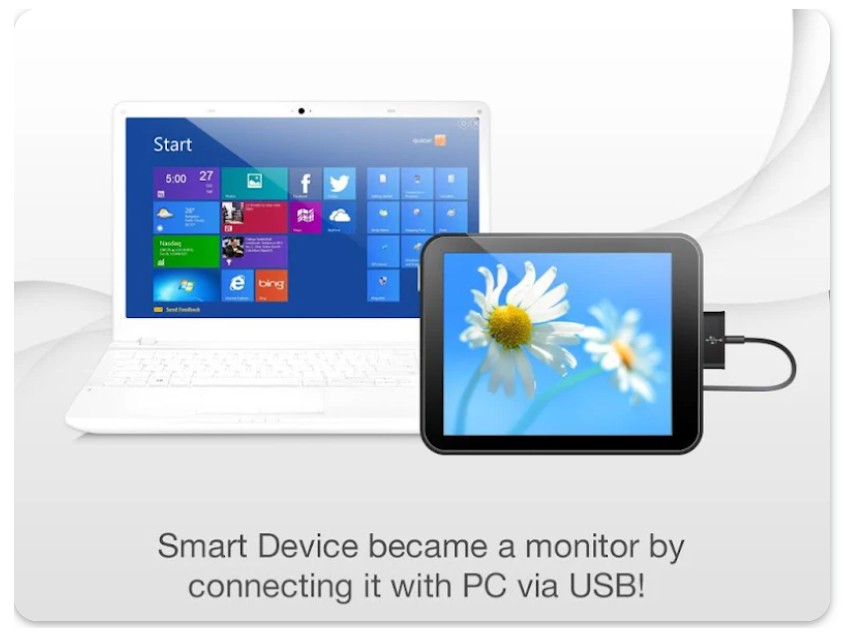 You may also like: 9 Best Android Remote Control Apps
Spacedesk
Spacedeck setup mirrors that of many other applications. To get started, simply download the app onto your device and then onto your computer or laptop.
I found Spacedesk to be impressively simple yet functional. The software offers both wireless and USB connectivity options, allowing the user to tailor the setup according to their needs.
The users experienced a hassle-free and seamless work experience while operating multiple applications, from simple document editing to multitasking with several open windows. In essence, it felt like having an extra monitor at hand, enabling the workspace to expand without any snags.
The performance and compatibility are impressive. It works seamlessly across Windows, macOS, and Linux operating systems to provide a versatile user experience. No matter which platform you work on, Space-desk has got you covered for an easy multi-device use case scenario.
All in al, this app offers easy installation, and several connectivity options, and operates seamlessly to improve productivity significantly.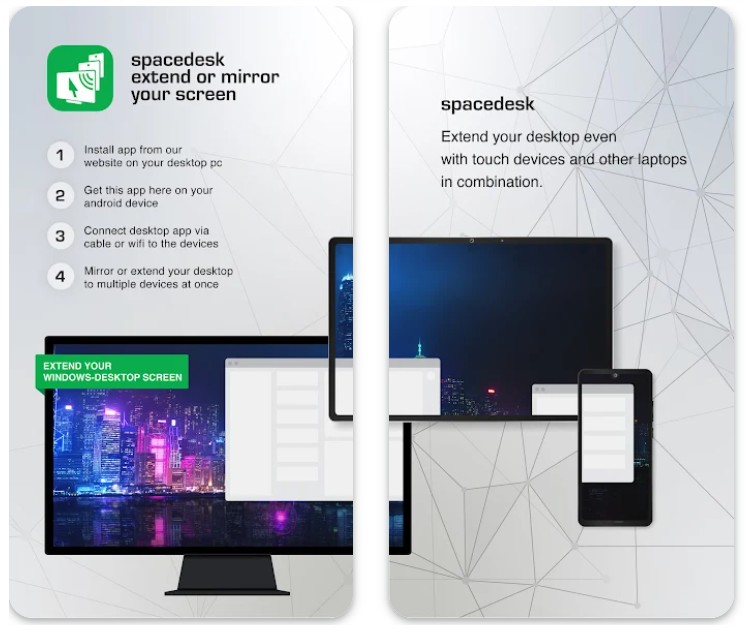 TwomonAir
As previous ones, this application allows users to remotely access their computers using their smartphones or tablets, similar to holding a magical remote control in their hands.
TwomonAir is fascinating in its nature. The interface lacks complex gestures, but there are many controls that can be overwhelming to a novice or even an experienced user. Instead, the developers have focused on basic elements that make it easy to navigate and control the computer from a distance.
It provides everything from web browsing and file access to media playback control. With just a few taps on their phone or tablet, anyone can easily interact with their computer. The freedom and pleasure of complete control in the palm of your hand is freedom indeed.
The simplicity of TwomonAir is its strong point, despite having many features, it does not provide a wide range of gestures like some competing applications. However, this drawback hardly bothers me, as the app makes up for it with its intuitive interface and ease of use.
Its friendly interface and a handy multitude of features make it one of the best options to give it a try.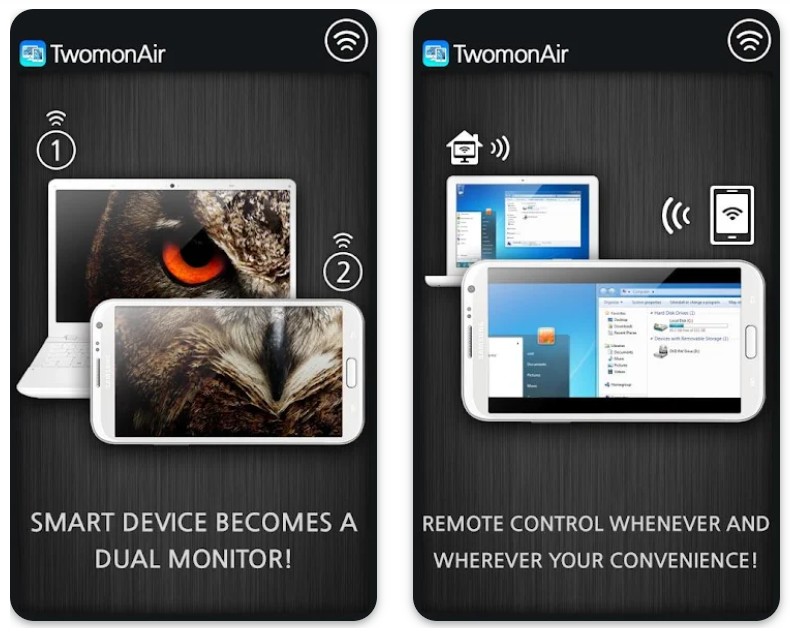 Luna Display
This app is not your typical second monitor app. It is cool because it can easily connect to various models of phones and tablets, as well as various gadgets for drawing and not just drawing.
This means that whether you're using the Apple Pencil or any other gadget, the Luna Display is always ready to enrich your experience by adapting perfectly. Using Luna Display is like having a high-end art studio right at your fingertips!
It is easy to use, offering a streamlined interface that prioritizes features for a seamless creative experience. The integration and responsiveness of Luna Display provide exceptional smooth drawing without the need to motorize complex gestures.
The result is a natural and enjoyable process for any artist or designer who wants to create with ease and imagination.
When sketching, drawing, or refining details, I felt an incredible pleasure using the Luna Display. The responsiveness of the app combined with the precision of the stylus created the feeling of a seamless digital canvas. This art tool has changed my creative process and opened up new possibilities in my work.
If you are a creative person and want to unleash the full potential of digital art, Luna Display is highly recommended!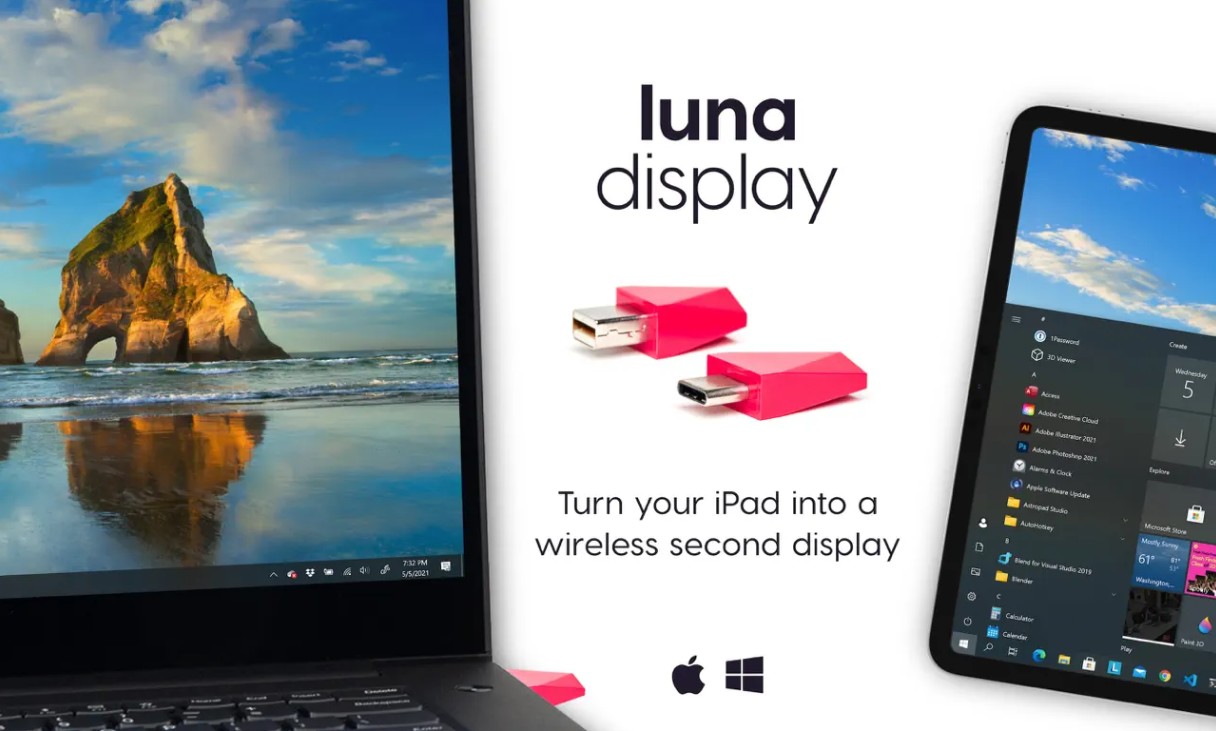 SuperDisplay
The SuperDisplay app is far more than just a second monitor application. It is designed for professional use and provides many settings and options to meet the needs of all users. If you prefer to have full control over your secondary display, look no further than this exceptional software solution.
What makes SuperDisplay stand out is its wide range of customization options. It offers a wide range of settings, including resolution, refresh rate, color calibration, and aspect ratio, which I can adjust according to my preferences. With just a few simple taps on the control panel at my disposal, I can create the perfect display setup for my specific needs.
This ingenious tool isn't limited to adding an extra screen, it's also perfect for unleashing your creativity. If you're an artist or designer with a passion for digital art, SuperDisplay supports a variety of phone and tablet devices as well as drawing styles. In fact, from creative expression to productivity, SuperDisplay can do it all!
SuperDisplay is an app for phones and tablets that turns your device into a versatile second display. Whether you're a professional or an enthusiast, the SuperDisplay app will provide you with all the settings you need, compatibility with various phones and tablets, and support for creative work.

Chrome Remote Desktop
Chrome Remote Desktop from Google, the same multinational corporation behind the world's most famous browser.
Chrome Remote Desktop is a handy app that allows you to access your computer remotely from anywhere. Its minimalistic and clear design makes it a popular choice for those looking for a convenient and simple solution.
Thanks to the talented IT professionals at Google, it always gets the job done – whether it's accessing important files or launching apps remotely. For those who need reliable and efficient remote communication, Chrome Re-mote Desktop has proven to be a valuable aid.
The installation process didn't require much effort. The user would only need to install the app, follow a few simple steps, and ta-da! And now you can access your computer from your mobile device.
Admittedly, Chrome Remote Desktop lacks gesture capabilities compared to some other applications. Despite this, the program makes up for the lack with its simple and flawless operation. It is unwavering, reliable and gets your work done without any hassle.
Chrome Remote Desktop is an indispensable application for those who want to access their computer from a remote location.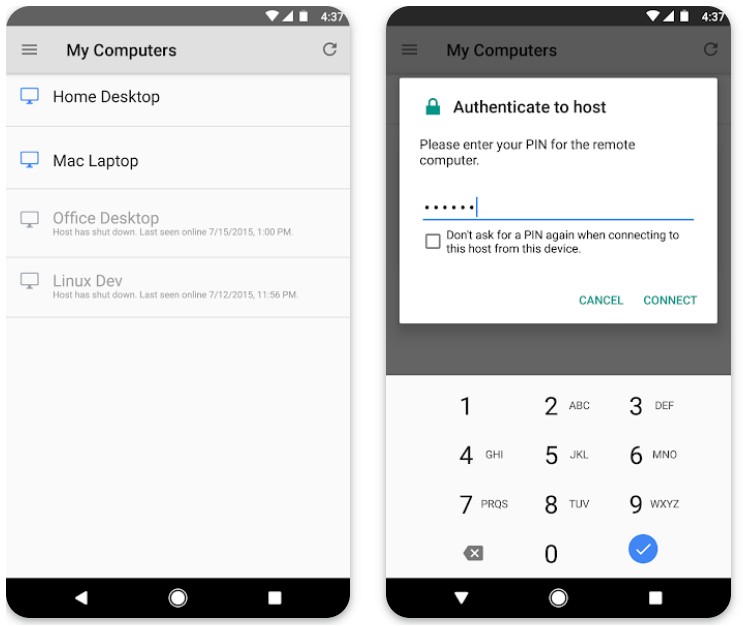 You may also like: 7 Best Sanyo TV Remote Apps for Android
TeamViewer Remote Control
TeamViewer Remote Control has been revolutionizing remote access since 2005. This powerful tool helps both corporations and everyday users. Get ready to be surprised by its possibilities.
TeamViewer is like a magic wand for remote access, management and maintenance of computers and other devices when you need to manage devices from a distance, whether for work or personal use.
The versatility of TeamViewer is truly incredible. It is suitable both for corporations striving to manage their employees, as well as for ordinary users who need remote access to a home computer away from home. As such, TeamViewer turns out to be a reliable "superhero" in the remote-control service industry.
The installation of TeamViewer is nothing complicated. All it takes is installing the application on both devices, and the user can easily establish a reliable connection. Many users are happy with how easy it is for them to access and control their devices with TeamViewer. It's worth trying for yourself!
You may wonder about the use of gestures in TeamViewer. Despite the complete absence of gestures, the simplicity and clarity of TeamViewer pay off. It concentrates on the most essential controls for easy navigation and remote control of your device.
Whether you need to access files, troubleshoot problems or collaborate with colleagues, TeamViewer is there for you. It acts like a virtual office, giving you the freedom to work productively and efficiently from anywhere.