17 Best Sports Streaming Apps for Android & iPhone
There are so many sports that there is no difficulty to find among them a favorite one. But the thing – to keep track of what is happening in the professional arena is extremely difficult. There is a huge number of leagues, clubs, and important matches nowadays.
If matches are at the same time, it is even impossible to stay informed of important events. Sports Streaming applications will allow correct the situation. So, in this article, we have gathered all the best sports streaming apps for your device whether it is iPhone or Android.
You may also like: Top 8 sport video analysis apps for Android & iOS
365Scores
365Scores is a free personal sports channel for your mobile phone, which allows knowing the results of matches, watching videos of goals, as well as keeping abreast of news and statistics to ten different sports.
The latter is represented in football, hockey, basketball, handball, football, baseball, volleyball, tennis, rugby, and cricket. This, in turn, provides the data about the events of 1000 leagues and 10000 teams.
There is no secret that every sports fan has a favorite team. 365Scores developers are well aware of that fact and therefore paid particular attention to personalization. Before using the application, each user should note interesting teams and leagues. In addition, you can configure the push-notification for each of them in great detail.
You may also like: 11 Best football prediction apps for betting (Android & iOS)
ESPN
ESPN is one of the best sports apps in the market which is available for both Android and iPhone users. On your phone screen, you will see the results of games, news about your favorite teams and important sports events, videos of goals, and tweets on a sports theme.
One of the greatest benefits is that you can create an account and set notifications about important events, news, and scores from all of your favorite teams. So, you will be always aware of wherever you are.
ESPN will be a godsend for fans who want to be aware of all the sporting events, without spending a lot of time.
Cricbuzz Cricket Scores & News
This app is the most preferred one for those who are interested in Live Cricket Scores. It covers the most important events and leagues: ICC World Cup, Big Bash, ICC World T20, Champion League, and many others. It also includes domestic cricket tournaments.
The channel is updating constantly, so you will follow the ball by ball commentaries. If you missed the match it is possible to see the results right here. Share the scores via Email, Facebook, or Twitter.
In the app, you can find upcoming events for tomorrow and any other day. Alerts are also available here. Don't miss an important event!
LiveScore
LiveScore is the leading source of real-time sports streaming. The app was downloaded over more than 50 million times already. You will get live scores from different competitions and leagues.
Here is detailed information about sports events worldwide. More than ten kinds of sport are available. The interface of the app is user-friendly and understandable. Enjoy such an exciting service every day!
SofaScore
This is a FREE app for online sports results in different kinds of sport: Football, Hockey, Basketball, Tennis, Football, Motorsports, Cricket, Baseball, Rugby, American and Australian football, water polo, snooker, darts, Badminton and more.
In the app you can:
• vote for the winner of the match, as well as the ability to see what other fans suggest
• select the type of notification (sound, vibration, silent mode)
• see statistics
• see the date of the competition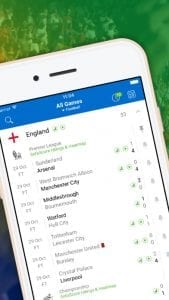 Football Live Scores
Football Live Scores is a powerful football community. Here is information about 1000 leagues around the world, as well as international competitions. The app helps you don't forget when the match starts or to follow its score. It provides you with very detailed information.
In one of the sections, a user can choose interesting leagues, see the calendar of matches, tables, statistics, top scorers. Here you can read the latest news from the world of football, watch videos, a ranking of countries according to UEFA, play a game of "who is this player," selecting the name by a photo.
Broadcasting via the menu "Live" will delight you with detailed statistics in real-time. It also displays user comments, has videos, you can vote for the outcome of the match, set up event reminders. Football Live Scores is flexibly customizable according to the user's needs, it is easy and pleasant to use.
FlashScore
Stay in touch with everything that you love about the sport with the app FlashScore. You're always aware of match results, statistics, and competitions. If you are unable to watch the match on TV, there are no problems! You can follow it second by second and stay up-to-date with LIVE text commentaries. You can choose from more than 30 kinds of sport and 5000 competitions.
SuperSport
SuperSport application with its beautifully designed interface will take care of all your sporting needs, wherever you are. Enjoy video highlights, real-time updates, live commentary, match chat, and much, much more. With SuperSport you will watch your favorite sports live.
You can follow your favorite team and receive updates and notifications about match events, live scores, and what happens in real-time.
sport TV Live – Television
Sports TV Live – Television is a program with the help of which you can watch all the matches and sporting events that take place in our world. This application has gathered all the major TV channels and sources that cover sporting events. So downloading the app, you get an incredible advantage.
The sports in the app are divided into categories, so finding the right channels will be quite simple. Never before you have had such a wonderful opportunity to watch live streams directly on your phone.
fuboTV Live
fuboTV is one of the high rated apps for live soccer streaming on Apple phones. It follows the most famous soccer leagues, matches from all over the world, and other tournaments. More than 10 live channels are included. Also, you can set reminders when an important match starts in order nor to miss it.
TV Listings by TV24 – US TV Guide
The app can be considered as one of the best TV listings apps all over the globe. Moreover, you will be up to date on your favorite sporting events.
Here you can watch all the sports shows, games and competitions that are on TV. It works 7 days a week, 24 hours a day, so you will not miss upcoming events. In the app, you can also make your own watch list including your favorite channels and shows and set reminders.
You may also like: 9 Best Apps to Watch Sports Highlights (Android & iOS)
Livestream
Livestream is one of the high-rated applications offering to watch sports live on your mobile device. The greatest advantage of this app is the built-in chat, so you can discuss any event with other viewers here.
Also, you can broadcast live events to your friends and other viewers via Facebook, Twitter, or any other website. Notifications are also possible for you not to miss an important match.
CBS Sports
CBC Sports is a sports streaming app available for iPhone users as for Android ones. With this app on your phone, you will be always aware of scores for all popular sports (football, baseball, hockey, golf, basketball tennis and so on), real-time starts, sports news and more…
Every user can personalize it to his favorite teams. It is possible to create a Watchlist in the app, so a user will get alerts for the games he'd like to watch. Watch live sporting events all year round with CBC Sports and enjoy it!
Fancred
Fancred is another worth mentioning sports app. You can use it to watch important sports events on your phone live. You can watch live videos wherever you are at any time.
You will get instant scores of your favorite teams (just tap on the score and you can get detailed stats). The profile of every user is personalized. So, you can organize all the information needed (photos, the events you attend, and anything you do as a sports fan).
Eurosport
Europe has always been a leader in many kinds of sports, so there is no wonder why this continent has so many sports fans not only inside itself but all around the world. Eurosport is a famous channel and now you got the app. Obviously, on this channel, you can watch all the sports events happening in Europe.
The advantage of the app in comparison to the channel is that the first allows the living broadcast of several games simultaneously.
And if you don't feel like you want to watch something, you can just read the latest sports news. In general, the Eurosport app doesn't have any special features, but the list of broadcasts it covers within Europe is very decent.
theScore
This is a great streaming app, the target audience of which are going to be soccer fans. It has the fullest collection of soccer matches and games for the broadcast: NFL, NBA, NCAA, MLB, NHL, English Premier League Soccer, La Liga Soccer, Champions League Soccer, and every major league and competition.
A cool feature of theScore is even you are watching the broadcast alone, you will still have people to share your emotions with – there is a chat under each broadcast. By the way, in theScore, you will find not only soccer, but also basketball, baseball, tennis, holy, golf, and many other kinds of sports.
You may also like: 7 Best apps to watch NFL games on Android & iOS
Yahoo Sports
It might be quite surprising, but yes, Yahoo is still alive. Even though it is not the best sport streaming app ever )just like anything by Yahoo), it is quite nice in usage. You will get access to all the main sports channels and will be able to watch your favorite NFL games.
An interesting feature of this app is that it allows you to "follow" your favorite TV channels, so the news and broadcasts by them will be always shown to you first. If by any case you have a Yahoo account – you can use that to log into Yahoo Sports.
Perhaps every fan of football, hockey, or any other games had inadvertently missed an important broadcast of the match. It does not matter what caused the current situation: a huge traffic jam on the way home, the lack of places in your favorite pub or prolonged queue in the supermarket.
In such situations, you can use one of the offered sports streaming applications and watch an important sports event wherever you are!