Are you a puzzles fan? Or, maybe are you searching for a challenging game? In this case, we would like to bring your attention to the Dungeon Cards app. This entertaining and addicting app combines puzzles and card games. We played this game for weeks and still can not help stopping. So, let's take a look at why this app is truly worth downloading.
The main task of the game is to move your character card across a field of nine cards. You can move it to the left, right, down, or up, by clicking on the neighboring cards. Some cards increase your game score and give gold, while cards with traps and monsters can harm your character card.
This game is incredibly cute and will probably be appreciated by the female audience. By the way, you can also check our article about the best apps for teenage girls.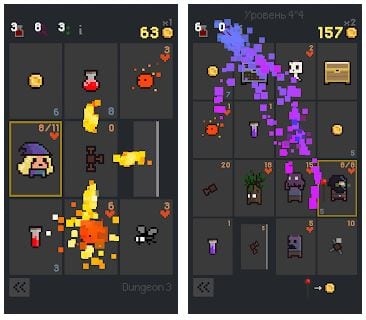 Dungeon Cards app features its simplicity of usage. When you start playing, the app provides you a quick guide on how to play the game. There is nothing difficult in this app, but you should take action wisely to survive as long as you can.
Besides, there is no need to have a constant Internet connection, as the app allows you to play without it.
What is more, the app includes a special section of different achievements.
Dungeon Cards feels like you're playing with your favorite emojis. y the way, if you like those, you can also check our article about the best apps for flirty emojis.
So, you can take challenges, set records, and make your playing process much more motivating. Moving on, the next built-in section allows you to choose any of the three powers for better playing.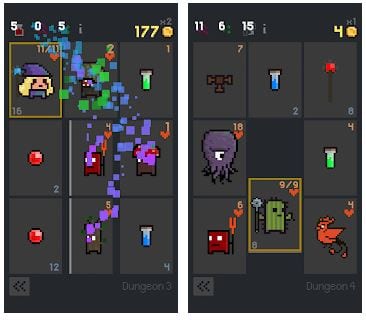 The app comes with a non-commercial version. We have to admit that nowadays it is quite an uneasy task to find such a high-grade and interesting game, which would not constantly ask for a monthly fee.  Dungeon Cards app boasts a well-developed pixel design.
Another fun category of games that will bring to you lots of fun is the gender swap apps. Curious to explore them? Here we made a list for you.
The manufacturers have created a user-friendly interface that ensures you a pleasurable playing.  Summarizing all the points, the Dungeon Cards app allows you to spend your free time funny and useful. We can guarantee that you will not find a more exciting game than this one.