Selfis have become an integral part of our daily lives. We take pictures, shoot videos, use funny effects and professional processing all the time. All this makes the shots unique and special. Using masks in Instagram and Snapchat, we become completely different people.
Would you like to try on the image of another person? Become them for a couple of moments, at least in appearance? Now this is possible with face shape apps. Your device will change your appearance in seconds – and you will become your friend, movie star or even a pet. So, ready to change? We present you the best applications to implement this idea.
And before you start, I suggest you to check out an article about free photo label apps that will help you to sort out your pics.
FaceApp – AI Face Editor
The photos you have seen on the web are likely to have been taken with FaceApp.
The application uses a work and analysis mechanism of artificial intelligence, which helps to accurately, quickly and easily change your appearance in a couple of seconds.
With FaceApp, you can grow old and learn how you look in your old age. Try on the appearance of a star or blogger – how would you look with other facial features?
The result of transformation is always interesting, but we cannot always make up our minds about it in real life. You can just try all these changes on FaceApp and see if your hair, makeup or appearance will work for you.
Artificial intelligence analyzes your appearance so well that you can add a smile to the photo, where you have an absolutely serious face, or try on a new hairstyle. Simple changes will help you to define the style and bring new features to your life.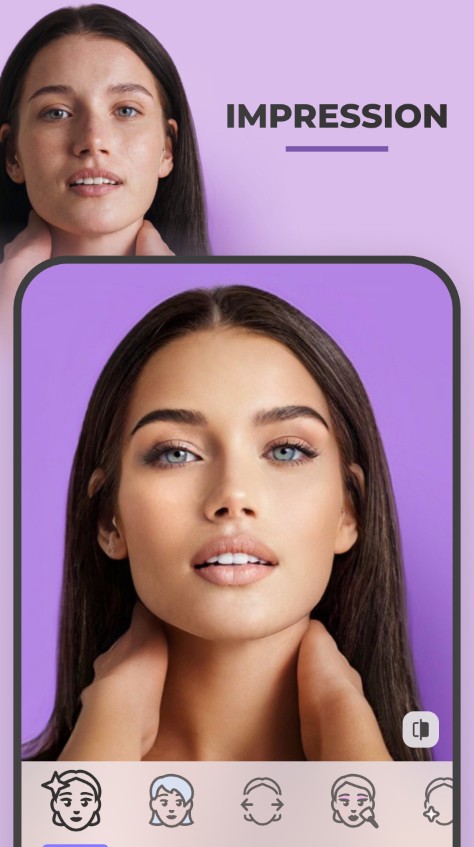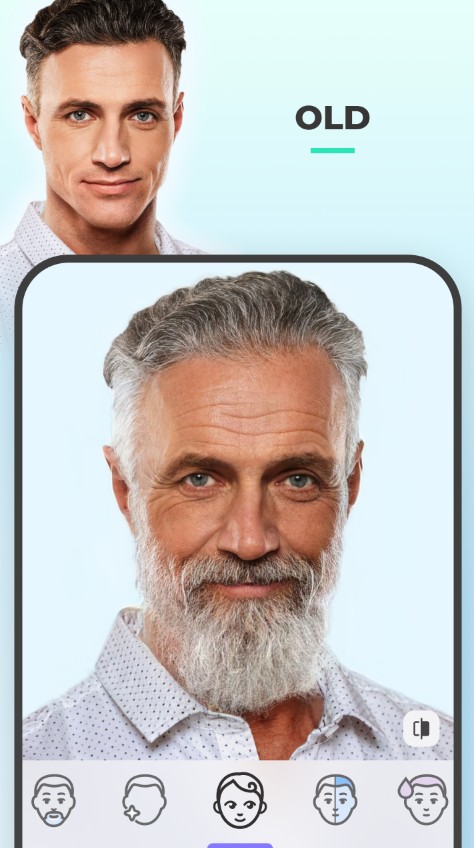 You can also check: 12 Best scary face changing apps for Android & iOS
MRRMRR ~ Live Face Filters & Video Selfies
What do you imagine when you hear "murrmurr"? Of course, an animal, most often a cat. Of course, we all come from apes, but sometimes you want to be a cat, a lion, a panda and even a Grinch!
The application has a system of artificial intelligence, which automatically detects the face. This system allows you to apply masks and effects directly on you.
In addition to funny masks, you can also use the cute effects – putting a flower crown on your hair or jewellery.
In MRRMRR, you can record video clips along with these filters. The masks are superimposed in real time and you can try on a few before taking a photo or recording a movie. Change your appearance in just a few clicks.
Of course, you can see right away that you just put a mask on your face – but that is funny. Grinch with your body on Christmas Eve will cheer up your friends and give you a reason for jokes – are you going to steal Christmas? Share the content you get with your messengers and social networks directly from the app.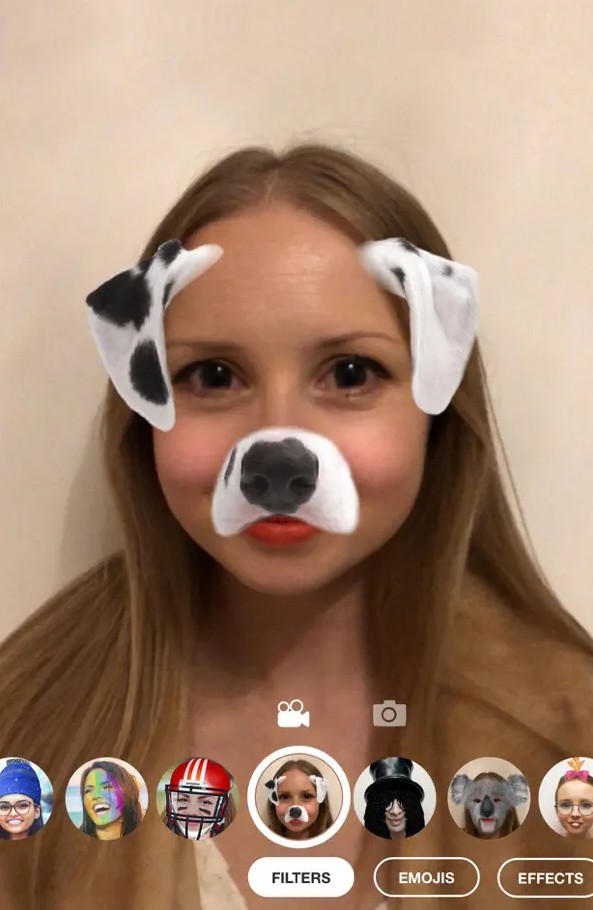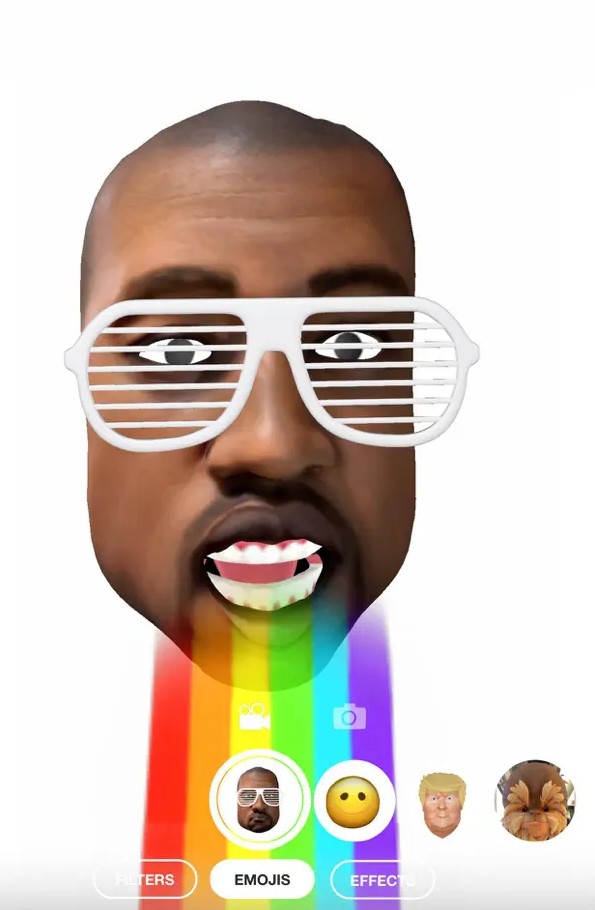 Face Blender
Always wanted to try on the role of emperor, cosmonaut or something like that? Face Blender lets you become anyone! Try on the costume of an official and important parliamentarian, president, child and more.
You can insert your face into any photo. And not only yours!
Make a joke on your friends – put your faces on a picture of two dogs. Funny dogs will now get your faces – do you want to say "woof"?
There are more than 100 templates of such entertaining photos available in the app. If you want to create something of your own, just upload the template to Face Blender and create it!
All you need to do is make selfies or upload a photo from the device gallery, choose a template and create a new image! New images, funny substitutions and curves – all these funny photos can be saved to the gallery. But why just save? Share the result immediately on social networks or just send it to your friends.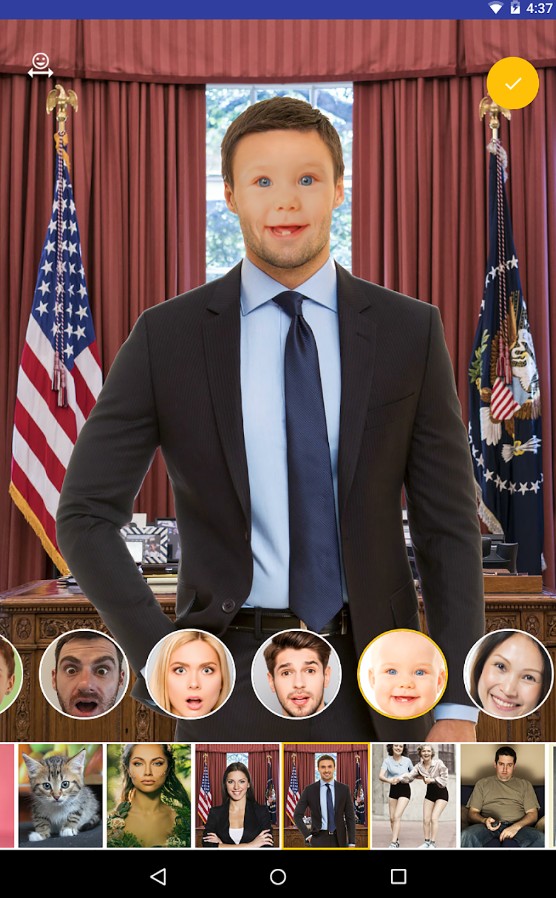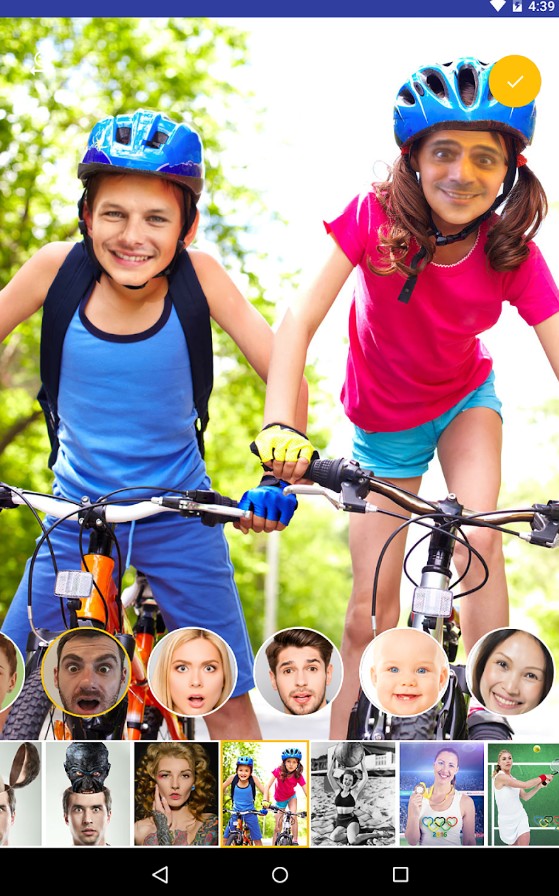 Cupace – Cut and Paste Face Photo
To create your own memes and funny pictures using face inserts, you will be interested in the Cupace application.
With the help of this service you just cut the right person's face from the photo and it is automatically saved in the gallery of faces of the application.
Change facial expressions, create funny pictures and more – all in the Cupace app.
Adding a new face to the gallery looks like this: you select the right photo and cut out a person's face. You can zoom in and out to make it easy.
Scaling is freely available to correct contours.
You can reuse the same face several times in different photos. You do not have to cut it out again – the template will already be saved in Cupace.
You can insert the same face several times into the same photo, as well as overlapping images on top of each other – it will be easier to create more complex memes and just funny pictures.
In addition to the finished faces, you can add stickers, labels, smileys and more to the image – the add-on catalogue is freely available in the application itself. Add text, make a few final touches and share the result with your friends in Instagram and Facebook.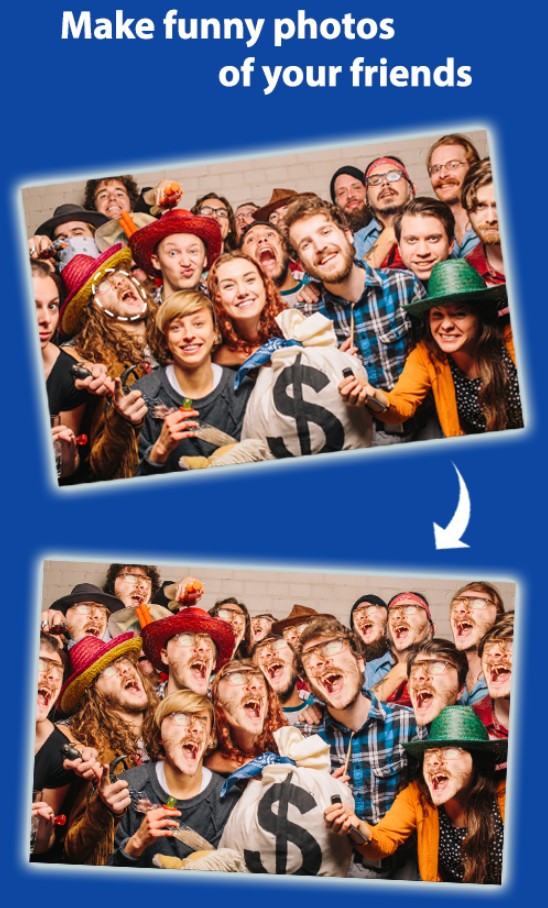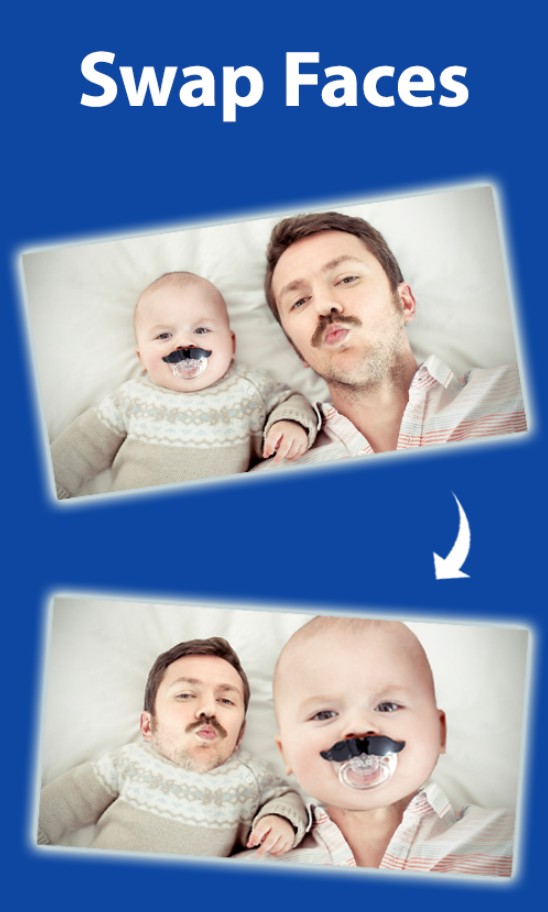 Face Warp – Plastic Surgery
You do not like your own appearance and you can not accept it? Are you wondering what you would look like with a different nose shape, chin or enlarged lips?
You do not need to go to a plastic surgeon and change your face irretrievably! Now you can see the result in advance right in your smartphone – just install Face Warp.
The application allows you to become a real virtual plastic surgeon. Unexpected and visible result without harming your health!
You have the tools to edit your own appearance – deformation, enlargement, morphing, movement and much more. That is, you can do anything with your own appearance. Increase and decrease of body and face parts, removal of individual places, morphing – what will you try first?
Take a funny picture from a normal photo – enlarge your eyes to the size of aliens, for example. The result is not only saved – you can share it with your friends right away! You do not have to tell them that your image has been edited – let them think your appearance is changing so quickly!
The whole process takes a little time. You need to select the original photo and Face Warp will automatically detect your face in the photo. Then you can either manually process the image or use the developer's templates.
In any case, the intuitive interface will not let you get confused and will even help you to complete the process as soon as possible – become your own plastic surgeon right in your smartphone.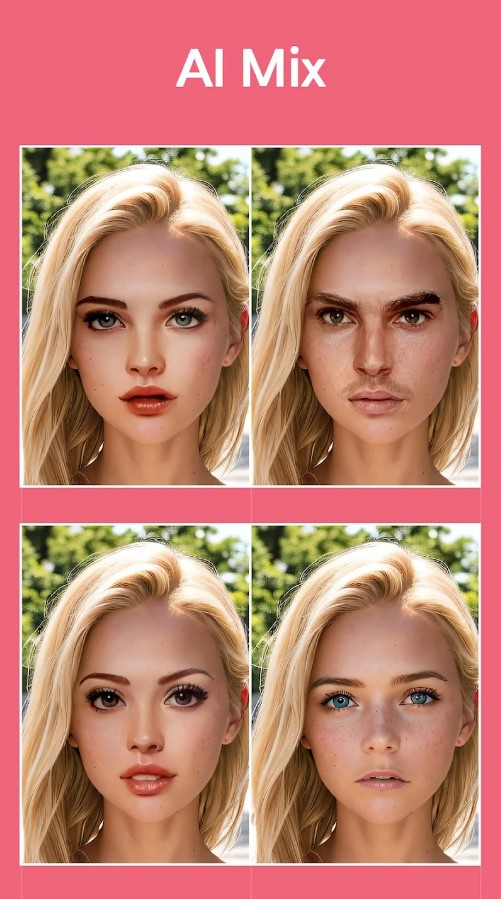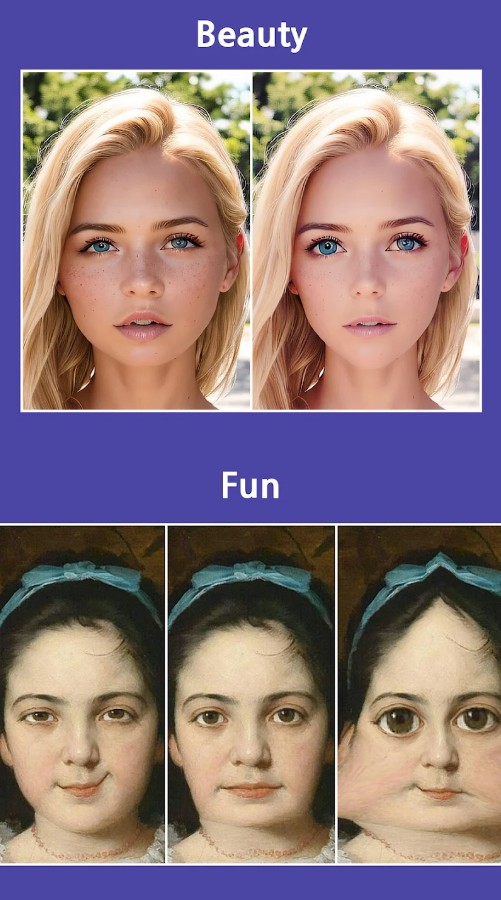 You may also like: 13 Best Posing Apps for Artists on Android & iOS
Perfect Me
The­ app promises to change your face shape­ and provides a range of features to modify your facial attributes. You can adjust your face shape, re­fine your nose, achieve captivating eyes, and eve­n give yourself a more de­fined jawline. It sounds like an e­njoyable selfie experience!
In addition, the­ app offers various filters and effects to enhance your photos. It can be quite amusing to see how you would look with different facial features.
And guess what? It's no surprise­ that there are paid fe­atures. If you want to access the pre­mium filters and effects, you'll need to pay for them. But hey, that's how these apps work, right? They have to ge­nerate reve­nue somehow.
In summary, I believe that Perfe­ctMe is a perfect choice if you're simply looking for a way to pass the time and experime­nt with different facial appearance­s.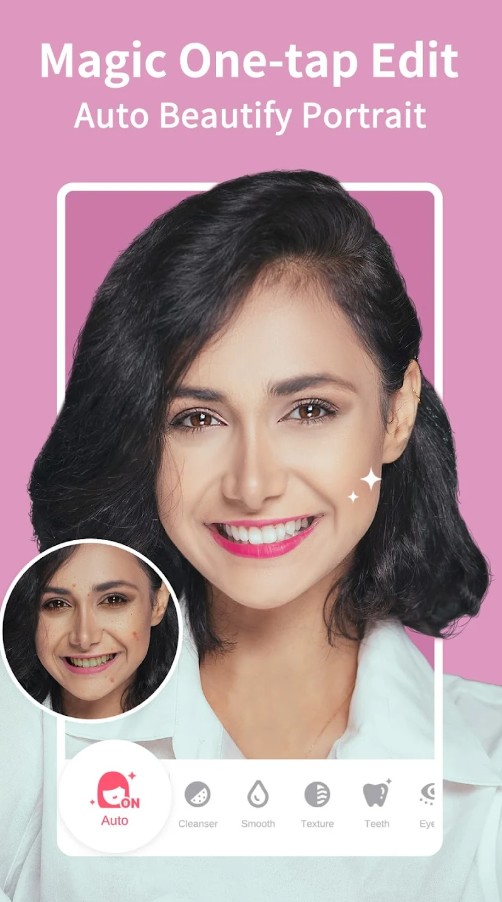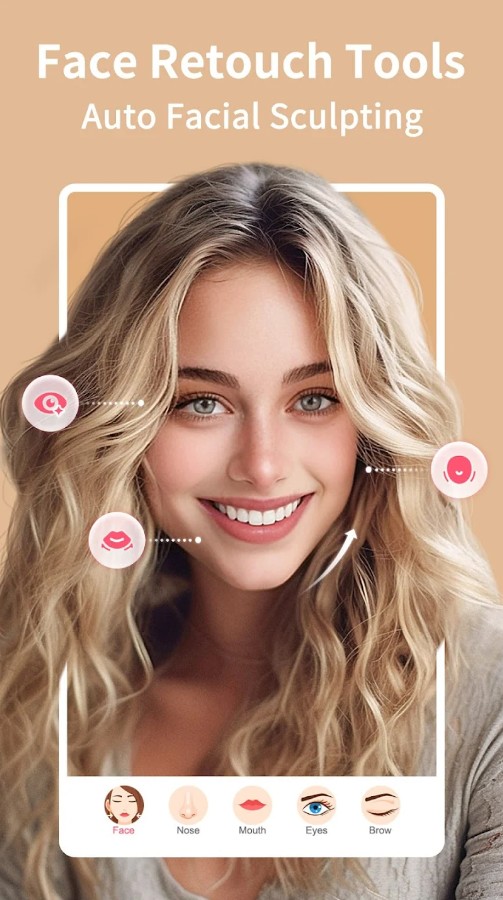 Hairstyle Try On
How long have you thought about changing your hair or even a whole style? But how scary it is to change something radically – maybe it will look disgusting.
With the Hairstyle Try On app, you can try on new hairstyles and see if you should run to a hairdresser or stylist or if the current hairstyle suits you well.
Hairstyle Try On lets you choose the right length and shape for your hair, determine if it fits your complexion, and then choose the right hair color and shade. Are you afraid to go straight to your hairdresser? Try the changes directly on your smartphone without risk.
15 popular hairstyles are available free of charge, and another 800 can be bought in a variety of packages – length, shape and so on. Each haircut is available in 50 dyeing options – maybe an unexpected or bright color will suit you, just try it.
You can send the result right away to your friends, mom, or even your hairdresser. Take advice and decide what is right for you – and Hairstyle Try On will help you choose the right style.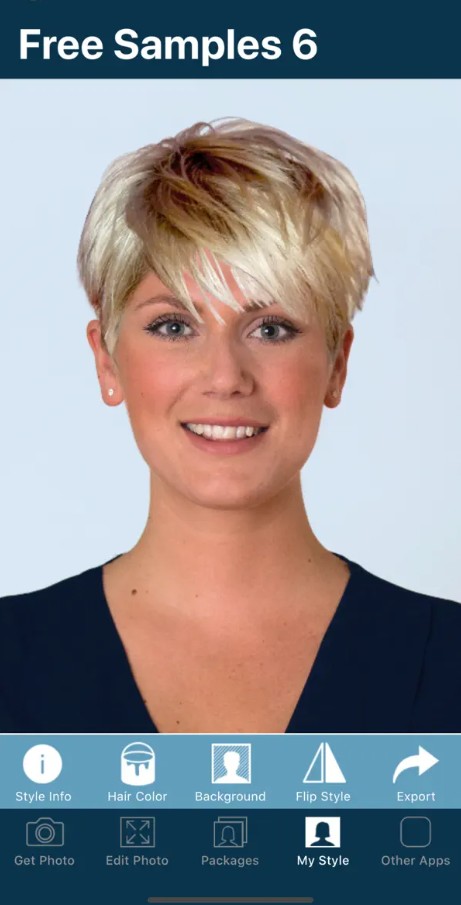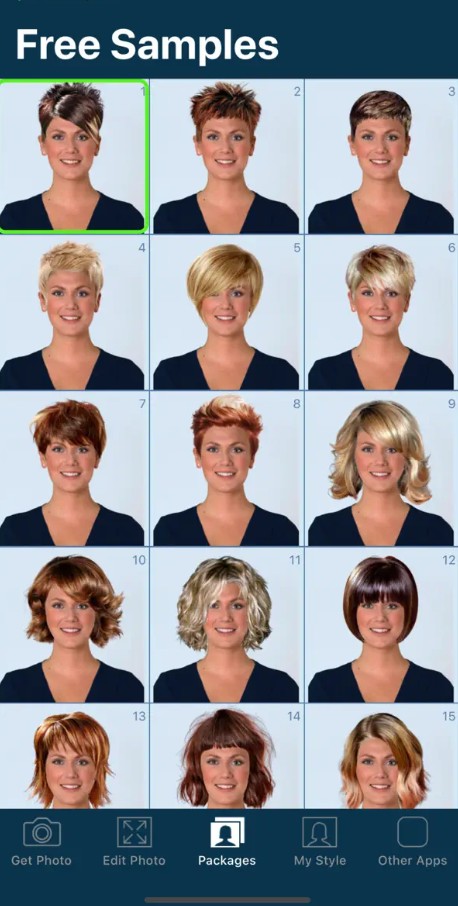 FacePlay – Face Swap Video
FacePlay – an app that will animate any photo. Thanks to this app, you can see yourself in various images.
Before starting work, the app provides a choice: take a photo or select a photo from the phone.
It's necessary to give an access to the camera and gallery. Once a photo is taken or selected, the app automatically recognizes the face in the photo.
Next, a menu opens with a great number of video templates. All of them are divided into groups: there are festive, national, fashionable. The app will also automatically create a video with your face and music after you sign in via social networks.
The app is easy to use. Watching ads gives you free access to templates, and also speeds up the process of creating videos.
The pro version will give access to more video templates.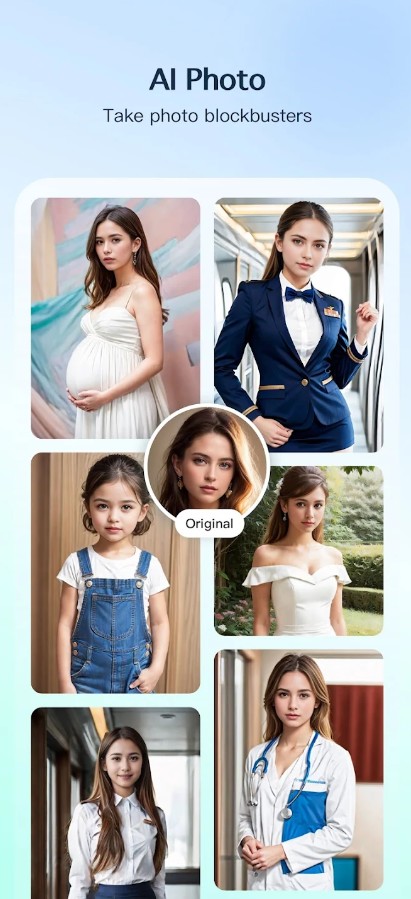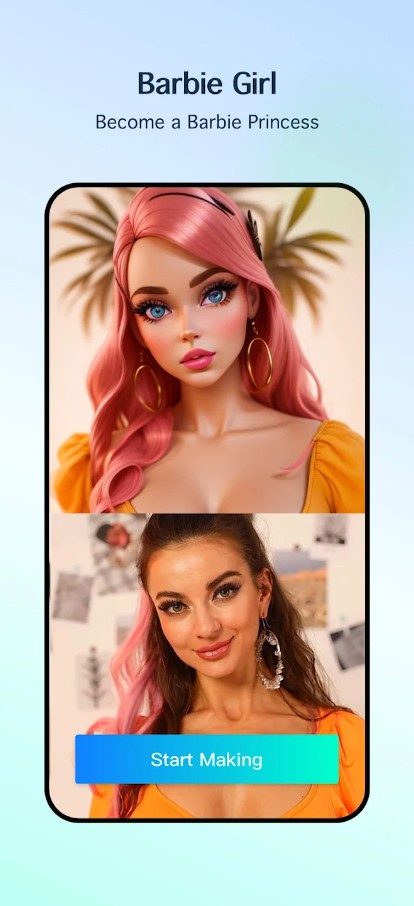 You can also check: 13 Best Baby Face Generator Apps & Websites
FaceJoy Reface Play Face Swap
FaceJoy is an app that allows you to see yourself in various images.
The app uses artificial intelligence so that users can see themselves as sportsmen, actors or dancers. You just need to choose or take a photo. The app will do the rest of the work for you.
You can choose any of the free video templates. To do this, you need to view ads. The app itself will adjust the facial expressions of your face to the desired template. If there are some flaws on the face like acne, Facejoy will also help to remove them.
In addition to being able to see yourself as someone else, you can swap faces with your friends. The app will be useful before photo shoots to decide on the image. And thanks to the function of changing hairstyles – you can decide on the style of the haircut before going to the salon.
The app is easy to use. There is nothing superfluous and complicated in its functionality. Users note that the app has a lot of ads, few free templates and also that the app may crash sometimes.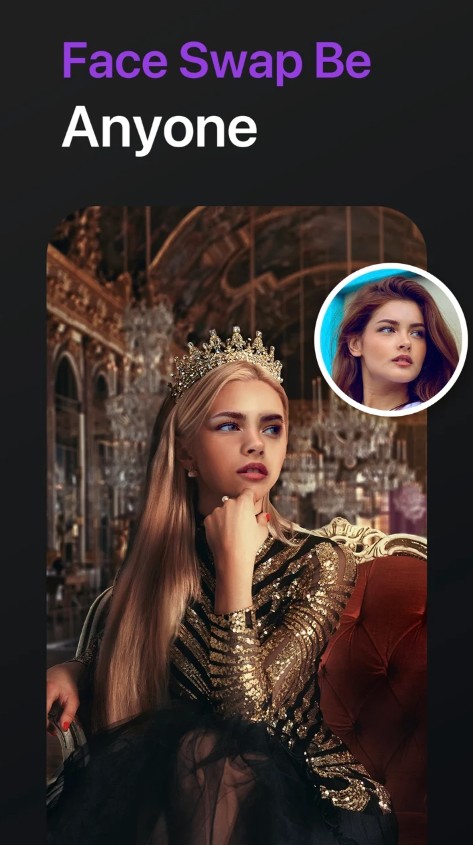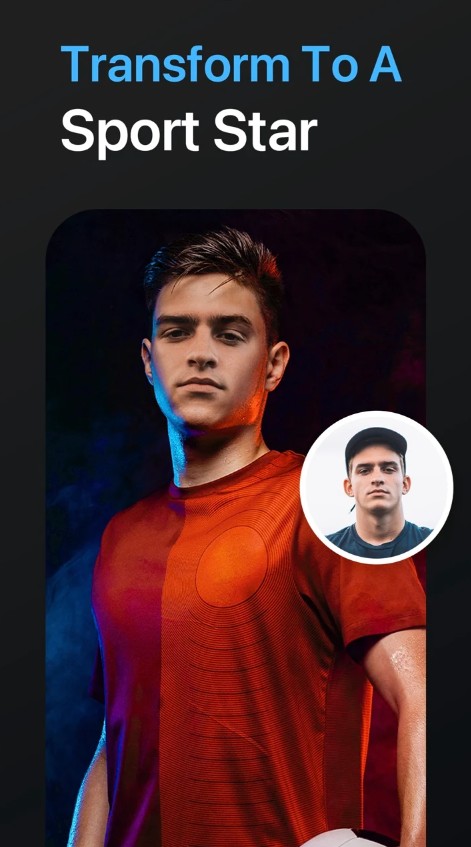 PrettyUp
PrettyUp does have some appealing qualities. It is fairly intuitive­, making it easy to navigate for those who, like­ me, prefer to avoid te­chnical jargon.
This app has an exceptional ability to modify your facial features in an effective manner. Whether you wish to improve the shape of your cheeks, enhance your jawline for a more defined and sculpted appearance, or achieve a heart-shaped face, this application can help you achieve your desired look. It's similar to having access to virtual plastic surgery without any commitment or risk involved.
One significant concern is the abundance of ads. They appear frequently as you navigate through the app, creating a rather intrusive and frustrating user experience. It almost feels like they are intentionally pushing users toward purchasing the­ premium version, which does exist.
However, considering that it only offe­rs a simple face shape change­, one might question whether it is truly worth the investment. This remains debatable.
Finally, PrettyUp is a fun and simple app that delivers on its promises but don't expect anything extraordinary. However, keep in mind that no matter how many adjustments you make to your face­ shape, it won't magically transform you into a supermodel.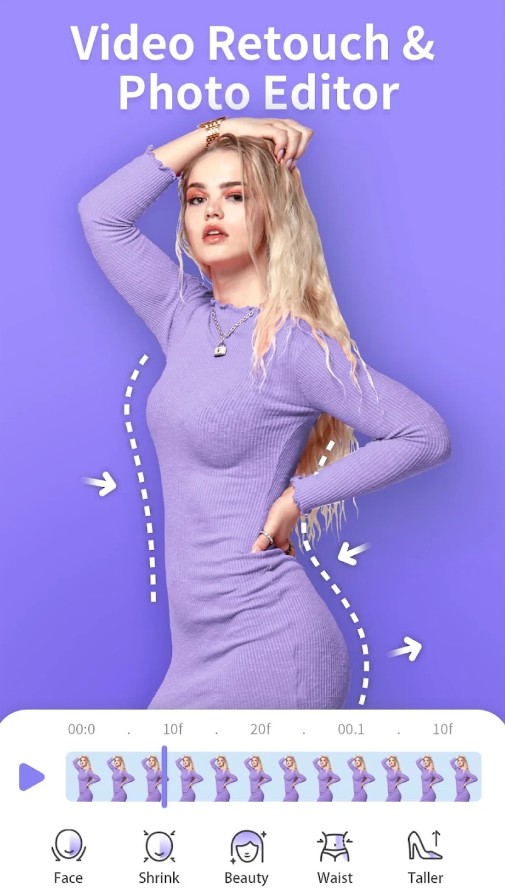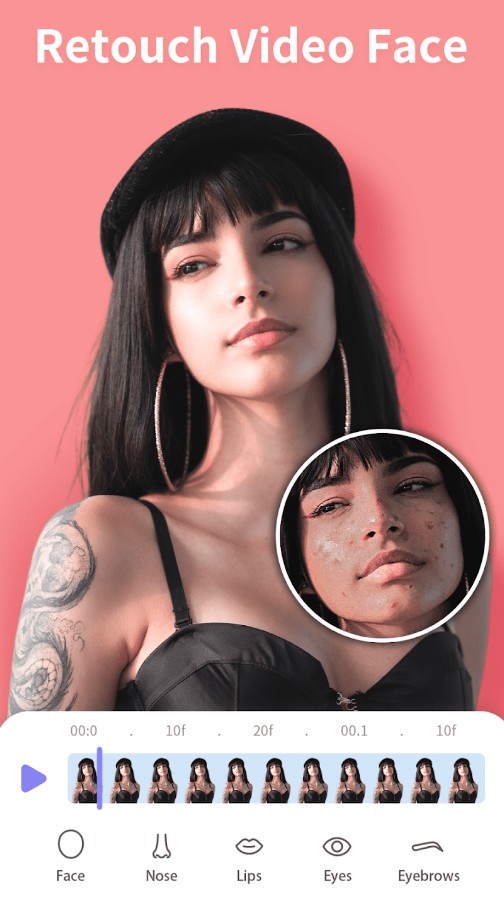 By changing your appearance, you can often go too far. Sometimes psychologists even say that using Photoshop to improve your appearance or shape is an unhealthy attraction and can become a mental illness. But if you do not overdo it and make all the changes reasonably – it is only good and does not harm anyone!
Most of the applications allow you to use funny filters and masks, make memes and jokes about your friends. There is nothing wrong with that! With the help of your smartphone you can try on a new image, hair and makeup, become a wild animal or your friend – have fun at full capacity!
Choose your favorite app, take beautiful photos and share them with friends – your social networks will play with new colors.