Have you ever had the need to compare two pics to demonstrate diversity? Then keep reading this article!
There are plenty of reasons for pics comparison – you may need to show your photo editing skills, weight loss, or even the growth of your child. Luckily for you, there are lots of before & after photo compare apps for Android & iOS that can cope with your needs in secs. These apps will compare your pics in collages and slideshows that will blow up your social media without much effort from you.
In case you'd like to upgrade your selfie game, check out this article: 10 Free Selfie Filter Apps for Android & iOS
Here's the list of the 13 best apps in that category you should try. Take a look!
Now&B4 – Slideshow App‬
Let's start with an app called Now&B4. This is a slideshow app that is ideal for demonstrating your before and after pics.
Shortly speaking, this app grants you to compare two pics or more and show the before and after. To do so, the app practically places one photo on top of the other creating or slide. Once it's done you can animate the slide and set the conditions of the pics comparison.
To be more specific, the app grants you to pick the format of pics, adjust the direction of the slide, its speed, positions, and more. You can also add some extra filters to the pics if needed (like black and white or whatever). As it was already mentioned, you can make a so-called multi-slide by comparing several pics and you can adjust the slider for every one of them.
Plus, you can switch the size of the slide and its width. It needs to be said, the outcome vids can be saved in full HD so it's great for targeted ads. You can also pick the frequency of the vid. What is more, you can add your logo to the vid along with any text you need.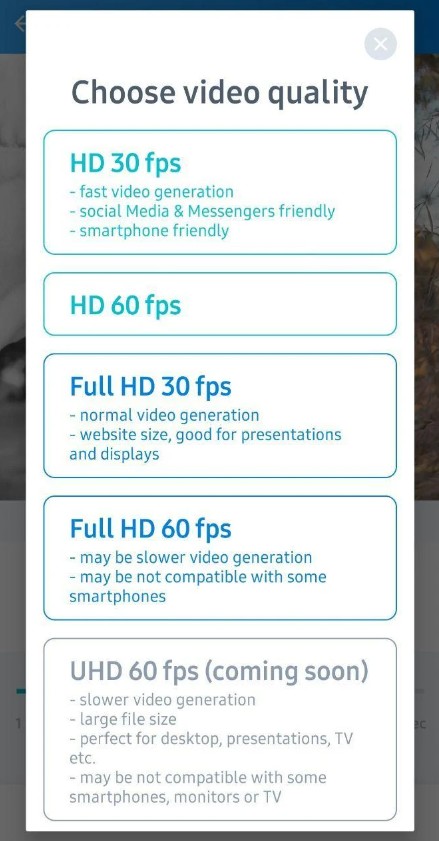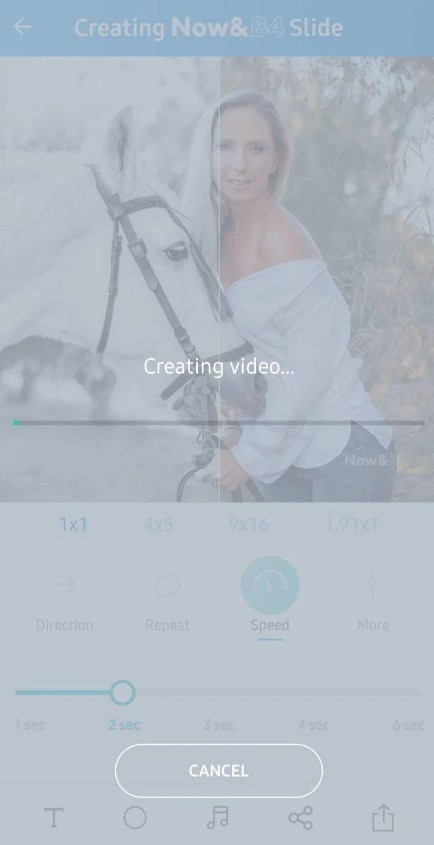 You may also like: 11 Best Apps For Combining Photos (Android & iOS)
Before and After Photo Compare‪
As its name suggests, Before and After Photo Compare is an app that empowers you to easily display the before and after of your shots.
The main idea of this app is to make the comparison process a simple as possible so there are not many efforts required from you. Although if you'll face any difficulties you can set the app so the instructions will appear on the screen. There are two slider modes in this app — the manual and the animated one.
As you can probably guess, the manual mode requires you to move the slider between pics by yourself. Sounds comfy cause you can control the speed of the slider by yourself but you can't actually share it with anyone (you'll need a screen recorder for that). The other mode animates the slider and turns it into the vid.
Therewith, you'll need to set all the conditions from the speed of the slider to its direction. It needs to be mentioned, the format of the vid will be saved automatically after the first use so if you'll ever want to change it you'll need to go to the settings. Once the slide-show is rendered you can share it directly on your SM.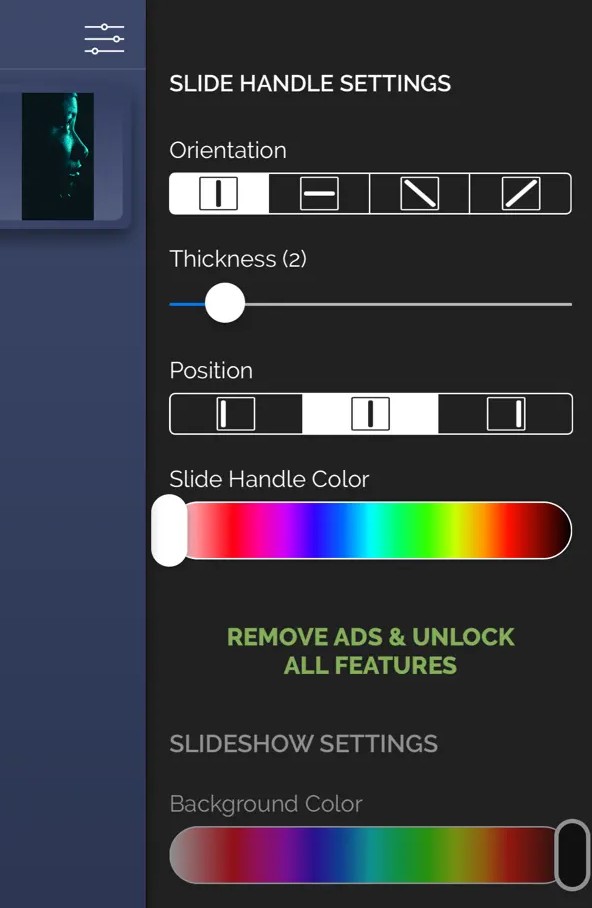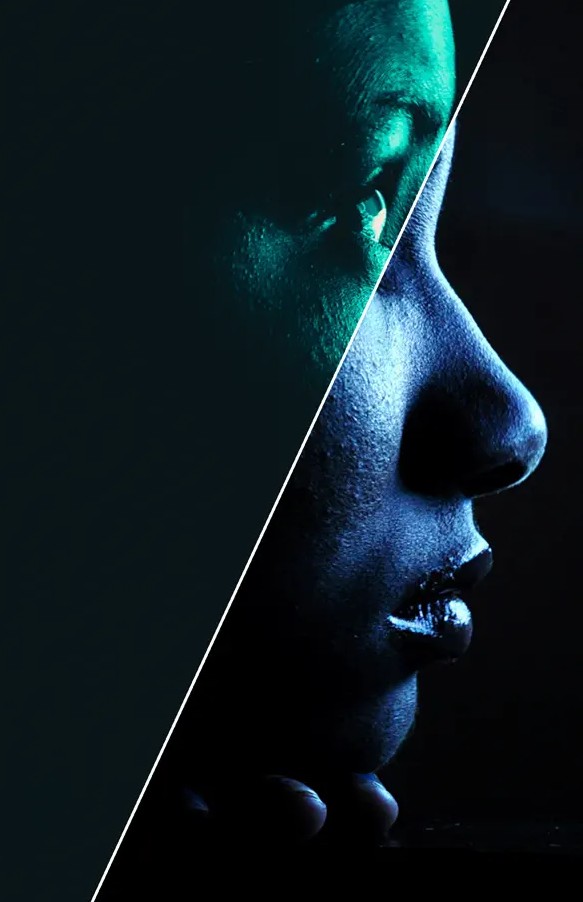 Before and after: side by side
This app will help you to show the audience what was and what became. A photo and video editor to compare two different images or clips.
It won't take you long. Just select two objects and music, and the app will do everything for you. You can also adjust the color of the slider, its thickness, and the direction of movement.
Choose a ringtone from your library or download it from your phone. Want to create even faster? Use the many templates that vary in animation speed and direction, effects, video, and image formats.
There's nothing more interesting than a "before" and "after" video. Show your subscribers not only the result but also the process: your kids growing up, losing weight, your mood.
Share it with your friends and create memorable videos or collages together.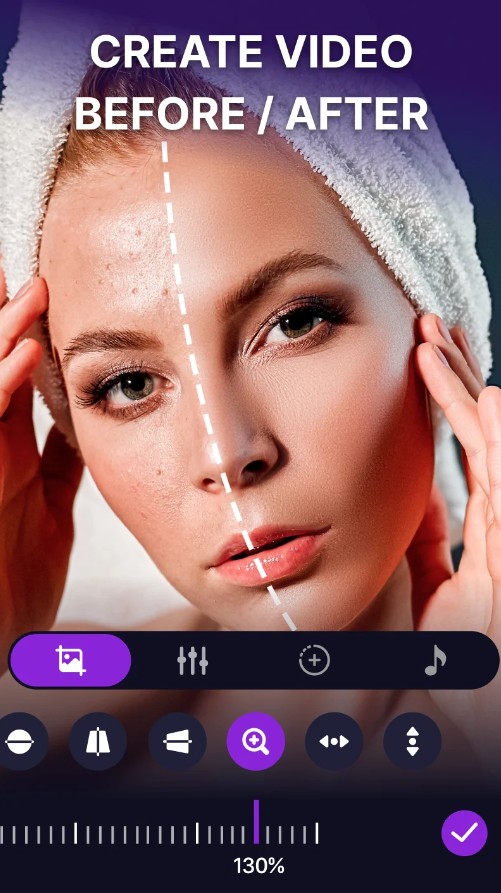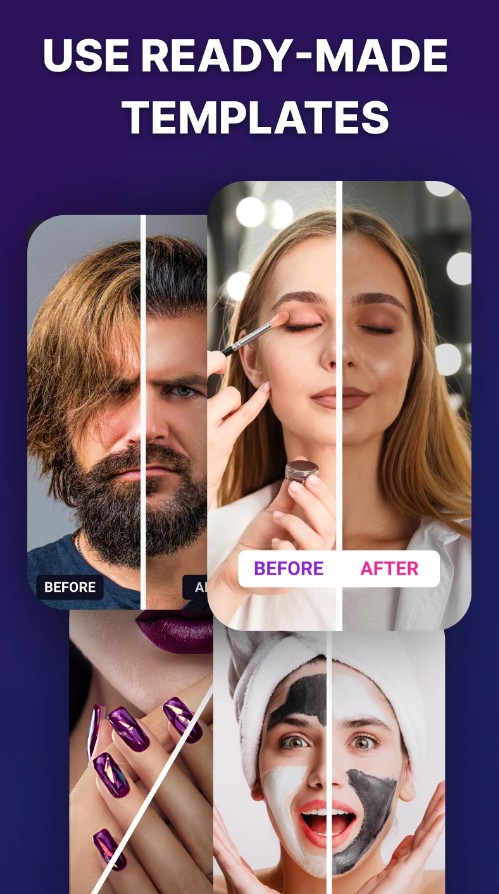 Before After Collages
Before After Collages is an app that lets you compare the pics in a collage form.
Although this is a before-and-after app it is not suitable for making slide shows. Apart from previous apps, this one suits you more for demonstrating your weight loss or a makeover, not your photo editing skills (it just won't be seen as clearly).
The only thing that distinguishes this one from any other collage app is that it only has layouts for two pics with before and after marks.
Therewith, the app has plenty of options for different situations. Plus, you can set the layout by replacing the pics and adding cute frames to your pics. The text options are also customizable — you can switch the font, the shade, and so on.
It needs to be said, the backgrounds and frames look a little old-school whatsoever so if you're an IG influencer it may not be the option for you. But before that — the app has intuitive control and any collage can e done in seconds.
Finally, this app is not ideal for making collages but it still can be helpful to show, for example, how much weight you have lost.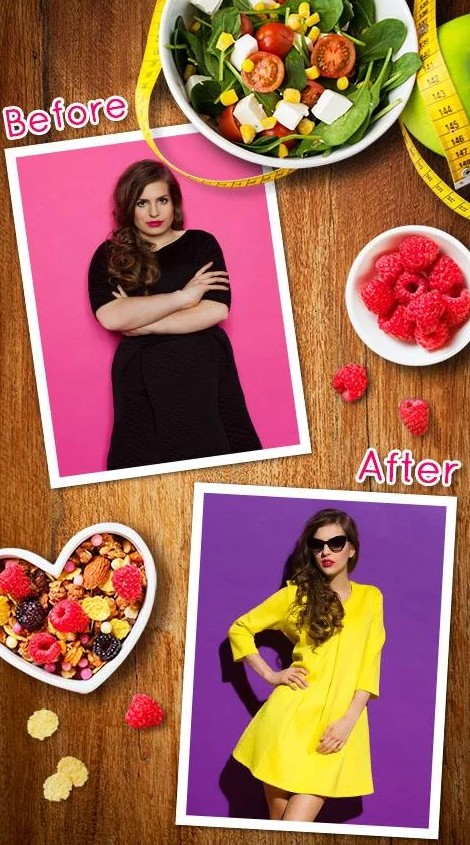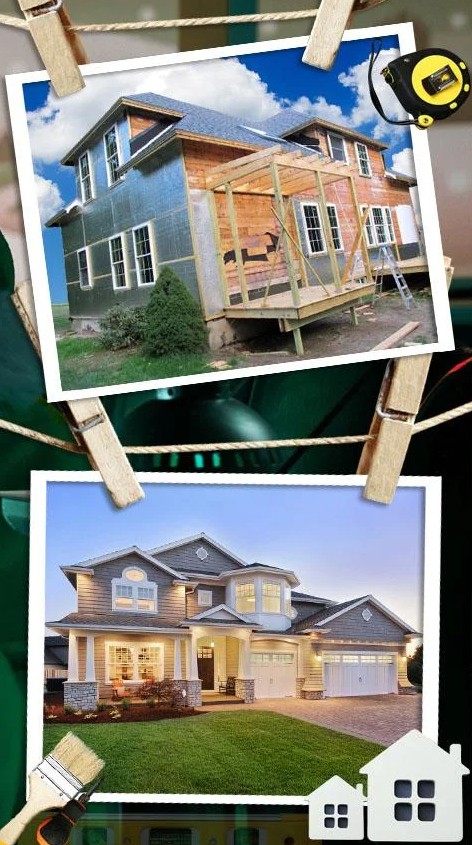 Before and After Photo Compare by Sarafan Mobile Limited
This is an app for creating collages. The "before" and "after" effect is still in trend: makeup, diet, manicures, hairstyles, and so on.
It doesn't take long to create one. Choose two photos from the gallery, then put them in the layout you like and decorate them to your liking.
You've got lots of stickers, colored frames, lettering fonts, and a music library. Pick the right background and melody. Then you'll know your creativity will be saved in high quality.
Want a fast result? Use templates that can be customized at a moment's notice. Share the result on social media and surprise your followers with fresh content. Inspire them with your successes!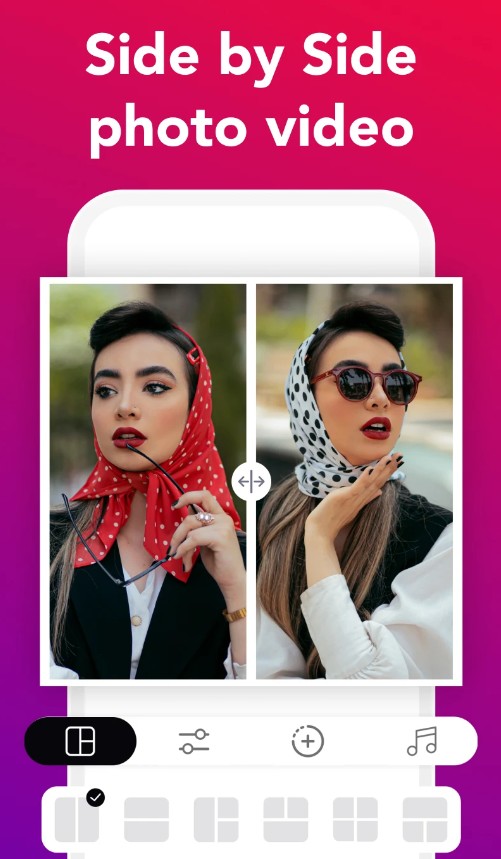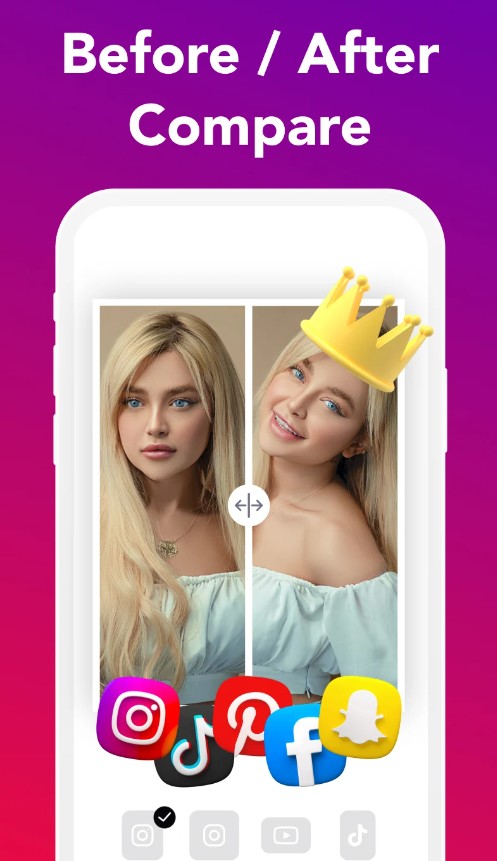 Before and after compare phot‪o‬
Before and after compare photo is an iOS app that will make stylish before and after vids for you.
Frankly speaking, if you're an IG influencer demanding to demonstrate your presets and filters on pics — this app might be your best steal. The app has a stunning minimalistic interface and it's not overloaded with unneeded tools.
Plus, the app can automatically crop your pics according to the SM you're posting them to — it has an IG post size, IG story, and even the Facebook post one. What this app does is turns the comparison between two of your pics into a slide-show. Therewith, you can pick from several transition sliders, set their direction, speed, with and so on. And you can even add melody to it if needed!
The app also grants you to add extra filters to your pics along with the text. Using the app is as simple as it can be — it has two slides for before and the after and all you need is to select the pics from the gallery. The app does have paid subscription but you can make a basic before and after vid without it.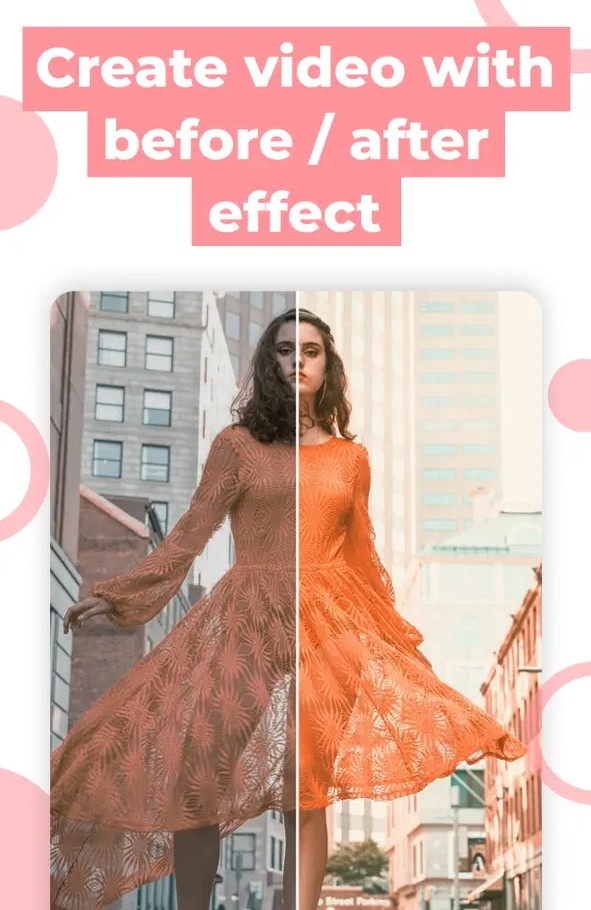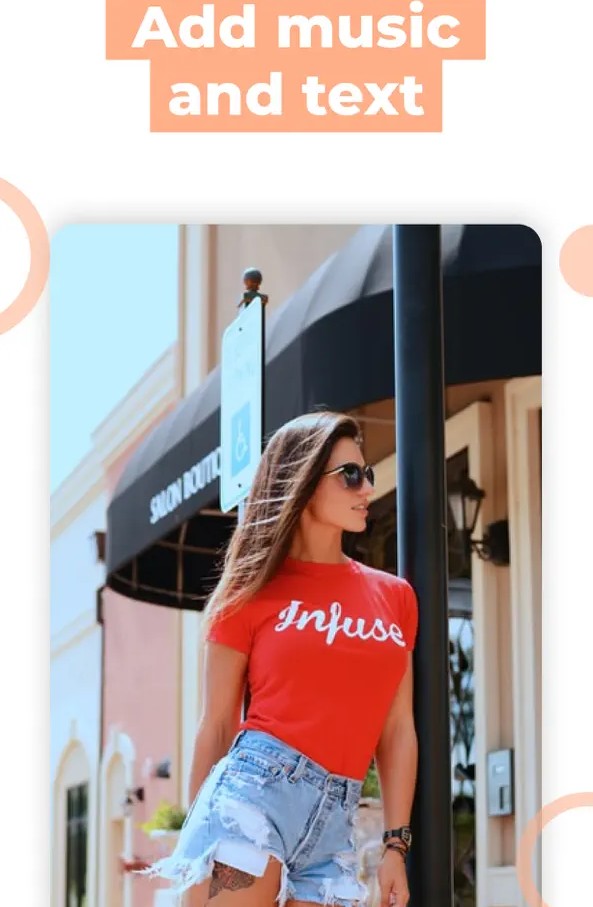 Track Progress: Before and After Photos
Track Progress is another app that compares your before and after pics.
The main goal of this app is to grant you to easily compare changes of whatever you want — your weight loss, the growth of your pet, your makeup of drawing skills. Apart from the other apps in our list, this one is not focused on collages or slideshows for social media.
On the contrary, this app claims to be a safe place for your secret before and afters — you can even put a code on the app to be the only one who can reach it. As for the password, it can be a word, a fingerprint, or a face ID. However, if you'll decide to share the pics you can do it directly from the app.
Besides, the app grants you to zoom the pics for up to 30x to get the slightest changes or details you wouldn't like to miss. Plus, you can not only import the pics from your phone's gallery but do it from cloud or external storage as well. Speaking of the interface, it's quite basic with nothing you can be annoyed by.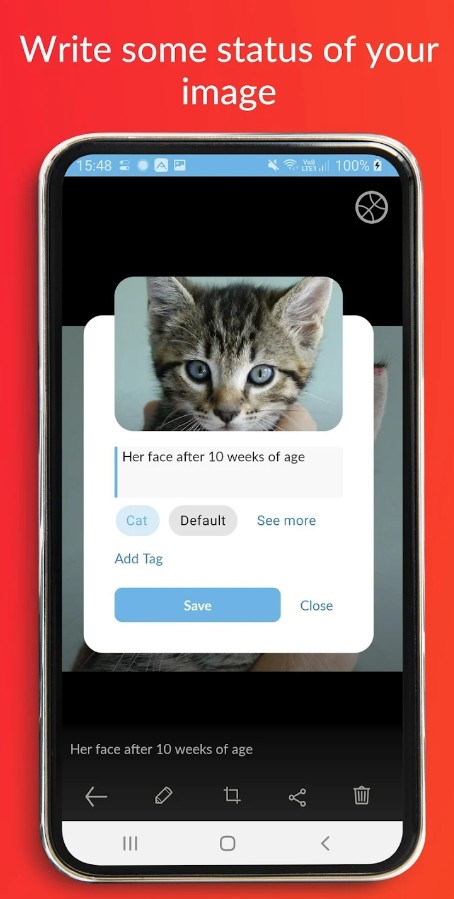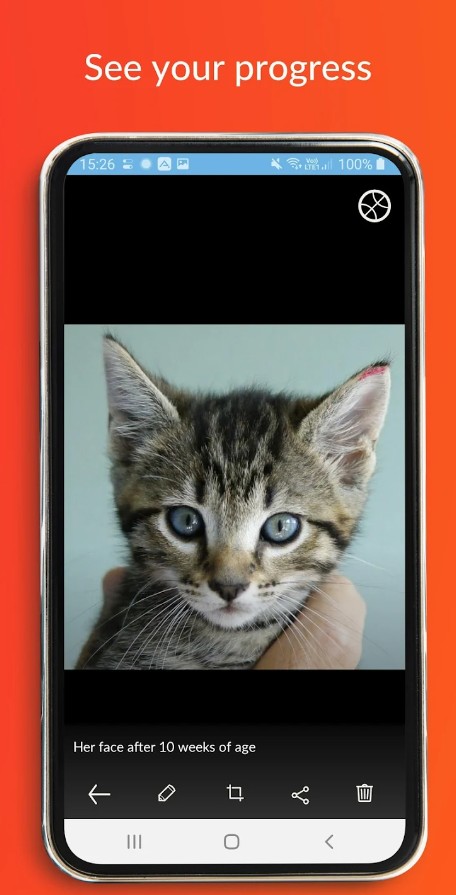 Before and After: Photo Compare by Ozlem Akalin
This is an app for creating "before and after" style videos. They're still trending and bringing bloggers to the forefront.
It's the best way to show how you've changed over time or what you've accomplished. You should try it too!
It doesn't take long, just choose two photos from the gallery. Then choose a transition between them, there are over seventy options to choose from.
Decorate your video with effects, stickers, and captions. There are more than fifteen filter sizes and five video formats for different social networks.
Scale photos, and choose the speed and direction of animation, color, and borderline thickness. Change the font of the caption, and the distance between lines and letters.
Do you want to make the result even faster? Use templates. Create unique content and surprise your subscribers!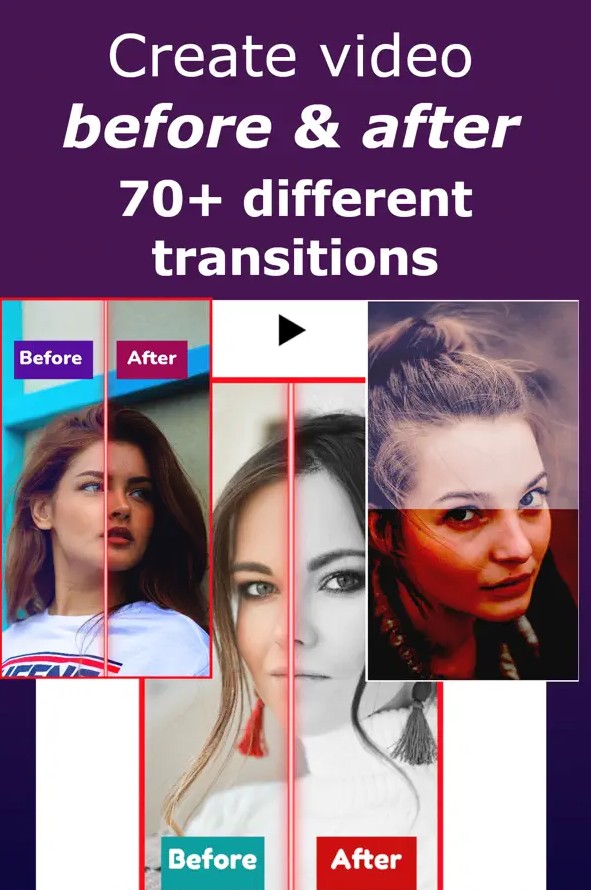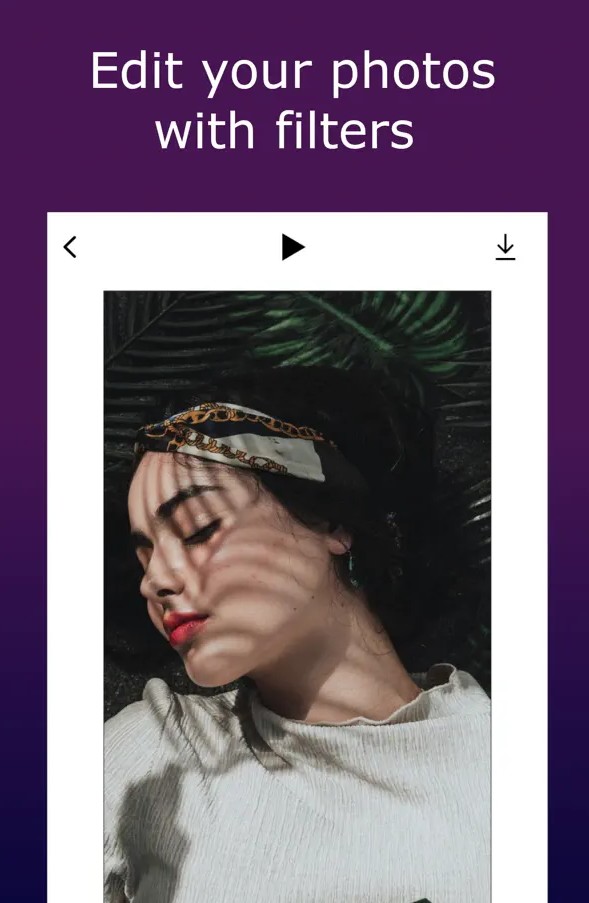 Diff Before After Effect Collage B‪A
Diff Before After Effect Collage is an app that will make nice before and after vid for you in secs.
This app is also dedicated to short slideshow vids that demonstrate the difference between two pics as clearly as possible. All you need to do is to pick two pics for before and after and set all the slideshow parameters – the speed of the slider, its direction, and so on.
The slider can move in the opposite direction and diagonally and you can pick its width as well. There's also an option to blur the pic before it gets fully shown but it's optional. You also get to change the size of your vid and even adjust the number of slide repeats. Plus, the app has its own bank of photos you can use along with the music options.
Besides, there's an auto-posting tool that can share an outcome vid on your SM. Therewith, you can pick the quality of the vid for up to full HD. The app also saves the history of your project so you can always come back to any of them. The app does have paid subscriptions that remove ads and give you access to extra tools but you can totally skip this part.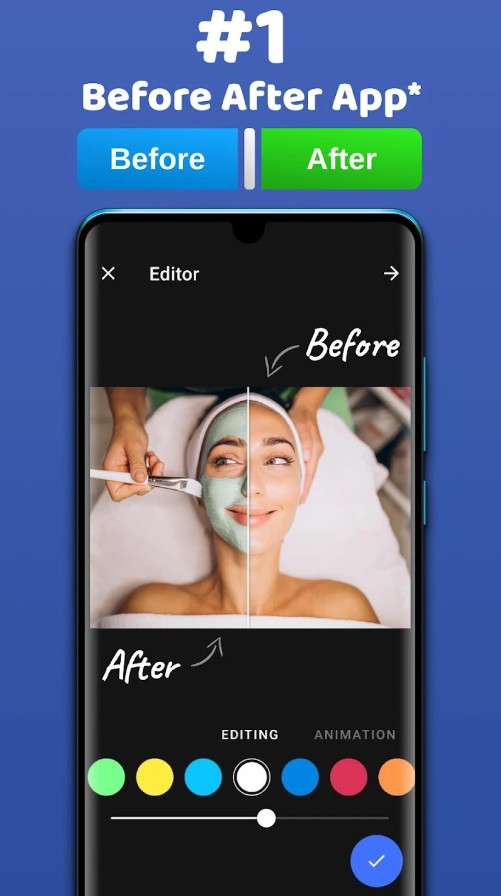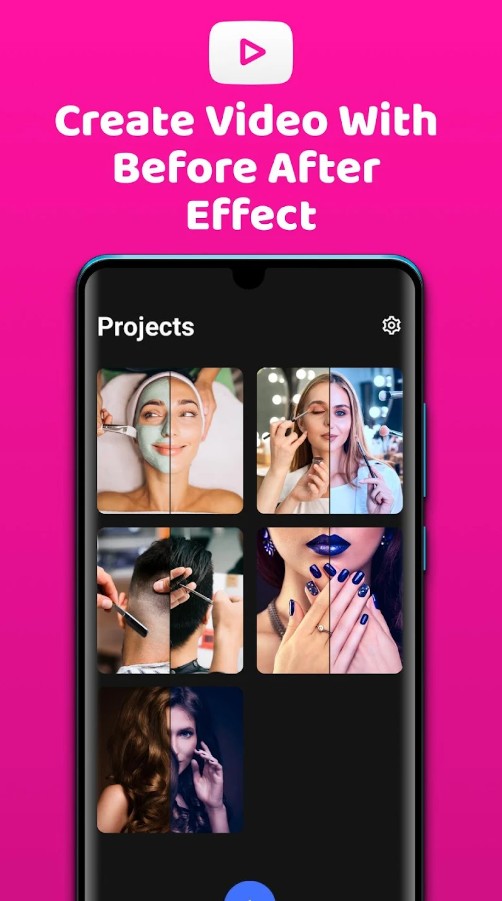 You may also like: 7 Free Batch Photo Editors for Android & iOS
Layout from Instagram
And lastly, if you don't want to bother yourself with animated before and afters, you can always switch to a good-old Layout app.
Although there's almost impossible for you to not know about this app, let's get into its features really quick. The Layout is the easiest-to-use collage app on the market. The main goal of this app is it makes minimalistic stylish colleges that can perfectly fit into your IG feed.
This app is basically a more stylish version of a Before-After Collages app (number 3 on our list). It has various templates and all you need to do is to pick the perfect one and then add your shots. And in case you don't want any colorful borders or rounded frames that can be it for you.
Speaking of how you can use this app for before and afters, you just need to pick a two-shot template. Once it's done, you can add some text, play with background and frames and you're ready to go. Therewith, you can flip your pics and rotate them as you want. And when you'll be finished, you can post the outcome directly to your IG.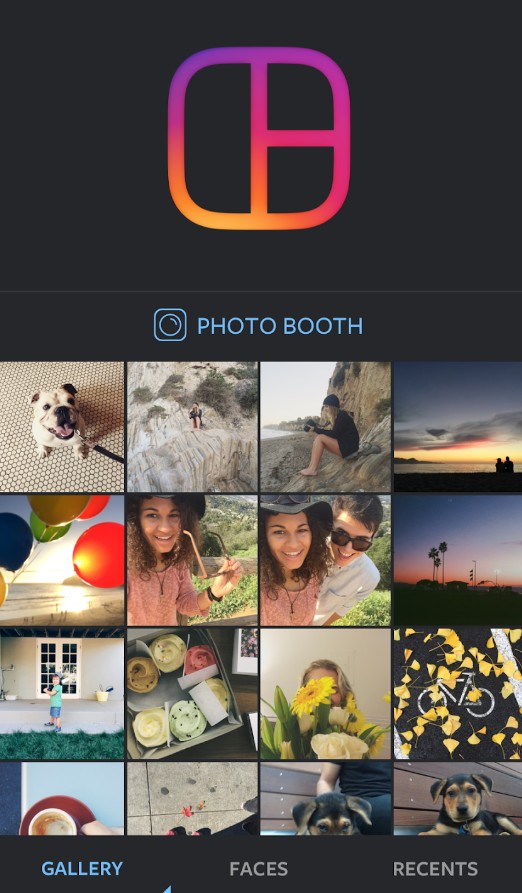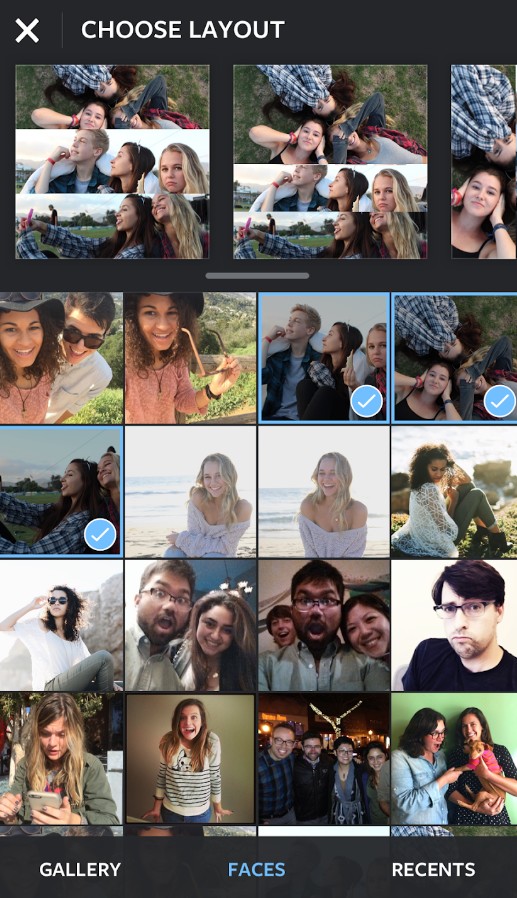 Before & After Collages
This app allows you to effortlessly juxtapose images, revealing their progress, achievements, and memorable journeys in a captivating visual format.
With just a few taps, you can select your "before" and "after" photos, and the app will seamlessly merge them into an eye-catching collage. By presenting their achievements side by side, users can inspire and motivate others in their personal growth journeys.
The app is also a fantastic tool for professionals, such as fitness trainers, interior designers, and makeup artists, to showcase their expertise and the impact of their work on their clients. The collages serve as powerful marketing material, enticing potential customers with tangible results.
In addition, Before & After Collages enables users to document their progress in personal projects, such as home improvement, weight loss, or skill development.
Moreover, the app provides a variety of customization options, allowing users to add captions, stickers, and filters to enhance the collages further.
So, download Before & After Collages and be sure that you will get cool collages.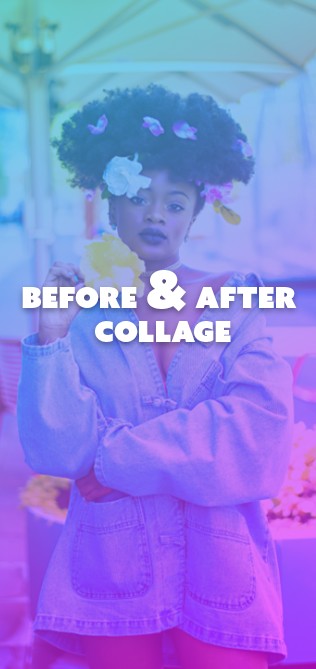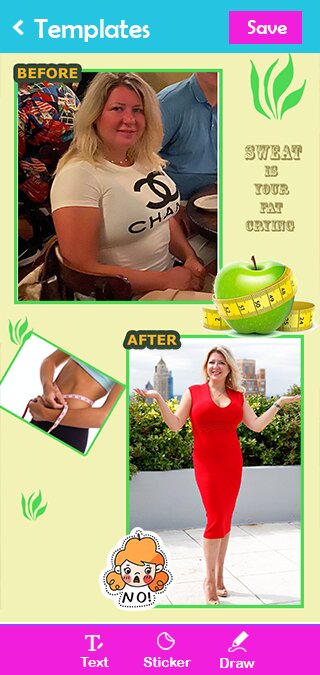 Before/After Collage maker
Before/After Collage maker is a feature-rich app that empowers users to create striking collages showcasing their progress, transformations, and achievements.
With a few simple steps, you can select your "before" and "after" photos, and the app will beautifully merge them into a captivating collage.
One of the key benefits of this app is its versatility. It caters to a wide range of users, including fitness enthusiasts, beauty professionals, interior designers, and hobbyists.
The Before/After Collage maker also allows you to add text, stickers, and filters to further personalize your collages. Furthermore, the app provides convenient sharing options, enabling you to showcase your collages on various social media platforms and messaging apps.
In general, Before/After Collage maker is a good choice if you want to get quality photo collages, so you should definitely try to download it.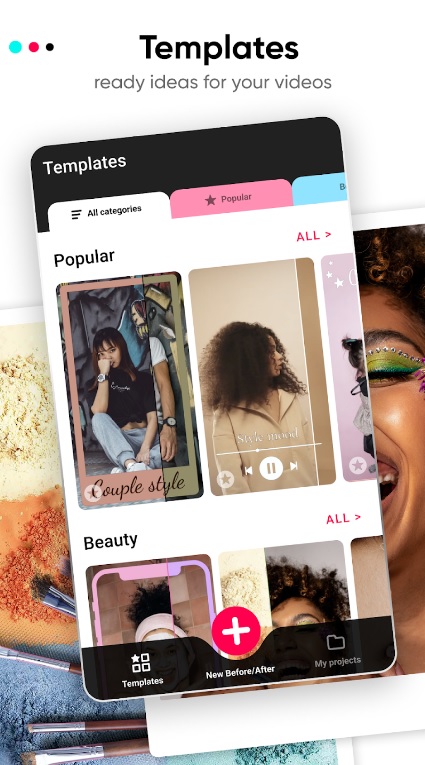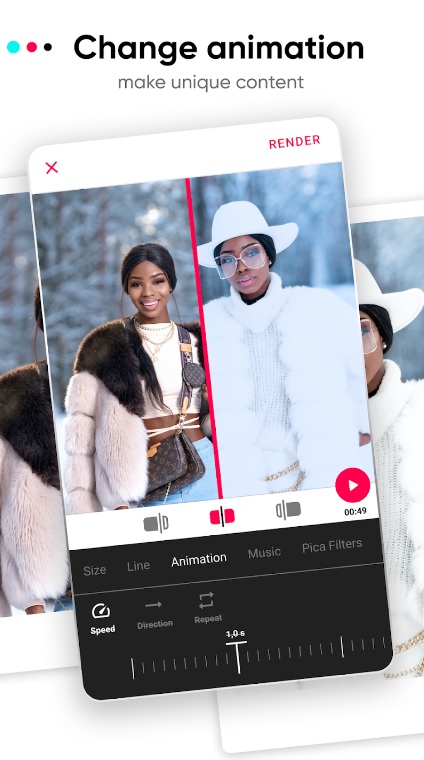 You may also like: 11 Best Vintage Photo Filter Apps for Android & iOS
Before After Collage
Before After Collage it's a cutting-edge app designed to unleash your creativity and storytelling potential.
The app boasts an impressive array of effects and features that cater to a diverse range of users. From fitness enthusiasts showcasing their weight loss journey to interior designers unveiling their home makeovers, the app offers a versatile platform for all. With a simple and intuitive interface, creating striking collages has never been easier.
Apply filters to evoke different moods, add text to narrate your story, and insert stickers to inject fun and creativity into your visuals.
Whether you're a social media influencer or a hobbyist, Before After Collage caters to your unique needs and enables you to share your accomplishments with the world.
The app's convenient sharing options make it effortless to display your collages on various platforms, from social media feeds to personal blogs, effortlessly reaching a wider audience and garnering appreciation for your journey of growth.
Embrace the power of visual storytelling and download Before After Collage to transform your "before" and "after" photos into powerful visual testimonies of growth and success.