Sometimes we want to know how we will look at old age. We can look at our grandparents and roughly imagine our old age. If you want to get a more accurate result, you need to download the age progression apps. They use modern aging modeling technology.
See what you would look like in the other gender using these best gender swap apps.
You will be surprised at the result. We have prepared a whole list of the best age progression apps. Choose the one you like and create your future appearance.
FaceApp – AI Face Editor
This app will allow you to change your age in the photo. You can choose an age filter. Get younger or older. This app creates wonders. You can't distinguish photoshop from the original. The app uses the most advanced technology for editing portraits.
You can also have fun with gender. If you are a man you can find out how you would look if you were a woman. Women can do the same and find out their masculine appearance.
This app will also allow you to edit your photos. You can create the perfect selfie. Add beautiful tattoos. Try different hairstyles and hair colors. Experiment with your style. The app has been downloaded over 100 million times. Install it and you can find out how you will look old.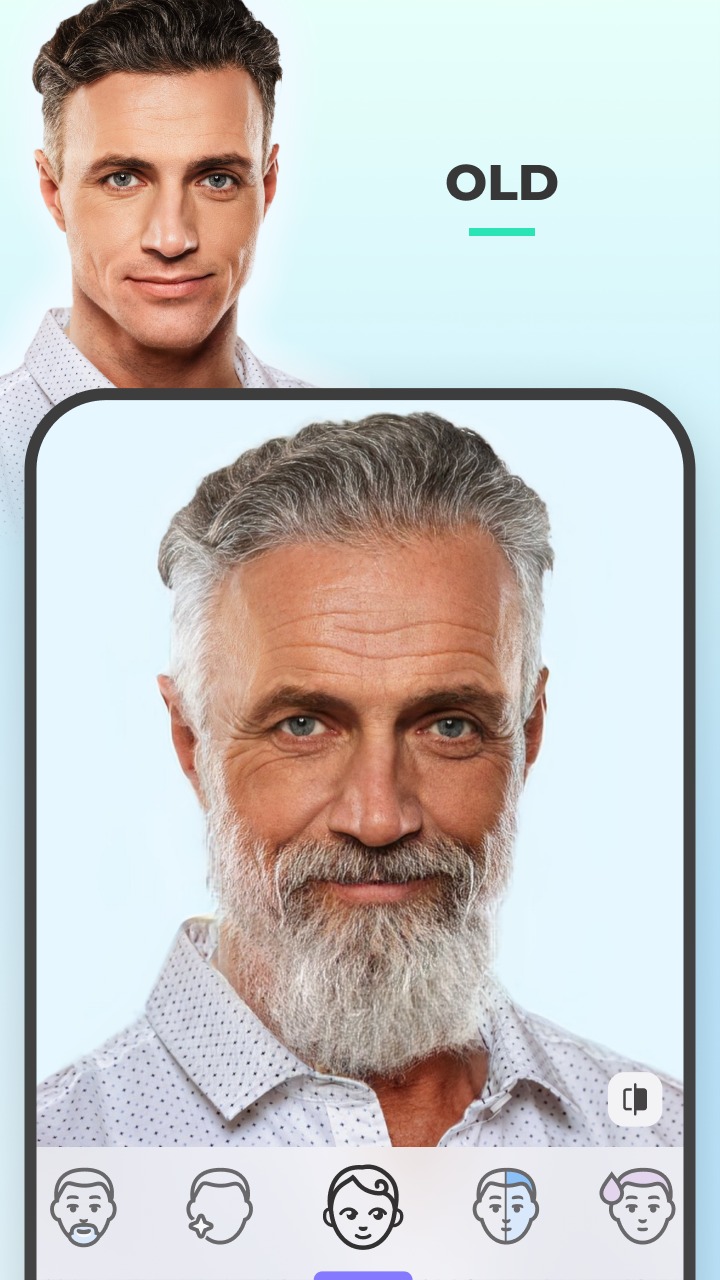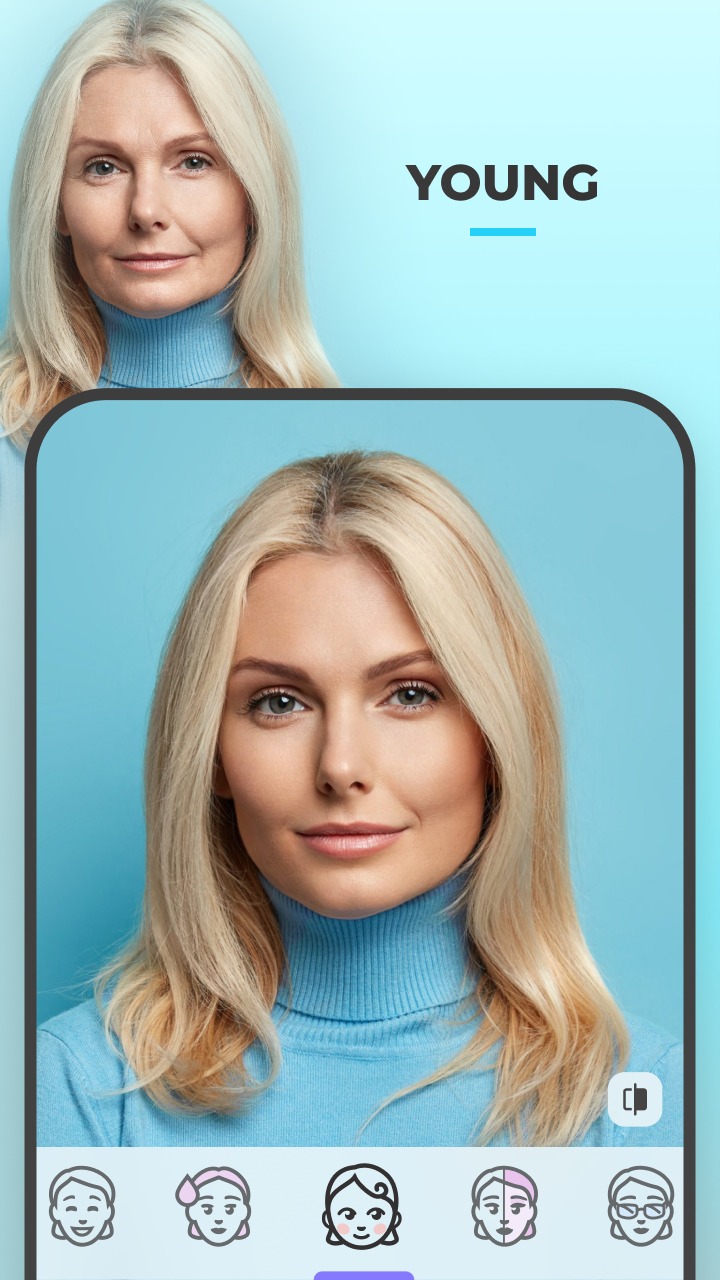 You may also like: 12 Best photo booth apps for Android & iOS
AgingBooth
Do you want to know how you will look old? What about your friends? This app will allow you to create your appearance in old age. You can upload any photo and the app will add an aging effect. The app also has a camera. Take a photo without leaving the app.
You can share these photos with your friends. The app will allow you to choose a face among all the photos. It has auto face recognition technology. You don't need an Internet connection to use the app.
You will get instant results. Shake your smartphone to see before and after photos. The app has a gallery with ready-made photos. You don't need to search for your photos in the entire gallery.
Share your aging photos with your friends via social networks. This app doesn't generate a 100% aging result. It has been downloaded over 10 million times. Try it and you will find out how you might look at old age.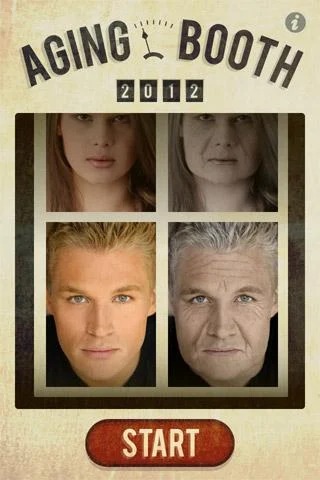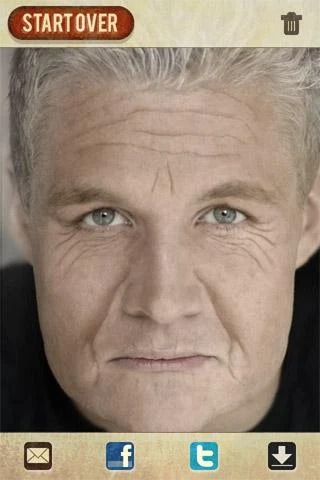 FaceLab Face Aging Gender Swap
FaceLab replaces several photo editors. The mobile app allows you to change your image in a second, and choose the right hairstyle and hair color. Allow yourself a sex change and check the result. If you want to know if a beard will suit you and what you will look like in 40 years, this app is for you.
Dozens of interesting filters and useful tools for photo editing are collected here. Create a high-quality collage, update your portfolio, and get an attractive photo for social networks.
This app is great for a fun time with friends. Use cute cartoon masks and special effects. Compare your results and choose a winner. Show your friend what their picture will look like when they are old. Use colorful themed makeup to get ready for Halloween or Christmas.
Forget about long hours in Photoshop for the sake of 1 good photo. Use FaceLab every day to make all your shots successful and favorite. The app does not require payment and does not contain any restrictions on work.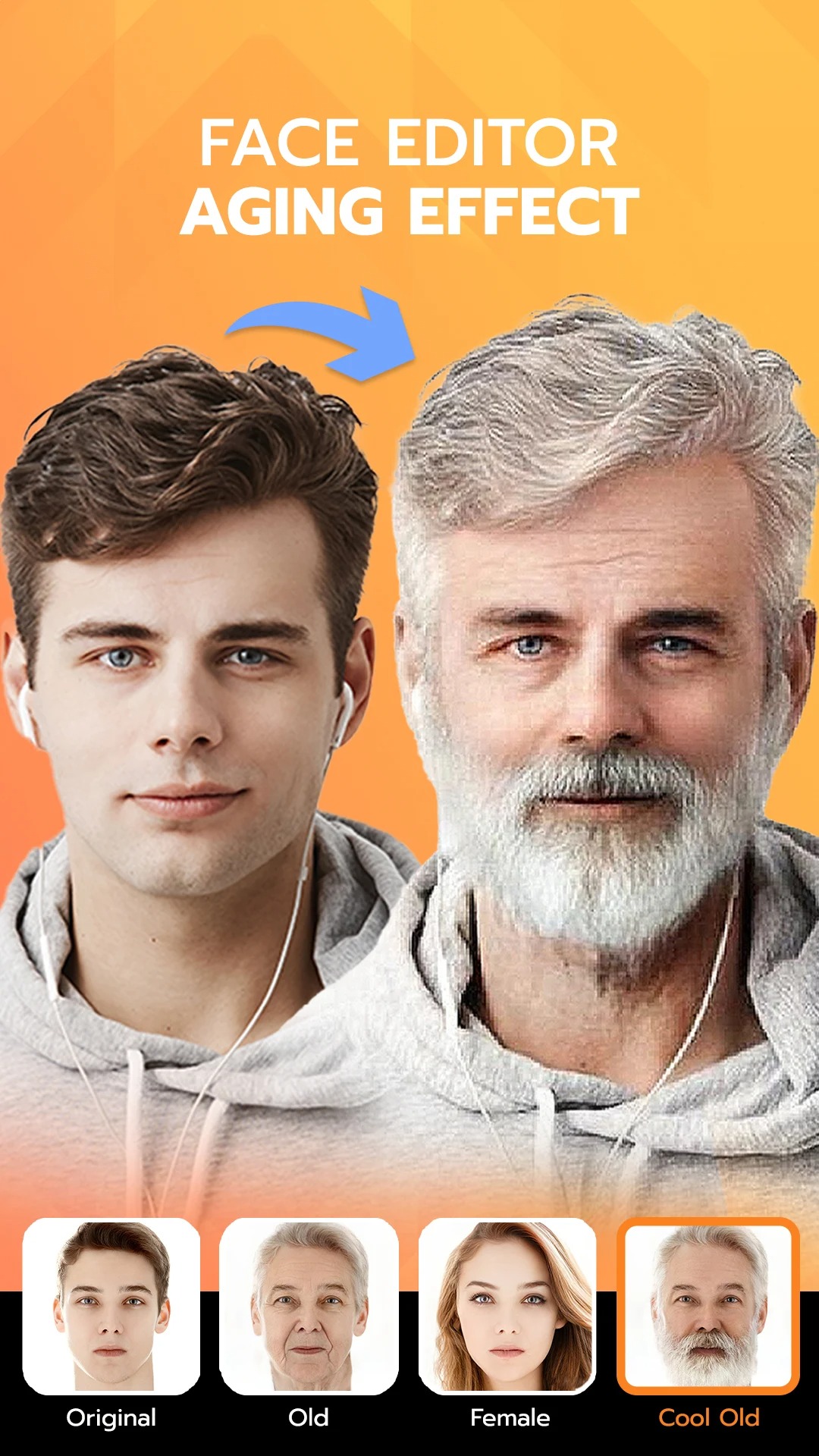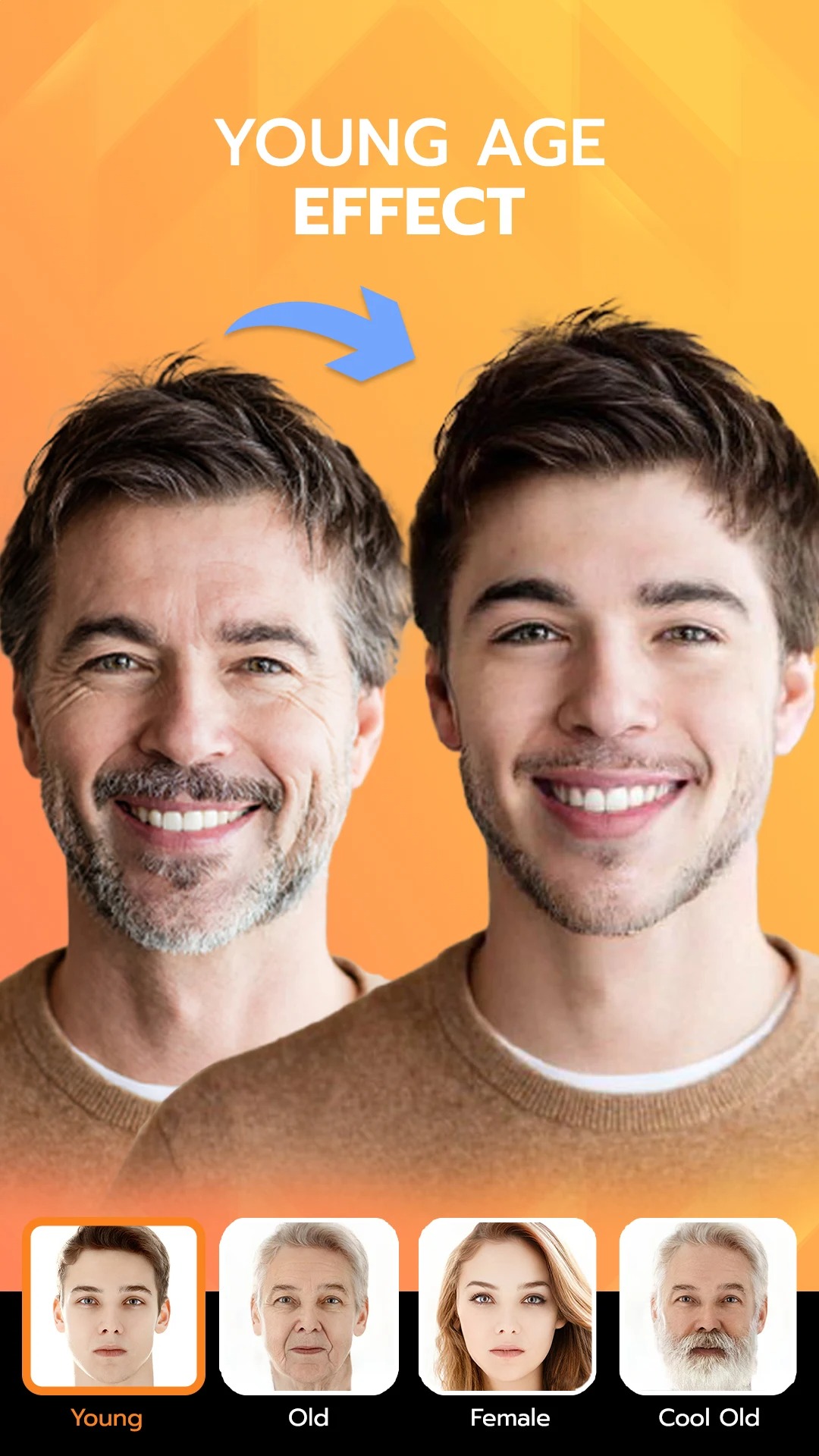 PicMagic: Young Old Face Aging
Powerful photo editor based on artificial intelligence. PicMagic allows you to quickly and qualitatively process any photos. Hundreds of colorful masks and filters will appear on your phone. Choose a photo from the gallery or download an image directly from the Internet.
You just need to select the desired option and click on it. The photo will be instantly transformed according to your wishes. You can save the intermediate result or cancel actions with one button.
Add bright colors, create a themed collage, and use the finished photo as an avatar on Facebook and Instagram. Experiment with your look at your convenience. Try on a queen's dress and wig, add 50 years to your life, or imagine yourself as a young child.
You are even able to change gender and admire your doppelganger in the body of a man or woman. Make the photo move with cartoon animations.
Tell your friends about this fun activity to create photographic masterpieces together.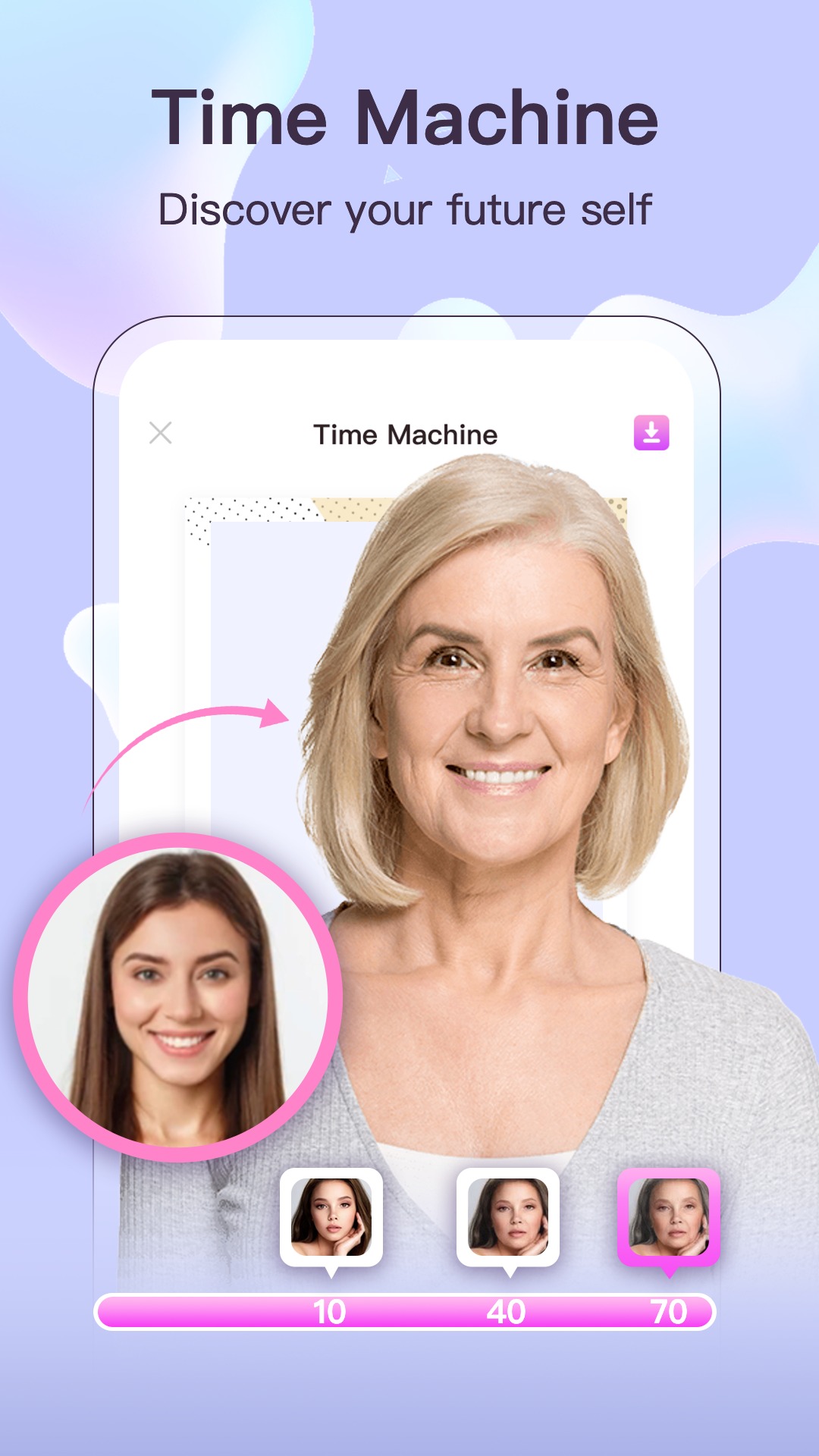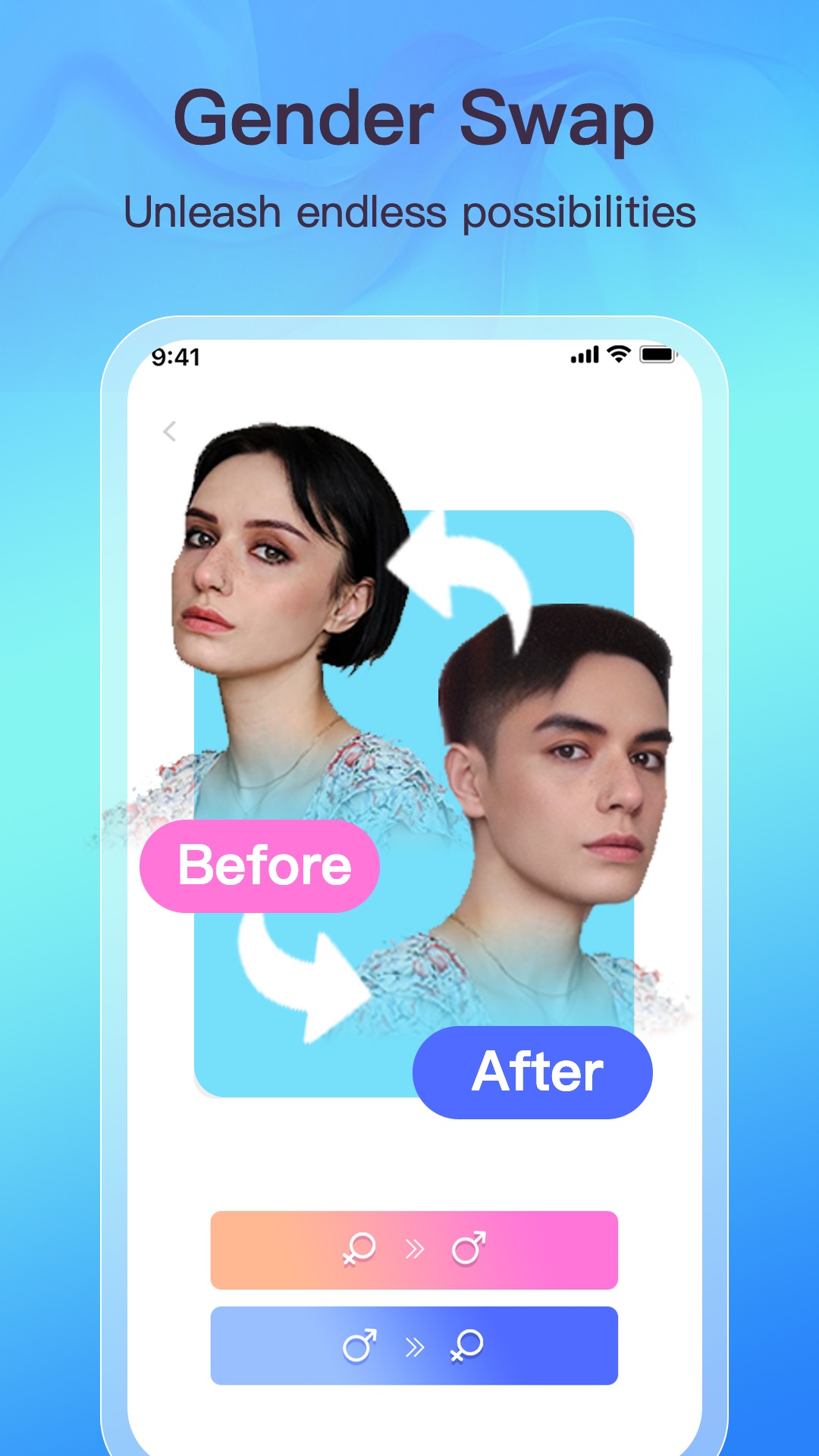 Future Self – Old Age Filter
Future Self will become your favorite photo editing app. It's so simple and straightforward that you can get the effects you want instantly.
Once you upload a photo, you need to choose a filter and confirm the action. In just a few seconds you will be admiring your aged face. Pressing 1 button will take you back to the original photo. You can age any person: yourself, your family and friends, world celebrities.
For maximum effect, don't forget to adjust the necessary time interval in the settings: 20, 40, or 50 years later. To get high-quality processing of the photo, you don't need to manually draw every wrinkle and dye your hair gray. Artificial intelligence will do it all, quickly and for free.
Future Self offers you a fresh horoscope every day. Check out what the stars have in store for you today. Get ready to live your day in a bright and interesting way. It also contains basic chiromancy skills to help you know your future.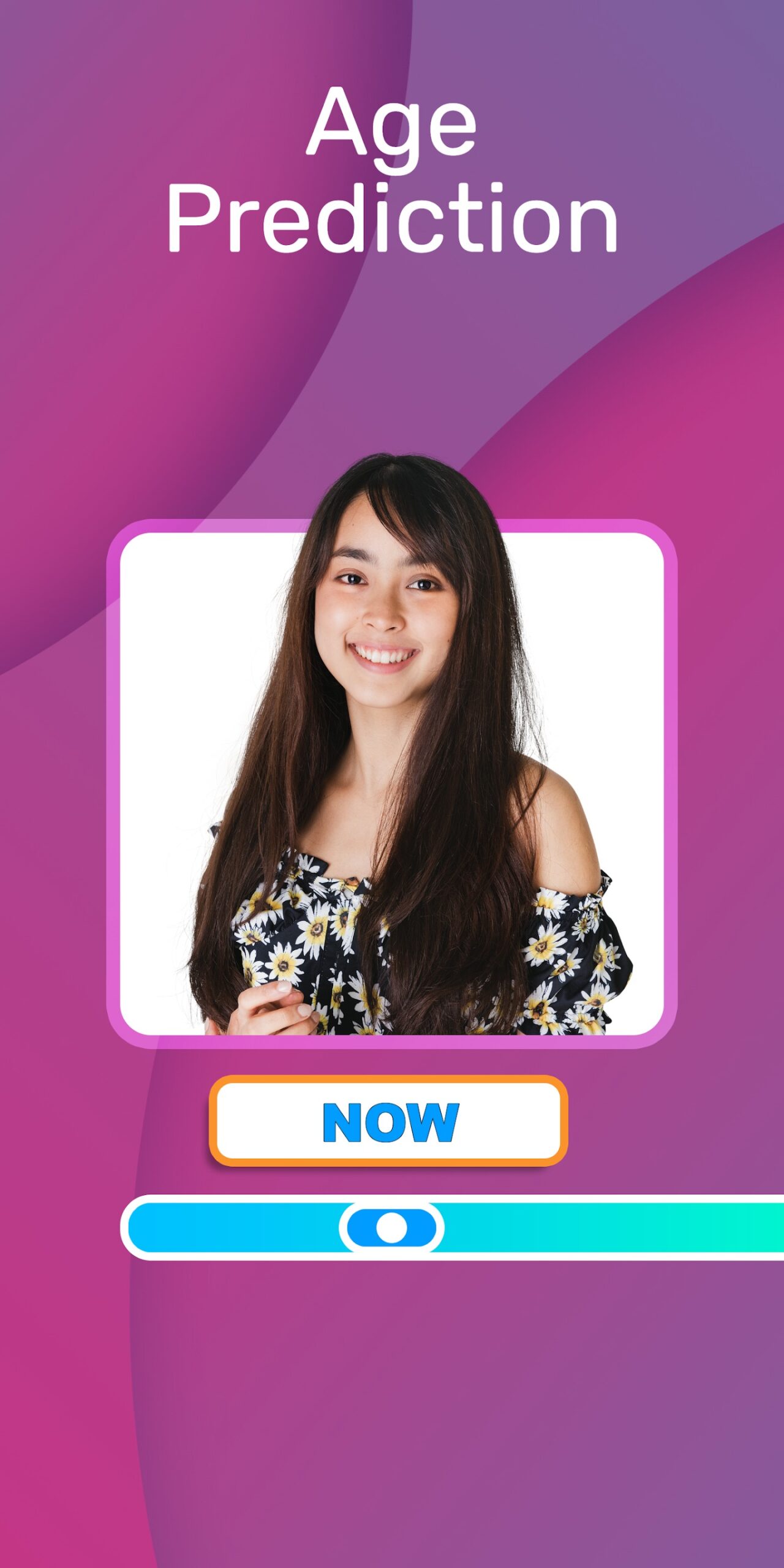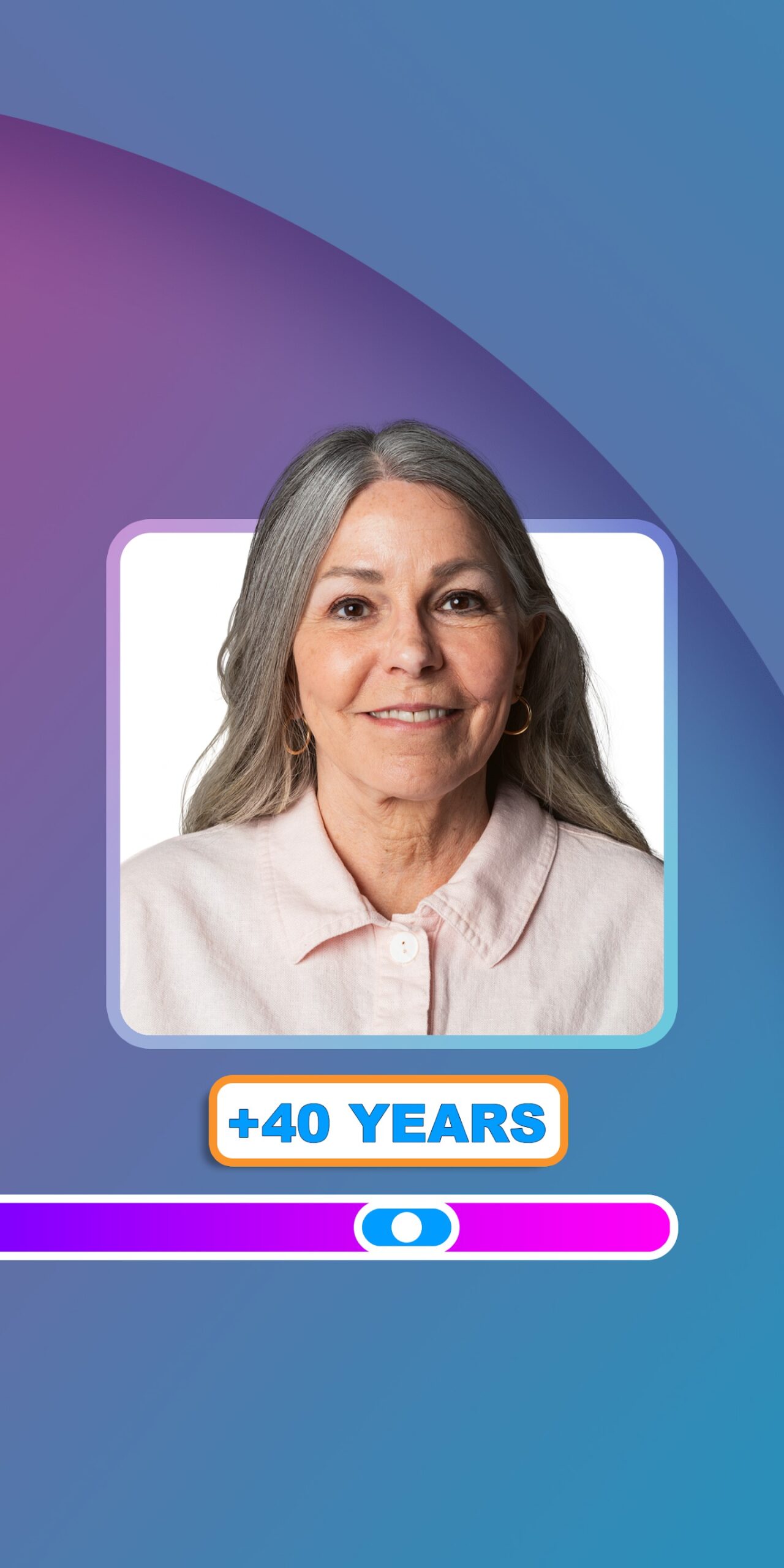 FaceTrix – AI Face Editor App
FaceTrix will make you an experienced photographer and editor for free. Choose the effect you want to see in your photo. Make fun of your friends by showing them their photos after many years. Create a full-fledged animation based on an ordinary photo.
Put a friend on the cover of a high-end magazine. Or change the gender and let your friends have a good laugh at the picture. Get the opposite effect by rewinding time back 30 years. You don't have to take 100 identical photos looking for the best angle to get gorgeous selfies.
Press start 1 time and let the app use the filters from the Natural Beauty section. Remove wrinkles and bags under your eyes. Make your skin and hair shine, whiten your teeth, and forget about acne.
This app is just created for fun and original photos that will become the subject of discussion for a long time.
The selected filter is applied to the entire photo automatically, so you don't have to manually select the right areas in your image.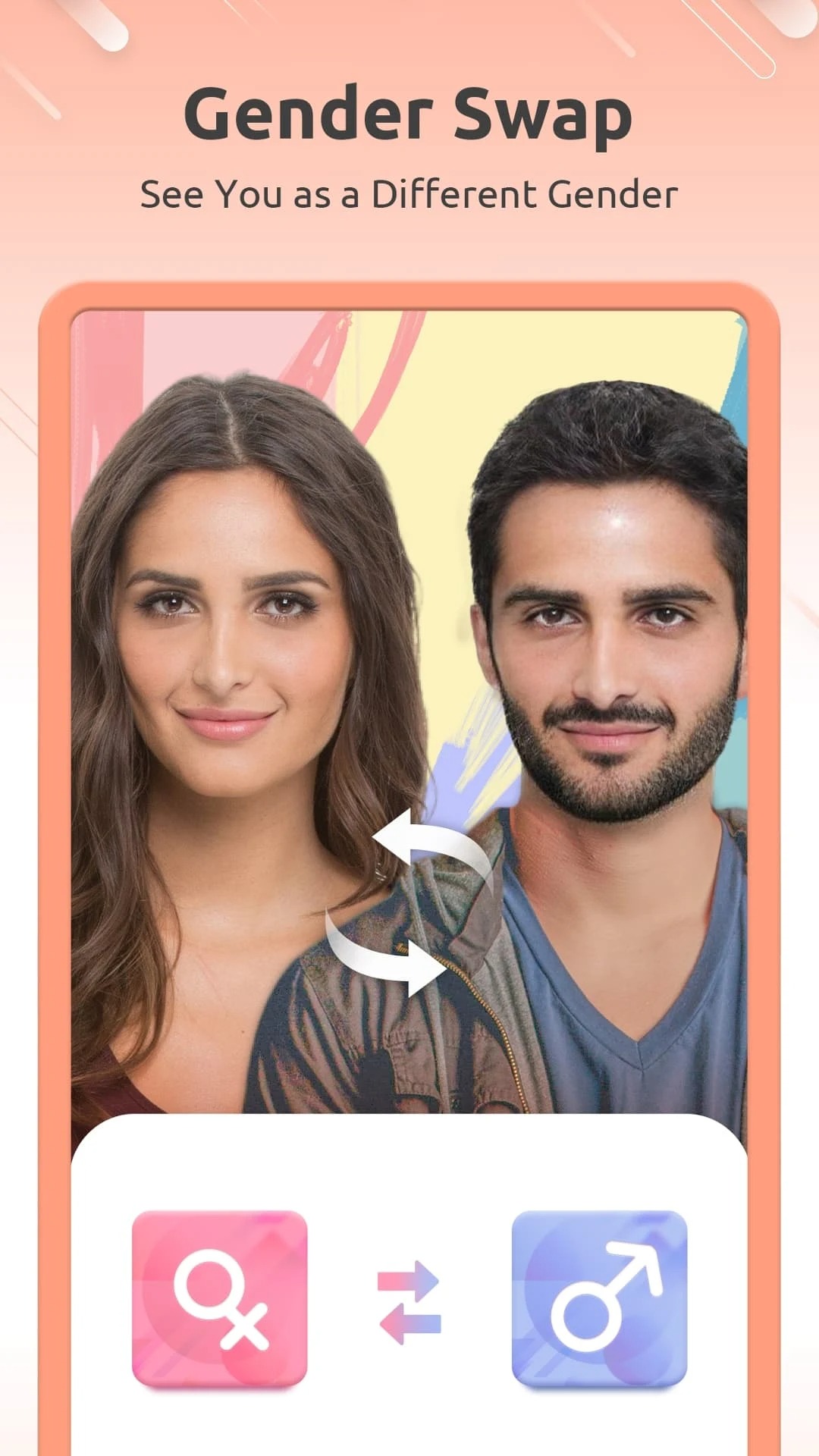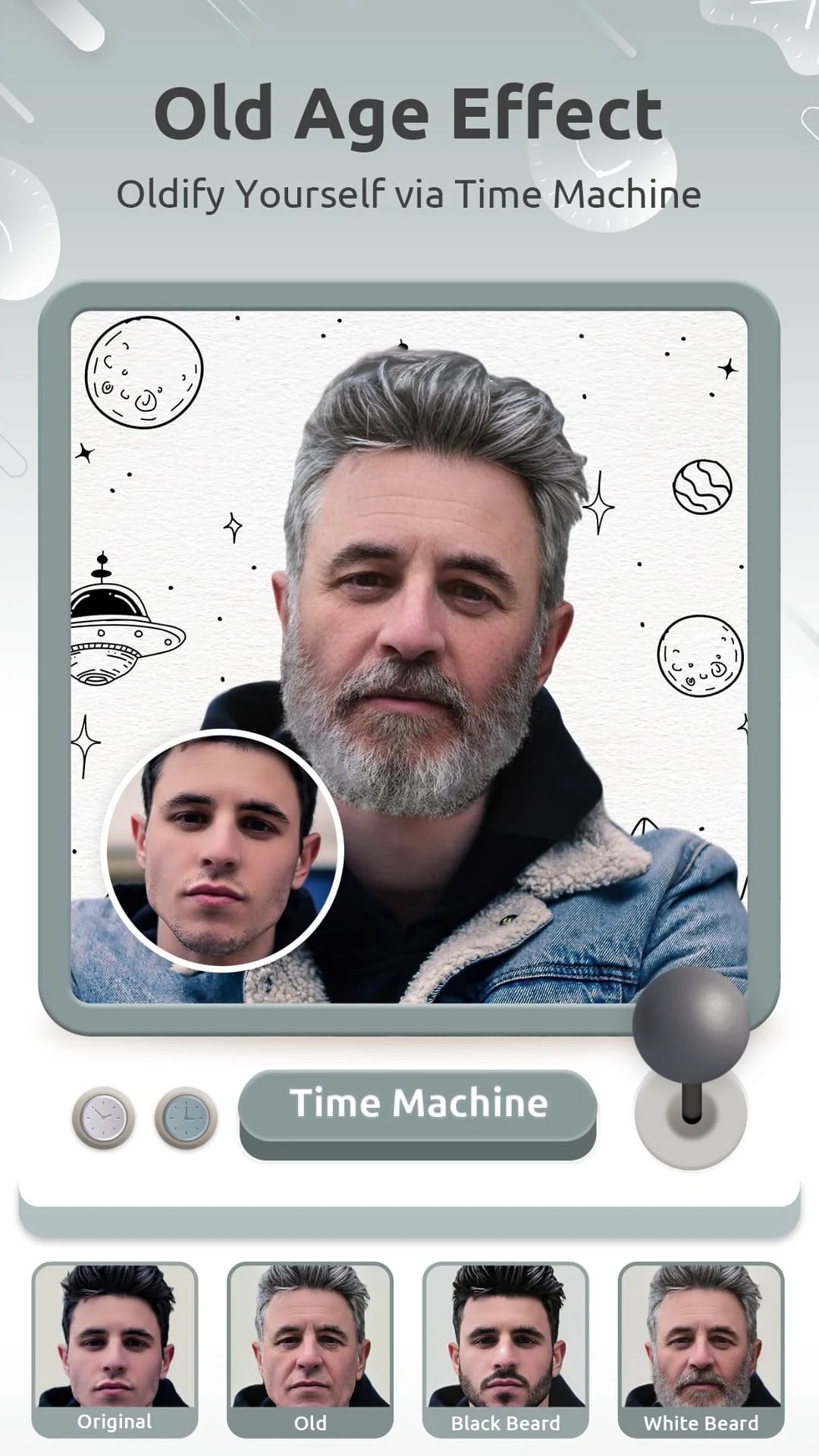 You may also like: 11 Free Silly Face Apps for Android & iOS
Old Me-simulate old face
Add Old Me to your phone screen to be able to age photos of anyone. Artificial intelligence will quickly process the uploaded photo with advanced filters. You will definitely like the fast and realistic effect.
The app takes into account all nuances, including the presence of wrinkles and gray hair. The higher the quality of the photo, the better the aging effect will appear. Add 20 or 40 years to yourself in 1 moment. Check which of your relatives you will look like in the future.
The app allows you to save your finished photos in high quality to the gallery or immediately publish them on social networks. Photos in old age are a great topic for pranking friends and family members.
That's why you should use Old Me only for entertainment purposes and not take the resulting prediction seriously. The developers offer a paid subscription to expand the functionality.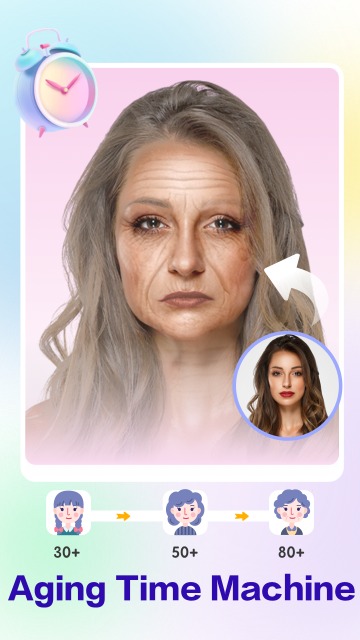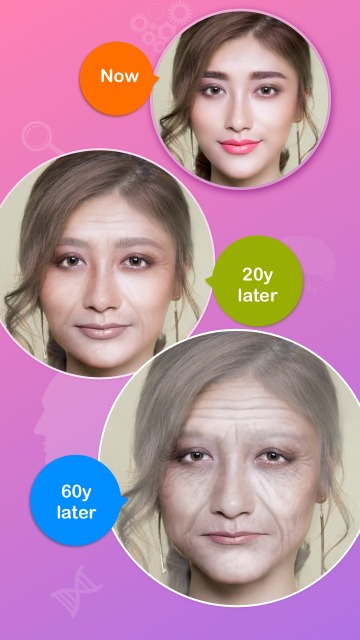 Face Aging Editor: Gender Swap
Face Aging Editor in a short period of time will help you see how you will look in the distant future. This is possible thanks to the automatic work of artificial intelligence. You can use any filter and appreciate the result.
Age your face and show this photo to your husband. Take selfies with your friends and let the program change the gender of each of you. It's great for fun and long discussions. Gender reassignment and facial aging are not all the features of the photo editor.
Use the face merge effect, and change some of your facial features. Perhaps you have always wanted to change the color of your eyes or make your nose smaller. Now it only takes a few seconds to do it. Add a smile or lower the corners of your mouth in a sad grimace.
You can upload a photo and remember what you looked like in your early childhood. Or swap your face with someone else's. With just a few taps, you'll have a perfect photo that's hard to see the editing elements in.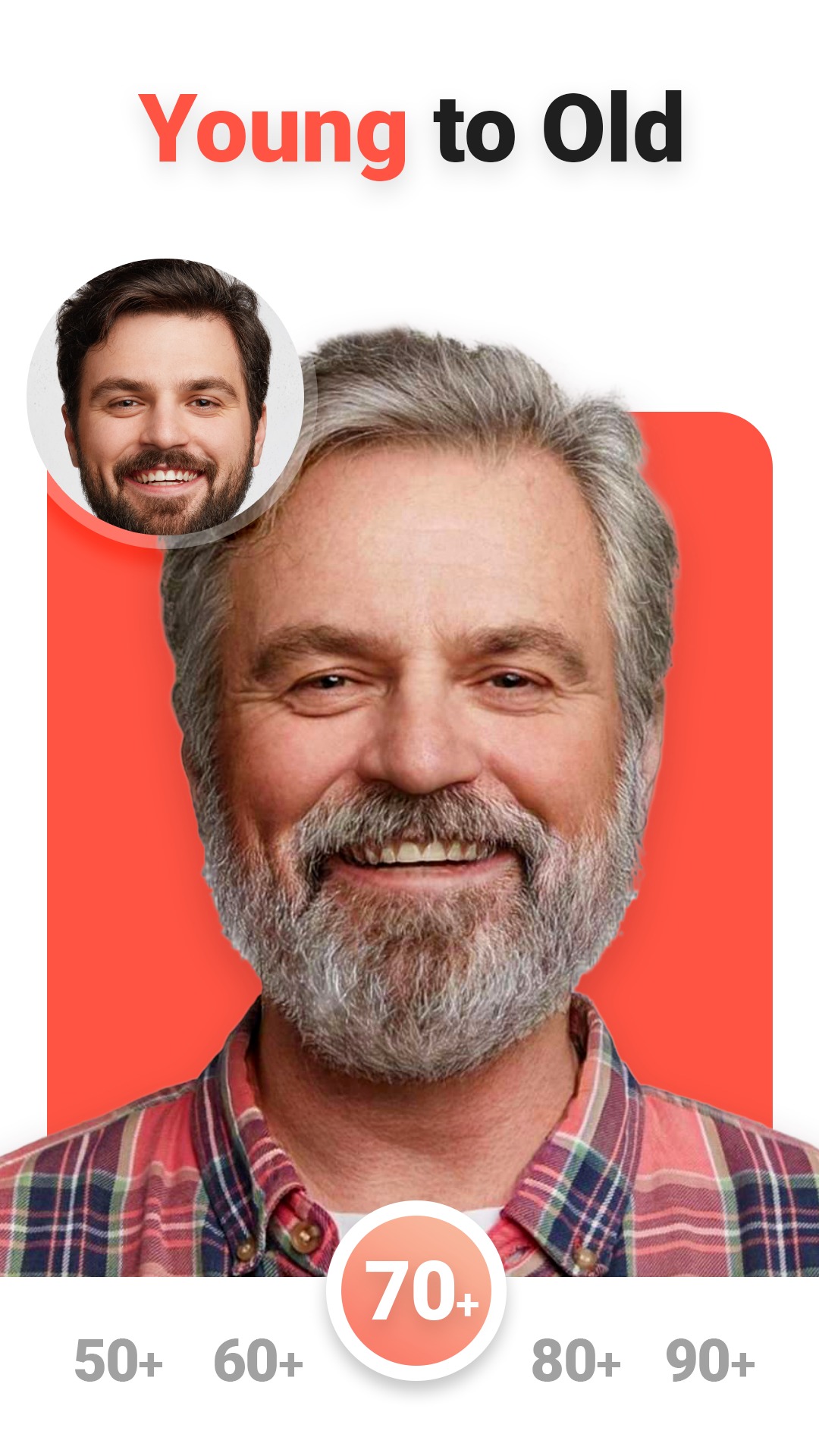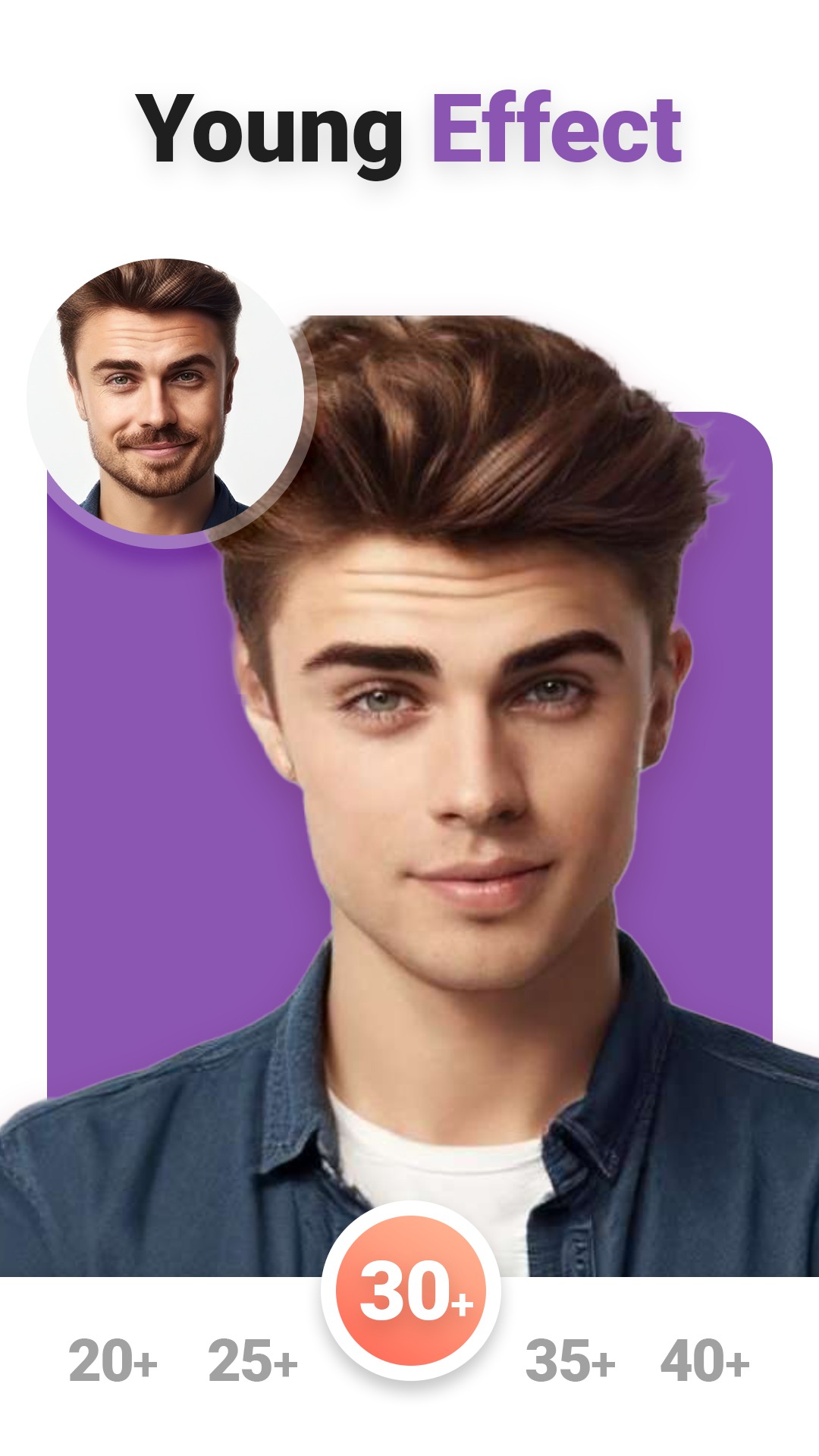 Face Age – Old face age filter
Face Age gives you the opportunity to track how your appearance changes over a period of time. See what you will look like in 20 years. Add another 20 years and compare the results.
Choose a photo of any person and observe their transformation. Take a photo of your child and see what he or she will look like as an adult. In addition to the aging filter, youthful effects are available to you. In a few seconds, you will remove the traces of decades from your face.
The simple photo editor supports face swapping. Swap faces with another person and have fun. Update your hairstyle: try on dreadlocks, get a bob, or dye your hair green. Discuss your new style with your friends. A great opportunity to get a popular meme and post it on Twitter or Facebook.
Photos created with artificial intelligence are no different from ordinary photos. They look realistic and are available for downloading and printing.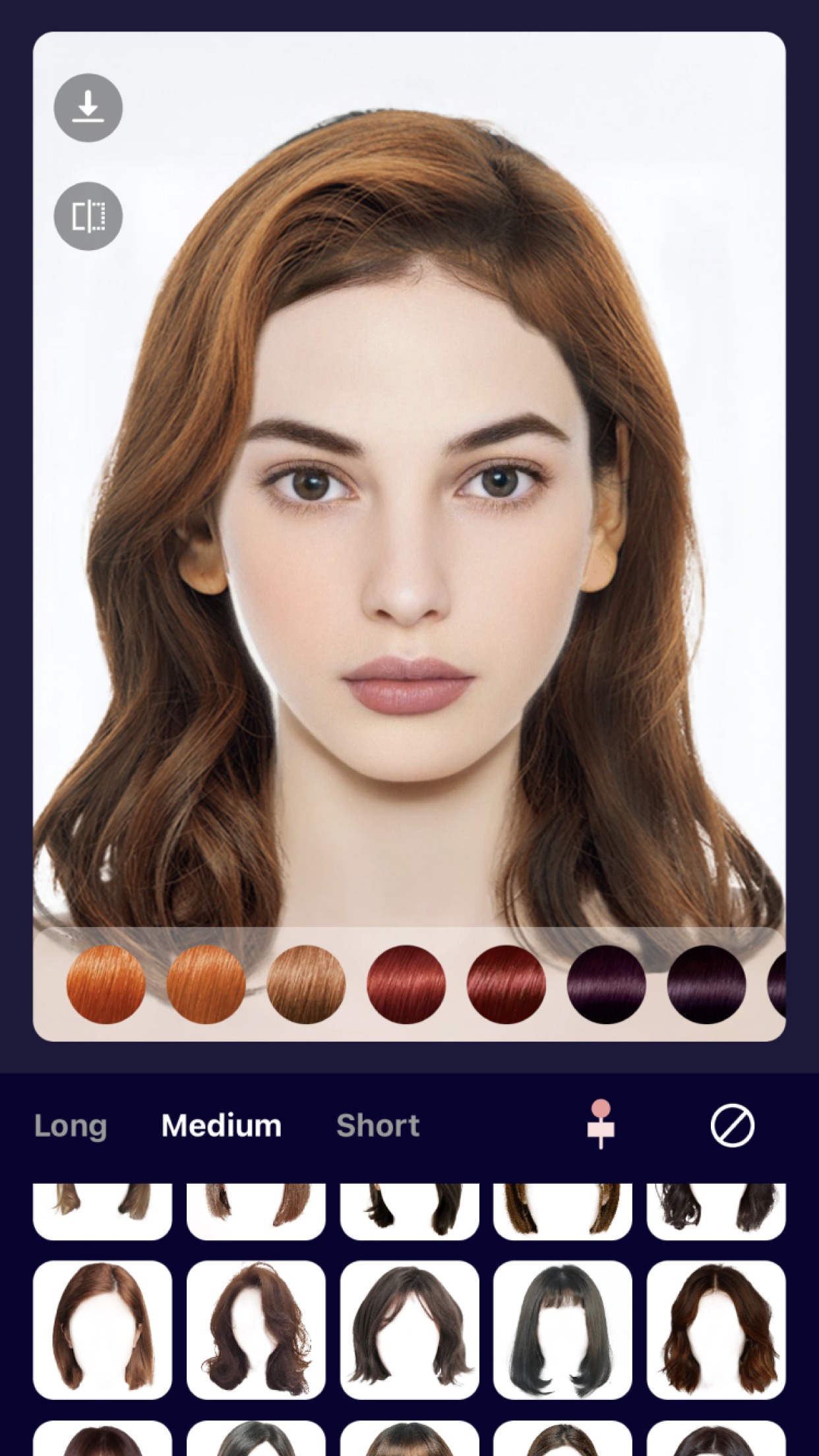 Face Aging Editor
Face Aging Editor will instantly take you many years into the future. You can see what your face will look like when you are 40, 60, or 80 years old. The aging filters work on the entire photo, so the image is high quality and realistic.
To achieve this effect, you do not need to have a whole arsenal of editing tools at hand. It is enough to click a button and familiarize yourself with your old face. If you're creating content for social media, you'll find the other features of this app useful.
Change the palette and brightness of your photo. Customize the scale that suits the requirements of your chosen social network. You can get 2 photos in one for optimal comparison.
The left half of the photo will be your face in the present moment. The right side of the image will visualize the face of an older person. Decorate your photo with accessories and hats. Add brutality to the photo with a beard and mustache.
This free photo editor allows you to process your photos and have fun discussing them with your friends.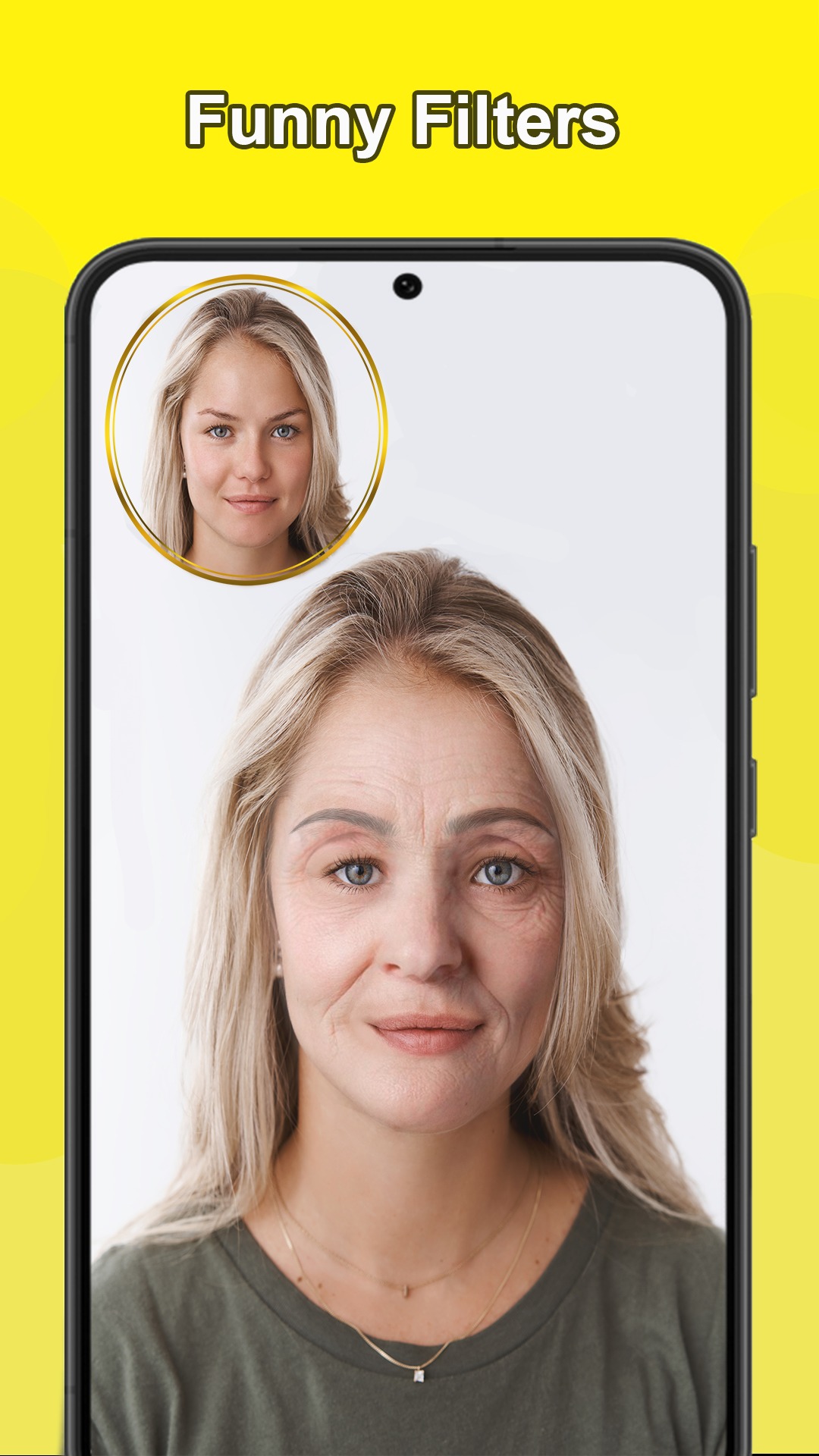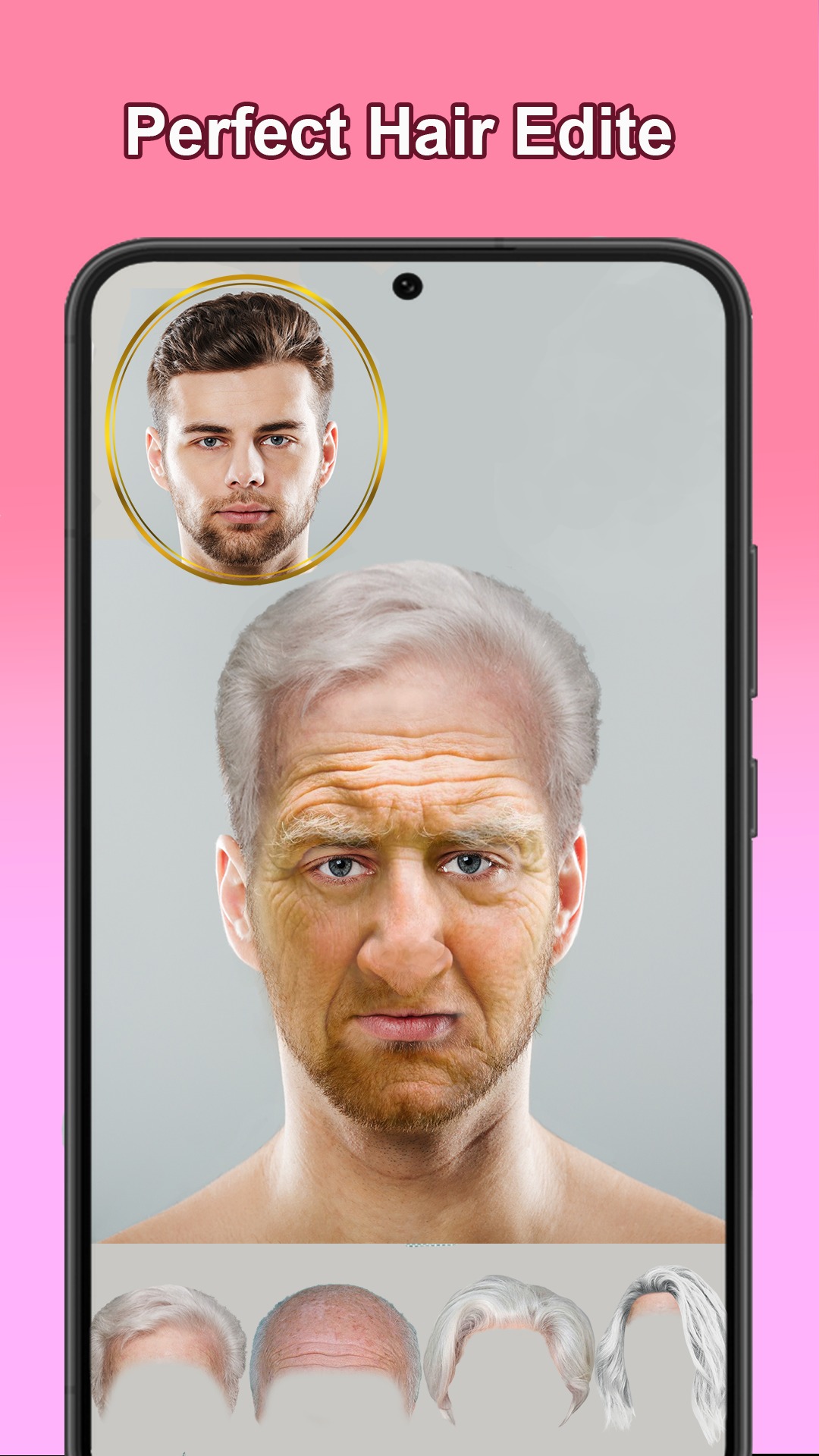 Face Aging Pro – Photo Editor
Let your face instantly age a few decades. Make chic makeup that will help to express your personality and emphasize your advantages. Face Aging Pro is designed for your pleasure and good mood.
Use the aging filters to bring old age closer for a moment. Check your appearance in 20, 40, or 50 years. Note how your facial features change over time. Wonder what you will look like in your 80s?
Get your own personalized set of filters for aesthetic photos. Accentuate your natural beauty and add more vibrant colors to your image. Impress your friends and subscribers with your perfect style. Any photo can be brought to life with the cartoon effect filters.
Turn yourself or your friend into a real cartoon character. Long hours of work on photo editing are a thing of the past. The entire image editing process takes less than a minute. Use the filters at your discretion and gain valuable experience in this field.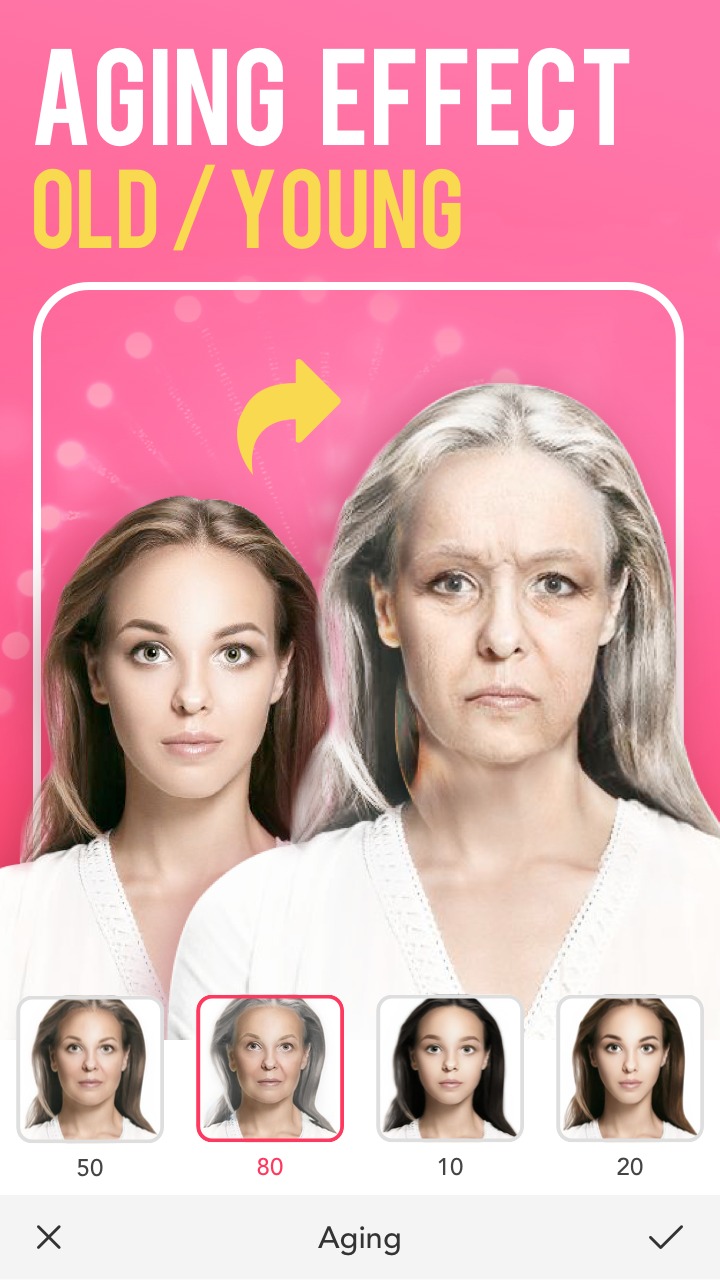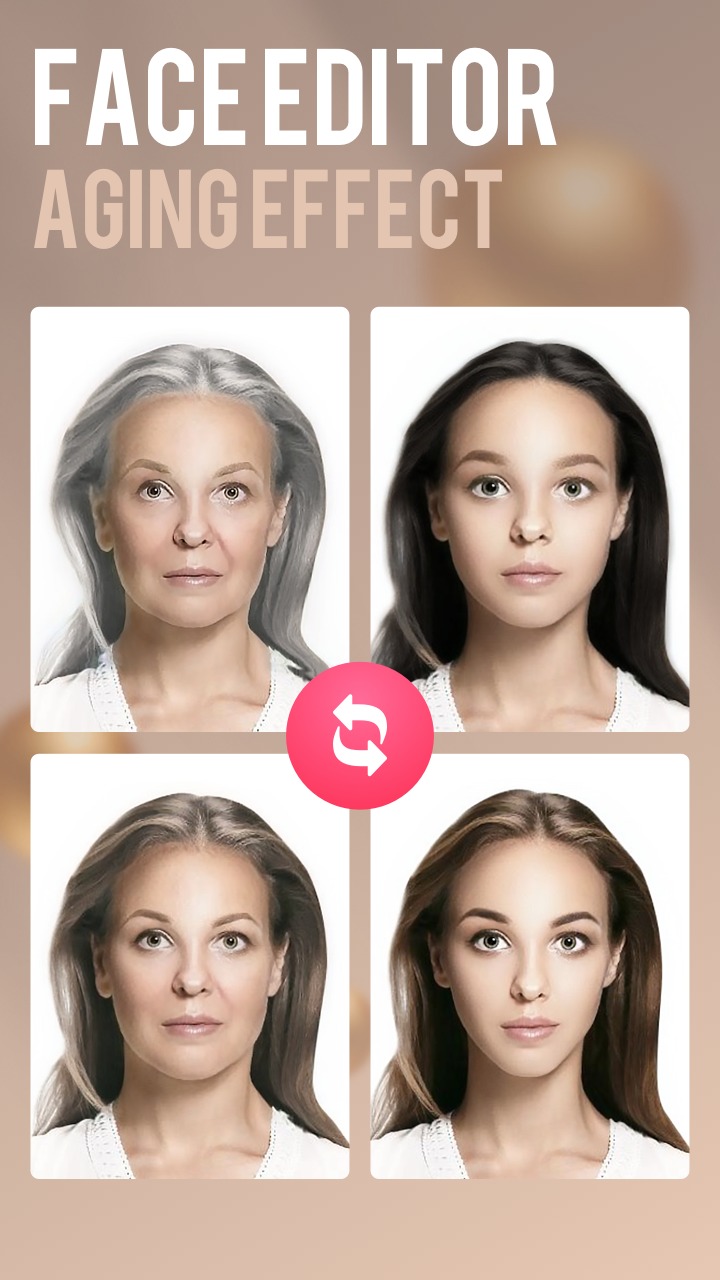 You may also like: 11 Free Apps to Turn Photos Into Sketches (Android & iOS)
Make Me Old Camera – Old Face Changer Photo Editor
You only need 1 tap to make yourself old. If you are ready to see it, then download this age progression app. It will allow you to look 50 years older. Add a photo from the gallery and the app will apply the aging effect.
You can also use the selfie camera app. Create a fun photo montage and send it to your friends. Post a photo with your old face on social networks and impress your subscribers.
This is a good professional age progressing app that uses the latest facial recognition technology. It has been downloaded over 50 thousand times. The app doesn't take up much space on your smartphone. It weighs less than 7MB. Download it and generate your old face.