Christmas is one of the greatest holidays of all time. Children and adults are charged with the mood of waiting for a miracle, preparing gifts and becoming kinder in general. Children wait even harder for Christmas than Halloween or their own birthday.
At the time of the holiday, magic seems to permeate everything. Stores are lit with lights, garlands hanging on the streets, traditional Jingle Bells, and Happy New Year are heard from literally every shoe!
Sometimes this mood is created only when the holiday is very close. When shops are decorated with shop windows, New Year's sales start and all people around start to dress their homes and put the Christmas trees.
You may also like: 7 Epic countdown timer apps for Android & iOS
But what if you want to feel the approaching holiday? Even though it is far from being holiday time, nobody talks about Christmas and winter in general, you can already start thinking about them.
Of course, it is too early to think about gifts and the place of celebration, but you can already feel the approaching holiday. Day after day – Christmas is getting closer. We've gathered the best apps for you to help you get the holiday closer and show you how Christmas is approaching.
Christmas Countdown
When you are already in the Christmas mood and waiting for a miracle, the Christmas Countdown app can support it. This is a regular timer that will help you to watch how close Christmas gets.
Choose from a variety of nice themes and beautiful covers. You can also choose the style of the timer yourself. In addition to the countdown in the application, there is a set of basic Christmas music, which is played in the background. As we all know, it wakes us up even more Christmas mood.
Every day you open the "gift" from the application. It can be nice songs, pictures, HD wallpapers on your desktop. There is absolutely no advertising in the Christmas Countdown app. That is, you will not be tormented by annoying pop-up windows that will close the necessary applications or the countdown itself.
But Christmas Countdown has a premium version. It has a little more content – music, wallpapers. You will also get an additional 3 countdown widgets on your desktop. Observe the snowfall, against which the countdown will be conducted! After all, Christmas is getting closer every minute.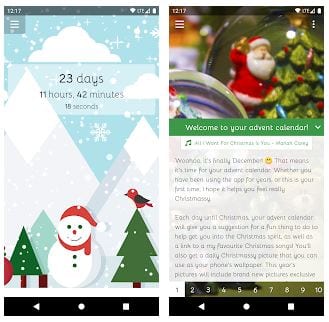 You can also check: 9 Best retirement countdown apps for Android & iOS
Christmas Countdown by Fedmich
Already waiting for presents? Or have you started to prepare them for your loved ones? Hustle, glowing eyes at the moment of finding the right gift, planning trips – all this red tape and bustle can distract you from the holiday. To prevent this from happening, set up Christmas Countdown.
You can consider this to be your personal Santa Claus arrival tracker. Besides, you can also see the traditional background music – it will help you to adjust to the way you want it. Unless the deaf person remembers Christmas Eve if he hears Jingle Bells!
There is also a little entertainment in the app. By clicking on the egg, you can hear the bells ringing and "ding-dong". Little things, but still adjusts you to the right way.
Now you will not miss the right moment and will always know exactly how long you will wait for your long-awaited gift in a Christmas stocking. Well, or you will always understand how much time you have left to prepare gifts for your close friends, family, and colleagues.
Christmas Carols
Christmas is right on your desk! With Christmas Carols you can set up Christmas photos or GIF animations on your smartphone screen saver. All of this will be accompanied by cute Christmas tunes, like those played in supermarkets and huge shopping malls on the eve of the holiday. You can change the picture by simply flipping it to the next one.
A huge selection of musical accompaniment – almost an orchestra in your hands! Change music and pictures, but one thing remains the same is the countdown to Christmas.
At Christmas Carols you get traditional Christmas carols that have been sung by people for generations. Watch the New Year's Eve addresses and charge with a positive attitude from other people in a festive mood.
For fun, you can play with Santa Claus and his reindeer. Just click on Santa to play a minigame. You can also change Santa's stroller – just click on it and edit it until you like it. A Christmas spirit right in your smartphone is a miracle, isn't it?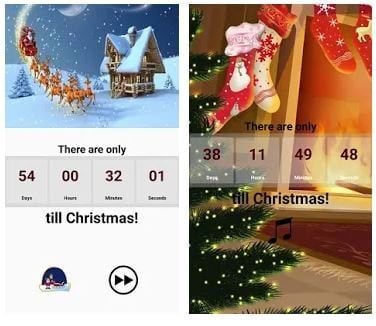 Christmas Countdown Live Wallpaper
Looking forward to Christmas and New Year? Download Christmas Countdown Live Wallpaper which will count the days until the holidays for you.
Choose a background and font for your timer, press the "Set Wallpaper" button in the top right corner of the screen, and you are all set!
There are over 20 background themes with incredible graphics to choose from, so you can change your backgrounds every month and not get bored! Adjust the font to your liking, you can choose from more than 30 of them.
The countdown is absolutely accurate, you will be able to see the time days, hours, minutes, and even seconds remaining to your favorite holidays of the year!
You can choose whether to set the countdown wallpaper as your home, lock screen wallpaper, or both.
The app is completely free, so you can spend your money on gifts as you prepare for Christmas!
Download Christmas Countdown Live Wallpaper, which will get you more excited about the holidays! Go spread that festive mood around your friends and family, and do not forget to recommend these wallpapers to them!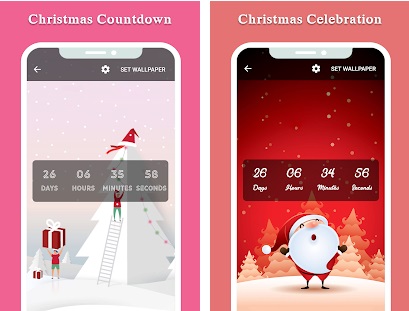 Christmas Countdown!
Want to know how long you have to wait for Christmas? Or, on the contrary, how much closer is the holiday getting with every second? With Christmas Countdown, this will become a reality.
Now you can easily track how long you are still waiting. Christmas Countdown! Count down the days, hours, minutes, and even seconds before the celebration.
You can choose your company to wait for. Choose from 6 traditional Christmas symbols – Santa, reindeer, snowman, Christmas tree, and other symbols. Without them, it is impossible to imagine a holiday, and now they will always be with you!
Sharp on your smartphone screen, the symbols will keep you in the Christmas spirit, and the timer will tell you that with every second and every moment of Christmas is approaching. Before you know it, it is on your doorstep!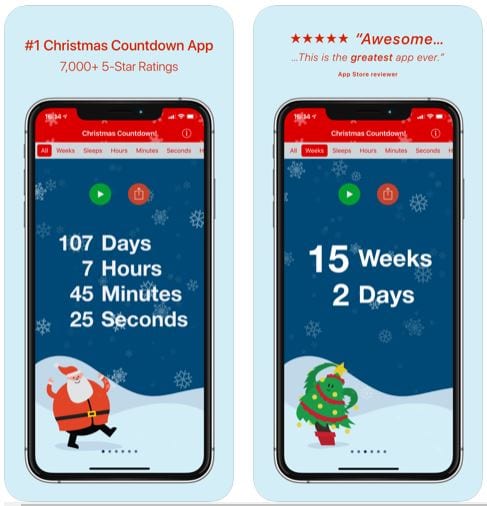 Christmas Countdown
This app can be described in literally two words: simple and solid. The program has exactly the number of options that are needed to perform the direct function of the utility – to count the days before Christmas.
The development company did not make any innovative options, but at the same time worked out the program itself in very, very detail. Just think about it: the app weighs only 4 megabytes. On the main screen, the widget will occupy a 1×1 square. The app will look atmospheric on your device.
Even when Christmas comes, we can say that utility does not lose meaning, because as soon as the clock mark passes the time, it will immediately start a new report before the next one. If the user wishes, he can install a 3×2 program widget, which will show minutes and seconds remaining before the festival.
Download this app now and get into the Christmas vibe right on your devices.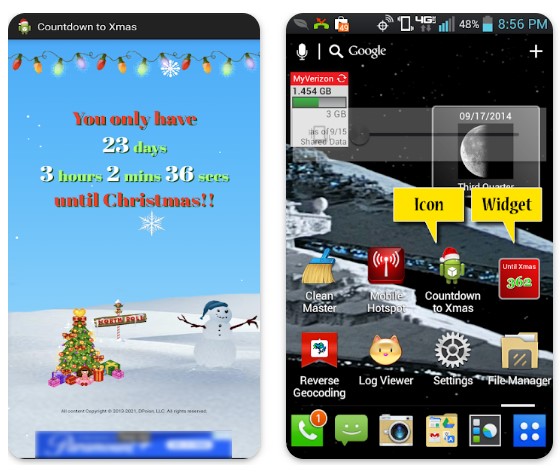 Sleeps To Christmas 2
Part two and a more updated version of Sleeps To Christmas. The previous part became a bestseller among users and the developers decided not to stop at one part. Here we can count down until Christmas with the cute new characters. By standard, the app already includes free themed songs and Christmas motifs.
All the presented characters are animated, which attracts the attention of both children and adults. Gingerbread man is showing off in front of you, Santa just laughs, and Snowman, for example, gets into ridiculous situations. All this only plunges into the atmosphere of goodness and magic – even if you have not believed in Santa Claus for a long time.
In addition to the standard characters, you can also buy other characters. The paid package includes Santa Claus deer and a magic fairy.
The music is standard – Christmas motifs, which we hear on every corner and wish you a merry Christmas. Another bonus that users can suddenly discover: when you shake your smartphone, you will hear Christmas bells ringing! Raise your spirits and those around you just by shaking your hand.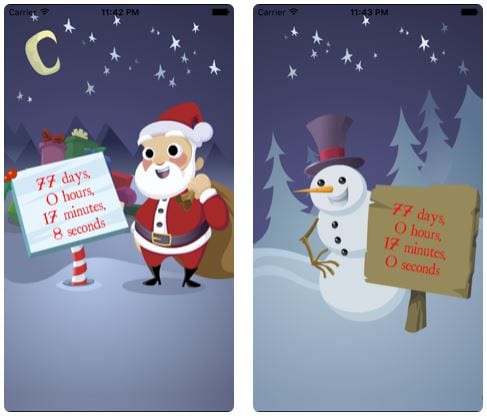 CountDown Tracker to Christmas Birthday Date Event
There are not so many apps for iOS in this category but iPhone users deserve to stay excited for Christmas too! That's why here we have a more general app, however, it is still capable of bringing the Christmas spirit.
CountDown Tracker is an extremely simple software indeed – all you have to do is to open the app, create the name of the upcoming event, set the picture, and then set up the date.
Then the timer will be displayed like a widget on the home screen of your gadget showing you how many days are left before this magic holiday. And even if you discovered you made a mistake and typed something wrong – there is an editing feature, that allows you to make corrections been if the countdown has already started.
You can also mark the events as your favorites, for example, the countdown for Christmas. You can do that by opening the side menu where you will be able to see all the evens that you have set the countdown for. You can also do the same for Birthdays and other essential holidays and events.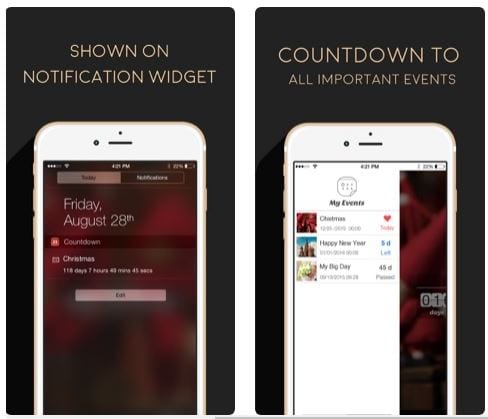 You may also like: 7 Free Christmas song apps for Android & iOS
Christmas Tale HD
In case Christmas is a family holiday for you, Christmas Tale should interest you. The application is made in the family format of reading Christmas stories. Christmas stories, magical stories, and the spirit of Christmas itself right in your smartphone.
For your convenience, there is a countdown to Christmas. This is a full-fledged Christmas watch that will keep you informed. But Christmas Tale is not limited to this! You can fully play minigames, help Santa Claus deliver gifts to other good kids, watch all the beautiful clothes of a snowman, and even set up an automatic reading of the story.
For example, you and your kids fall asleep by the fireplace, and Christmas Tale tells you a wonderful magical story about deer and magic helper elves. Count down the time before the holiday, enjoy the magic of waiting for a miracle and celebrate Christmas with the whole family!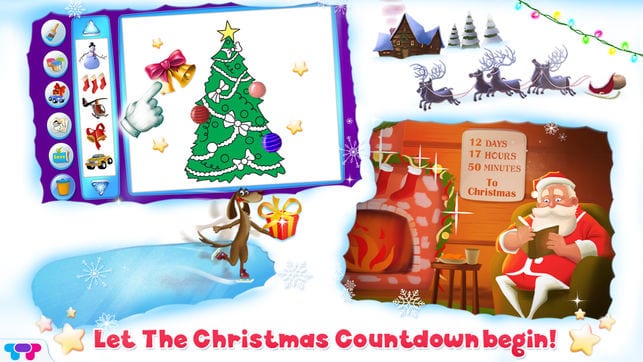 Christmas Countdown Timer
If you are so excited for the winter holidays that you count the days left till them, then download Christmas Countdown Timer as it will assist you in counting the time left.
The timer will be shown on your home screen in form of a widget. Press and hold your home screen, select widget, choose Christmas Countdown from the list. You also have the option to select the color, size, and font of your text. Then you will see the countdown widget on your home screen!
If you go on the app itself and click the "Greetings" button you will find quotes, jokes, and messages associated with the holidays.
The widgets are really colorful and festive! The app is also free, so anyone can download it.
Share the widget you created with your friends by clicking "Share" in the top right corner of the screen, and invite them to download the app and join you in your countdown!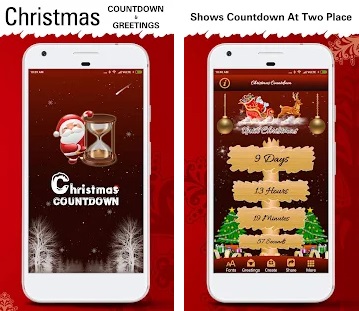 You can also check: 5 Best wedding countdown apps for Android & iOS
Christmas Countdown with Carols
For enhancing the Christmas mood that you are willing to create with these cool Christmas countdown timers, you can get this app and not only watch how the days are gone, but also enjoy the holiday sounds and melodies while you're waiting.
The app will be installed as the wallpapers to your phone so you won't even need a widget to see how many days before Christmas are left – it will always be in the center of your screen, no matter if you're going to the menu or go to the home screen of your gadget.
The display color will be changing depending on the time of the day which is another cool bonus. The 3D images which will be placed near the countdown are another cool feature that will lift your Christmas mood. It has already become super popular on Google Play and gain high rankings form the users.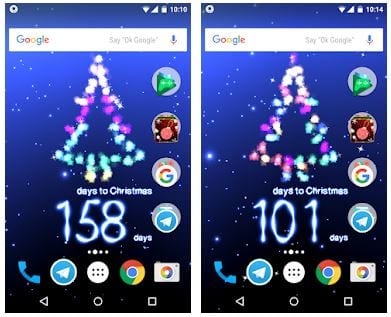 Christmas is exactly the holiday that all people are waiting for. No matter how old you are, how old you are, what sex you are, and from what country – the spirit of magic will capture even you! The festive mood is a constant and necessary attribute, which you need to get before Christmas Eve.
You can do it in many ways – even just walking around the decorated shopping mall or along a crowded street with garland shops. But the simplest thing is your smartphone. In the timers of the time before the holiday is often built-in thematic music – it will set you up in the right way.
The counter will show you that the miracle is literally on the threshold – there is less and less time before Christmas. Make a list of purchases, gifts, plan, and dream – because this is the meaning of this magical and wonderful holiday.