7 Best Facial Hair Apps for Android & iOS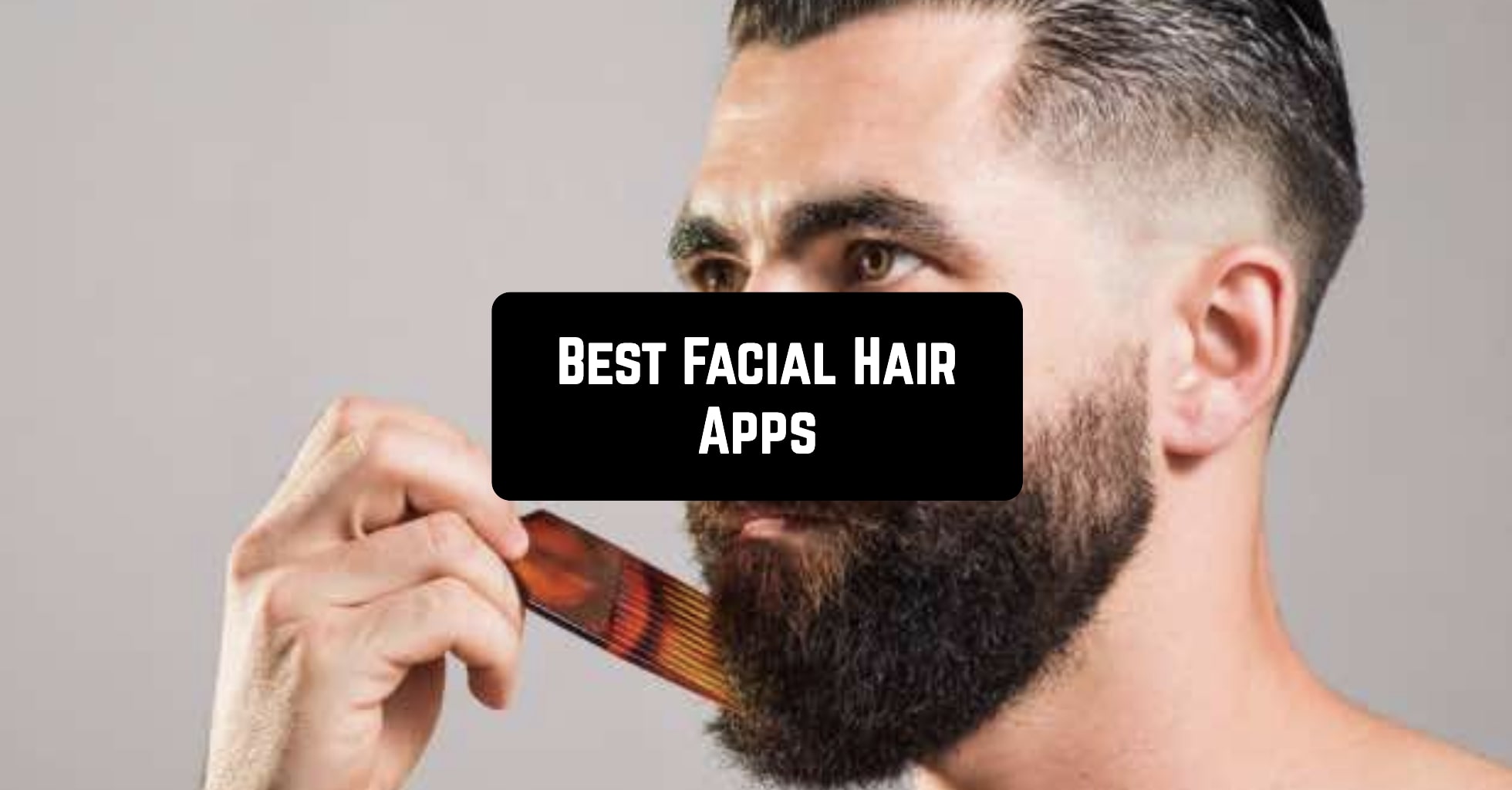 Have you ever thought of growing a beard or a mustache? Want to see what you look like? This selection will help you make the right choice:
You may also like: 15 Dancing Apps With Your Picture For Android & iOS
Beard Booth Photo Editor
Modern men's fashion offers a wide variety. A stylish hairstyle, an original beard or mustache are available to many. However, it's not always possible to use the services of a professional stylist and in this case, the application Beard Booth Photo Editor will help.
The idea of the developers is quite simple – they have implemented a graphic editor that allows you to impose hairstyle templates on a user's photo. It's enough to take a picture and load it into the application, further you can work with simple gestures.
There is a huge collection of amazing beard and mustache styles. Choose long or short beard, change its color and size with finger touch.
The control is implemented as simple as possible and it will be easy for the inexperienced user to work with the interface.
You can also check: 11 Best apps to change eye color (Android & iOS)
Man Photo Editor: Man Hairstyle, mustache, suit
Man Photo Editor: Man Hairstyle, mustache, suit – an application for experiments with a variety of hairstyles, mustache, and beards.
In the modern world, appearance plays an important role. The application allows you to see how a person with a particular hairstyle will look like.
In addition to a variety of styling, there are mustaches and beards, and you can change their color, up to turquoise (although it looks strange). First, you need to upload a photo-perfect full face.
Each element, be it a beard or a hairstyle, can be scaled and stretched. The only thing that not all templates are suitable because people have a different position of lips, mouth, and nose.
With the Man Photo Editor: Man Hairstyle, mustache, suit, users can choose a new image for themselves. After all, not only hairstyles and beards are available, but also costumes, as well as sunglasses. Of course, the finished photo can be saved to the gallery to share it with all your friends.
Man Hair Mustache Style PRO: Boy Photo Editor
Man Hair Mustache Style PRO: Boy Photo Editor is an excellent Android project that belongs to the "Photos" category. Developers present to your attention amazing hairstyles, as well as beards and mustaches.
This is a cool collection that is impressive enough to surprise you! In the presented program, change your own style at your own discretion. Try on different hairstyles, check whether you will look cute with a beard, mustache, etc. The range of possibilities is quite wide, so none of the users will be upset when they download.
Sometimes advertising banners will pop up, but in general, using the application leaves only positive emotions. No age restrictions. Men, boys, can load their own photos. Change your style first in the program, and then transfer it to real life. Remember that everyone likes stylish, confident males!
Beardify
Even though this is quite a specific app for just trying on the beard on your face this is generally popular on iOS. Obviously people like seeing themselves with a beard and just have fun. Whenever you want to just have fun or have serious intentions to chance your image – this an excellent app to see how you're going to look with a new beard.
The algorithm is simple – you just need to upload a picture of you or your friend to the app and choose the beard for them. The app will identify the face automatically and layer on the beard. The advantage of Beardify that all the beards in here look super realistically.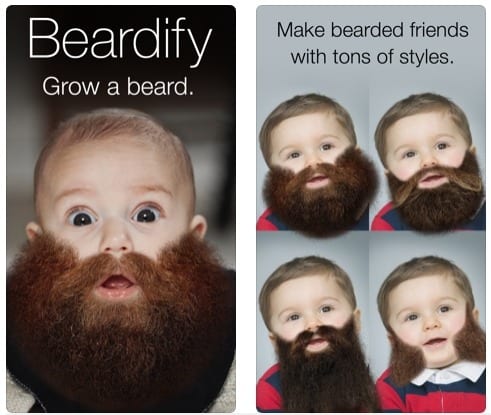 You may also like: 11 Free Face Mask Apps for Android & iOS
Beard preview & styling advice
In recent years the beard has became one of the most essential elements of the men's image. There is an enormous amount of attention that is dedicated to it in the industry. Barbershops, gel, sprays, scissors, and many more – who thought that a beard requires so much effort and that it can change the style in such a dramatic way!
This is another app to try various beard styles on yourself. The biggest advantage of it is probably the fact that it is developed by the famous electronic company Phillips. Thus, it is better to use it when you already have one of Phillips shaver – this way you will be able to immediately create the style you found in the app.
There are different beards and different angles of beards and their variations. Moreover, the app tells you about different types of shavers, its parts, and why it is important to have a powerful electronic shaver for your beard (and, of course, Phillips products are advertised).
In general, this app is not bad at all and you don't have to own anything by this brand in order to try out a beard on yourself.
Beard Booth Studio
One of the most popular beard apps for iOS and Android. For all the men who want to grow their beards but are not sure about the style, here you can try the most diverse types of it on your face.
Beard Booth your picture with an assortment of classic and contemporary beards, mustaches, and other facial embellishments made famous by some of the manliest men in recent history.
The interface of the app is super simple in usage but that's how a good app of such a type should be. All you have to do is to upload your picture and go to the main menu – there you will find dozens of beards that you can try on yourself. After you created a pic, you can even share it on your social media using this app.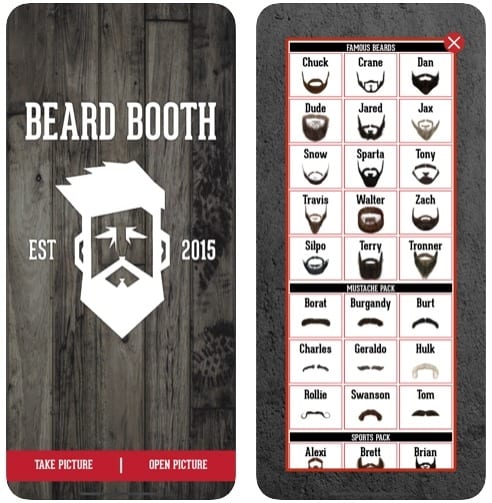 You may also like: 9 Best nose editing apps for Android & iOS
Beard Maker – Beard Styles
If you are a man and are looking for the perfect photo editor, then the best thing for you is to download Beard Maker for Android.
This funny photo editor is designed to be perfect for the male population. You will be able to give the appearance the original and at the same time funny style. You can use a beard or a variety of hairstyles. Show the created masterpiece to your friends and have fun together.
All men are very interested in the question of how I will look when my beard grows. But using this application, it will be possible to look at yourself in this style. Choose absolutely any kind of beard and use it on yourself. Surely relatives will be surprised to see you in this appearance.
In addition to the beard, the user can try a new hairstyle. For this, more than 40 different models are available that can perfectly fit your head. Choose how you would like to see yourself, with long or short, curly or straight hair. Moreover, the user will be able to create and add his fashionable hairstyle into the application. There is absolutely nothing complicated.
Any hairstyle can be changed by selecting any of the 30 tones and colors. Believe that if you download Beard Maker for Android, then you will have the coolest hairdresser and designer in one person.
Creating your own unique model with a mustache, beard, and hairstyle, the overall look can be complemented with any sunglasses. To do this, the application contains the most diverse collection.
The user can always choose his interesting photo from the gallery or take a picture right now. Just use a photo, pick a beard and hairstyle, and then put on your glasses and see who you look like. Show it to your loved ones to laugh.