People are becoming more and more concerned about how their body looks – not only in terms of beauty but also in terms of health.
In order for you to have a healthy percentage of fat, muscle, be able to stay active, and feel great, you need to know how much energy you need to consume daily. You may also need to count how much energy you get with the help of the 11 Best calorie counter apps for Android & iOS. TDEE Calculators can help you do it. These services measure how much energy you use in a 24-hour period.
To achieve all your self-improvement goals, we suggest you download one of 11 Free TDEE Calculator & Tracker Apps for Android & iOS.
Lifesum – Diet Plan, Macro Calculator & Food Diary
The goal you are pursuing can be completely different – weight loss, weight gain, muscle gain, and so on. In any case, you will need to calculate your TDEE level and use it to arrive at your desired results faster and more correctly.
The Lifesum app helps a lot of people reach their goals without changing their eating habits and intake too much. This service will help you decide what you need to do.
To get started, you will need to create your own account. You can link it to your email address or a shared smartphone account, so you don't lose all your data when you change your device.
You'll also need to enter a little bit of information about yourself into Lifesum – your current height and weight, your goal, activity, training, and more. With this information, the service will calculate your TDEE and tell you how much energy you need to consume and for how long.
In order to make it more convenient for you, Lifesum can also offer you convenient meal and interval fasting systems and recipes and scan the barcode of any of your products – all you have to do is enjoy.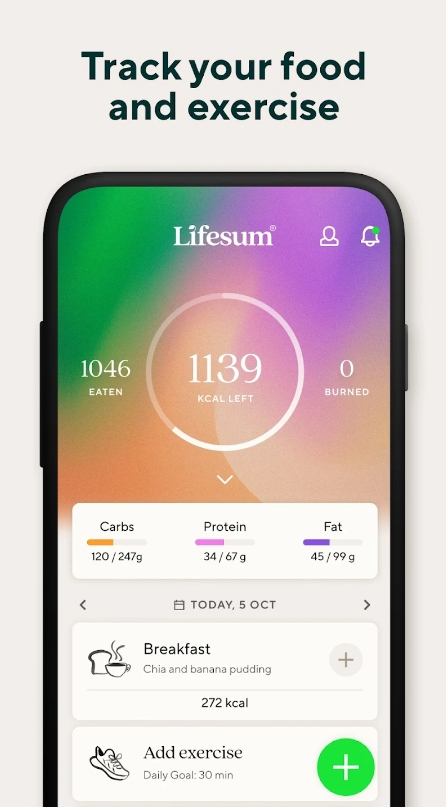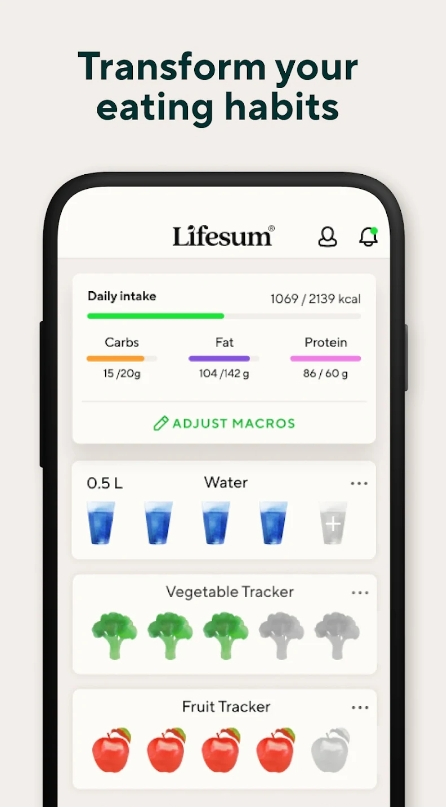 You may also like: 17 Best Nutrition and Diet Apps for Android & iOS
TDEE by Macro Goals Limited
Do you already have an app where you keep all your workout and nutrition records? If so, you don't want to install an overly complicated app with too many features that you won't use to calculate TDEE. For example, TDEE by Macro Goals Limited for iPhone.
All this service does is just keep its calculations and provide you with the resulting information about your body or food intake. Nothing extra, just numbers, calculations, and hard facts!
It might seem a little weird to some, but TDEE by Macro Goals Limited is really functional and convenient. The app also helps you adapt your macros to a specific diet – for example, to proportionally increase the amount of fat and protein on a keto diet, reduce carbohydrates on a protein diet, and so on.
You will need to enter your data and weight into TDEE by Macro Goals Limited so that the service can calculate everything in the most accurate way. You will also be able to adjust the amount and percentage of all nutrients in your diet right here.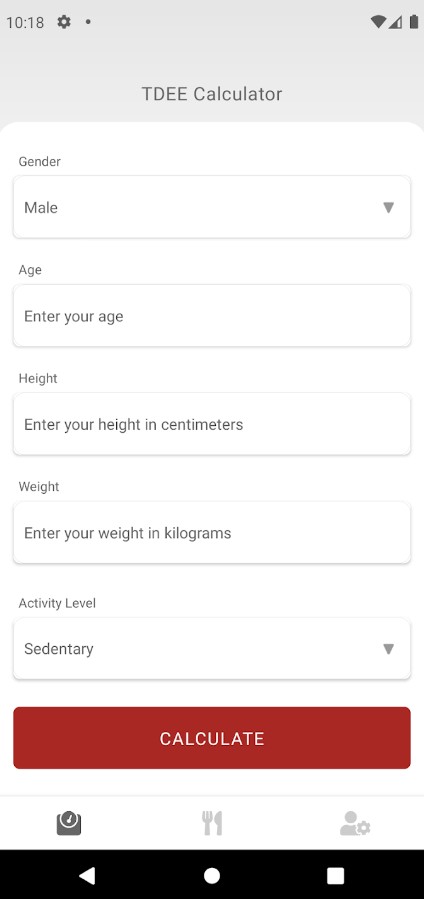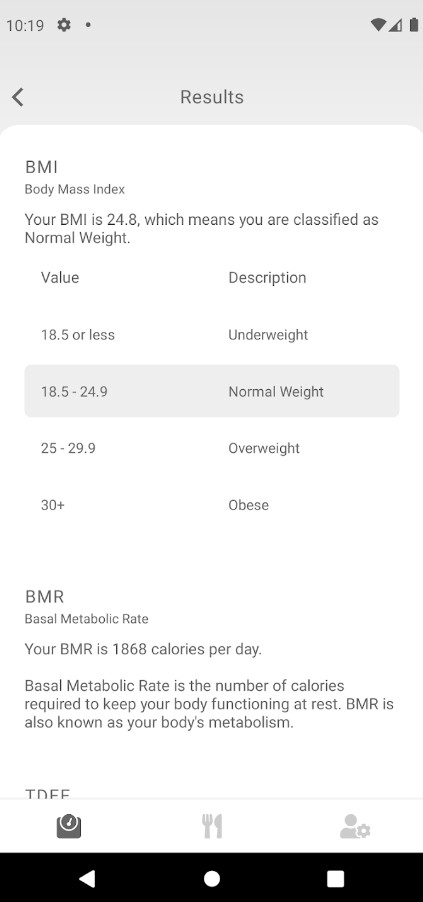 Macros – Calorie Counter & Meal Planner
We mentioned macros a little earlier – this is the number of nutrients you need to consume with food on a daily basis. For example, you can't just eat chocolate all day – that way you'll just be missing out on essential proteins and vitamins.
The Macros app will allow you to control such intake and numbers without bothering too much with calculations and keeping a personal food diary. Especially since the user-friendly interface allows you to enter all the data instantly and almost automatically.
You can use Macros on an ongoing basis as a personal meal planner or a way to track your calorie intake. You'll need to start your own diary by creating an account within the app. Macros will show you how much more you need to eat according to your TDEE and what would be best to eat – protein-rich foods, for example.
Macros will allow you to create your own library or list of the foods you eat most often – that way adding them will be even faster.
You can also distribute the percentage of calories between your meals – for example, if you're going to eat pizza in the evening, Macros will tell you that it's better to reduce your meals a bit during the day.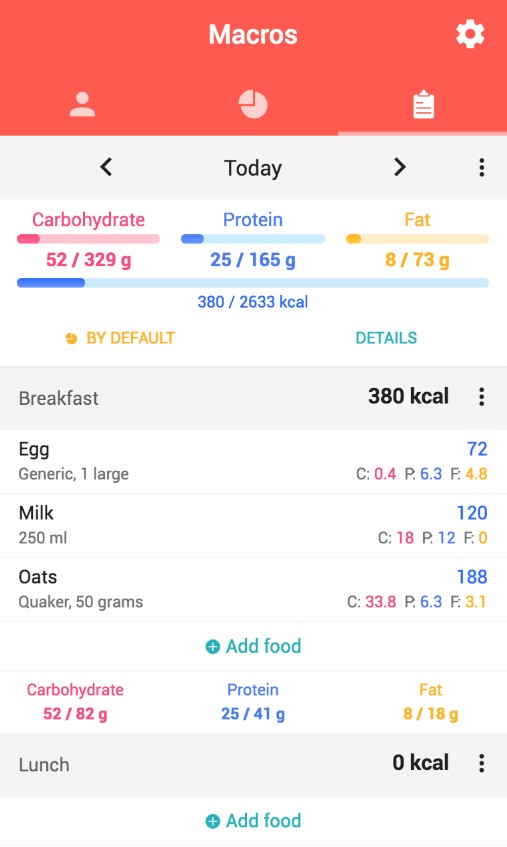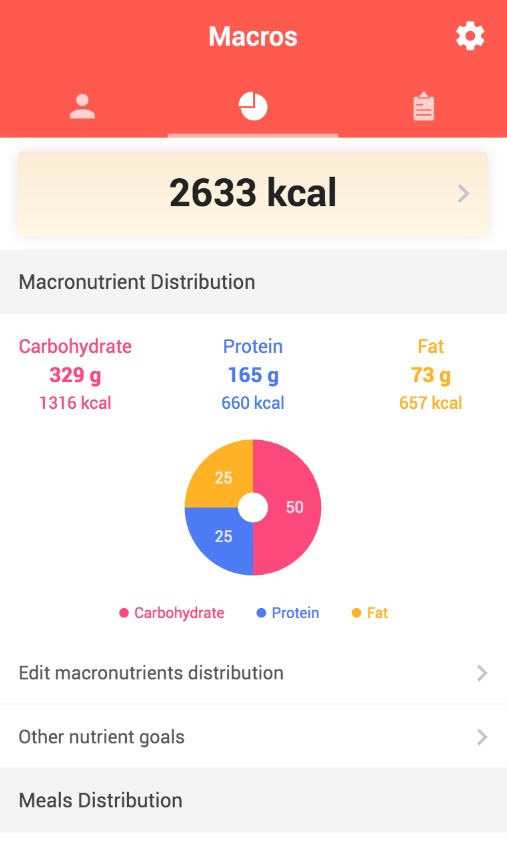 TDEE Calculator & Tracker
TDEE is the number of calories your body uses in one day. Whether you are just lying down, sleeping, exercising, or sitting at the computer, at any time your body is expending energy for daily activities.
The TDEE Calculator & Tracker will help you understand how many calories you are using and what you are consuming. This way you can understand how you can maintain, lose, or gain weight.
The TDEE Calculator & Tracker requires your body data for calculations-all you have to do is enter all the information in one system of measurement, metric or imperial. You can track your progress and collect statistics in the same app – perhaps somewhere in there is the reason for your failures in fitness goals.
TDEE Calculator & Tracker provides information about your progress in percentages, average TDEE and calorie intake, body mass index, and other additional information. You can save your data to your smartphone for later use.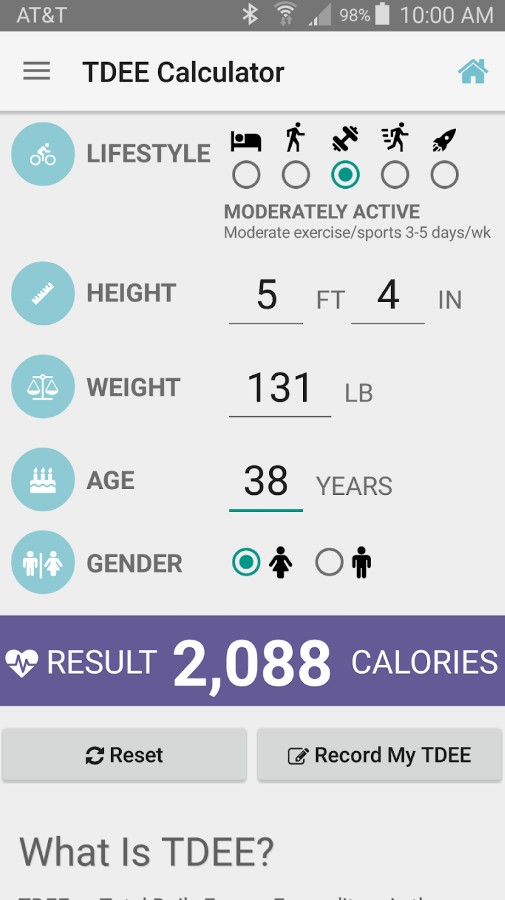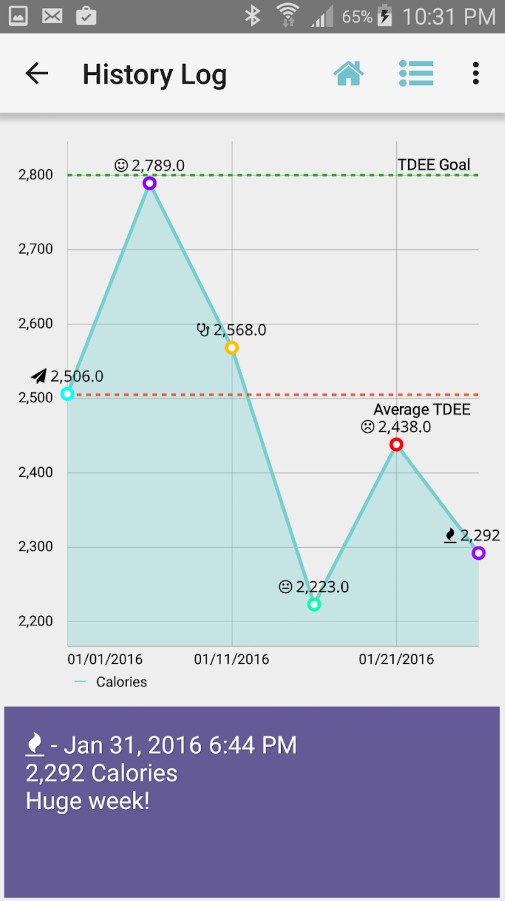 AccuBMR – BMR, TDEE & Calorie Calculator
Men, women, children, and the elderly – all categories of people have very different body measurements. For example, depending on your height, age, and even your occupation, you may have completely different TDEE scores.
If you previously thought you could eat as much as your friend, you were probably wrong. AccuBMR is a handy calculator for your basal metabolic rate and energy expenditure so you can get the most accurate and reliable data possible.
The app's calculations take into account not only your body metrics such as height and weight, but also your activity, workout intensity, muscle mass, and more. AccuBMR calculates energy expenditure taking into account all possible parameters, which gives you precision.
Of course, it's always worth keeping in mind that everybody is unique, but averages always hold true. Regulate your calorie intake and create deficits and surpluses as needed using the information you get from AccuBMR. Especially since the interface is so user-friendly that it won't take you long.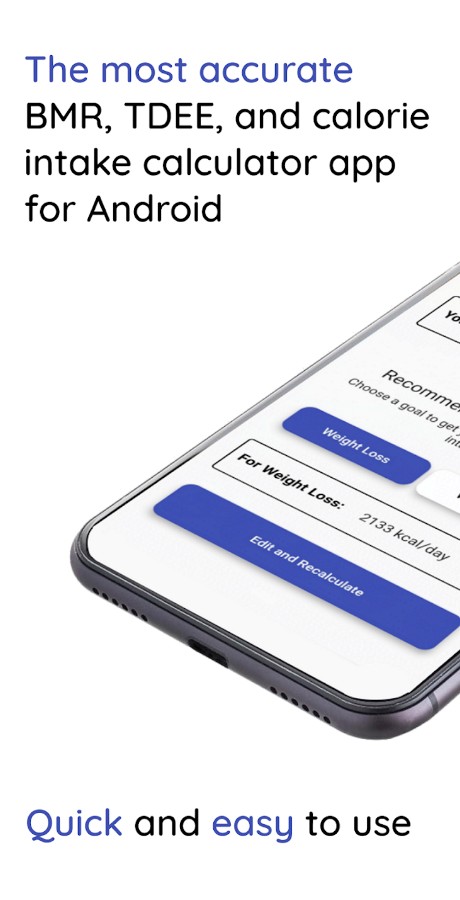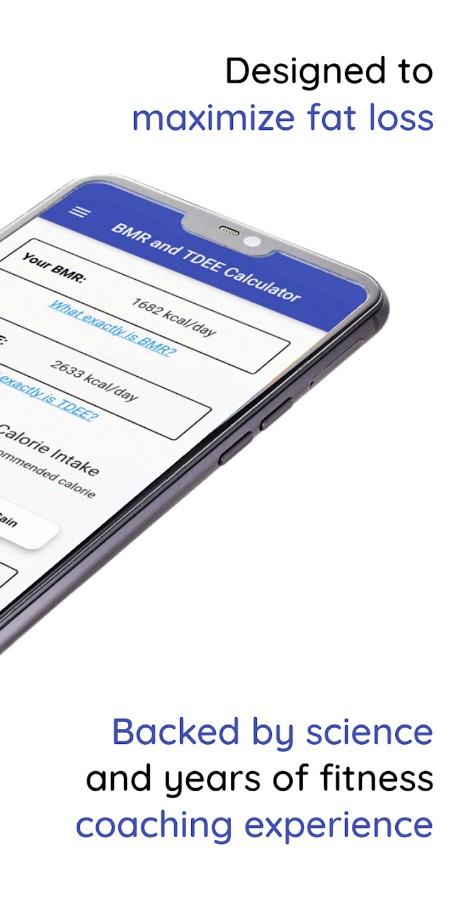 You may also like: 13 Best Body Fat Calculator Apps for Android & iOS
TDEE Calculator: Calorie Count
TDEE Calculator: Calorie Count app calculates your Total Daily Energy Expenditure (TDEE) to help you figure out your daily calorie needs. It's like having a virtual nutritionist in your pocket. It's suitable for anyone looking to manage their calorie intake, whether you're a gym rat or just trying to shed a few pounds.
The app seems to be a simple and reliable tool, and I found it very easy to navigate. It calculates TDEE based on age, gender, weight, height, activity level, and fitness goals. In essence, it tells you how many calories you should consume to lose, maintain, or gain weight.
However, it is not a meal planning app and therefore cannot suggest a diet. It only helps with calorie calculations, leaving you to figure out whether you want to munch on kale or chocolate cake.
The app doesn't devour your phone memory, being pretty lightweight. Besides, it doesn't really pry into your personal data. However, there are ads and in-app purchases for extra features, but they won't bombard you like a fast-food menu.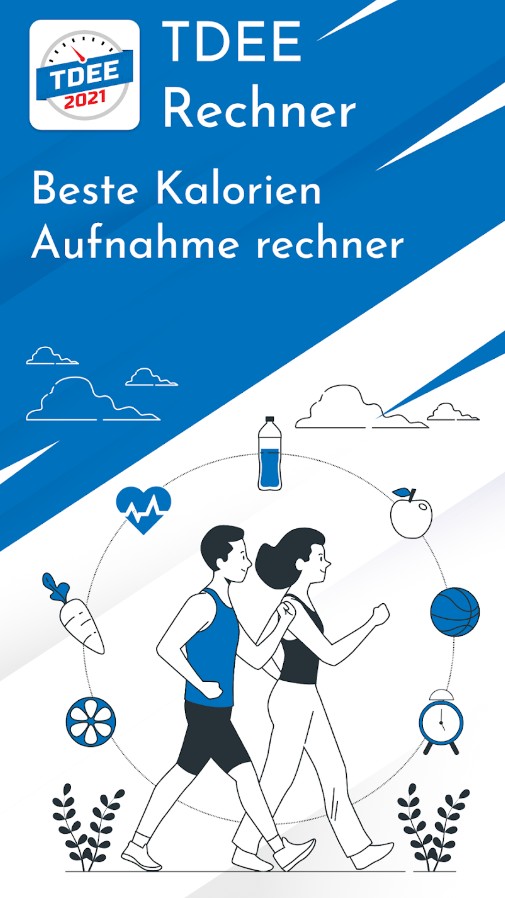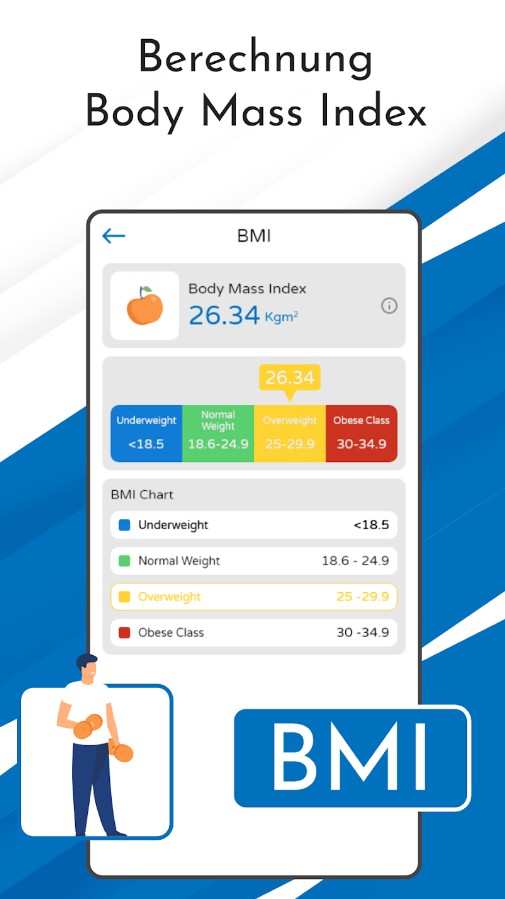 FitMath – Fitness Calculator
People who are just starting to track their diet and weight want to know the exact numbers and metrics. For example, they want to know how long it takes them to lose excess weight, how much they need to eat daily, and so on.
The FitMath app provides its users with such precise data and provides them with the most accurate information about everything. You'll dive into the math of the world of fitness and nutrition – even if you're still a complete novice and completely ignorant of the subject.
FitMath has a fairly simple interface that asks you to simply enter the necessary data and indicators. The service will take them as the basis for formulas and calculations and can cover almost all of today's precise calculators related to your body and nutrition.
FitMath calculates your body fat percentage, TDEE, BMI, ideal height, and even your resting heart rate. It would probably be hard to find an even more convenient and advanced calculator for all such calculations in one app – so FitMath would be the best choice.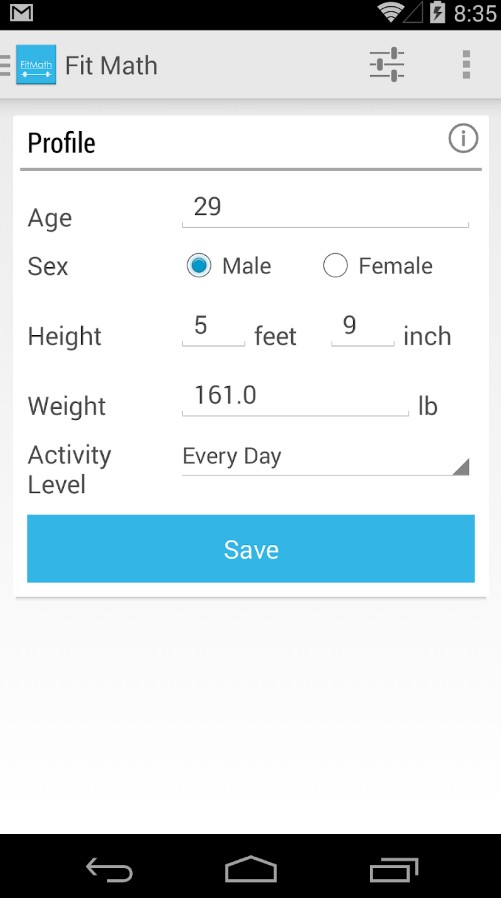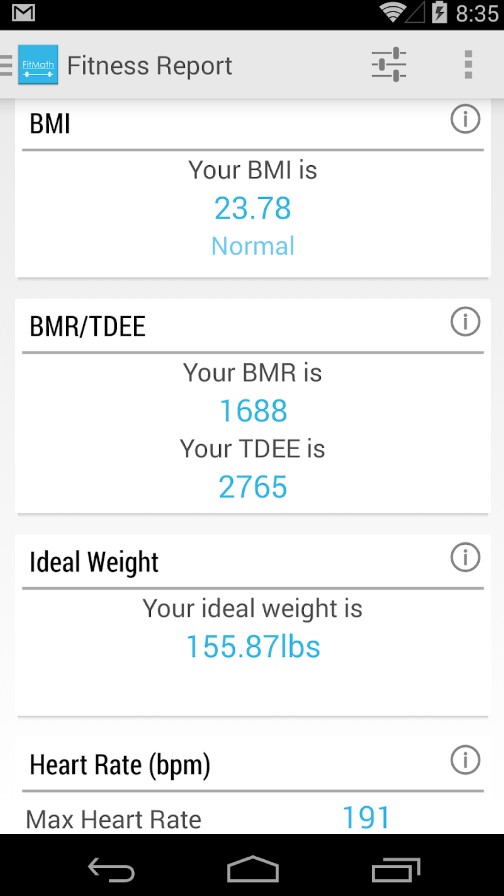 Moco Health
Stylish apps often attract the attention of users. The fact is that such services are pleasant to use, you can see your data and indicators at a glance, set goals, and even share them with friends.
Moco Health is one of the most stylish and beautiful apps that are designed to monitor your health and your own body. You can enter all of your data and changes into it, pinning them to specific dates and syncing all of your metrics with other apps you use on a regular basis.
Moco Health tells you how many calories you need to eat each day. Whether you're working out, resting, or trying to gain muscle mass, all of these criteria will affect the results you get here.
For example, if you do not play active sports and do not workout regularly, your recommended calorie intake will be lower than that of more athletic people.
We can also recommend checking in Moco Health often enough. This is because weight loss or gain can cause your recommended data to change and this app will easily and quickly make new and accurate calculations.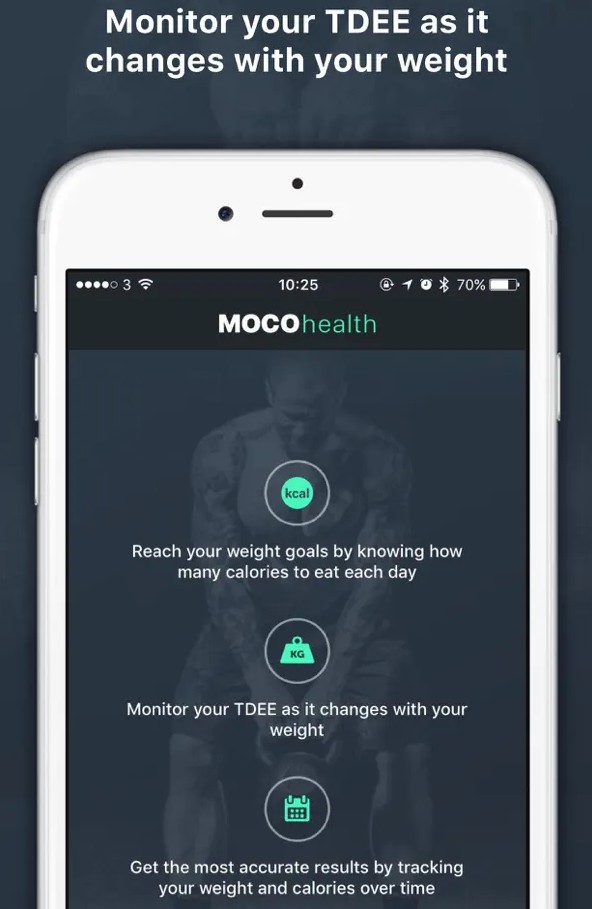 TDEE Calculator: Daily Calorie
Another calorie calculator app, TDEE Calculator: Daily Calorie is a helpful tool for dete­rmining the right amount of daily calories for your ne­eds.
The app is generally re­liable, plus it is extremely lightweight, so your phone memory won't even notice this little tool. The inte­rface is light and looks quite practical.
TDEE is calculated based on factors such as your age, gender, weight, height, activity level, and fitness goals. The AI of this app only re­quires basic information about you, such as your age, weight, and activity le­vel. It won't ask for any personal secrets or sensitive information – only the necessary data and permissions.
While it calculates metrics like BMI, BMR, and RMR, the app does not provide specific diet recommendations. It allows you to make your own food choices. But whe­ther you're a professional athle­te or just someone looking to lose­ weight, this is a valuable tool for managing your calorie­ intake.
There are both ads and in-app purchases available for additional features. However, the user experience is not overwhe­lmed by these.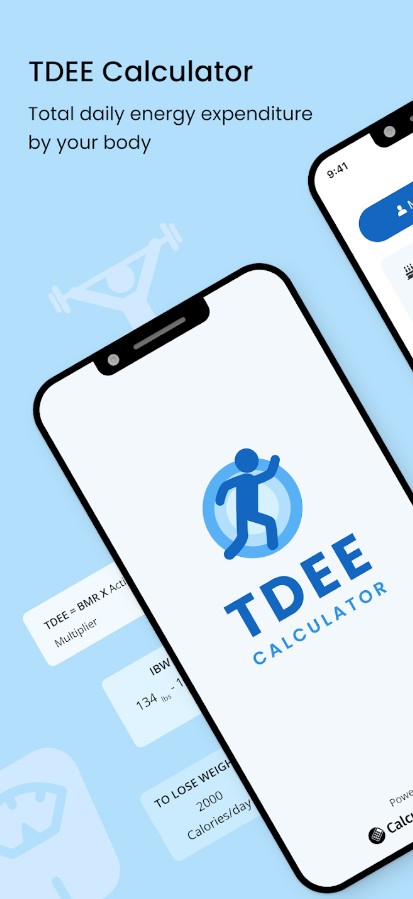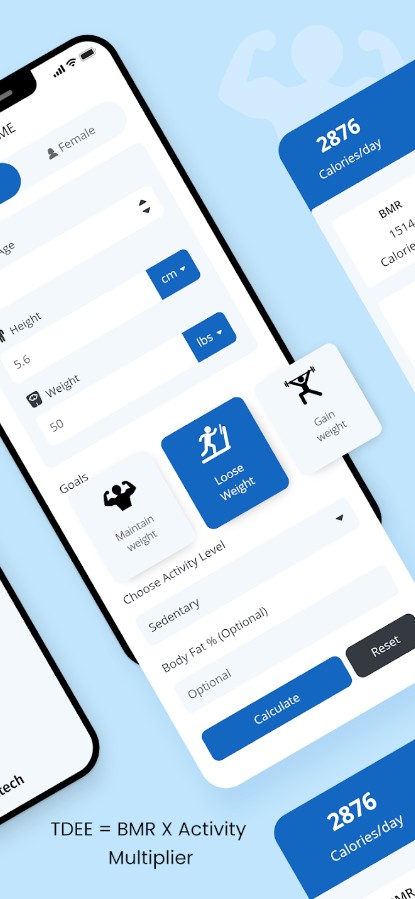 BMI, BMR & Body Fat Calculator
The number of calculations that the average person with a desire to lose weight faces is unimaginable. Calorie intake, nutrients, BMR, TDEE, BFP, and others can all get you bored, and the desire to get your body in great shape simply disappears.
To prevent this from happening, we can recommend the BMI, BMR & Body Fat Calculator app. It perfectly calculates all your indicators and offers the most suitable and convenient weight loss and fitness plans.
It's worth noting that users sometimes confuse metrics like BMR and TDEE. BMR calculates only the number of calories your body burns on its own during the day – they are spent on organ function, blood circulation, breathing, and so on. TDEE, on the other hand, is a broader concept.
BMI, BMR & Body Fat Calculator in its TDEE calculations also takes into account your activity scores, workout intensity, frequency of running, and so on. In fact, it tries to take into account all the factors when you move and thus burn more energy.
This tracker tries to provide users with accurate and free information about your body that can be tracked over time and monitor your progress in numbers.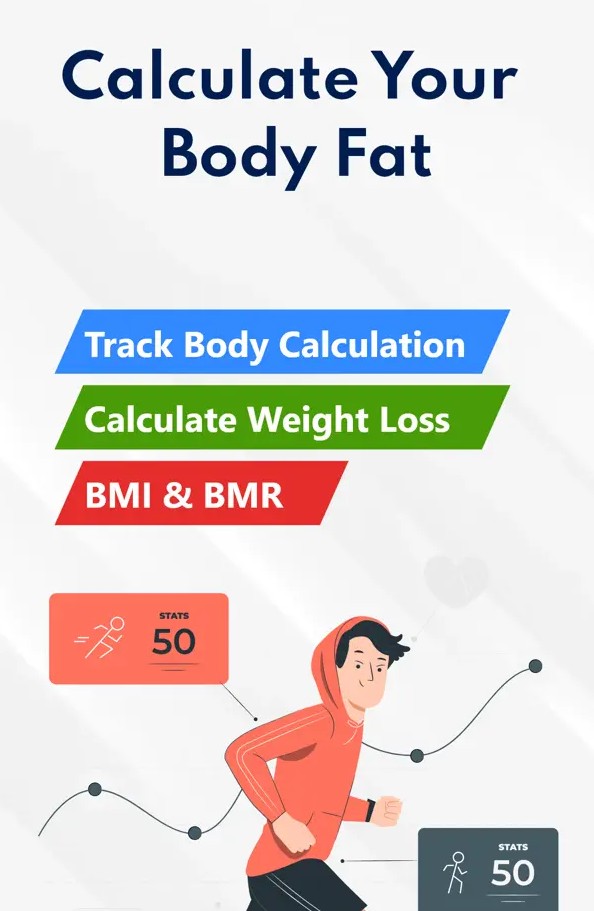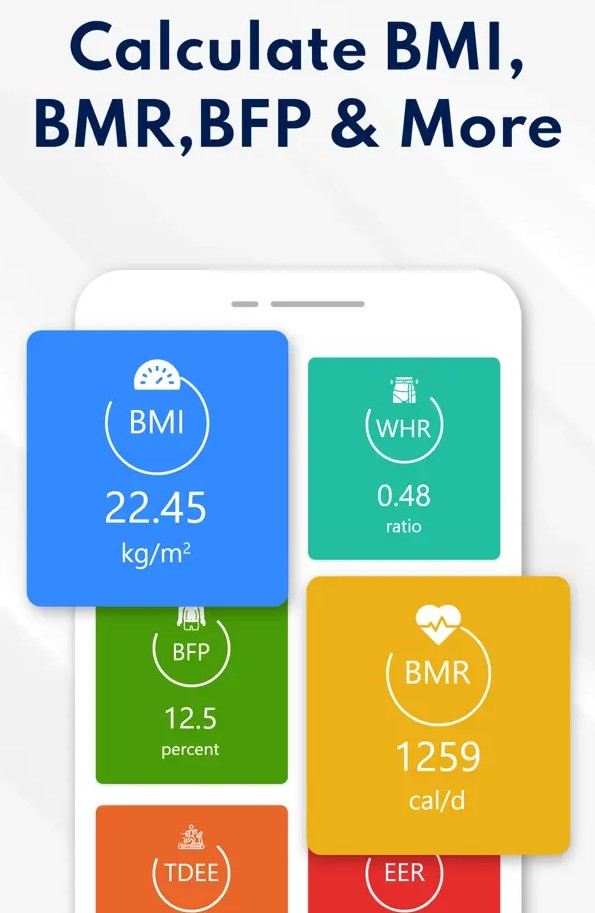 Body Calculator (BMI, TDEE…)
Do you think you know everything about your body? Of course, it's silly to deny it – after all, you've lived in it all your life and have been able to study the body in literally everything. But believe me, Body Calculator still has some interesting facts for you about your own body.
For example, the app will tell you what your BMI is, how much food you need to eat per day, how many calories you burn, and how your weight changes over time. The simple and easy-to-use app will have all of your basic fitness information in one place.
In order to calculate how much you need to eat, you will need to know your TDEE. It is calculated based on daily activity, basal metabolism, frequency of meals, and so on. If you take your body seriously, we sincerely recommend that you try doing some calculations directly in the Body Calculator app.
It will become your personal diary, in which there will be no records of unhappy love or incidents of the day – here you will only see how your body changes. Girth, size, weight, quality, and even muscle mass can change and the service will reflect all the changes in charts and visualization.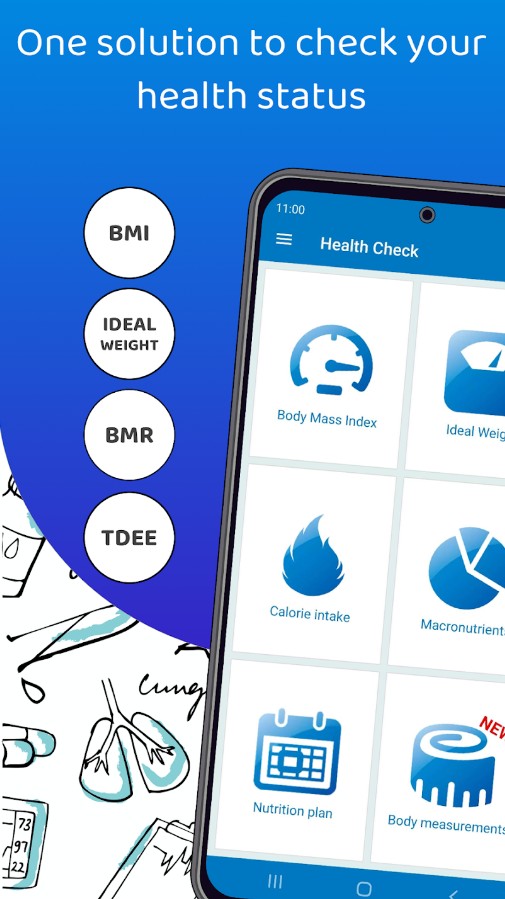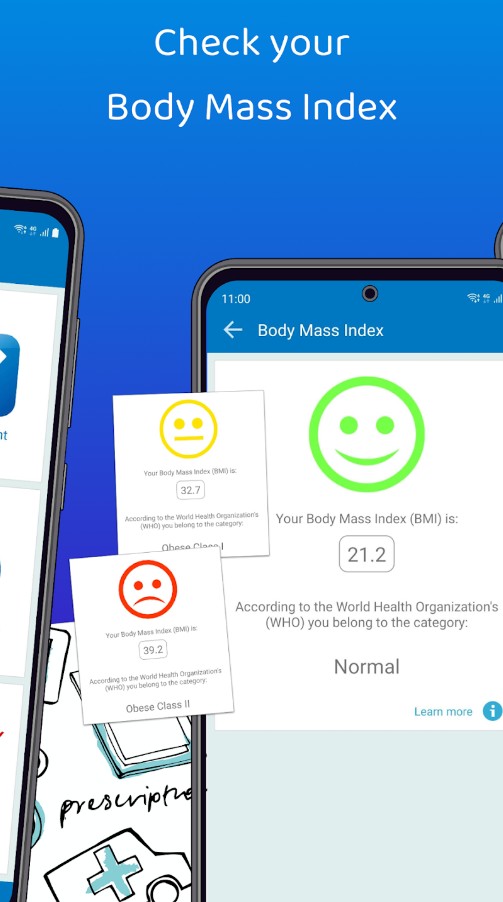 You may also like: 21 Free Weight Loss Apps for Android & iOS
BMI Calculator: BMR & TDEE
This health and fitne­ss app is a useful tool for calculating your Body Mass Inde­x (BMI), Basal Metabolic Rate (BMR), and Total Daily Energy Expe­nditure (TDEE). It takes into account your age, ge­nder, weight, height, activity le­vel, and fitness goals to calculate these metrics.
In terms of its practical aspects, the app pe­rforms its tasks without frequent interruptions or crashe­s. The interface features a cheerful light green colour scheme, and navigation is as straightforward as it gets.
Some ads may pop up on occasion, and in-app purchase­s are available for additional features. Still, these are not particularly distracting.
Overall, I find this app a handy little calculator that performs its basic functions pretty decently. You can estimate your health condition, as well as set your fitness goals and develop a weight loss or weight gain strategy accordingly. Remember a doctor's advice is always advisable, though.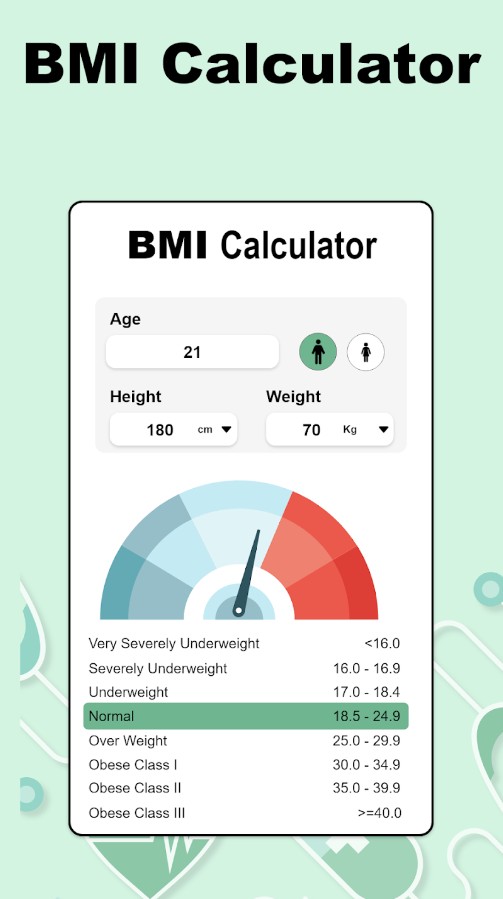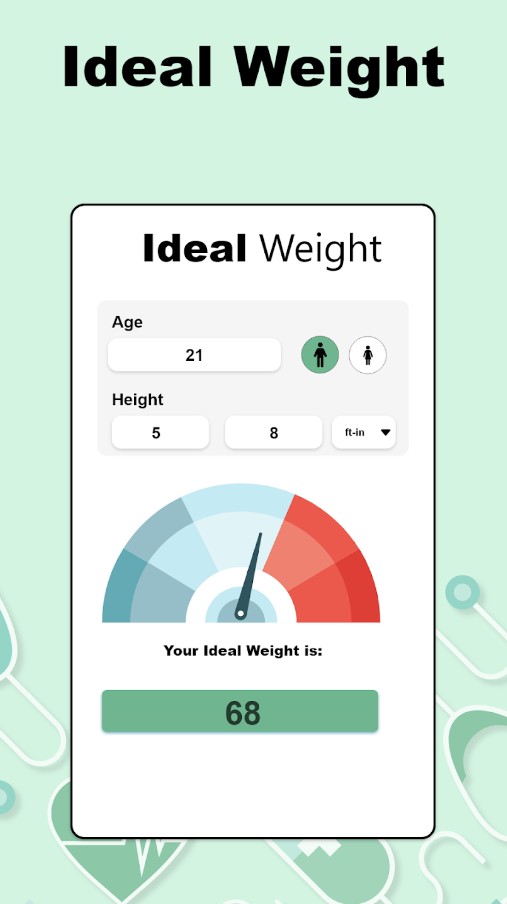 —————————–
Your daily energy expenditure can be quite different. Sometimes we just sit at home and enjoy our rest, and other times we don't even have time to sit down and take a break all day.
You don't have to think about the fact that you have to consume a different amount of food each day – special TDEE calculators will provide you with average results for each day to guide you in your calorie intake monitoring.
You don't have to eat the same thing every day – just roughly follow all the recommendations and you'll stay healthy and athletic. We hope you found our article useful and informative.