Let's suppose you want to cook something cool and elaborate, but you have very few ingredients in your fridge? That's not a problem anymore! In the article down below we have collected not just cooking apps, but free recipes by ingredients apps & websites that will allow you to cook anything from nothing in your fridge.
And if this collection is not enough, more cooking apps can be found in this article.
Tasty: Recipes, Cooking Videos
This app stores about four thousand detailed and thoroughly described recipes both in text format and in video format. Also, here you can find the products that you will need for a particular recipe, painted by grams and quantity.
The Tasty app is interesting because it contains recipes by category from different countries. For example, you can cook an Italian lunch in the form of meat lasagna, or enjoy a traditional dinner of the African tribes, and in the morning have breakfast with delicious American pancakes.
Some of the features of this app stand out:
The categories of dishes are very different: food from different countries, the availability of certain products, recipes taking into account allergies to anything, and so on
Special attention is paid to the category of dishes for proper nutrition: each recipe is detailed by calories, and also includes recommendations, for example, whether you should cook this dish if you want to lose weight
Recipe builder: you can write in the search bar what products you have at the moment and the Tasty app system will give you all the recipes that can be prepared from these products
Also, there are separate categories of recipes for vegans and vegetarians. Moreover, if your religion restricts you from eating certain foods, you can find a huge number of recipes here without using these products.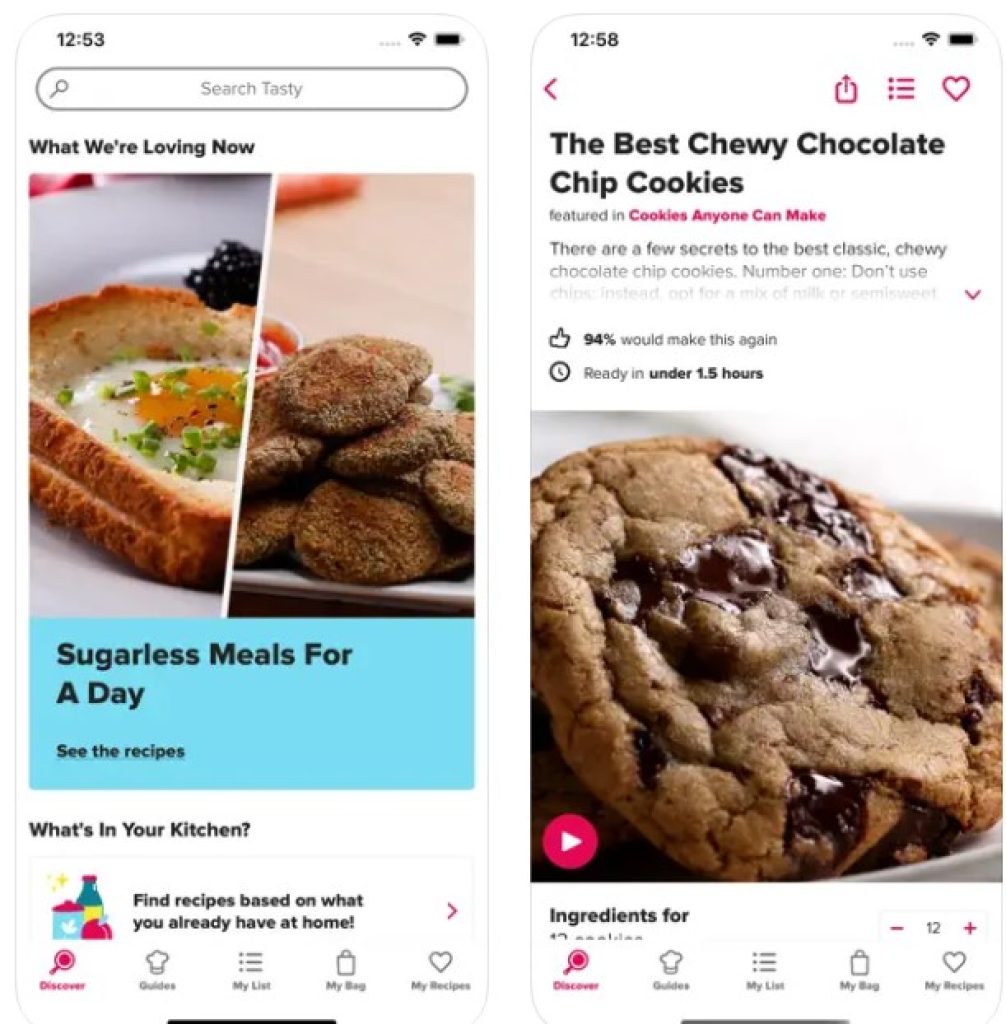 You may also like: 11 Best Apps For Vegan Recipes (Android & iOS)
Food Network Kitchen
This app is truly innovative. Here you can find not only detailed recipes for all the dishes you want but also participate in their preparation together with famous chefs!
This app has become very popular due to the fact that here you can take part in online webinars where professional chefs will test the recipes that you choose.
Also, you can watch these webinars in offline format and write to the chef with questions that interest you. Moreover, you and other users of this app can vote on which several recipes will be tested at the next webinar.
In Food Network Kitchen, you can independently study all the recipes step by step, as well as watch videos where other people cook them. Moreover, you can read reviews and ratings from other users. Also, you can evaluate not only recipes but also webinars where chefs test dishes.
Food network Kitchen also gives you the opportunity to create your own personal account where you will post your recipes, as well as videos where you will cook different dishes. your account will become public, other users will subscribe to you and you will be able to help them learn how to cook.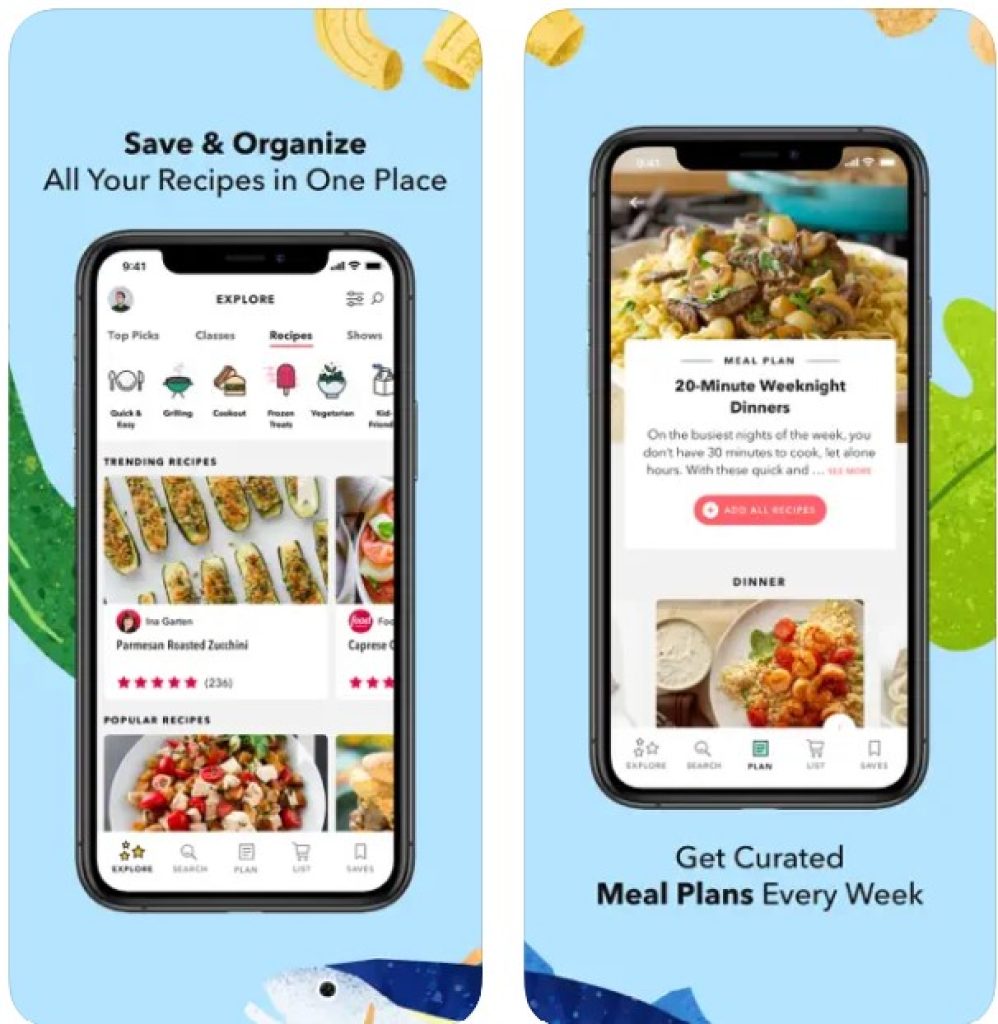 Yummy recipes and Cooking tools
This app is used as an online guide for cooking different dishes. Here you will be accompanied by an assistant who will be able to tell you what and how to use it.
This app contains artificial intelligence technologies, as well as technical support working seven days a week, which is also ready to help you at any time.
Yummy is not only an online guide to cooking but can also help you in the design and organization of kitchen accessories.
For example, if you don't know what you can replace the whisk with, this app will offer you several options. The same system works with products, for example, they will tell you how to replace soda, lemon zest, and so on.
In the Yummy app, you can save the recipes you like so that you don't lose them. Also, the system of this app can make selections for you for certain categories of dishes, for example, cuisine of different countries, proper nutrition, vegan dishes, and much more.
This app stores about two million recipes. You can comment, rate, and leave feedback on them to help other users. In each recipe, the products are painted by grams, quantity, as well as by the persons who will be able to eat this or that dish.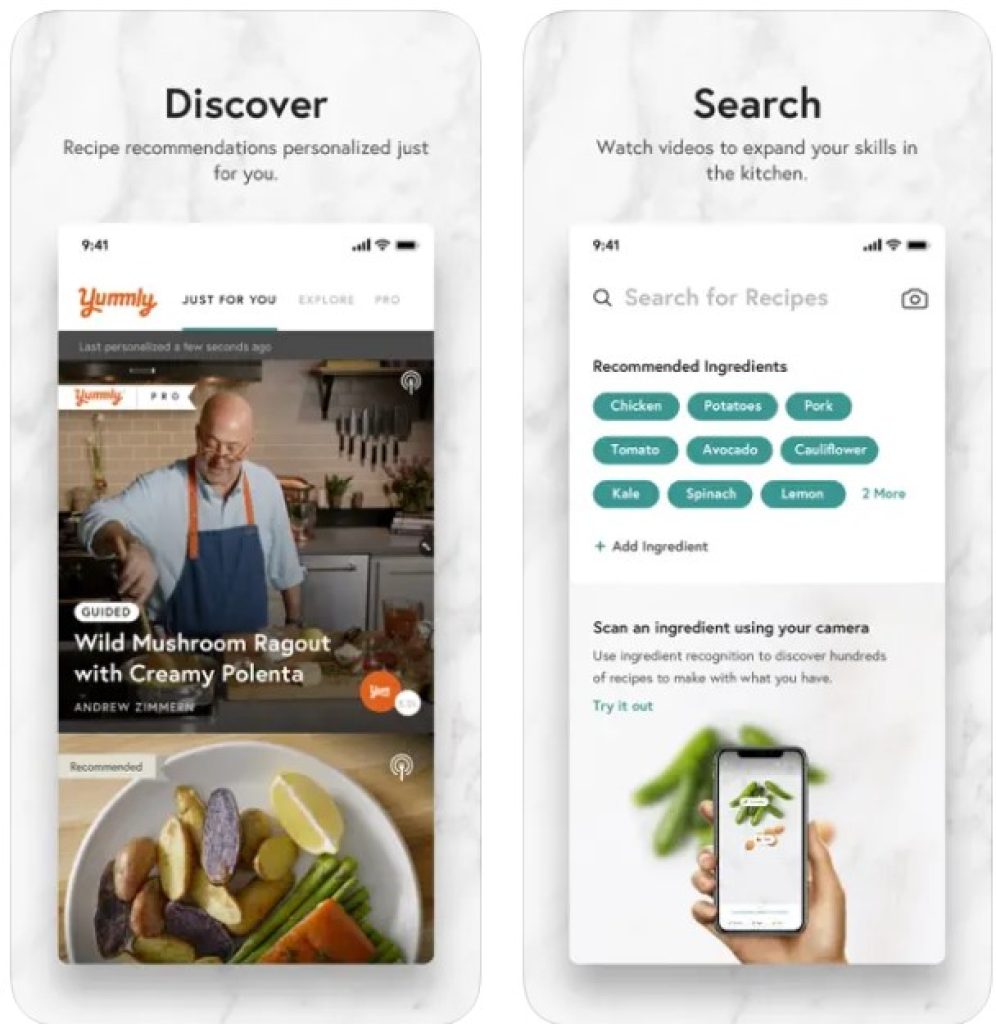 Kitchen Stories: tasty recipes
This app has a blog format in which you can learn literally everything about food and its preparation. Kitchen Stories has won the Apple Design Awards.
Here users from all over the world learn to cook, develop their culinary skills and learn a lot of tips and recommendations for the most popular recipes, as well as for exotic dishes.
In Kitchen Stories, you can run your own blog by registering an account in this application. There you can publish simple step-by-step recipes with photos, and videos in which you personally prepare each of your dishes, as well as all the information related to the dishes that you use for cooking because it is very important.
In Kitchen Stories, you can run your own blog by registering an account in this application. There you can publish simple step-by-step recipes with photos, and videos in which you personally prepare each of your dishes, as well as all the information related to the dishes that you use for cooking because it is very important.
Also, Kitchen stories offer you to get acquainted with various articles on culinary topics. For example, which dishes are better to use, how to find out the freshness of fruits without trying them, how to wash vegetables properly, and also how to replace missing ingredients.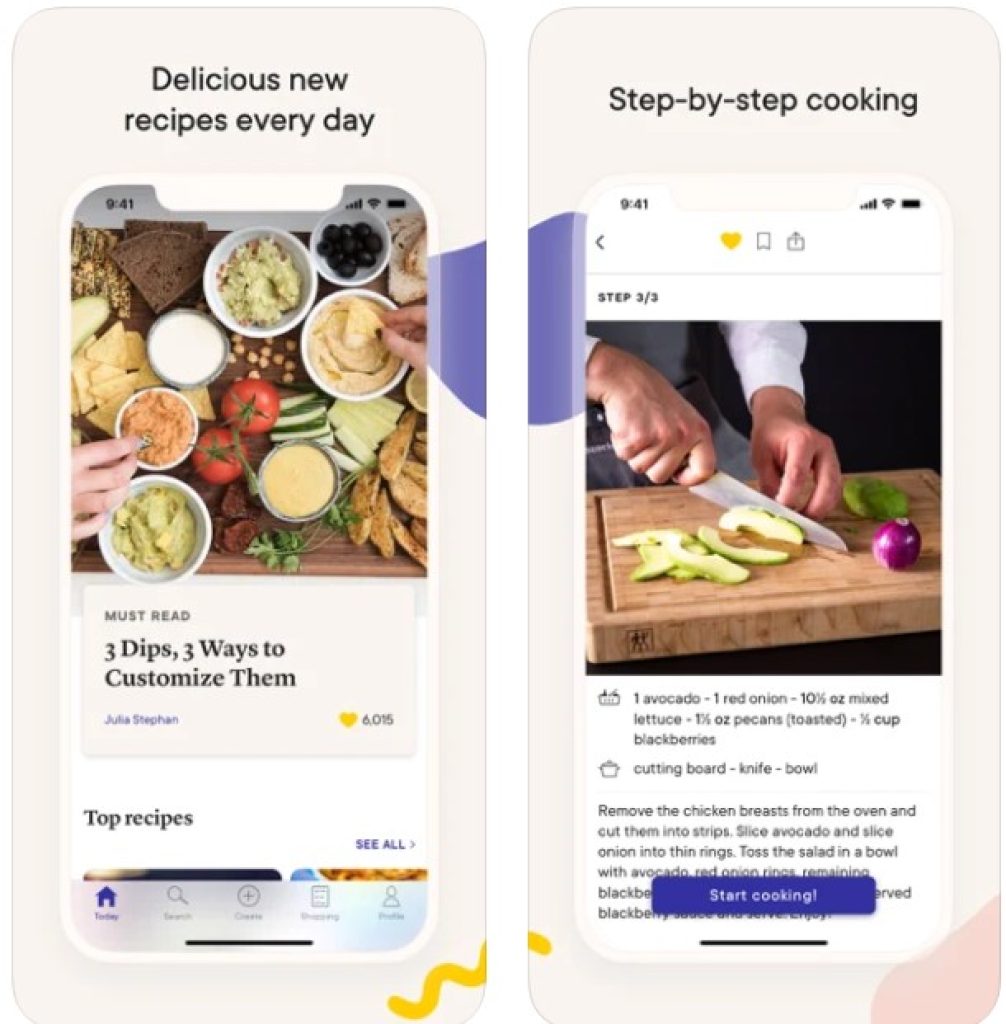 Half Lemons
This app will save you from long reflections on what to cook for dinner. It gives you recipes based on the ingredients that are in your fridge.
You should enter the food in your kitchen. The app will offer you to cook meals based on these ingredients.
After you make dinner, the service immediately calculates the used products and thus it always monitors the food in your fridge.
If you have an ingredient that is about to go off, then you should cook it as soon as possible. Specify meat, vegetables, or herbs as a key ingredient and get a lot of recipes. This is a great way not to throw away food and use it wisely.
What is more, if you have found a recipe that you want to make, but some ingredients are lacking, the app will quickly add them to your shopping list.
As long as the app is open on your phone, the screen will never go off. That is why you will not break your device with your hands covered with flour or oil.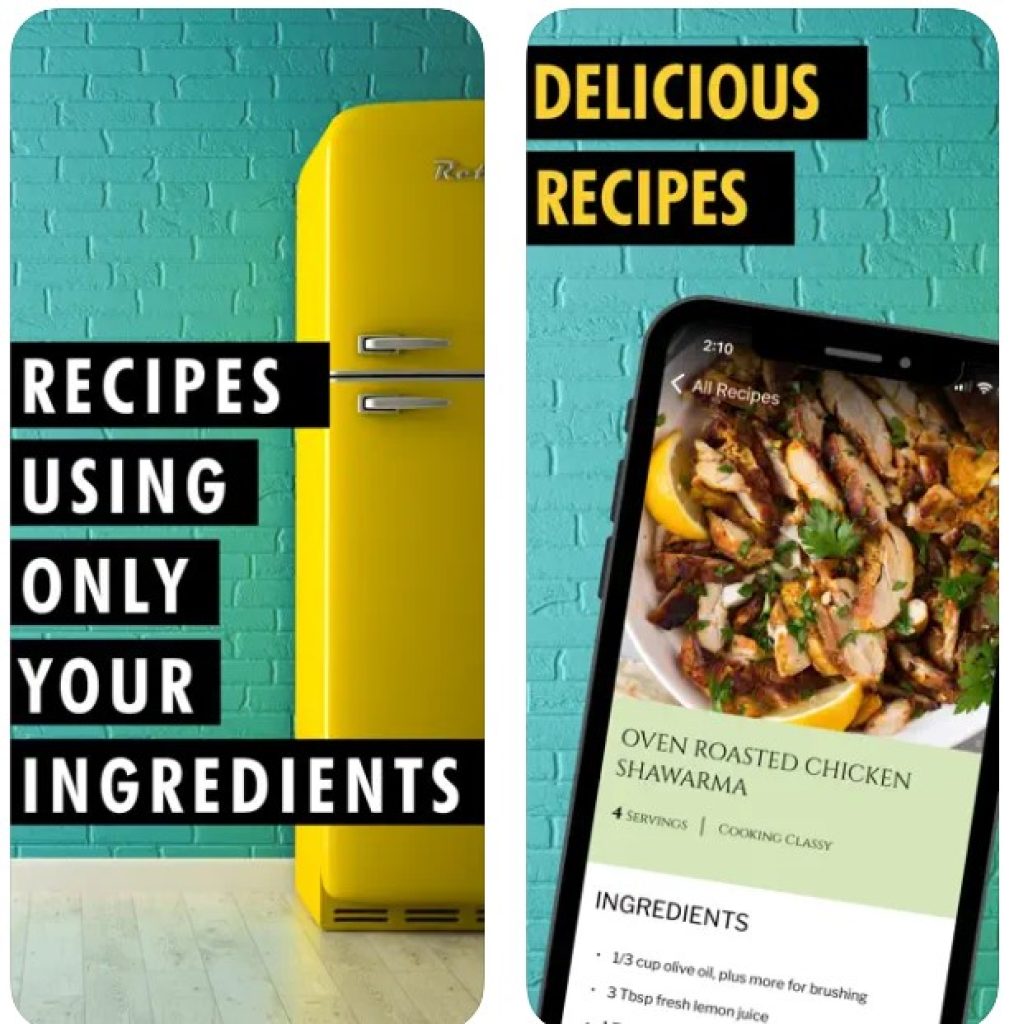 Paprika Recipe Manager 3
This is a very multifunctional application, thanks to which the kitchen will become your favorite place in the house, and also, your meals will become as diverse as possible. Here you can share your own recipes, tips, and recommendations with other users.
This app is interesting because you can even use it as a specific organizer. For example, you can find out the number of calories in a particular dish or product.
Also, in Paprika Recipe Manager 3, you can make food baskets for each week to get tips from other users, as well as find out what dishes can be prepared from what you bought or are about to buy.
Moreover, you can enter a list of products that you have bought into this app so that Paprika keeps track of the expiration date of products and reminds you when they go bad. Moreover, there are separate publication articles in this application form in which you can learn everything about spices.
This app can also serve as a nutrition guide: if you need to lose weight or vice versa, gain weight, here you will find tips and a specific nutrition menu for each day for different purposes.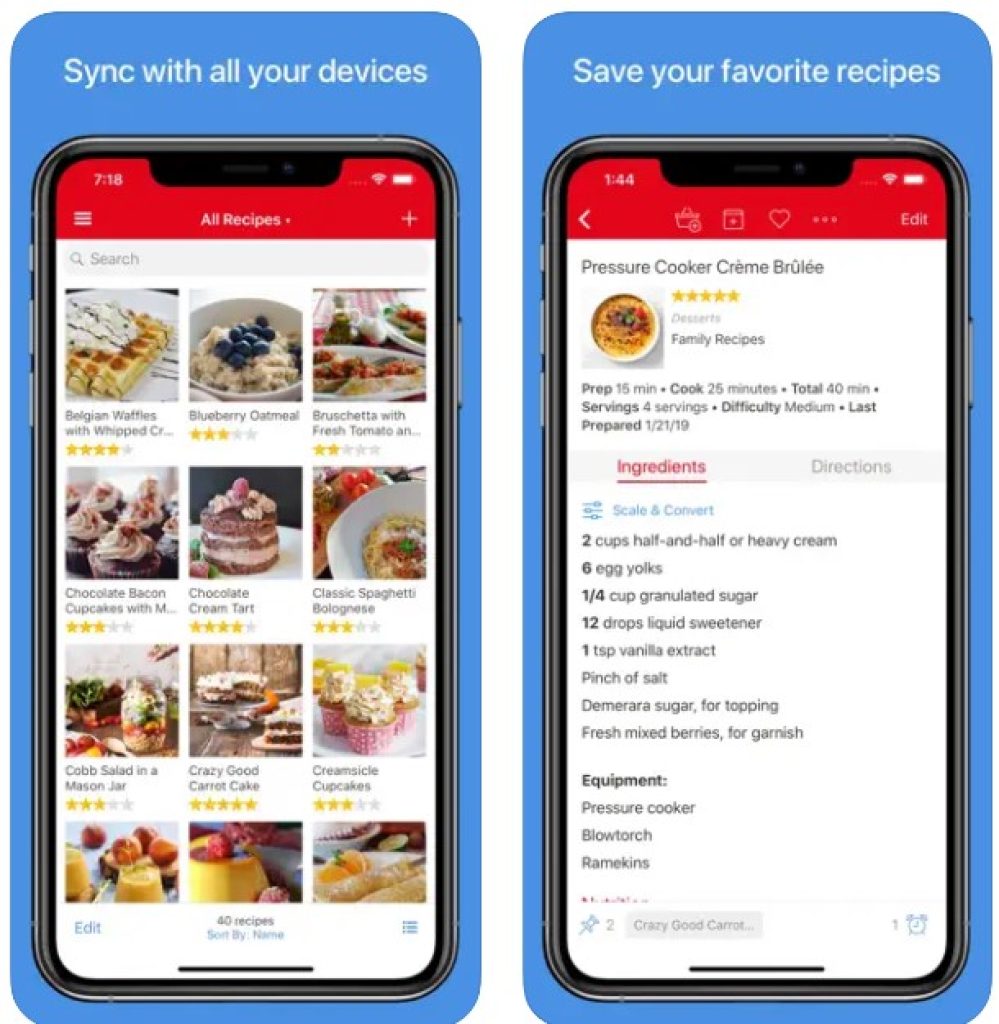 You may also like: 11 best free Restaurant Finder apps for iPhone & Android.
SuperCook Recipe by Ingredient
This app has a record number of recipes – there are about eleven million of them collected here. Here you can learn how to cook for free, without wasting time on various cooking courses. You can find out everything about food here because SuperCook contains all the functions that you may need in the kitchen.
This app works in many languages, which will allow you to use it in any country. Also, there are recipes by category from different countries. you can arrange real holidays at home, for example, the day of French cuisine, and then, the week of Pan-Asian cuisine, and so on.
Many recipes are accompanied by interesting facts and historical processes of creating a particular dish. For example, you can find out how Japanese emperors or Turkish sultans ate.
SuperCook may be the best advice for you, because this app also contains information on how to store food better, how to wash vegetables or fruits to make them as clean as possible, and much more. Moreover, SuperCook regularly updates its recipe lists, adding new culinary masterpieces from different countries.
Also, this app offers you to get to know more about proper nutrition. Here you can find out what can replace harmful fast food or non-natural sweets. Moreover, this app can create whole menus for you for weeks ahead for different purposes, for example, to gain weight or lose weight.



Allrecipes Dinner Spinner
This app will be a faithful assistant for you in the kitchen, in the grocery store, and even in the restaurant. Here you can learn how to cook any dish thanks to thousands of built-in recipes or try to trust other users who form a whole community ready to help and advise each other.
Look at step-by-step recipes of all dishes that will interest you – in text format or in the form of a video with painted grams, calories, the number of necessary products, as well as many others. Also, you will not need to worry that you will not overcook something, because this app will start a timer every time you cook it.
In Allrecipes Dinner Spinner there is a customizable search bar in which there are many filters: thanks to this, you can find a huge number of recipes that will take into account the features that you have specified, for example, if you are allergic to strawberries, you can specify this in the search filters and the app will search for recipes for you without this the product.
Moreover, if you need vegan or vegetarian recipes, you can specify this in the search filters and there will be a huge number of recipes for you with such a specialness, divided into categories.
Also, if you adhere to a certain religion that prohibits the use of certain products, you just need to enter this information into the app and it will give you recipes without these products.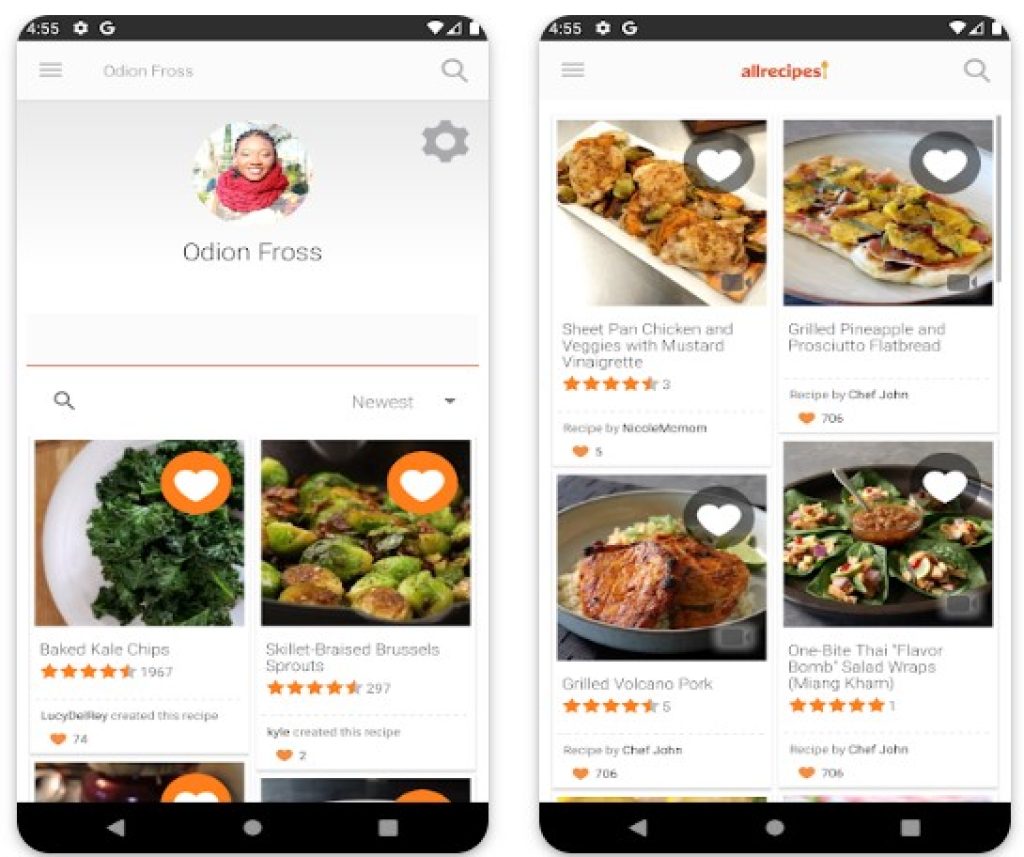 ChefTap: Recipe Clipper, Planner and Grocery List
Another extremely popular recipe app. Here you can find thousands of recipes on any topic with detailed pictures and step-by-step ingredients.
Of course, the interface design is a little bit blunt and old-school, but the advantage of ChefTap is that it contains truly interesting and authentic recipes that cannot be found anywhere else. Each of them has a full list of the ingredients.
In addition to all of that, the app allows you to create grocery shopping lists, clip up more than 100 recipes, create mutual recipes together with other users, and many more. In addition, for every single recepie, you can create a separate grocery list.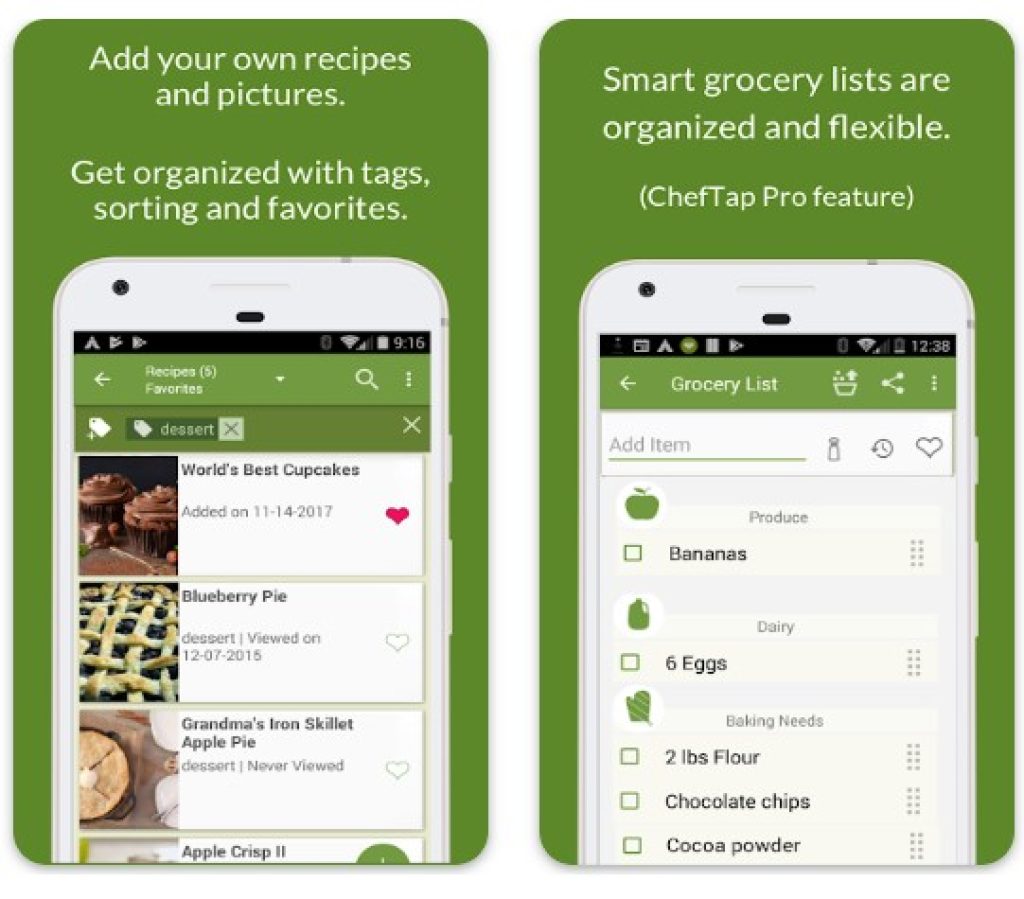 TasteofHome
This web portal is dedicated to food and recipes and you can find the latter of any kind. And, of course, here you can easily find a recipe by ingredients.
You can do that in multiple ways – by using a search bar, by scrolling the feed on the website, or by going through the categories. On the main page, you will find everything that you need. Pay attention that all of them have rankings.
When you start typing something into the search bar it will suggest you search by the ingredient automatically. You will be redirected to the new page, where you will be able to affect the advanced searches by ingredients – add several once at once or exclude some of them from the results.
For efficiency, it is recommended to create your own account on the website so you can save recipes and rate them.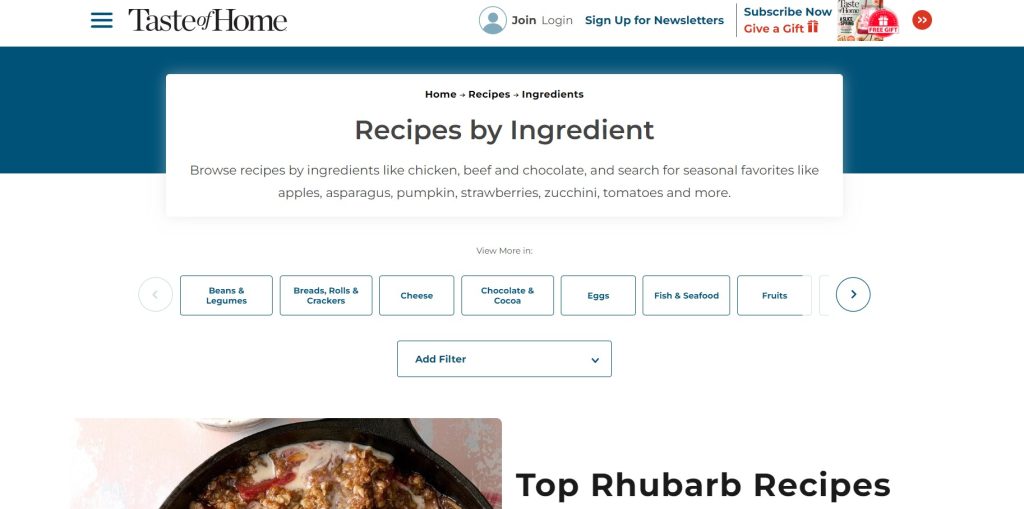 Foodcombo
This website is not as much of a function as the previous ones, but it will be suitable for those who don't want to just follow the recipes but to create their own.
When you open the website, you need to just choose the language, then type in the ingredient into the search bar and the website will show you the useful articles with the recipes on the topic of how to cook this meal. Foodcombo will suggest other ingredients for the combination and you just select them from the list.
All herbs and spices are chosen in a different section. Moreover, there are fine selections with seasonal ingredients, such as pumpkin, asparagus, and so on.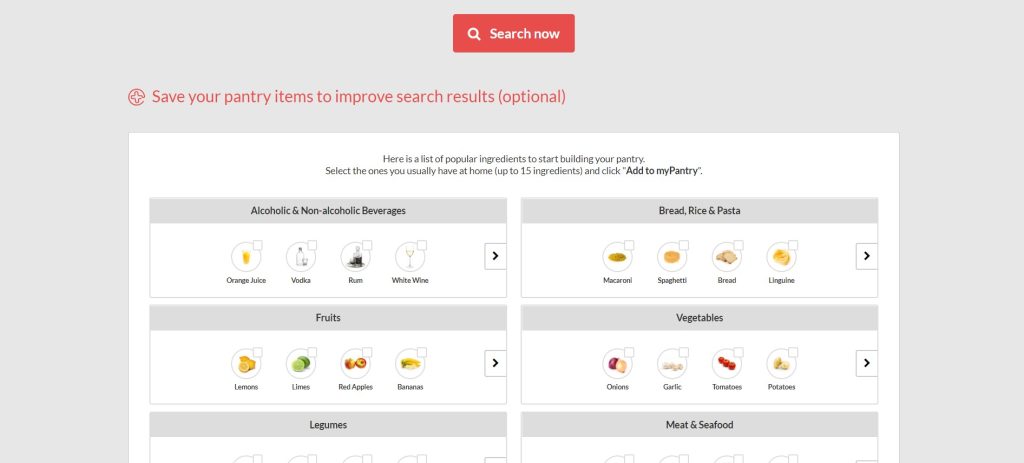 WiseCook – Recipes by ingredients
This is basically an analog of ChefTap. It has a very similar interface and similar functionality, the only difference is the collection of WiseCook is a little bit smaller.
There is a search bar in the app where you can type in the ingredient and see all the results – all possible meals that you can cook out of it. Or if you want just to explore, you can go to the sections of the app and explore all the recipes there.
As always, for each recipe, you can create your own grocery list right in the app. By the way, another cool thing about WiseCook is that here you can affect the search by voice – just dictate the ingredients to the app.
Moreover, when the app will find recipes by ingredients for you, you will be able to filter them out by the type of the meal, cuisine, and some other factors.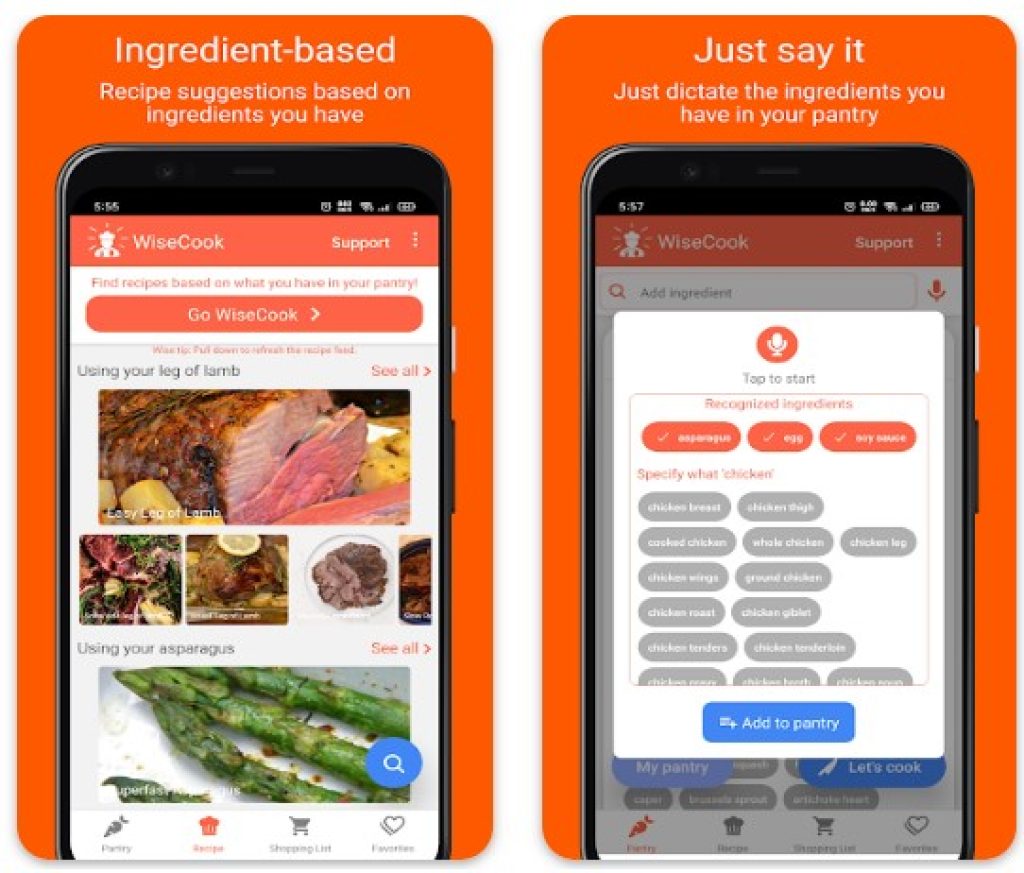 BigOven Recipes & Meal Planner
One more popular cooking app that you can use to search recipes by ingredients. It might be not the best one in terms of the user convenience, since this is initially a cooking website, not an app – and if you want, you can visit the website as well.
Considering the app, everything is quite clear – use the search bar, type in the ingredient, and see what it has to offer. You can also type in one ingredient at once. All recipes have rankings, so you can filter them out and find the best ones.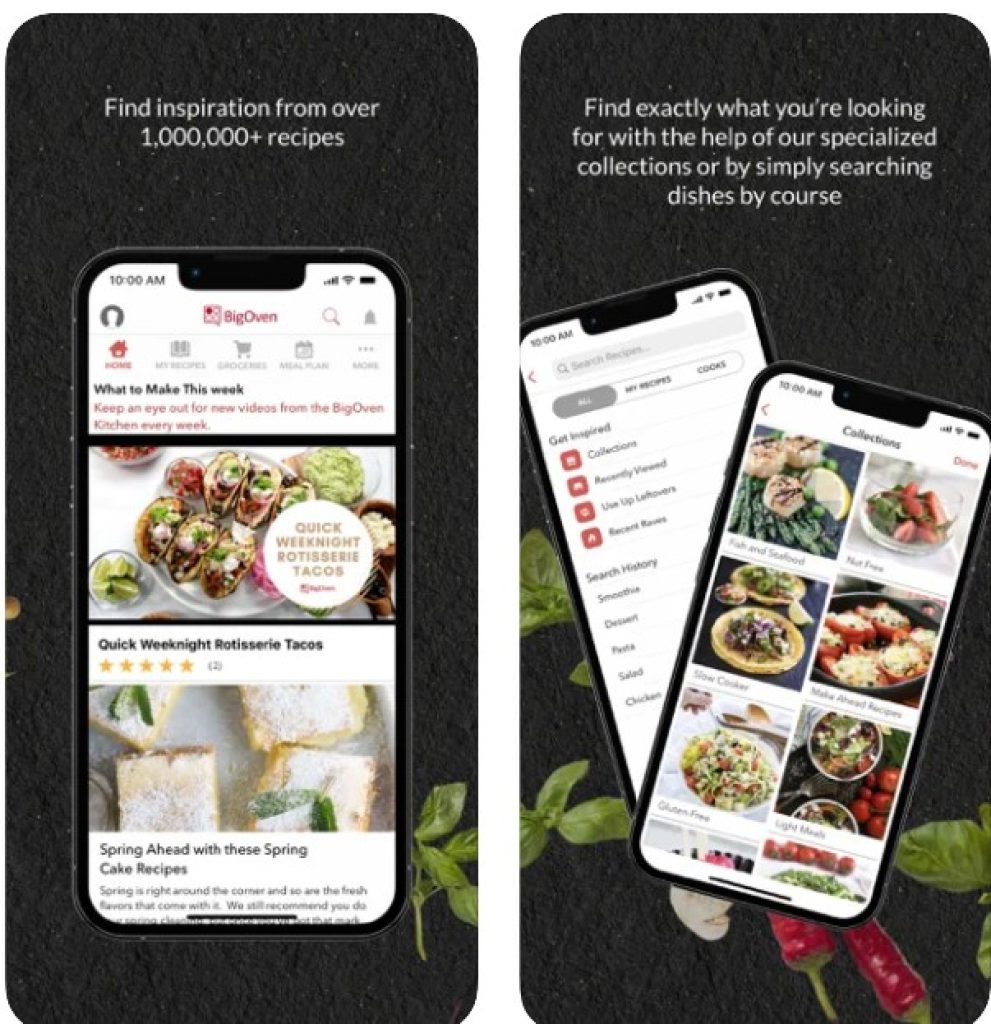 Frigo Magic : French Recipes
Even though this app is not that popular, it is quite an interesting choice for all who want to be creative even with a few ingredients. The main thing about this app is that it allows you to adjust the ingredients of the majority of dishes. You can affect the search by the ingredients here as well.
Another advantage of Frigo Magic is its interface design. It really stands out from all the other cooking apps on the market, since it allows you to compile the ingredients for one dish like a game. Developers put their effort and even greater an icon for each ingredient, which is definitely a plus.
Moreover, Frigo Magic is an app for those who want to stay environmentally friendly and keep their recipes waste-free. The app is developed in Europe so it's no wonder it praises sustainability.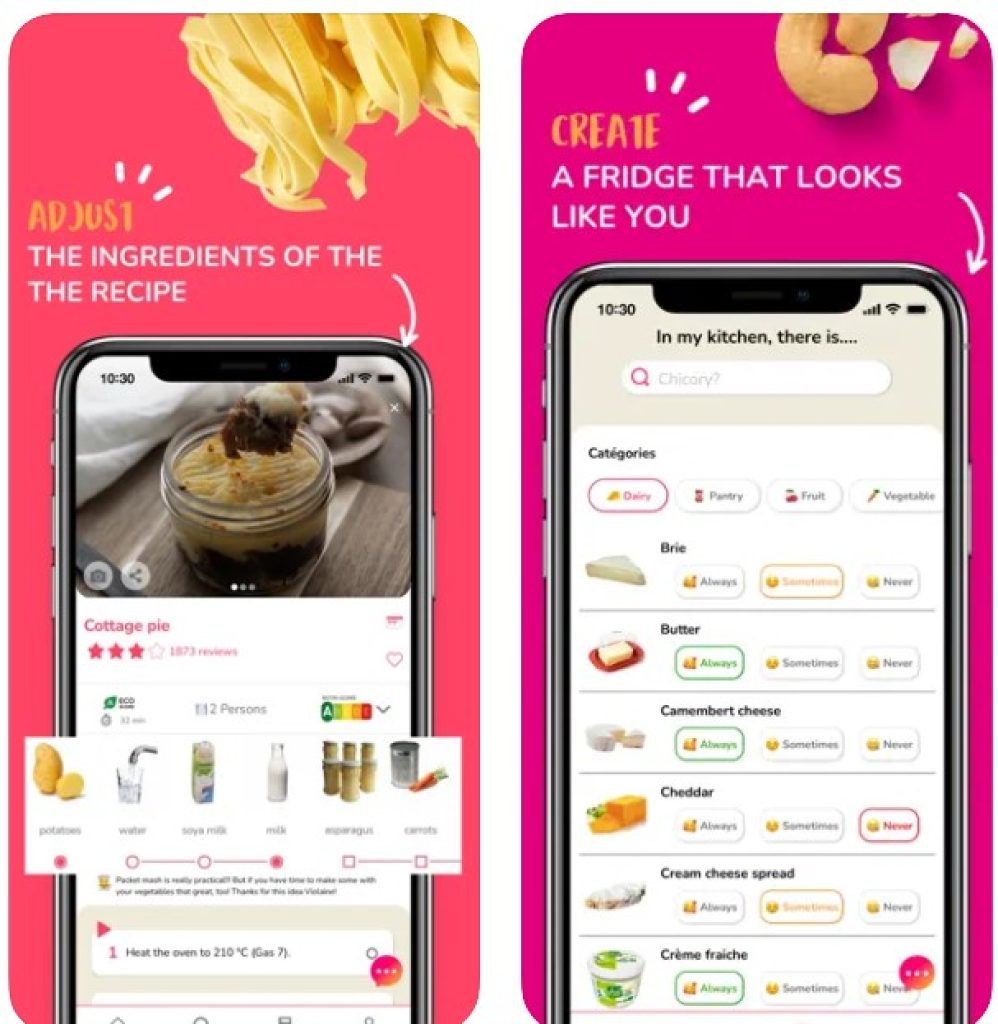 America's Test Kitchen
This is a school produced by the famous TV show. Some of their episodes were really popular and loved by the audience – so no surprise they decided to open an online school.
By acquiring the subscription, you will get enrolled into the back scene of cooking the gourmet masterpieces, you will find out the secrets of famous chefs and of course the most delicious recipes.
Another hallmark of this website-online school is that you will be able to search for recipes by a certain ingredient and by the type of cuisine. Before you make the decision about the purchase, you can use the trial version.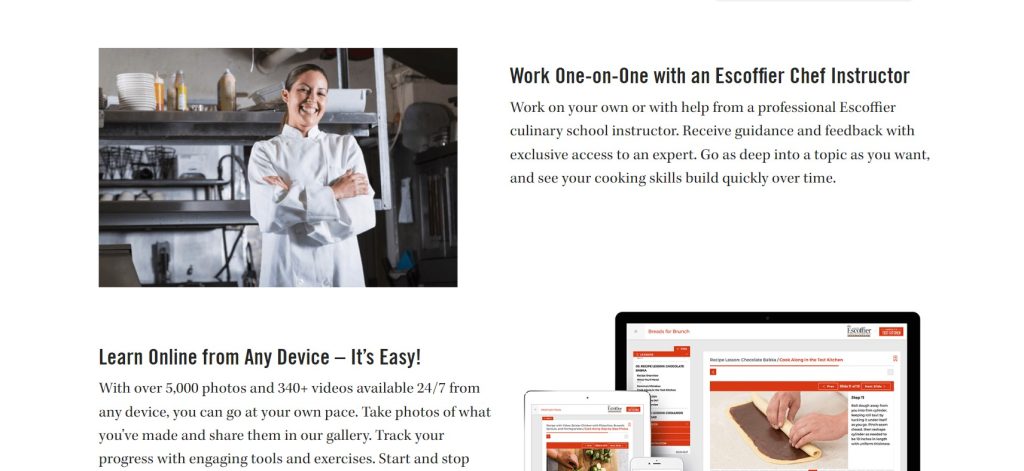 You may also like: 11 Offline Cooking Games for Android & iOS
MyFridge: Find Recipes By Ingredients
We are going, to be honest with you, the main advantage of this app is the fact that it allows search recipes by ingredients.
It means that you can open it and start searching right away since the search bar is placed right on the home page. The overall design is super obsolete, but despite this fact, the app is not difficult to use.
It's an old-fashioned app, where you just read about recipes and that's it. For some reason, MyFridge has an extremely high ranking on Google Play and we are not sure exactly for what.