It is widely believed that editing and changing photos is a woman's activity. It is women who most often fix their face, figure, or other details in photos to look more beautiful and sexy.
There are many applications on the Internet that allow you to automatically apply make-up, make your body thinner and hair denser. However, what can men do if they also want to upgrade their shots?
It is believed that the muscles, abs, broad shoulders, and amazing beards make a man more beautiful and attractive. If you do not have time to go to the gym and constantly train, even a large number of muscles over time will become less visible.
In fact, with the help of special apps, you can even see how you will look in perfect physical shape. We suggest you check out 9 Best Fake Muscle Apps for Android & iOS.
Body Builder: Photo Suit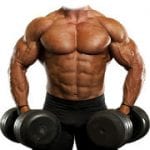 To get fit with a lot of muscles, you need to work hard and constantly maintain activity. If you don't have the desire or time to do it, Body Builder will help you create muscles at least virtually.
Using it, you can make any changes to your photo so you look masculine and stronger without putting a lot of effort into it.
Body Builder offers you different body shapes according to your wishes. You can also replace the body templates available in the application directory by uploading your own background images.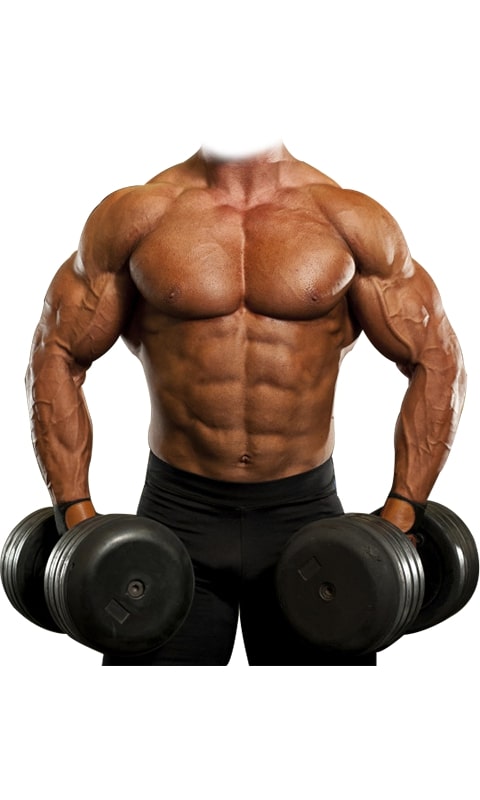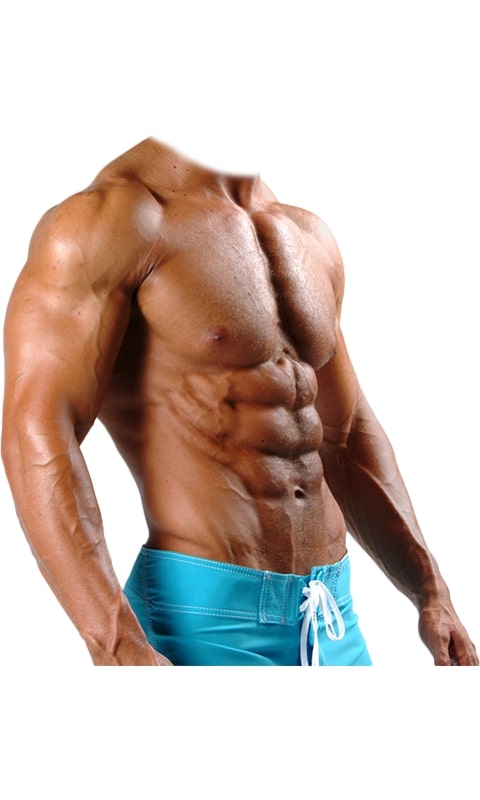 To become a Body Builder, you only need a photo of yourself with a clear view of your face. All you have to do is cut your face out of the picture and attach it to the perfect body. Of course, you will need to consider skin color, neck size, and other factors.

You may also like: 15 Best Bodybuilding Apps for Android & iOS
Body Editor – BodyApp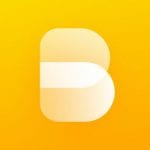 BodyApp is an application that lets the user do whatever he wants with his body. You can reduce volumes, add muscle and curves, get an even, perfect tan, and more.
The app has a separate category of features and tools that work exclusively with your muscles and body muscles, improving it or changing it as you wish.
You'll be able to add abs to your picture by choosing from a variety of options (6 or 8), as well as change the intensity of the abs. You can adjust everything to suit your body shape, as well as fully edit all the contours and details of your body.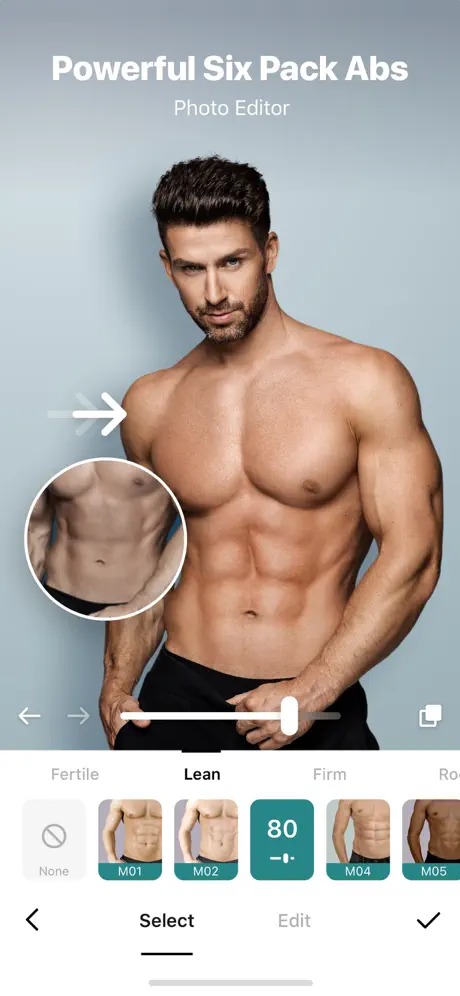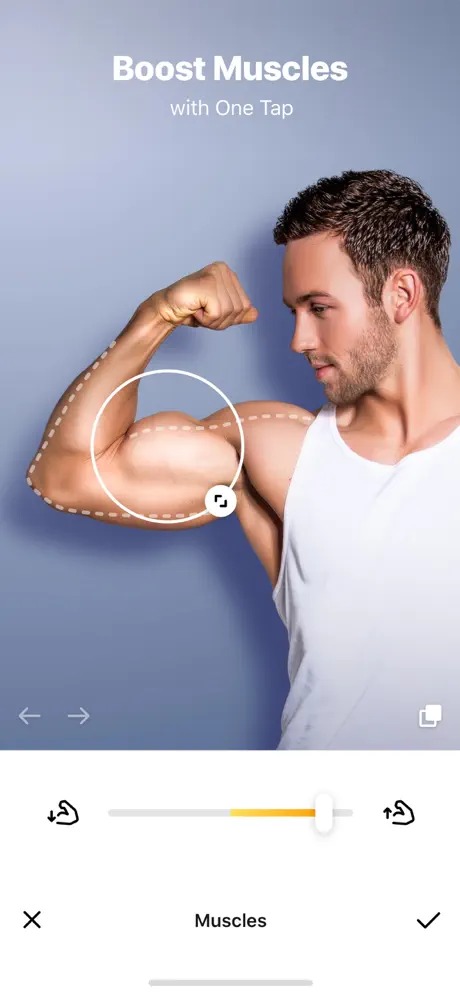 As we've already mentioned, BodyApp allows you to change the skin tone by adding or reducing a tan – and with a tan, the abs look more effective. If you want, you can even add a tattoo to your body by focusing on it or your muscles.

Six Pack Photo Editor Real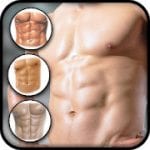 The press cubes are considered attractive to women. Men who have been able to pump up the abs do not miss an opportunity to boast of their achievement and show them off in a photo.
What to do if you can not achieve such a result, but really want a beautiful and sexy picture? You can use the Six Pack Photo Editor application, which makes any photo easy to edit.
You can improve the appearance of the original photo by simply skillfully using the photo editor. The Six Pack Photo Editor lets you upload a bare torso photo to which you can add press cubes of your desired shape.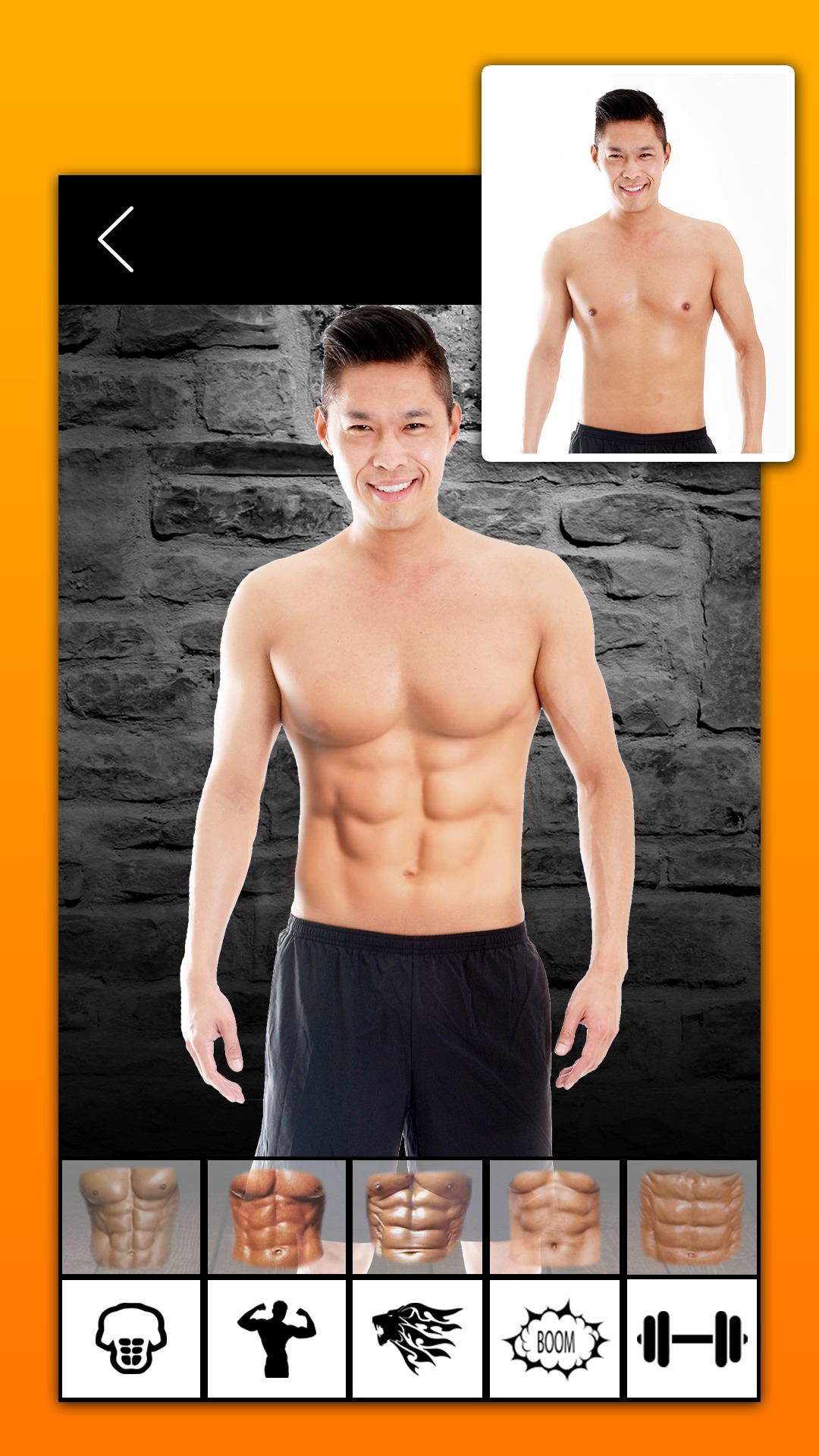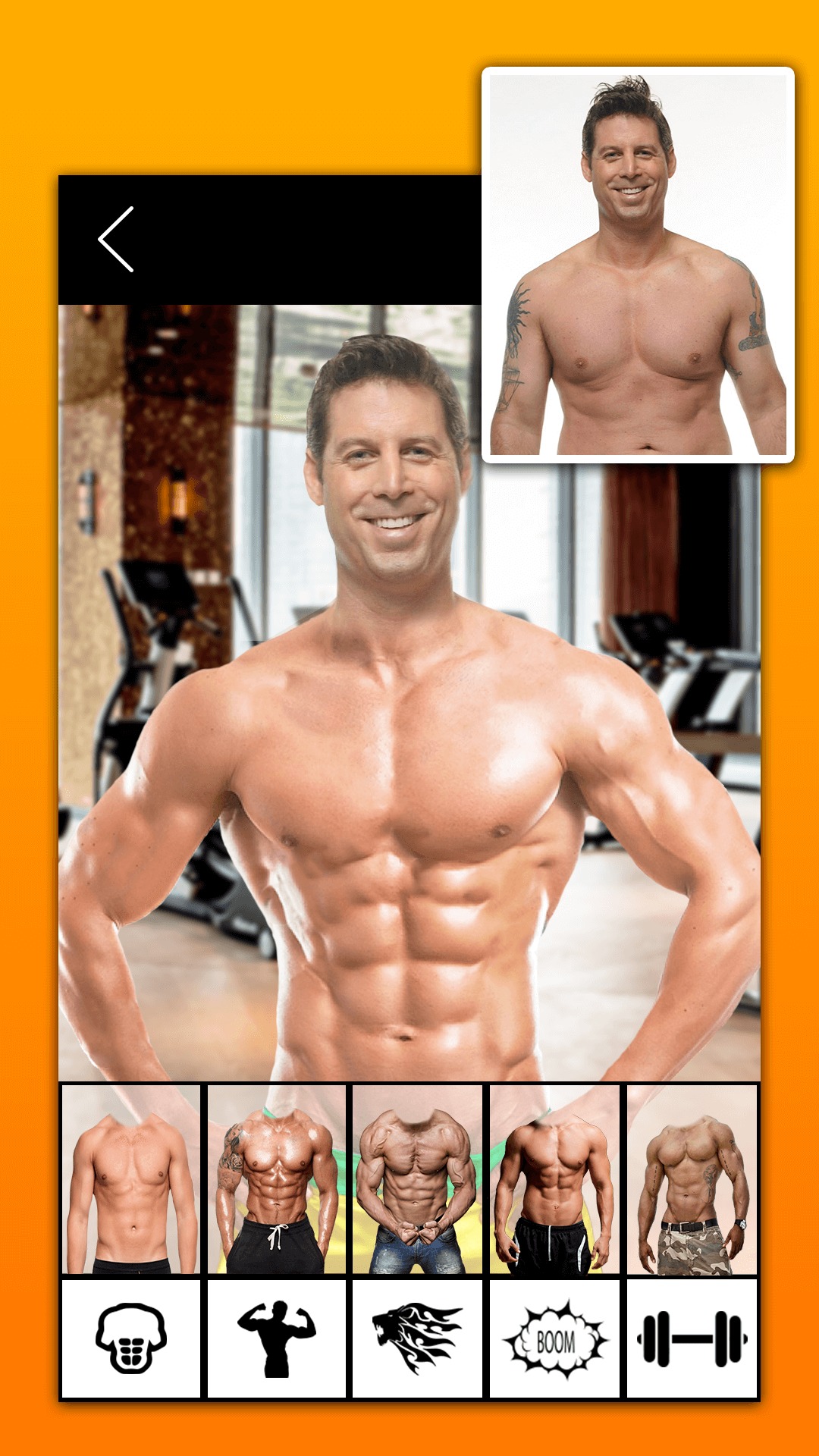 There are several views on the app so you can choose the best one. You can take a beautiful body in just a few minutes – but only in the photo. It's worth noting that Six Pack Photo Editor doesn't allow you to shrink your side or waist, so this way of editing will suit only slim men.

Retouch Men: Abs & Body Editor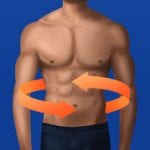 Retouch Men is an application that allows anyone to get the physical shape they want in a couple of minutes. You can get slimmer, add muscle mass, or just look more sporty in the picture.
If your ideal is a pumped-up male body from the cover of a magazine, you can repeat it completely in your picture. You don't even have to lose any extra weight to do that.
Gym training takes too long, and you can get everything you want in just a few clicks. Retouch Men lets you select the body parts you want to change and start working on them. Most importantly, the app doesn't automatically superimpose effects and details on your photo.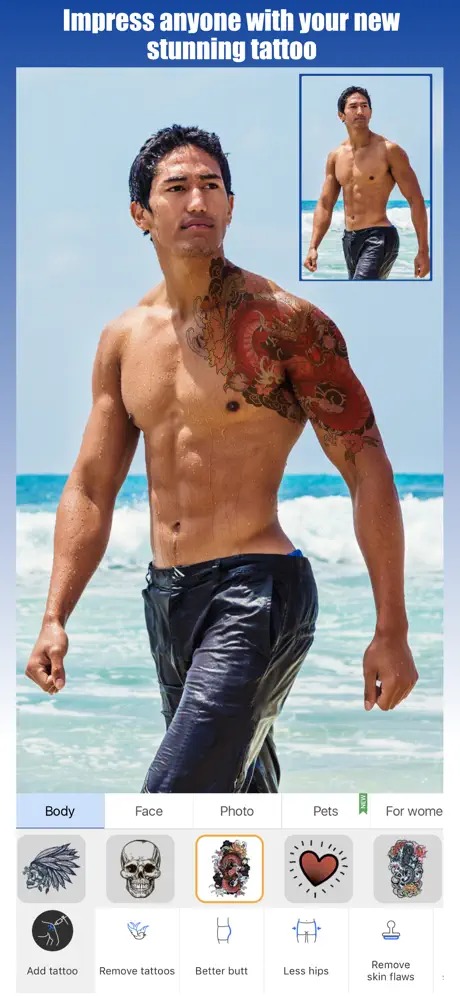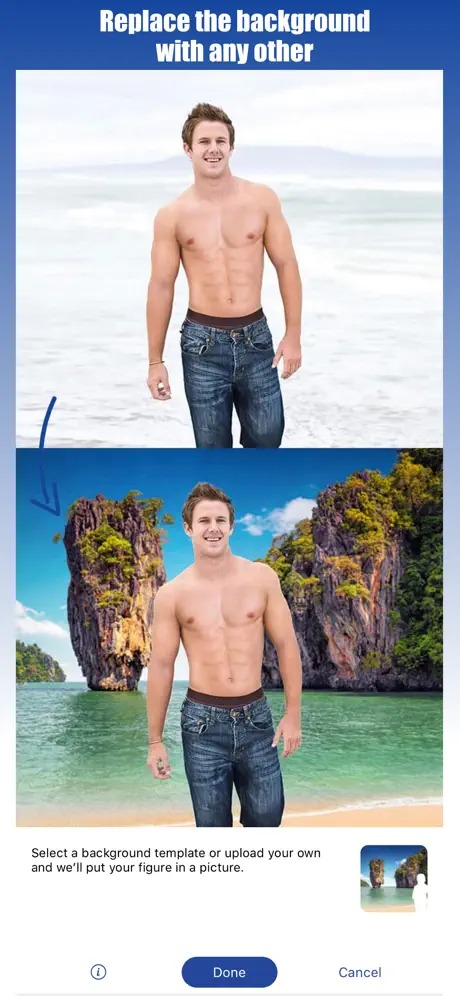 A team of designers will work on your original photo and professionally edit your figure. You specify all the details that should be changed – for example, increase the muscles on your arms, remove tattoos, add abs cubes – and the team will do all the work for you.

Man Abs Editor: Men Six pack, Eight pack man style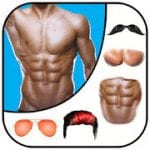 The abs are your dream? Unfortunately, not all men can get them even after hard work. Many guys can only get a couple of abs in the upper or lower abdomen – this is due to the peculiarities of the body structure.
In order to get 4, 6, 8, or even 10 abs, you can use the Man Abs Editor app. It gives you a variety of choices about the structure of your stomach in the pictures.
The Man Abs Editor application will help you get the muscles you want, which you cannot do in real life. In addition to abs, the service also allows you to change your hair, facial hair or something else.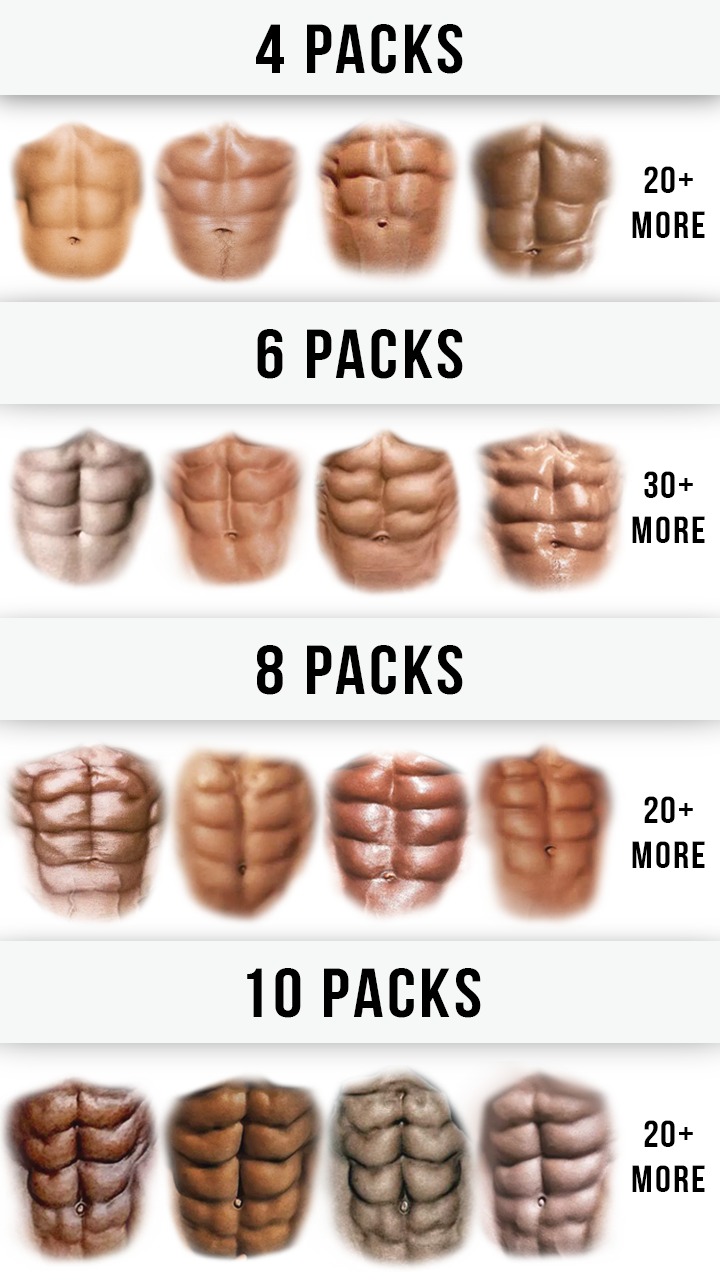 You can add muscles to your arms, increasing your biceps; to your chest, increasing the effect of the chest muscles; and of course, abs. Try to change yourself in the photo beyond recognition, impressing all your friends and acquaintances with your perfect physical shape.

Summer Body – Body and Muscle Photo Editor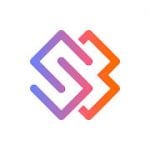 Literally every person dreams of getting in shape for the beach season. During the winter you could gain extra pounds, but you don't have time to fix it in the spring.
In this case, you can be perfect in the photo – as if you did not stop working hard at the gym. Summer Body is an app that allows you to be in perfect physical shape all year round and show off your social media shots.
Summer Body is designed not only for men but also for women. The app even has a separate feature for each sex that you can fully use.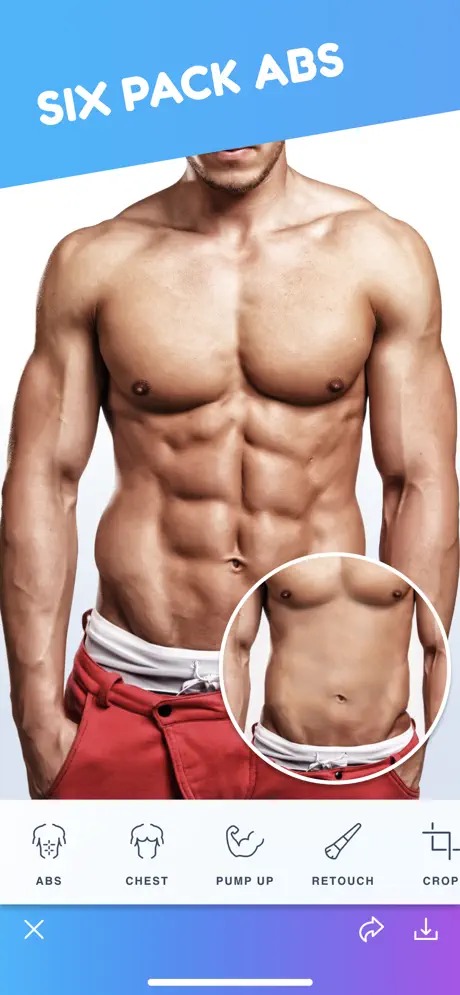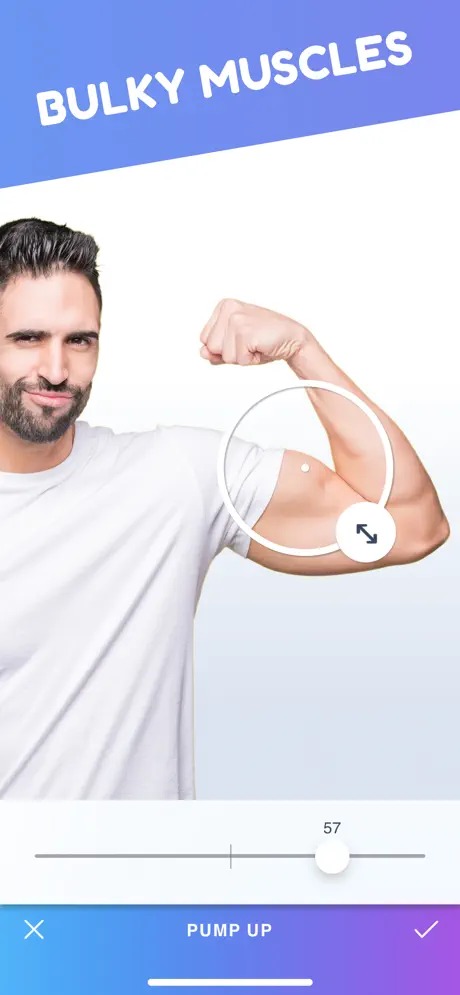 Men can add abs or powerful biceps (or perhaps altogether), as well as using standard photo processing tools. Once you've finished editing in Summer Body, you can immediately publish your photo to social networks.


You may also like: 15 Best men's shopping apps for Android & iOS
Body Editor & Tattoo – Manly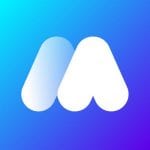 Manly is a powerful photo editor on your smartphone. It makes the retouching process simple and easy for you, even if you don't have the skills to edit photos.
Manly allows you to completely transform your body by selecting the most desired muscles or simply adding them to your photo. You don't have to stop there – the app has many tools to change your hair, remove acne and much more.
The powerful muscle editor in Manly consists of more than a hundred muscle structures. These can be abs, gorgeous biceps, or other muscles on your body.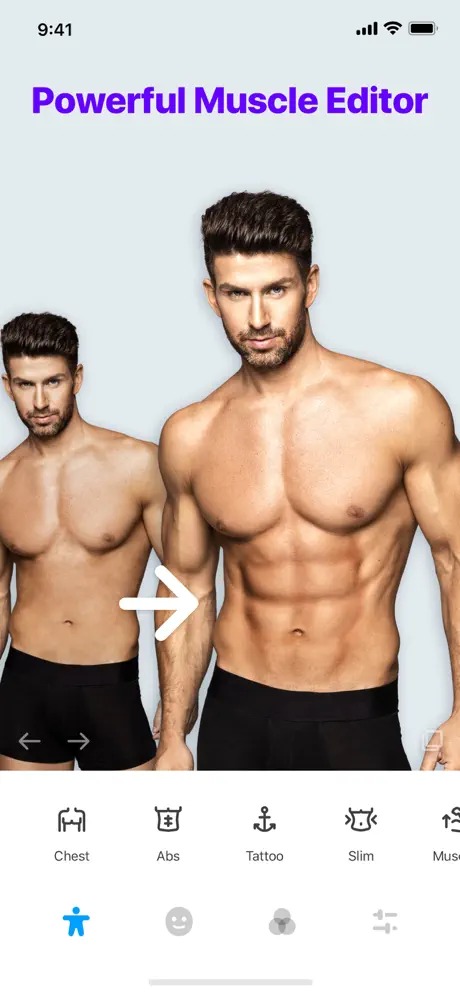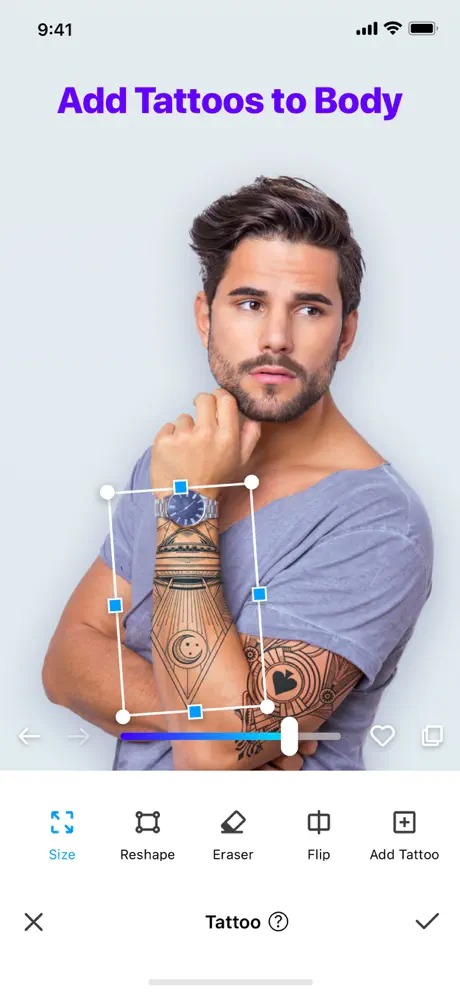 You can immediately add a tattoo on them or change the tint of your skin to complete the transformation. Every picture processed in Manly can actually be artistic: just add filters to the picture you like.


Body Editor – Body Shape Editor, Slim Face & Body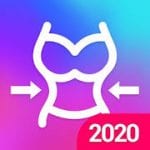 Body Editor is another universal application that is popular with both men and women. It gives users the opportunity to improve the figure, correcting their own shortcomings.
Do you want relief abs or giant muscles? You're welcome! But if you want the picture to look realistic, don't get too excited about editing.
In Body Editor you can edit not only your figure but also your face, improving your skin condition or size. All changes to your body are presented as stickers, which you have to put on the photo.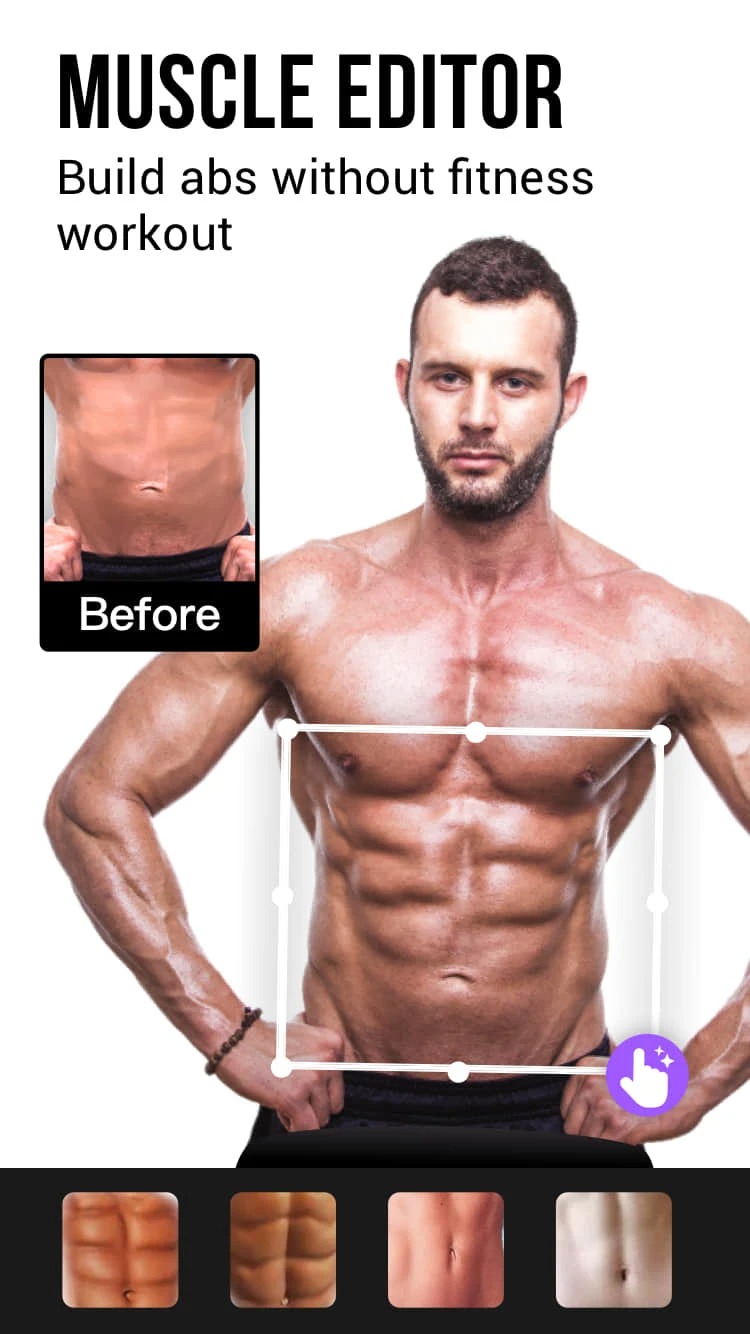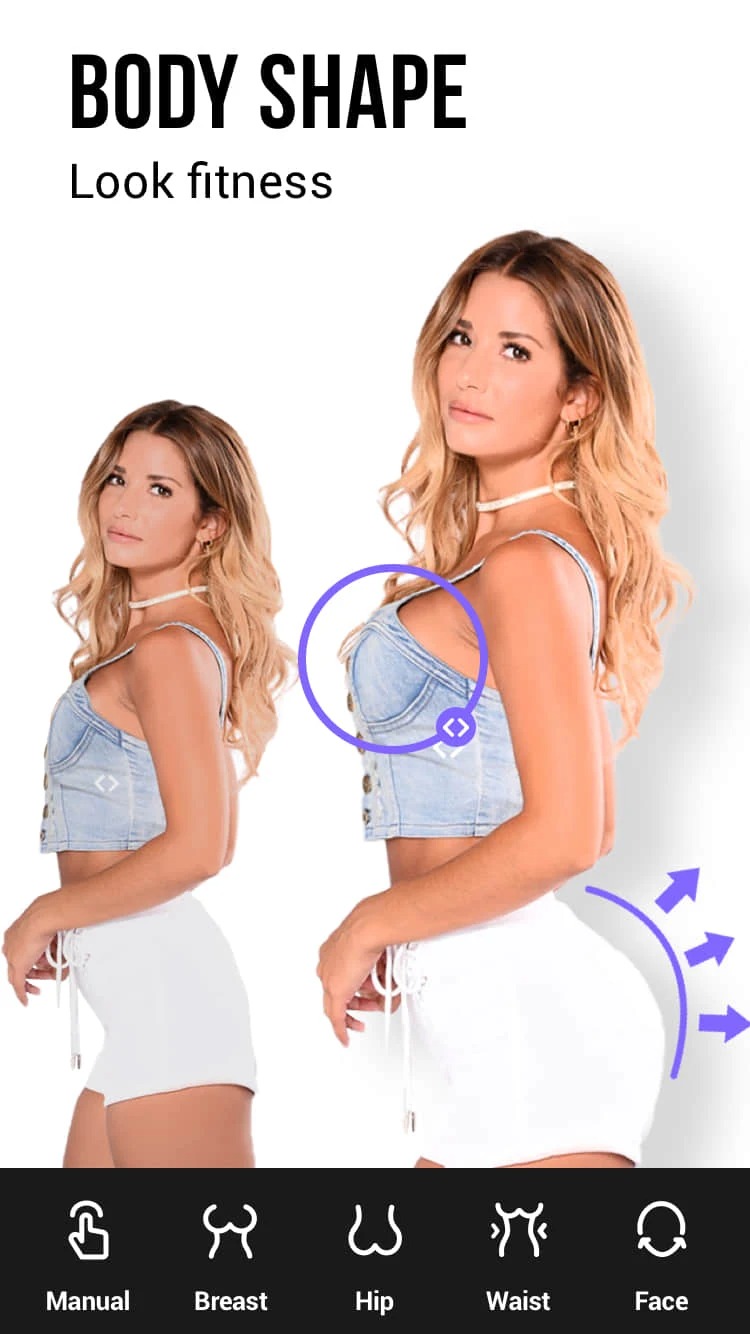 Each of them is adapted to a specific part of the body and placed in a separate category, so you can easily orientate yourself in the functionality. Just a couple of actions and a few minutes of your time and the original photo will be transformed, and you will become a real bodybuilder.

Manlike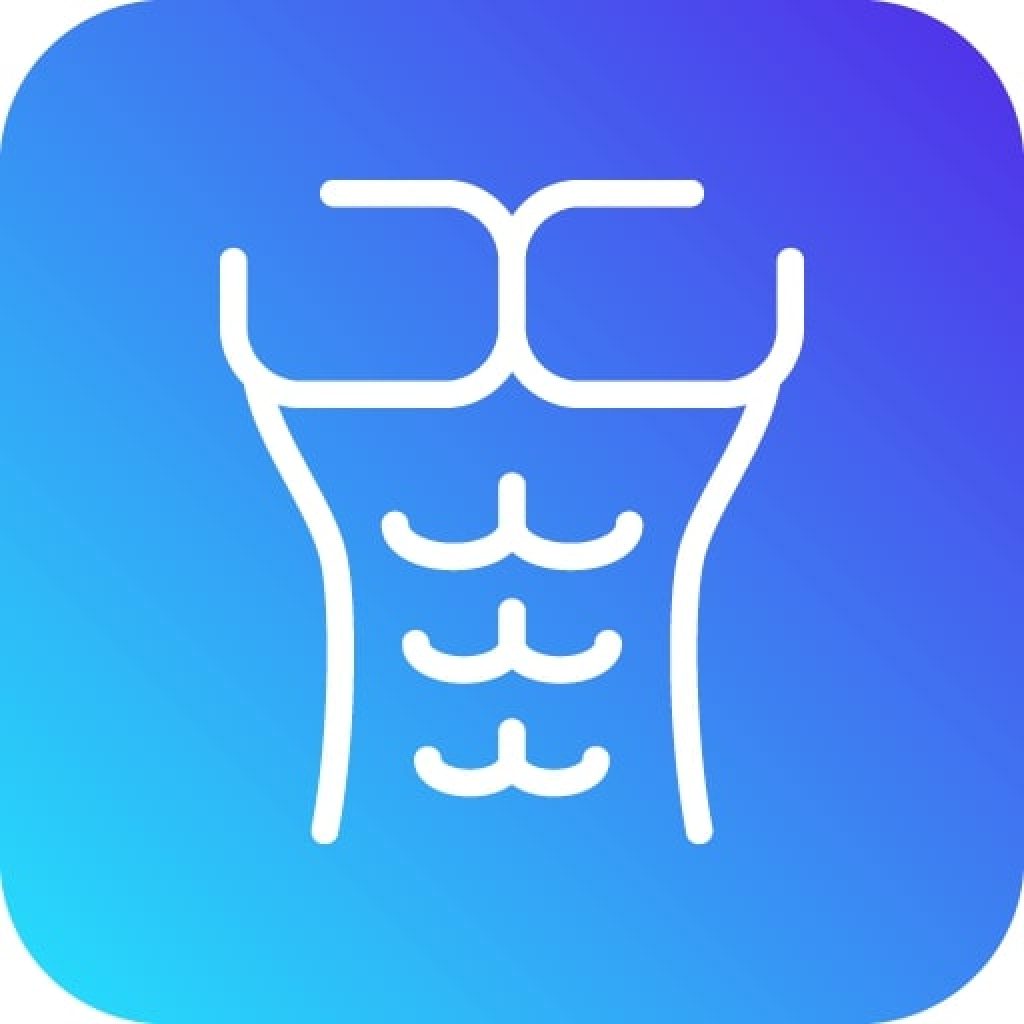 To get the desired amount of muscle, a thin waistline, and more, you now do not have to kill yourself in the gym in training or hire a personal instructor, because you can try the functions of this editor, which will provide you with the necessary form.
Also, all users have access to tools that allow them to change their appearance and facial features. You can try bright and unusual makeup, and try on new hairstyles or mustaches.
If you want to see yourself with plastic changes, you can also try to change the shape and size of your eyes, lips, and other body parts.
Get yourself a virtual tattoo of your favorite pattern to see how it would look in reality. Change the height and length of your torso to become visually taller in your photos.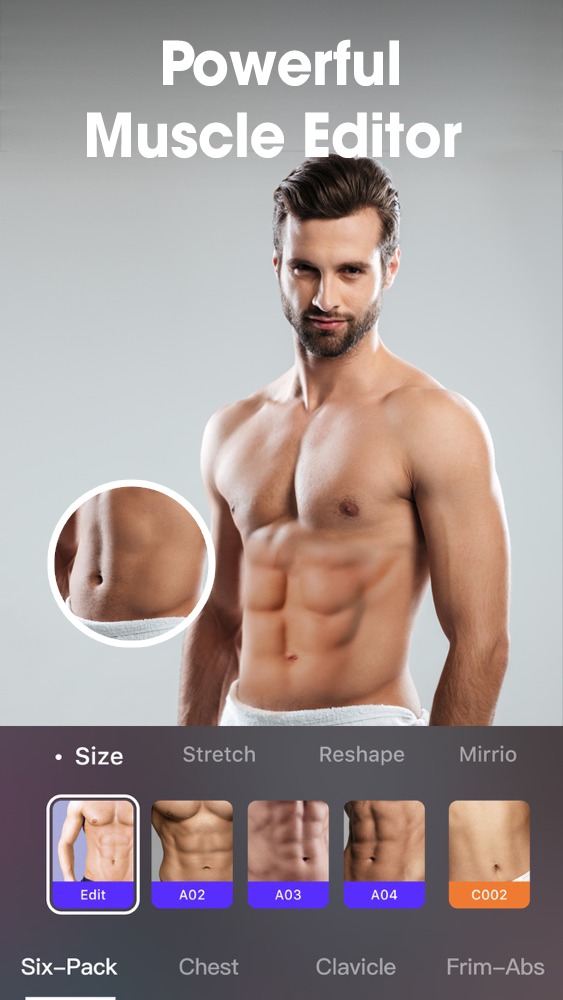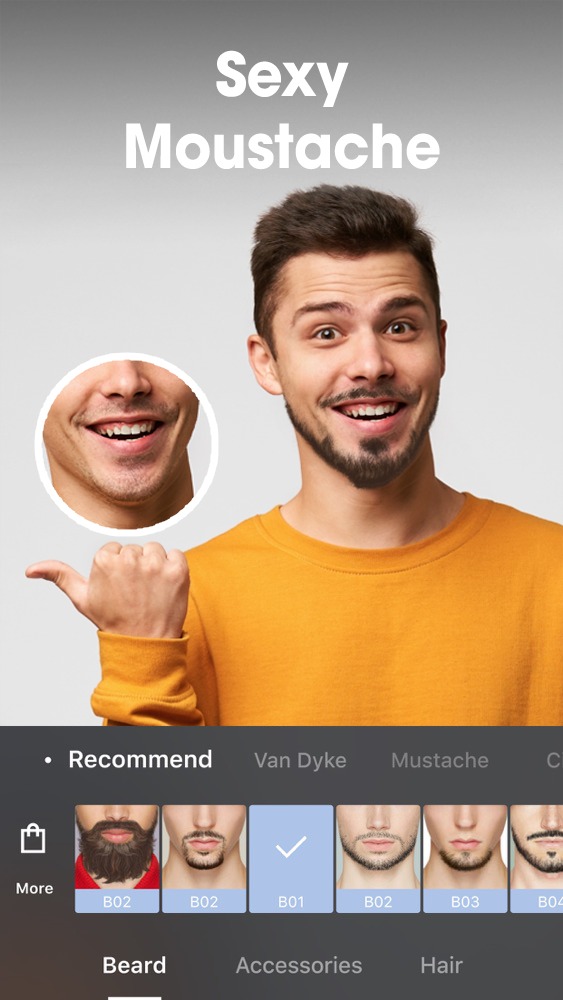 Try different effects to make your photos more attractive and vibrant.

Man Muscle Editor, Biceps, Six Pack Changer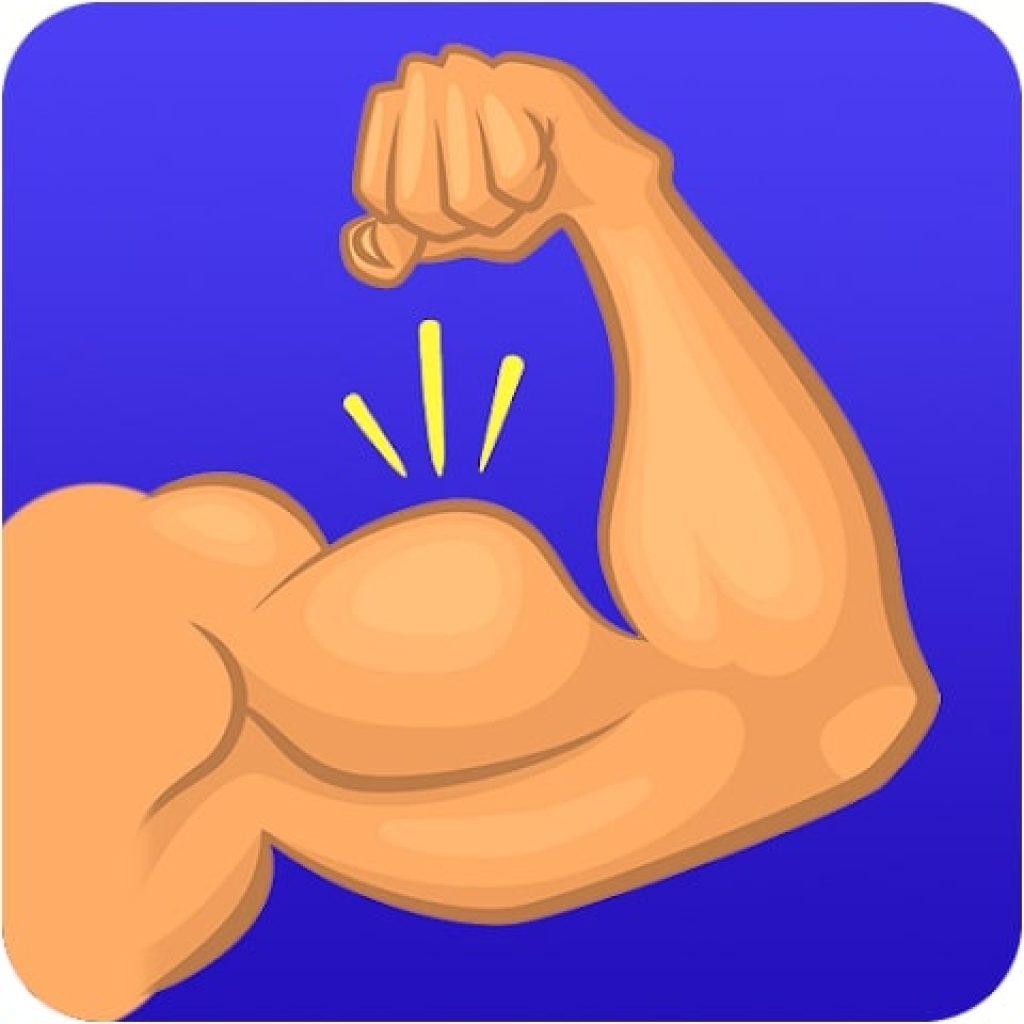 Now you can create photos of yourself in the style and format you want. You can choose tools from the suggested list and use them to perfect your body.
Try to pump up your muscles or create visually subtle facial features to present yourself in a perfect way. It's easy to give yourself the shape you want with the free editing features.
You're also allowed to use technical parameter changes for your photos. For example, you can make a new scale or size of the photo for later publication. Or you can customize any settings you want to make the photo suitable for different social networks and online platforms.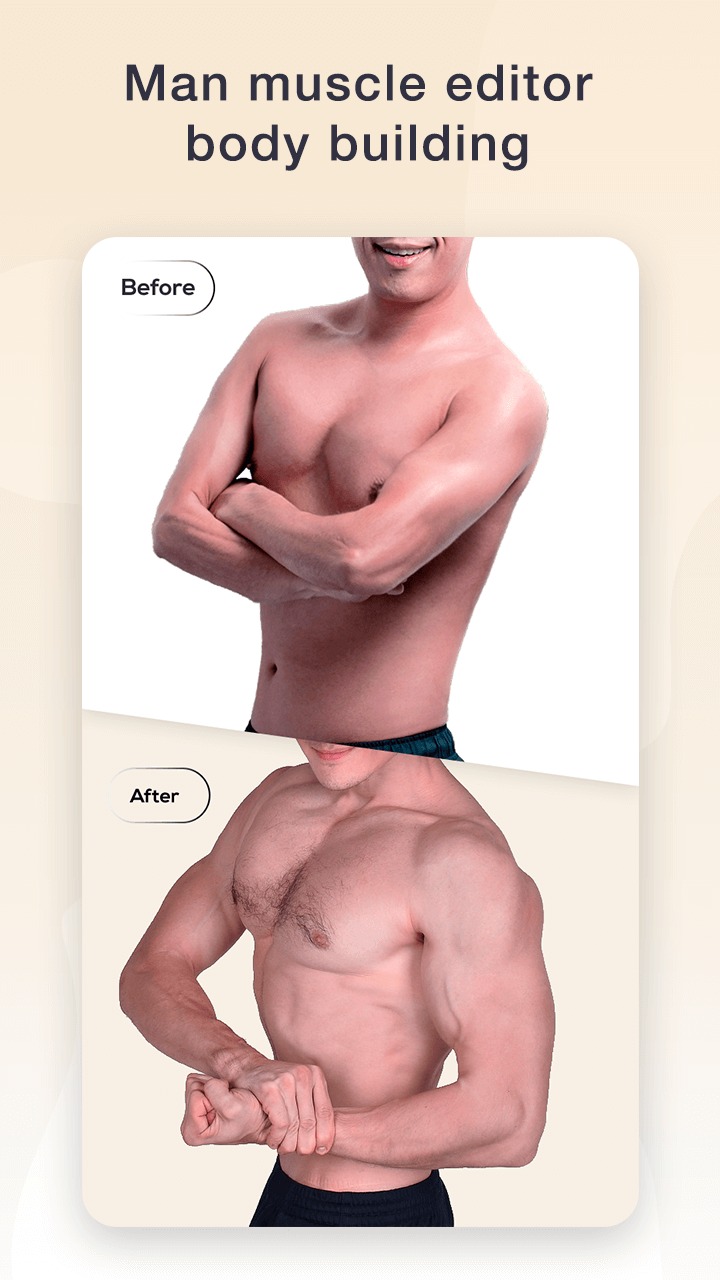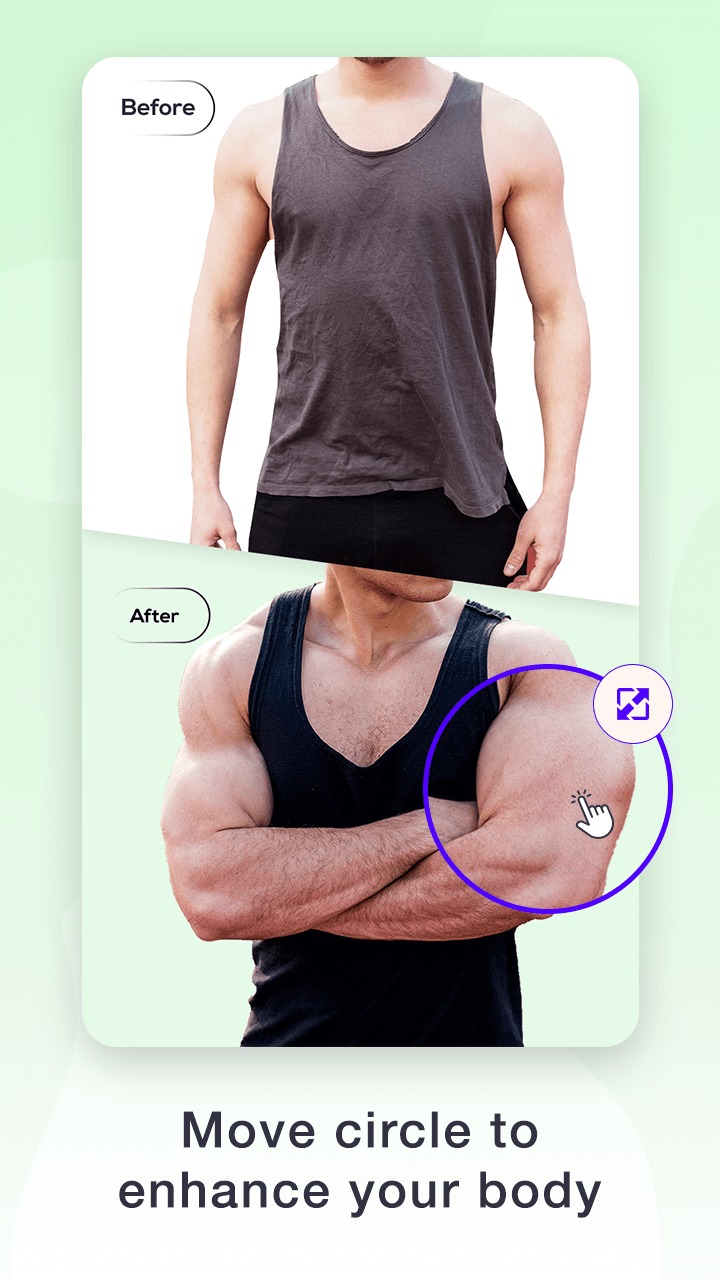 Photos can be added from the storage or taken in real-time in the app itself.

You may also like: 11 Best fake hair clipper apps for Android & iOS
Body Builder Photo Suit Editor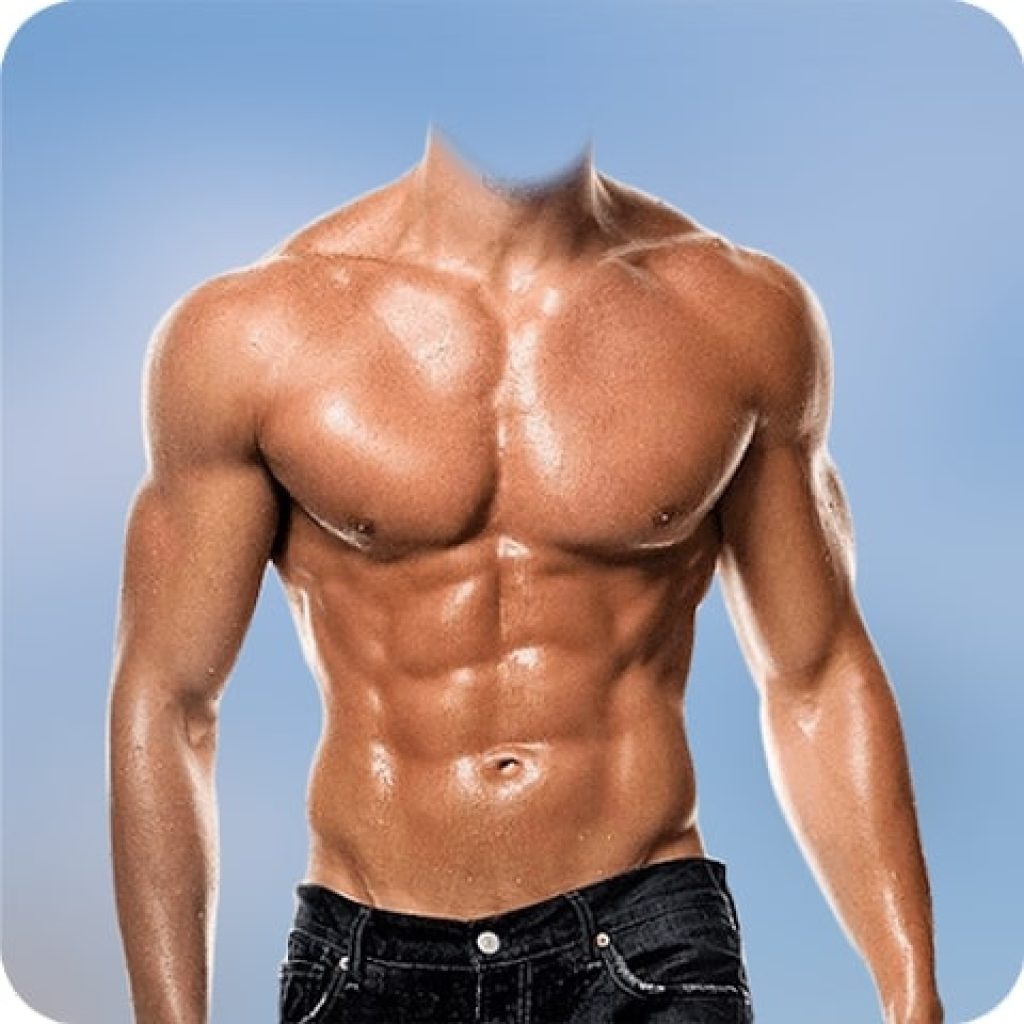 An app for men who want to see themselves in a trim physical shape even without much effort. It contains a huge number of templates of an ideal pumped-up body with highlighted muscles.
Men can try them on themselves, so they can surprise their acquaintances or motivate themselves to go to the gym to achieve the same shape in reality.
A huge number of such blanks allows you to choose options that will be suitable for you. In order for the result of the changes to be as realistic as possible, it is recommended to take a photo in the app itself. It will crop it to the necessary size of the template so that it looks natural and effective.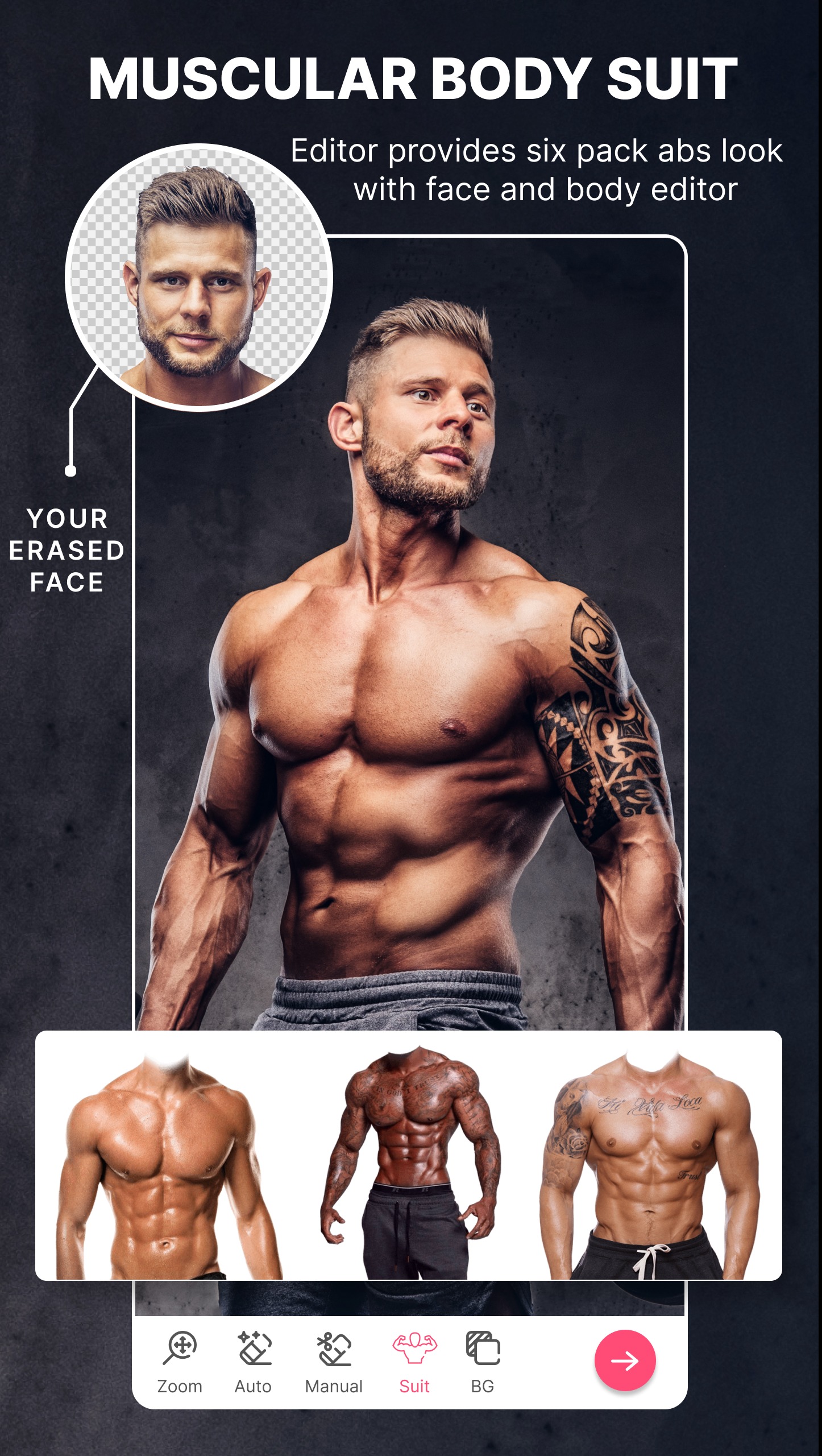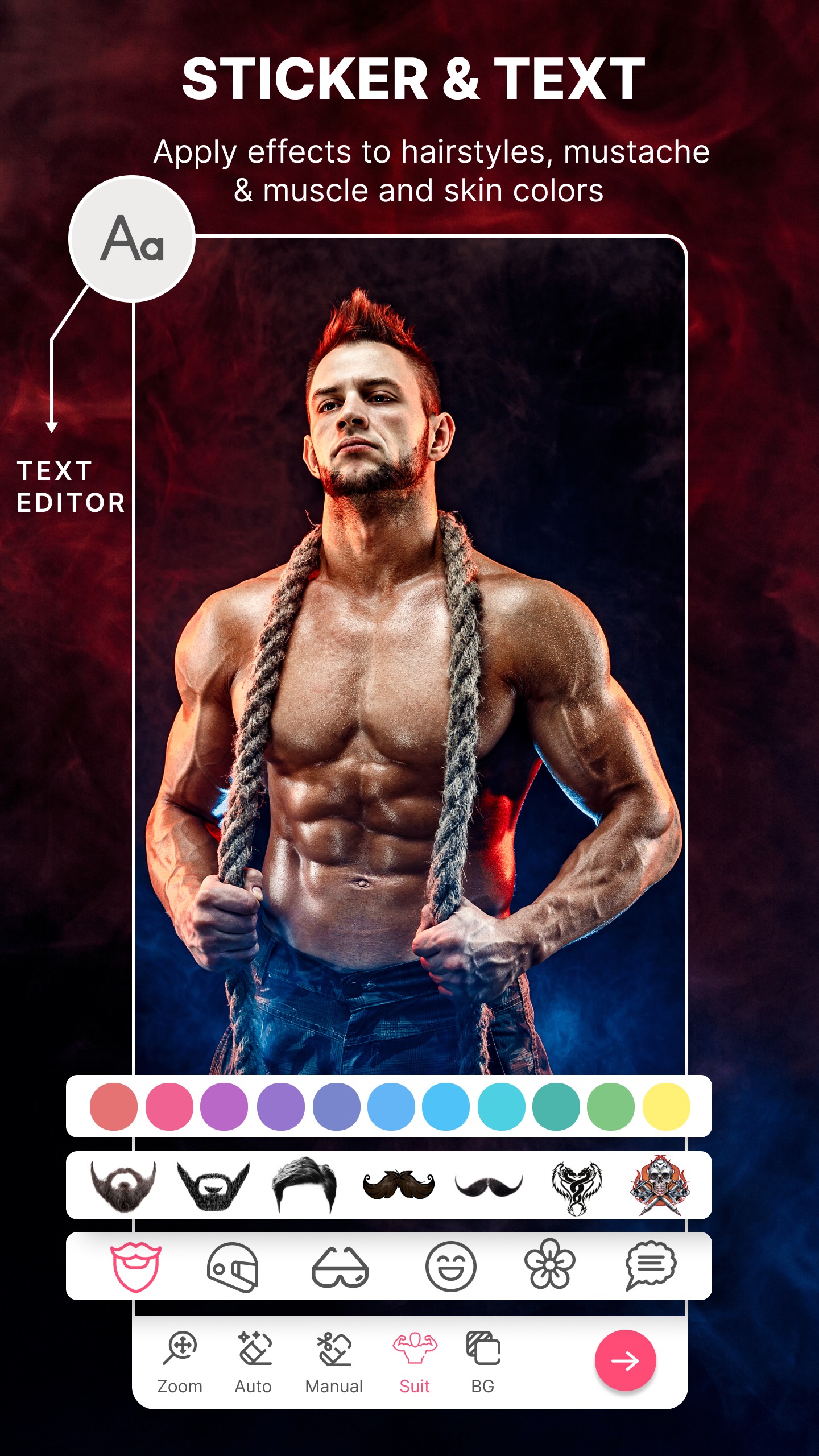 Ready images are available for downloading to an archive or for exporting to other platforms.

Your deception will, of course, be revealed as soon as you meet someone in real life. But if you want to take such a picture for yourself and your motivation, or if you just want to adjust your existing physical shape, body modification applications will be perfect.
You shouldn't overdo it or try to pass them off as real photographs – especially if it's the last time you had physical activity in high school. On the other hand, people who sometimes lose their shape when they don't work out can return it to social media for pictures.
We hope that our article was useful for you, and photos with developed muscles will become your motivation for action.