Have you ever watched political news and thought: I could deal with this situation way better? Well, you have the chance to find it out.
We've rounded up the best government simulation games for Android & iOS you could try. These let you take on the role of a politician or government official and make decisions that affect the state of your country. Where will it get you? It's fully up to you!
From kingdom simulators to games that let you join the election race, we've got smth for everyone. You'll get to implement laws, write reforms, control taxes, and ensure the smooth functioning of society. Let's get into it!
Suzerain
That's a game that lets you take the lead of the nation to greatness. It's a text-based RPG filled with political drama, intrigues, and all the other things we commonly associate with politics. You'll get to work with cabinet members, and just like in real life, not all of them will agree with you.
To add to the vibe, you have a war going on, and as expected it leads to economic crises. Thus, you'll need to navigate your 3ay through war, develop reforms, and all that. And if you've started to think it will be simple, your country is also rooted in corruption (because of course, it does).
All in all, all those heavy duties fall on your shoulders, and it's your job to manage your way through all this mess. This game is rather a conversation-heavy, which is not for everyone. It covers over 400K words of dialogue that's all about politics.
You'll get to make allies, and enemies and interact with a vast scope of characters in general. All of them have unique personalities and ideologies, which adds up to the vibe. However, only a prologue and the first chapters are free, so you're quite limited if you don't want to pay.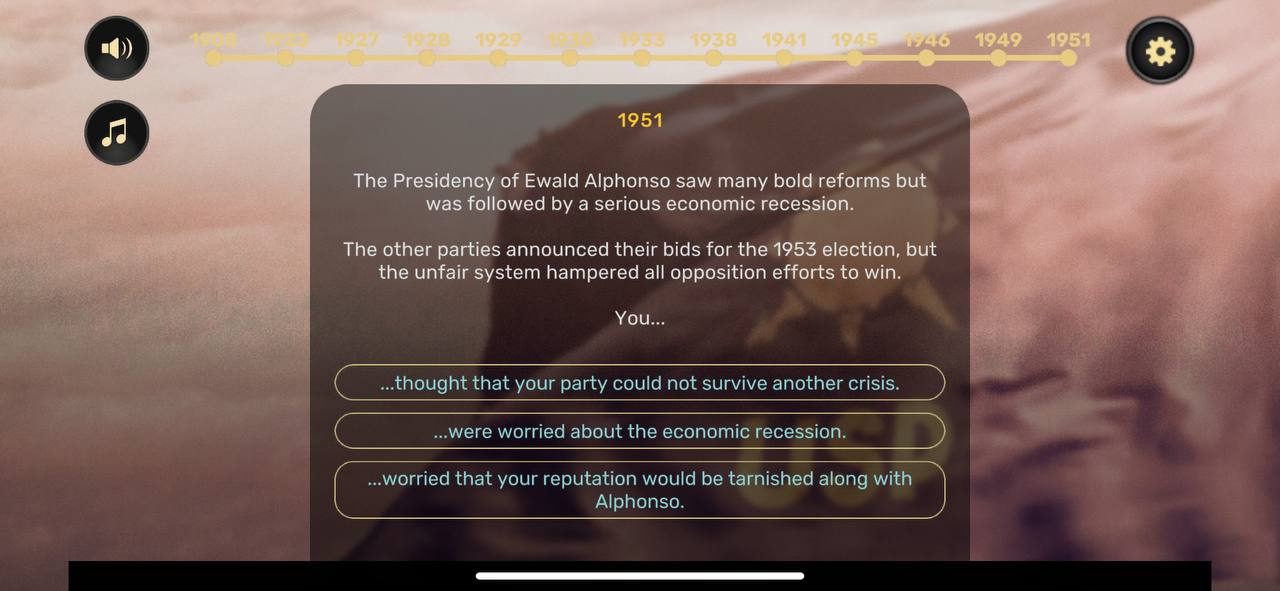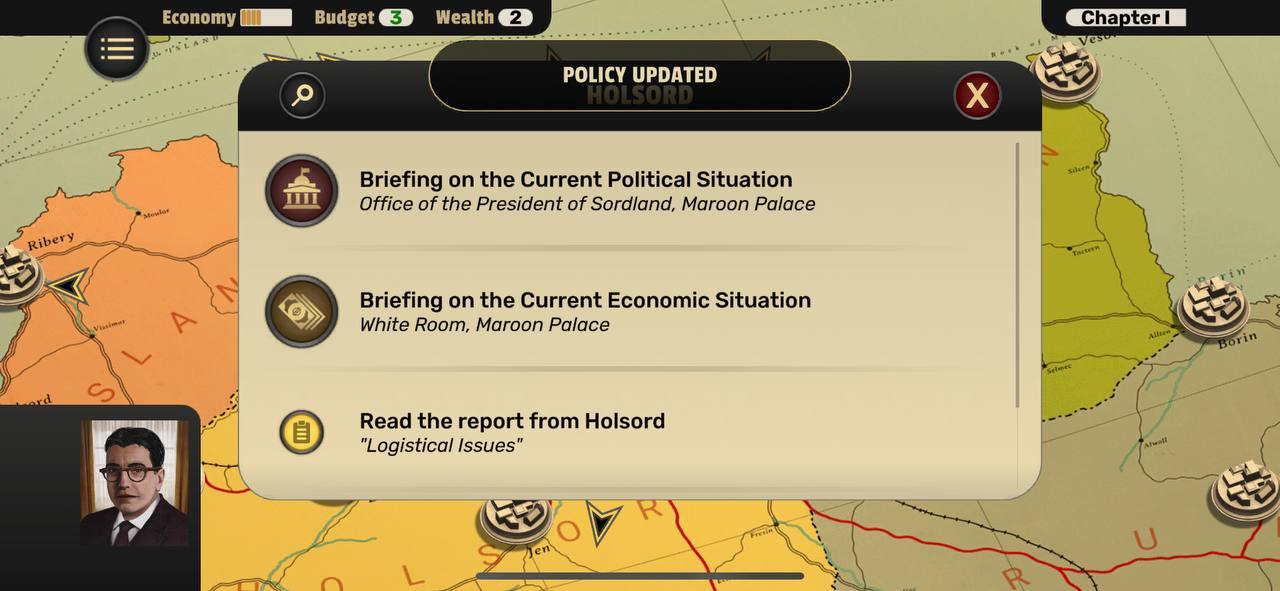 You may also like: 15 Free Life Simulation Games
Dummynation
This game gives you absolute power over the destiny of an entire country. And if your goal here is to keep its citizens healthy and happy, and boost the economy, you're mistaken. No, this one is focused on another thing which is world domination.
That's right. Guess there's no way for you to go through this one peacefully. It's up to you how to achieve that goal. Wanna try the power of democracy and talk your way through it? Sure, you can try.
What about starting a global war? Yeah, that's an option too. You'll need to expand your territory by military occupation, but it takes more strategy than you might think. Don't go too fast and don't think out your forces too much. The countries won't just give up their lands, so you need to be smarter than them.
You'll get to manipulate diplomatic relations and analyze the way countries act. Just try not to make too many powerful enemies at once, it never ends well. And don't forget about your own country: develop economics and boost live lvl.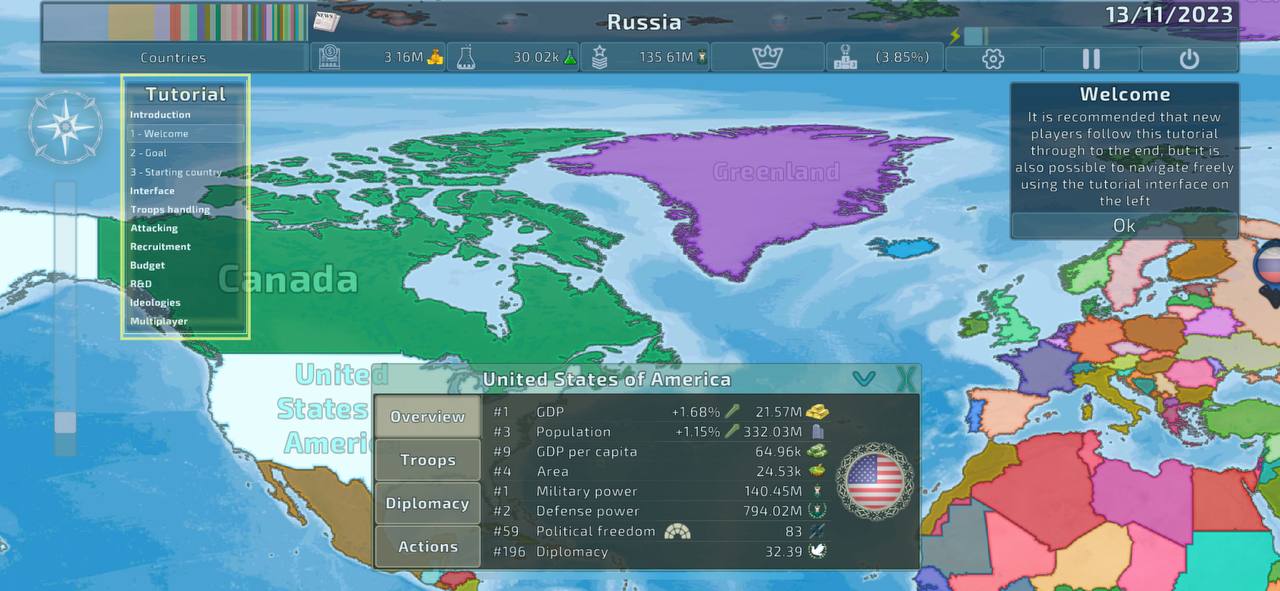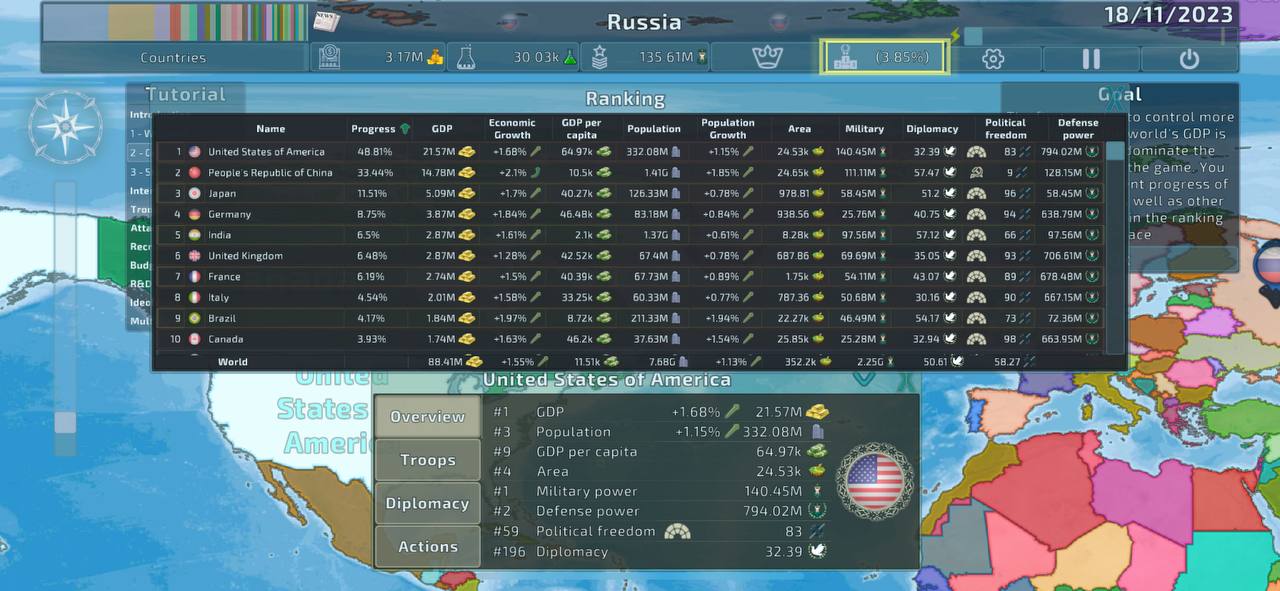 MA 1
It's a president sim that lets you dive into real politics. It does a great job immersing you in the world of diplomatic relations, politics, conflicts, and all things attached. Your goal here is to lead your nation to glory, but it's up to you to decide how to do that.
You can become a leader of any country here, and the way the game will develop depends on that, too. Each one has its own goods to produce, its own allies, enemies, and issues. Pick wisely, and consider every detail before making real decisions. You'll get to enact new laws, write reforms, and control the economy and military.
Of course, such a game wouldn't be complete without an ideological aspect, and you'll be able to pick it as well. You can adjust how much impact the religion makes in your place or even get rid of it entirely.
There are tons of tasks that will bring you gold and other bonuses, so make sure to participate in all challenges. At some point, you can find yourself at war with other countries, too. Remember that security is the top concern of your nation and try to prevent terrorist attacks and all that.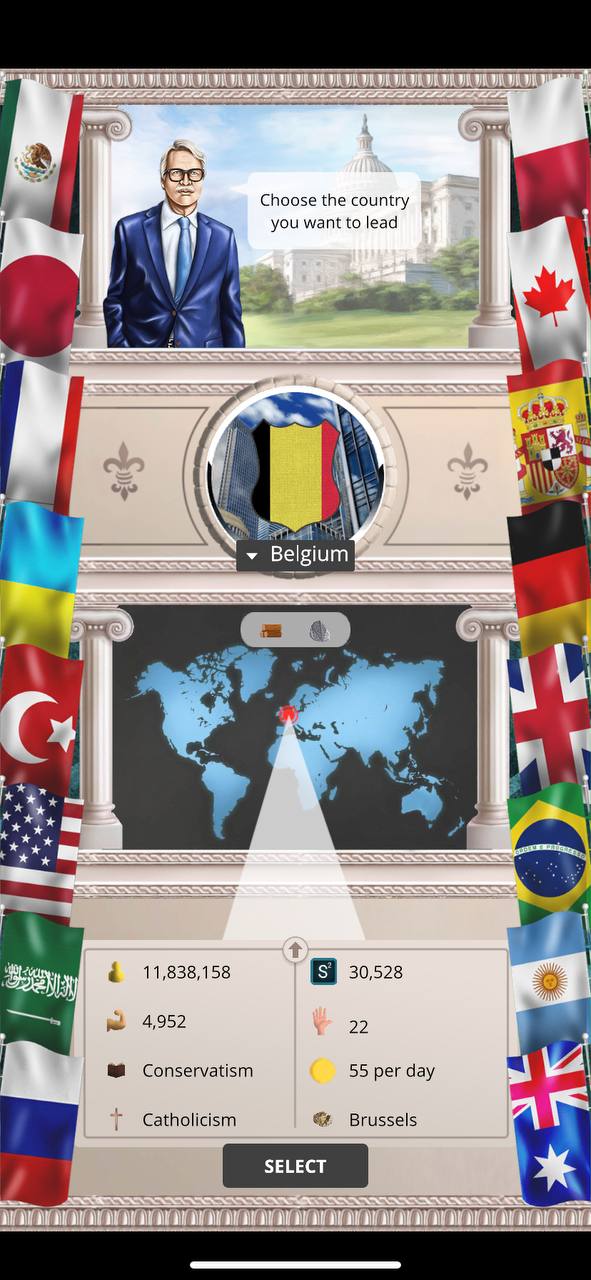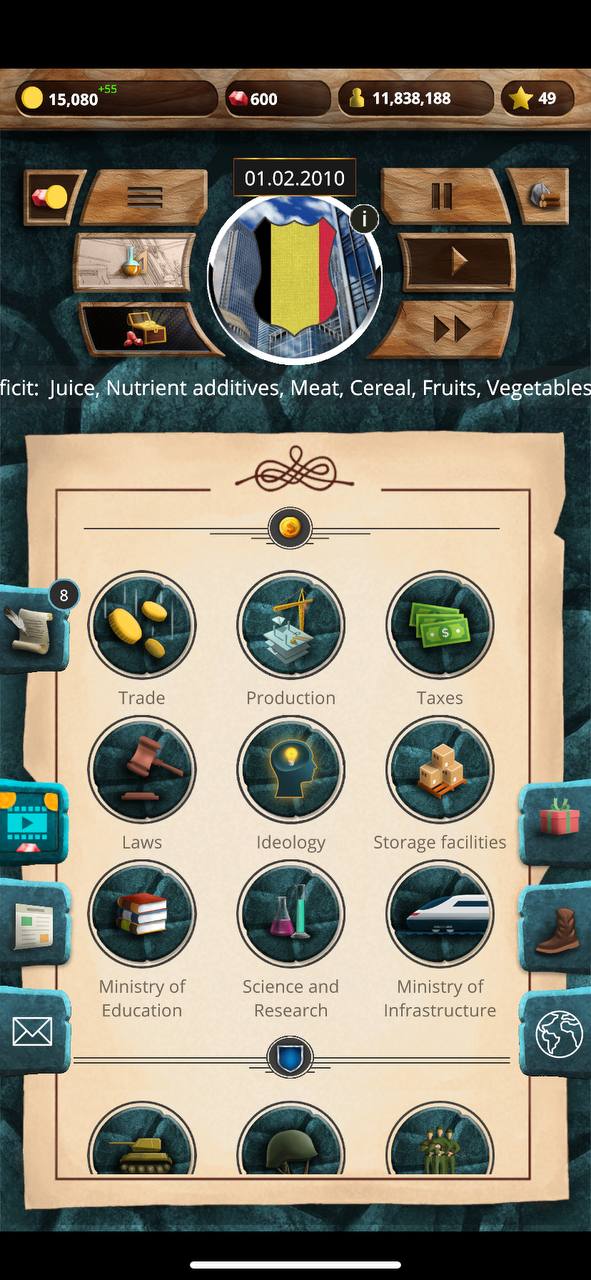 Rebel Inc.
That's a rather unique political game from the developers of the well-known Plague game. Your goal here is to stop the rebellion and hold power over your country. The settings are quite important here, too. You find yourself in a situation when the war has just ended, but things are not going well anyway.
The country is not stable, so you'll need to balance civilian and military priorities to make sure you have the support of the nation. It will be rather challenging to complete all the essential tasks (including the tough ones) while not losing approval from the civilians.
In fact, you'll get to stabilize not one, but seven regions. Each one requires unique tactics and innovative approaches, so keep that in mind. You'll need to build a relationship with the local government and try to avoid heated arguments and other issues.
The way the game will go depends on your decisions. Each step you make will have consequences. Some are small, but others are rather drastic. And if all that sounds a bit overwhelming, don't worry – there's a guide to get you through the basics.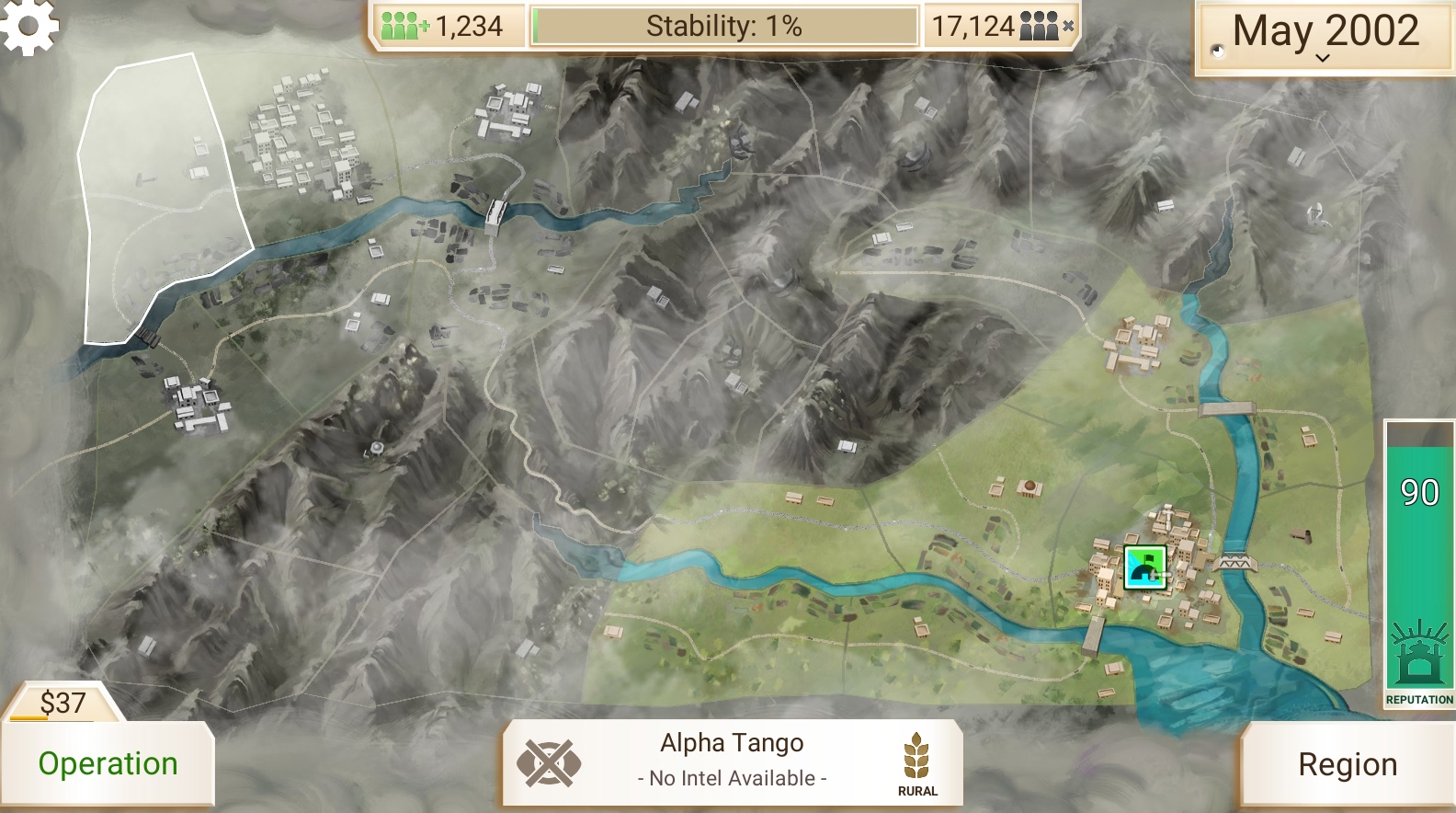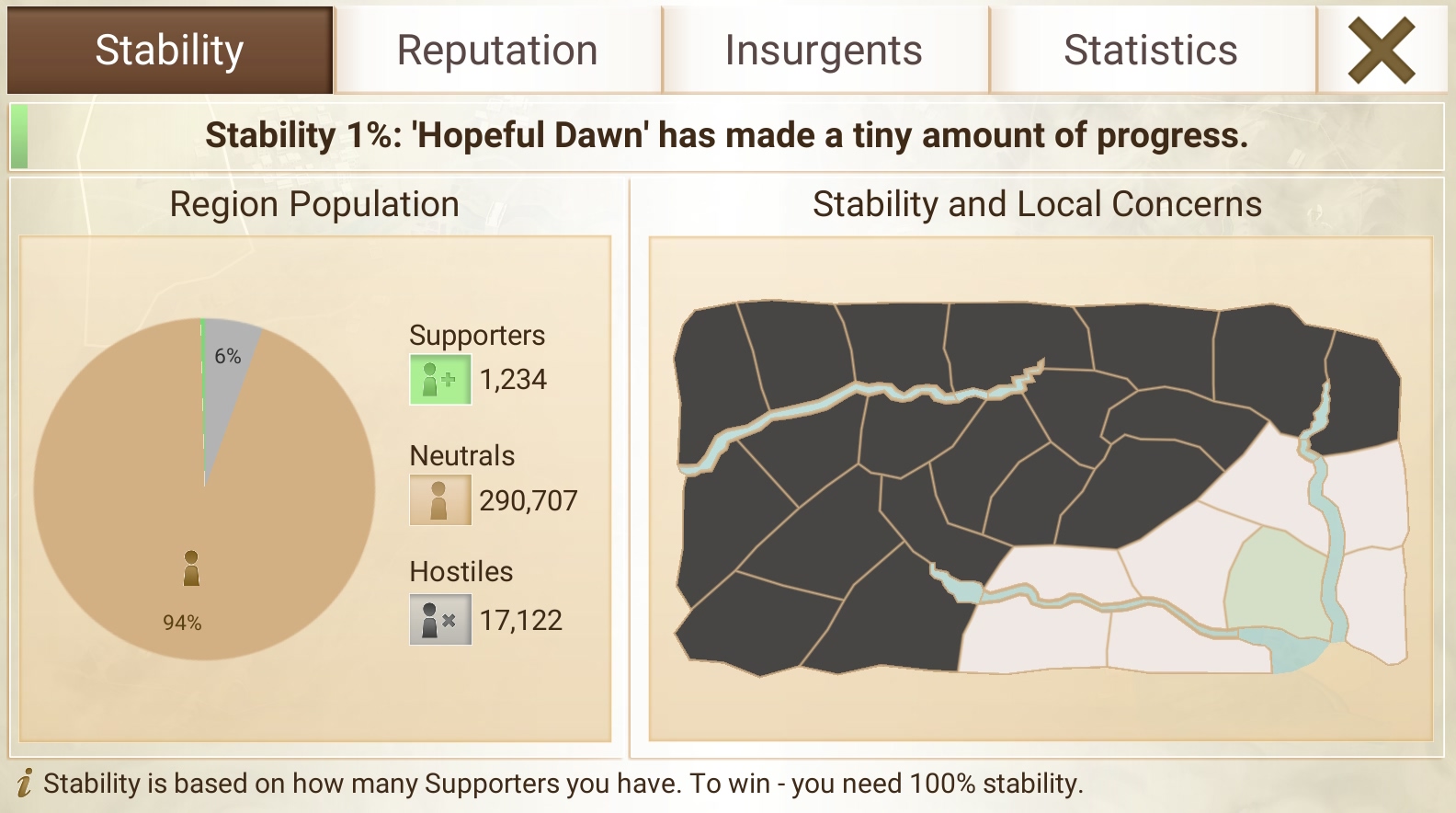 270 | Two Seventy US Election
As you may guess, this app is not necessarily a government sim (well, it kinda is, but not fully). It gets you to take part in the election and try to become the next president of the US.
In case you're not familiar with the process, each state holds some cost and number of votes to be won. And in most cases, each one requires a personal approach. You can't just make a list of claims and read it aloud in every state. No, it's much more complicated than that.
You'll need to analyze the current living conditions in each one, point out the problems, and offer your ways of dealing with them. There are tons of strategic elements to consider, including geographic groups and those with special interests.
But what about your rivals? Can they set you up by digging some dirt on you? Sure thing, the election wouldn't be complete without it. Well, no one stops you from doing the same thing after all. The game is fully free, and it can be accessed offline as well.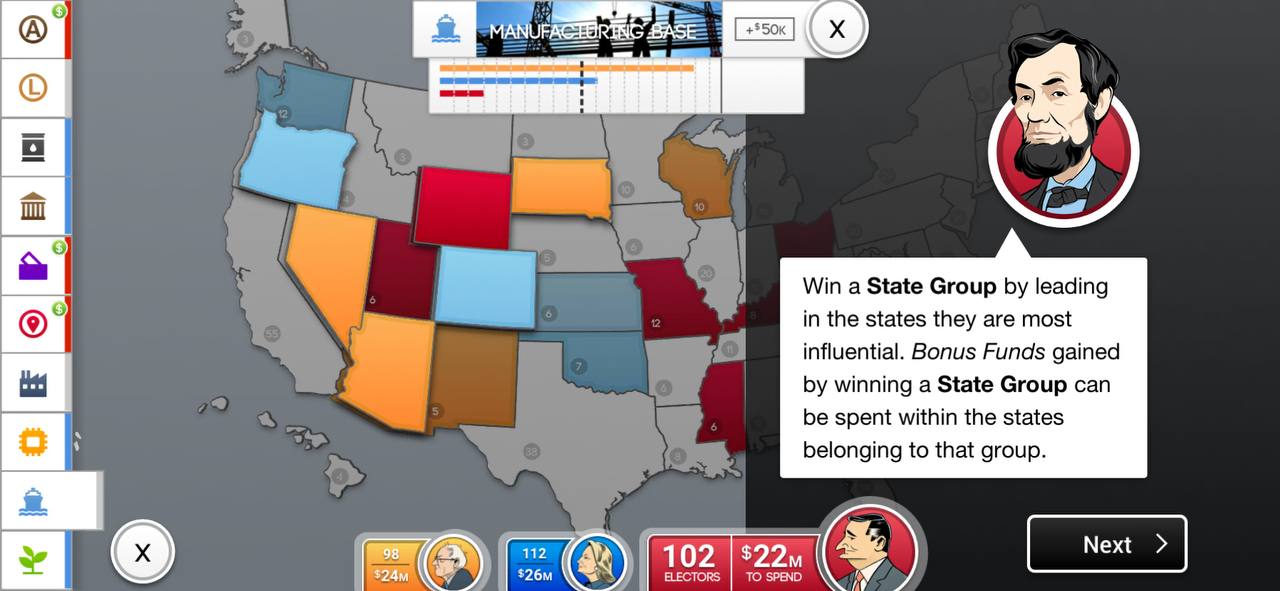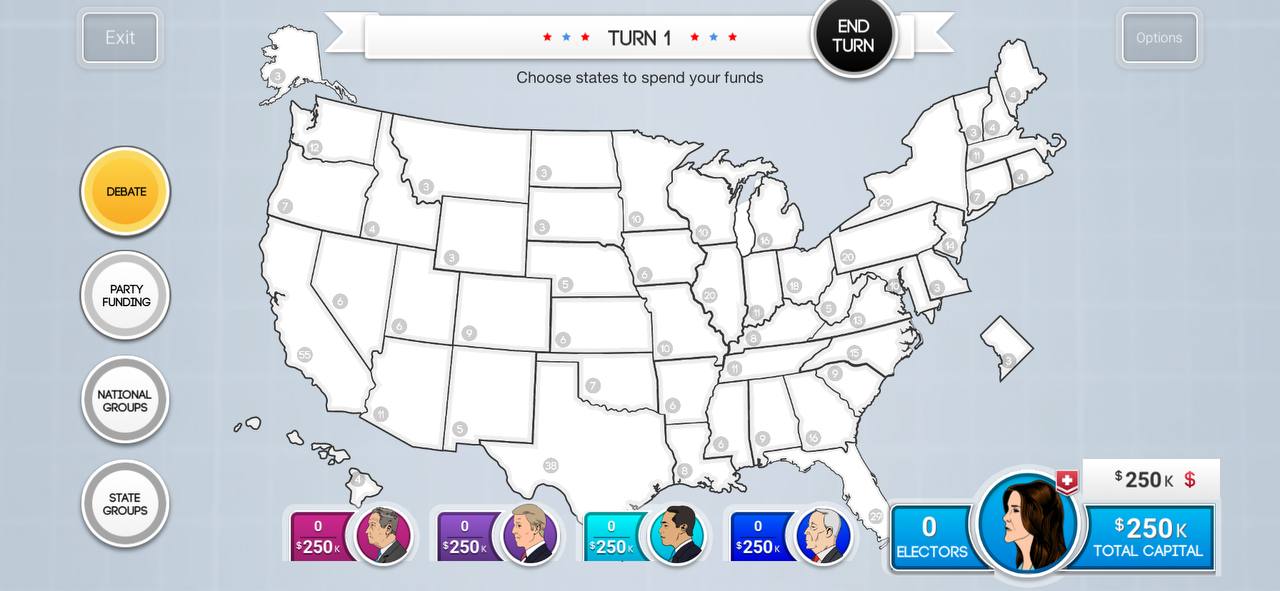 Win the White House
This game is similar to the previous one. It lets you become a candidate and try to win the place of the president of the US. It goes into all the details about the process, and every decision you make matters here.
First, you need to make a candidate. And it's not just about creating a character, no. You'll need to pick an avatar and come up with a background story. That involves picking a home state, a political party, and, of course, a campaign slogan. Then, it's time to pick the issues you'd like to focus on and start battling in debates trying to select the best arguments.
The next step is to win the primaries that double as a training point for the real election. Through these, you'll gain campaign skills essential for the next round
The election is a complicated process, and you'll have tons of unexpected situations along the way. Make sure to estimate the audience right and target your campaign to it. The marketing aspect is important, and you'll need to ensure your reputation is crystal clear, too.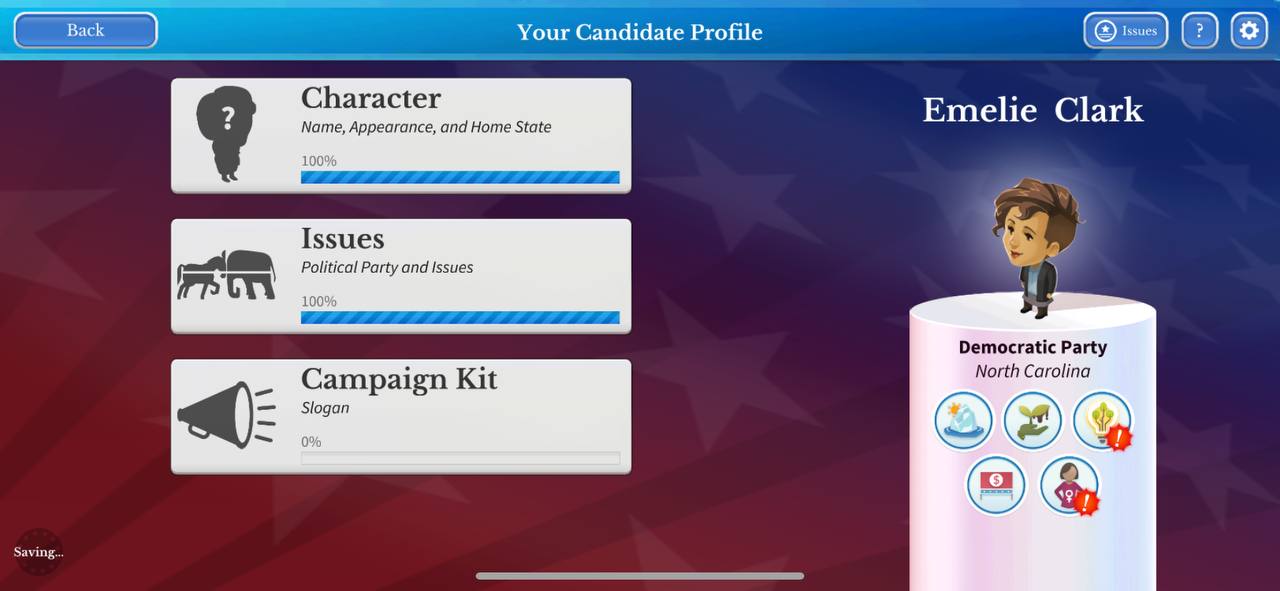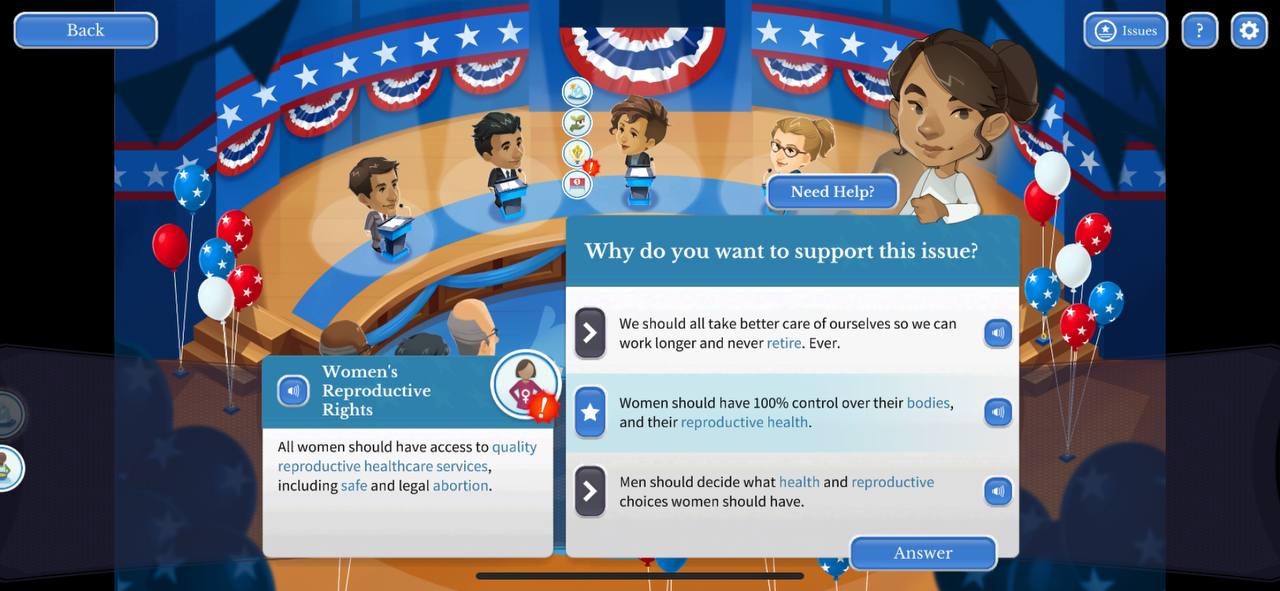 Check also: 15 Best Evolution Simulator Games
People's Pie
This game is all about finding balance. Your goal here is to maintain a stable situation within your country, but you can't do that by keeping things as they are. You'll need to set up reforms and programs while keeping tax rates under control.
Your citizens wouldn't be happy if the rates go too high, aren't they? But at the same time, you shouldn't borrow too much money to not fall into the national debt hole. To do that, you'll need to analyze how federal taxes work and how spending policies impact the national budget.
And if you're not familiar with all these terms at all, there's a built-in glossary and a guide to get you through the basics. You'll be able to dive into the way the economy functions and all kinds of taxes as well.
The game lets you go through all kinds of projects and services, and you'll get to rule the federal department as well. And don't forget to review your budget from time to time. Public approval matters most here, so think strategically and try to think ahead. It's free, but you'll have to deal with taxes.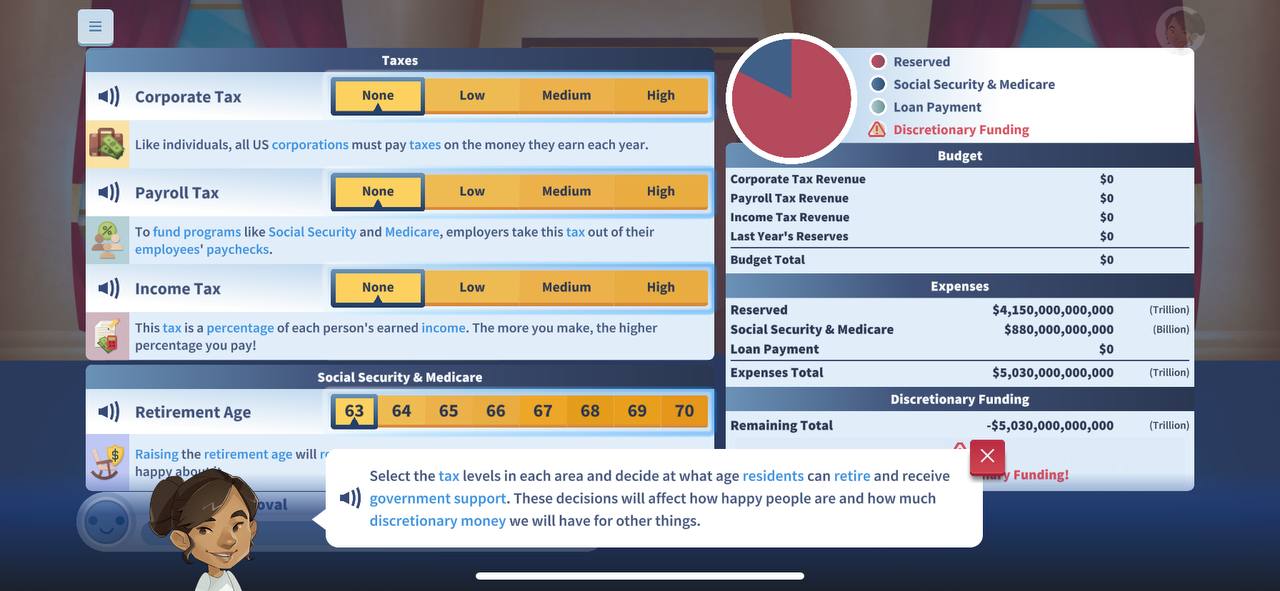 Counties Work
Here's a game that lets you try how good you'll be running a country government. Your goal here is to stay on top of the resident requests and make sure the local community is happy and thriving. To do that, you'll need to make budgeting decisions and prevent the crises from happening.
Of course, some crises just couldn't get past your country, so you'll need to deal with them, too. The game covers all the aspects from taxes to reforms, so no worries about authenticity. You'll get to manage the annual budget and try to grow the community without sacrificing the comfort level.
Plus, there will be crises along your way, and you'll have to solve them as harmlessly as possible. All those will be different, so you'll need all your strategic skills.
You'll also need to address the needs and requests of the nation and try to turn them into laws and reforms in the right way. There's a paid part of the game, so the free content is rather limited.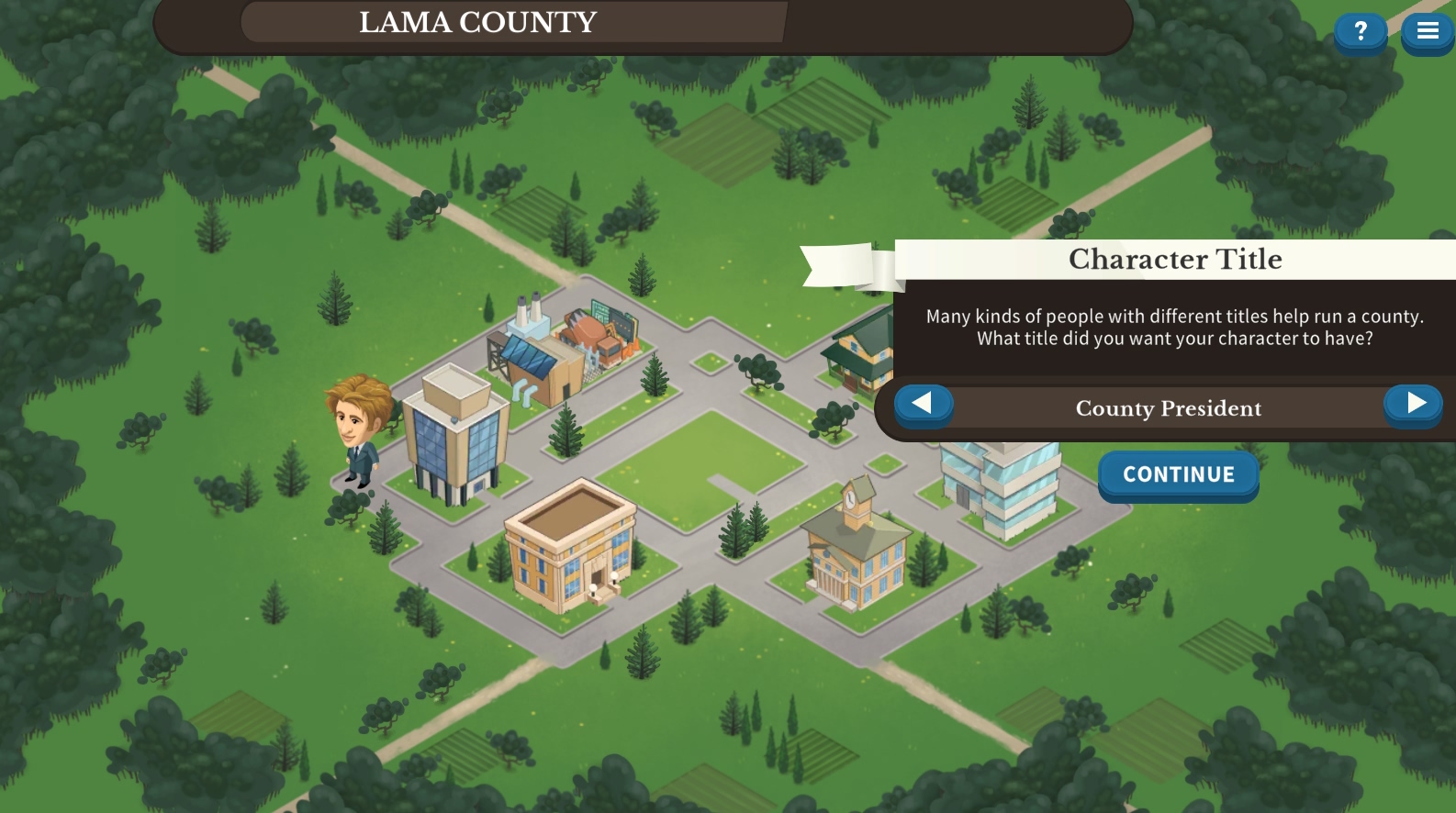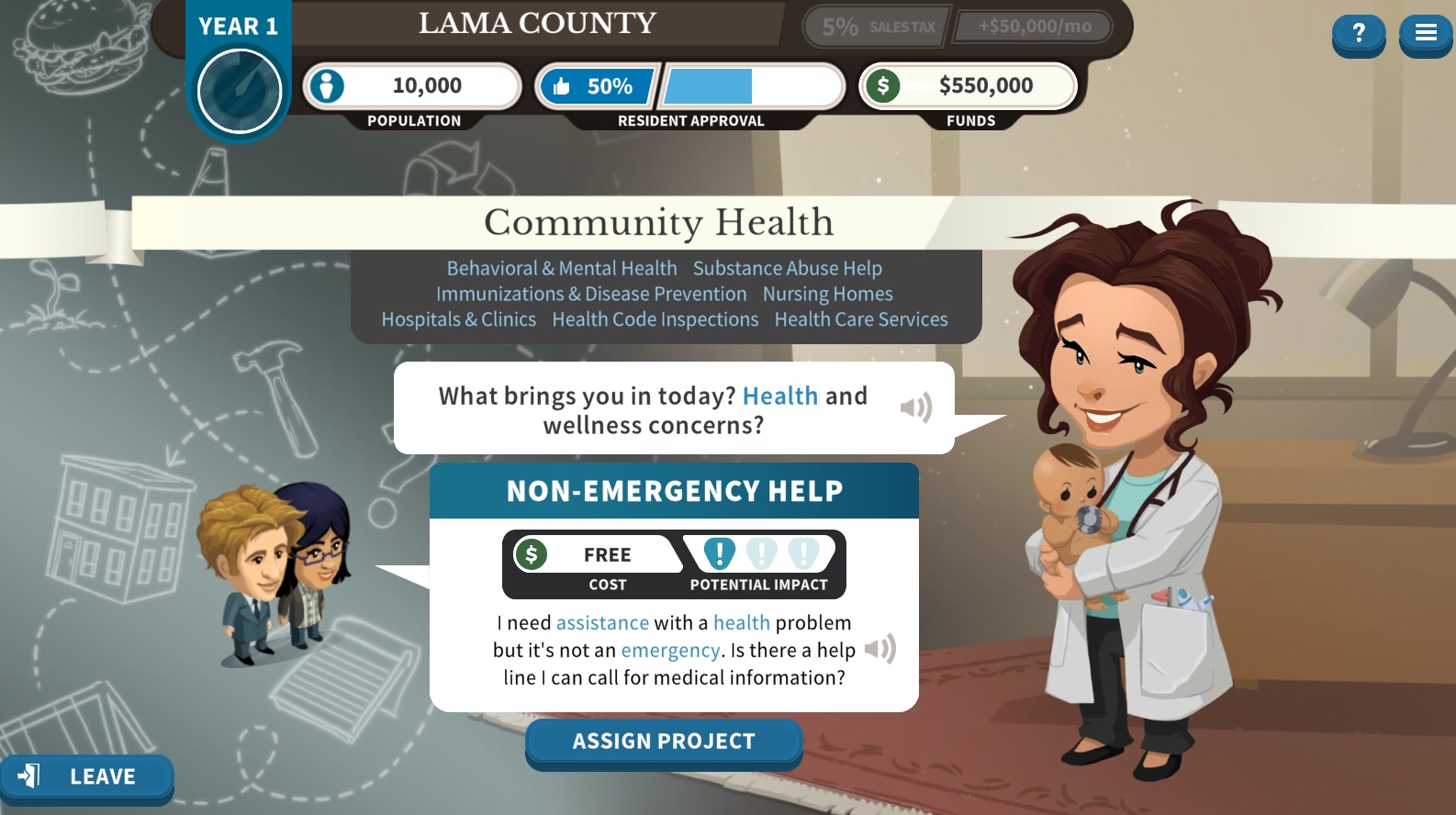 Pocket Politics
If you want to experience what it's like to be floating in the sea of police games, this one is for you. As it always is with such games, you start small and need to go through ranks as high as you can. It won't happen quickly, you'll have to go one rank at a time and earn favors from the big names in politics.
You'll need to automate your lobbies and watch them earn you more and more cash. Just make sure to understand how it works to ensure you'll really be getting profit from it. Plus, you can invest everything you earn to try and multiply your earnings even more.
Another thing that matters here is endorsements, especially those from the so-called big league. If you'll get their support, you'll be ably up your reputation and personal rating in no time.
Prestige is important as well, so you'll need to gain followers that will support your ideas and initiatives. And if that's not enough, there are also tons of challenges for you to enter. It brings more even to the process and can get you even more profit.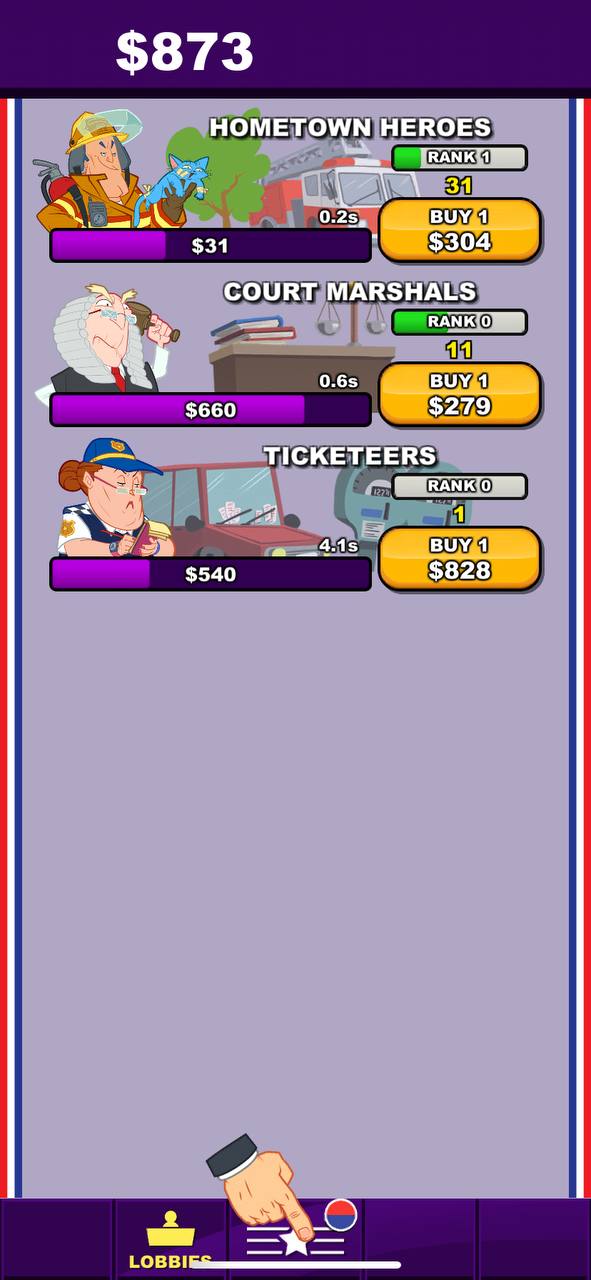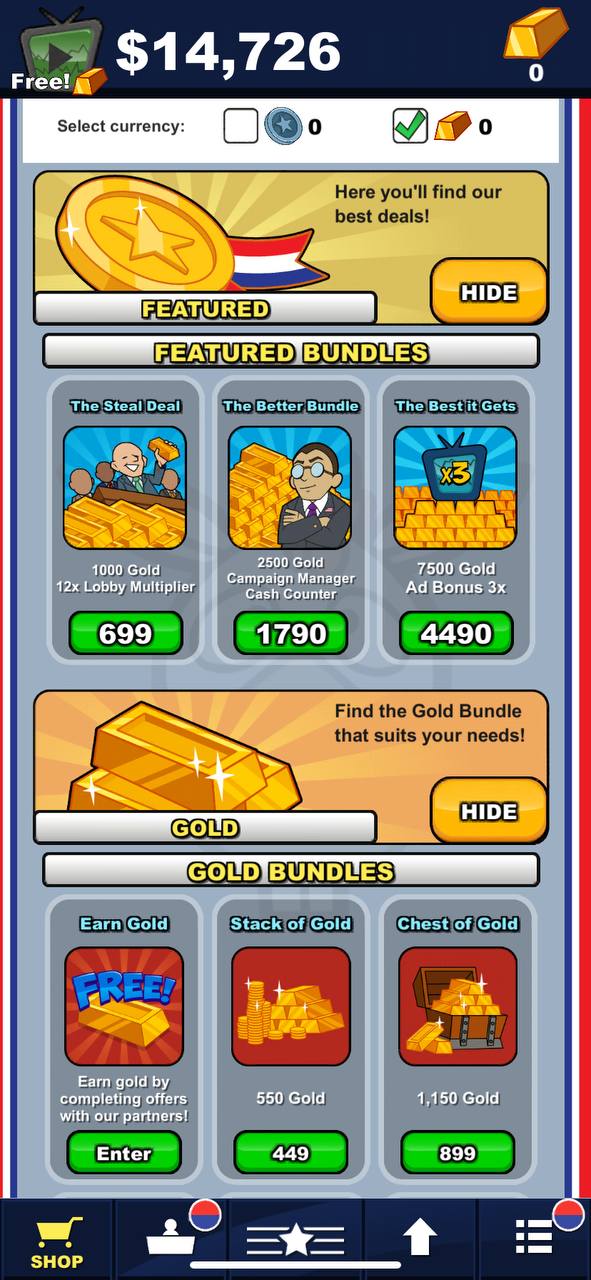 Politics and War
This game lets you build your own empire from scratch. The main goal here is rather impressive. It's not just to form a thriving society, but one that will stand the test of time.
You start by describing your country, picking the leader, a flag, and all that. You can even pick its place on a map, and a lot will depend on that. It's a strategy game, so every move you make has its impact. Thus, you'll need to be tactical and think all of your moves ahead. It covers all the real countries and resources they have.
Of course, you'll need to refine those resources and find countries to trade them with. You can use them to power your nation and get finances to grow military forces, improve cities, and all that. Basically, whatever large project you have in mind can be done as long as you have the money.
Diplomacy plays a big part in this game, and it will take effort to ensure you're on good terms with other countries. Of course, you can get involved in conflicts but make sure you always have allies.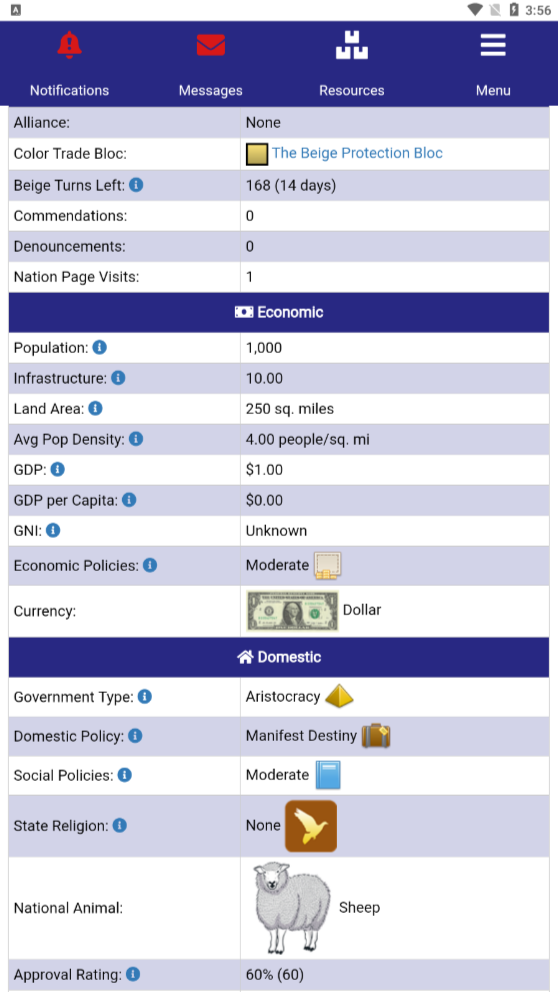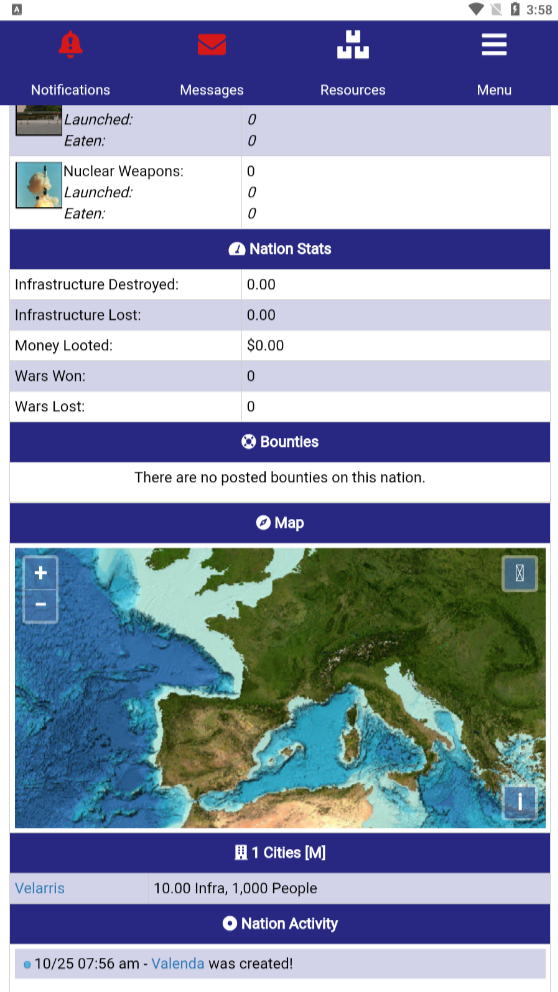 You may also check: 9 Best God Simulator Games
Beholder
Lastly, we have a game that's rather unique by concept. The setting here takes place in a harsh dystopian future. There, the state has full control over the public and private life of citizens. Laws are beyond oppressive, and privacy is practically dead.
And what place are you taking in it? Well, you're a manager of an apartment building and the state just appointed you to spy on your tenants. The main goal is to bug their apartments and search their apartments when they are away. Everything you find should be sent back to the state, and you should make profiles for the tenants too.
You'll have to mark everyone who may be capable of violating the laws. But it's really all about making choices. It's up to you to decide what you will do with the info you've gathered. You can let some of your suspicions slide, but it may impact you negatively, too.
And if you wanna play extra dirty, you can also blackmail the tenants and still report them to the government. Remember, people are not just objects, and every decision you make will affect the plot.