7 Best Flight Tracker Apps for iOS & Android
I love flying. No matter what people say about airplane discomforts I just remind myself that the airplane takes me to a place more fun than my apartment. And because I also like using apps on my phone best flight tracking apps come in handy. These does not only track your flight and alert you to delays but will often do a lot more, allowing you to pinpoint your exact location at 40,000 feet or, as it is customary for a good app now, provide a rundown of the best places to eat during your layover that always seems to take quite a few hours. We are going to make choosing an app a lot easier for you now.
FlightAware Flight Tracker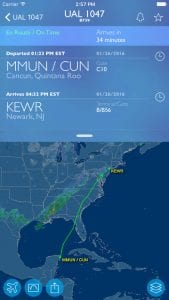 Besides tracking the real-time flight status and location of any commercial flights worldwide, FlightAware can give you the whereabouts of those lucky enough to be cruising on a private plane in the U.S. or Canada. With a GPS system enabling you to determine your own whereabouts, you can see aircrafts near your location and where they're headed, also zoom around a map of the world. This free app is a handheld dream of an aviation geek.
Get FlightAware Flight Tracker free Android here
Get FlightAware Flight Tracker free iOS here
FlightView Free
FlightView's My Trips function lets you organize your itinerary: simply forward all of your travel confirmation emails and let the app do the rest. Trips are synced between devices and with www.FlightView.com website so you can quickly check status. You can add notes to flights or trips, such as car rental and hotel reservation numbers. Airplane mode works offline allowing you to check the saved itineraries. And of course, the actual flight tracking features make up a solid list as well. First of all, you get to track your flight on a map showing current radar weather. The app alerts you to flight status changes for flights stored in My Trips.  If you are interested in history, see where the plane for your flight is arriving from and check its status via Aircraft's Previous Flight. You get driving directions to airport integrated with iPhone Maps.  What you may really need is finding alternative flights by viewing flight schedules between points.
Get FlightView Free for Android here
Get FlightView Free for iOS here
App in the Air
App in the Air just might be the best pick on this list. Firstly, there is this little thing with the app working on Apple Watch. And a major reason why that is possible is the app's simple interface. When you finally choose a particular flight to track, you get to a beautifully designed section that displays for you a lot of data about your flight presented in a clear, organized way. This information is selected to be listed in a cards-like interface that looks like Google Now. These neat cards are customizable into an order and some of them can be hidden altogether. And by default, Alerts is the first card to show up when you tap on a flight in your list.
The Timeline card gives you an overview of your next steps will be to get to your destination: check-in, boarding, etc. and will adjust in accordance with any delays. After a step is finished, e.g. boarding, the app will mark the time that it was closed. And, finally, the Map card shows a current visual representation of where your flight is on the map.
Get App in the Air free for Android here
Get App in the Air free for iOS here
Airline Flight Status Tracking
Known on iTunes as FlightHero, this app offers real-time flight status info on most flights around the world. That includes a real-time flightboard for your airport you choose. The app offers a 10-day weather forecast for any selected location so you will get an advanced warning of adverse conditions. One of this app's stand-out features is syncing with TripIt account. It allows you to see your current flight statuses without exiting the app.
Get Airline Flight Status Tracking free for Android here
Get FlightHero free for iOS here
FlightStats
FlightStats is a good real-time flight status and airport tracking application. Any flight status in the world is available for you as long as you know either its flight number, airport of departure, or route. You can also watch planes fly around the globe in real time, and you can access lists of delays, gates, and weather for almost all major airports.
Get FlightStats free for Android here
Get FlightStats free for iOS here
FlightTrack 5
GateGuru is a Top 5 Air Travel App according to CNN. But be careful, the Android version has not been updated for a while and quite less amazing. As part of the TripAdvisor family of travel products, GateGuru helps you to free your travels of guesswork and relying on luck, and customize your door-to-door adventure. It surely offers all the basic flight tracking capabilities, but where GateGuru really exceeds, you guessed it, is in customizing your travel day plans. Just input your itinerary and GateGuru promises to connect the dots, laying out detailed info on where to check in, current airport weather conditions, estimated wait times, airport amenities (35,000+ reviews from users at your disposal), and even last-minute car rental deals and bookings.
Flightradar24 Free
Flightradar24 allows you to do all kinds of things, like watching planes flying in real-time. Airline and callsign information for individual planes are also available. The most interesting gimmick would be identifying any aircraft flying overhead with Augmented Reality view. Besides North America, this app works in South-East Asia. South Africa, China, some parts of Russia and Latin America.
Some other good apps, like ForeFlight, pretend to be free but you definitely pay if you want to make them work.
These apps are really good for tracking and even managing your flights. But you still need to decide where you are going.