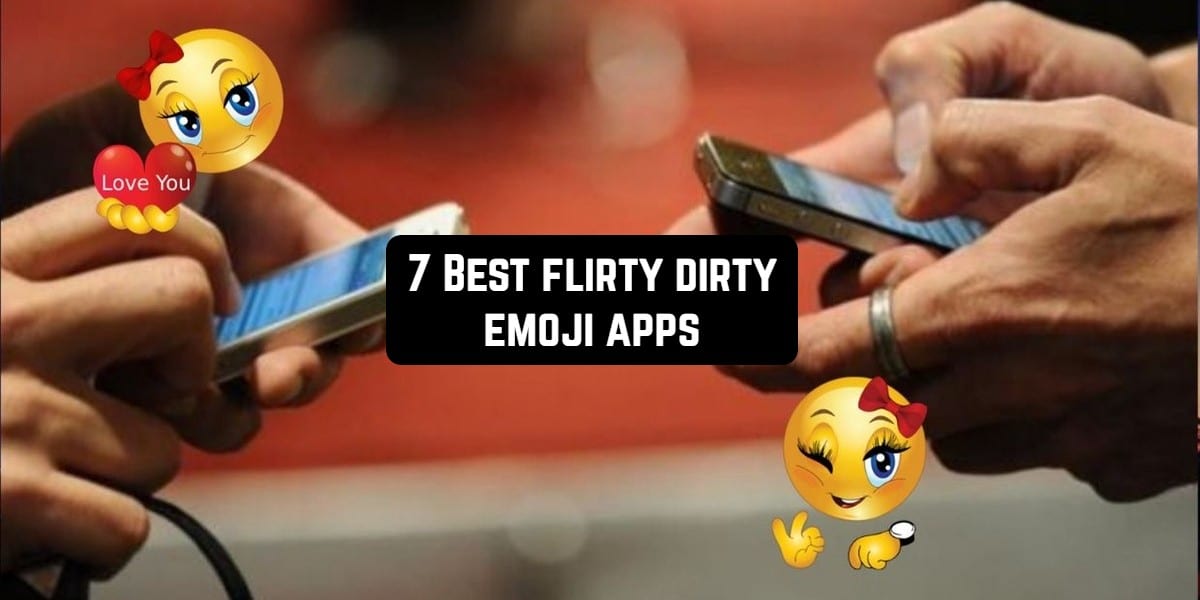 In our time we can hardly find romantic partners who do not engage in chats via their cell phones. Boyfriends and girlfriends are talking, flirting, saying words of love and even having dirty talks in a digital space via different messengers. To make it a little bit more alive we use emoji and stickers.
But now we can make these conversations really hot. There have been created a number of apps that offer lots of naughty and flirty emoticons that you can use in your playful chats. We have collected several romantic and flirty dirty emoji apps for Android and iOS devices. Install them for free and enjoy dirty talks.
Sexy Emoji & Sexy Emoticons
 If romantic emojis for flirting isn't enough for you to have a look at the Sexy Emoji app. This app has a collection of really sexy emoticons. It's definitely for grown-ups who are above 18 years old as some emoji folders contain particularly sexual pictures. You will find different variations of a simple kissing emoji you have got to use on your device.
There are some additional emojis that aren't flirty or sexy at all. The beer emoji collection or collection for teens have decent enough emoticons like a smiley burger and a glass of beer making a selfie.
Beside emoticons, there is a collection of text stickers, GIFs, and quotes in the app. All quotes are divided into 11 categories suitable for different occasions or events. Thus, you can find some words to speak about love, friendship or to say sorry.
The app`s design is made in romantic red and pink tones on a white color that suits flirty intentions. Emojis are very bright and properly drawn.
It doesn't require any registration and weighs a little. By the way its free for Android.
You can also check: 15 Best Love poems apps for Android&iOS 
back to menu ↑
Flirty Emoji Adult Icons
Flirty Emoji Adult Icons is an application that offers around 500 different sweet romantic, flirty dirty and provocative emoji. Be creative,  emotional and open-minded in a chat with your beloved one. You can use this app to add some fresh air to your relationship. Whether you chat with a new boyfriend or talk to your husband this emoji can add some fun to your talks.
There a lot of really naughty emoticons so the app isn't appropriate for those who are younger than 18 years old. Download this app to check all kind of emoji and introduce new emojis to your lover. You can share emoticons with your friends via Messenger. Twitter, an e-mail.
The app is free to download. It's available for iOS devices.
The designers have done a really good job drawing bright and accurate lovely images of emoji. Indeed, These emoji can talk better than typed words.
back to menu ↑
Flirty Dirty Emoji
Flirty Dirty Emoji is yet another flirty dirty sexy emoticons app for iOS devices that is suitable to use in chats with your friend or lover. With it, flirting online now can be so much more fun.
It's well known that its a quite hard to translate all your emotions into words. There are no gestures or facial expressions that can clearly show that you are flirting.
Thanks to developers for creating such apps like Flirty Dirty Emoji. Now you can spice up your relationship and add more intimacy to your chats.  This app will provide you with hundreds of romantic lovely flirty and dirty sexy emotions.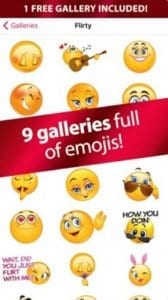 There are 9 packs of emoticons in the app categorized by themes: naughty, sexy, dirty, party, and etc. Each pack can be unlocked with a little payment around 1$. Such a price won't cost you an arm and a leg, so go ahead to check all of them.
back to menu ↑
Flirty Love Emoji
Flirty love emoji app is created for those who want to express their feelings fully through simple text messages. This Android App is free to download and use but with in-app advertisements that some of you can find annoying.  
However, the app has a high rating and has been downloaded thousands of times. It proves that the app is in demand and quite helpful. You can judge it yourself looking at what the app has to offer.
Despite emoji, you will find various stickers, GIFs, quotes and some colorful text messages. All of them are related to love, romance and flirt. You can share any of the emojis and stickers via social media, messengers, and email.
back to menu ↑
Naughty Stickers
It `s never been so easy to share your feelings and emotions in a digital space with your romantic partner as with Naughty Stickers app. Lots of love related stickers and emoji are available to you in this free application.
Be creative in a chat with your girlfriend or boyfriend adding more flirty naughty emoji that work better than just bare typed words. There is a chance to add a spark and spice up a relation.
Browse a vast number of dirty flirty emoticons;

Share them via all kinds of social networks;

All stickers and emoji are high resolutions.
All emoji are categorized into several groups: Naughty stickers, party emoji, xxx emoji and stickers, kiss emoji, etc. The app also has a romantic phrases section where you can get inspired to say words of love to your partner.
back to menu ↑
Love Story Stickers
 Love Story Stickers is different from others as it has no emoji but stickers only. But it deserves to be downloaded and here is why. Fun, love, emotions, flirting and cuddling are displayed on these stickers. There are lots of feelings and intentions shown in each sticker.
The images are high-resolution pictures drawn in details and showing hugs, kisses, and mutual desires. Most of them are hilarious.
These sticker packs application is for WhatsApp only. The app itself has a high ratimg and has been downloaded for more than 50 thousand times. It's free for Android users with in-app adds. There is a similar application for iOS users with a bit different graphics stickers.
The app is simple to use- just download, open and tap to add stickers to WhatsApp.
You can also check: 17 Best free chat apps to talk with strangers for Android&iOS 
back to menu ↑
Adult Emoji Animated Emoticons
Adult Emoji Animated Emoticons is yet another app for iOS devices with a big collection of emoticons dedicated to flirty talks. You can find emoji that will replace your words of love and desire. You can enrich talks with your beloved girlfriend or boyfriend, refresh your daily routine chats with a wife or a husband. Also, you can flirt much more effectively with a newly met romantic partner.
The app is absolutely free and easy to use via different messengers. Collections are divided into romanticly lovely or flirty dirty categories. Some of the emoticons can be used in sexual talks.
Beside static emoji, the app offers animated ones. The graphic of the emoji is fantastic. Colors are bright and the image is a high definition. Just give it a try and you may find that these emojis are perfect for you.