Whether you are a video editor or just a video shooter, you know exactly how to work with video content processing applications on Windows or Mac computers.
There are many specialized applications for personal computers, but it is not always convenient to use bulky laptops and PCs. You can be on the road, outdoors, or the video is so small that it is a shame to even turn on your computer.
The mobile app market provides very basic editing tools. From the functionality of trimming video and formatting the image size, overlaying audio tracks, and slowing down or accelerating the video itself.
But there is almost no replacement of a background anywhere, and if there is, the image after processing loses quality, silhouettes of subjects are washed away, and as a result, we receive bad quality and unsatisfactory results.
We decided that we should at least try to find acceptable variants of video processing. We are ready to present to you 9 Best green screen apps for Android & iOS that we managed to find.
You may also like: 12 Free Apps to Add Your Face to a GIF (Android & iOS)
Chromavid – Chromakey green screen vfx application
When you are shooting video, it is not enough to just stand against a green background and set up the camera. The process is much more complicated for a successful future installation.
Chromavid will help you to simplify it if you are shooting your video not on the camera, but on your mobile phone. Smartphone cameras now allow you to do it with ease, the quality will not be inferior to the professional one, but the question of setting up a green screen is a little problematic.
You can check whether everything is set and configured correctly in the app before starting the shooting process. How does it work? For the standard green screen check, you shoot a short video or take a photo and check the image for correct settings when you transfer it to your computer. But it makes the process longer, so you should try Chromavid to speed up the process.
Initially, you need to choose the color of your "green screen", no matter how ironic it sounds. The background color can be green, blue, red, or yellow. Next, select the background image – you must save it in advance in the gallery for Chromavid to have access to it. And that is it, the background replacement process is complete! Surprised?
The ready-made video can be shared in social networks and uploaded to YouTube at once. However, Chromavid has a number of drawbacks as well: you cannot fully format video.
That is, the background can be changed only on the already mounted video, or you will have to change the finished content in another application. And in general, Chromavid does a great job and is a suitable utility for iOS and Android.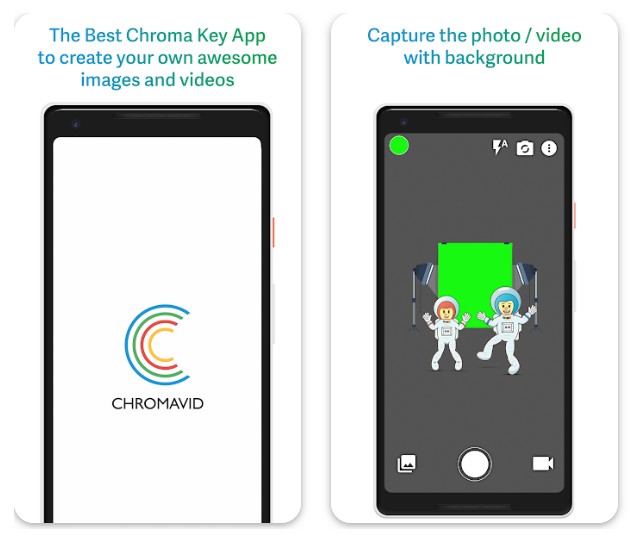 You can also check: 11 Best slow-motion video apps for Android & iOS
PowerDirector
PowerDirector is a full-fledged video editor, which has the functionality of these editing services for personal computers. With the help of this tool, you can fully create the final version of the video, ready for distribution or use.
Besides work with a green screen, you receive the editor of an audio track, imposing of effects and the text, change of duration, acceleration, or delay of the image. But the functionality we are interested in is in replacing the background.
You will need to choose the background color – homogeneous blue, green or other colors. In the application, you can adjust the hardness and brightness of the color by changing the Denoise value with the slider.
This way you can make the background more transparent and edit the image directly in the application. One of the important features is that PowerDirector leaves little blur around the edges of the main image.
PowerDirector is the free version that necessarily uses a watermark on ready rollers, and the maximum final quality makes 720. Having bought the Premium version for 4 dollars a month, you can save video even as FullHD and without extra signs.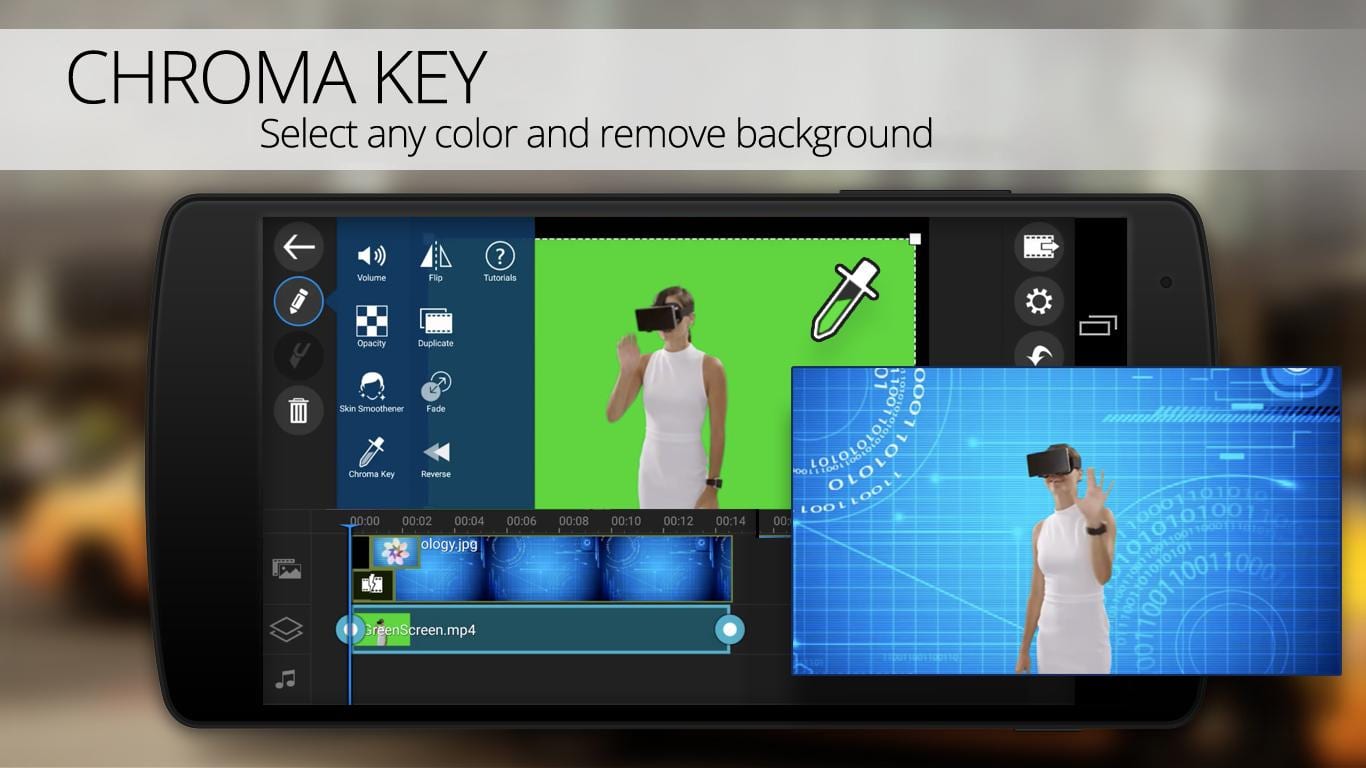 KineMaster
Kinemaster is a universal video editor for Android and iOS. You get the full functionality of the computer editor – trimming, audio editing, sounding, superimposing several layers, and connecting subtitles. If you want to be mobile in video editing, you should consider KineMaster as a utility for your smartphone.
The application interface is standard: the editing bar at the bottom, a set of tools at the side, and several other settings. Initially, you should choose one of the available colors. There is no special palette in KineMaster – this is one of the drawbacks.
That is, you must select it yourself using the slider from the entire RGB palette. If you, like most people, are not perfectly capable of getting the color on the whole palette – then you will feel uncomfortable.
Next, you can get down to replacing the background. Editing can be done by dimming and brightening the background, changing details, and adjusting the level of transparency and background stiffness. If necessary, you can view the video in black and white for easy editing – this will make it easier to adjust the color rigidity.
As with PowerDirector, you have a watermark on the resulting video. Thus the quality of the video is much higher. The watermark is removed by purchasing a Premium account. But even in the free version of the users is available to the full functionality of replacing the background.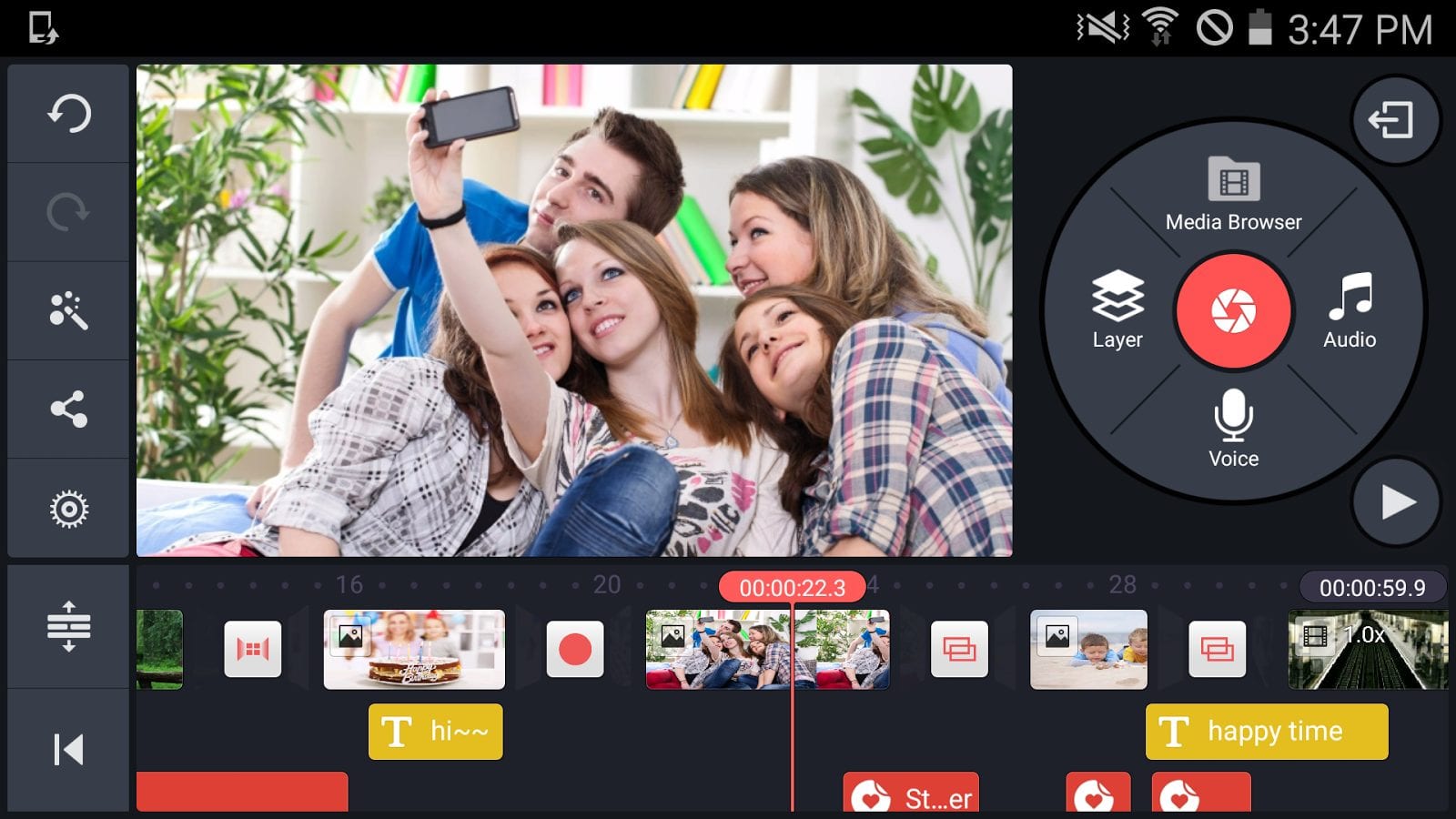 Stop Motion Studio
Of course, the Stop Motion Studio application is not specialized for replacing the video background, but this function contains it. Initially, the utility is designed to create clips with still images. The application is effective and easy to use, and the intuitive management of the tools helps even unfamiliar users.
Animated objects are easily detected automatically by pressing, which helps to highlight the background color as close to the contour of the image as possible. This gives you the ability to perfectly position the background image frame.
This quick selection saves you time and significantly speeds up the process of changing the background image. Once selected, you can quickly return to editing and use other formatting tools.
Using the green screen, you can create bright still images. You get the maximum quality of 720 on the video output – so you cannot test FullHD quality. But you can immediately post the finished video to social networks without even using your computer.
The application is chargeable. You need to make a small contribution of 1 dollar each month to access the green screen function.


Green Screen by Do Ink
The app is considered to be one of the best training applications for beginner video editors in the United States. Teachers' associations find the app useful and intended to help students. The ease of use allows you to quickly edit the video and get great results in a short time.
By combining several images into one, you get a video clip with a new background. You can upload images from the gallery or from the Green Screen by Do Ink itself.
You can use the application in real-time, or you can edit a video you have already shot and edited. You can highlight up to 3 elements in a video at a time, rotate them, zoom in and out. The color scheme is also available for editing.
If you do not have time to finish your project, all you need to do is save it in the application itself – and the next time you use Green Screen by Do Ink, you can continue to do so.
The application automatically selects the green color and replaces it with a blank black color. There are sliders for background stiffness and brightness that you can change at your will. You can change the background not only to the ready-made photo or video but also just change the color or hue.
Green Screen by Do Ink has an intuitive and simple video editor interface. However, it is worth noting that there are no standard editing tools, so you do not need to use only Green Screen by Do Ink to get the final result.
You will have to pay a fee to use the application and you will have to pay $3 for it. In our opinion, it would be a reasonable price to pay for the full functionality of the application, but it is up to you to decide whether you should pay for a single replacement of the background.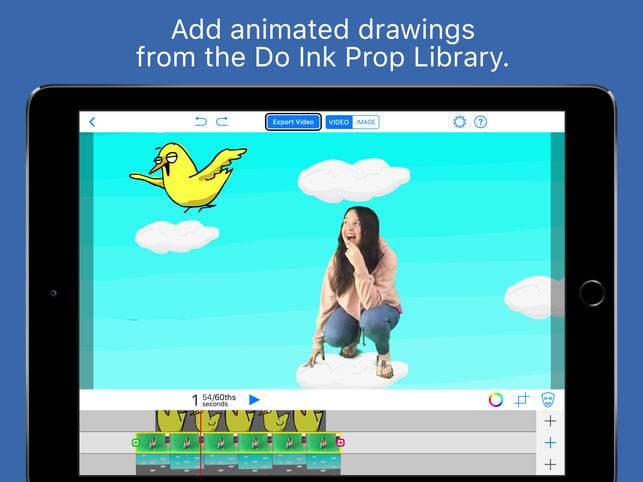 You may also like: 7 Best VHS apps for Android & iOS
Green Screen Studio
Green Screen Studio is a tool for iOS devices that allows you to replace the monochromatic background with any other one you want. The color keyboard allows you to edit the video, mix 2 different textures or scenes of the image or adjust the color and transparency.
You can automatically highlight the monochromatic background or use the manual background change function if you do not have a uniform background.
To get started, you need to upload the desired background image and source file. For more accurate and detailed editing, you can scale the video in manual mode. You can also adjust the overall image using the brightness, contrast, and hue sliders.
Increase blur and sharpness for the desired result. Add text, stickers, and ready-made content. You can send it directly to your email or save it to your smartphone. In addition to replacing the background, you can use standard tools: the effect of red eyes, nose, changing spots.
The main thing is that the video should have a good color rendering. If the light is evenly distributed over the green background, it only takes a couple of minutes to change the background.
One nuance: The other items in the video should not be the same shade as the background. If this is the case, Green Screen Studio works in manual mode. Either way, for $5 you get a great tool for changing the background directly to your iPhone or iPad.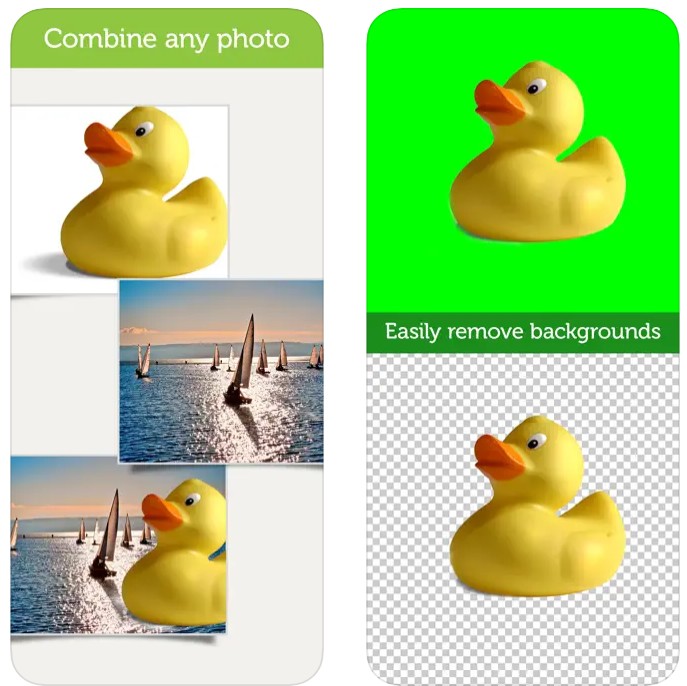 Magic Green Screen Creator
If you are a video blogger or just often make videos for your own purposes you can find this software quite useful.
Give a special permission to the app in order it can use your videos from the phone gallery. Then you should add a green screen, which is perfect for making professional-looking videos. Using this software, it is possible to create amazing video content.
The user interface is user-friendly, and the app's features are accessible, even for beginners. However, it is worth mentioning that the app's free version has limited features, and to access all the app's functionalities, users will need to pay for the premium version.
Unfortunately, some users have reported issues with the app, such as crashes and glitches. The app's performance can be slow, and some features may not work correctly.
Advantages:
User-friendly interface.
Quality green screen effect.
Easy to use for beginners.
Drawbacks:
Limited features in the free version.
App performance can be slow.
Glitches and crashes reported by some users.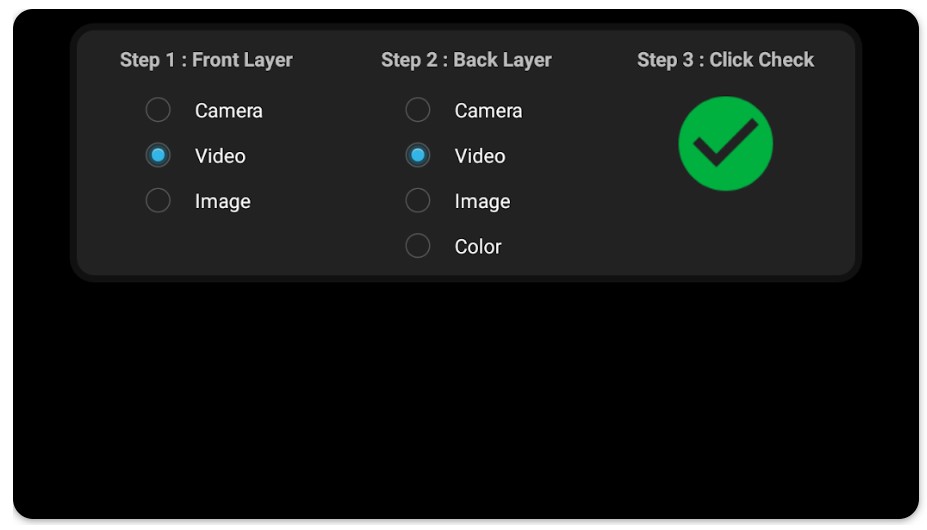 AI Green Screen
AI Green Screen is a great tool that provides an opportunity to create an amazing video content with its green screen effects.
There are a lot of special editing elements to crop, trim, correct the color and so on. They all enhance the quality of the video content.
It also includes pre-installed backgrounds that make it much easier to choose and experiment with different effects.
The editing tools and effects are simple and can be used even common people who have no special skills. It is not the most advanced video editing app available, but it is perfect for basic video editing.
Although, the service may have bugs and freezes which distract from the editing process. Fortunately, users can face these issues very rarely.
Advantages:
Intuitive user interface.
A variety of green screen effects.
Pre-installed backgrounds.
Basic video editing tools.
Drawbacks:
App crashes.
Importing videos may be problematic.
Graphics could be improved.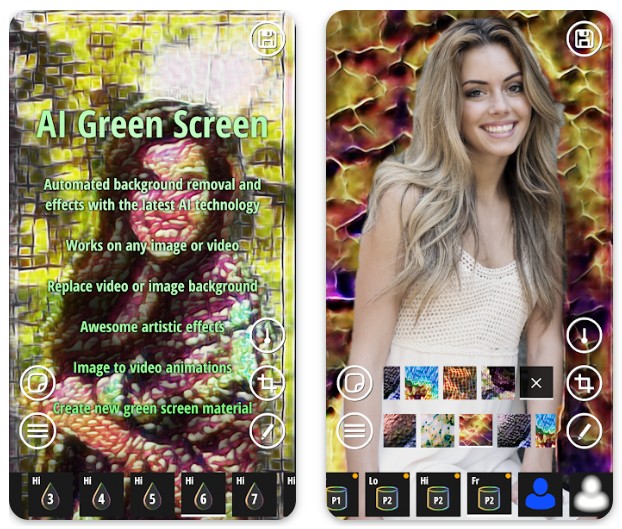 Green Screen Wizard Mobile
For the more or less advanced level, this green screen app will be an interesting choice for you. The best aspect of it is that it brings very realistic results which are significantly better than you can get in other apps even though they are easier in usage. There are currently 25 thousand people who use Green Screen Wizard Mobile.
The main feature that helps this app stand out from the crowd and what makes it more professional is that here you can use the color and light correction on the vids in order to make them look as realistic as possible. There is a number of other advanced features that will help you to make a realistic scene.
What is more, Green Screen Wizard mobile has the tutorials for each version of it, which is great and means that you don't have to waste the time to figure it out yourself.
This feature makes this app suitable for all ages. The only thing is that it doesn't have an image resizing feature. And by the way, if you even want to install this program on your Mac – it will be insanely expensive.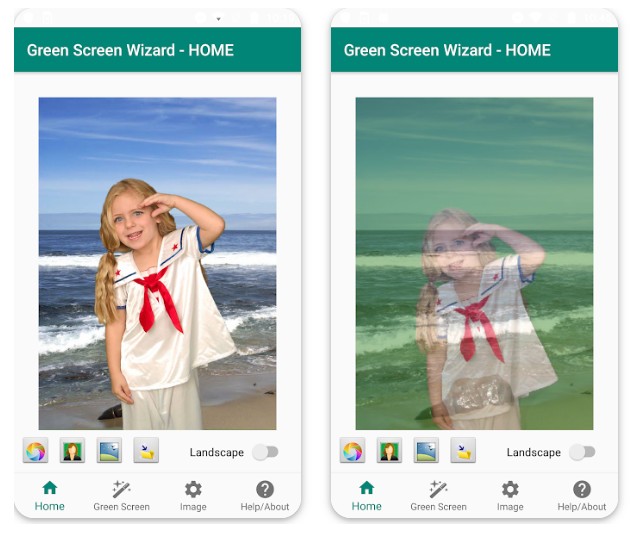 Green Screen Video Status
Green Screen Status is an app designed to help users edit videos by replacing the green background with a different image or video.
Users can select a video or image to edit and choose the green screen background they want to replace.
They can then select the image or video they want to use as a replacement and adjust the position and size of the replacement to fit the original video or image.
The app also includes basic editing features such as trimming and adjusting brightness and contrast.
Also, the app's design is minimalist and easy to navigate, making it simple to use for even first-time users. However, some users have complained that the app crashes frequently, which can be frustrating when trying to edit a video.
One flaw of the app is that it doesn't support video editing in 4K resolution, limiting the app's functionality for some users
If you're looking for a simple and free video editing app, Green Screen Status is worth using, but if you need advanced features, you may want to look elsewhere.
Advantages:
Simple and easy to use.
Basic editing features.
Drawbacks:
Crashes frequently.
Limited functionality.
Includes ads.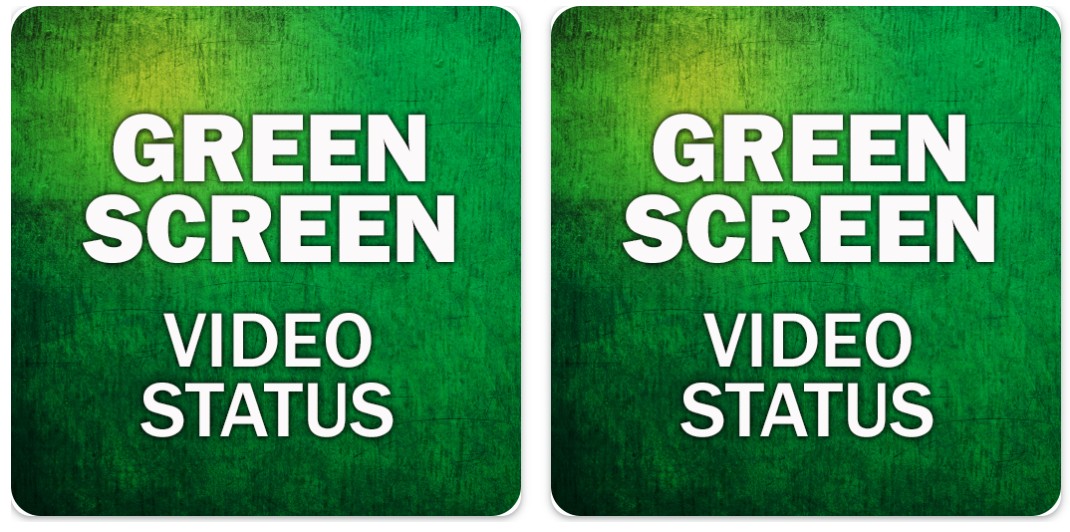 You can also check: 13 Best video merger apps for Android & iOS
Video Background Remover
This is a service for people who prefer to edit their videos with comfort.
It is possible to cut backgrounds from videos in just a few clicks. Additionally, the app is created with a user-friendly design in order to let all the users feel free making content.
The app is clean and simple, with the necessary options readily available.
Moreover, the video rendering is quite smooth and doesn't take too much time. Sometimes the app crashes, and some users have reported problems with the output quality of the videos.
However, some users have reported issues with the ads, which can be a bit intrusive at times.
Video Background Remover is a handy app that does its job well. It's easy to use, has a straightforward user interface, and can remove backgrounds from videos quickly.
Advantages:
Easy to use.
Can remove backgrounds from videos quickly.
Drawbacks:
Minor flaws like occasional crashes and output quality issues.
Some intrusive ads.