Creating flowcharts is not so difficult if you have found a good app that will completely cover your needs in creating charts. Here is a list of the best flowchart maker apps for everyone.
By the way, you can also check our article about free diagram maker apps as well.
Flowdia Diagrams Lite
Flowdia Diagrams Lite is your key to unlocking the world of flowcharts and visual creativity.
This app simplifies the process of creating flowcharts. Begin with a blank canvas or choose from an array of templates. Connect shapes effortlessly, add text, and witness your flowchart take shape like magic.
It also caters to a wide audience. Whether you're a student organizing complex ideas or a professional mapping intricate processes, Flowdia Diagrams Lite is your trusty companion.
There are no limits to your creativity. Create as many flowcharts as your heart desires. Flowdia Diagrams Lite adapts to your creative flow seamlessly.
Main features:
Template library
Shape library
Exporting brilliance
User-friendly interface
Flowdia Diagrams Lite isn't limited to flowcharts alone. It's a versatile toolkit that extends its capabilities to floor plans, mind maps, and beyond. Let your creativity flow in various directions.
In summary, with boundless flowchart potential, an easy-to-master interface, and multifaceted capabilities, Flowdia empowers you to tell your visual story with confidence.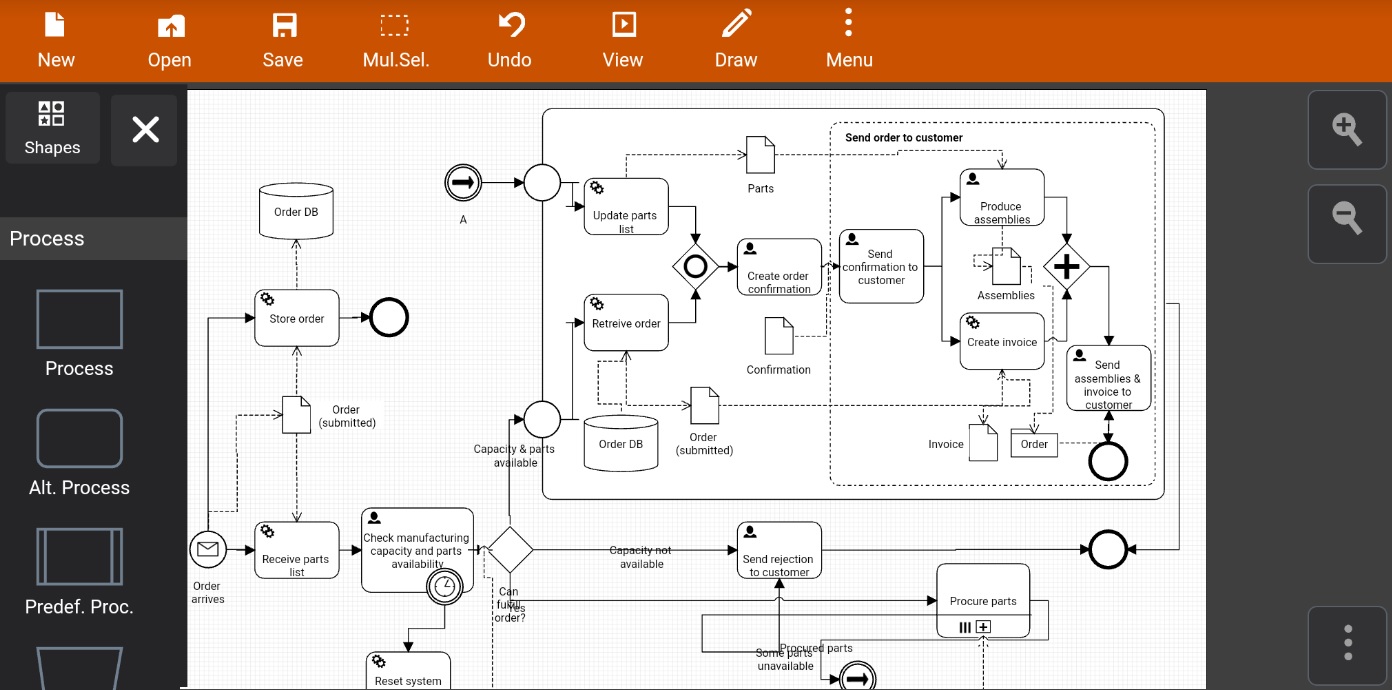 You may also like: 11 Free Presentation Apps for Students (Android & iOS)
FlowCharts Surveys & Workflows
FlowCharts Surveys & Workflows is a stellar player in the world of flowchart apps. It's renowned for its versatility, making it a beloved choice among businesses of all shapes and sizes. From startups to established enterprises, it caters to everyone.
It's an indispensable tool for:
Streamline operations by mapping out intricate processes step by step
Identify bottlenecks and inefficiencies for enhanced productivity
Craft engaging surveys to gather valuable insights
Plan projects with precision, ensuring all tasks are accounted for
Visualize decision-making processes for strategic clarity
Main features:
Dive into a rich collection of templates designed to kickstart your projects
Personalize your flowcharts with various shapes, colors, and styles
Share your creations in multiple formats for seamless collaboration
Work in teams, review, and comment on flowcharts for effective teamwork
An intuitive design ensures effortless navigation for users of all levels
In addition to its primary features, FlowCharts Surveys & Workflows surprises users with bonus capabilities, such as real-time collaboration, automated notifications, and data analytics. These extras make it an all-in-one business powerhouse.
In conclusion, FlowCharts Surveys & Workflows is a stellar choice for businesses seeking to streamline processes, improve workflows, and enhance decision-making. Its versatile applications, user-friendly interface, and bonus features make it a valuable asset in the business world.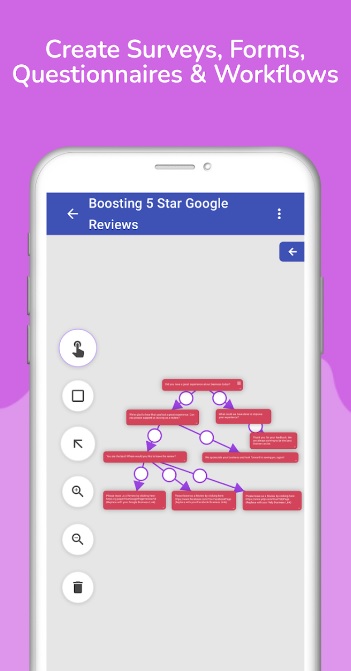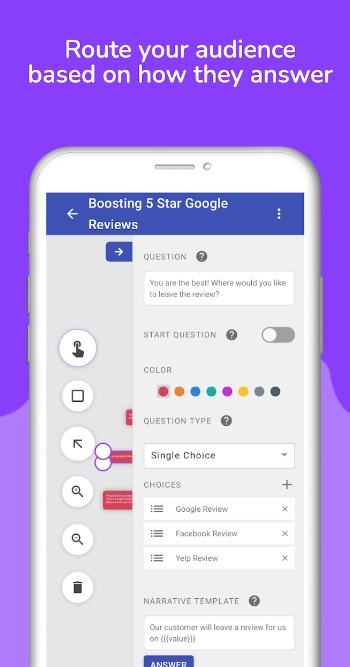 Miro
Miro has garnered immense popularity for good reasons. It's the go-to app for teams and individuals looking to collaborate visually in a digital space. Its reputation is built on its ease of use and extensive feature set.
Miro is a versatile tool with countless applications:
Whether your team is in the same room or spread across the globe, Miro fosters seamless collaboration
Plan, organize, and track projects visually with boards and timelines
Stimulate creativity by brainstorming ideas, mind mapping, and concept organization
Create an array of diagrams, including flowcharts, org charts, and more
Craft web and app prototypes, wireframes, and mockups
In Miro, customizing objects in flowcharts is a breeze. Adjust shapes, colors, and elements to tailor your diagrams to perfection. Miro's user interface is designed with simplicity in mind. It's welcoming to both beginners and seasoned professionals, making navigation and collaboration effortless.
Main features:
Explore a treasure trove of templates tailored for different industries and purposes
Collaborate simultaneously with multiple team members on the same canvas
Seamlessly integrate with popular apps like Slack, Trello, and Google Drive for a streamlined workflow
Personalize boards and diagrams with endless shapes, colors, and creative elements
Miro empowers you to unleash your creativity by creating custom templates, fine-tuning layouts, and incorporating your unique branding elements.
In a nutshell, I can say that Miro is your ultimate canvas for visual collaboration and limitless creativity.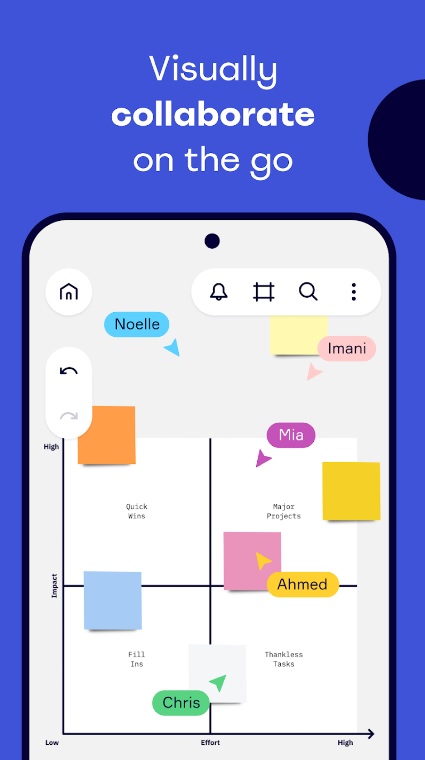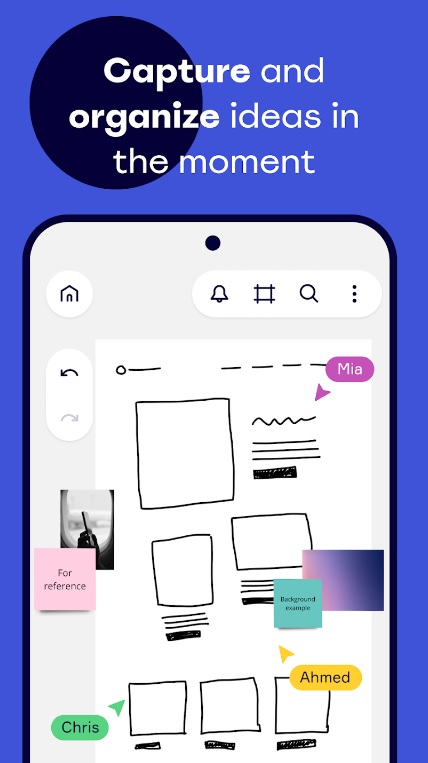 Lucidchart
Lucidchart stands out for its user-friendly approach and robust feature set. It's a favorite among professionals, educators, and creatives for its intuitive design and ease of use.
With Lucidchart, you're not limited to a single type of flowchart. You can create a wide array of diagrams, from simple process flows to complex org charts, decision trees, and more.
Lucidchart finds its use in various domains:
Streamline processes, create organizational charts, and design workflows
Craft interactive lesson plans, concept maps, and visual aids for teaching
Plan software architecture, depict data flows, and design user interfaces
Develop Gantt charts, timelines, and project roadmaps
Design mind maps, wireframes, and prototypes
Lucidchart's user interface is clean and crisp design, coupled with a soothing color palette, ensures an enjoyable and productive experience.
Main features:
Choose from a vast collection of templates to kickstart your project
Real-time collaboration allows multiple users to work together seamlessly
Integrate with tools like Google Workspace, Microsoft Office, and Slack
Effortlessly add shapes, lines, and icons to your diagrams
Create interactive charts and graphs to convey data effectively
Lucidchart offers a canvas for your creative endeavors, allowing you to design, visualize, and communicate your ideas effectively. Lucidchart offers paid plans for individuals, teams, and enterprises, providing access to advanced features and enhanced collaboration tools.
In conclusion, whether you're mapping out business processes or brainstorming ideas, Lucidchart ensures that your visualizations are lucid, vibrant, and impactful.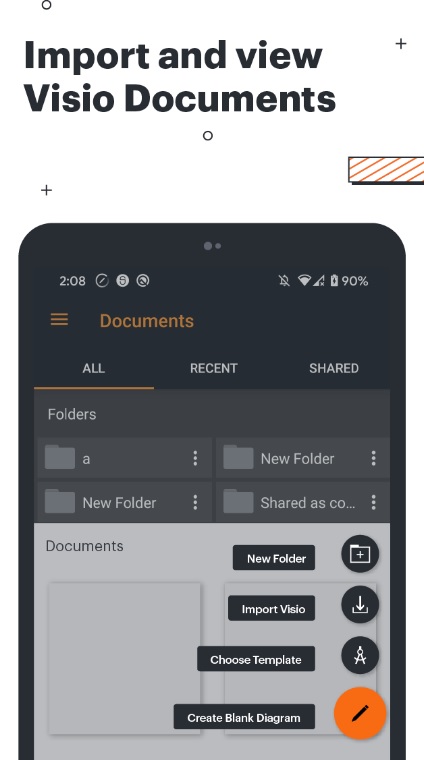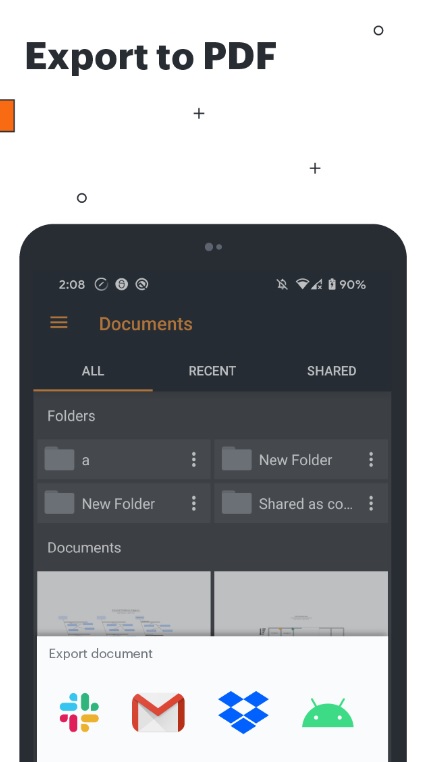 You may also like: 7 Free Billboard Makers for Android & iOS
EdrawMax
EdrawMax is a versatile diagramming app that shines in its segment. Its robust features and user-friendly interface have garnered it a prominent place in the industry.
This app offers an extensive library of finished diagrams and templates for a multitude of purposes. Whether you need a flowchart, floor plan, or mind map, EdrawMax has you covered. While pre-made diagrams are handy, EdrawMax encourages creativity. You can easily create your designs, customize every element, and tailor diagrams to your specific needs.
EdrawMax's main menu is thoughtfully organized and user-friendly. It provides quick access to templates, tools, and resources, ensuring a smooth diagramming experience.
Main features:
Choose from a wide range of templates, from business diagrams to scientific illustrations
Fine-tune every aspect of your diagrams, including colors, shapes, and text
Collaborate in real-time with colleagues or teammates on the same diagram
Access and edit your diagrams seamlessly on multiple devices
Securely store and share your diagrams in the cloud
EdrawMax goes beyond standard diagramming. You can create mind maps, flowcharts, floor plans, organizational charts, and more. Its versatility empowers you to visualize your ideas in various forms.
In conclusion, EdrawMax is a top-tier diagramming app that offers a comprehensive suite of tools to meet your visualization needs.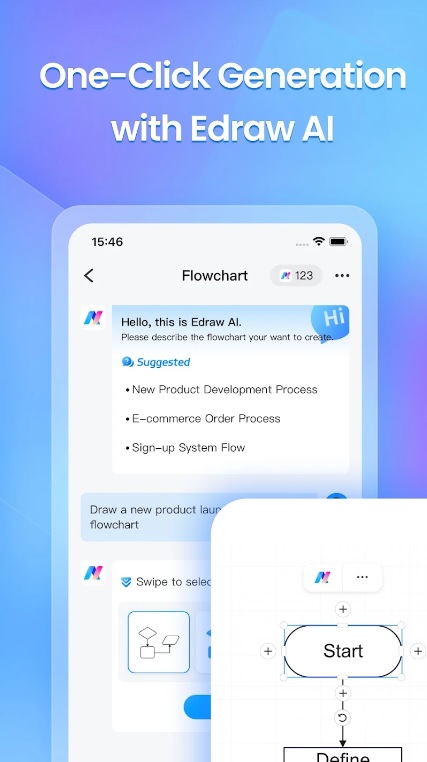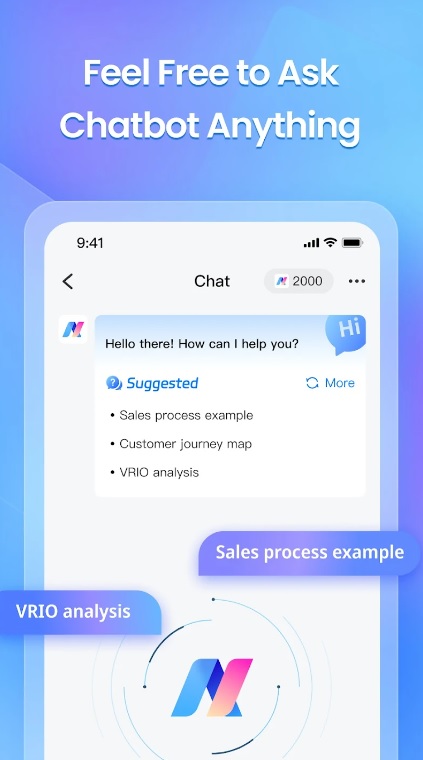 Value Charts: Flow Diagram
Value Charts is a powerful app that empowers users to create their designs and visualize data like a pro.
It stands out as a remarkable tool in the realm of data visualization. Its unique blend of user-friendliness and design flexibility sets it apart.
With Value Charts, you have the freedom to design data visualizations that match your unique vision. Customize colors, shapes, and layouts to create engaging charts and graphs that communicate your data effectively.
The main menu of Value Charts is designed for ease of use. It provides quick access to essential tools, templates, and resources, ensuring a seamless data visualization experience.
Main features:
Personalize every aspect of your data visualizations with intuitive customization options
Choose from a wide range of chart types, including bar charts, pie charts, line graphs, and more
Easily import data from spreadsheets or external sources for dynamic visualizations
Share your creations in various formats, such as PNG, PDF, or even interactive web versions
Collaborate with peers or team members in real time, making data-driven decisions a breeze
Value Charts boasts a user-friendly interface that caters to both beginners and tech-savvy users. Its well-organized layout and clear color palette make it easy to navigate and create compelling visualizations.
Beyond standard chart types, Value Charts offer the freedom to create diverse visualizations, including interactive dashboards, data maps, and infographics. Let your imagination run wild!
While Value Charts excels in many areas, some users may find the learning curve steep if they are entirely new to data visualization. Additionally, the free version may have limitations compared to premium offerings.
Finally, whether you aim to convey complex data trends, showcase business insights, or simply tell a compelling data-driven story, Value Charts offers the canvas to bring your data to life.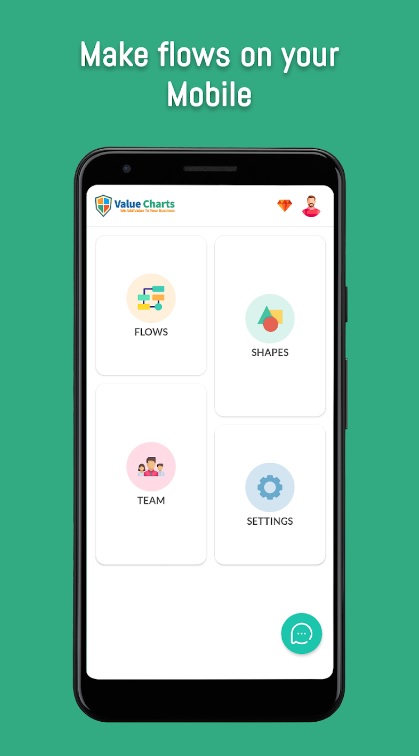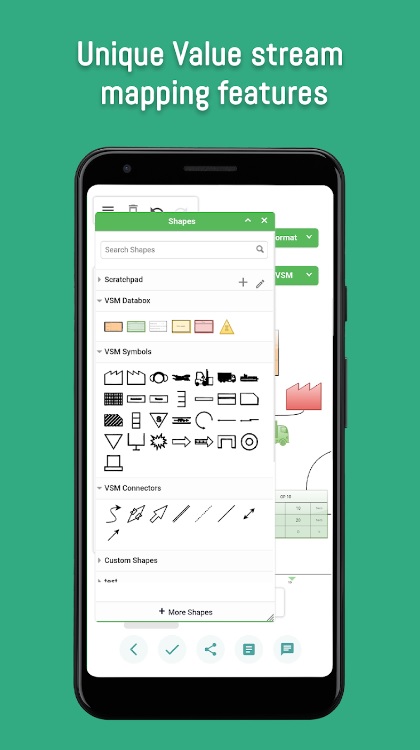 You may also like: 11 Free Apps to Make Posters for Android & iOS
Lekh
Lekh is an innovative app that allows you to create digital flowcharts and diagrams with ease.
With Lekh, you can create as many flowcharts as your heart desires. There are no limitations on your creative output, ensuring you can visualize every idea, process, or concept.
This app offers a wide range of diagram types to cater to various needs. You can create flowcharts, mind maps, organizational charts, and more, making it a versatile tool for both personal and professional applications.
The layout of Lekh's main menu is user-friendly and enables easy access to essential tools and features, making it hassle-free to start creating diagrams.
Main features:
Lekh provides a selection of drawing tools, including shapes, arrows, and connectors, for precise diagram creation
Personalize your diagrams with a range of colors, fonts, and styling choices
Easily import data or export your diagrams in various formats for seamless integration with other platforms
Collaborate with others on your diagrams in real-time, making it ideal for team projects
Lekh works offline, ensuring you can create and edit your diagrams anytime, anywhere
Lekh boasts a well-organized and beginner-friendly user interface. Its color palette is designed to be visually appealing yet unobtrusive, ensuring that users of all skill levels can comfortably navigate the app. The interface is clean and well-structured, making it easy to locate and use features.
While Lekh offers a robust set of features in its free version, there may be premium options available that provide additional functionality. These premium features may include advanced customization, enhanced collaboration tools, or an ad-free experience.
One potential drawback of Lekh is that it may not offer as extensive features as some premium diagramming tools. Users seeking highly specialized functionalities may find themselves needing more advanced software.
To sum up, Lekh is a user-friendly and versatile app for creating digital flowcharts and diagrams. Whether you're a student, professional, or creative enthusiast, Lekh provides a platform to visually express your ideas and concepts.