The background of an image can play an important role when selling products or sharing a photo on social media. You can take a charming photo at home and replace the background with an eye-catching picture of a night city.
By the way, if you want to appreciate all the possibilities of artificial intelligence, we recommend you try these free AI art generator apps from text.
In fact, thanks to the possibilities of such services, you can make any of your ideas a reality. These free AI background generators that you can use both on mobile devices and on PC will help you.
PhotoRoom AI Photo Editor
PhotoRoom is a handy mobile photo editing app. One of the main features of the app is the use of the latest tools to automatically crop photos and remove backgrounds. The app allows you to easily cut out objects, people, or items from a photo and place them on a different background.
The process of cropping and background removal is fully automated and takes just a few seconds, making the editor an ideal photo manipulation tool even for beginners. Choose any background available in the collection for your photos.
There are both ready-made backgrounds and templates where you can add your own stickers or logos. The app also gives you the option to remove the back from your photo and use another photo from your device's gallery.
The editor's collection contains many background presets in different categories, so users can easily find a suitable picture for themselves and substitute it as a backdrop for any of their images.
Apart from background removal, the editor offers other useful editing features that can improve the quality and appearance of your photos. You can apply various filters and effects, and adjust the brightness, contrast, saturation, and tone of your photo.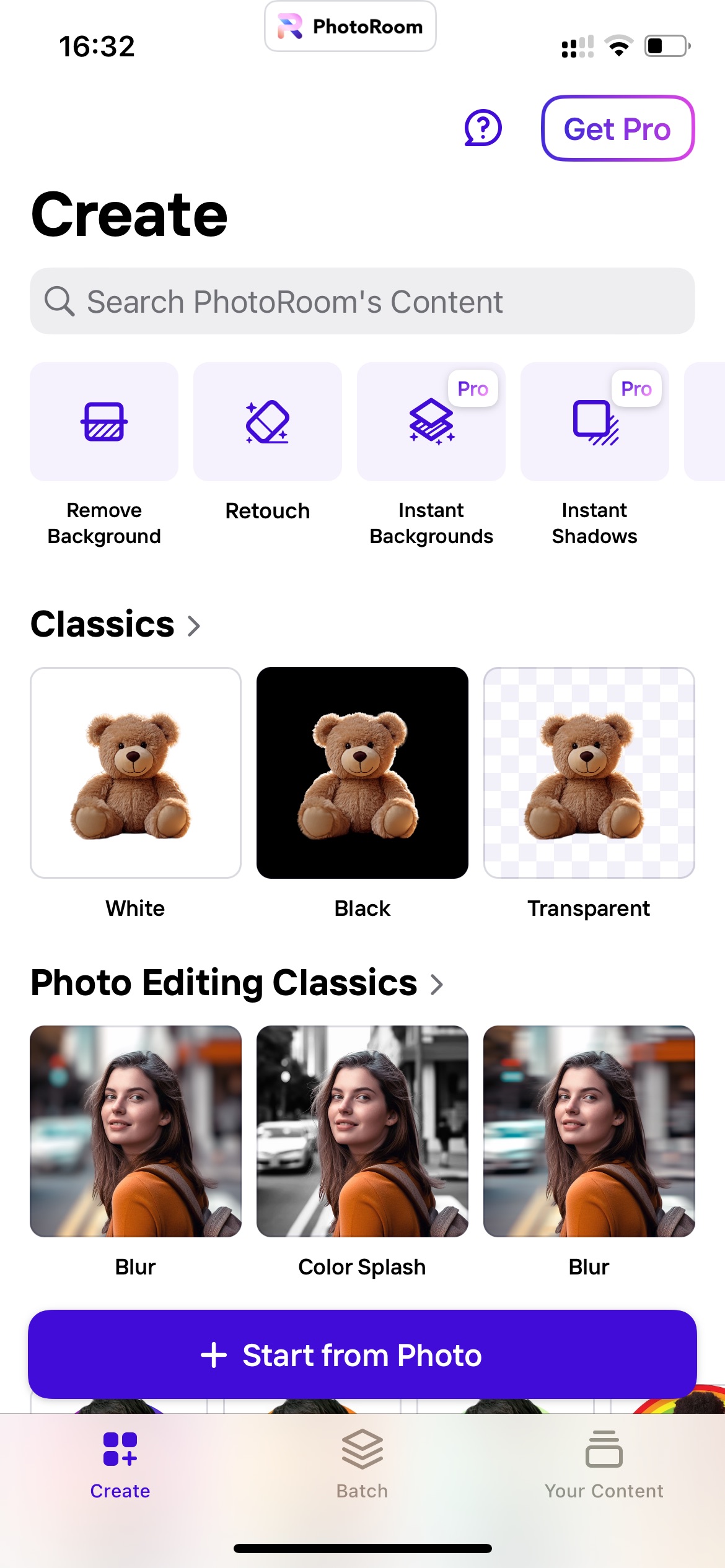 There is also an option to add notes with any font and style, stickers, and emojis to make your photo unique. Editing your photos takes just a few seconds, thanks to the use of quality modern options.



You may also like: 11 Free AI Music Generators from Text (Android & iOS)
Pixelcut AI Photo Editor
Pixelcut is an innovative photo editing app that allows you to automatically process and enhance your photos. Thanks to the app's advanced technology and features, you will be able to edit your photos in minutes.
With this editor, you can significantly improve the quality of your photos, and remove all unnecessary objects and even the background. First, select the photo you want to edit and upload it to the app.
Then you can choose one of the available editing modes: automatic enhancement, skin retouching, noise removal, tonal change, removing objects from the photo, background removal, and others. The app can adjust exposure, saturation, contrast, and other settings to make the photo more attractive and professional looking.
In addition to photos, the app can also create short videos. They are easy to edit thanks to a convenient and clear control panel with all the effects and tools on it. Merge and crop your clips to make them perfect for publishing on any social network.
The "eraser" function in the app allows you to quickly and effectively remove everything unnecessary from the picture. The absence of the object will be unnoticeable, thanks to the high-quality processing of the photo after editing.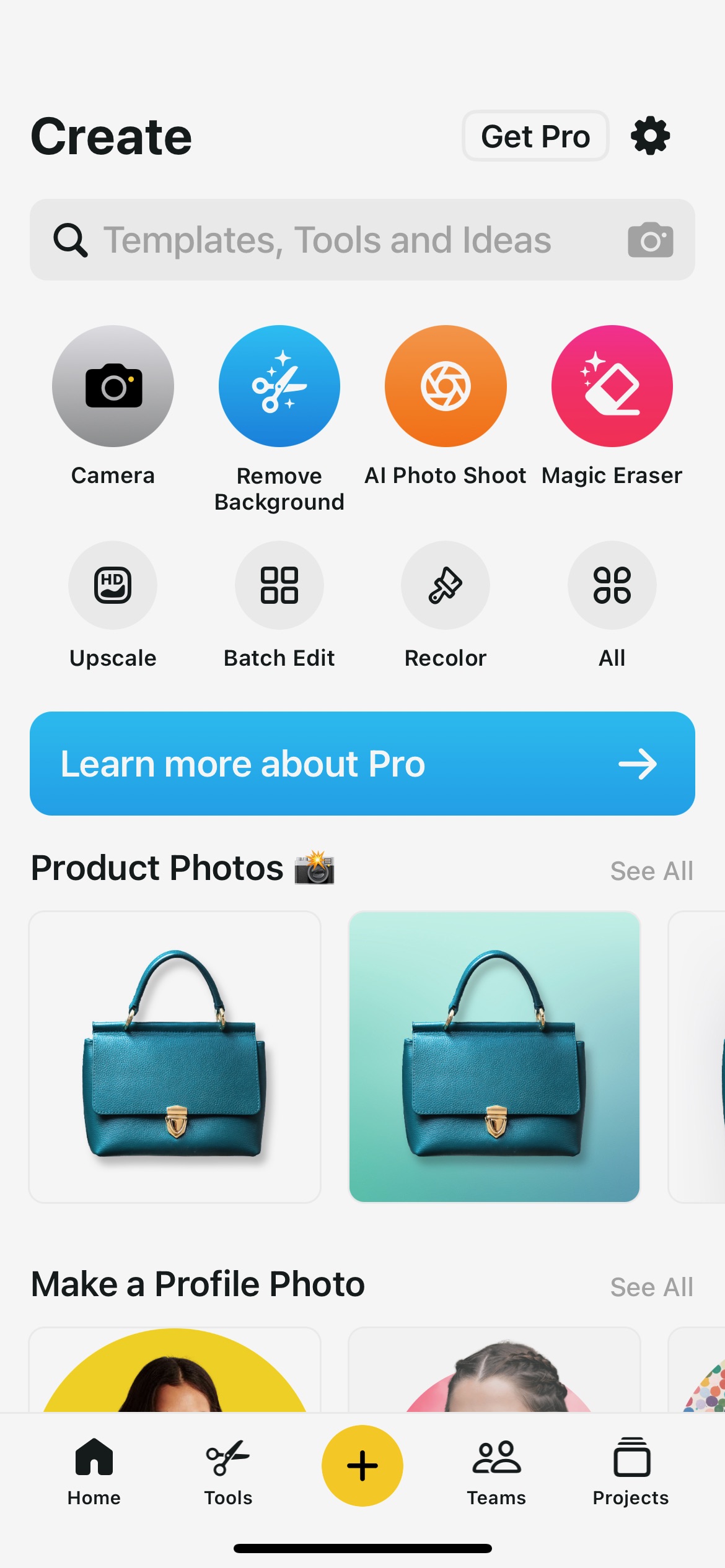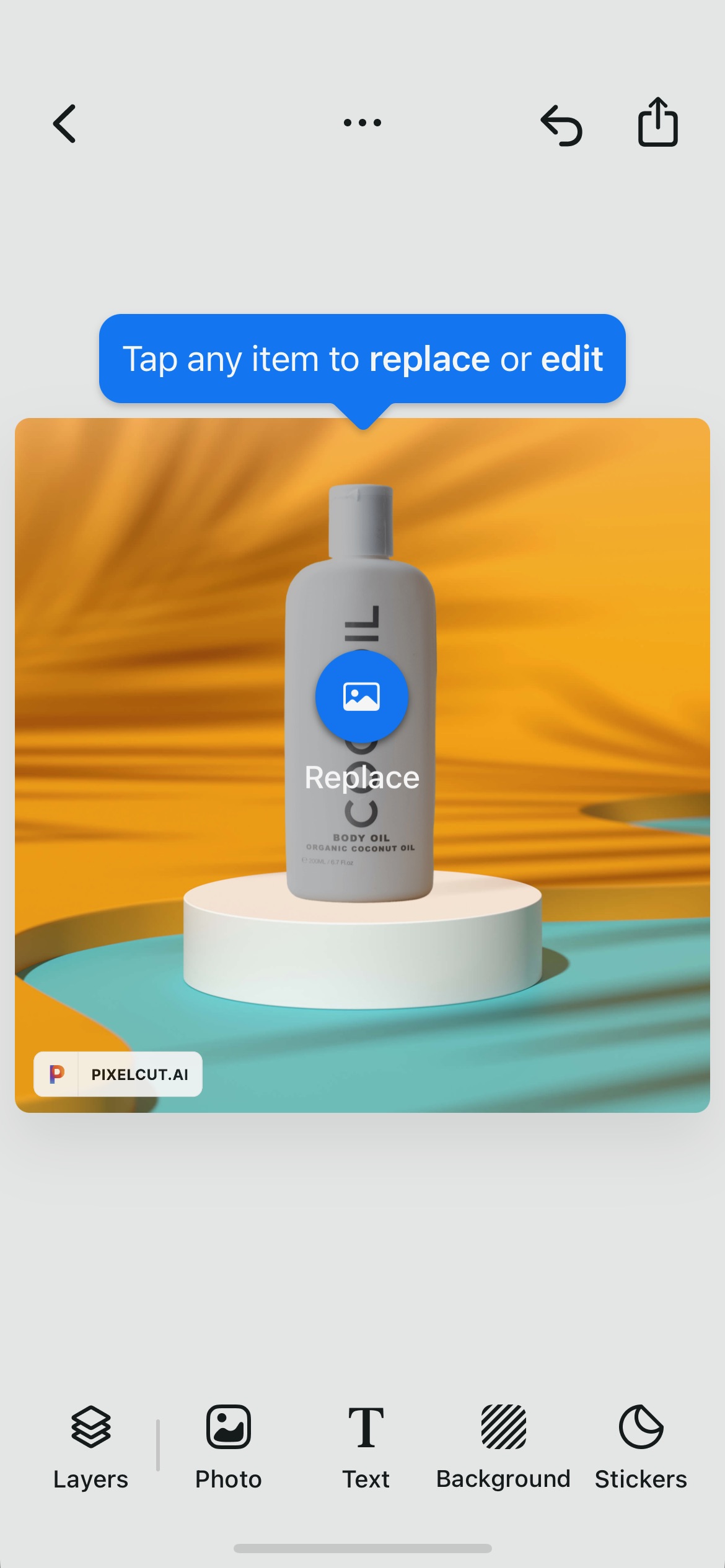 Use artificial intelligence to create a unique text for any requests. Try to make collages from several photos. Export your works to any platform and share them with other users.



Imagine: AI Art Generator
Imagine is a modern app that uses artificial intelligence to create amazing and original works of art in the form of artworks. It allows users to turn their ideas into unique pictures by processing them with a neural network.
The app uses artificial intelligence and machine learning algorithms to edit and generate unique photos. It provides many different art styles that can be applied to selected images.
These styles include creative interpretations of different art movements such as impressionism, cubism, post-impressionism, and even abstraction. The process of creating images with the app will be quite simple and fast. This generator will be understandable even for beginners, as it has a simple and concise interface.
To get started, you just need to type in your query by including some text prompts. Or you can select the desired style to be applied in the generated image. Thanks to this generator, you can create your own avatar, a picture to post on the web, wallpapers for your smartphone, and just unique posters.
Create an unlimited number of images even in the same style, because the generator is constantly updating and replenishing its collection of unique pictures.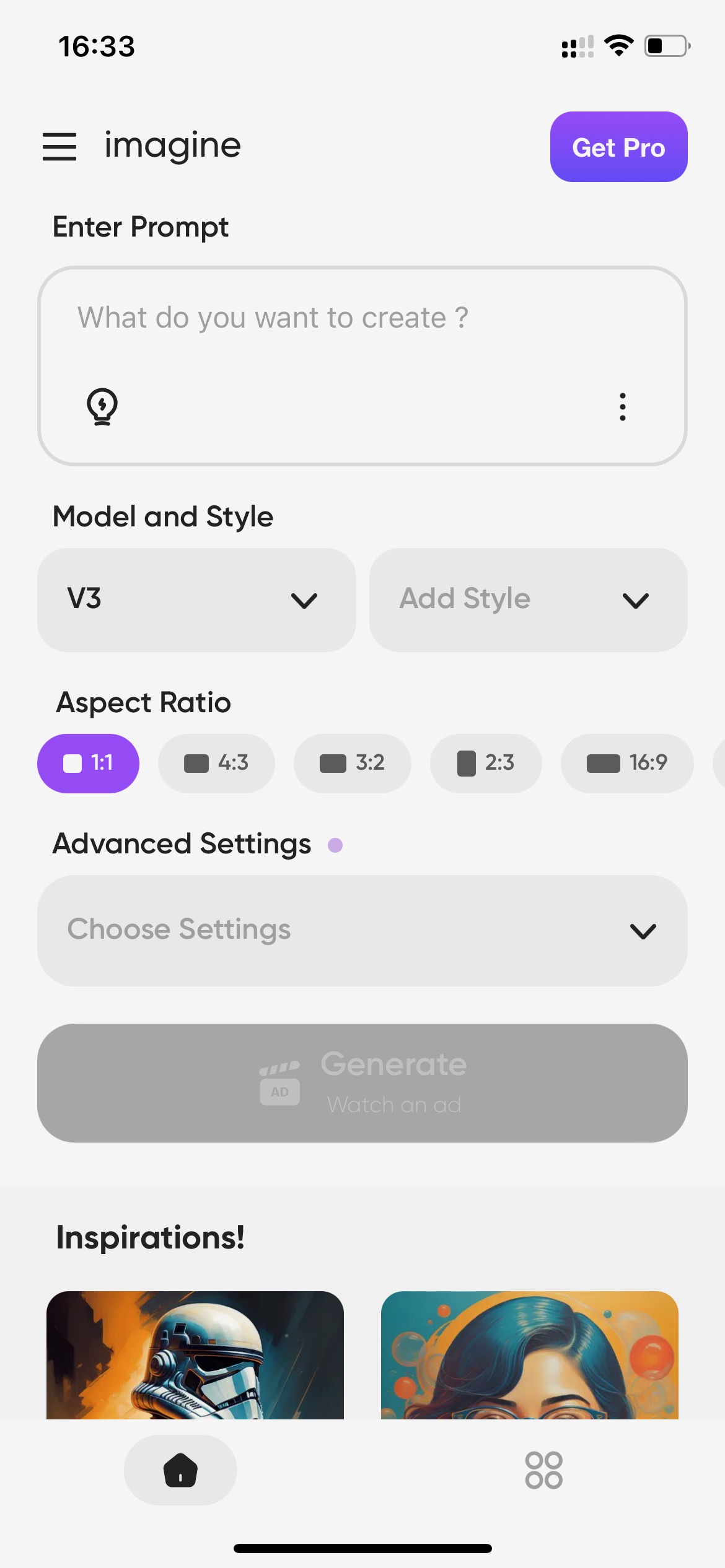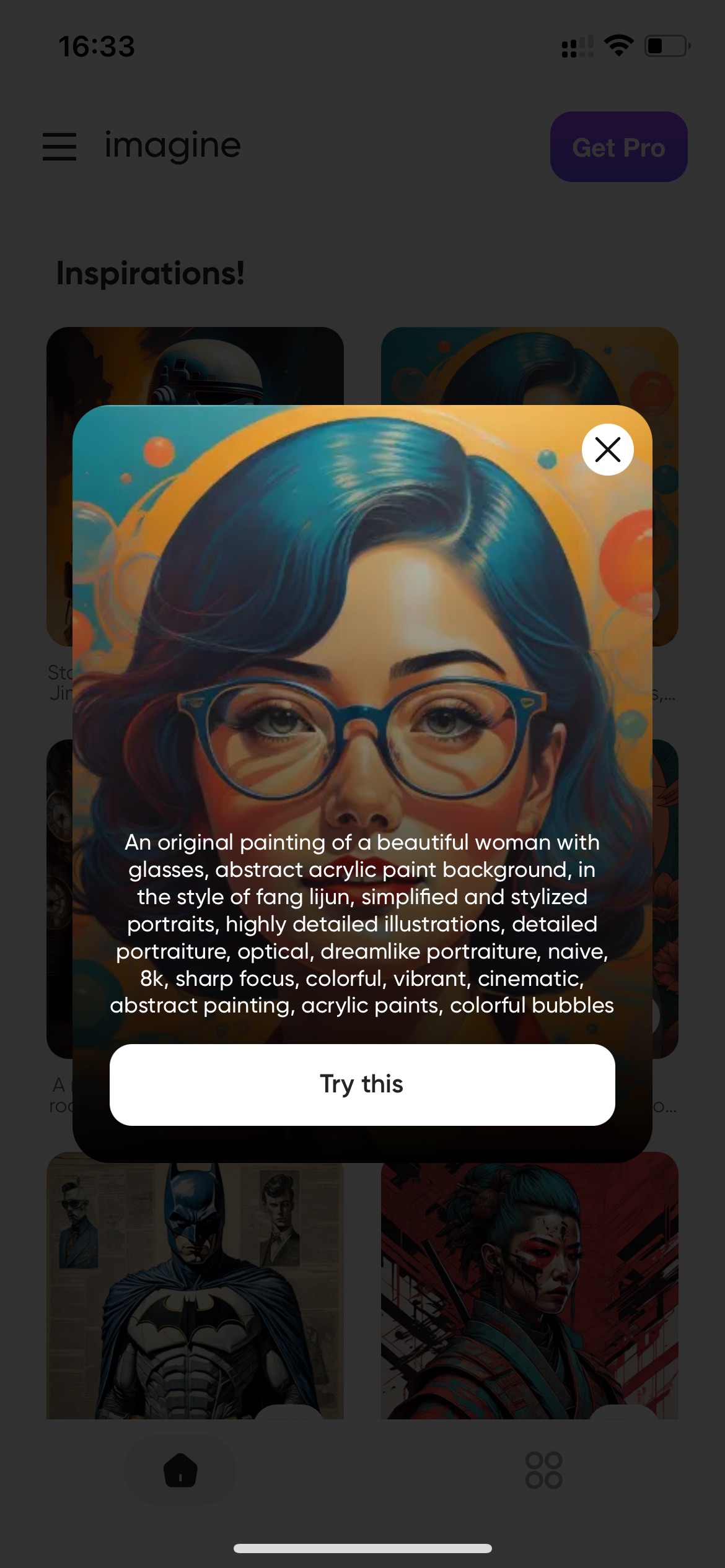 Customize styles and effects to create the perfect combination for each photo. You can adjust the style intensity, brightness, contrast, and other parameters yourself.



Pixomatic – Background eraser
Pixomatic is a multifunctional photo editing app. With its help, you can easily and quickly remove backgrounds from images, change the image background, add special effects, and turn ordinary photos into works of art.
The app has a special function to accurately remove backgrounds from images. It automatically detects the boundaries of objects in the photo and removes the background, keeping only the necessary elements. This is convenient for creating collages, stickers or combining several photos into one image.
Another feature of the app is the ability to replace the background. In the app, you can choose a new background from the gallery or use the suggested templates that include different styles and combinations of elements. Adding a new background allows you to create unique and original photos.
There are also various retouching tools that allow you to improve and customize your portrait shots. Use advanced tools to improve lighting, saturation, contrast, and other image parameters. Apply various filters, effects, and textures to give your photos a unique look.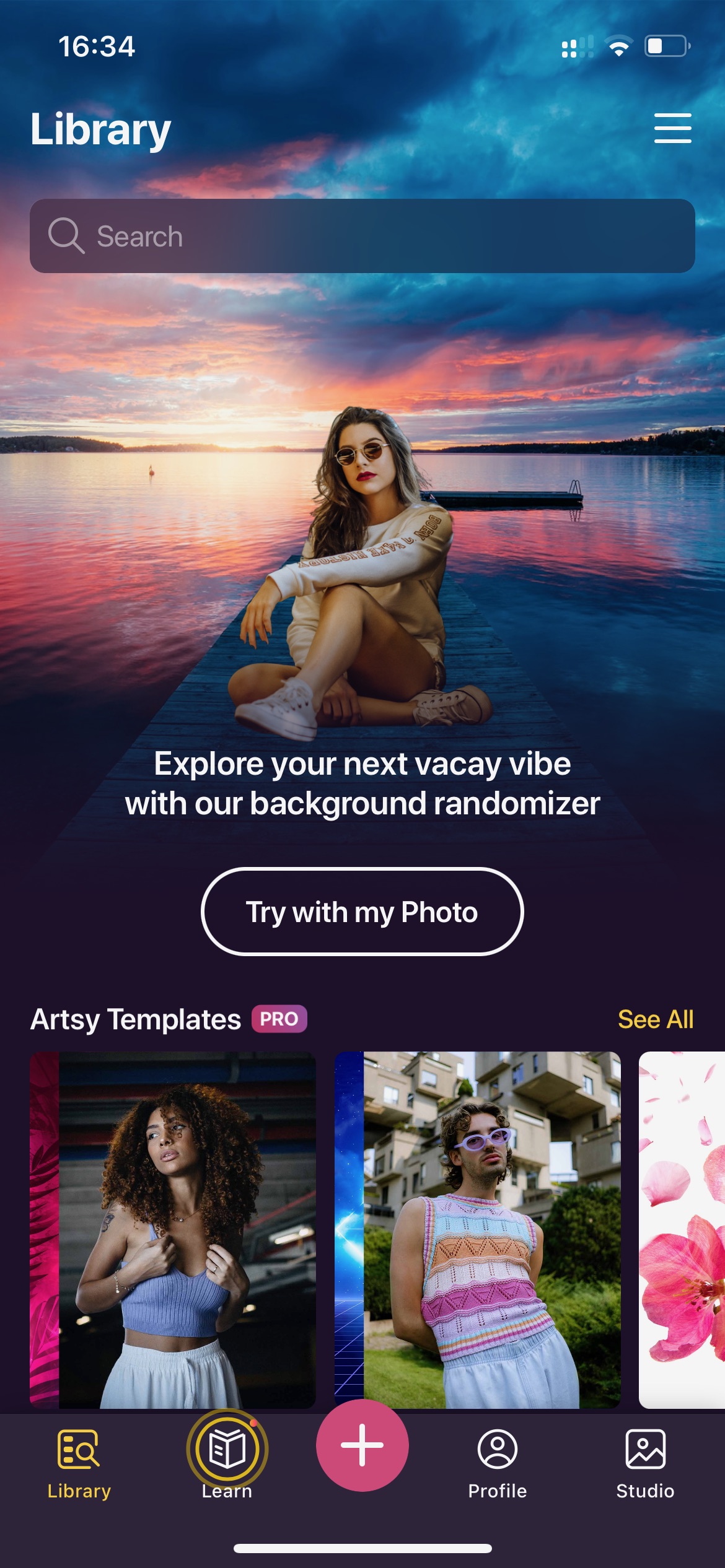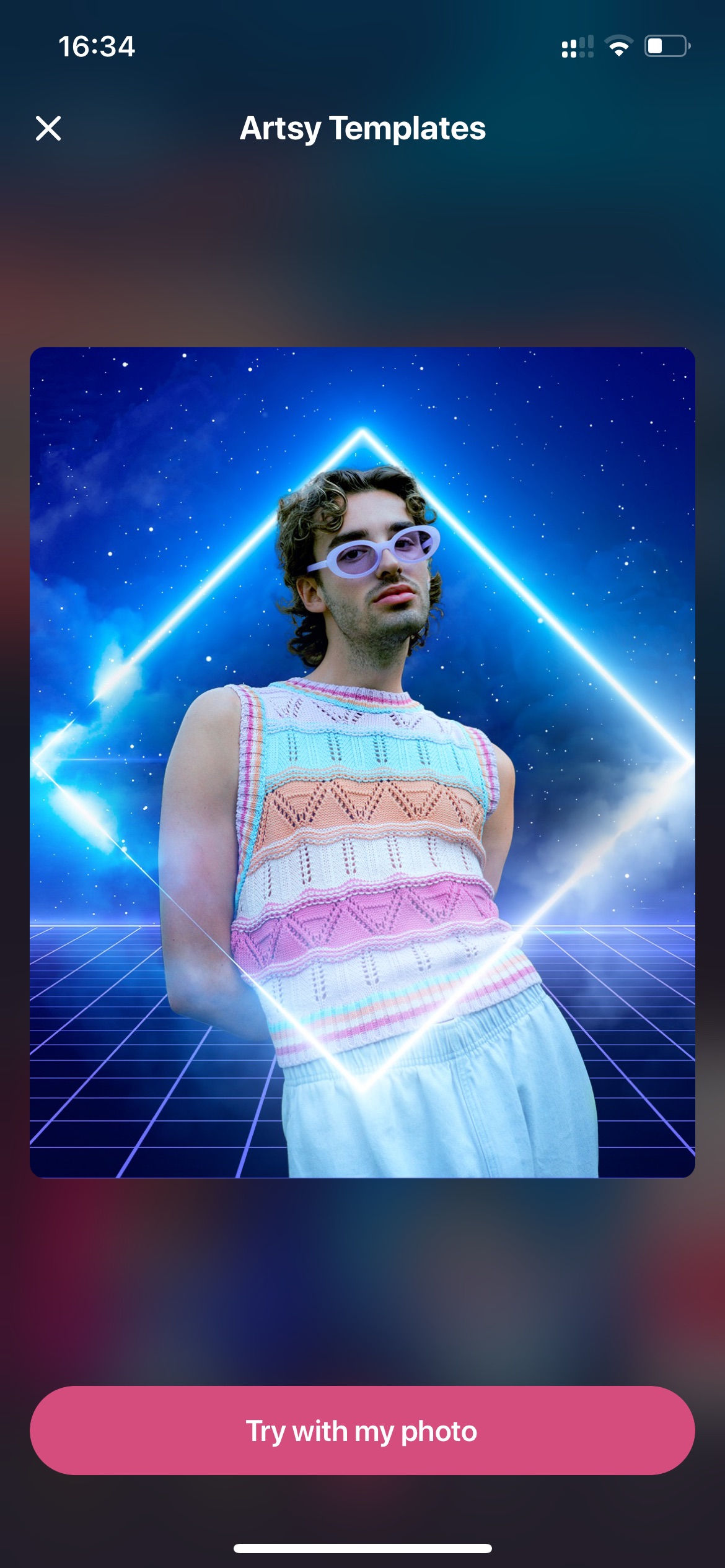 The app offers a wide range of tools for editing objects in a photo. Crop, resize, rotate the image in any direction, and edit its scale. Add drawings or text to the photo to create your unique collages and designs.



Blend: AI Background Eraser
Blend is a unique mobile app, the main functionality of which is to remove the background on images with the help of artificial intelligence. Thanks to its concise and clear interface, every user can easily and quickly remove unnecessary objects on photos and replace the old background with a new one.
Using powerful AI algorithms, the app allows you to automatically recognize objects in photos and remove the background around them. Thanks to this, you can replace or remove the back of the picture in a couple of seconds without losing details and quality.
You can track the process in real-time processing and make the necessary changes to achieve the perfect result. After launching the app, you can select a photo from your device's gallery or make a new image right in the program.
After selecting the photo, the app will automatically process the picture and remove the backside. You can use the brush to add or remove elements, and adjust the brush size and transparency for a more precise selection.
The app offers a huge range of tools to effectively process any subject pictures. Apply different effects, customize image settings, resize and zoom the image, and add captions and stickers. Use a new picture to photograph objects or people from the available collection in the app.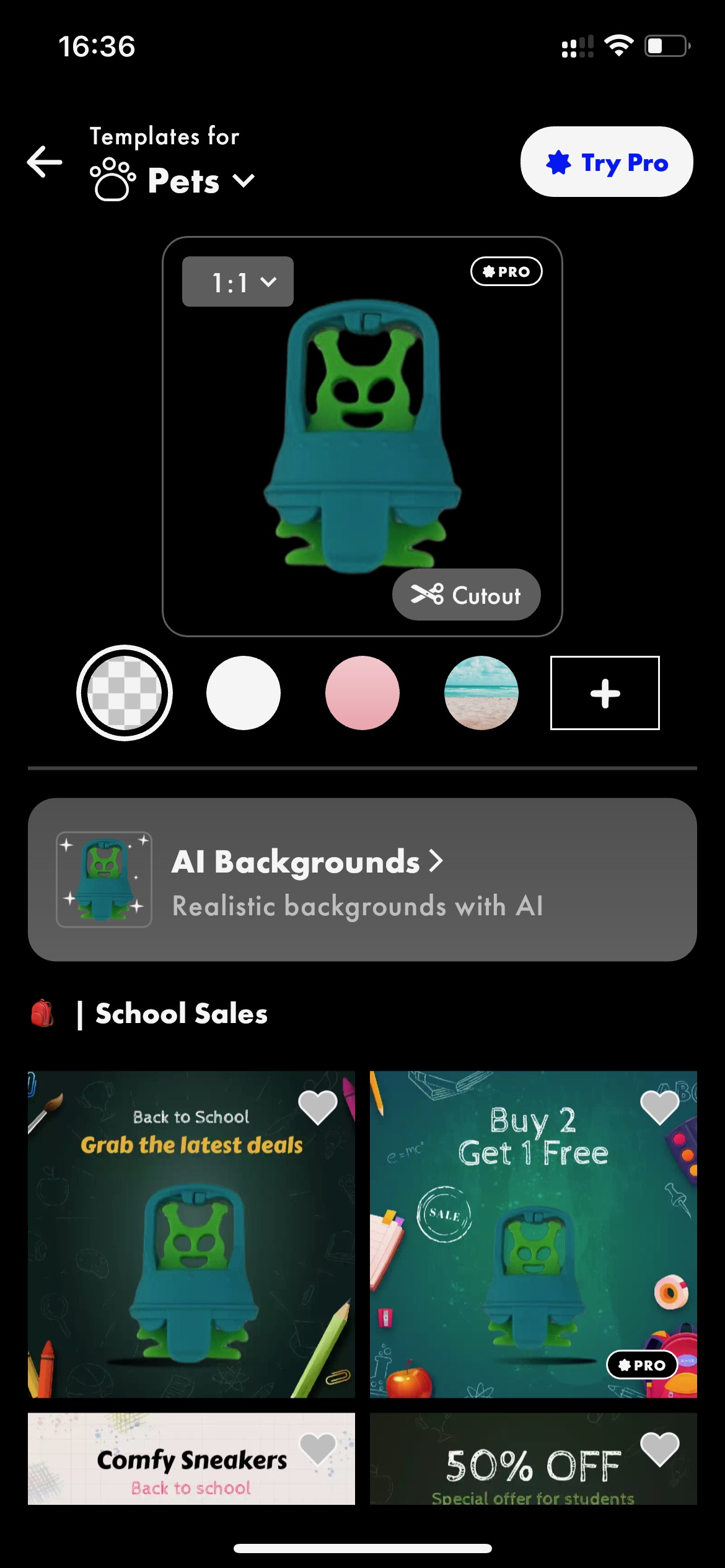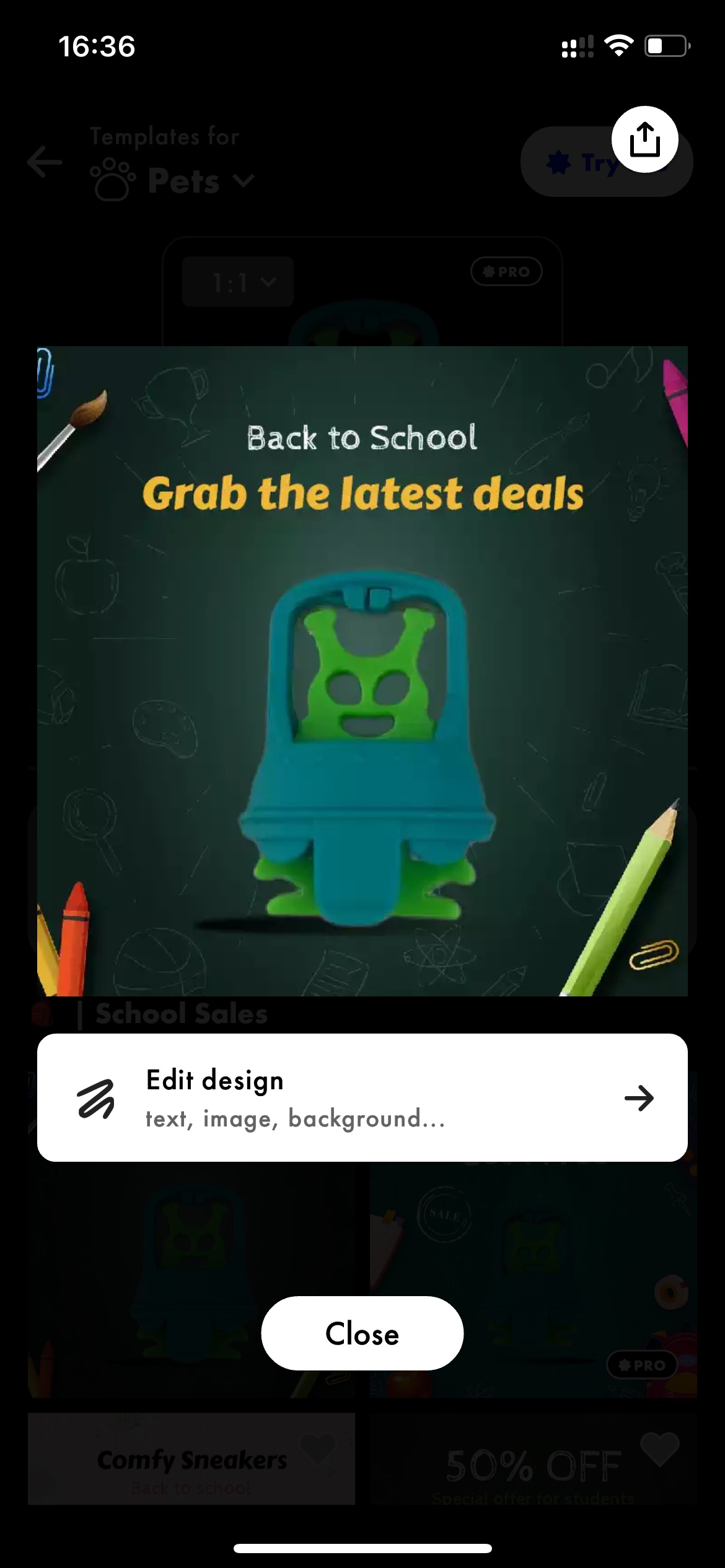 Here you can choose the perfect background for any subject, and artificial intelligence will help you in this too.



PicWish: AI Photo Editor
PicWish is an innovative photo editing app that uses artificial intelligence to create unusual and unique photos.
This editor has a distinctive ability to recognize objects in photos as accurately as possible. It automatically applies appropriate filters and effects to improve image quality, including removing backgrounds while preserving quality and all necessary details.
With the app, you can add a variety of filters: black and white, vintage, retro, and many others. Also, you can customize the settings of each filter yourself to achieve the perfect effect on your photos. Remove unwanted objects or replace the background with one of the options offered in the app.
There is a huge assortment of presets here, but you can also upload your own option or import it from any convenient platform. The app offers a number of image editing tools. Adjust the brightness, contrast saturation, sharpness, blur, and other parameters of your shots.
With these tools, you can achieve the perfect subject image or portrait shot. Add creative texts and fonts to your photos. Fill your pictures with stickers and emojis, as well as logos and distinctive marks.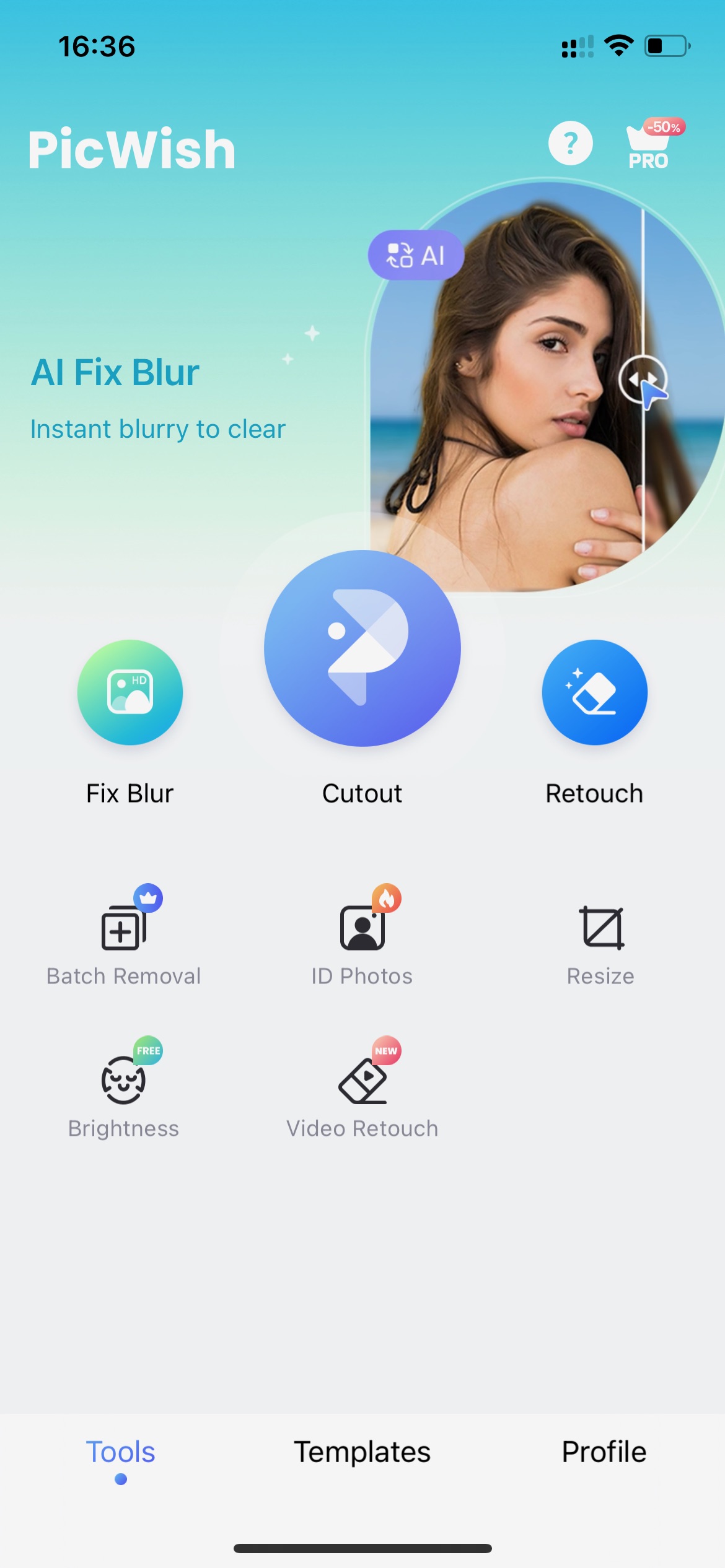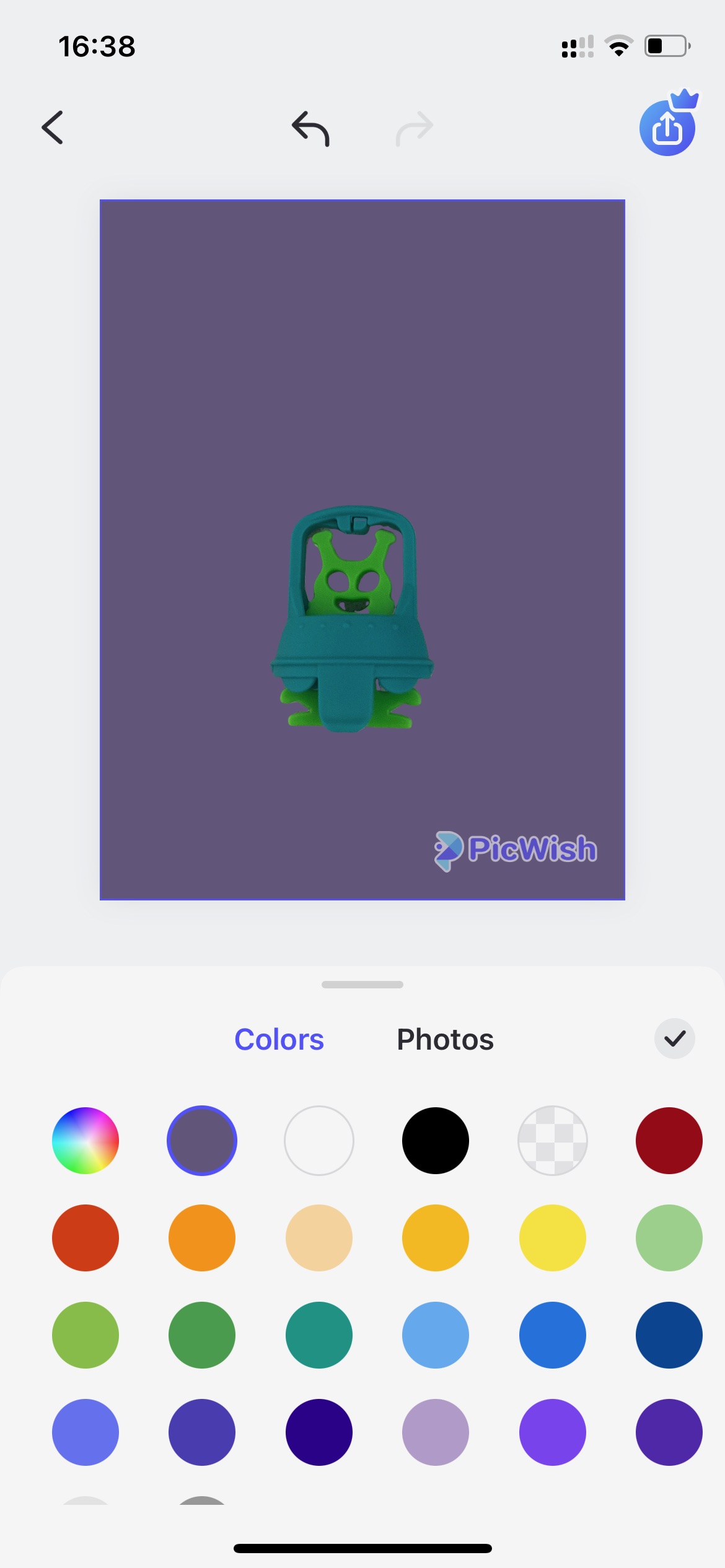 Create collages from multiple photos. Choose layouts and frames, and then fill them with your pictures. Save your work and share it with others via any social media and online platforms.



You may also like: 15 Free QR Code Generators (Apps & Websites)
Background Remover & Eraser by Desygner Pty Ltd
This is a photo editing app that is designed to remove the background on your images in a high-quality way and process your pictures efficiently. It is a powerful tool that allows you to separate objects in your photos from the background using artificial intelligence.
You don't need Photoshop or graphic design skills to use this app as it offers a simple interface and clear functionality. The app allows you to neatly and quickly remove the background from a photo.
To replace it, you can choose a new image as the back picture or select patterns and other combinations from the available collection.
When using the program, you can remove the background with high precision and save the objects in the image in PNG format. Thanks to this feature, you will be able to insert images on other backgrounds or integrate them into various design projects.
The app also has features and tools for quick image processing. Edit your images and customize their settings according to your preferences, so that ordinary photos turn into real works of art.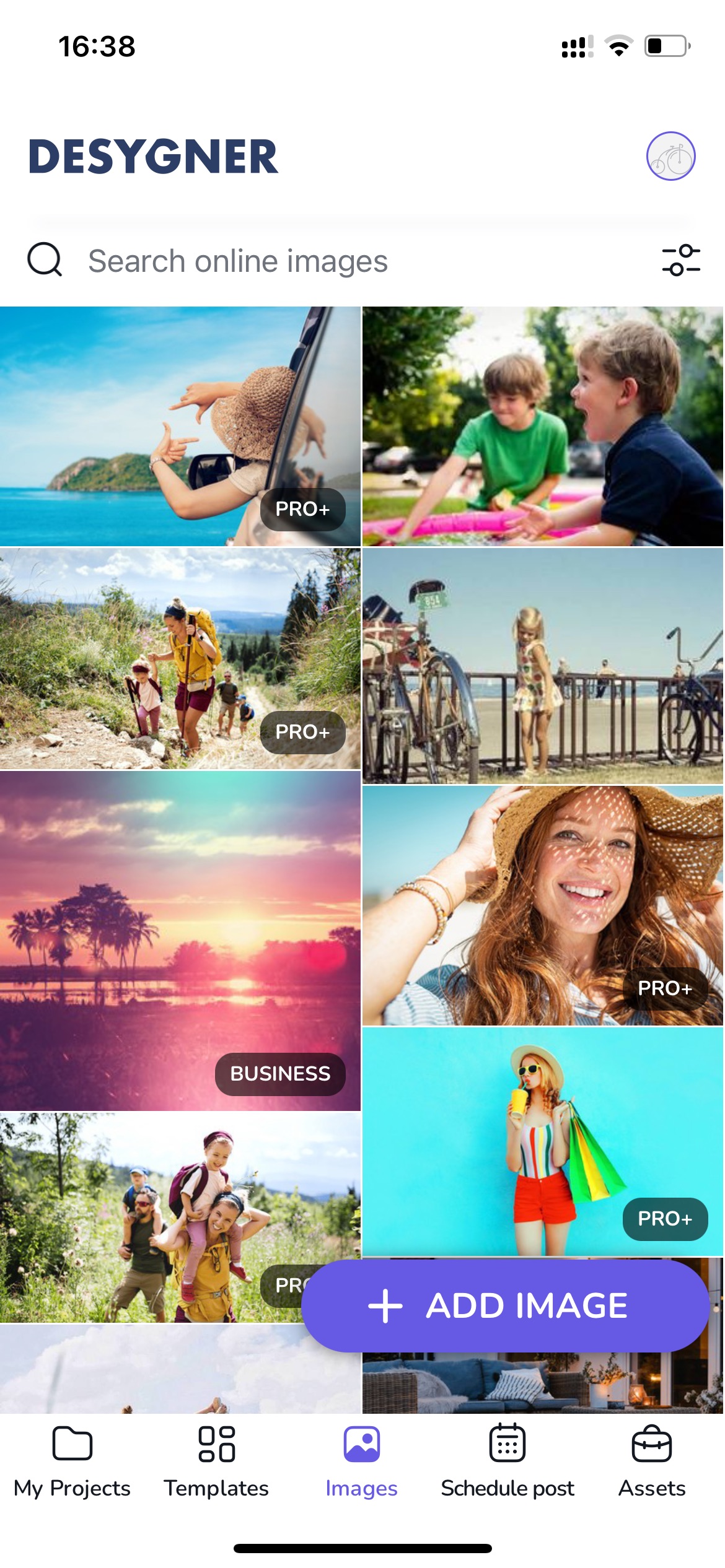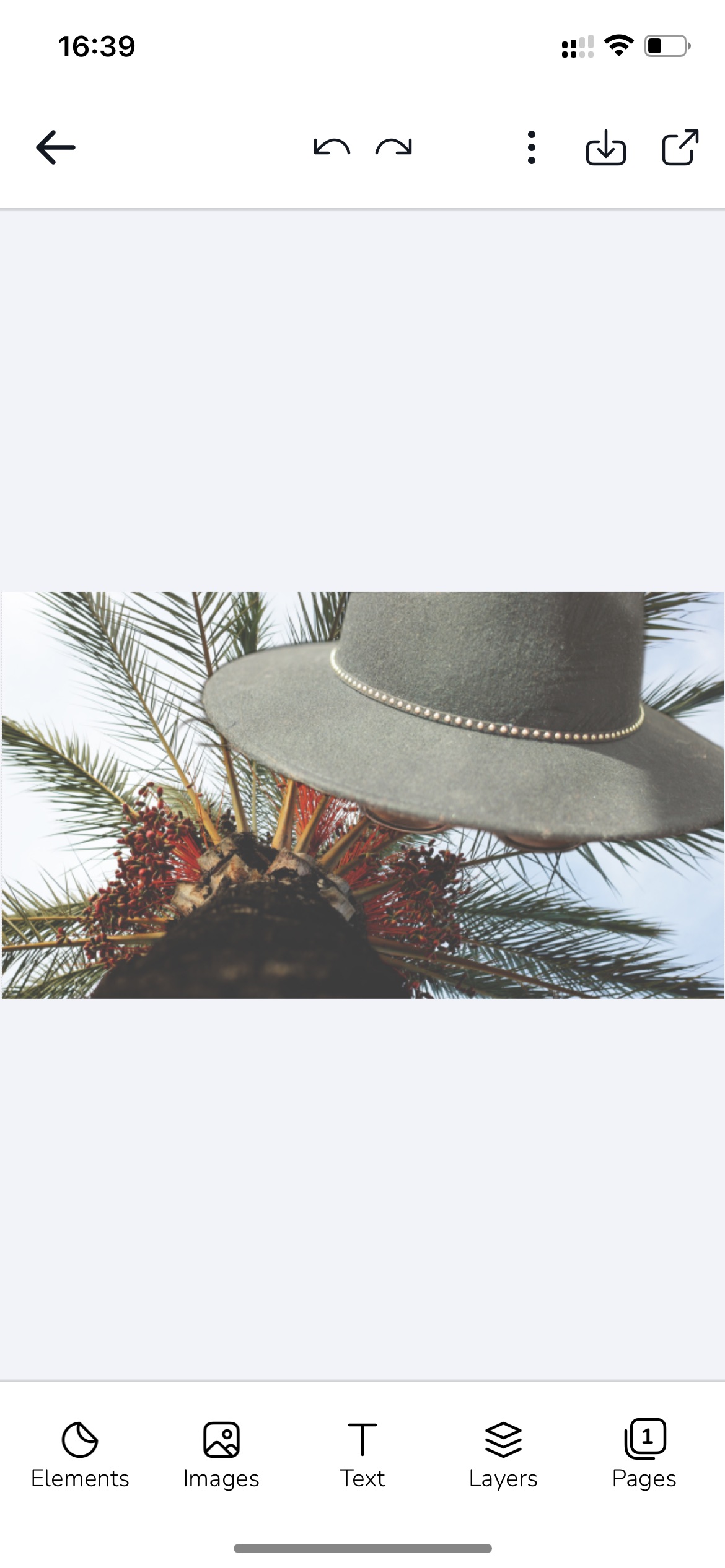 All functions and tools of the app are available on a convenient and clear control panel, so you will need minimum time and effort to process your photos and get gorgeous results. Add various effects to your images, apply photo filters, adjust saturation and contrast, and change lighting and shadows.



Apowersoft Background Eraser
Apowersoft is an app for removing background on images. It is a convenient and easy-to-use app that will help you easily remove unwanted backgrounds from your photos. With its help, you will be able to create professional-looking photos by selecting the perfect background for any of your pictures.
One of the main features of the app is its high accuracy and speed of image processing. To do this, the app uses artificial intelligence algorithms to recognize objects in the photo and remove the background, doing it as accurately as possible.
Thanks to seamless background cropping, you can even make your photos for documents. Apply various effects and filters to the image as needed to make it more attractive and expressive.
The app offers a large set of tools and features for more detailed photo processing. Adjust the brightness, contrast, and saturation of the image, add text and stickers, customize the intensity of effects and shadows, remove individual objects in your photos, and so on.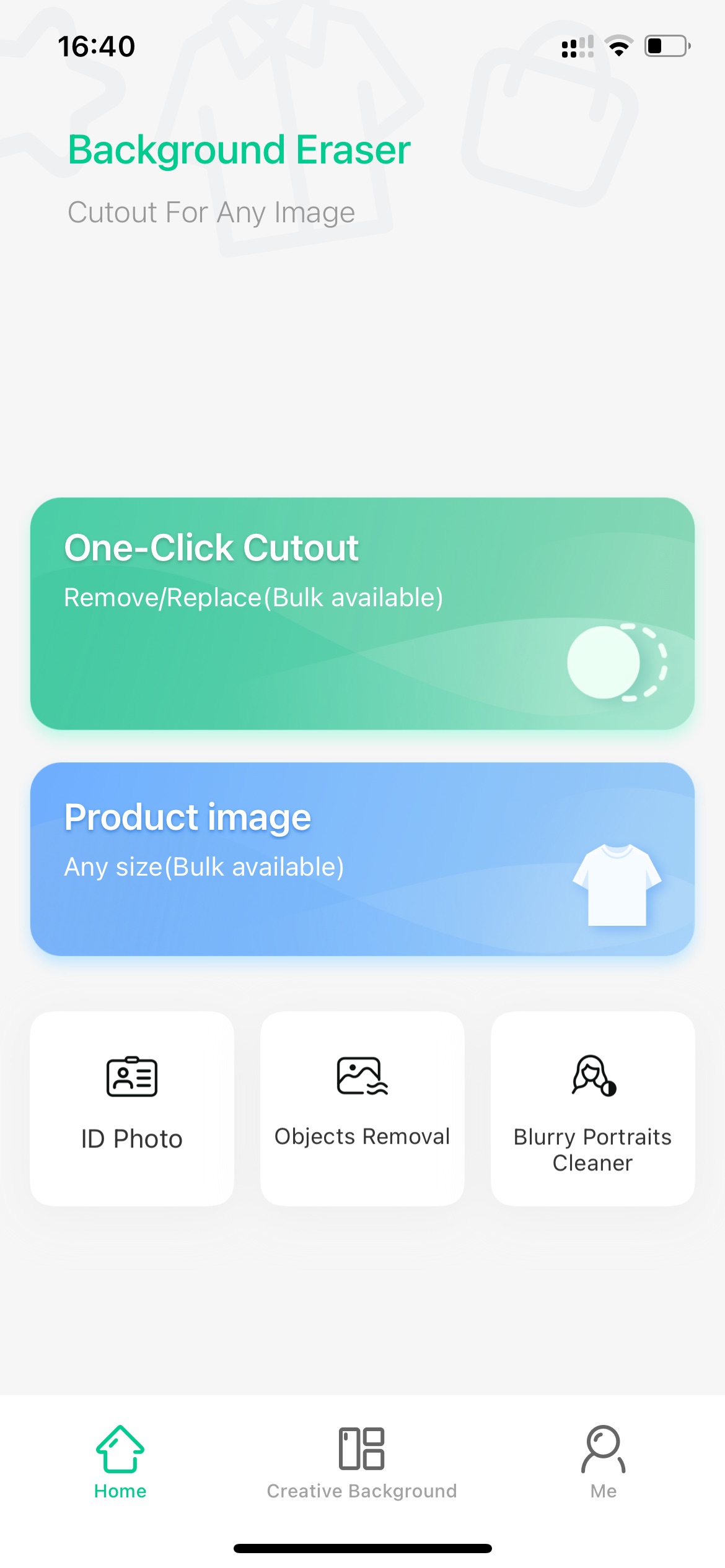 This app allows you to select any of the available backgrounds in the collection so you can drag and drop cut objects onto it. Create your own stickers by copying cropped shapes and sharing them with other users. Set a multicolored or transparent background, and afterward save your presets in any convenient format.



VEED.io
VEED.io is an innovative service that uses artificial intelligence to generate realistic background images. This program will be useful for everyone who works with graphics, design, marketing, or just loves creativity.
One of the main advantages of the service is its ability to create hifh-quality backgrounds in just a few seconds. Thanks to advanced artificial intelligence algorithms, the service is able to process images at high speed without losing quality.
To get started, enter a few prompts into the query that will help the program determine the style and composition of the future picture. After that, the service will automatically generate a number of suggestions in the form of universally sized images that you can use for backgrounds in your photos.
Experiment with pictures, because the service does not limit the number of generations for one user in any way. Create backgrounds for websites, banners, promotional materials, presentations, social media posts, and much more.
Thanks to fast generation, you can get several variants of images for your backgrounds in just a couple of minutes.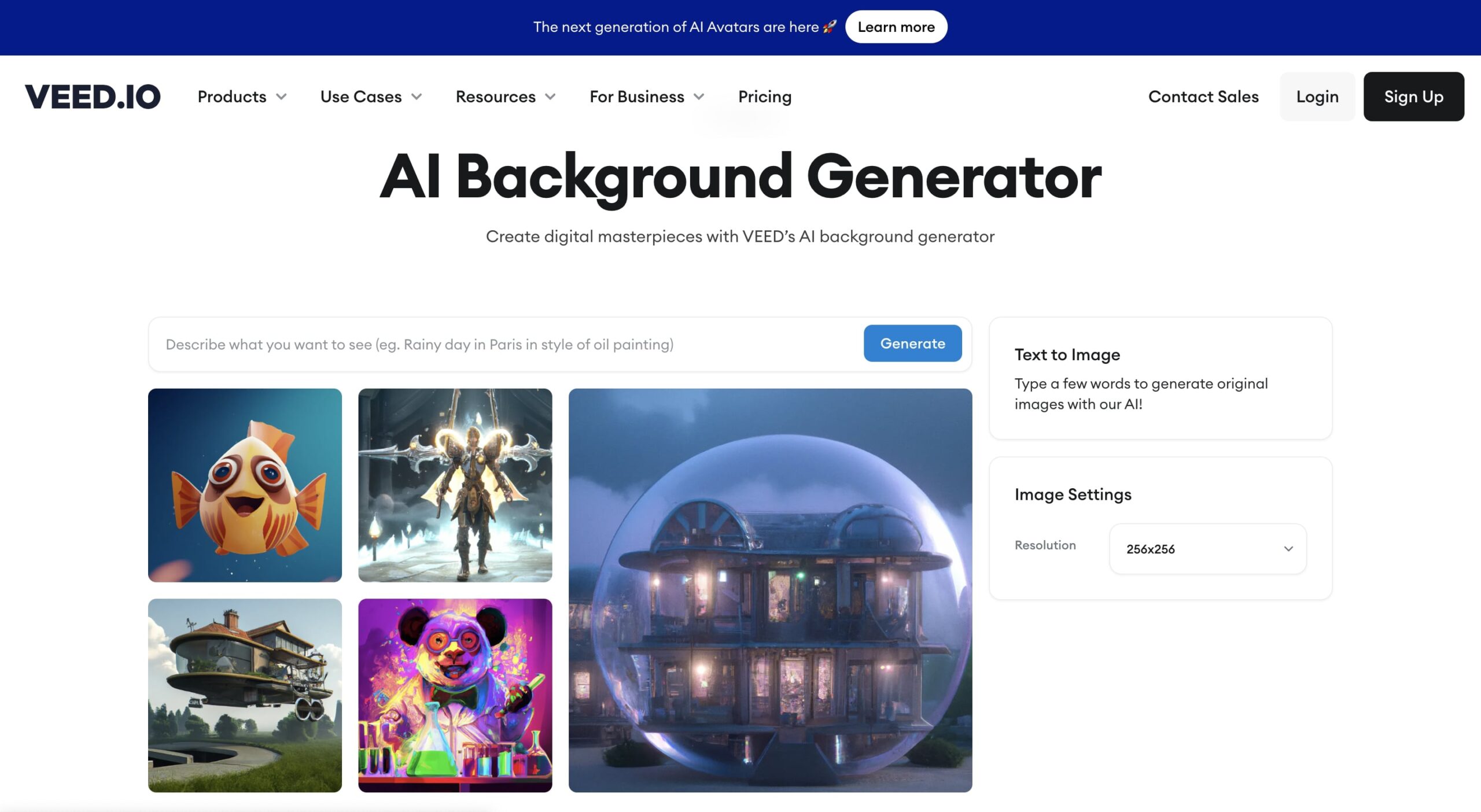 The service also allows you to create video content along with a new background that it has generated using your text prompts. Specify the details in the request to get the background according to your preferences and creative ideas. Save your finished work or export it in a convenient format to other platforms.

ZMO.AI
Zmo.ai is an artificial intelligence-based service designed to remove backgrounds from images and substitute new pictures for them.
The program offers a simple and straightforward interface to create unique and attractive background pictures. You can create customized background images based on your personal tastes and preferences.
The service offers a wide range of customizable features that allow you to choose the color and filters for the resulting background images. Choose any of your favorite options and set it in place of the previous background on your photo or picture.
Zmo.ai gives you access to over a million high-quality photos taken by professional photographers. Generating a new background will take just a couple of seconds, after which you can apply it to your photo directly in the service or export it to other platforms for further processing.
To start working and processing your photos, you just need to upload the source and click on the Remove Background button. After that, the program automatically recognizes the objects contained in the picture and removes everything around them.
The service provides fast processing and high-quality background removal. Thanks to this, each cut object will have clear boundaries along the contour, and it will be easy to fit into a new background.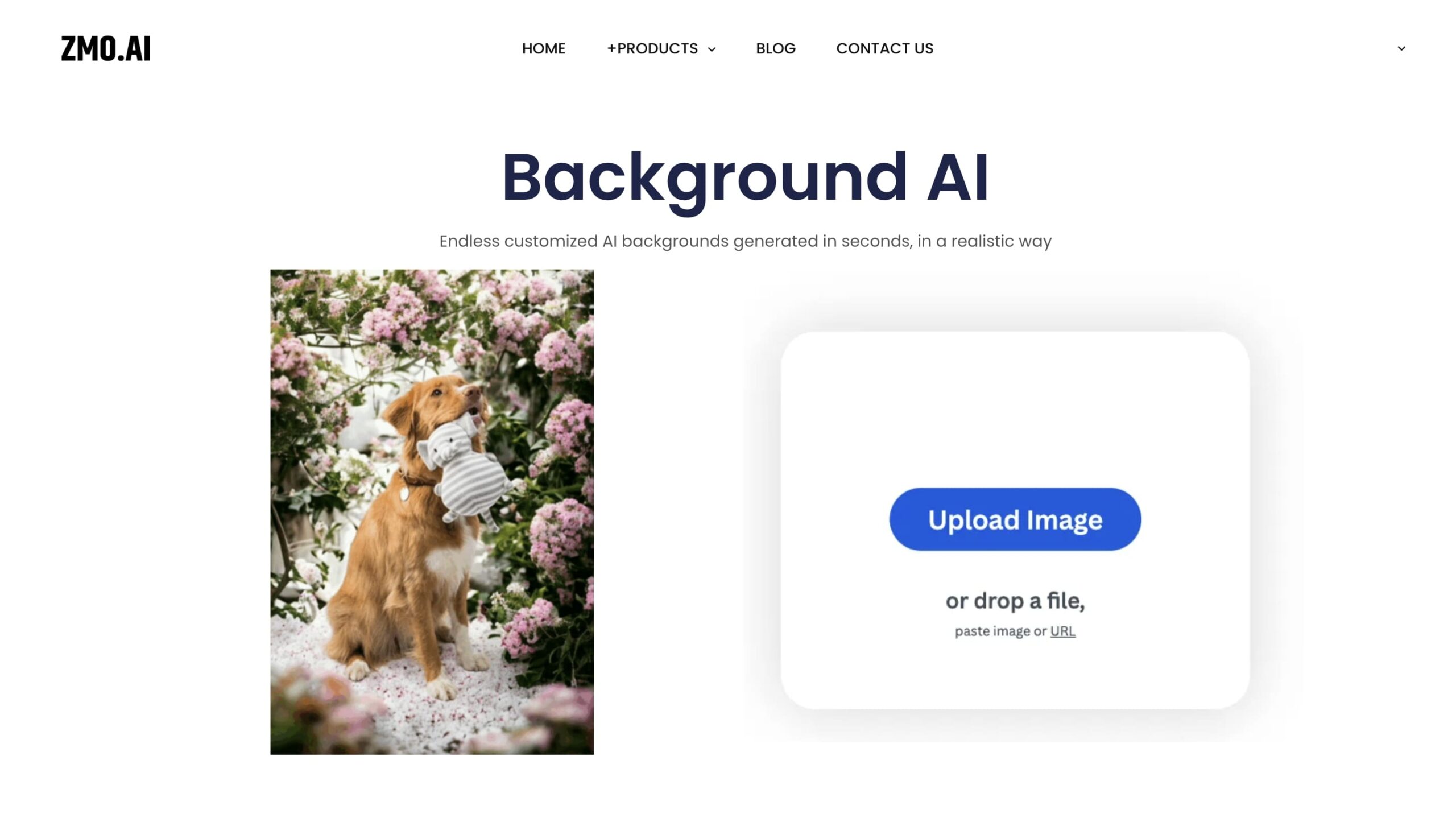 To continue editing a photo without a background, you will need to generate a new picture. After that, you can use artificial intelligence to neatly blend the cropped parts into the new background.

You may also like: 11 Best AI Apps for Fashion
Hotpot
The Hotpot service is an innovative tool that allows users to create unique photos without backgrounds for various projects. By utilizing artificial intelligence, the service processes images in minutes and provides seamless background removal.
One of the key benefits of the program is its simplicity and ease of use. To start working with Hotpot, you just need to select the original photo for the program to process it and give the result already without background.
Due to artificial intelligence, the service quickly recognizes all the important objects in the photos, which allows you to remove the background around them without leaving spots and gaps.
Photo processing takes only a couple of minutes, after which you can save the result in any convenient format or share it with other users via social networks and other online platforms.
Images can also be exported to other editors and apps for further editing. You can apply new backgrounds to the finished photos, processing and editing them according to your preferences and desires.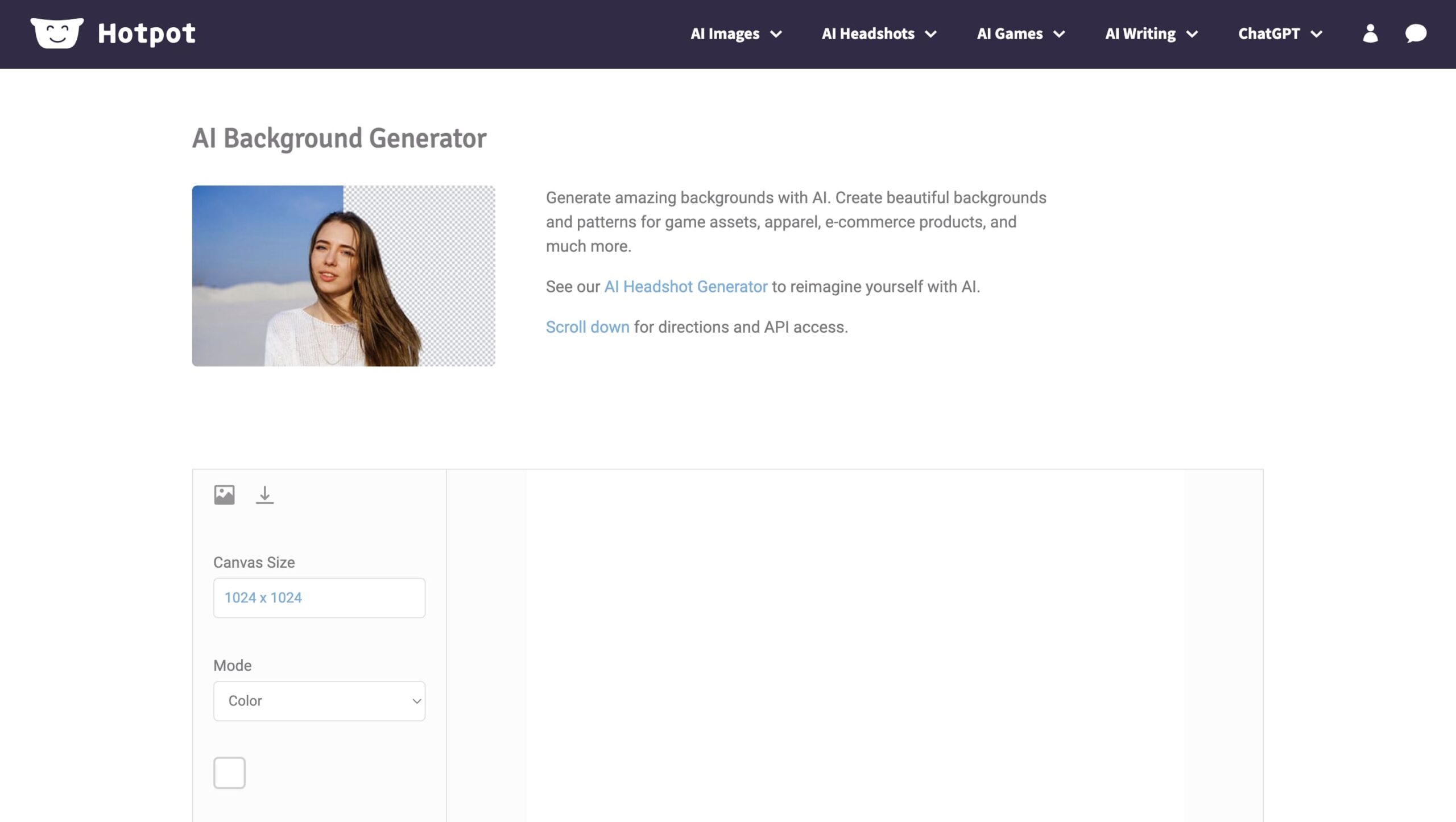 This service does not limit users in the number of processed photos. Thus, you can remove backgrounds from any number of photos and use them for different purposes. For example, the service allows you to cut out objects from the photo, and you can use such a picture even for documents.