Have you passed all the tests and quizzes on your topic and want to try something new to consolidate your knowledge? Or are you a teacher who wants to give your students unique assignments that match your methodology?
Crossword puzzles are great for memorizing information. You can create them yourself using these free crossword puzzle makers.
Yet, if you want to try a more productive format where the number of repetitions is not limited, then use these best AI quiz generators in 2023. Let's take a closer look at their features.
Quizlet: AI-powered Flashcards
If you prefer to teach with cards, Quizlet can help you achieve great results. Interactive cards make learning faster and easier for all ages. You can learn foreign languages, science, and linguistics. The visualization method makes it easy to remember and reproduce the material.
You can use the app just before an exam to practice. You only need your phone to study successfully. Prepare the cards yourself or use already available samples. The app's library has millions of categories. It was created with the active participation of users.
You can become a real author. Supplement the library with your own modules, helping other participants to ease the learning process. Practice your visual memory, and process new skills.
Experienced educators and teachers have contributed. With this app you can easily prepare for an exam, learn new words in a foreign language, and show good results in your practical skills.
Open any category and choose a set of cards on a given topic. Here you will find verified information on such disciplines as sociology, medicine, and computer technology.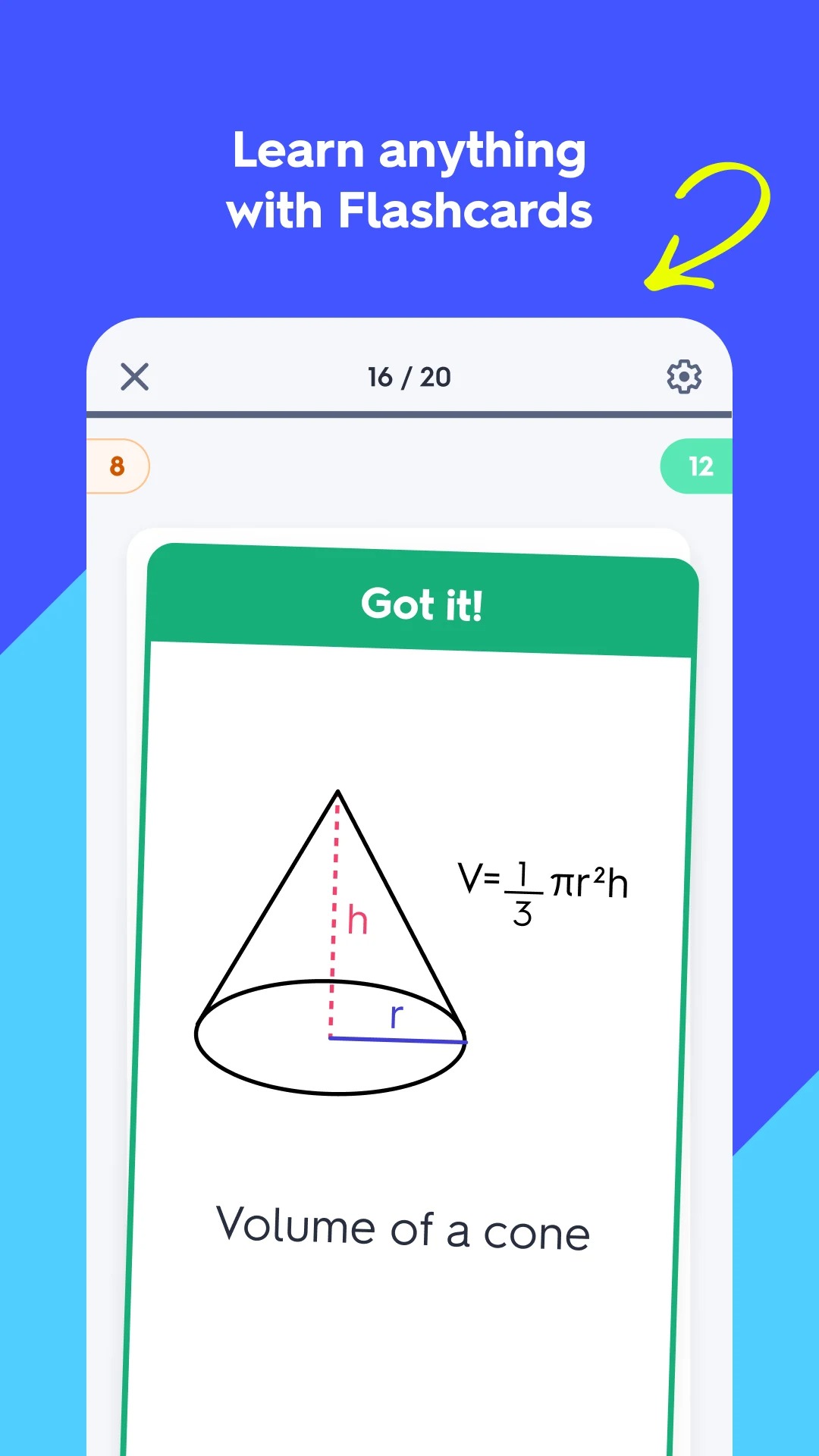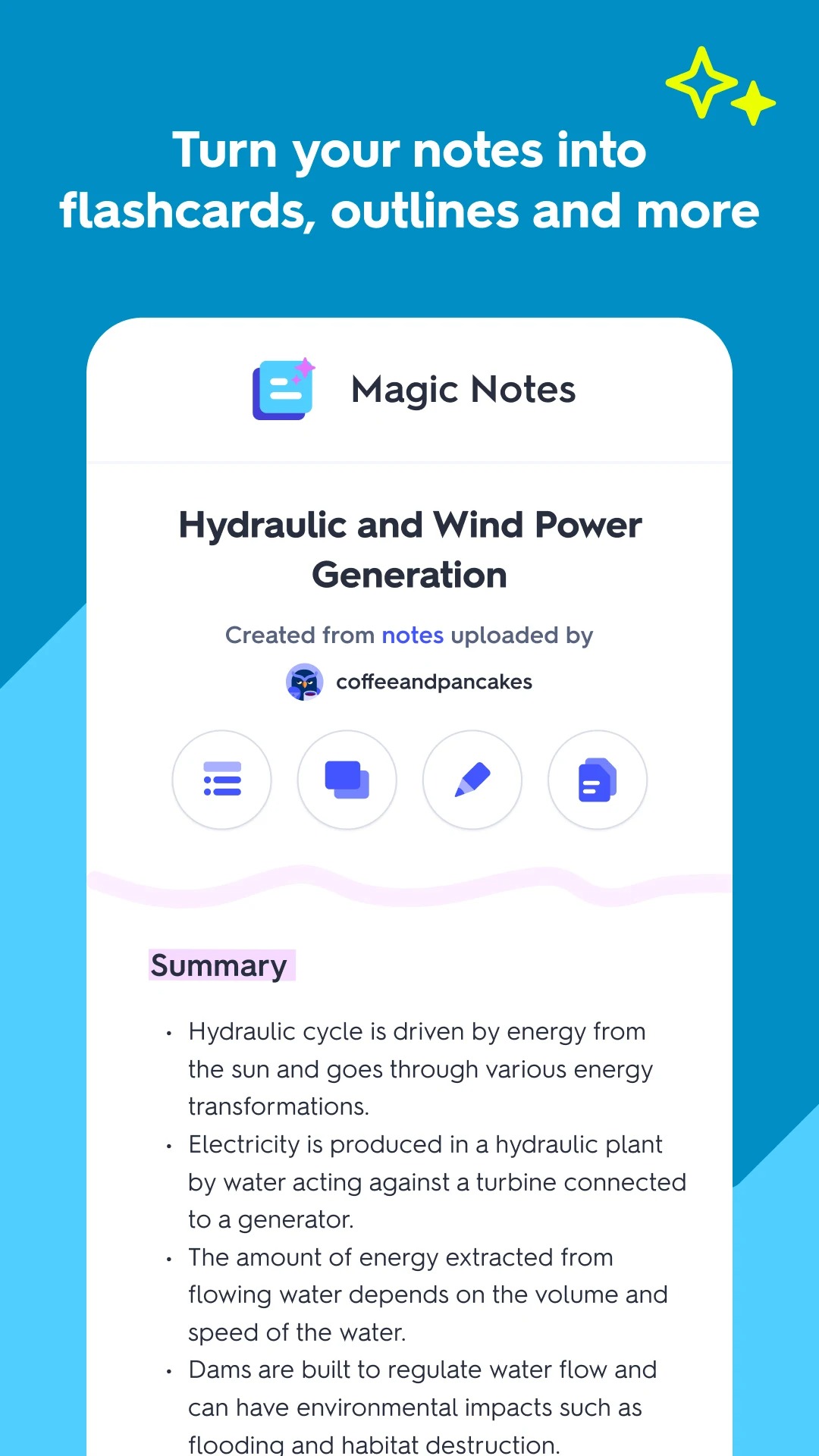 Quizlet Plus empowers you with solutions to specified assignments. Combining relevant information from thousands of study guides, the app offers the shortest and clearest solution. More than 10 million students around the world choose Quizlet.


You may also like: 16 Best Quiz Games for Android and iOS
Question Maker AI
Question Maker Al will make the work of teachers and professors easier. The process of creating quizzes takes a lot of time. Artificial intelligence instantly scans the suggested material from several sources and automatically compiles a database of relevant questions.
All generated tasks are aimed at testing the knowledge level of students. These questions can be used in the current learning process and for exam tickets. You can use scanned material to download the base text or enter it by manual typing.
Save a list of ready-made questions, edit, and make changes as needed. The app has been trained on millions of similar sessions, so the risk of errors is minimized. All questions have answers that can be deleted, hidden, or used to check your finished papers.
The app does not require an internet connection. Question Maker Al does not put limits on the number of topics, scanned pages, and number of questions.
Your latest work is automatically saved in the "Recent Drafts" section. You can interrupt the process anytime and then continue from the desired point.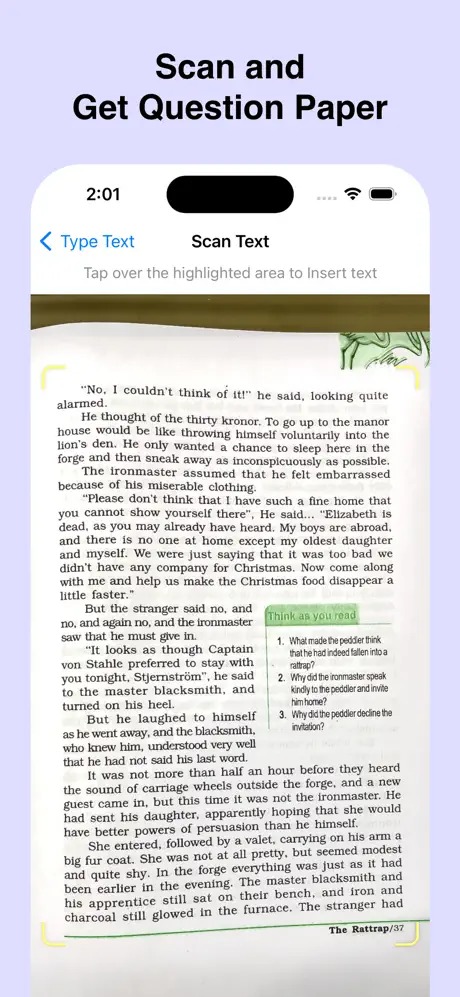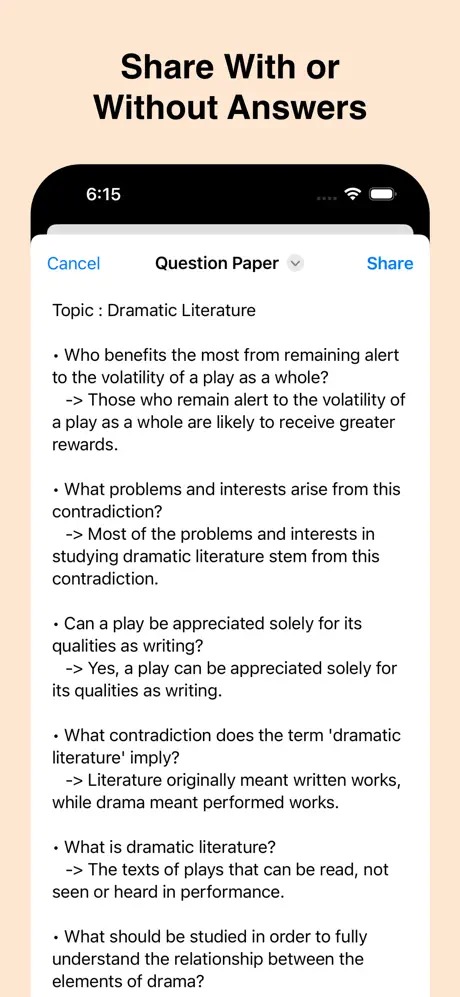 A free trial period of 7 days allows you to familiarize yourself with the features of the questionnaire. The subscription is renewed on a monthly basis.

Quiz Me – AI Quiz Maker
Intellectual games and quizzes have always been popular. Quiz Me is a modern app for creating universal questions on any topic. It is suitable for asking questions at school and university. Any party will become brighter and funnier with an interactive quiz.
The app will help to have fun with family and friends. Find out who from your company has a lot of useful knowledge. Customize the level of difficulty and choose the parameters of the questions. Each of them implies several answers, of which only one is correct.
Make interactive quizzes for dynamics and to increase interest in learning. This is a modern way to gain knowledge in a playful way. Choose any category: sports, music, art, literature. All data is carefully selected and constantly updated.
The test form of questions ignites excitement and makes an ordinary lesson a memorable event. This way you can consolidate the topic covered, select a champion, and motivate the rest of the participants. You just need to choose the topic and the number of questions.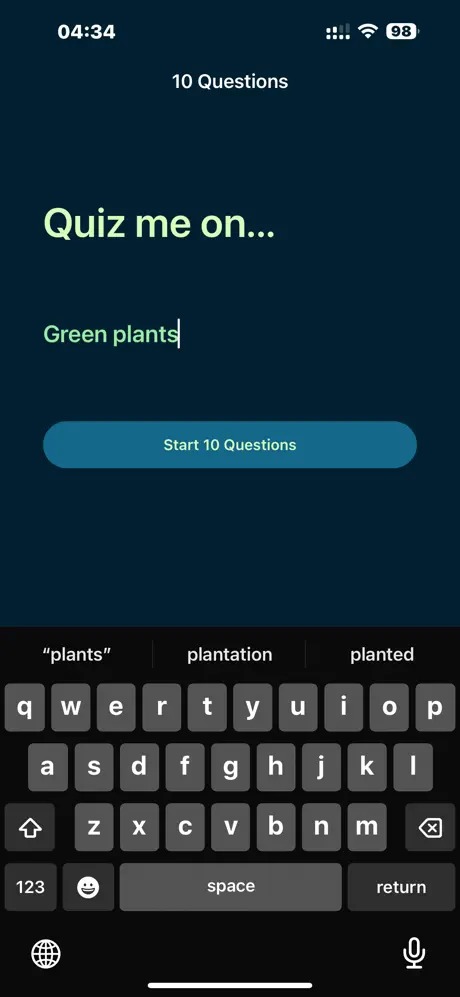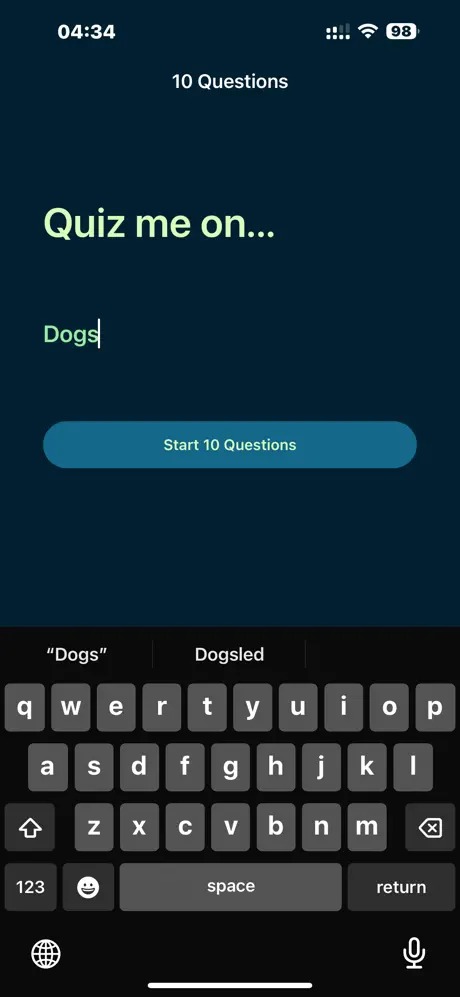 You can also enter probable answers or let the app do it for you. Each question gives you the opportunity to assess the participant's knowledge in the field.

Quizgecko
Quizgecko is a platform for creating beautiful and concise questions, quizzes, and mind games. It works with any category of questions. It is suitable for creating tests and quizzes in educational institutions. With its help, you can check the depth of knowledge of participants.
With the help of interesting quizzes, you can diversify lessons and lectures, thereby increasing the motivation of your students.
The platform helps to create questionnaires for specialists to pass certification or job evaluation. You can prepare for a difficult exam on your own in the format as it will take place in reality. This will help you to reduce your stress load and get a high score.
This service allows you to avoid wasting your time familiarizing yourself with the assigned topic, creating questions, and searching for answers. Import text files in PDF, PPT, and DOC formats.
Specify in the settings how the questions should look like. They can be sentences with a missing word, leading questions, or riddle-like tasks. Choose how many answers you want and the order in which you want the questions to appear.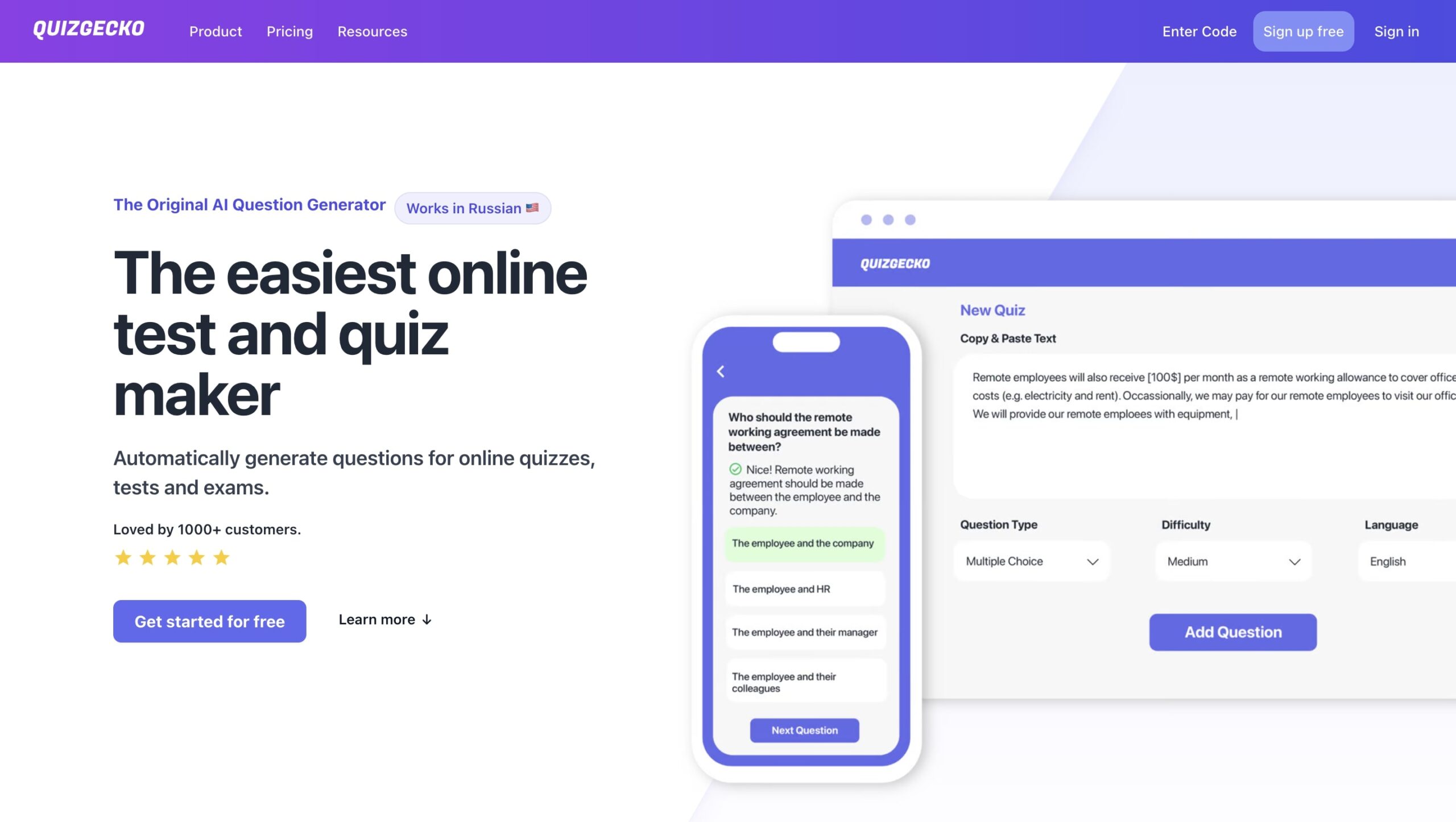 The quiz file can be emailed, sent via messengers, or printed for an upcoming class. Show them to your followers on social media or blog. Put them on your website to attract potential clients. Work through a given topic without gaps with the quiz builder.

Fillout
This free constructor will allow you to study a complex topic, engage your students, and test their knowledge without boring quizzes. Fillout helps to study the chosen topic with pleasure. The service will be useful for both children and adults.
You can create on its basis children's quizzes for school and kindergarten. This is a good option for any holiday. In the educational process, such a questionnaire is indispensable.
You will be able to cover more material and pay attention to difficult questions. It does not matter what exactly you are going to study: foreign languages, literature, medicine, or geography. The game form reduces stress and brings some fun.
This is a great platform for lovers of intellectual games. In a few minutes, you will get high-quality material created based on the specified content. You will easily cover many different topics, and get a large number of unique questions.
You do not need to check the finished work, as the artificial intelligence has already done it for you. At any time you can change the order of questions, or make adjustments to the wording of tasks and answers. You can use any text as a basis. It can be typed by hand or copied from an electronic source.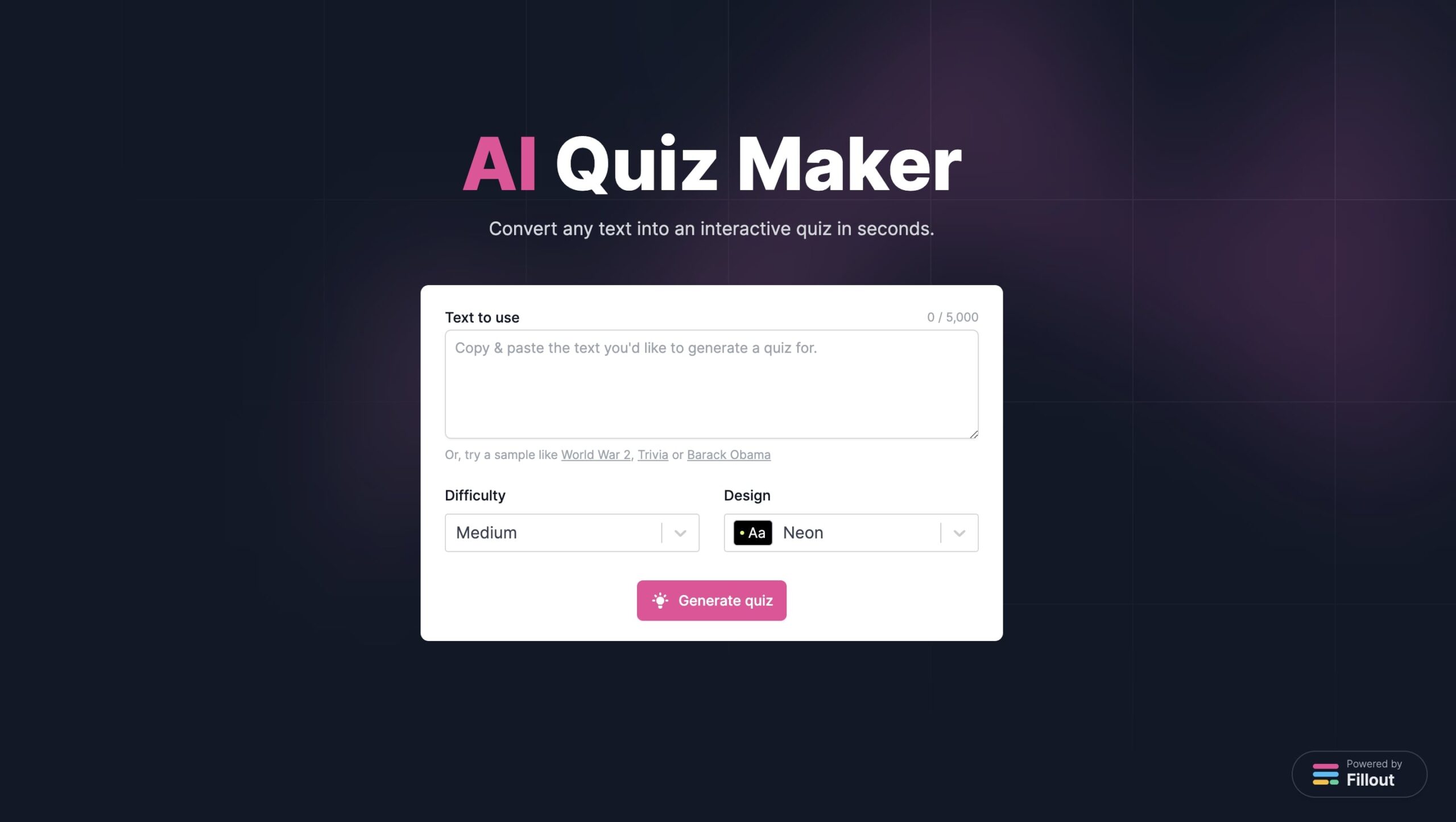 The number of characters should be in the range of 350-5000. When the questionnaire is ready, you can copy the link and share it with everyone.

Questgen
Questgen is a multifunctional service for preparing questions and answers. This online platform helps students to familiarize themselves with the new material and consolidate the studied theoretical foundations.
For teachers, it is a reliable assistant in their daily work. Creating tests, quizzes, and contests requires experience and a lot of time. On this platform, you can create an unlimited number of questionnaires on any subject.
Here you can prepare test tasks for a separate lecture or a whole semester, and create a test for current knowledge control. You can check your employees for compliance with their positions. If you and your friends like to answer questions, then this platform will become a source of new ideas.
To start the work of the designer, you need to upload basic material. The maximum text size is 25 thousand words. You can enter it manually, copy it from the Internet, or text documents. Next, select the type of quiz.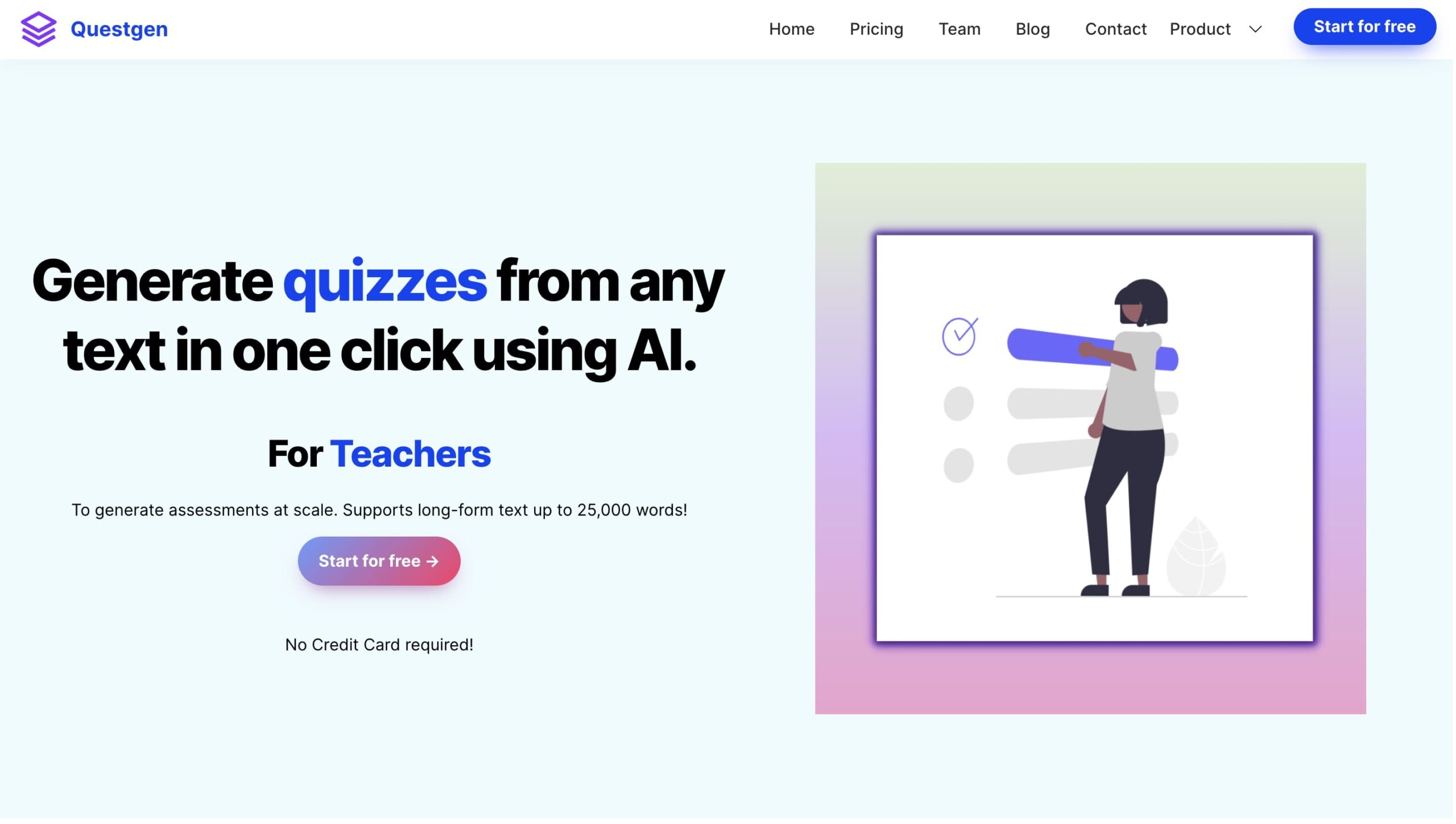 Give the participant several answer options, offer to continue the phrase, or make an unambiguous answer to the question. Choose "Create questions" and view the ready-made tasks. They cannot be hacked or stolen. All questions are created one-of-a-kind and will not be repeated.

You may also like: 7 Best Flag Quiz Games for Android and iOS
Tech:able
A convenient and easy service to create smart assignments for all tastes. If you are a teacher with a creative approach, you can find new ideas here.
Tech:able is designed in such a way that everyone can use it as a test and quiz generator. This unconventional way of familiarizing yourself with the material will improve your rating and motivate your students. Everyone likes to answer questions correctly.
The generated questions will help you check a lot of information in a few minutes. You only need to specify the source of information for the program to start creating the questionnaire. Choose the number of questions and their order.
Choose how you want the quiz to look like: multiple answers, yes/no answers, incomplete phrases. The variety of tasks allows students to stay interested in learning and concentrate on each task. A quiz is a good idea for an open lesson or demonstration session.
Share your quizzes with your colleagues, and offer interesting questions to your subscribers on your blog or social networks. You can make changes to the wording of both questions and answers.
Now you can plan a lesson at school, supplement a lecture with an interesting quiz, or offer students an annual exam in question/answer format.

Arlinear
Don't waste your time creating a quality quiz. Go to Arlinear and let artificial intelligence do the work for you. The program helps you generate question/answer pairs on any topic.
If you teach children at school, give lectures at university, or teach continuing education courses, this platform will always help you out. Prepare for class in minutes. No need to spend long hours selecting material and compiling questions.
All you need for a ready-made test is to specify the topic and the approximate knowledge level of your students. You don't even have to cite sources of information. Make your requirements as clear and straightforward as possible.
Ask the program to create a biology quiz for 1st year students. Study any topic from the DMV test in more detail. Create a fascinating journey through tales for kids in kindergarten.
Choose what the assignment will look like. It can be a direct question, a task with a list of possible answers, or a math problem. Ready-made quizzes can be printed out and handed out to students. You can share a link with them for online viewing.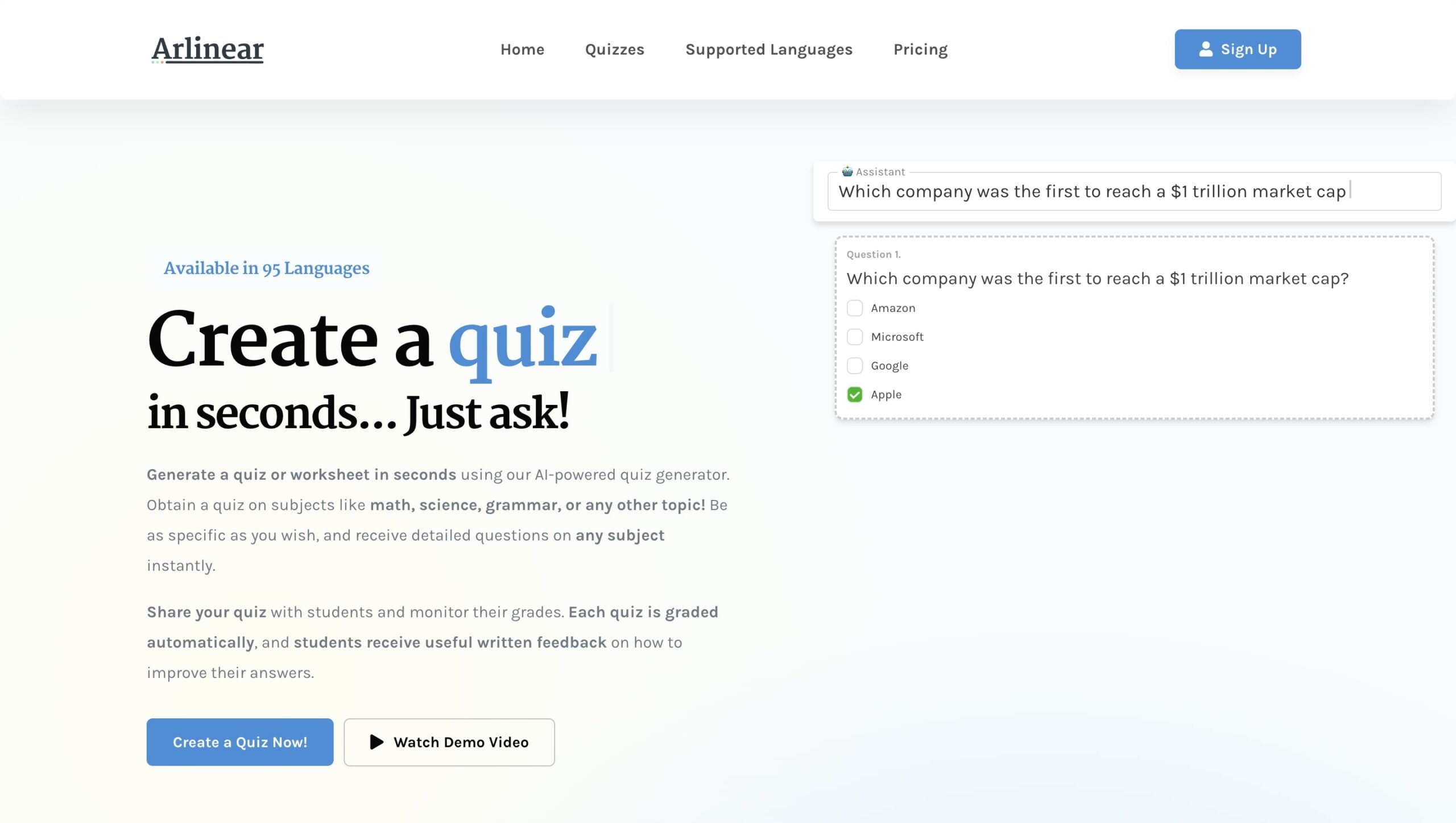 On this platform, you will be able to analyze and evaluate each work in a few seconds. Your students will get a full review of their work and up-to-date advice on how to improve their learning.

Typeform
Typeform will make it easy to learn a new level of promotional campaigns. On this platform, you will find all the necessary tools to promote your brand or products through quizzes. Invite absolutely everyone to take part, because the number of players is unlimited.
Let your friends, colleagues, and subscribers support your endeavors. The program automatically creates simple and fun questions. Their number and content depend entirely on your goals. After passing the humorous test, the program gives you an evaluation of the results.
Now you can recommend a certain product with a good reason. The test is aimed at personalizing the answers. Each participant at the end of the game will see a table with his or her name and answers. And will also get a visual display of the results.
Make your quiz bright and unique. Decorate each question page with product illustrations. Don't forget to include your company logo and brand. You can include contact information and addresses of stores where you can buy the product.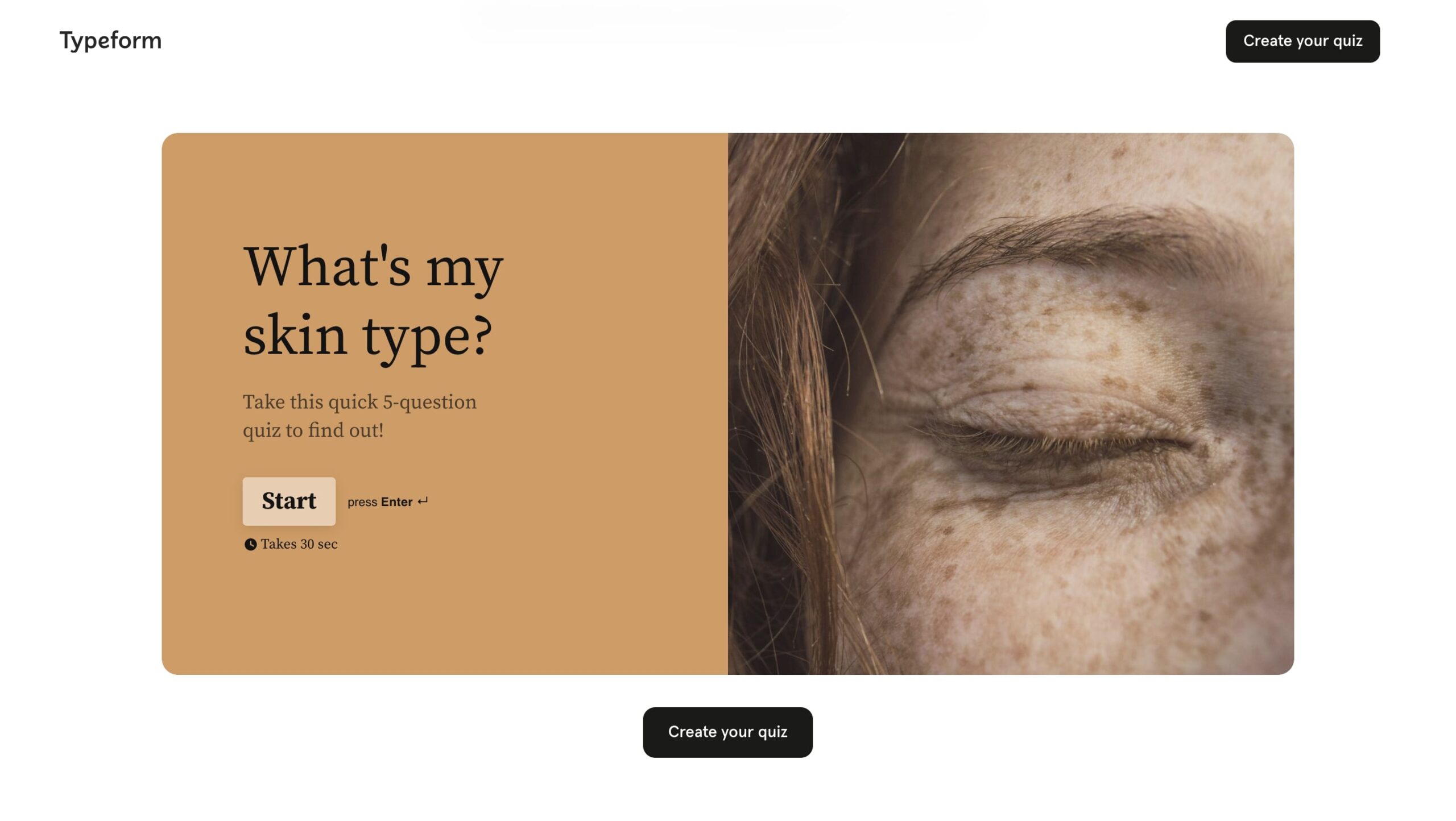 Be sure to remind customers about the discount program and pleasant bonuses for each participant. Advertising can be effective and inexpensive if you use the Typeform survey builder.

FlexiQuiz
All users of FlexiQuiz can create a test or quiz on any topic. This is a useful tool for teachers and presenters of children's parties. Different types of surveys are available on this platform, including exam tests for multiple subjects at the same time.
Has your party with friends become boring and predictable? If so, then go to the platform and conduct an intellectual quiz. Invite potential customers to take a small survey that will help them pick up a product or item from your store. Learn, have fun, and play together with FlexiQuiz.
Start preparing your quiz by choosing the form and number of questions. It can be a humorous quiz of a few points or a complex assignment of several pages for a science degree. Once the quiz is taken, you can tally the number of points of each paper and compare the result with other participants.
You can decorate it with photos of children attending the party. Add your company logo and contact information. Or design the test in the strict style of an educational institution. Add a countdown function.
Specify how many attempts are available to score the correct answer to each question. Set up automatic notifications as soon as your new work appears on your social network page.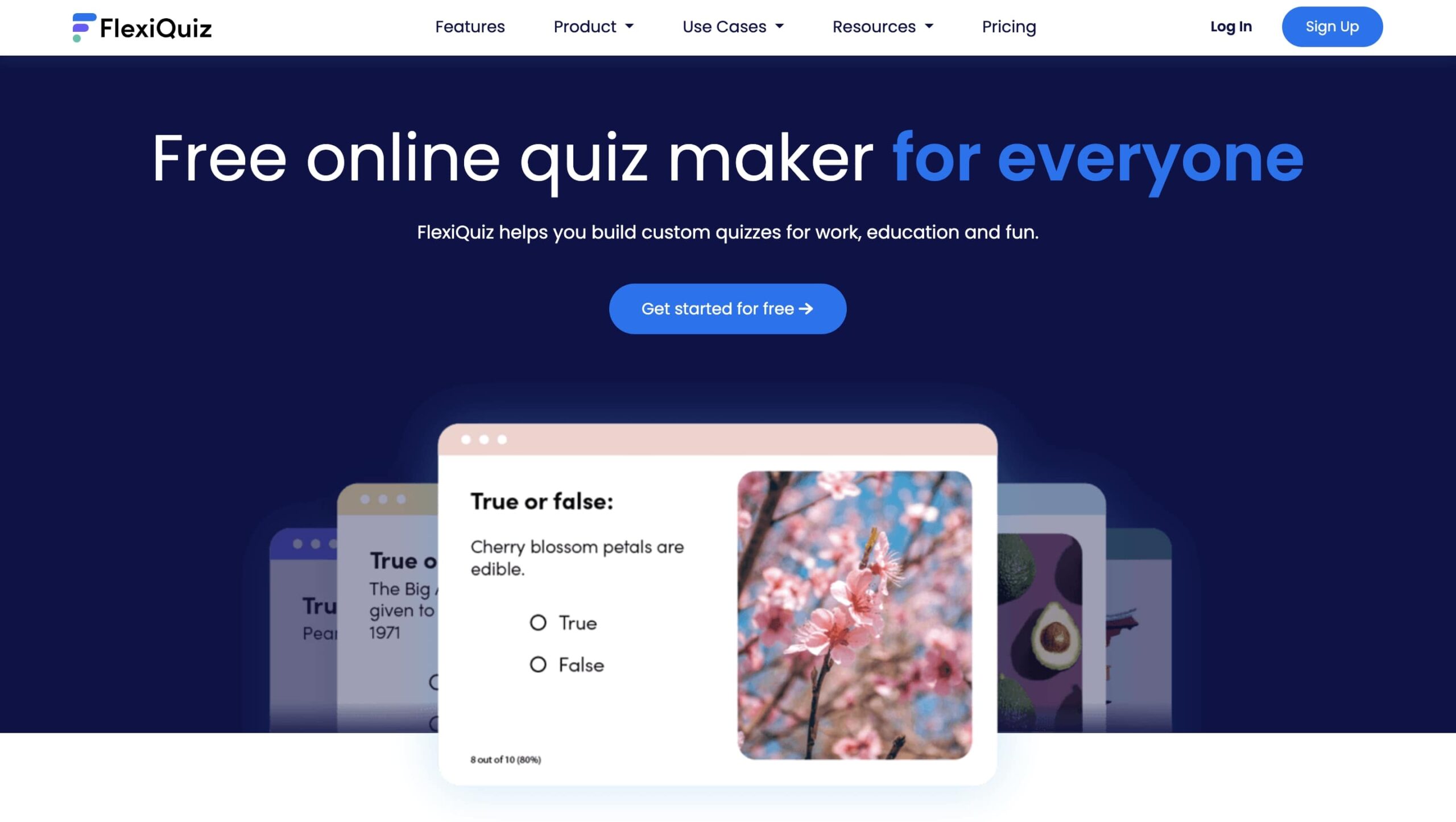 In the end, you will receive a detailed report about each participant. This will help you draw the right conclusions and evaluate the results from all sides.

You may also like: 9 Best Anime Quiz Games for Android & iOS
Quillionz
Immerse yourself in the interesting work of creating high-quality and interesting tests. Quillionz is free and accessible from any device.
Parents can have an interesting experience and together with their child reinforce the skills learned in school in a playful way. Strengthen relationships between colleagues in a department, and use a humorous test during a corporate meeting. Make a promotional campaign as effective and engaging as possible.
Keep your students motivated and help them learn the material better. You can earn good royalties on the sale of ready-made tests. After all, each work created on this platform is unique and devoid of errors.
Choose the number of questions, their order, and content. You can make a quiz with different questions. Offer participants to continue the phrase, ask a clarifying question, or make several options for answers.
Then you can make corrections to the finished work, and provide it with illustrations and videos. This keeps participants interested and preserves from getting bored during the test. Create useful notes that include the most important data from the proposed content.
The program allows you to work with REST API on a professional level. This is an indispensable option when running a business.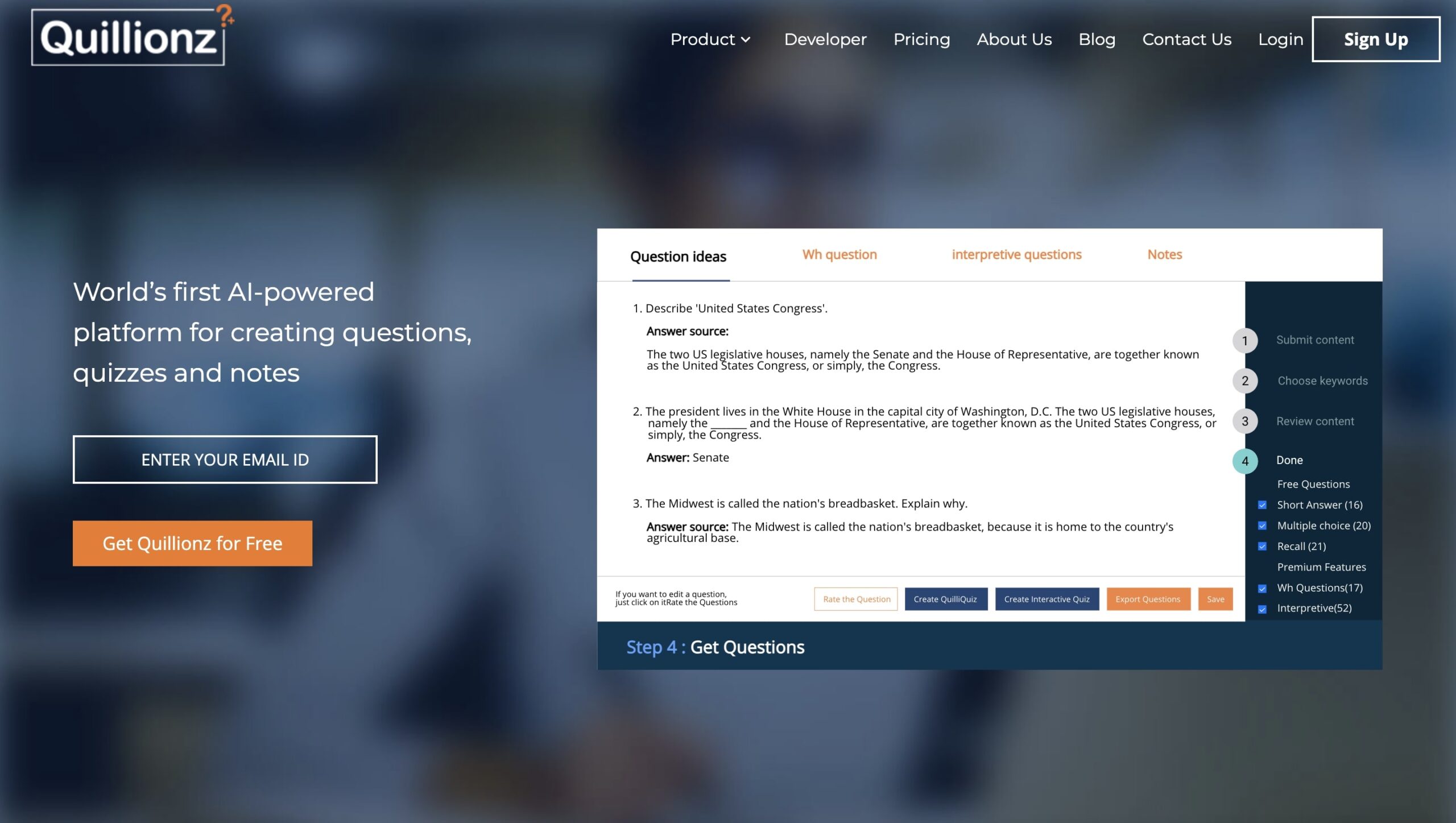 With the Quillionz Pro version, you will get even more thoughtful questions and answers in a short period of time.