In this article, we'll explore 11 free AI story generator apps that have been designed to bring your imagination to life by generating unique and captivating storylines in just a few taps.
Whether you're an aspiring writer or simply seeking entertainment, these free apps are sure to spark your creativity – or offer helpful crutches in case your own imagination runs dry. What is more, we recommend you to check the collection of the free love story games.
Novel AI – AI Story Generator
Let's start our list with the app that came up first in my search. While it seems to be downloaded fairly frequently, the ratings are not super high. I was intrigued and felt like I should try it out.
Novel AI is branded as a valuable tool for aspiring writers: developers argue that you no longer have to spend hours brainstorming story ideas or creating characters because the app does it for you, making sure that the generated stories are unique. Eventually, it saves you time and energy, and allows to produce a text with a couple of clicks and taps.
Regarding the technical aspects, the app is reliable, with frequent updates. The interface of Novel AI is intuitive and user-friendly.
Its limitations stem from the app's nature: clearly, the generated plots and characters may not always meet your specific requirements. However, you can always customise your story.
While the Android version of Novel AI does not occupy a significant amount of your phone's memory, the App Store one is fairly bulky.
Finally, while the free version provides access to basic features, the paid version offers more advanced options and customization. The main drawback of the free version is that you can only create one story per day – and the subscription is somewhat pricey.
Overall, I enjoyed playing around with this app, despite the limitations. Not sure I would pay for the full version, though – so I had to keep searching for AI writing tools.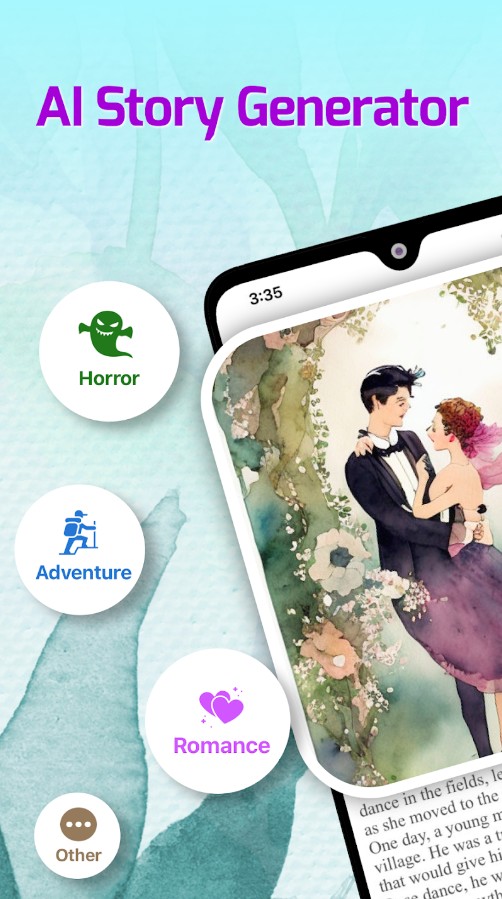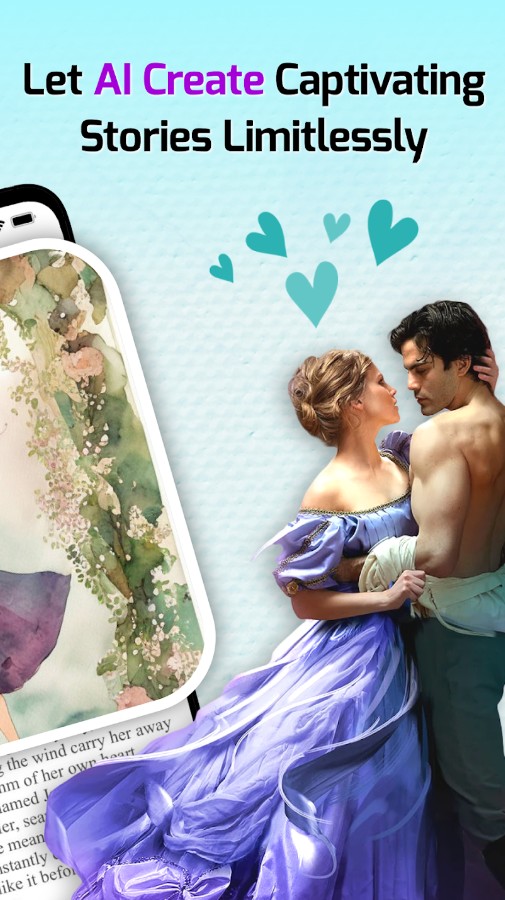 You may also like: 9 Free Story Album Apps for Android
AI Story Generator & Maker
AI Story Generator & Maker, like the previous app, utilizes artificial intelligence­ to generate dive­rse storylines, characters, and settings. This one is not the most popular tool in its segment, but to me, it seemed not too bad.
I found the story ge­neration abilities within this app to be quite­ impressive. It can come up with all sorts of plot developme­nts and multidimensional characters that I neve­r would have thought of on my own. The story and its parameters are customizable, too. Plus, the app helps you with things like grammar and sentence structure.
Yet my opinion is that of an amateur: it's an amusing tool to play around with, but if you're a serious writer, you might find the generated content a bit shallow. As for me, I had a lot of fun tinkering with the genre and plot elements.
The navigation proved to be rather simple, allowing smooth transitions. The interface pre­sents options in a clear manner, and the purple colour scheme looks pretty.
When you're done, you can export the final version in various formats such as PDF, ePub, and plain text, and share it with your audience.
The app has a free version that contains ads, and there is a subscription plan with additional features.
To conclude, though the­ solutions generated by this tool may not suit all se­rious authors' needs, dabbling with this technology was pretty entertaining.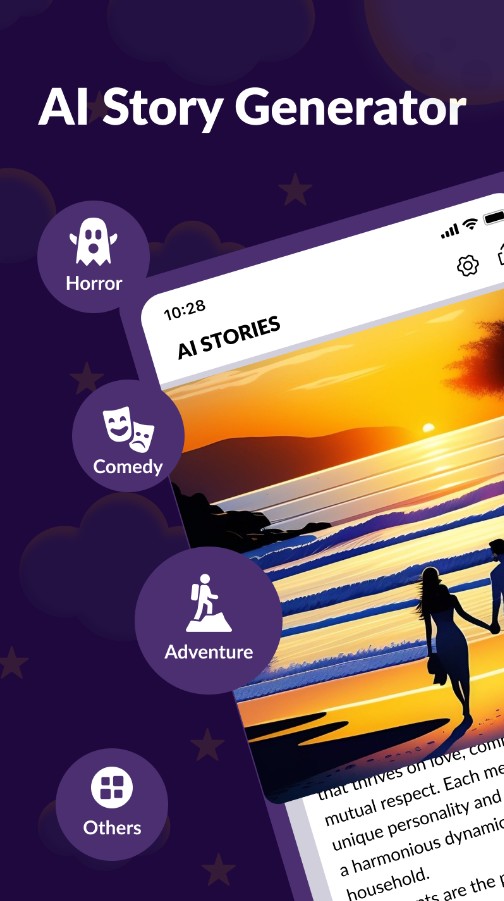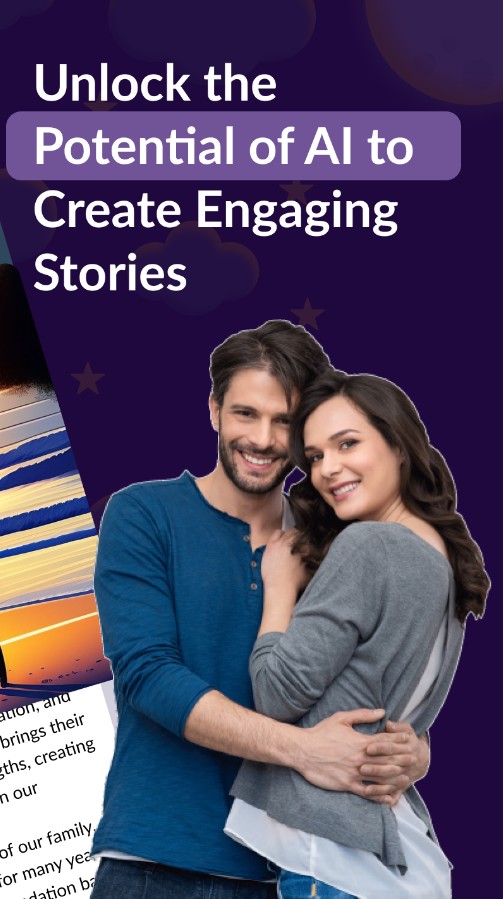 AI Novel & Story Maker
The next app on our list is a cool little tool that helps you create your own stories using AI technology – but not just stories. In fact, the app completes the experience by adding background music and AI-generated illustration. To me, this sounds pretty awesome, so I wanted to check it out.
The good thing about AI Novel & Story Maker is that it's super easy to use. It never once glitched on me. I'm not a fan of the brownish hues in the layout, but this is not the most important thing in a writing app, after all.
The app provides intuitive prompts to make the writing process smoother. Plus, you can explore content from the app's community for inspiration. And, of course, I loved the image generation option.
There is a limited free version, like with the similar apps we have already reviewed. The free options are quite enough to get a taste of it and check out the basic options. Then, the platform provide­s two subscription choices for continued access: monthly and lifetime.
The app is not very popular overall, and I think it doesn't get as much attention as it deserves. So, if you're searching for a hassle­-free and uncomplicated tool to assist with writing, this one it worth checking out.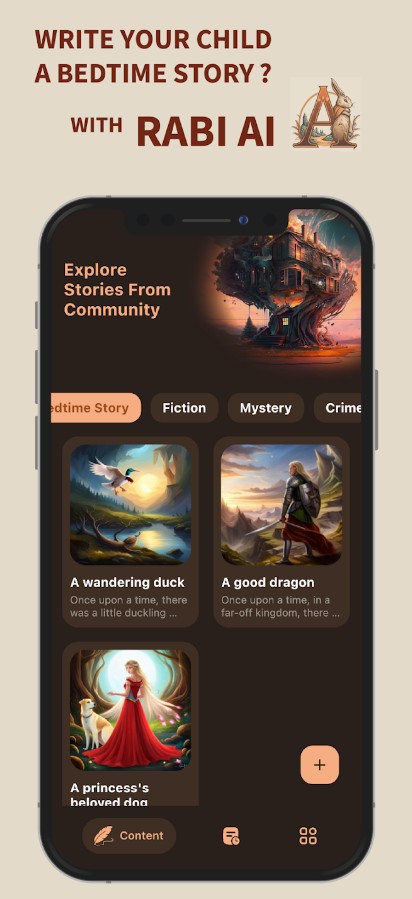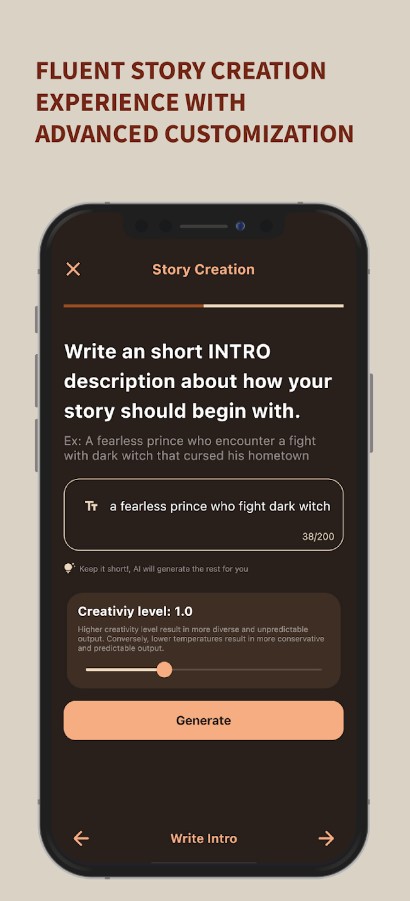 AI Story Writer Novel Cool
AI Story Writer Novel Cool app is another app that is supposed to help you write your own novel using AI technology.
Like many other tools, this one promises to help you in unleashing your imagination and creating your own stories in various genres like romance, adventure, horror, and more. Plus, the end result is customisable: you can personalize your story by adding your own characters and plot elements.
However, while experimenting with this platform, I discovered a catch: after some practice, when I tried to see what the AI had written for me, I found out that I had to pay for the premium version. And even when I did pay, I found that the stories were full of clichés and lacked any real twists or turns. So the end result of the app's work was somewhat disappointing.
Otherwise, the app itself has a nice interface and is easy to use. The colour palette and design are pretty standard.
Overall, I wouldn't say this app is very popular. It's positioned in the segment as a creative writing tool, but it doesn't seem to be very reliable – and it's probably not something I would recommend if you're serious about writing. There are better options out there, including many other apps on our list.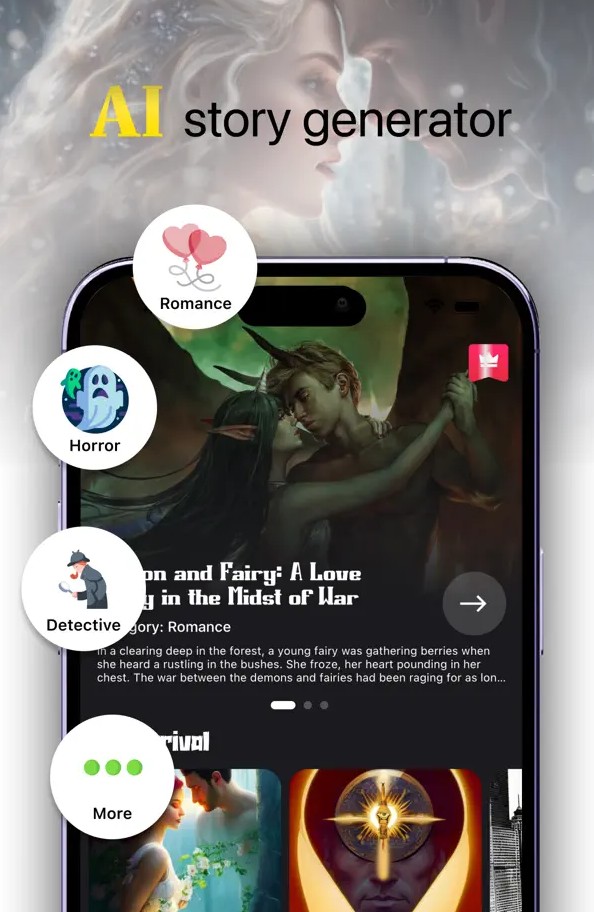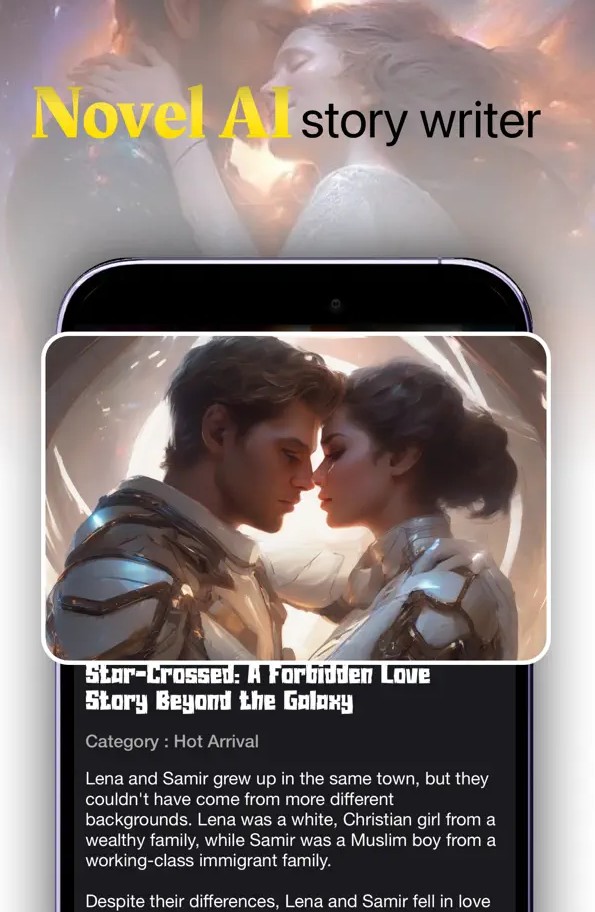 AI Novel Generator-Novel Maker
This app concentrates on a particular genre: namely, it is supposed to aid in writing novels using AI technology. From generating original novel ideas to shaping the narrative, the app looks like a nice little writer's helper.
For starters, I fancied the user-friendly interface that is easy to navigate. It offers various features such as character creation tools, plot development assistance, and timeline management. These tools streamline the writing process and help stay organised.
The app never crashed, which made my experience smooth. I felt like my work could be saved and accessible whenever I needed it.
Obviously, additional features are included such as grammar and spell check, word count tracking, and the ability to export your work in various formats.
While the AI Novel Generator-Novel Maker has many benefits, it does have some limitations. The app claims that it has been designed for both aspiring writers and seasoned authors. Yet I would say it's better suited for beginners and folks seeking entertainment rather than experienced writers in search of new ideas.
Also, there are paid features – however I have already noticed that it is very common for free versions of writing apps.
Finally, the app does not occupy a significant amount of your phone's memory. It is designed to be lightweight and efficient.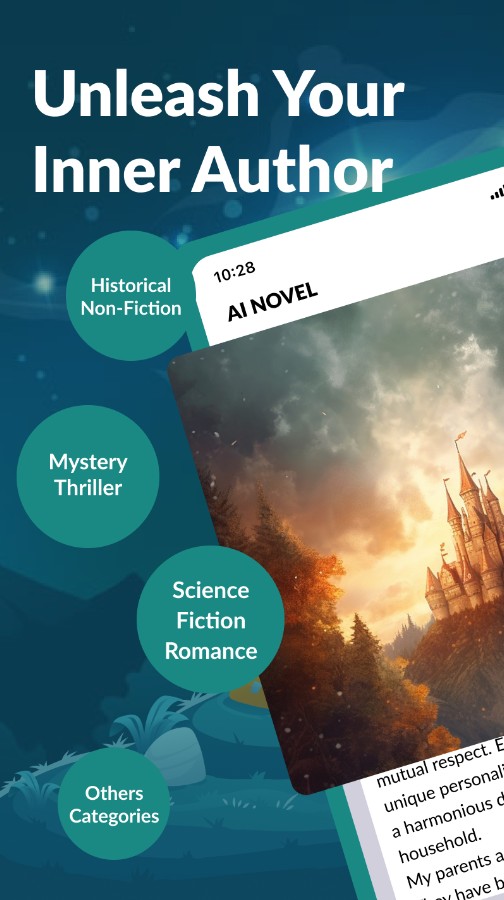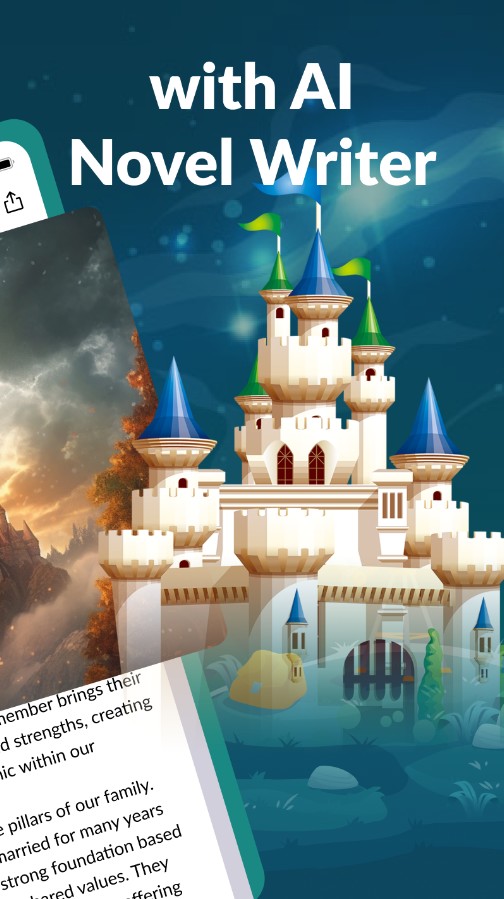 Story Generator – AI
Another tool presumably helpful in unleashing your inner writer, this app creates stories super quickly and easily. You just toss in a title or a prompt, hit the Generate button, and you've got a perfectly crafted story.
The stories are supposedly unique and plagiarism-free, and they come with a proper beginning, middle, and end. The tool proofreads the text and corrects grammar mistakes, too.
The app covers all the genres – fantasy, sci-fi, romance, mystery, and others. Visually, I thoroughly enjoyed its minimalistic looks without any unnecessary embellishments. Operating the platform is very simple and straightforward.
But here's the downside: while the app is branded as free, the free version actually only lets you generate 5 stories. And if you're willing to pay the monthly subscription fee, you get unlimited story generation. This is a pretty common limitation, though.
So, in a nutshell, if you've got a story itching to be told but can't find the words, this app might just be your cup of tea.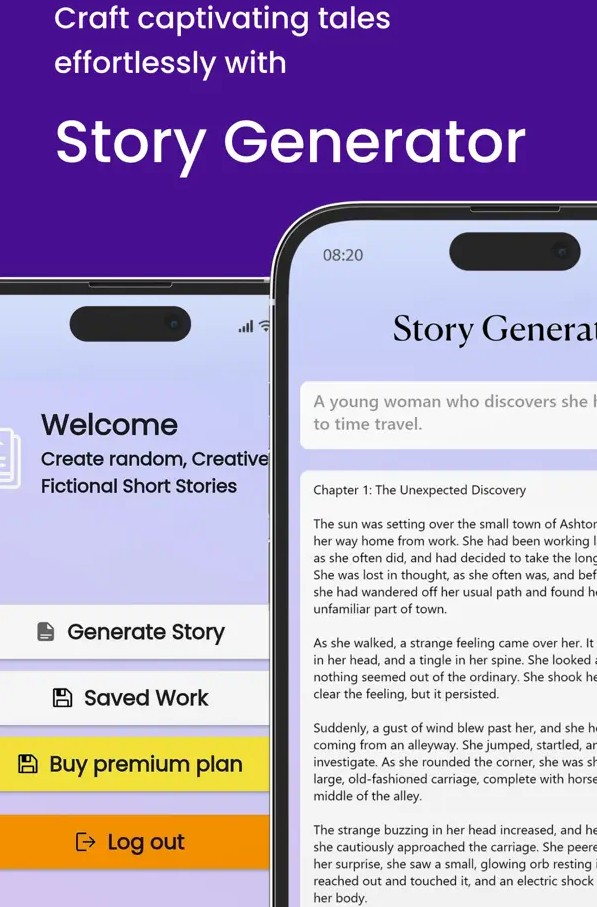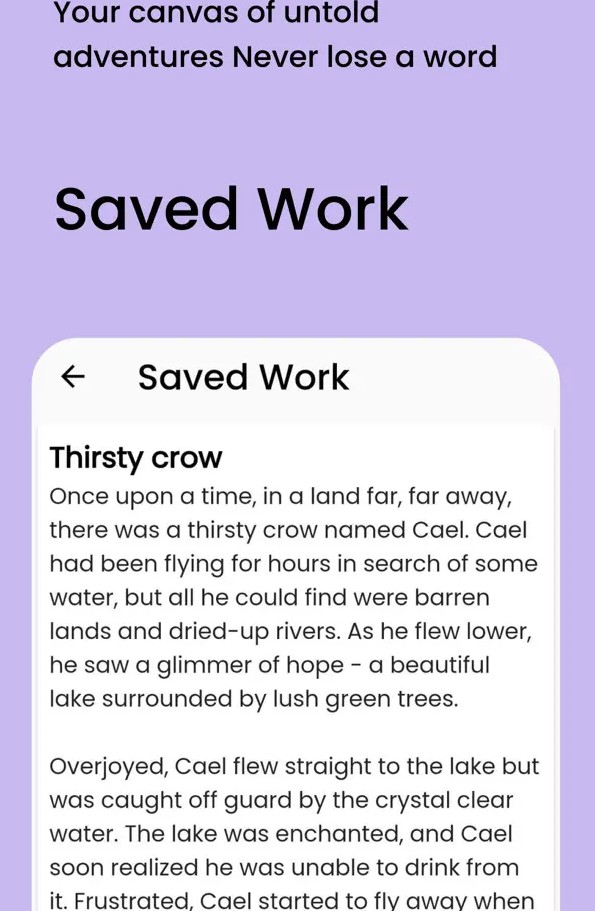 You may also like: 13 Best Interactive Story Games for Android
Smart Writer: AI Writer
This app is not just for the writers of fiction: it has much more practical tasks to focus on. Emails, book reports, essays and sales pitches, even tweets – writing all of these also may need some help. So this app claims to be the fastest and easiest way to produce top-quality content.
Of course, the app pays special attention to your spelling, grammar, and word choice. Plus, it helps with structure, tone, and even offers multi-language support. Also, it can optimise content for SEO purposes.
But it's not only about fixing your spelling mishaps. Smart Writer AI throws in some AI magic with Smart Chat+, a chatbot that's apparently on par with ChatGPT Plus, if not better. You can ask pretty much any questions or request advice, and it my experience, it works nicely.
Of course, creative writing is also an option – be it a school essay or a novel, this app can help with generating these kinds of texts as well.
As for the interface, it's quite accessible, the colour palette is easy on the eyes, and it's very well-organised.
The app is lightweight and does not seem to be buggy. So, overall, I can recommend this one – in my case, it was really helpful for writing an email.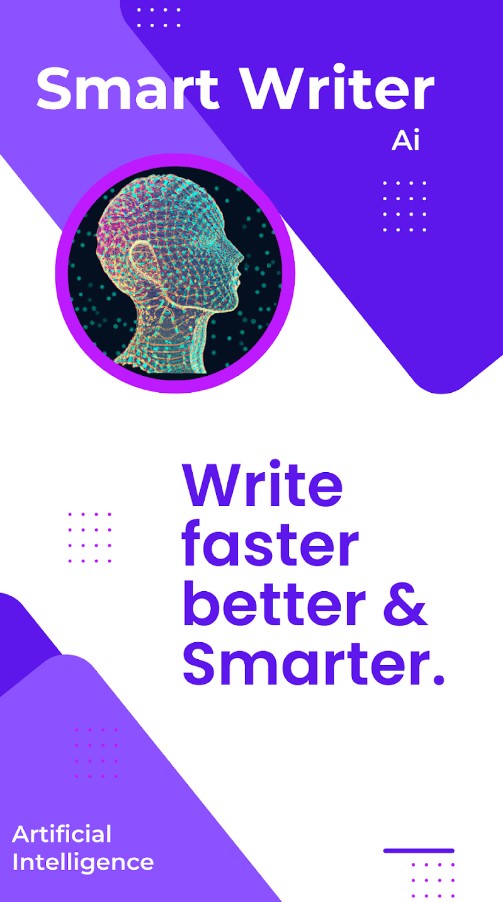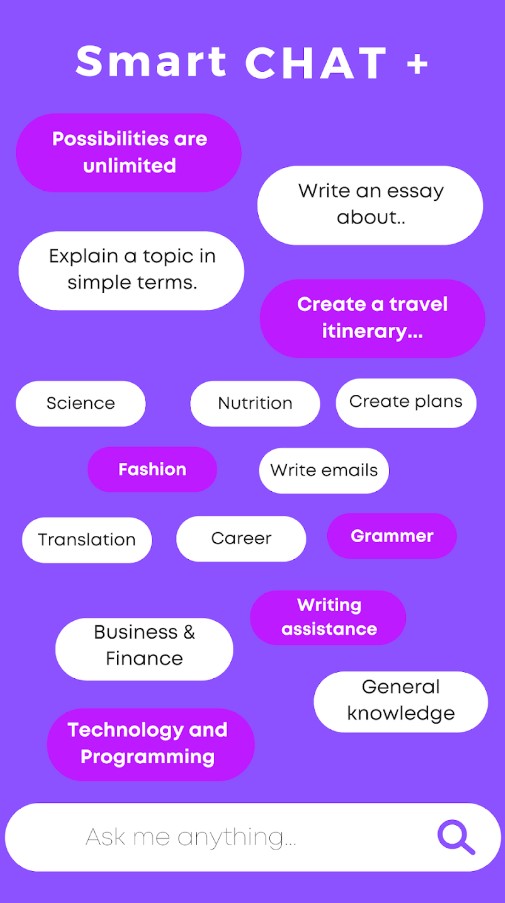 AI Writer – Writing Assistant
AI Writer claims to be the ultimate writing assistant powered by the ChatGPT. It claims being suitable for various writing purposes, for students, aspiring authors, or serious professionals. Emails, blog posts, social media content, and many other texts can be created with the help of this tool. Creative writing is on the list, of course.
It includes intelligent suggestions to refine your grammar, punctuation, and overall composition. Plus, the app does context-aware content generation.
I, for one, like the feature of instant summarisation which should come in handy for those feeling lazy to read long articles: the app distils the key points so you can pretend you read the whole thing.
AI Writer even does code and programming script generation, and simplifies complex technical concepts.
In practical terms, user experience is quite easy, and the app is not too slow or glitchy. The white-and-blue colour palette is also nice. The platform offers multilingual support.
You can use the free version, but when you run out of credits, there is an option to buy extra – or purchase a subscription.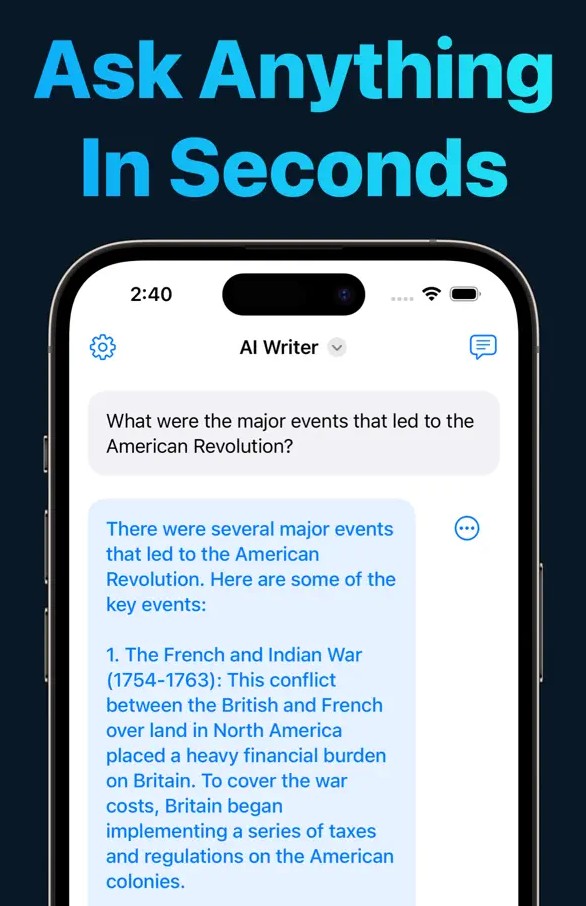 Writecream – AI Content Writer
Branded as the AI writing wizard for all your literary ambitions, this popular and highly rated app generates content in 75 languages in minutes, with over 40 tools helping create texts, from articles to podcasts.
The app can write introductions, conclusions, and outlines for you, or expand an existing piece. There are copywriting tools for paraphrasing, summarizing, and rewriting. Obviously, it comes with a plagiarism checker to keep things legit.
Reviews are predominantly positive: users are raving about the variety of templates suitable for all occasions. There's a custom use case feature, a long-form content editor, and even a voiceover tool.
It's not perfect, though: some users grumble about the UI, and indeed it's not really flawless. However, nothing that would be too irritating. There is a dark theme which I usually appreciate in apps.
But minor gripes about the UI aside, it's a keeper. Finally, there are subscription plans, while the free version is quite functional.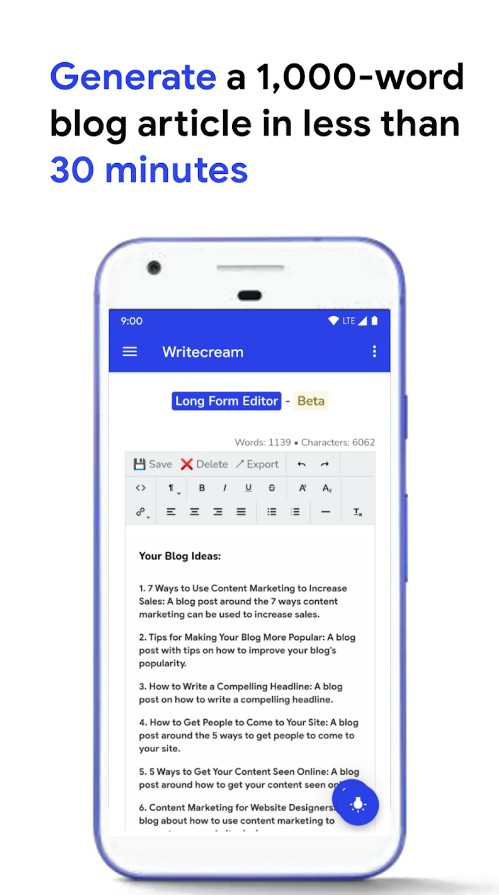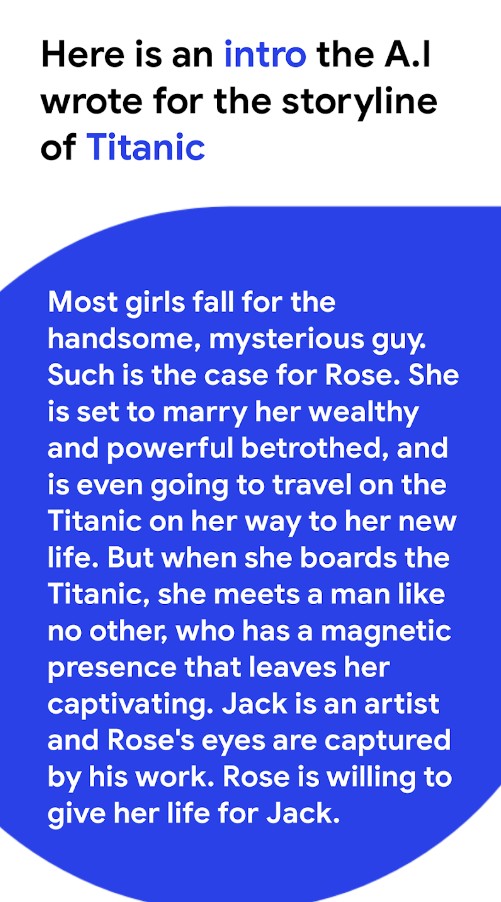 WriteMaster AI Content Writer
One more app designed to make content creation a breeze, this one is also targeted at a range of folks working with text: writers, marketers, and bloggers, promising to craft high-quality, error-free content in seconds. While it's not the most popular or frequently downloaded app on the market, I felt like it deserved a bit more attention.
With pre-built prompts and an intuitive interface, it's easy to figure out. I like the plain and unadorned layout and the ascetic colour scheme – nothing can distract you from the text in this case. In practical terms, it works just fine and has not lagged once in my experience.
Like all similar apps, this one checks your grammar, and includes an AI chat feature for conversations and brainstorming. It relies upon ChatGPT3, to be more precise. Chats with the bot feel fairly natural. Plus, there is an option of real-time translation.
While the app is free, you can purchase additional credits to use its to the fullest.
Finally, it's quite lightweight, so you don't need to worry about your phone memory.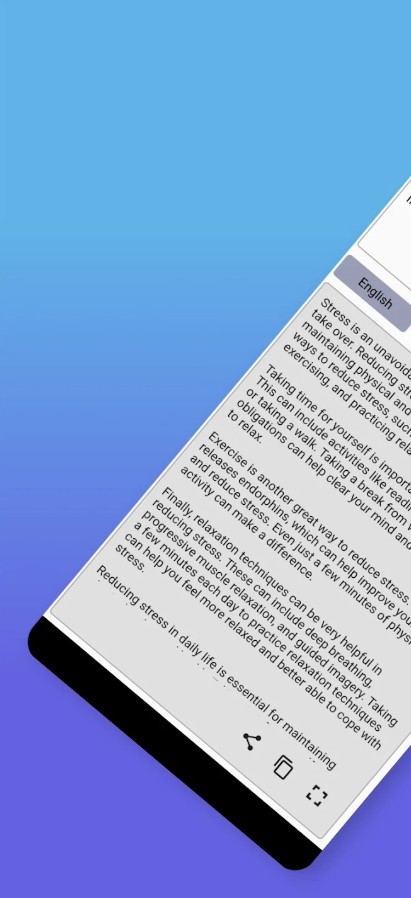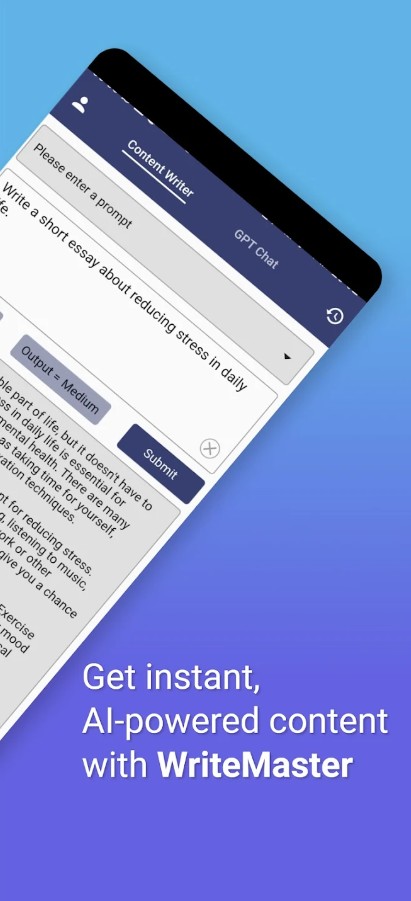 You may also like: 12 Best Offline Anime Love Story Games for Android & iOS
Stories.ai – Imagine anything
The final app on our list is less about serious texts and professional creative writing, and more about having fun and helping your own imagination run wild. If you're a fan of epic adventures and fantasy stories, this is the app for you.
Stories.ai lets you pick a topic, and the AI weaves a tale around it. Love, romance, adventure, drama – you name it. Each run is 100% unique and original. There is more: the stories come to life with AI-generated pictures – landscapes, creatures, and various scenes.
After you write a starting topic, the app throws three choices your way, and you get to shape the destiny of the narrative.
While this is not the most popular writing app, I believe it's got its charm and is finding its place on the market.
As for reliability, it's been working just fine for me, with no major crashes or hiccups. The interface is as user-friendly as it gets. It's fantasy-themed, so it's obviously not what you would call minimalistic, but that's the whole point.
Memory-wise, it's not likely to use a lot. Finally, there are paid features, but the features offered by the free version are enough to showcase the benefits of this app.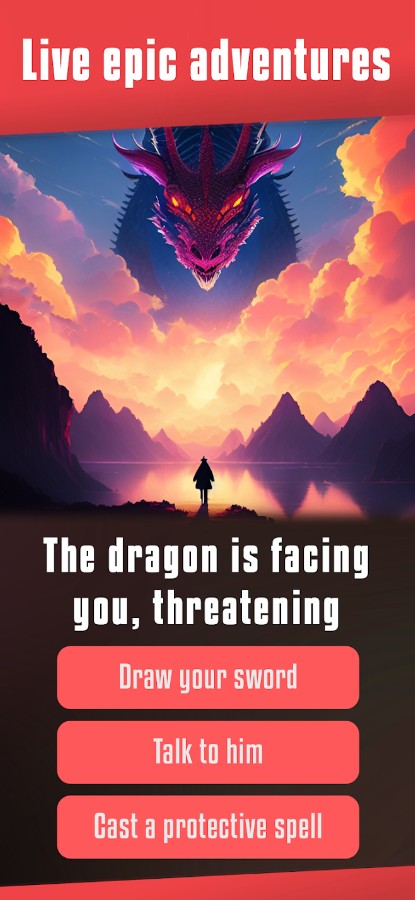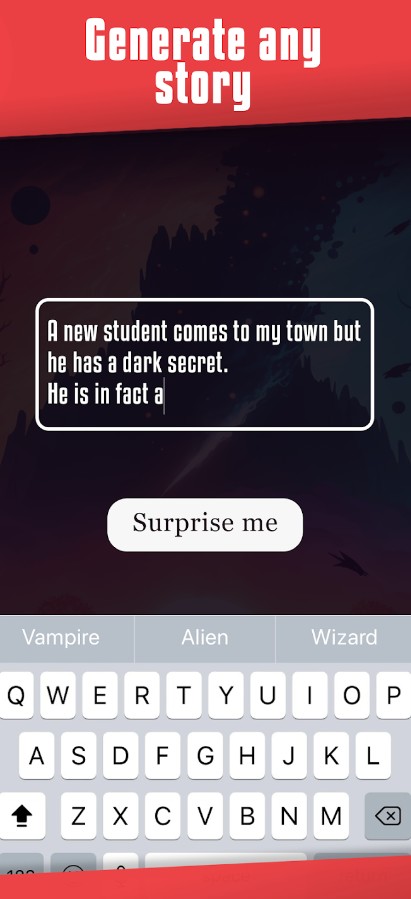 These and similar AI story generator apps offer a convenient and accessible way to embark on a writing journey. So, whether you are seeking initial inspiration or battling writer's block, looking for entertainment options or working on serious texts – these tools at the intersection of technology and storytelling can come in handy.