For every thousand people who hear in America, there are from two to four "functionally" deaf people, according to one of the latest surveys by the American Ministry of Health. So, the necessity of sign language is extreme.
It makes the world more inclusive, open, and understandable. That's why this article will review free apps to learn sign ASL (American Sign Language) with various games, content, and lessons. And more apps to learn sign language can be found in this article.
Lingvano: Sign Language – ASL
Lingvano contains five units, with twelve-fifteen lessons in each one. Video lessons are short and convenient for breaks or on the run. Each topic has an introduction to new words and phrases with a small quiz. You can try for free only the first lesson in each unit.
For people who bought a subscription, the app gives access to exercises for fingerspelling, a glossary, and an option to remember what you learn earlier.
Colorful design and interesting games and quizzes resemble Duolingo. Thus, this app will be convenient for beginners. Lingvano promises that a user will be able to have a conversation in the shortest possible time.
When we learn sign language, we can't know for sure if our gesticulation is correct. That's why Lingvano has a curious feature: we always can turn on the phone's webcam and use it to check and perform everything in the right way.
Moreover, the app has the heading «iconic signs». There are signs, which are common, because of their image (like a sign of paying respect or peace). Another one contains information about different styles of signing as well.
But it's not suitable for deeper language learning. Lingvano is perfect for the first steps.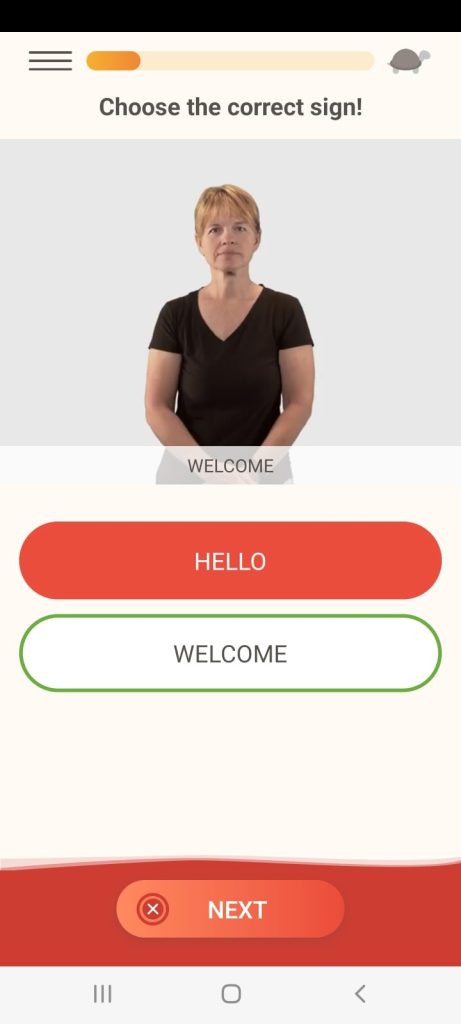 You may also like: 9 Best Apps To Mute Person (Android & iOS)
Ace ASL: Learn Fingerspelling
Users of this app are connected with an instant response on a signing. How does it work? First of all, we should learn theory. There are videos with fun and emotional man, who shows how to do right and how wrong.
Second of all, we have a test and after that practice. This is the most interesting thing in this app. We repeat signs after pictures on our camera. And if we show signs in the right way, the app accepts them and gives us access to the next picture.
One of the most significant advantages of the app is an analysis of our signing in real-time.
Also, users can choose their dominant hand, set up a notification for exercise, and take quizzes after each lesson.
Overall, ACE ASL has five levels of complexity from beginner to expert with ten units in each level, and we can experiment with options to explore different speeds and difficulties.
However, this wonderful technology allows learning only letters and numbers without words. After learning eight letters, the app requires a premium membership to access all the content. This step gives the opportunity for the app to be completely free from ads.
Due to the interactive format, it's a great option for people who get bored quickly. Users can also choose the duration of the course. Ace ASL is adaptive to the person who uses it.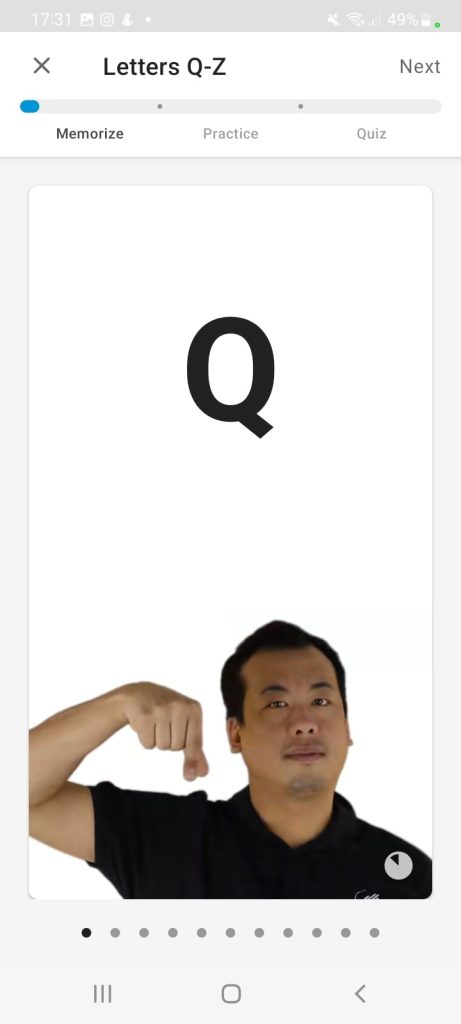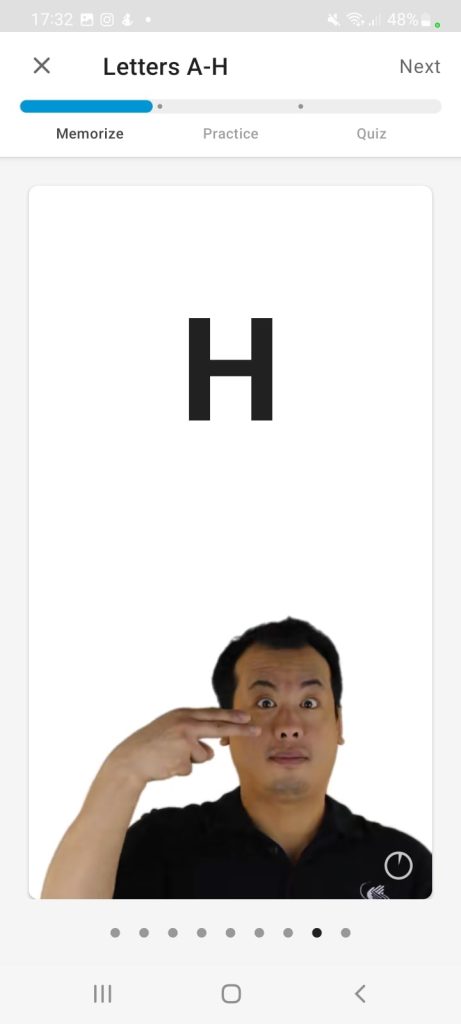 The ASL App
The ASL App has one pack of video lesson signs for various words and phrases for free. There are five modules: alphabet, numbers, common gestures, base gestures, and exercises for fingers.
The first two packs are for learning letters and numbers. Common and base gestures contain a considerable amount of lessons for daily words and phrases.
Module with exercises for fingers has videos of various techniques to stretch our fingers before practice. It's important, especially for beginners. If fingers aren't strong enough, it can be hard to do accurate signs.
There are six more app packs with different lessons and topics, but they will be available only by subscription.
We can also slow down videos and share videos on social media. Each video has a text definition of the gesture. Here we even can search for the sign that we need. We even can choose a gesture, which we want and save it to find it quickly.
Also, there are no games, quizzes, tests, or other learning interactive. So, it makes the process more difficult. Thus, it focuses only on giving information, but without tanning.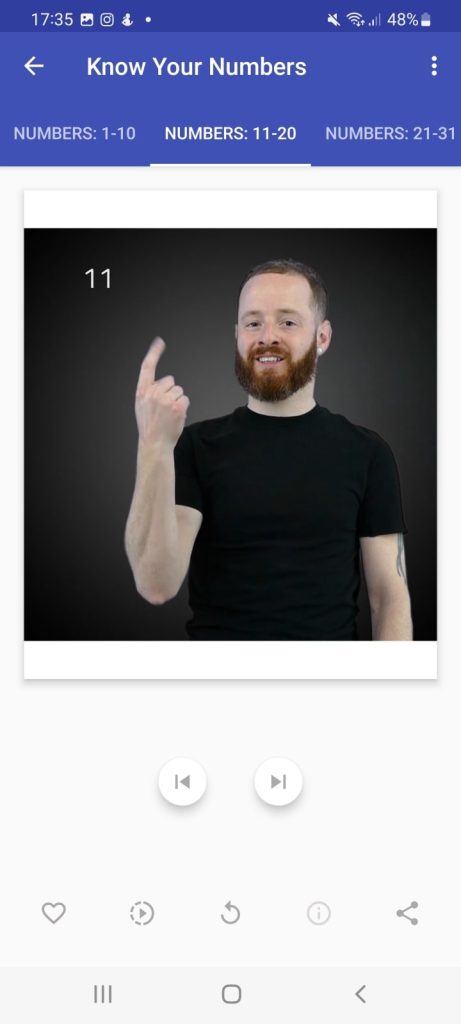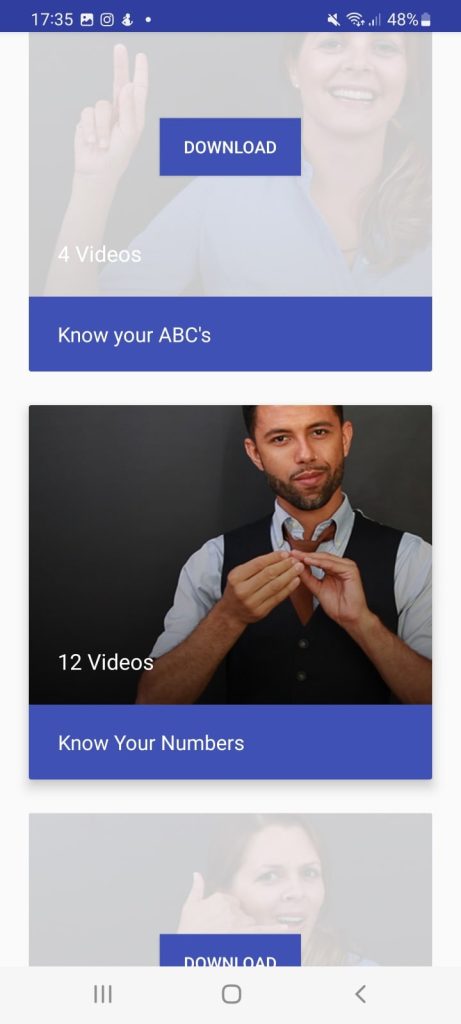 You may also like: 9 Best hearing test apps (Android & iOS)
InterSign – Learn ASL while you have fun!
InterSign has a diversity of games and challenging tests, which are really fascinating and helpful to make learning a fun game. Also, the app gives us more than ninety lessons and four levels of different complexity.
The app contains a comfortable educational process, which allows us to repeat and learn everything that we didn't understand or forgot. It has video lessons, where people show us how to sign.
We can also make public posts, look at glossaries, and even get information about the teachers on the app. The app makes sure that we understand and goes back if we do exercises incorrectly.
As a huge advantage is that InterSign is completely free and has great functionality, but contains ads.
Although a big part of ASL is facial expression, the man is expressionless in these videos. That's why it can be a problem to fully learn ASL.
Sometimes the app asks us to translate a sentence, where can be plenty of different words and phrases make sense, but the only option would be accepted. So, here we have to guess, which only correct answer is even if you have another right potion.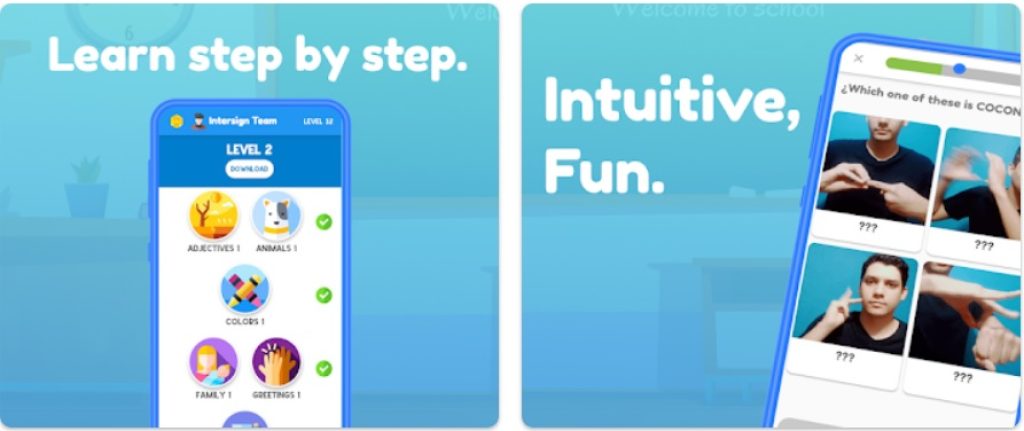 You may also like: 7 Legal Subtitles Apps for Android & iOS
SignSchool: Learn ASL for Free
Opening the app, we see a video of random signs and their meaning. We also can watch it in slow motion.
There is a huge dictionary, which includes hundreds of categories with diverse signs. What's more, we can get notification of the sign of the day. It will allow us to not forget to learn new words and repeat old ones. After learning, we can challenge ourselves by testing each category.
As a disadvantage, some users note that not all signs are visible, and it's hard to understand the right-hand position. Another disappointment is that the categories are disorganized a little bit and lessons can seem random at times.
In general, the app has a large vocabulary, but without interactive (except small test at the end of each category). And everything for free.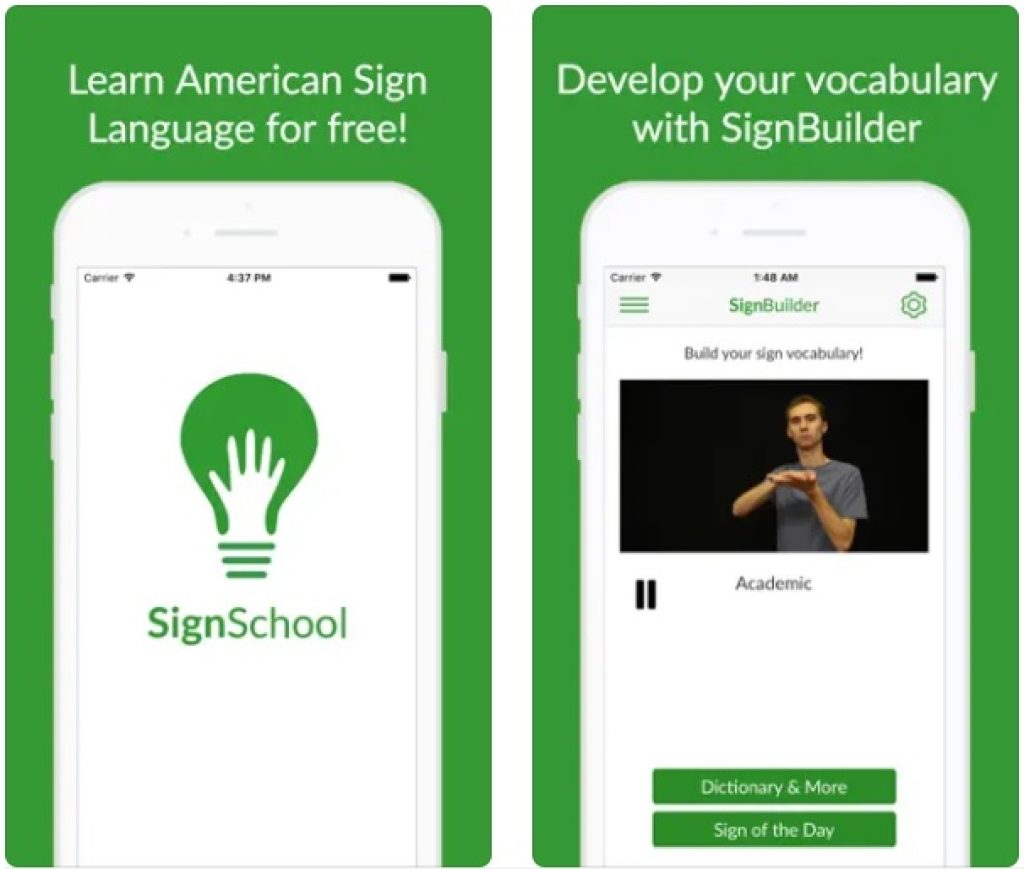 ASL American Sign Language
Another great app to learn sign language. Pretty much, it contains all the features of the apps we have mentioned previously on this list, so we don't see any need to write the same thing once again.
One of the best prominent features of this app is that it is completely free. Moreover, the app even includes the baby's sign language. The interface design is a little bit obsolete, but it is fairly easy enough so everyone is able to handle it and navigate it.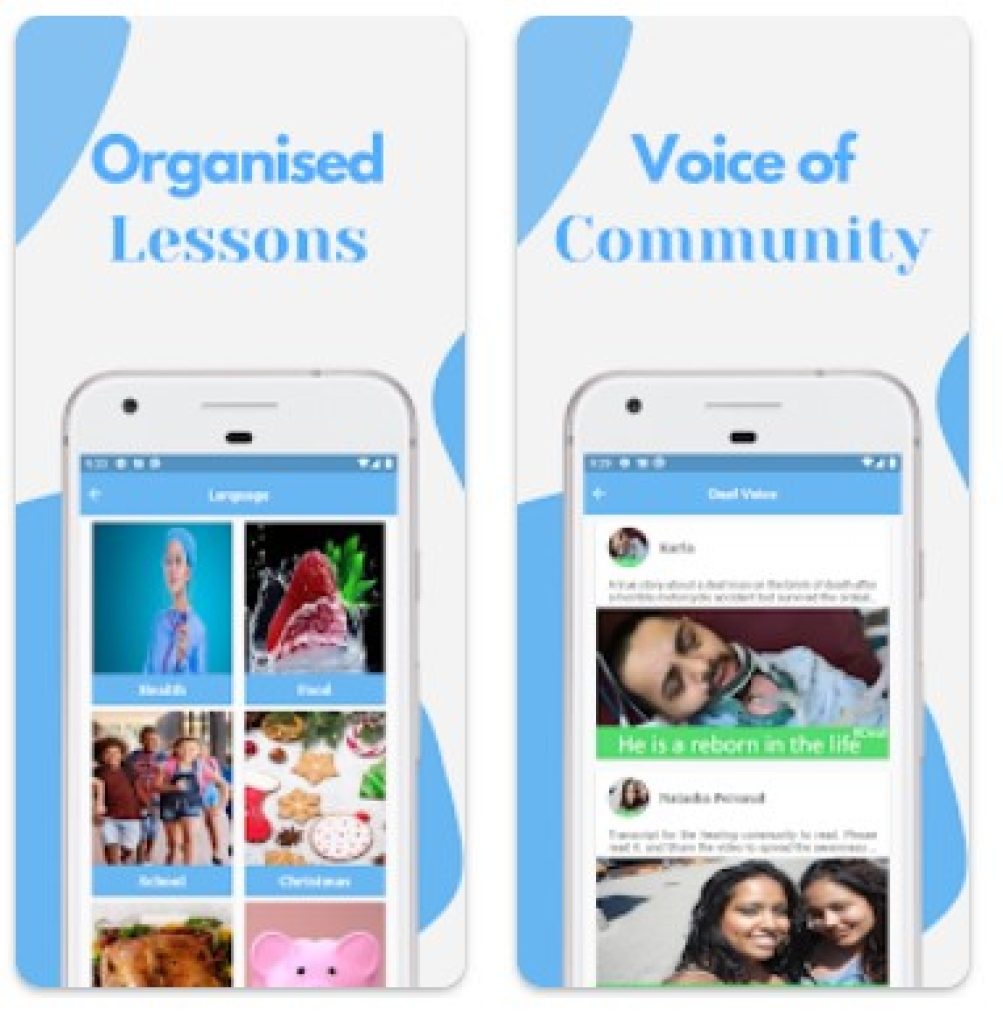 Baby Sign Language: ASL Kids
As you can see from the name of this app was developed to teach baby sign language for kids aged from 1 to 12. The app includes gesture guidelines accompanied by huge images which are easy to understand and remember.
One of the main advantages of this app is the absence of ads. And the main idea of it is that the app was developed in a way that kids can use it and learn the language without interference from adults. The story behind Baby Sign Language is that the child of its developers had the necessity to learn ASL.
Moreover, you don't have to be online to use this app. All your child has to do is tap on the pics.