Want to get your braces removed but your dentist says it's a long time coming? Well, this article has you covered!
There are lots of free apps to remove braces from your photos (Android and iOS) that can make it seem like you've never worn any braces at all. These apps are aimed to remove various types of objects from the pics but they cope perfectly with braces. Everything is getting done quickly and the outcomes look quite realistic.
Here's the list of 11 best apps that category that worth your time. Have a look!
You may also like: 11 Best Breast Photo Editing Apps for Android & iOS
TouchRetouch
Let's start with an app called TouchRetouch. This is an app for deleting all kinds of objects from the pics.
This app has plenty of tools that can erase almost anything from your pics — from small details like braces to buildings and unwanted people (like your ex). Let's talk about the tools that are perfect for removing braces. So you need to access the removal option itself and then you'll need to choose the brush.
Once you do that, you'll need to mark the braces, and they will be gone in secs. If you notice any imperfections or smudges you can adjust it by yourself. Plus, you can try the clone stamp tool.
As you can guess by the name, it copypastes some sections of your pics and you can place it to the unwanted area. So just clone the area with the clear teeth and place it on your braces.
On top of that, to make the outcome more realistic you can optimize the sharpness and the opacity of the cloned area. You can also areas all the smudges if needed. In case you're confused with how to use the tools properly, the app has various tutorials covering each instrument.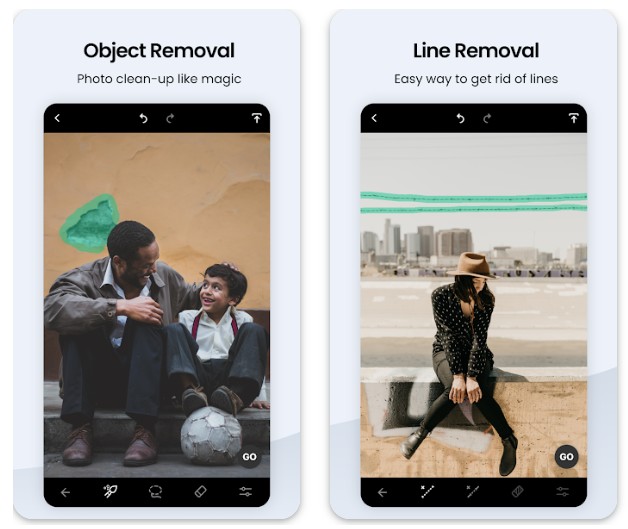 You may also like: 11 Best Nose Editing Apps for Android & iOS
Fotogenic: Face & Body tune and Retouch Editor
The next app is Fotogenic and it can give you incredibly realistic results with removing your braces.
There are many instruments in this app but the one you'll need for the braces is called the clone. This tool empowers you to copy a certain area and place it on top of the other one. Sounds simple but it's yet very effective. So your plan will be to clone the clean surface of your teeth and place it on top of your braces.
It needs to be said, it might be complicated to get it all done with one clone. That's because all teeth are different sizes and you'll be unable to hide all the braces. Thus, you'll need to act slowly, tooth by tooth until you reach perfection. You can also optimize the sharpness and the opacity of the cloned areas to match the teeth.
Plus, you can use the smoothing tool to make all the possible harsh lines invisible. Then, you can try the teeth whitening tool to make your smile bright. All the tools are understandable so you won't need any tutorial. Unfortunately, you can not reach all the tolls the app has without paying for a subscription pack.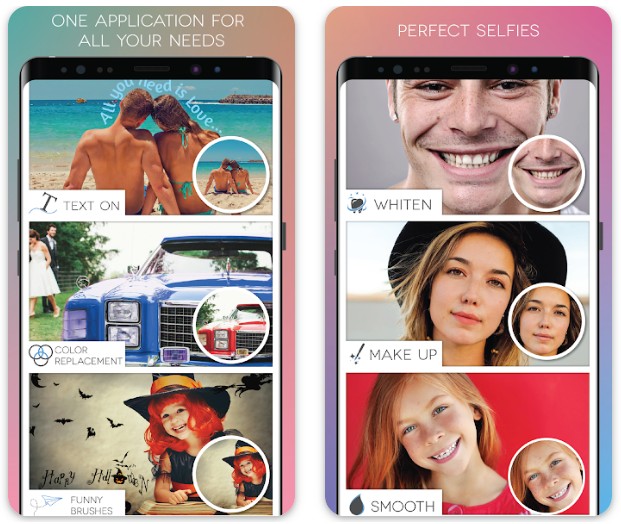 Object Removal Lite
As its name suggests, Object Removal Lite is an app that excludes undesired objects from your shots.
If you're the type of person who gets overwhelmed by the apps with multiple tools, this one is for you. It has only one aim and it's very easy to use. So the tool you need to get rid of your braces is called brash. This toll asks the minimum actions from you — you simply need to mark all the braces and that's it.
Wherein, you will need to pick the right sized brush for it. Once the undesired surfaces are removed the pic continues to look quite realistic but there might be exceptions. In case you'll notice any smudges or harsh lines you will need to fix it by yourself or try again with smaller for the bigger brush.
Furthermore, you can optimize the opacity of fixed areas and smooth out the edges. The same thing goes for stamps, erasers, and other stuff that can make your teeth look more believable.
You can also whiten your teeth to make your smile even brighter. However, the app runs on subscription packs so you can't use much of extra tools.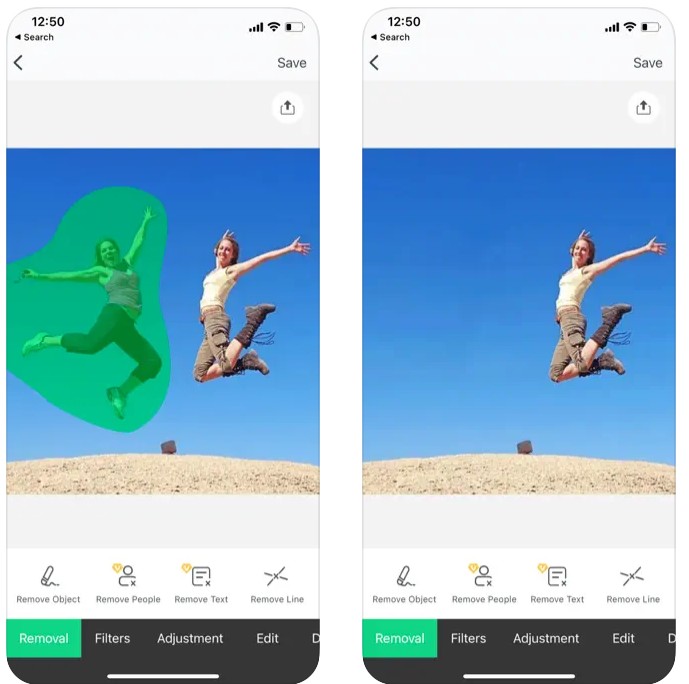 Snapseed
Snapseed is a well-known app that can cover all the imperfections with your shots. There's not a surprise you can use this app to hide your braces as well. So let's figure out the tool that can help yo do that.
You'll need a tool called the healing (its icon looks like an actual patch). This instrument can help you to get rid of the braces with a few taps but you'll need to zoom your shot in quite a lot.
This engine is kind of placing a patch on the field you pick by smudging it. Wherein you won't be able to get the perfect result from the first try but after a while, you'll get quite a believable outcome. Plus, you'll get almost thirty other tools that can make your shots wonderful. And there are also numerous filters you can try.
Once you'll do with the patch tool you can smooth all the sections on your teeth you don't like. You can also optimize the sharpness and the opacity of your teeth.
Besides, there's a whitening tool that will brighten your smile. Some tools are paid but there're more than enough of the free ones.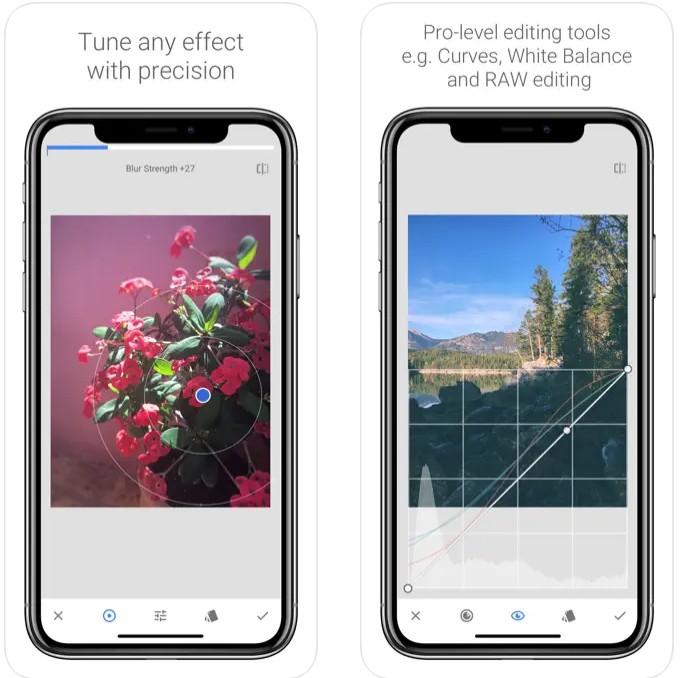 Professional Photo Editor App
Professional Photo Editor is an app that can help you amend your smile on pics.
The tools in this app are almost pro so it empowers you to make any kind of adjustments with your shots. As for the tools for getting rid of braces, you will need the one that hides objects. With this tool, you'll just need to mark the object you want to delete and leave the rest for an app to do.
This tool usually gives quite believable outcomes but if you're not happy with it you can optimize it by your will. Thus, you can smooth out the harsh lines if there are ones, sharpen any areas and stabilize the opacity to match your teeth perfectly. In case there are more serious infections with this tool you might want to redo it.
For the most accurate results, you'd better zoom the shot very close to not accidentally mark the areas that don't need improvements. You can also whiten your teeth after that to brighten up your smile. And if you struggle to reach perfection with your pic you can message the app's support team, and they'll do it for you.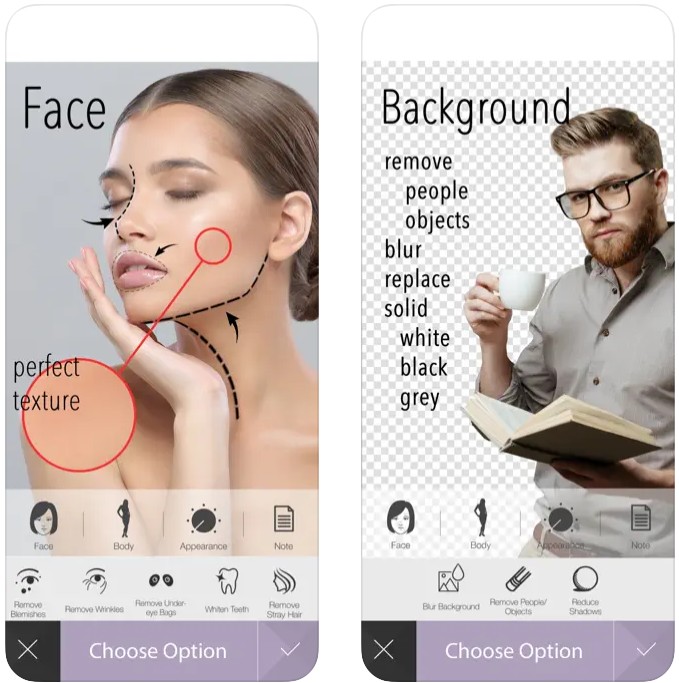 Unwanted Object Remover – Remove Object from Photo
According to its name, Unwanted Object Remover is an app that can quickly delete objects from your shots.
The main aim of this app is to make your pics as realistic as possible. This app is fully dedicated to removing stuff from your shots so it has various tools that can help you get desired results. The first tool you can try for hiding your braces is called retouch.
As you can already guess it deletes undesired things from the shots and requires minimum actions from you. Your goal here is to highlight the braces (or whatever else) with rather lasso or the brush. Once you're done with that it takes secs to hide the braces. The deal here is to pick quite a small size of the brush to not accidentally mark extra areas around braces.
Another engine you can use is the stamp one. This tool duplicates one surface you mark and stamps it to another one. Therewith, you'll need to do here is to mark the clear parts of your teeth and then place it on top of braces. It's better to do this tooth by tooth to avoid cracks.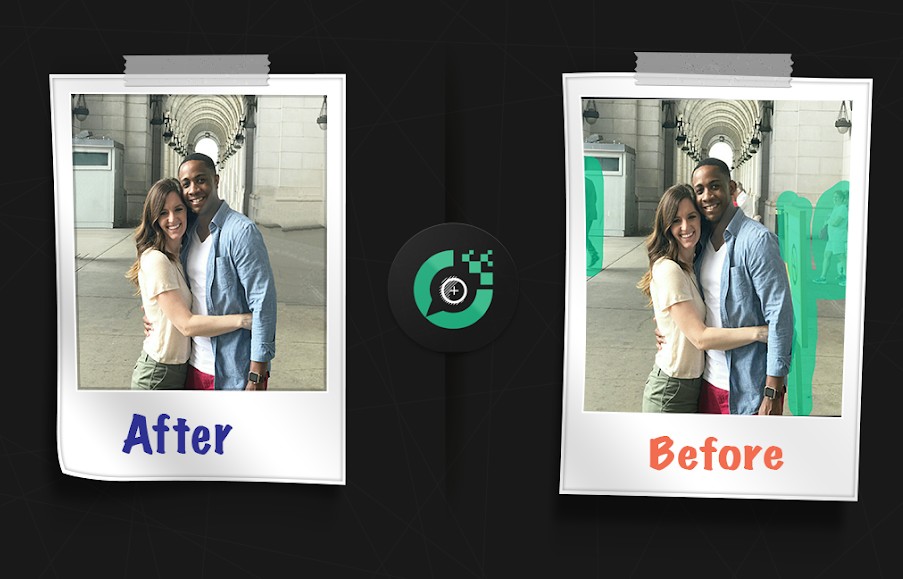 Check also: 12 Best red-eye remover apps for Android & iOS
Pixomatic photo editor
Pixomatic is another app that can hide the braces on your pics.
This app covers several instruments that can help you cover your braces so nobody will ever notice you've has one. These tools can cut out and delete all the undesired objects from your pics. So the cutout tool empowers you to literally cut the stuff out your pics and then add something else instead.
It can work with small stuff or the background. In case you have a series of similar pics with braces you can save the cutout shape and for later use. Another tool you can use it called to remove and it can hide any object with one tap.
This tool kinda drugs the area near the undesired object so it hides the braces. If you plan to use this tool make sure to zoom your shots quite a lot to not smudge other areas accidentally.
There's also a retouch tool that requires you to mart the unneeded object and leave the rest to an app. Once you removed the braces you can see smoothing tools or the whitening one to make your smile look even more wonderful.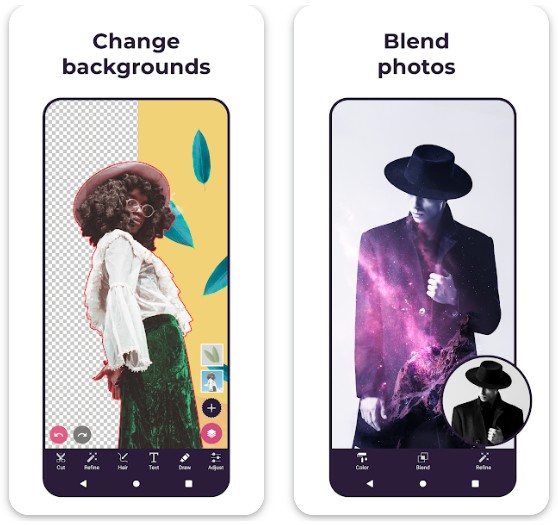 Photofox – Photo Editor
Photofox is mainly an app for creative photography but it can also cope with the braces' removal.
In the case of this app, you can try three tools to hide your braces. The first one is called a clone stamp. With this tool, you will be able to clone the clear surface of your teeth and then apply it to the area of the braces. You can optimize the opacity, the brightness, and the sharpness of the cloned part so it will look realistic.
Another tool you can use is called a patch. This one works similar to the stamp as you need to copy one part of your pic and paste it on top of another one. The trick with these two tools is to do tooth by tooth and close up the pic so that it will look realistic and have no smudges.
In case you've messed up with it and don't want to start over, you can use the eraser. The third tool you can use is the healing brush. So this one takes the surface around your braces and covers the actual braces with it. It's like smudging but still looks good.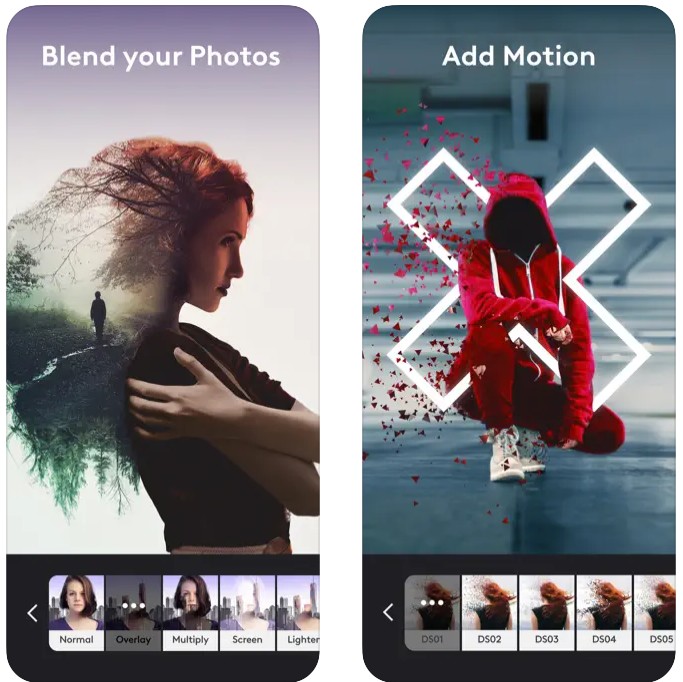 Facetune
Facetune is a legendary photo editing app. It's designed to help you improve your selfies and portraits and remove braces by offering a range of editing tools and filters.
The app works by allowing users to import photos and videos from their camera roll and then use a variety of tools to modify and adjust the image as desired.
Facetune offers a wide range of editing tools, including the ability to smooth and brighten skin, whiten teeth, remove blemishes, objects, and even modify facial features. The app also includes a range of filters and effects to add an artistic flair to your photos.
But keep in mind that app is paid and requires a subscription to access all of its features. Additionally, some users have reported issues with the app crashing or freezing, while others have criticized the app for promoting unrealistic beauty standards.
In terms of user reviews, there are dissatisfied reviews about the subscription cost and limited features available without paying.
Some users also find the app difficult to use, non-intuitive, and has a steep learning curve. However, many users appreciate the app's ability to enhance their photos and give them the look they want.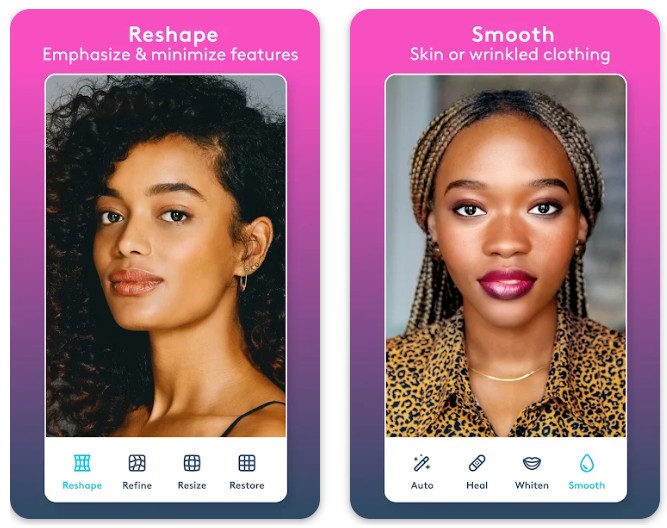 Magic Eraser Background Edito
Magic Eraser Background Editor is an application designed to help you quickly and easily remove objects from images. With this application, users can easily edit their photos by removing the background and replacing it with a new one.
The app offers a range of editing tools, including brush, zoom, eraser, and more, which allow users to accurately remove backgrounds and objects from photos.
In addition, it also has a feature called "Auto Erase" which uses artificial intelligence technology to automatically detect and remove the background.
One notable feature of the app is that it supports multiple image formats, including PNG, JPEG, and BMP. Users can also save edited images in various file formats such as PNG, JPG, and PDF.
In addition, the app allows users to share edited photos directly on social networks such as Facebook and Instagram.
While the app has received a lot of positive feedback, some users have complained that the app often crashes making it difficult to use.
Moreover, some users noted that the artificial intelligence technology in the application is not always accurate and may not completely remove the background.
While the app has some flaws, its feature set and user-friendly interface make it popular among Android users.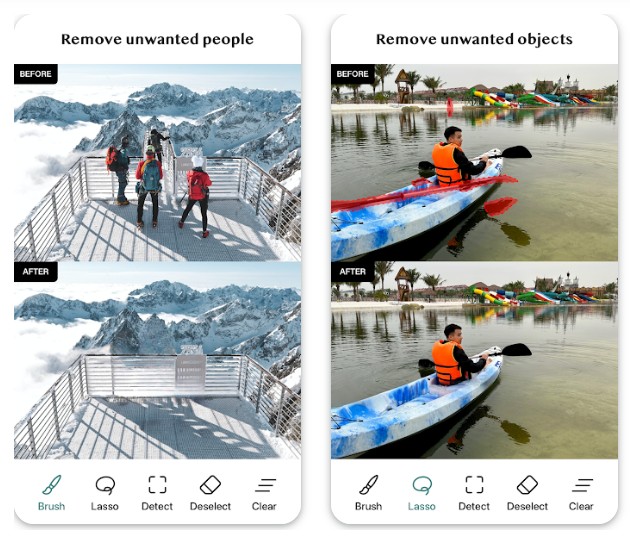 You may also like: 9 Best Witchy Photo Editing Apps For Android & iOS
Retouch – Remove Objects
Retouch is an application designed to remove unwanted objects from photos. It allows you to select any unwanted elements such as power lines, telephone wires and even people and remove them from your images.
The application uses advanced algorithms to identify objects and smoothly fill in the background, resulting in a photo that looks natural.
One of the main features is the "lasso" tool, which allows users to select the object they want to remove by tracing it with their fingers.
Other tools include the "brush" tool, which can be used to remove small objects, and the "clone" tool, which can duplicate and move objects in a photo. The app also offers a "healing" tool that can remove blemishes and skin imperfections.
But not everything is so good here. For example, it is difficult to remove complex objects such as buildings or trees without leaving noticeable marks. Also, the interface may seem a bit confusing to users at first, although it becomes more intuitive with practice.
Some dissatisfied reviews mention that the app may be slow to process photos and may not work with all types of images.