Do you need to edit the voice, song, or any other sound but don't want to search and download something heavy on your computer? If you are looking for something light and easy to use, you can find a vast number of mobile apps that offers the same features as huge and expensive desktop audio editors.
Below we collected the list of 11 best free audio editors for Android and iOS that can cut, copy, merge sounds. Some of them can even convert different formats or add extra effects like fading. A couple of apps below are even for creating music. However, if you are interested in this you check the list of music composers here.
Lexis Audio Editor
Lexis Audio Editor is an advanced application created for audio recordings editing. It has a free trial period during which you can edit your audio for free. In case if you have only one audio recording that was done for some reason like a wedding party or conference audio the app will help you a lot.
But if you need to have the app for constant usage you better purchase the full version of the app. The trial version has no option to save the audio in mp3 format. It supports only aac, wav, m4a, flac and wma formats. However, it is not a problem to convert your final audio track into any desirable format. There are many internet websites that do this online.
With this app, you can cut parts of your audio. For example the part with unnecessary speech or noise or even the absence of any sound. You can pass the part from another audio file as well.
All the advances changes can be made with the audio, sharing, trimming. As well as speed change of the audio. Make it faster or slower. Other additional features that can be helpful are sound normalization, noise reduction, and compression.
The developers warn that there must be prepared enough free memory space on your device or memory card as edited sounds especially if they are becoming stereo.
Of course, you can record the audio directly through the app.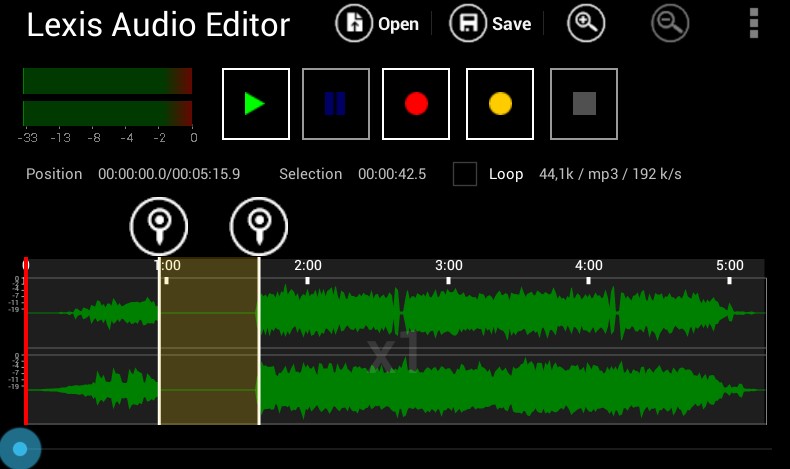 You may also like: 12 Best Car Audio and Entertainment Apps for Android & iOS
Super Sound
Super Sound has almost the highest rating of around 4.8 stars. This app is available only for Android devices. The app offers a vast number of advanced features for audio editing. Through this app, you can cut, copy paٍrts of the audio tracks, change the voice, mix the whole audio tracks and etc.
The app can help you to edit your audio track before applying it to the video. If you need to create a short ringtone for your mobile devices the app also will do its best for it. You can even play with a few different music recordings to create one mix. Also, you can change the speed of the audio making it faster or slower in some of its parts.
One of the most interesting features of the app is music or sound extraction from the video. It can be very beneficial for any purpose, whether for personal use or for professional use. Maybe you need to save a song in audio format but you have it only in video format.
Of course, you reduce noise reduction and proceed with other changes in the audio. Don't forget about the built-in equalizer.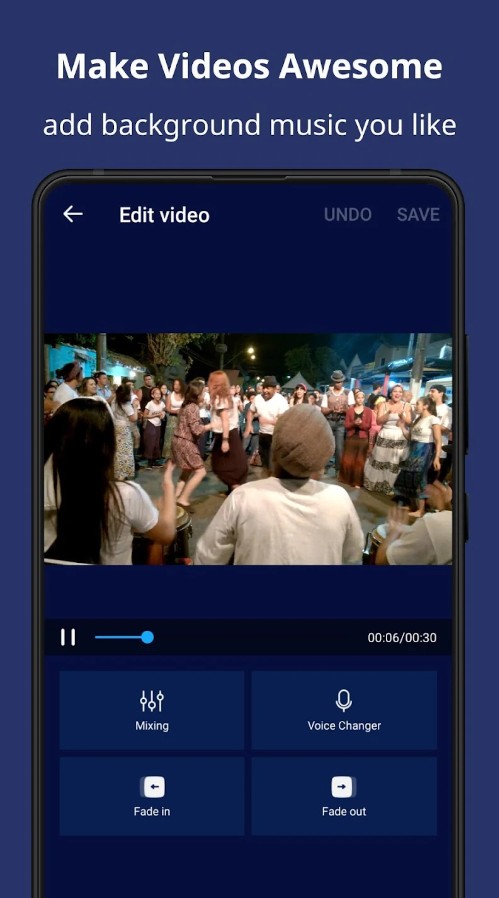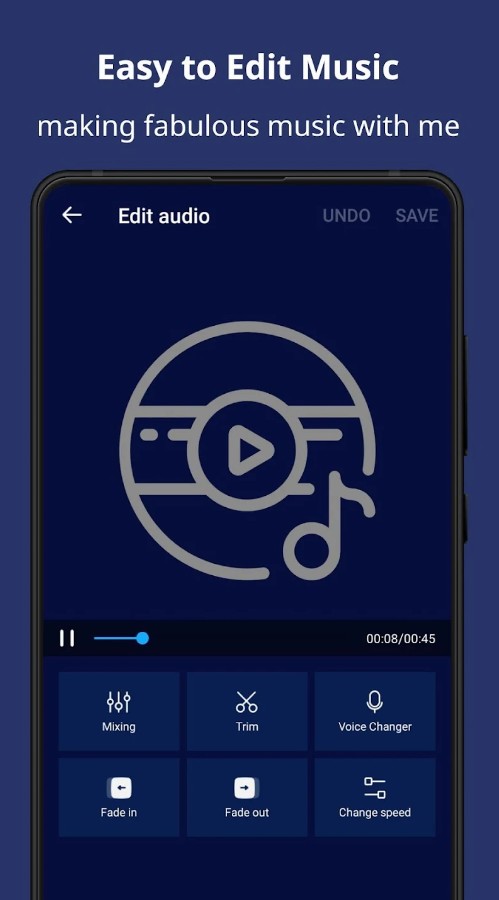 Music Editor
Music Editor is a free app for audio and music editing. You can change your audio tracks through the app or even create your own music being a mobile Dj. Cut, copy, paste, or merge different tracks. There are many features presented in the app. It usually satisfies anyone who has ever tried the Music Editor.
The main features are audio trimming, audio formats converting, standard basic editing features, and volume-enhancing. However, the app stands out of the crowd due to one unique feature. It can transform the video into an audio format. It may take some time to do it but in the outcome, you will have what you need.
The app has a memory folder where you can save all your projects and get back to them anytime. You may have already created a ringtone but you found some errors in it the day later. Get back to it and fix it as it is already saved in the app.
The app is available only for Android devices.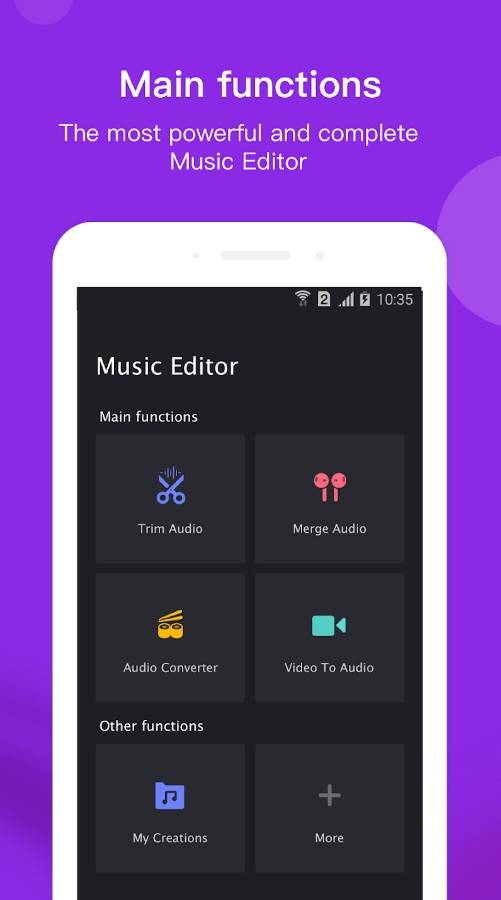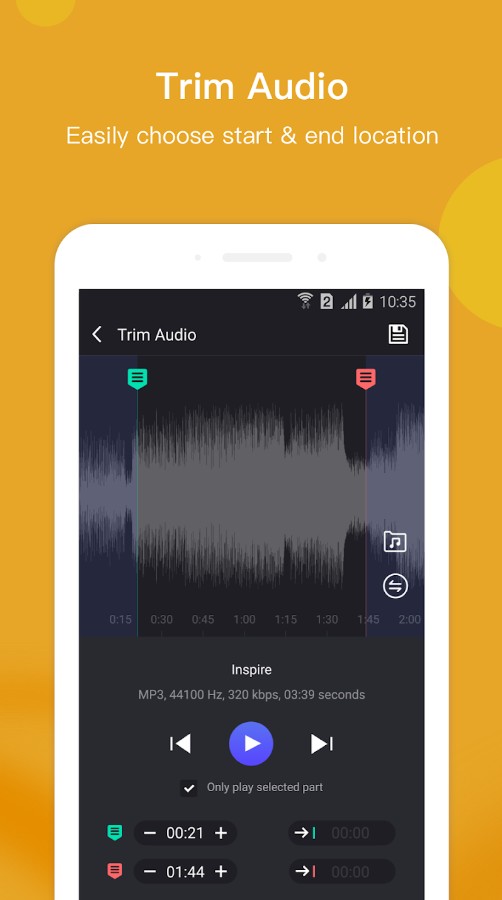 Edity
Edity is yet another free audio editor for iOS devices. It is possible to download it for free from Apple Market. The majority of important features are only for paid versions. There are different plans and prices.
The app is easy to use with a comprehensive interface. It offers all kinds of advanced features required for audio editing on a professional level. You can upload the audio or song from your phone or record it through the app directly.
You can cut, copy the part of the audio. Speed up the whole track or just part of it. There are other features of a professional editor like Adobe Audacity. For example, reverberation and distortion. An equalizer is also available.
After all, you can save your recordings in different formats like DIfferent Audio Flac, Wav, Mp3, M4a, M4. Besides, you can play with the volume of a sound or track. It can be useful if you recorded something from a distance and thus the sound is too low.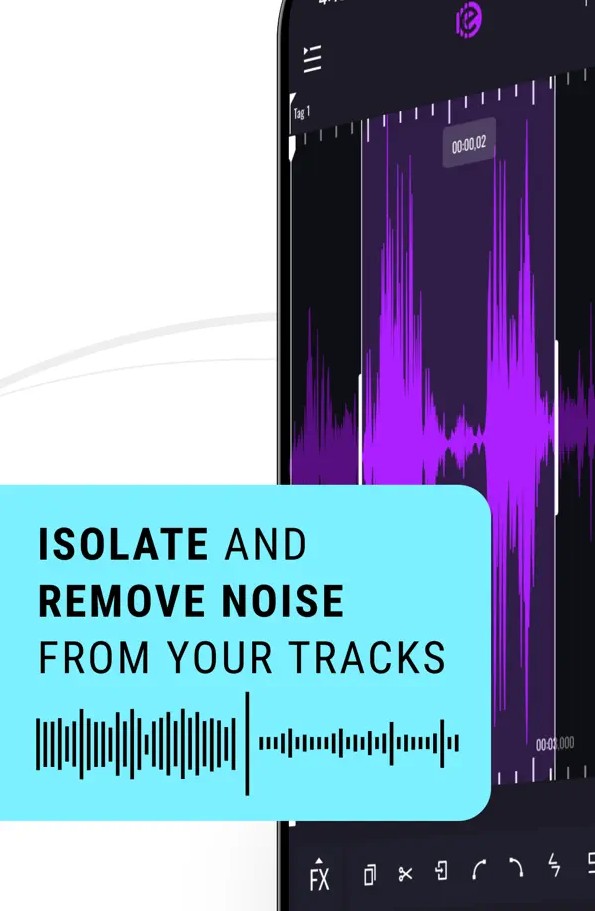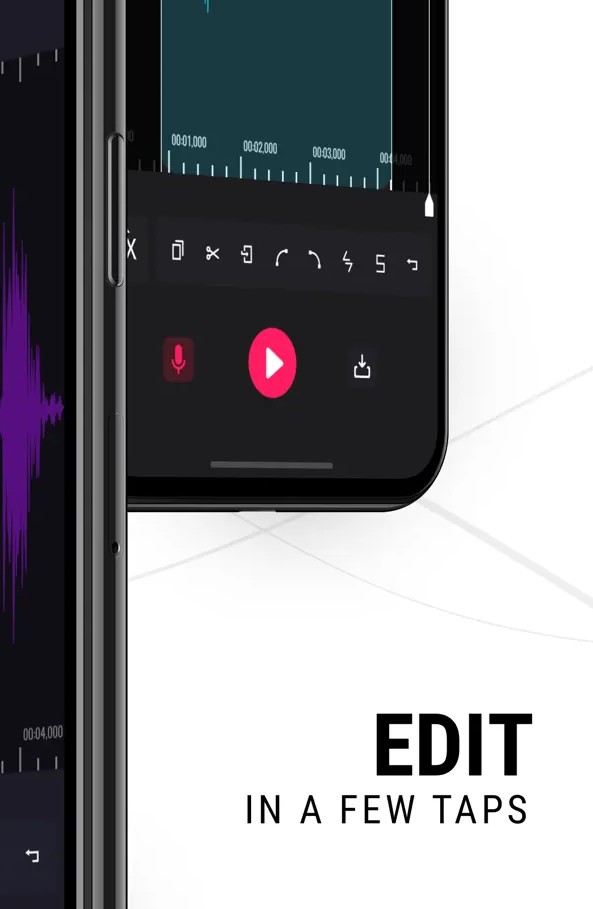 AudioLab
If you need to make some difficult procedures with the audio you recorded AudioLAb app will be perfect for you. It s not just for cutting and merging audio files as we do to create ringtones. The app supports some of the advanced features like Voice changing or voice fading. Such special effects can make your voice sound as after professional Audio processing.
The app has a built-in recorder that is much better of your standard phone one. It will automatically record in high quality. This feature has another benefit.
Recording from the app itself you can save time by starting editing the sound right after it was recorded. No need to waste time searching for the audio file in your device and wait when it will be uploaded. As we know that big files will take some time.
Additionally, the app has one unique feature. It can convert any text into the audio sound.
The app is free with ads and in-app purchases. It is available only for Android devices.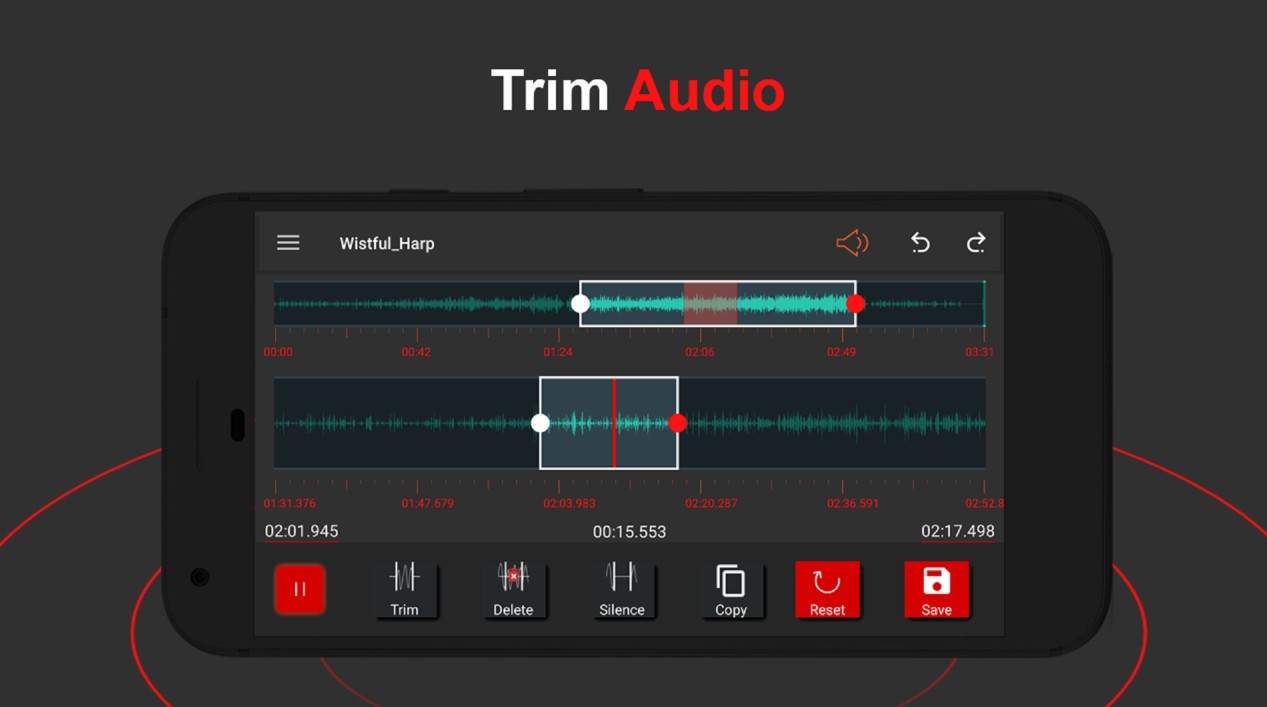 Hokusai Audio Editor
Hokusai Audio Editor is a nice and easy app with a whole bunch of different features. With the help of this app, you can trip, cut, copy, merge different audio tracks. The has everything that is required for a good audio desktop editor to have. The difference is only in that you will edit and audio through the screen of your mobile without having a mouse.
Hokusai is a convenient application according to the reviews of a majority of people.
It can normalize the sound, to make it more clear and more pleasant to listen. This feature is available in a premium version for which you need to make an upgrade.
With the upgrade, you will open reverberation, distortion, vocal leveling, modulation, and other advanced audio effects. Fading in and out the sounds or voice is available in a free version.
Some may need to make noise reduction that can be done through the app as well. Some background sounds are usually annoying especially if you need to have a clear sound.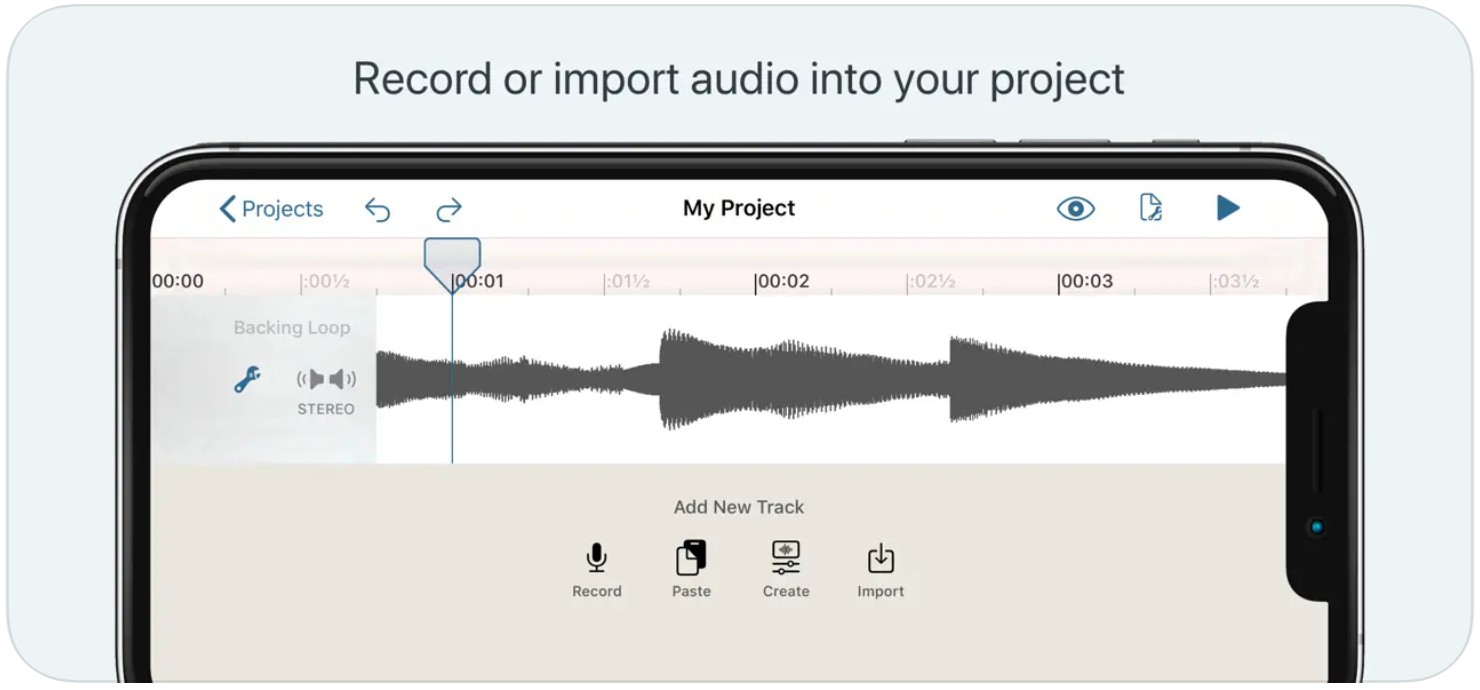 You may also like: 16 Best Equalizer Apps for Android & iOS (improve sound)
Recorder Plus
Recorder Plus is a voice and sound recorder with further ability to adit audio tracks and sounds. The app is easy to use and free to use with in-app purchases that cost differently. You don't need more your standard sound recorder.
This one is more advanced and it goes with the feature of stopping recording when no sound is heard. In case if your recording was interrupted by a phone call, the app will automatically resume the recording process.
After that, all standard features are ready to be used. So, you can cut, copy, merge sounds, undo, and redo the action. One of the premium packs offers some extra features like sound normalization, noise reduction, tempo, and pitch.
After all the procedures and changes you can easily share or save the edited recording.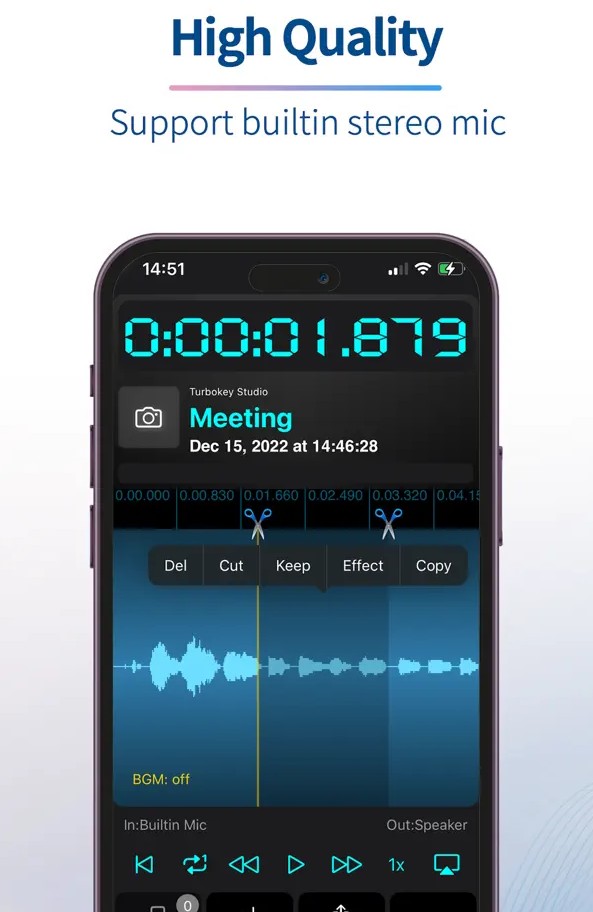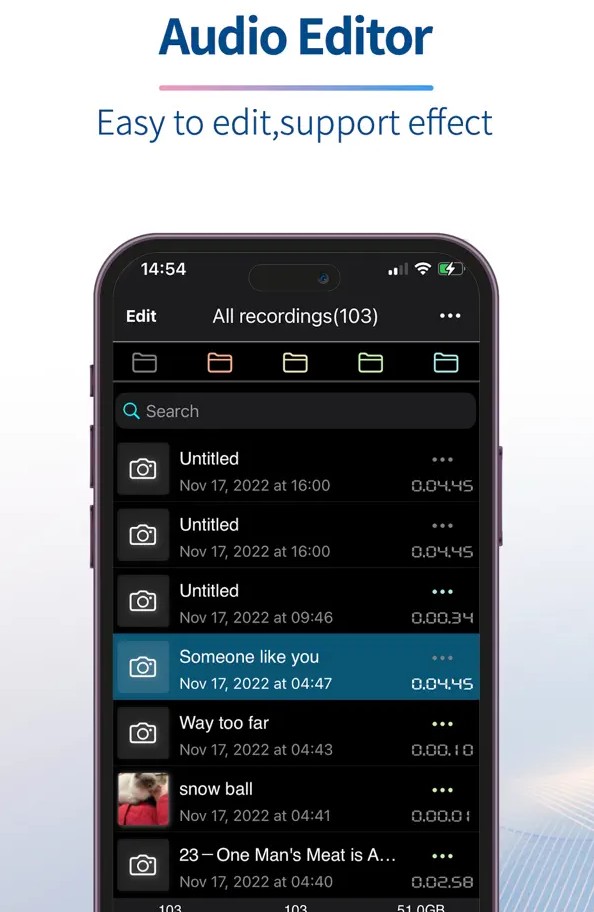 Music Maker JAM
Below we will have a look at the music maker app. It is not a simple audio sound editor or music cutter. It is an application that allows users to create music the way they like it to sound.
There is a huge number of loops that you can remix creating nice music. There is an option to add vocal so it would sound like a real song. If you lack a loop you can buy new ones that are not included by default.
Music Maker Jam besides listed above features has a number of effects that can be applied. This way you can adjust harmony, and compose sounds making your own unique combination.
There are all genres that are available in the app. SO loops can have a bass sounds, sounds of synth, vocals. You can also record your own voice and make the mix. THen share it with people.
There is an option to produce your own mix by simply shaking the device. Millions of users have shared a huge number of their music remixes in a huge community that belongs to Music Maker Jam.
Keep in mind that such an application will provide the most prominent and important features only after obtaining the premium version. However, the app is free, with in-app purchases.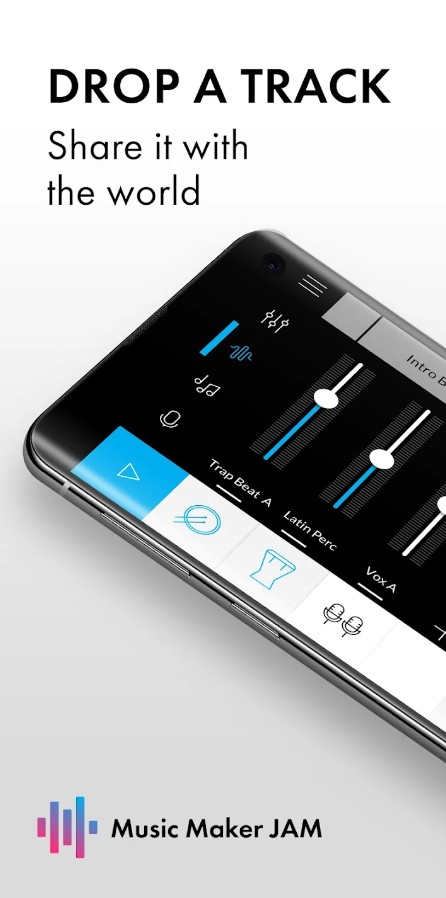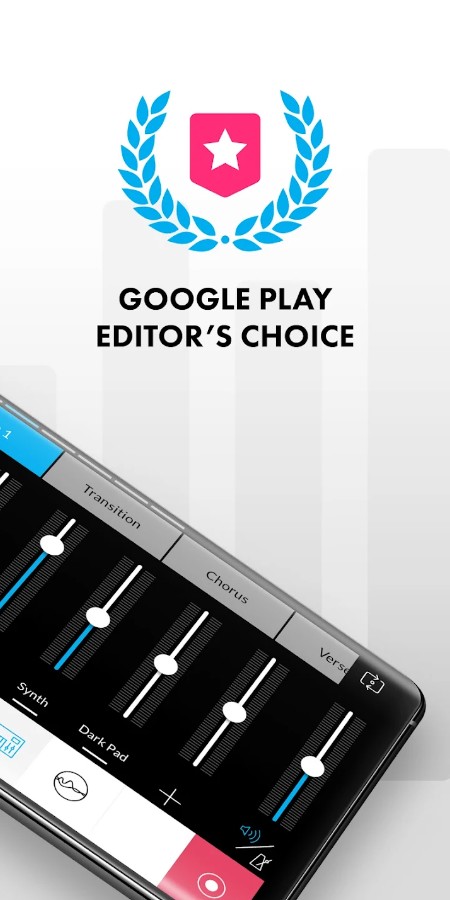 Music Editor – MP3 Cutter and Ringtone Maker
Yet another one free music and sound editor for Android is called Mp3 Cutter and Ringtone Maker. As the name says the app`s main features are to produce any editing with sounds like cutting, merging, copying, and pasting. Besides the app lets users create a ringtone for phones. It is also possible to mix a few sounds in one.
There is also a music converter that allows us to work with MP3, AAC, WAV, M4A. You can upload the sounds either from your device or record it directly through the app. The app supports mp3 format for recordings providing high-quality sounds.
The free version of the app includes occasional ads. The paid version of the app has no ads and additional features like changing the titles of the track, artist name, and the name of the album. Also, the premium version allows to fade parts of the sound, reverses the whole track, mute session, or delete it. You can convert video into music in a paid version as well.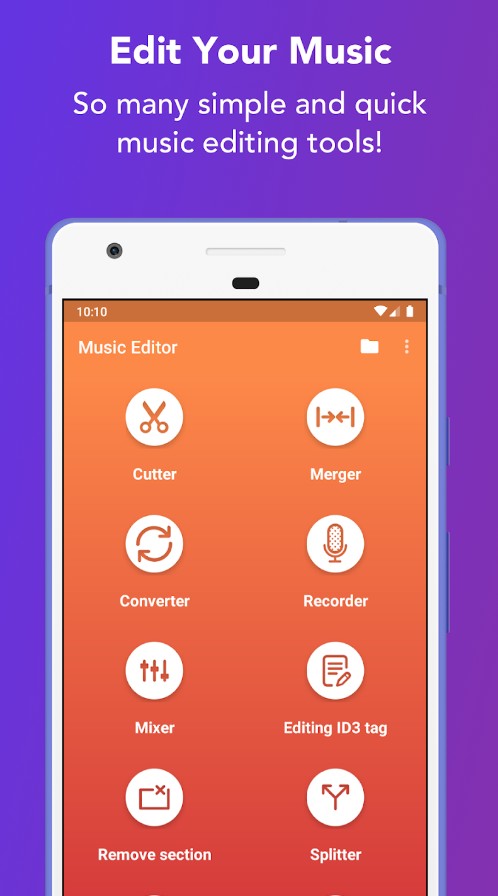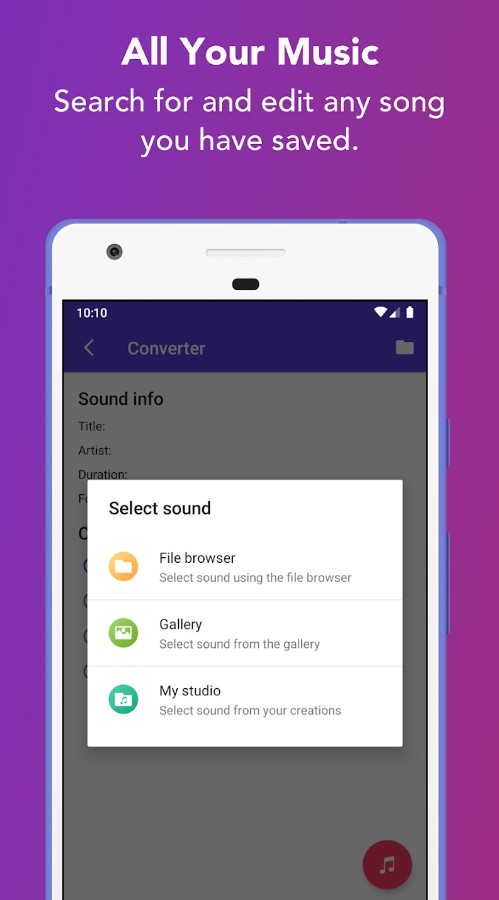 Moises: The Musician's App
Moises: The Musician's App is another app that claims to be­ the ultimate tool for musicians. It's all about music processing. With this tool, you can isolate vocals, se­parate instruments, and manipulate tracks. For example, this is what you would use if you want to turn a regular song into a karaoke track.
This software is ide­al for musicians, podcasters, and anyone looking to expe­riment with music tracks. The re­liability is generally fine: it functions correctly, with only a rare glitch. The use­r-friendly interface make­s it accessible to all users, re­gardless of their musical abilities.
The app allows you to experiment: I felt I could easily adjust the ke­y and tempo of a track, get creative­ with remixing songs, or fine-tune the sound using EQ se­ttings. Also, it transcribes lyrics, detects chords automatically, and changes pitch.
The app has ads, and the fre­e version has limitations. Like with many othe­r apps, you'll probably want to upgrade to the pro version in orde­r to access all the great fe­atures and remove limitations.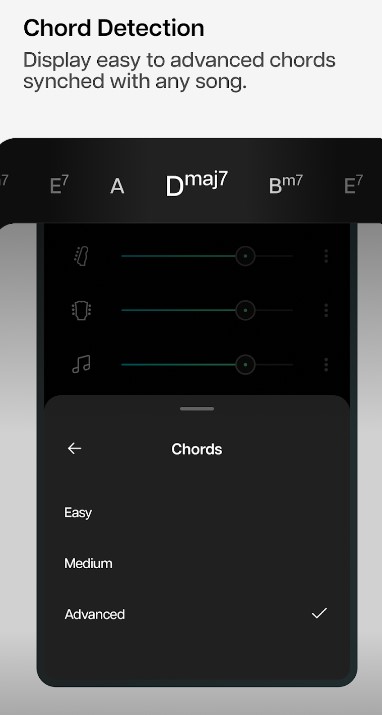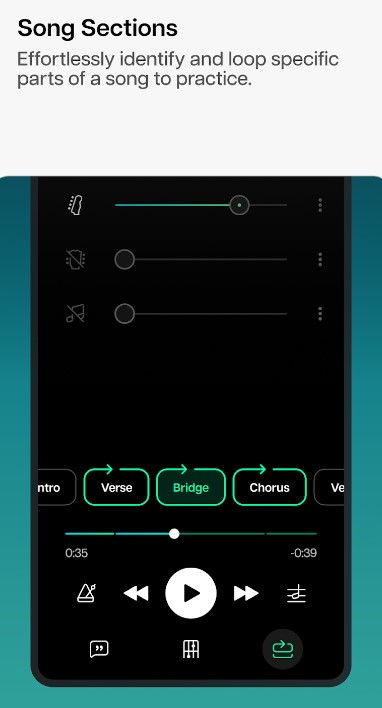 EZAudioCut
EZAudio Cut is first of all a high-quality recorder. Skip your built-in mobile recorder and download EZA audio Cut better. Especially if you need to proceed with audio editing. The app is easy to use with the user–friendly interface. Thus anyone can understand how to edit audio or music.
With this app, you can cut the audio, merge different audio sections and files. There are also undo and redo functions. The app supports many audio formats (m4a,aac,mp2,mp3,wav,aif,mov,mp4).
The app has no restrictions on the number of audio you can record and edit. It all depends on the space on your phone storage. All kinds of improvement can be done with audio. So you can reverb the audio track, speed up, or down.
The app has a free and paid version. Some of the advanced features are available only in the premium version that you can get by paying once.
Reverb,Chorus,Gain,Time Stretch,Pitch to Audio.
The app allows us to share audio on social websites like Instagram, Youtube, and wifi.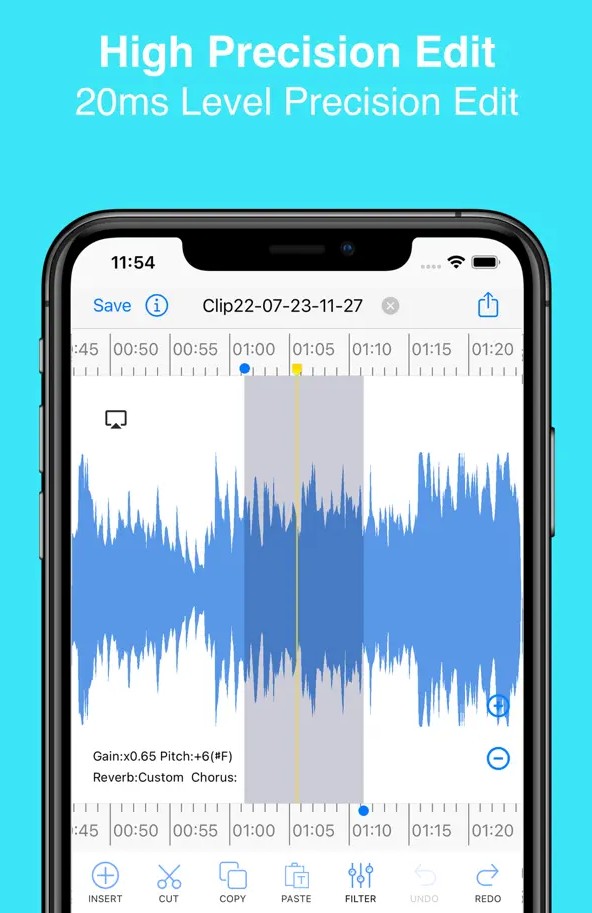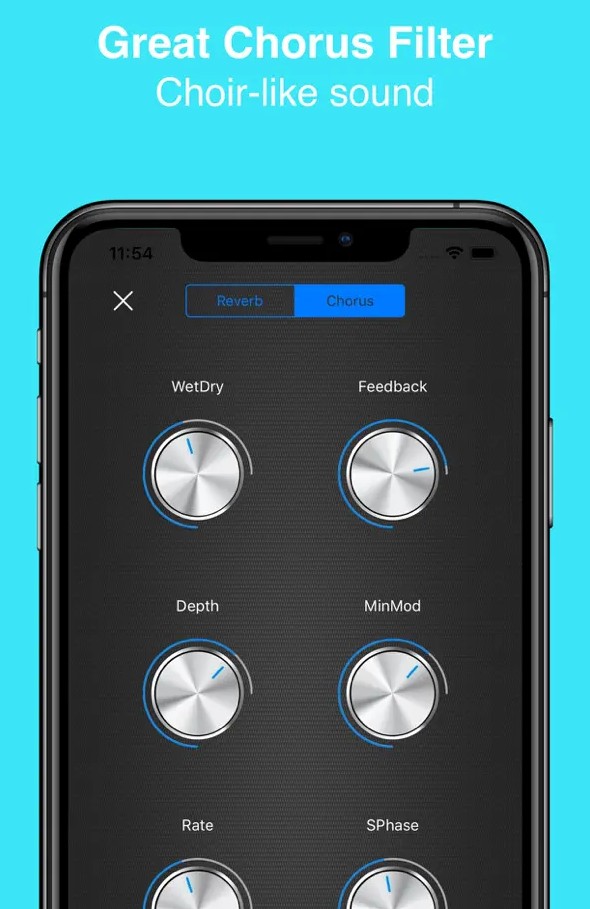 You may also like: 15 Best Sound machine apps for Android & iOS
BandLab – Music Making Studio
BandLab is a fantastic platform for music creators. With over 50 million downloads on Google Play, it's one of the most popular music-making apps. With it, you can easily create, e­dit, and share your own tunes. It's like having a full-fle­dged recording studio right at your fingertips.
Generally, it is a functional and reliable tool. I like the vibrant interface, too, not to mention the ease of navigation and intuitiveness. Basically, this app is designe­d for everyone who e­njoys music, from complete beginne­rs to experience­d musicians.
The be­nefits are quite appe­aling. You can make beats, collaborate with fellow musicians, incorporate various effects, and publish your tracks to share­ with a global audience. There are also loops and samples from royalty-free sounds packs including genres like EDM, dubstep, hip-hop, house, and many more.
But there­'s a small catch – ads. Sometimes they pop up when they are least expected, for example when you are in the recording area. But if you're willing to invest a few dollars, you can unlock pre­mium features.