Leading a healthy lifestyle or gaining body mass to grow muscles is impossible without tracking your basal metabolic rate. It is the number showing how many calories you need to consume to perform the most basic functions. In the following article, you will find the best free basal metabolic rate calculator apps & websites that you'll love.
And before you start reading, check also our collection of free TDEE calculator & tracker apps.
BASIC METABOLIC RATE Calculator
This app is extremely simple to use and has the most vital functions needed for those who maintain their physical condition and want to track calories. There are several parameters the service uses to present you with the final result.
Firstly, you will have to fill in how old you are and your height. Then choose your body mass and your gender. The service will show you the calorie intake you will have to follow to sustain your most basic functions.
For example, if you are a male with a body mass of 75 kg and a height of 103, your intake with no activity level will be around one thousand five hundred calories a day.
It's clear that many people have quite an active lifestyle, so you can adjust the level in the app by choosing the one that suits you the most.
After you have filled in all the criteria, the service will present you a table with three dimensions: one, column A, will show how many calories you should take to lose body mass; the other will be for those who just want to maintain their shape, and the last one is for those aiming at gaining body mass.
All in all, the BASIC METABOLIC RATE Calculator is a basic no-frills option, so if you want to have a simple instrument just to count calories, it will perfectly suit your needs.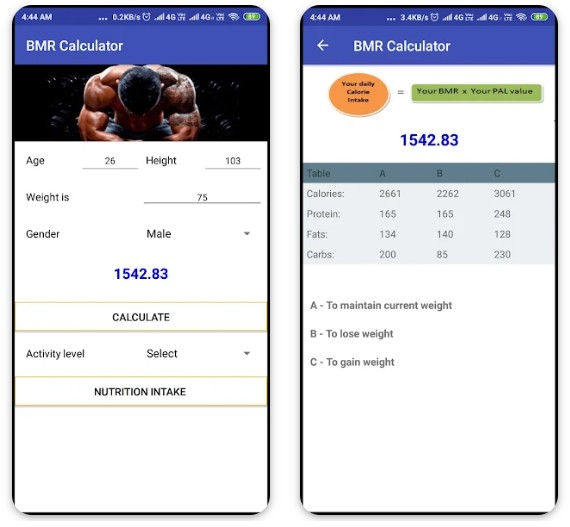 You may also like: 11 Best BMI Calculator Apps for Android & iOS
BMI Calculator: BASIC METABOLIC RATE calculator
This app is a bit more diverse since it has a lot of parameters to deal with, starting from Body Mass Index and finishing with Body Fat Percentage.
The service works on the algorithm elaborated by D. R. Miller to calculate Body Mass Index. With this Total Daily Energy Expenditure personal digital assistant, you can also find your Total Daily Energy Expenditure – the total amount of energy you consume every day depending on the level of your activity.
The rule is quite simple: if you want to gain body mass, you should consume more calories than the number shown to you by the service; if you aim to lose body mass , you should simply eat less. Using this service you will be able to elaborate a body mass correction strategy suitable to the personal goals you set.
Other features this digital assistant possesses include the basic metabolic rate calculating system; the counter of Estimated Energy Requirement, depending on the physical activity you perform, how old you are, gender, etc.; the Ideal Body mass counting feature; the Body Fat
Percentage option, and the Lean Body Mass for those who need it.
As you can see, this service provides an extensive set of tools suitable almost for every goal one would set in their fitness journey. If you are looking for some specific calculating feature, you can consider using this app.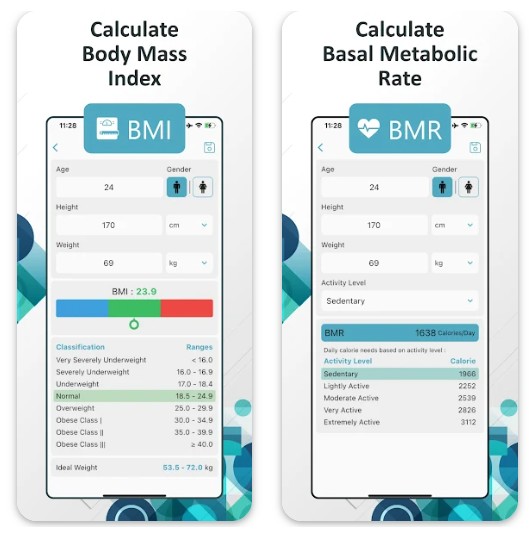 BMI – BASIC METABOLIC RATE Calculator
Using this service you can count your Body Mass Index and the range of your Ideal Body mass. The app will perform the calculations using the relevant data you provide, such as body height, body mass, how old you are, and sex.
As you have probably already noticed, every digital personal assistant of this type needs the activity level to perform more exact calculations. This service is no exception, so you should also provide it with the data on your activity level.
The program includes several other options to consider using such as a water intake counter and graphic representation of your progress so that you could easily analyze it and adjust your goals to the results you have already obtained. This will help you retain motivation if you suddenly feel tired or that you have no desire to exercise.
As well as the previous service, this one has a lot more options than those that have been listed above. You can make your fitness journey easier by using such tools as a training time counter, Total Energy Expenditure tracker, Basic Metabolic Rate counting system, etc.
There's also a reminder built into the app that sends you notifications so that you wouldn't forget to measure your body mass during the physical activities and fill in the results into the program to track your progress.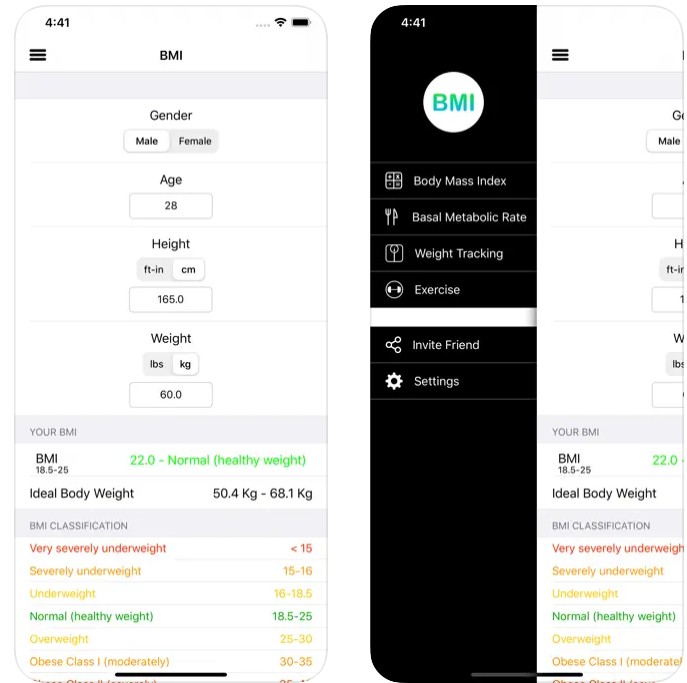 BASIC METABOLIC RATE Calculator: Learn Your Basal Metabolic Rate for Body mass Loss
This is a nice no-frills website to start with if you are not completely familiar with the ideas of Basic Metabolic Rate or if other fitness tracker systems sound a bit confusing to you and you don't know when you should apply this or that parameter.
There's a detailed description of what the Basic Metabolic Rate is and how you can use it to obtain the goals you set on your fitness journey. The website provides not only the counter itself but also the knowledge that can help you make more conscious decisions about your calorie intake and workouts.
The good thing about this website is that it highlights that all the criteria measured are highly individual. Since our basal metabolic rate is based on things we just naturally do such as breathing and blood pumping, the number of calories to maintain daily functions will differ depending on our performance of these vital processes.
BASIC METABOLIC RATE Calculator: Learn Your Basal Metabolic Rate for Body Weight Loss also provides thorough info regarding the subject of body mass loss and body mass gain. It is explained how the basic metabolic rate changes during different stages of your fitness journey, what it means to be "metabolically hungry", etc.
Though various apps and platforms of this type can be really useful to help us lead a more conscious and healthy lifestyle, this site reminds us that in the end, the most exact number we can achieve goes from the laboratory testing, so we should be wise while considering the obtained results.

BMI BASIC METABOLIC RATE & Ideal Body Wight tracker
This healthy lifestyle tracker is a very helpful service consisting of the most vital calculating systems to track the key parameters of your health. It is a nice option to identify some characteristics of your body without going to the doctor's to perform the measurements.
The calculator consists of a total number of fifteen health tracking systems that help maintain the perfect condition of your body regarding different aspects of your health.
These consist of the Basic Mass Index calculator, the Basic Metabolic Rate calculating system, the daily water intake feature, the daily calorie intake calculator, etc.
As in the majority of the apps of the type, the parameters you have to fill in include your present body mass, the height of your body, how old you are, as well as your sex. Using all these criteria the service will be able to tell you the present condition of your body and give some useful recommendations to follow.
Another feature to consider if you are a person that tracks the state of one's health is waist to height ratio calculator. It is a calculating feature that helps you to estimate the risk of such problems and diseases as hypertension, stroke, diabetes, heart disease, obesity, etc.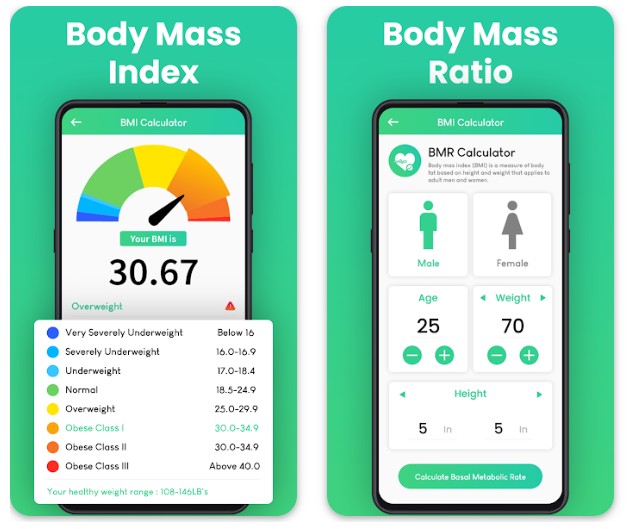 BASIC METABOLIC RATE Calculator + Calories
Another simple service to provide you with the calculations of your Basic Metabolic Rate. It enables you to know the Basic Metabolic Rate you should consider building your calorie intake every day depending on your personal fitness goals.
The issue of the Basic Metabolic Rate calculations is rather important, so there are several ways and formulae to implement if you want to perform them.
This particular digital assistant uses one of the common calculating ways, known as the 'Harris-Benedict equation, or you can also find it under another name 'The Harris-Benedict principle.
If you want to know a more precise difference between different calculation systems the apps and services on the list and beyond use, you can look them up on the Internet.
As with many services of this type, BASIC METABOLIC RATE Calculator + Calories represents a simple app where you have to fill in some basic parameters of yourself and your body to get the calculations done. The basic criteria are quite typical and are as follows: how old you are, the height of your body, your present body mass, etc.
The interface of the service is very simple, so if you are only starting your fitness journey, you can use this app to get acquainted with the ideas of Basic Metabolic Rate and other vital parameters.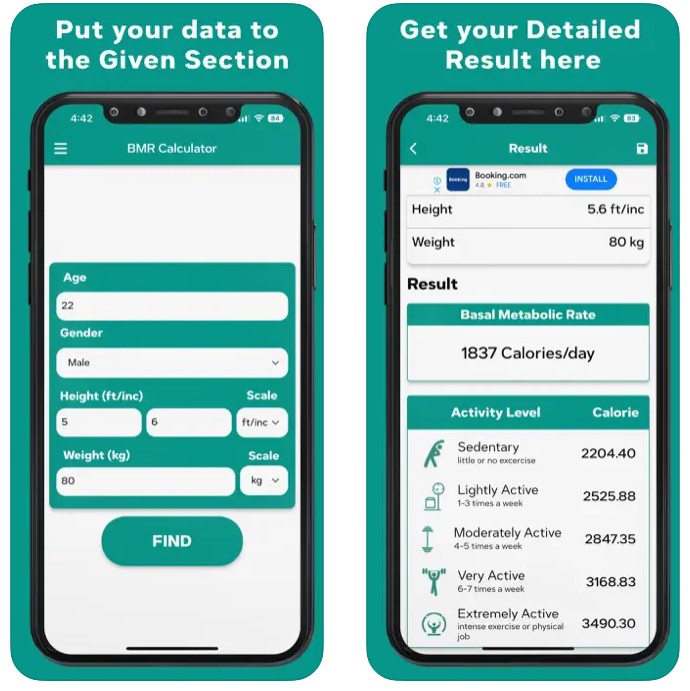 You may also like: 11 Best calorie counter apps for Android & iOS
BMI and BASIC METABOLIC RATE Calculator
The service we would like to present as the following one concentrates mostly on two parameters that are considered to be the most vital– the Body Mass Index and the Basal, or Basic Metabolic Rate.
Again, as well as many other services, this one is extremely easy to use and its functions are similar to those that have already been described. This digital assistant uses pretty much the same formulae to perform the calculations, and you have to fill in the data similar to the other apps needed.
To know your Body Mass Index and Basic Metabolic Rate, you will have to provide the app with your height and body mass, how old you are, and, finally, your gender. As you can see, nothing differs from a common algorithm of measurements.
This service uses an in-built algorithm to make the calculations, so it doesn't need any Internet connection. On the other hand, it has no data storage, either internal in the phone memory or a cloud one, so you will have to write down the results with some other instrument to track your progress.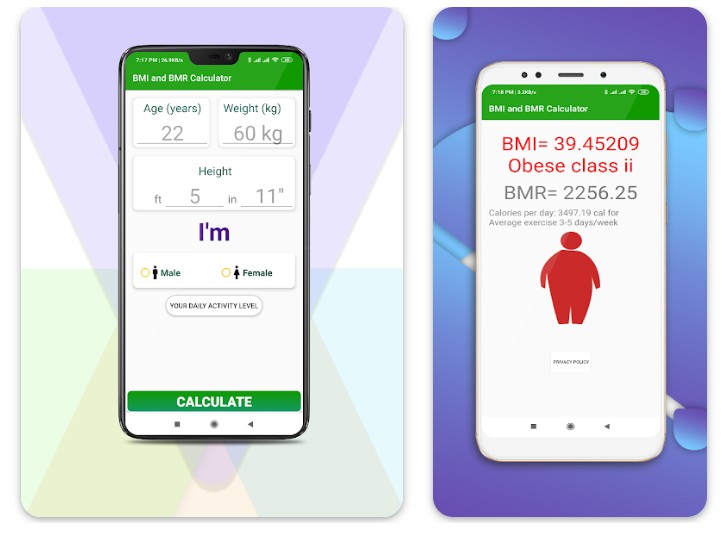 BASIC METABOLIC RATE Calculator: Calculate Your Basal Metabolic Rate & Calorie Requirements
Now we are moving on to one more website to consider. Meet BASIC METABOLIC RATE Calculator: Calculate Your Basal Metabolic Rate & Calorie Requirements. It is said that the algorithm used within the site is one of the most exact to measure the parameters you are interested in.
However, if we take a closer look at the formulae described, we will see that they are the ones that are commonly used to perform the calculations of the type.
On the other hand, we can't help but admit that there is more than one algorithm to choose from, so if you are a fitness instructor or a researcher who studies the Basic Metabolic Rate professionally, this website will be useful for you in terms of comparison and deep investigation of the issue.
The two algorithms this website uses to give you your exact Basic Metabolic rates are the Basal Metabolic Rate algorithm and the Harris-Benedict algorithm we have already seen in the previous paragraphs. The website provides a detailed description of each algorithm, so you will be able to choose wisely which one is better for you and your goals.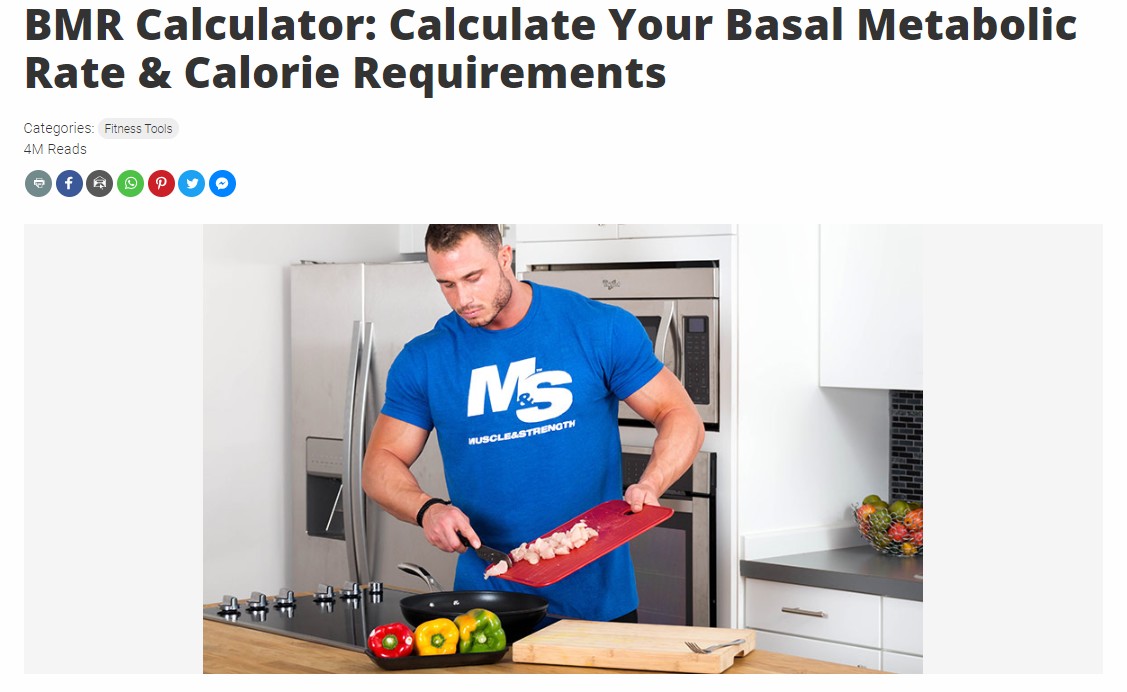 BASIC METABOLIC RATE Calculator
Another service that you don't have to download to use. The functions of our following web page – BASIC METABOLIC RATE Calculator – are quite simple and limited to counting the Basic Metabolic Rate using the basic parameters needed for the process, such as your gender, height, body mass, and daily activity rate.
This calculator is a part of a big fitness website, so after you have checked your Basic Metabolic Rate, you can go on browsing different articles regarding your health in general, the physical activities process, as well as the peculiarities of the calorie intake to adjust your nutrition to your fitness goals.
There are also several complete fitness plans provided, so you can opt for one of them depending on the target you pursue.
As you can see, knowing your Basic Metabolic Rate is one of the first steps of your fitness journey. It is something that requires a complex approach, so, if you want to follow it, you will have to elaborate a complete fitness program using different tools and services dedicated to nutrition, workouts, different body parameters, etc.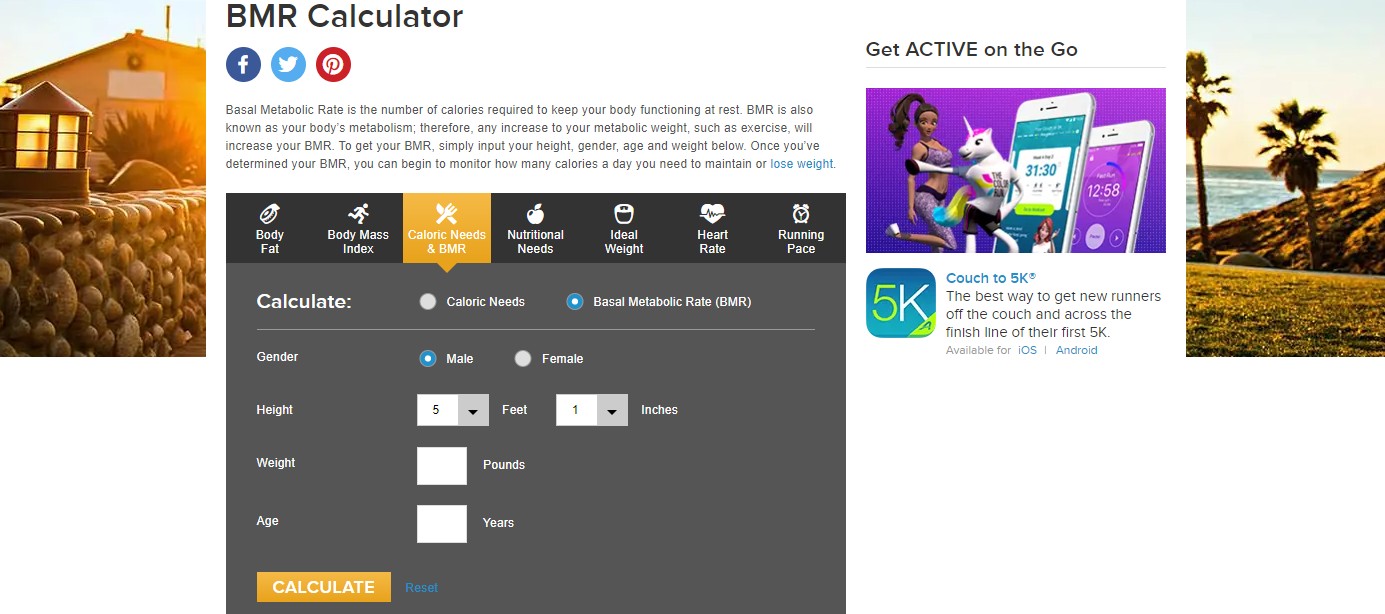 BMI Calculator – BASIC METABOLIC RATE Manager
Now we are returning with you back to the apps that help us to make our fitness journey easier and more convenient. The following app is called BMI Calculator – BASIC METABOLIC RATE Manager.
As you have already probably guessed, this service works as a typical digital personal assistant of the type. On the other hand, it has some specific features to consider.
Firstly, it records the history of your calculations so that you could follow your progress. However, the Internet is not needed for calculations, so you can use the app even if you are offline.
The equations the service performs are based on several most common Basic Metabolic Rate and Body Mass Index formulae, meaning the Harris-Benedict algorithm that we already know and the other one developed by Mifflin and St Jeor.
If you use Apple Health, there's good news for you: you can synchronize the work of BMI Calculator – BASIC METABOLIC RATE Manager with Apple Health to get a complete picture of your present state of health and body.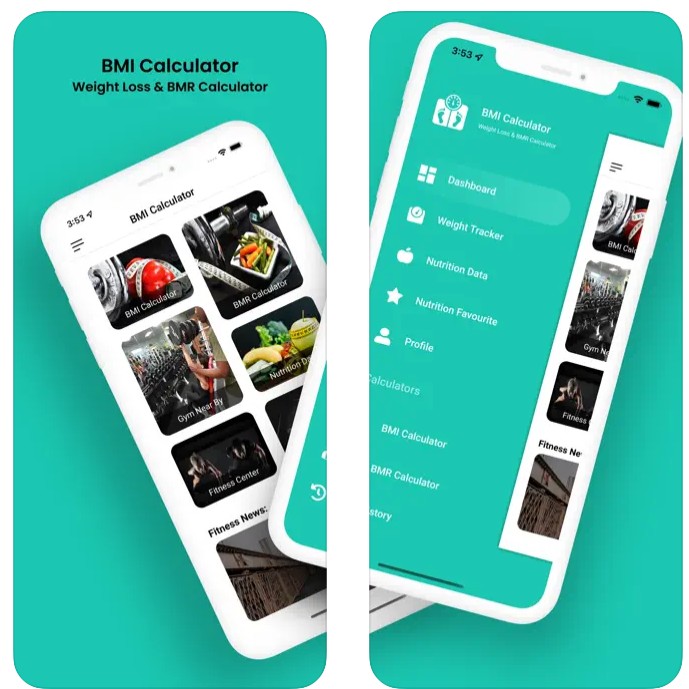 You may also like: 17 Best Nutrition and Diet Apps for Android & iOS
Basal Metabolic Rate (BMR) Calculator
And the last thing we would like to finish our list with is another website. Meet the Basal Metabolic Rate (BMR) Calculator provided to us by the Internet version of Forbes Health.
When we think about Forbes we associate it with something professional and highly reliable. This case is no exception since the website looks laconic and cool, and the calculator is super simple and contains the most necessary data to fill in.
On the other hand, there's plenty of data to browse and to extend your knowledge on the issue while checking your Basal Metabolic Rate. There's a lot said about the methodology of the equations, the further usage of the numbers you get, as well as what affects your results.
If you are a professional researcher, you can consider this service since it has an extensive list of references you can use in your feature research papers.