What happens when love meets electronics? Different mobile appear.
Now, thousands of lovers build relationships, travel together, enjoy life, spend time together, create families. But sometimes happens that lovers cannot meet, and to communicate and to be a bit closer to their second half again they want very much. Or the relationship has lost its former passion and you need to add "pepper".
Make your holidays with your partner even more cheerful using these best truth or dare apps for couples and parties.
In our modern society, it's easy to fix: there are phones, video calls and much more. Now, there are a lot of applications for couples in love, but some of them, unfortunately, are useless. So now, specifically for you, we will select the best apps for couples.
Paired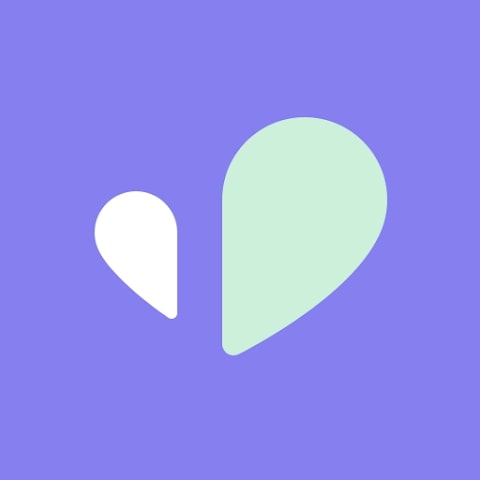 A great app for lovers who want to get to know each other from all sides. Paired offers you and your loved one to answer questions that relate to various topics. Here you will find questionnaires and tests about how well you know the other person.
This app offers tasks whose format changes every day. Today it may be a quiz, tomorrow – an unusual test, and next week – a love game or a joint trust exercise. Unexpected questions and assignments will keep you from getting bored.
In addition to questions and tasks, in the Paired library, you will find a lot of useful literature that will help you to reach a new level of relationship and cope with problems.
The app is suitable for couples who have just started dating, are planning or have children, and have lived together for several decades. Refresh your relationship and make it stronger and healthier.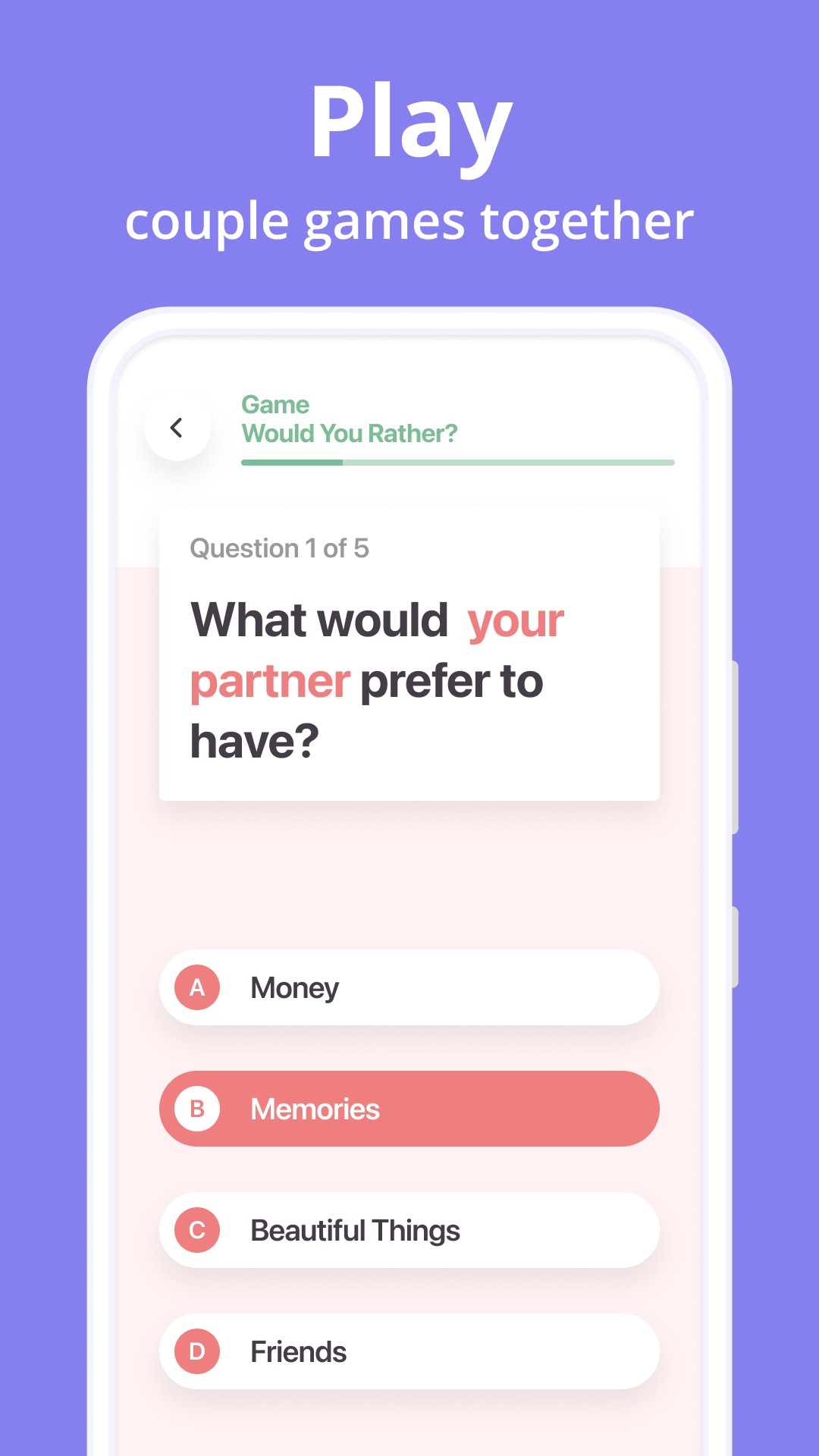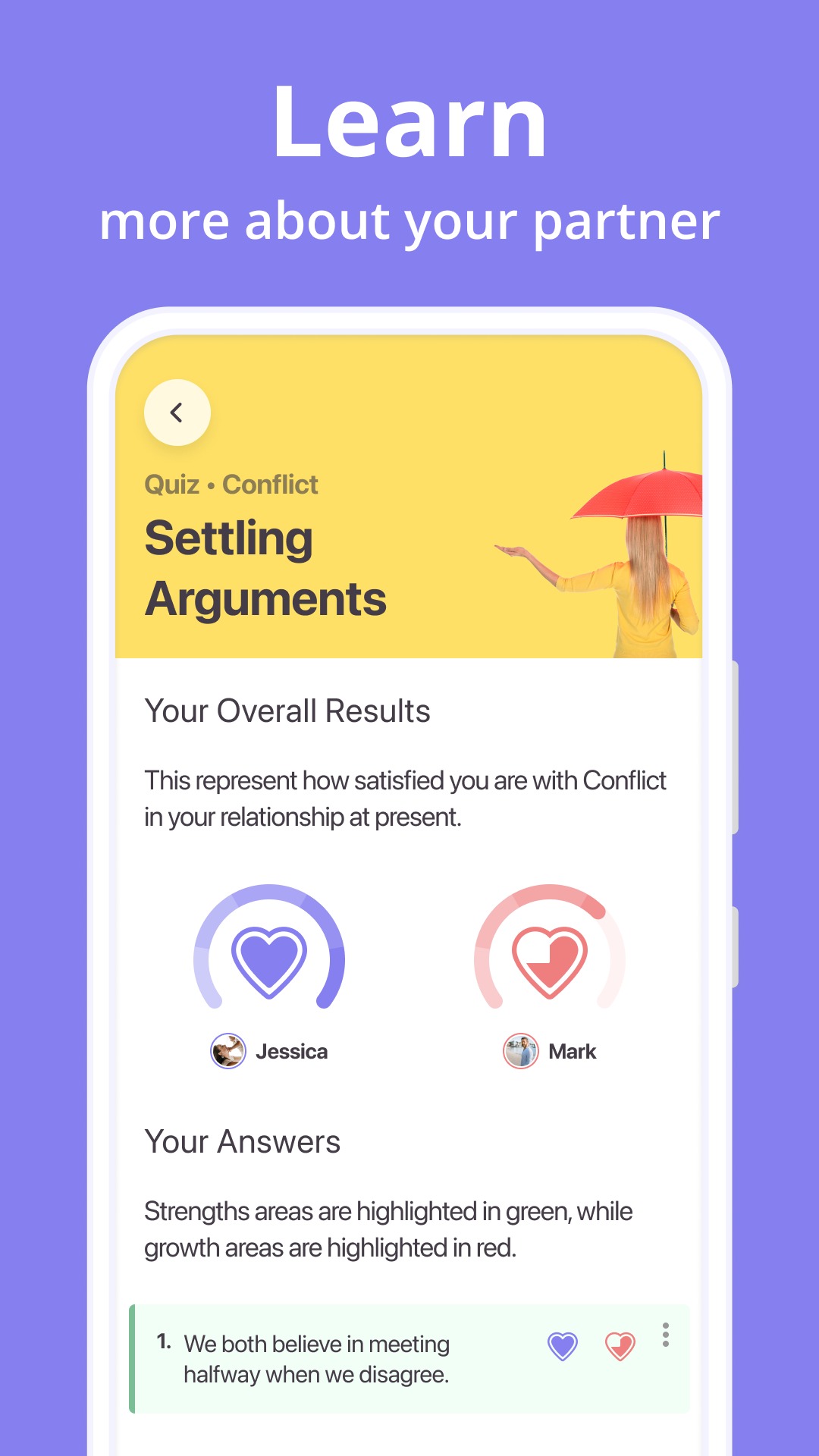 You may also like: 7 Best Cheating Prank Apps For Jealous Couples (Android & iOS)
Evergreen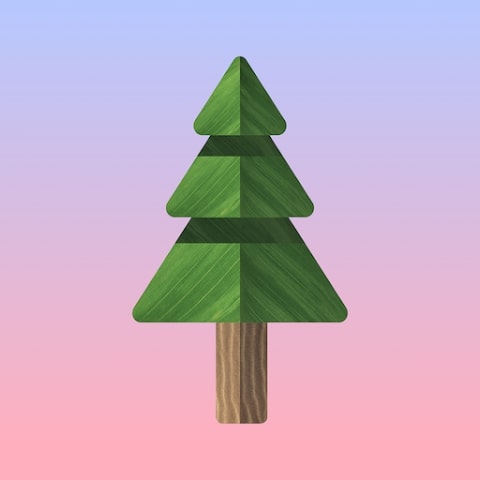 Evergreen is created as a guideline for couples who want to strengthen their relationship and find harmony. The app is designed for people of different ages. Everyone will find an answer to their questions.
If you want to diversify your intimate life after many years of marriage or learn the secrets of your chosen one, with whom you have just started dating, this app will definitely suit you. Here are collected tasks and questions, the selection of which took professionals several years.
This interactive collection of tests and exercises will help you find weaknesses in your relationship, work through difficult moments and avoid misunderstandings. Answer the questions and perform the proposed tasks every day.
Even the most harmonious relationships require the right approach and hard work. There are surveys, tests, and games for every taste.
Write here about your problem and get advice from relationship experts. Familiarize yourself with literature sources created by real professionals. Walk this journey together, from start to finish.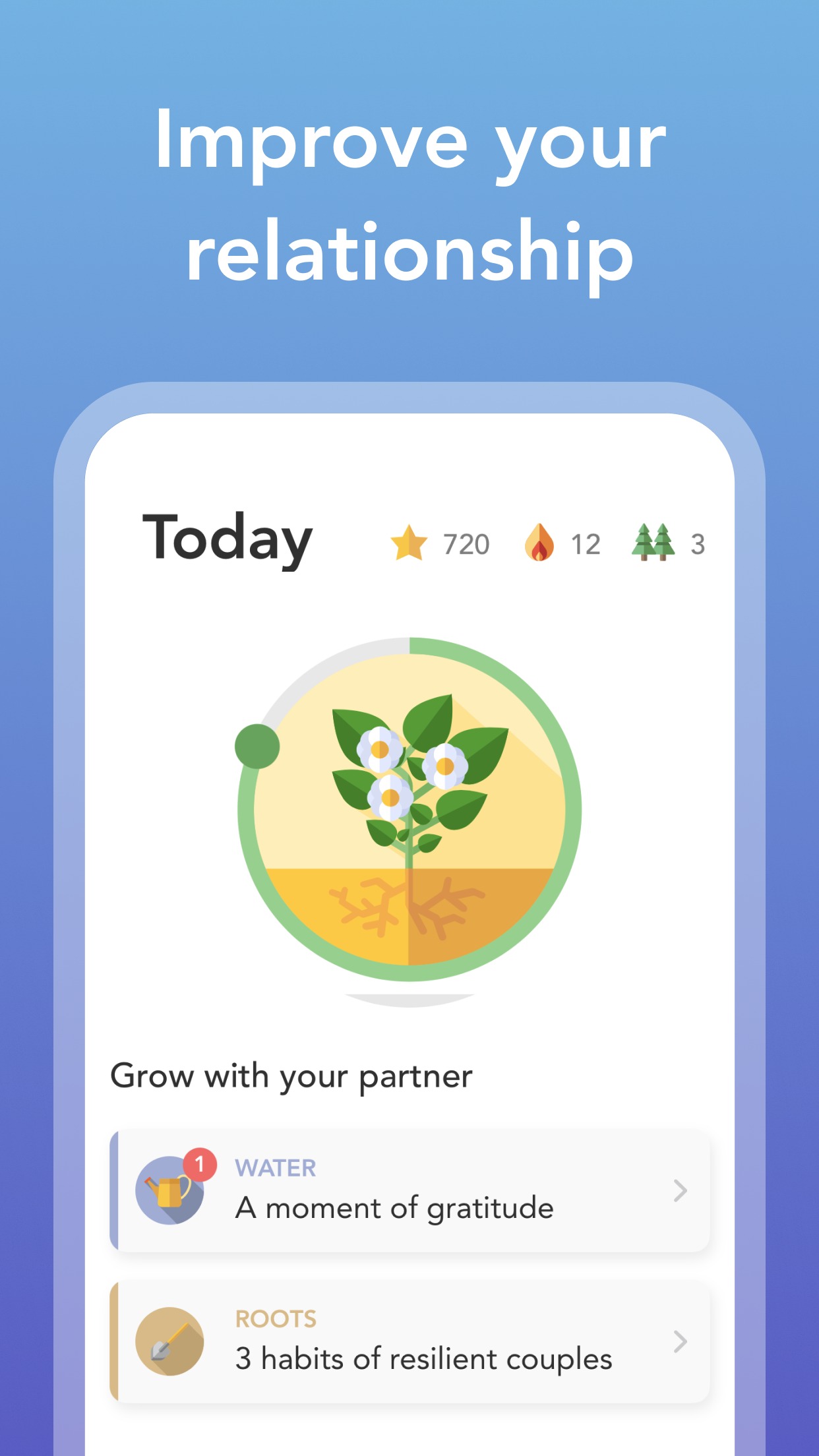 SumOne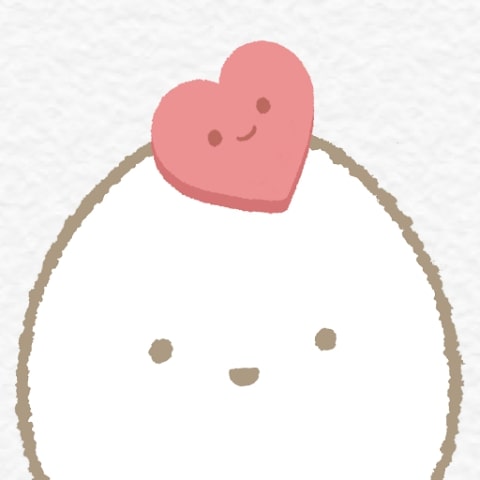 SumOne will help you understand how well you know your partner. This app can be used by both hetero and homosexual couples.
The unusual format of the app will definitely benefit your relationship and help you see things from a different perspective. Choose the time at which the app will send you a new question.
All tests and questions are randomly selected, so you won't be able to predict what the question will be about today. It could be a deeply intimate question or a request to tell a funny story from your childhood. After answering the questions, write down your feelings and emotions.
At the end of the month, you will receive a psychological profile based on this data. The main character in the app is the funny egg EggMon. The more questions you leave behind, the more pebbles you can earn. This is the internal currency in the app, for which you can buy cute accessories and decor items.
In addition to answering questions, you will be able to send your beloved funny love notes and remember an important date for both of you in advance.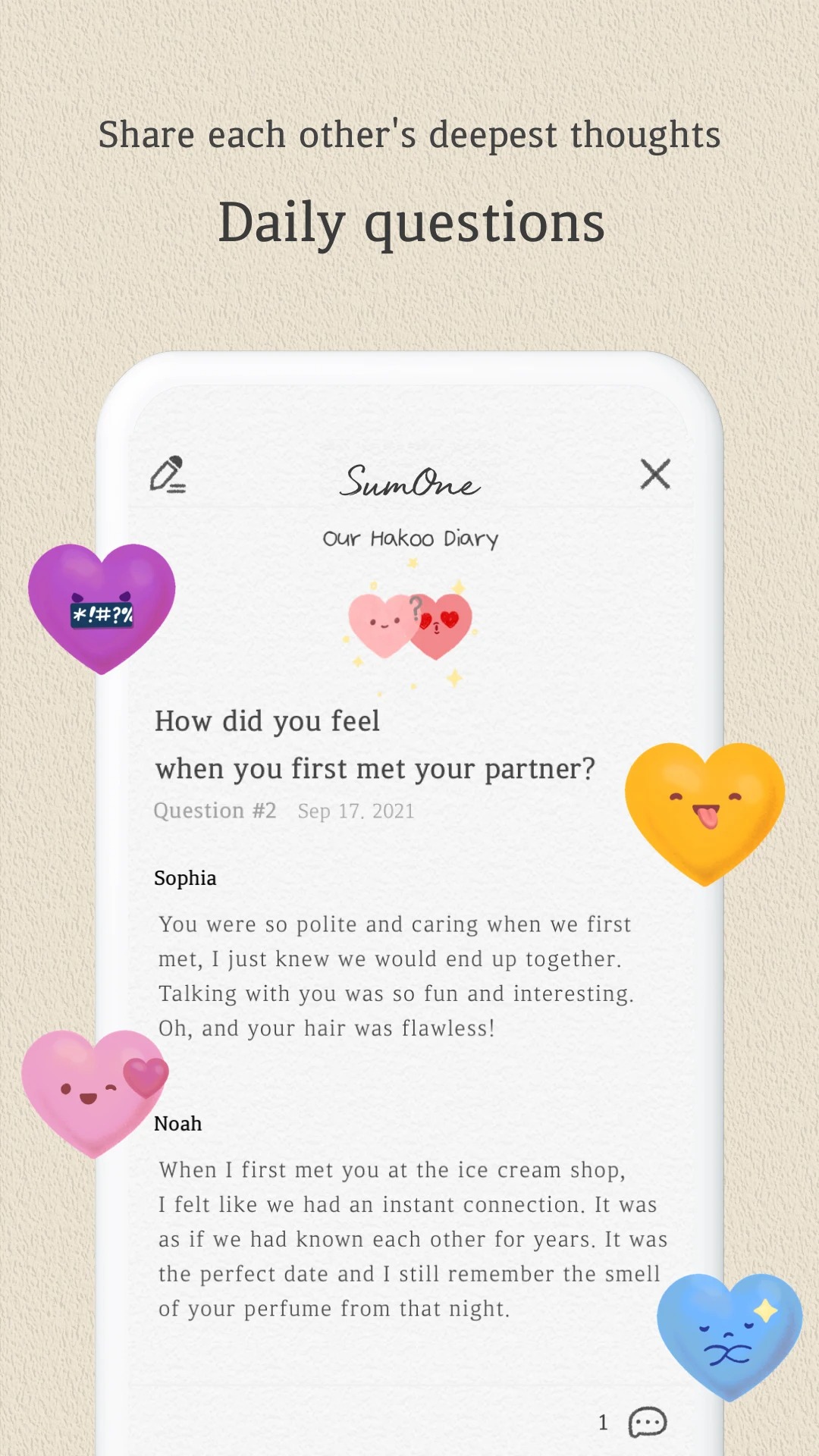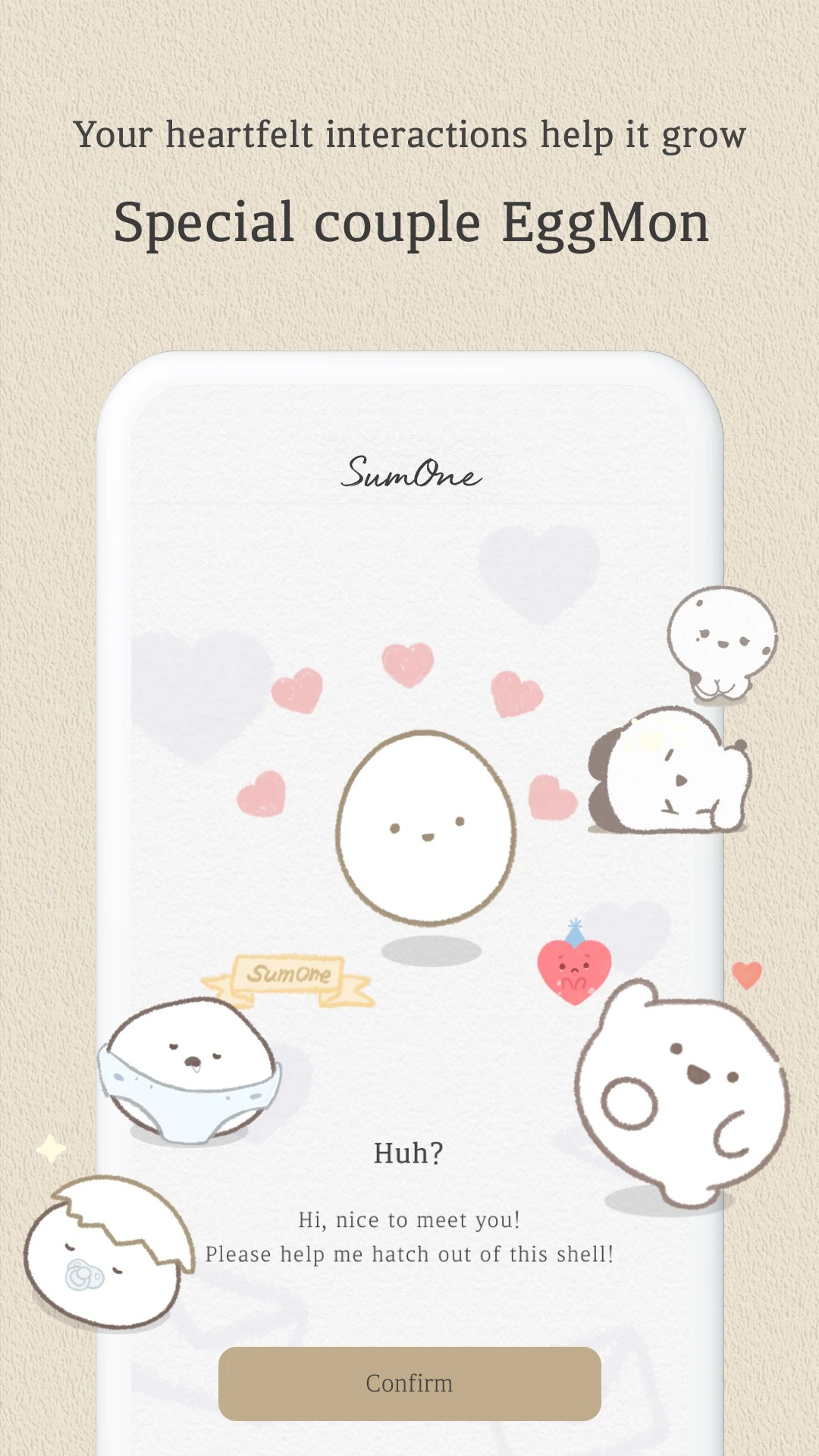 Fingle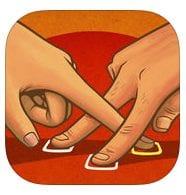 If the Couple and Duet enable you to communicate with a lover in the far end of the world, the Fingle application has a playful pastime with a partner at a stretch of the finger. In this game, you need not compete, but go to victory together, precisely coordinating the actions.
On the game board – the screen of the iPad tablet – there are chips of two colors. They need to be combined with moving or static targets of the appropriate color and held for a few seconds.
If the finger loses touch with the screen or the chip is shifted from the target, everything will have to start again. As the game progresses and the levels become more complex, the players' fingers are intertwined more and more closely and sometimes in an absolutely unimaginable way.
The game Fingle seems particularly exciting at an early stage of the relationship when even an accidental touch to the lover causes a whole barrage of emotions.
At the same time, jaded and tried everything in the world couples will find in Fingle a fun and exciting alternative to simply holding the pens. You must pay for the game, but it brings a lot of pleasure.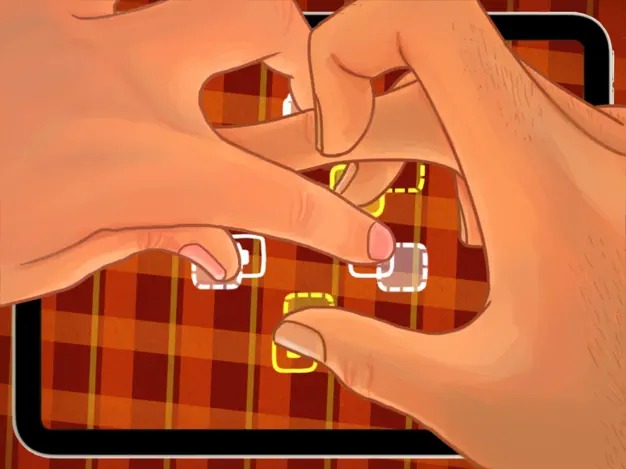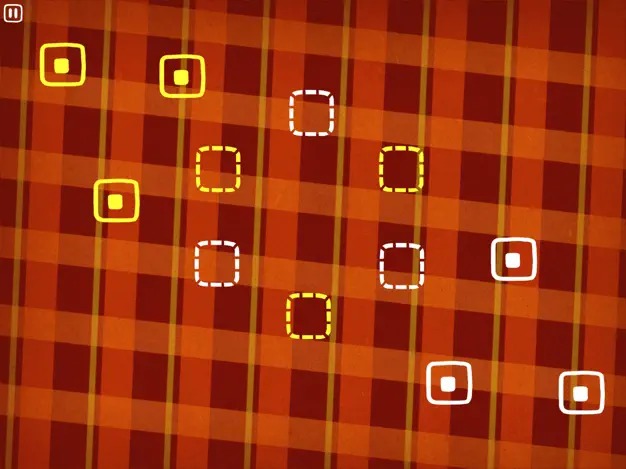 Talk2You: Couple Conversations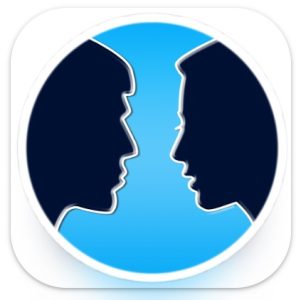 Talk2You is a great app for those people who want to get even closer with their partner and make their relationship much deeper and stronger.
To maintain any close relationship, people need to talk a lot on different topics. With this app, users will finally be able to make this a reality to the fullest. Users will be able to talk with their partner on a variety of topics, such as:
Our history
Your childhood
Your dreams, and many more.
Usually it is just such topics that evoke the deepest and most subtle feelings in people, which helps them to get to know each other better and get closer.
The interface of the app is really simple and users immediately see different categories of questions when they enter this conversation game.
Also, if a couple wants to experiment, they can click on the "random category" button and talk on a topic that was automatically selected by the app. Moreover, this app has over 500 questions to start a conversation.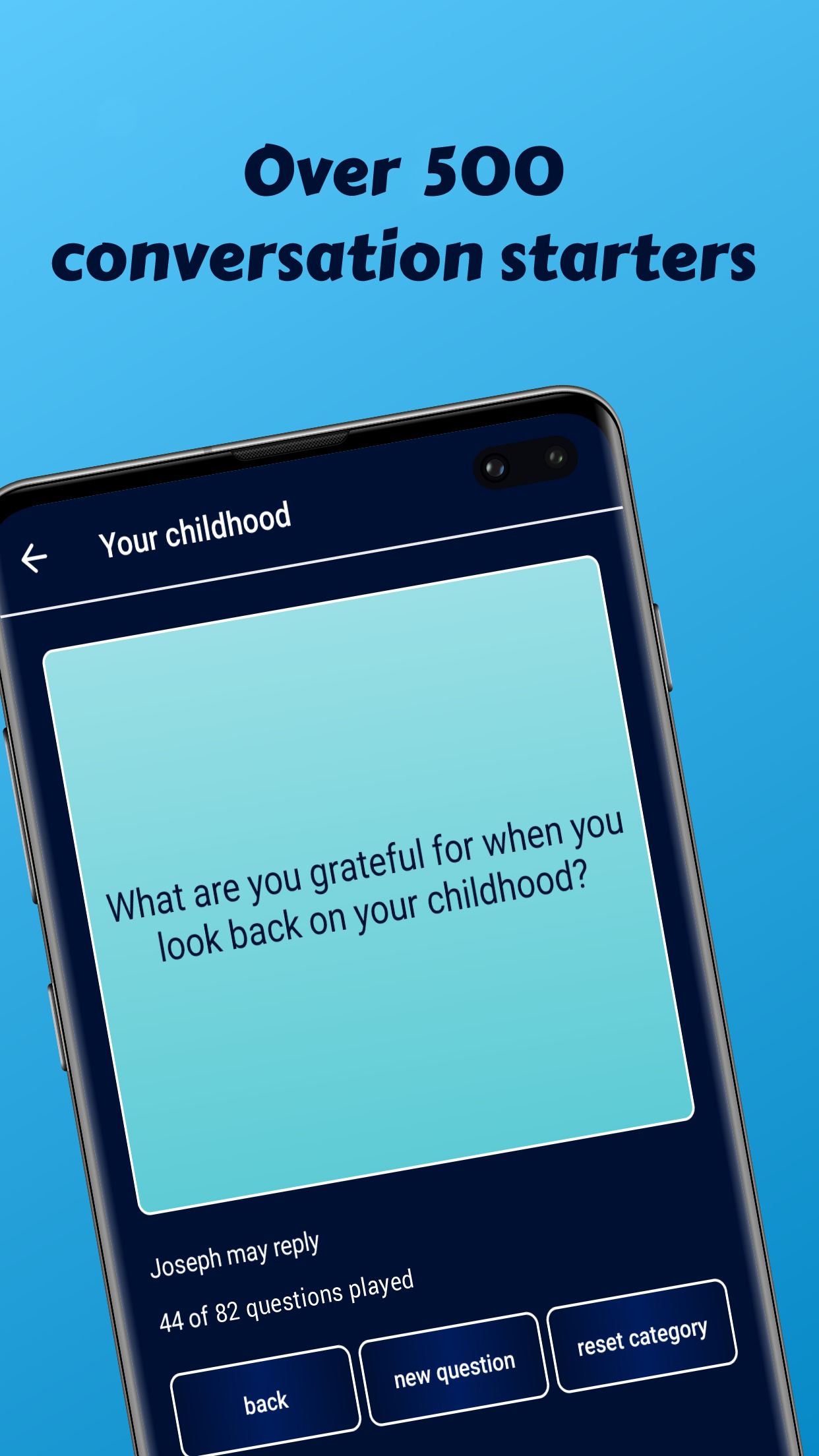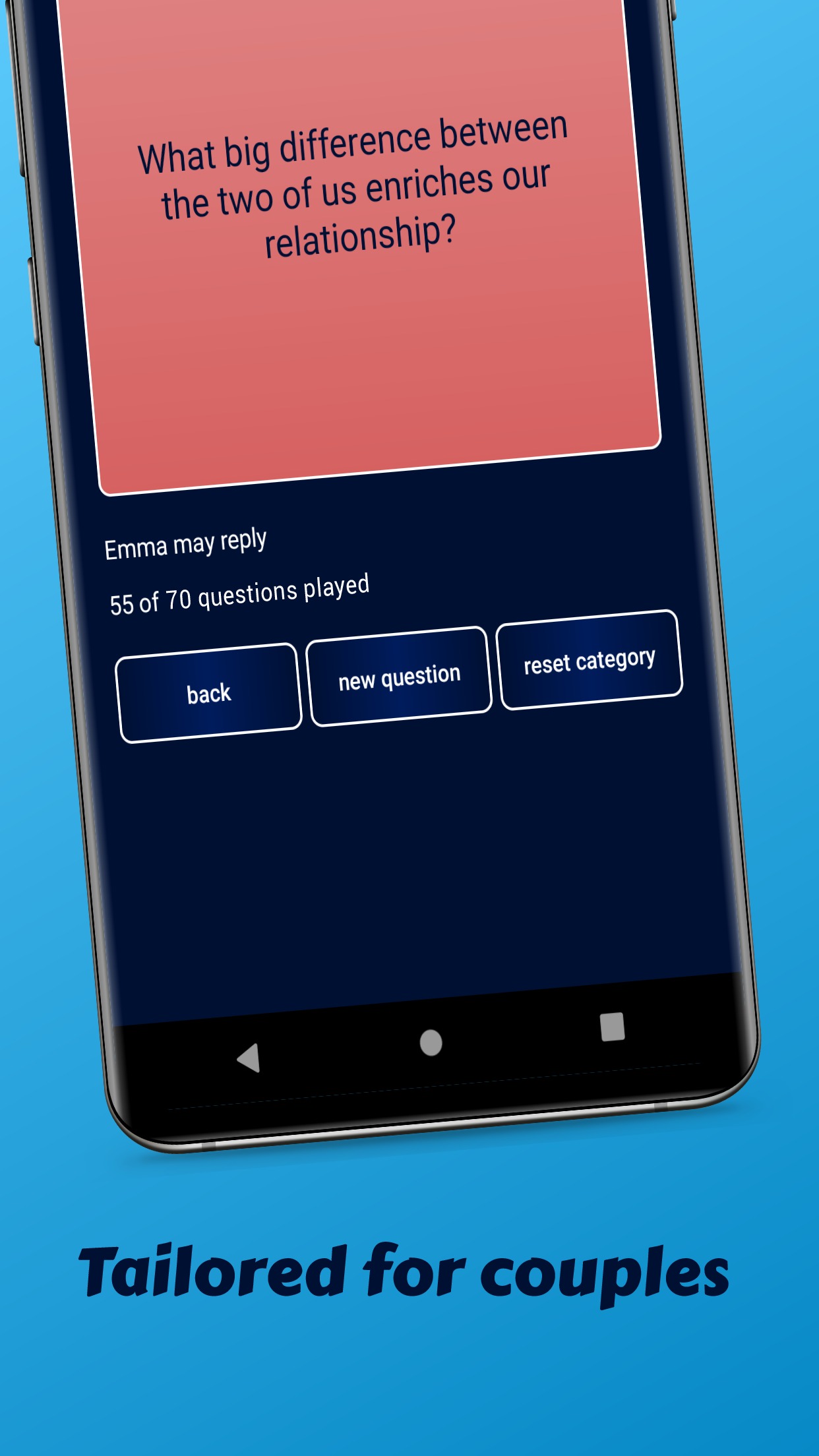 Couple Game: Relationship Quiz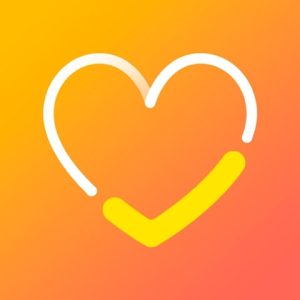 This app allows you to check your compatibility with your partner or friend. To do this, you will need to select an appropriate topic for which you and your partner will be automatically asked questions.
You can wait for your partner to answer and then answer the same questions yourself. The results will help you find out how well you know each other. All tests and answers to questions will be stored in the app, so you can view the data at any time again.
The list of questions can be absolutely different. Thus, the app allows you to have fun with your significant other and at the same time test your knowledge about each other.
The app and all of its functionality is available for free, so everyone can find out their answers and compatibility with their partner. An entertaining interactive experience that every couple will love because it will help bring people closer to each other and get to know their common interests.
After each other's answers you will be able to see the results and determine the winner.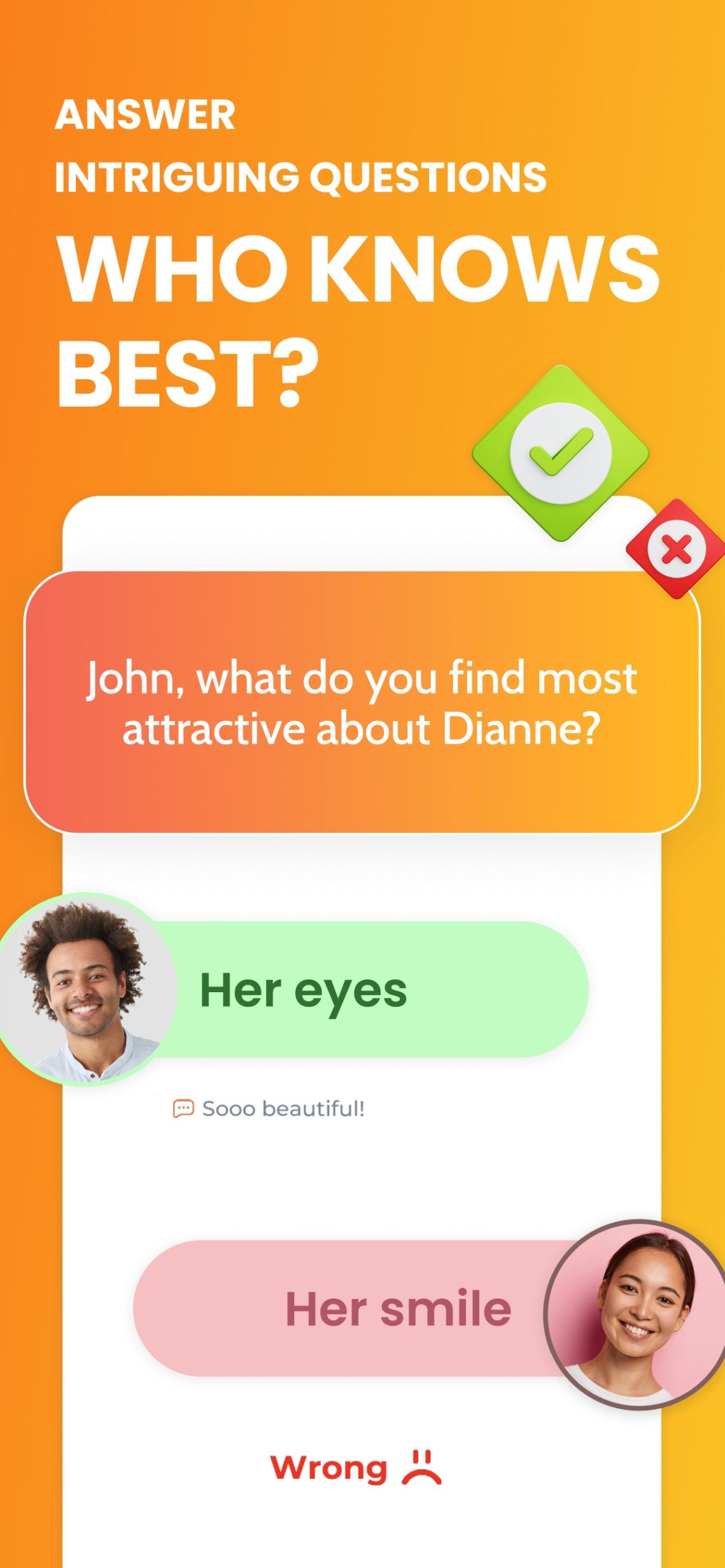 Couply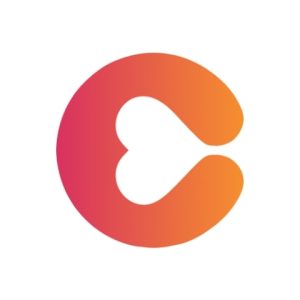 This app is suitable for couples who want to get to know each other better. But it will also be useful for people who want to make an unusual date, family celebration or just a social event.
In the app, you will be able to take a test that will determine your personality as well as your partner. Based on the data you receive, you will be offered ideas for dates, gifts, event organization, articles, and so on.
Based on the personality test, you will also be suggested ideas for dates with your partner. You will be able to read useful articles about relationships. The app will have interesting questions for you on a daily basis that touch on deep and personal topics. They will allow you to get to know each other better.
The app contains various topics that you can use for conversations with your partner. You can also create a joint photo album and add your favorite pictures to it.
You can also read interesting articles and see date ideas for people who are apart. In the app you will also find ideas for organizing events, gifts for birthdays and other holidays.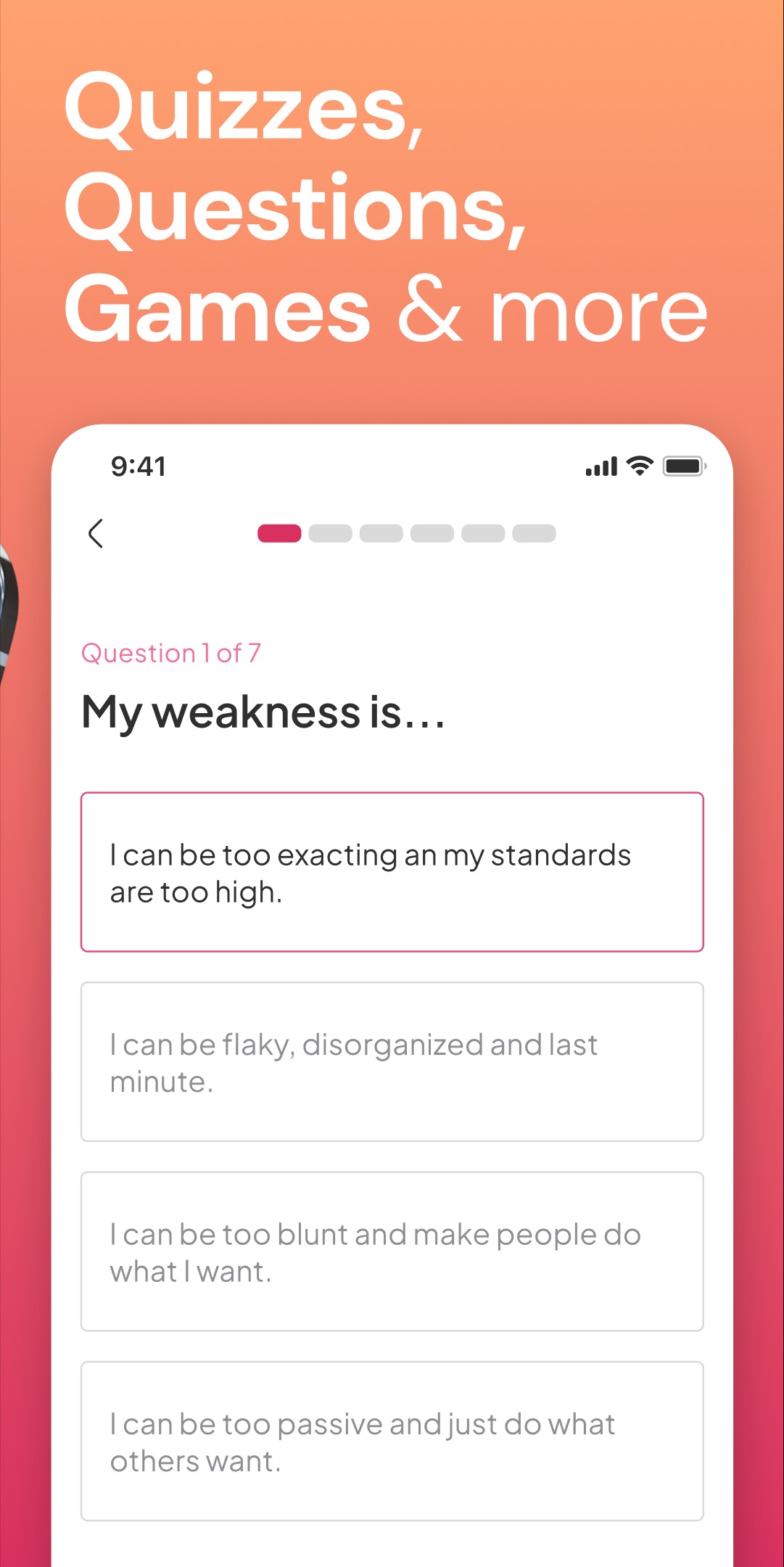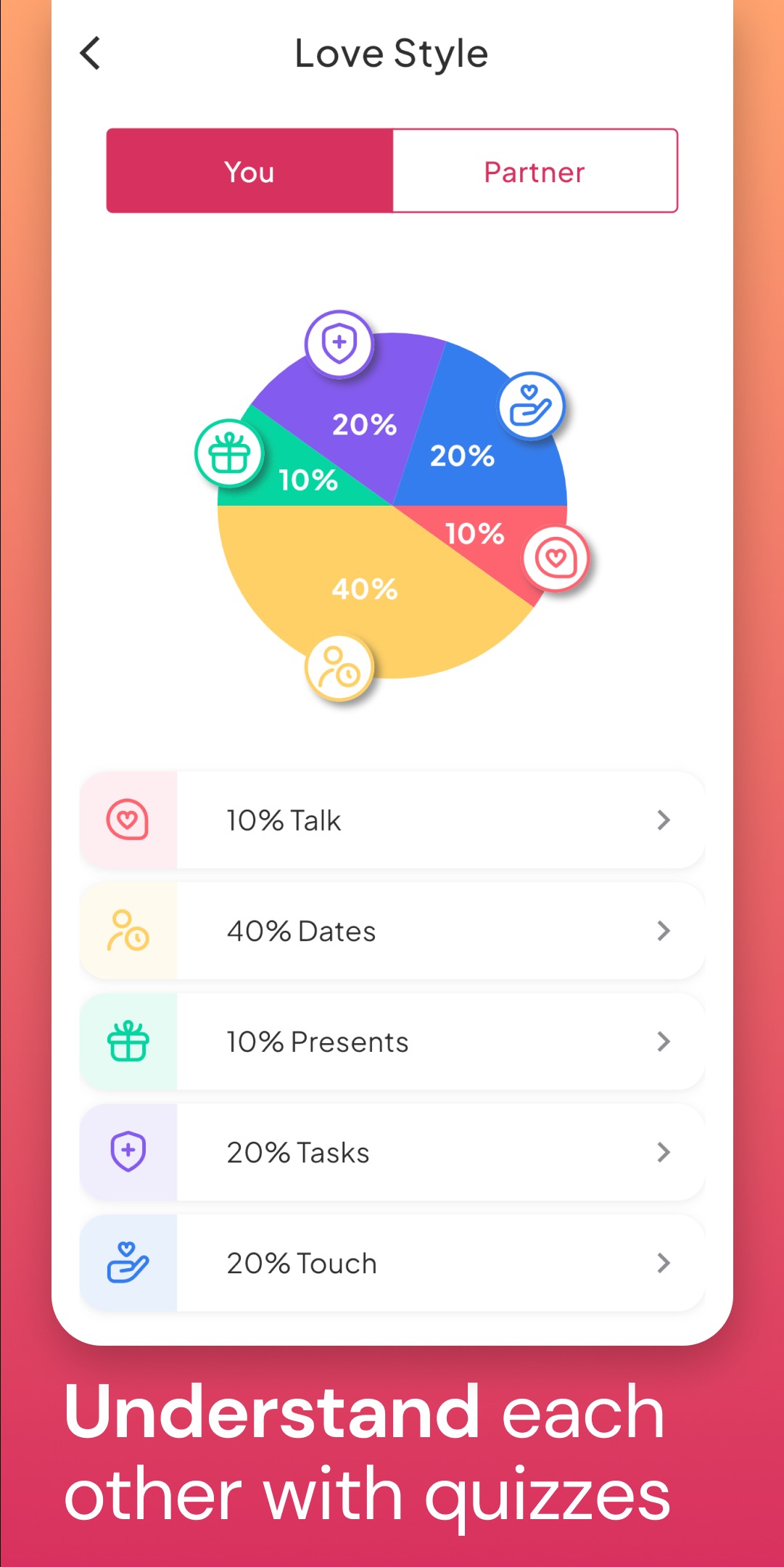 Bliss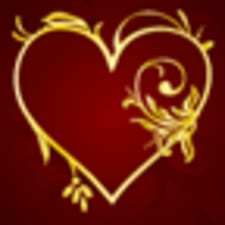 This application is a virtual board game created to raise your sex to a new step. The application is able to emphasize not frank sexuality, but namely romance and intimacy.
Surprisingly, this program is able to track any of your preferences, for example, in music, clothes, etc., thereby enabling you and your partner to bring the love relationship to a new level.
Together with the application Bliss, you can enjoy all the pleasures of private games.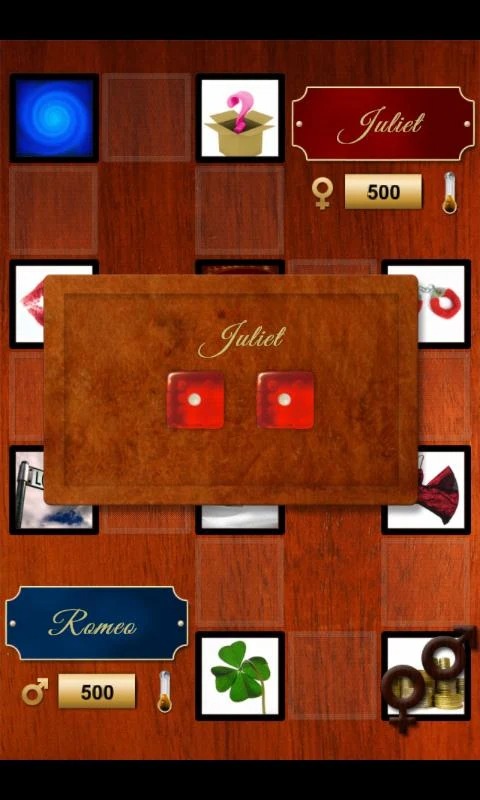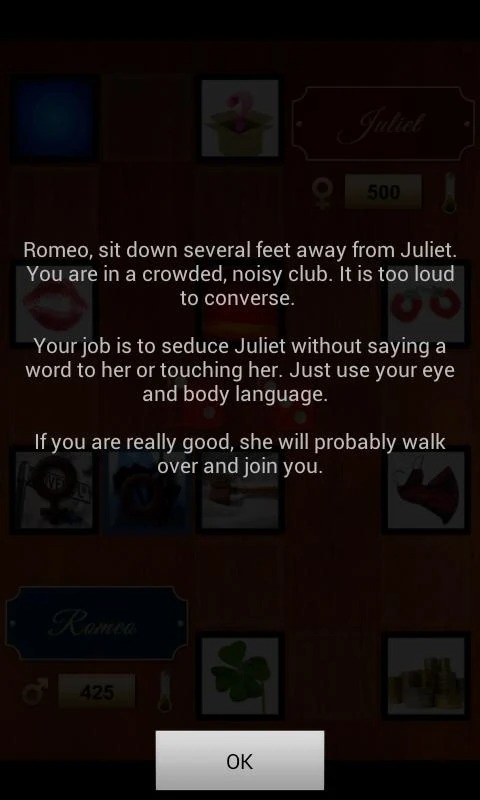 Between

This program is a kind of social network for lovers. The program allows you to do everything the same as in normal social networks. You can write status updates, comment posts, publish photos, videos, and interesting links.
The shape of the application can be flexibly adjusted: change the wallpaper, color scheme and so on. Pictures are placed in a special album, available to both lovers.
The application has a built-in so-called "Box of reminiscences", where the marked photos and messages from the second half get to.
Application features:
Chat: a fast, secure and private chat designed for only two, which also has unique stickers and stickers specially designed for this application, which will help you better convey your mood and feelings while chatting and messaging with your loved one.
Moments: a private photo album in the application will allow the couple to store their shared deep personal and intimate moments, and share them with each other. The program will save all the files in chronological order, which will allow you to see the consistent history of the development of your relationships in the sealed events.
Constantly updated information about the weather: you and your loved one will see what the weather is where each of you is, which will allow you to be aware of the environment of your partner.
General calendar: an easy-to-use calendar that allows a couple to plan events together, remind each other of various important dates, or create a schedule for an upcoming trip together.
Privacy settings: set your shared password with the partner to enter the application in order to secure your personal information from strangers.
Wallpaper: in the application, there is a choice of background wallpaper for the chat, in which quality you can choose one of your photos.
Sticker store: if you want to diversify your chatting, you can always find new funny stickers in the application sticker store.
Also, in the application, you can find many different ideas about how to diversify your joint pastime.
Keep all the important and exciting moments of your relationship in one protected from the extraneous place, in the personal space only for two, which will give you the application Between. Whether you are near or far apart, you will always be connected via the Between application.


You may also like: 11 Best Foreplay Apps for Couples and Parties
Love Nudge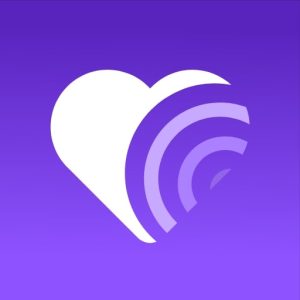 This app allows you to get to know each other better with love languages.
For people who have just started dating or have been married long enough, you need to show your feelings every day to maintain a strong relationship.
That's where this app will help. In it, you can daily mark the things you have done for your partner. For example, you cooked dinner, watched a movie together, went for a walk, said a compliment and so on.
In the app, there are a lot of different actions through which you can show your love. By marking them on a daily basis, you compile statistics. It can also be tracked in the app as a pie chart. For each section, it will show the percentages of the actions you have taken toward your partner.
This will allow you to identify areas where you don't show enough love, care and attention. And conversely, what you are doing to make your partner feel your love, care, and attention. The app can be used by both partners to maintain and strengthen the relationship.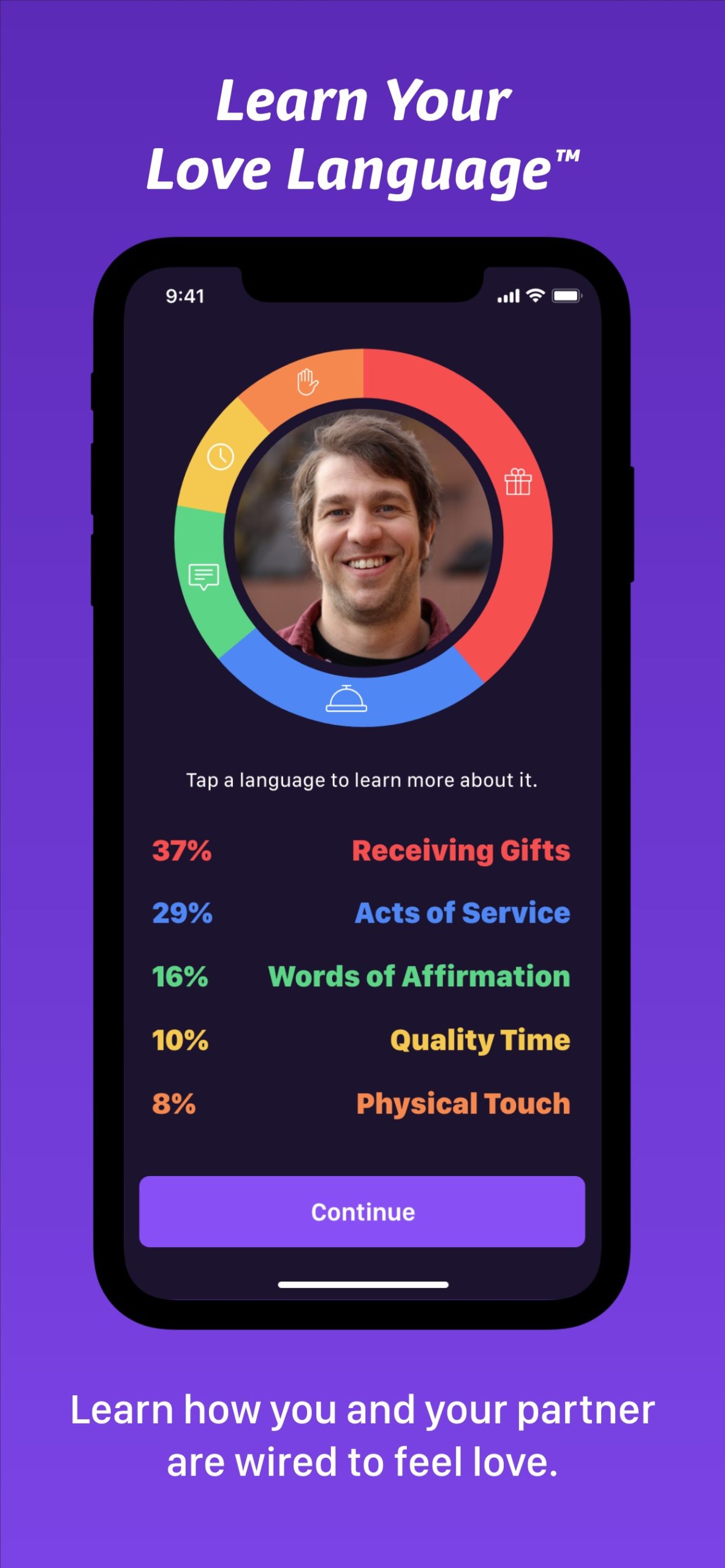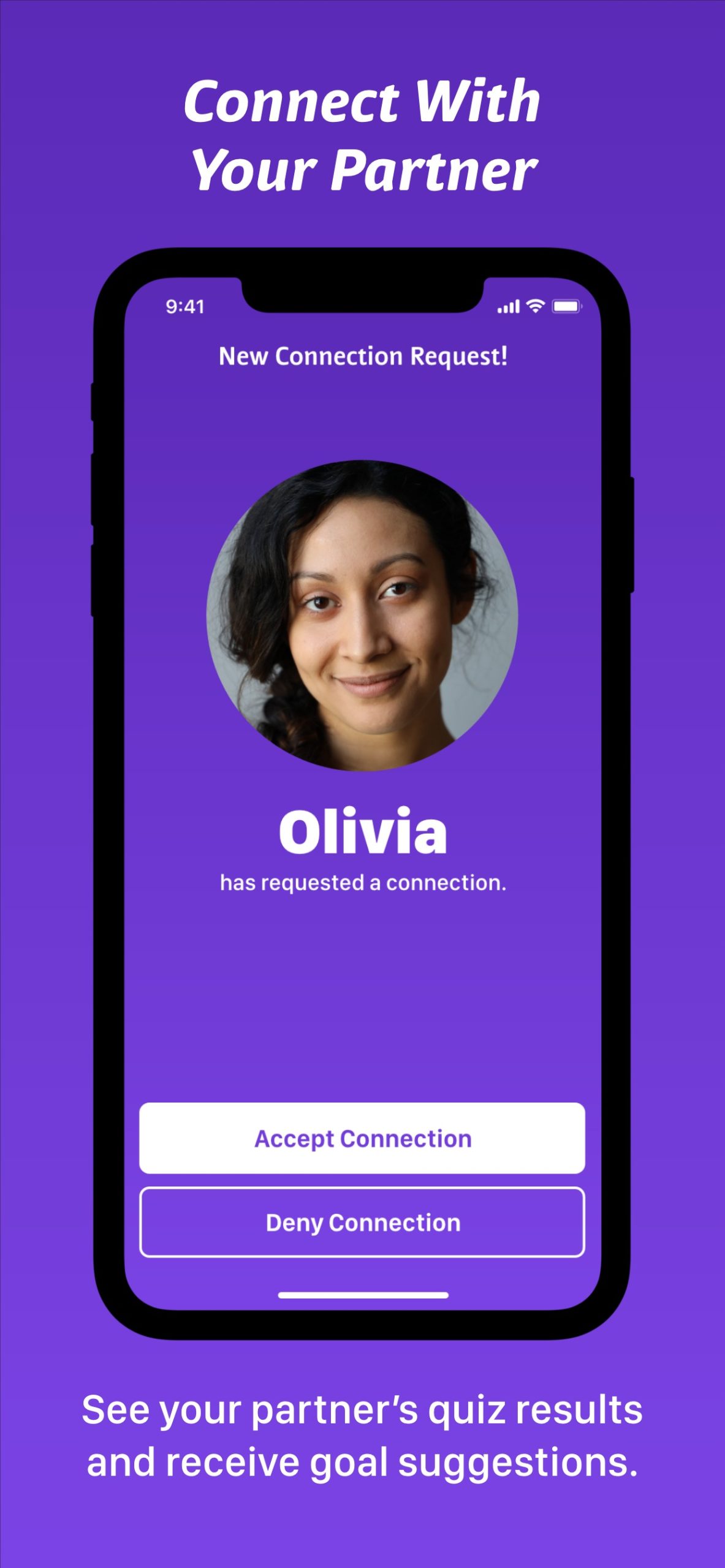 Desire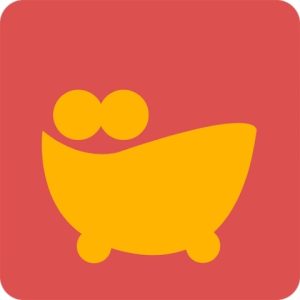 This fascinating game for couples will allow you to diversify your relationship and make it even more intense and interesting. In it you will be able to perform different tasks every day, getting points and trophies for it.
Tasks can relate to recreation together, dating, sexual relations and so on. The faster you complete them, the more points you earn. The points you accumulate will allow you to unlock new challenges that will be even more interesting and hotter.
You'll also earn trophies for doing so, which will determine one winner from your pair. Each day, the app offers one question for players to answer. It can be tricky or personal, but it will help you get to know your partner even better. To see your partner's answer, you also have to answer it yourself.
Also, the app has a chat room where you can exchange love messages, photos, compliments and so on. Here you will be able to keep a personal diary or notes, recording in them all the pleasant moments that occurred during the period of the relationship.
The game will allow you to get as close as possible and learn a lot about each other.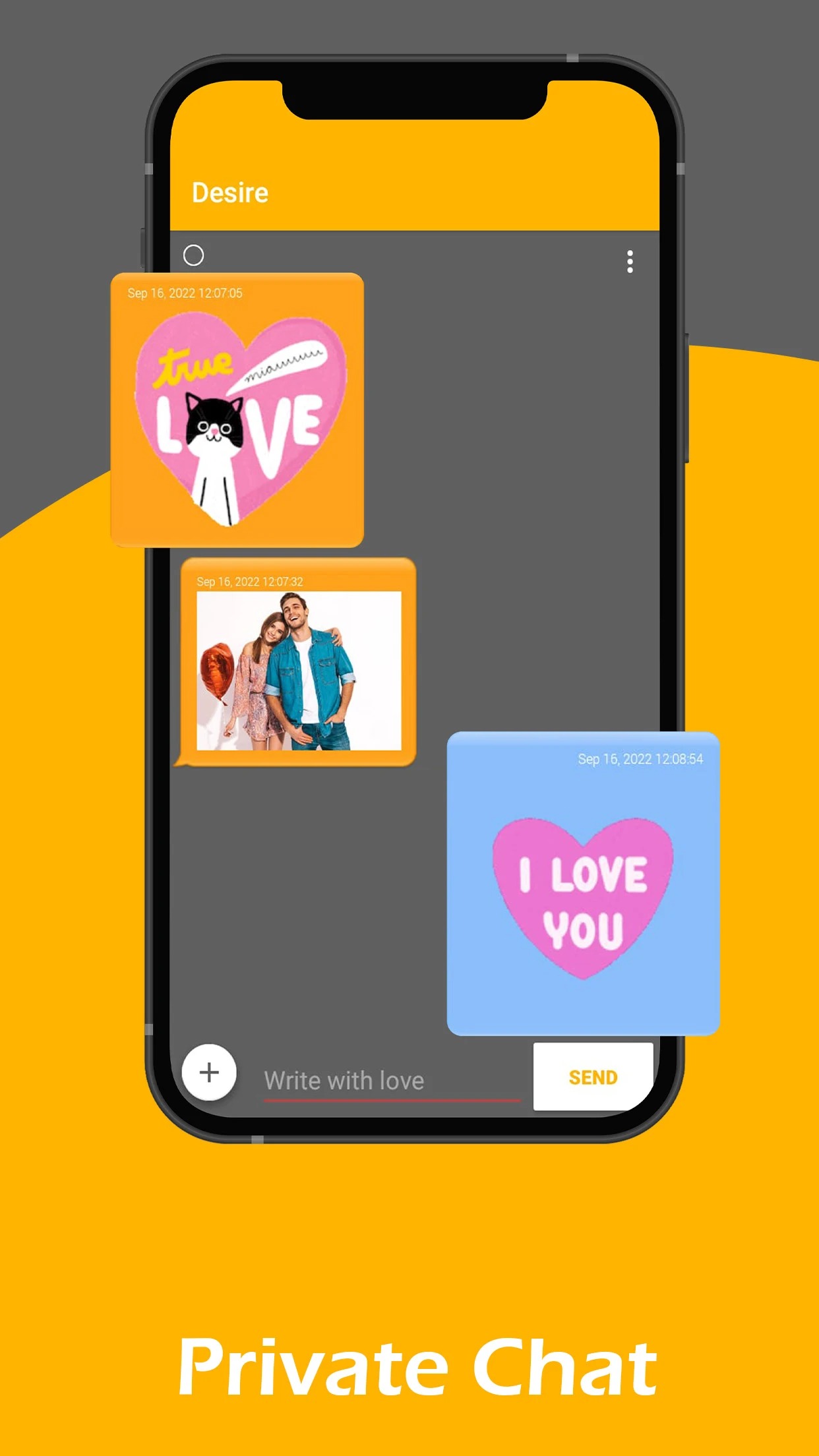 Dirty Couple Games – Naughty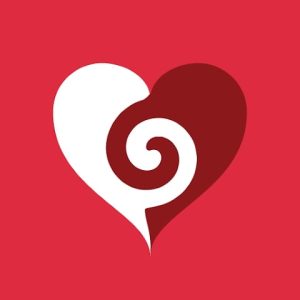 This game will allow you to loosen up in a relationship, feel love for each other with renewed vigor. This app contains more than 1000 different intimate themes and erotic tasks.
Playing with your partner, you will be able to find out the answers to the most tricky questions or to perform unusual for you tasks. Try to start with level 1, and then move on to 2, 3 and 4.
With each level the questions and tasks get hotter. But if even the last level you will not be enough, you can use the function of throwing dice. They will depict the actions you should perform for your other half. With this app you will find out the hidden desires and dreams of your partner in a sexual relationship.
After you have completed all the levels, your sex life will become much more vivid and rich. You will know what your partner likes, which will make your relationship much stronger. Try to use this app absolutely free to keep the passion in your couple for years to come.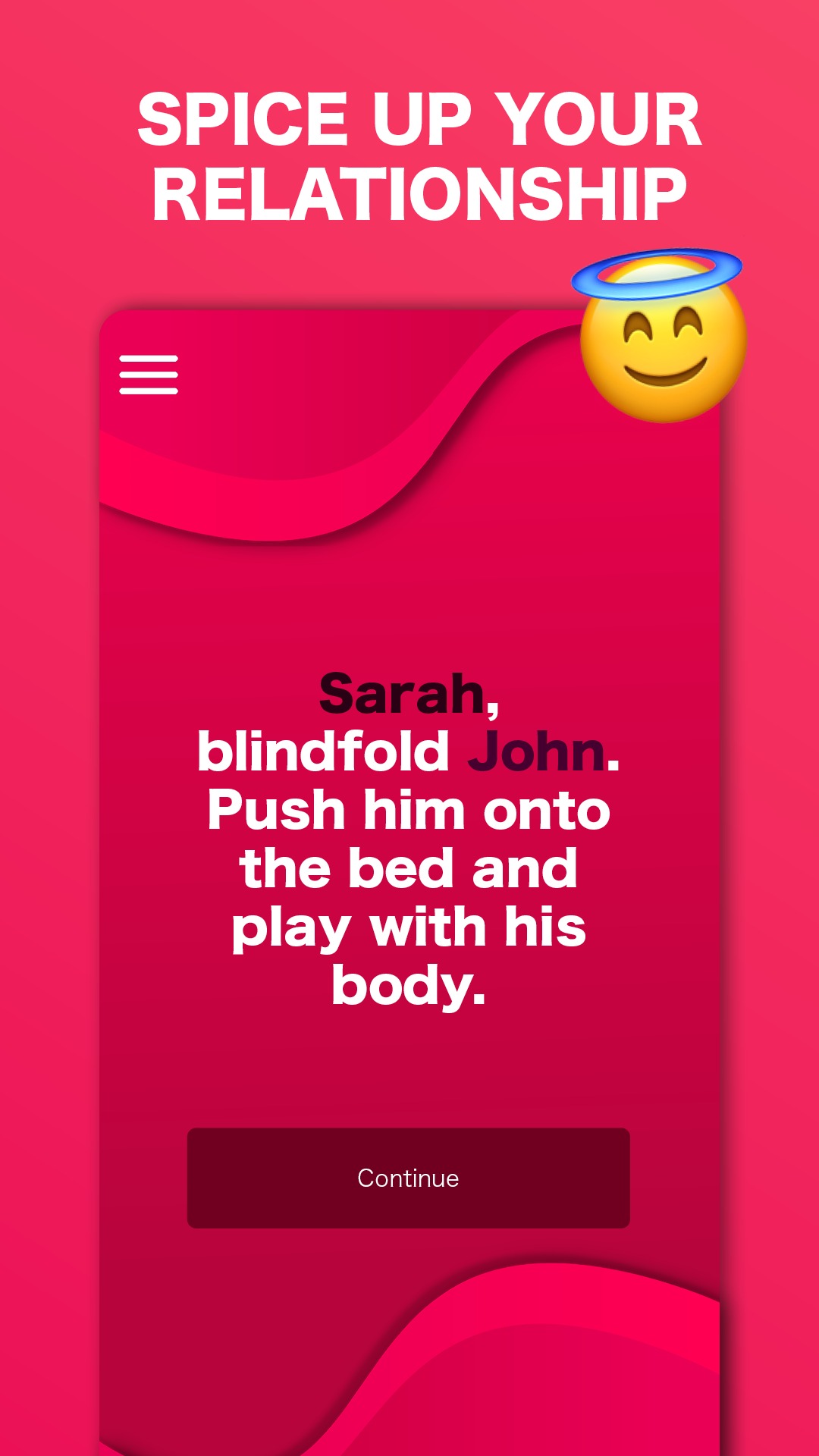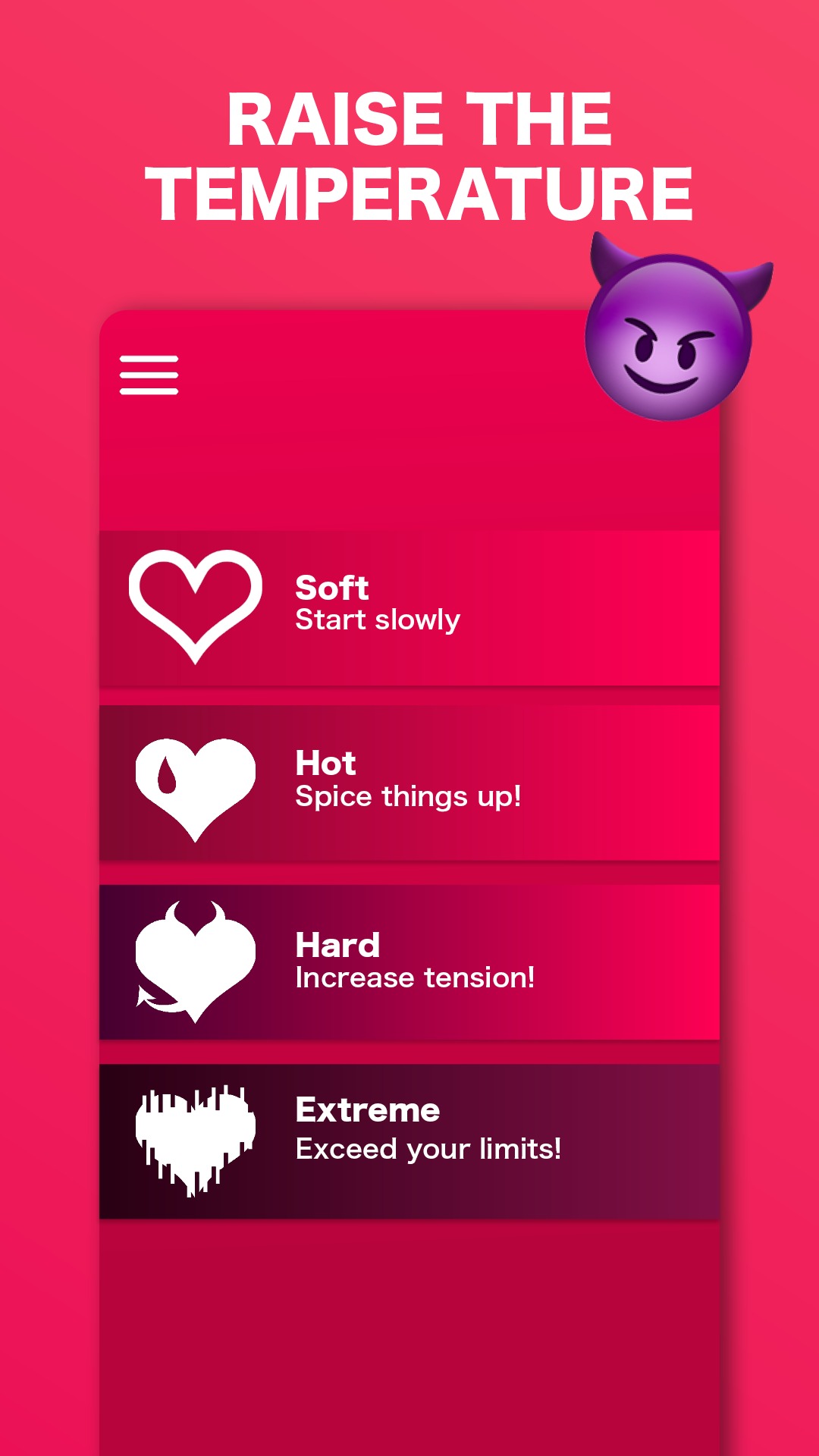 Lasting: Marriage Counseling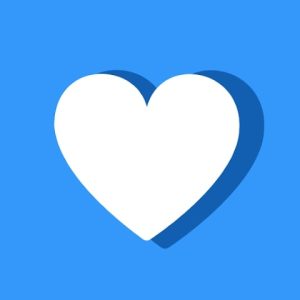 Relationship therapy allows you to strengthen and preserve your relationship. To avoid going to a marriage counselor, you can use this app. It will give you assignments and practices to understand the essence of a healthy relationship.
There is a free version that you can try for yourself for a week. During this period, you will learn the basics of a healthy harmonious relationship by going through the assignments.
Once you pay for your subscription, you'll get access to the rest of the features, which will also help you do relationship therapy on your own. Thanks to them, your couple will learn how to deal with conflict situations, talk to each other on different topics, create common habits and traditions, and trust.
You will be able to work through your sexual and emotional relationships. Assignments and practices will be available to you for this purpose.
The app also publishes current topics on healthy relationships to help you identify and solve your family's problems. Healthy relationships are possible with regular tasks and practices, so use it daily to strengthen your marriage, family, and other interactions with your partner.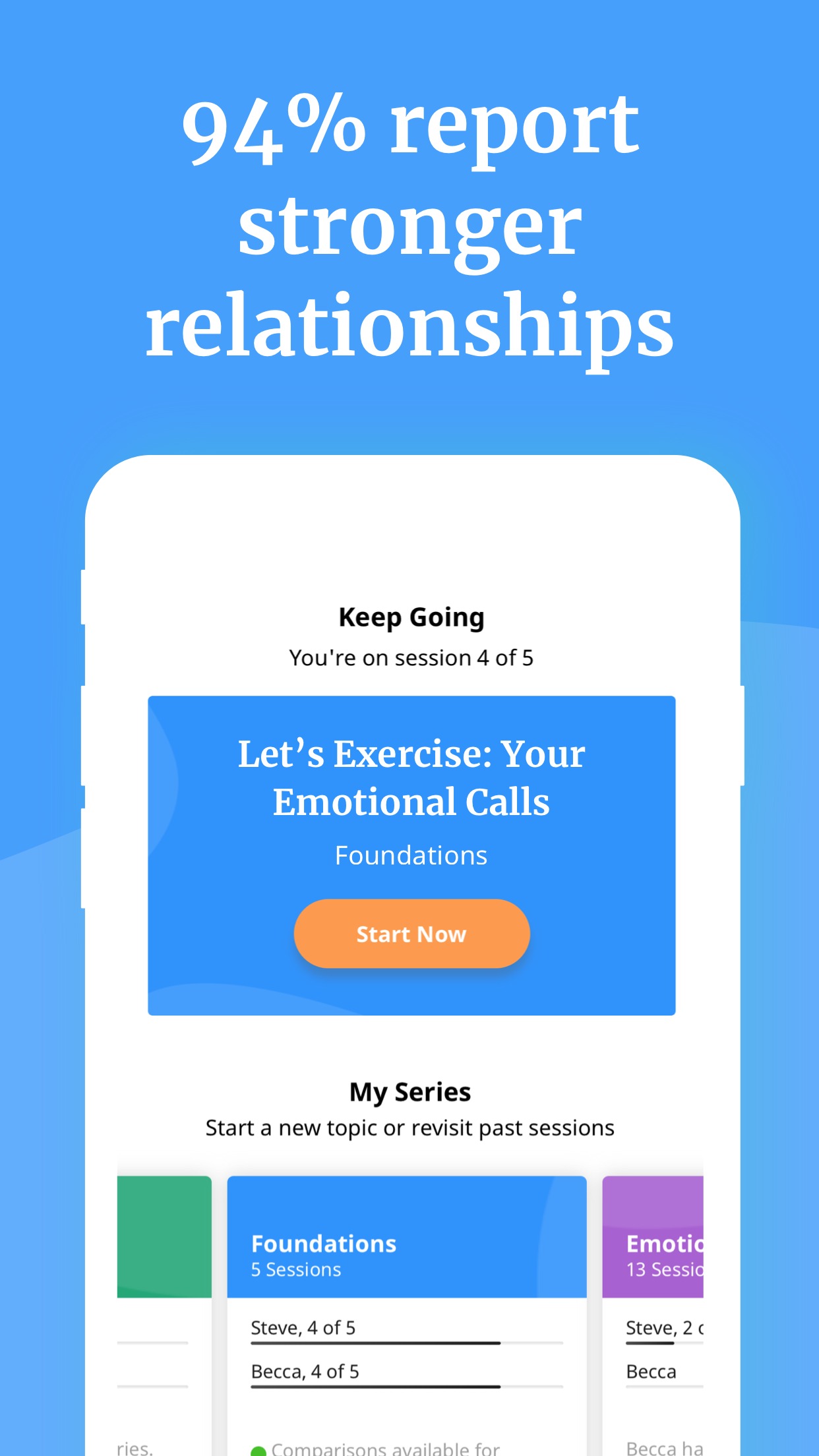 Agape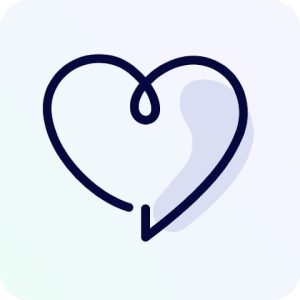 This app will allow you to find common topics of conversation as well as strengthen your relationship. Each day you will get a question to reason with. You can discuss it with your significant other to strike up a long conversation.
The questions are always different, so every day you will have conversations about interesting and even intimate topics. They can be about relationships, everyday life, entertainment, money and much more.
So you will not only find something to talk about with the other half, but also get to know each other better. In addition to the questions, every day in the app there are actions that you will need to perform in relation to your partner. This refers to love, care, attention, mutual assistance and so on.
This game can be used by married and unmarried people. It is great for couples who have just started dating and for those who are raising children. Most of the app's features are available for free, but you can also pay a subscription and get access to private categories.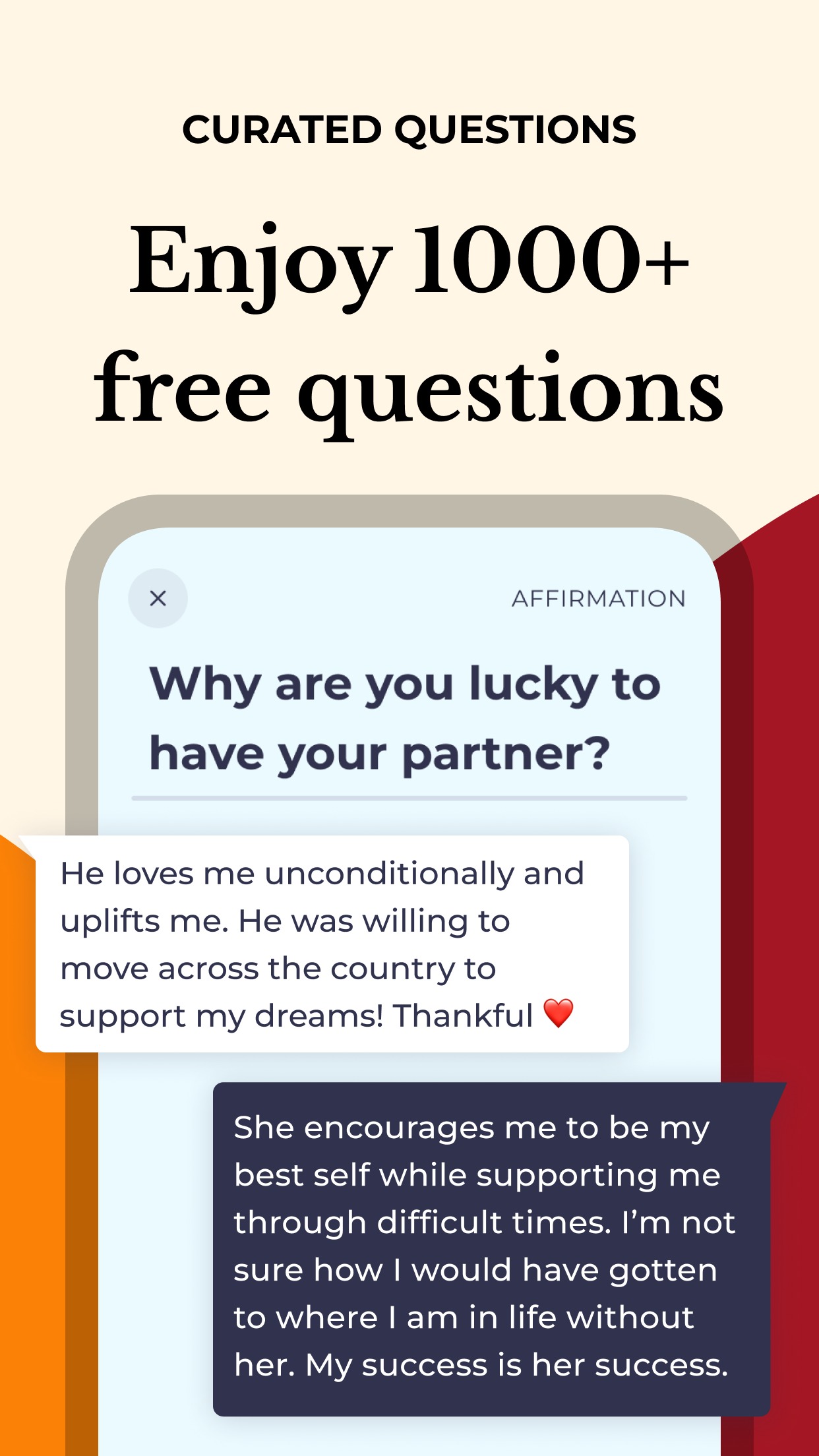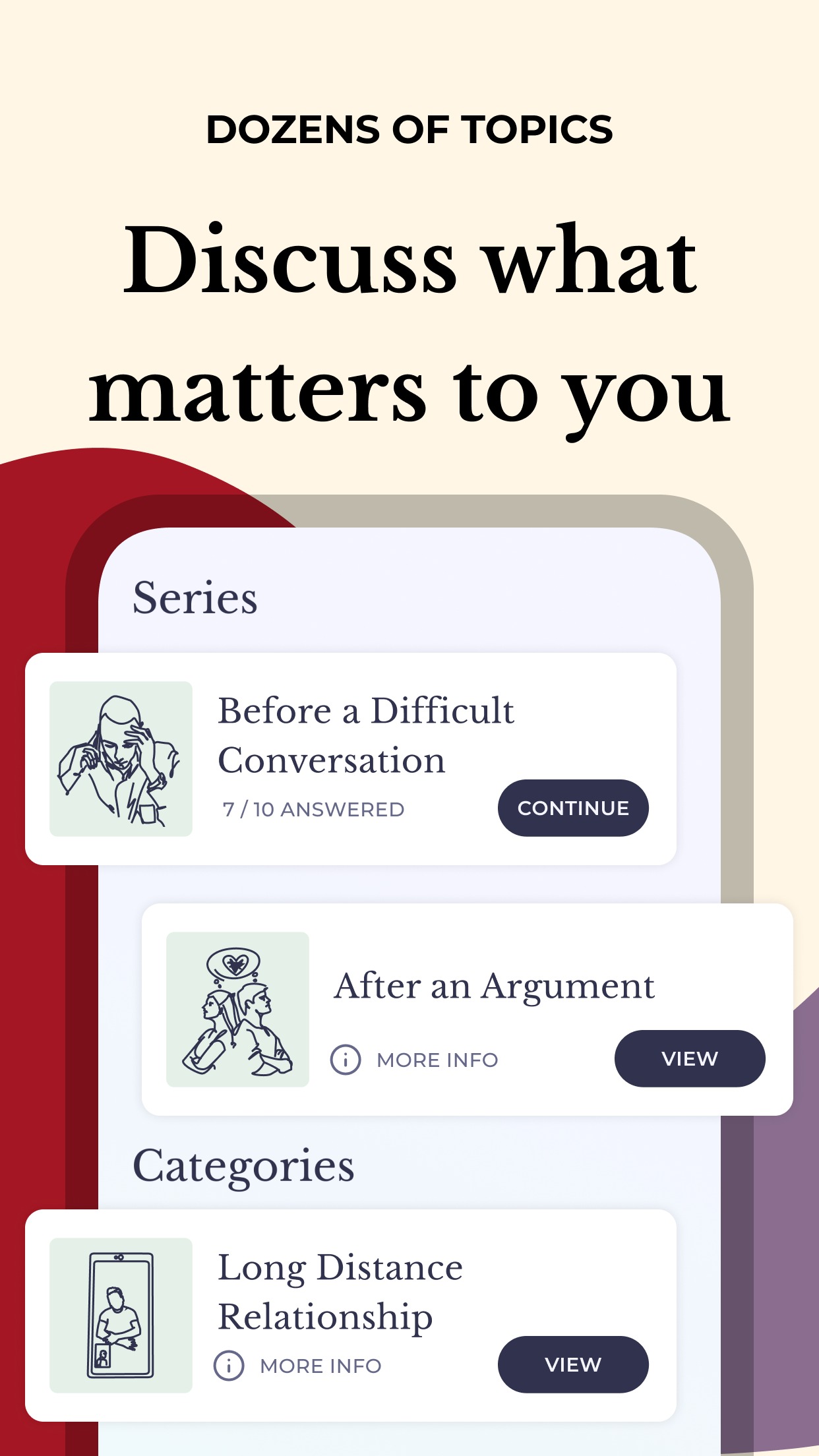 Honeydue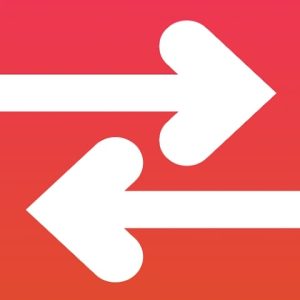 This app is designed for couples who have a joint budget. It works with a bank where partners can issue their account, debit cards, and even take out a loan. All account and card balance information will be contained in the app.
Through it, you'll be able to determine how much your significant other can spend and set a monthly limit. You also have categories of spending available to you, each of which you can set a limit on.
Add your own categories in the app if there aren't enough of them in the service itself. You can put notifications on your monthly spending so that you don't forget to make payments.
You will also have access to information about all transactions made on your account or cards. You can respond to purchase payment messages with emoticons for your partner to see.
The app is available absolutely free, so it can be used by everyone. It also has the ability to connect more than 10,000 banks whose users want to keep a common family budget.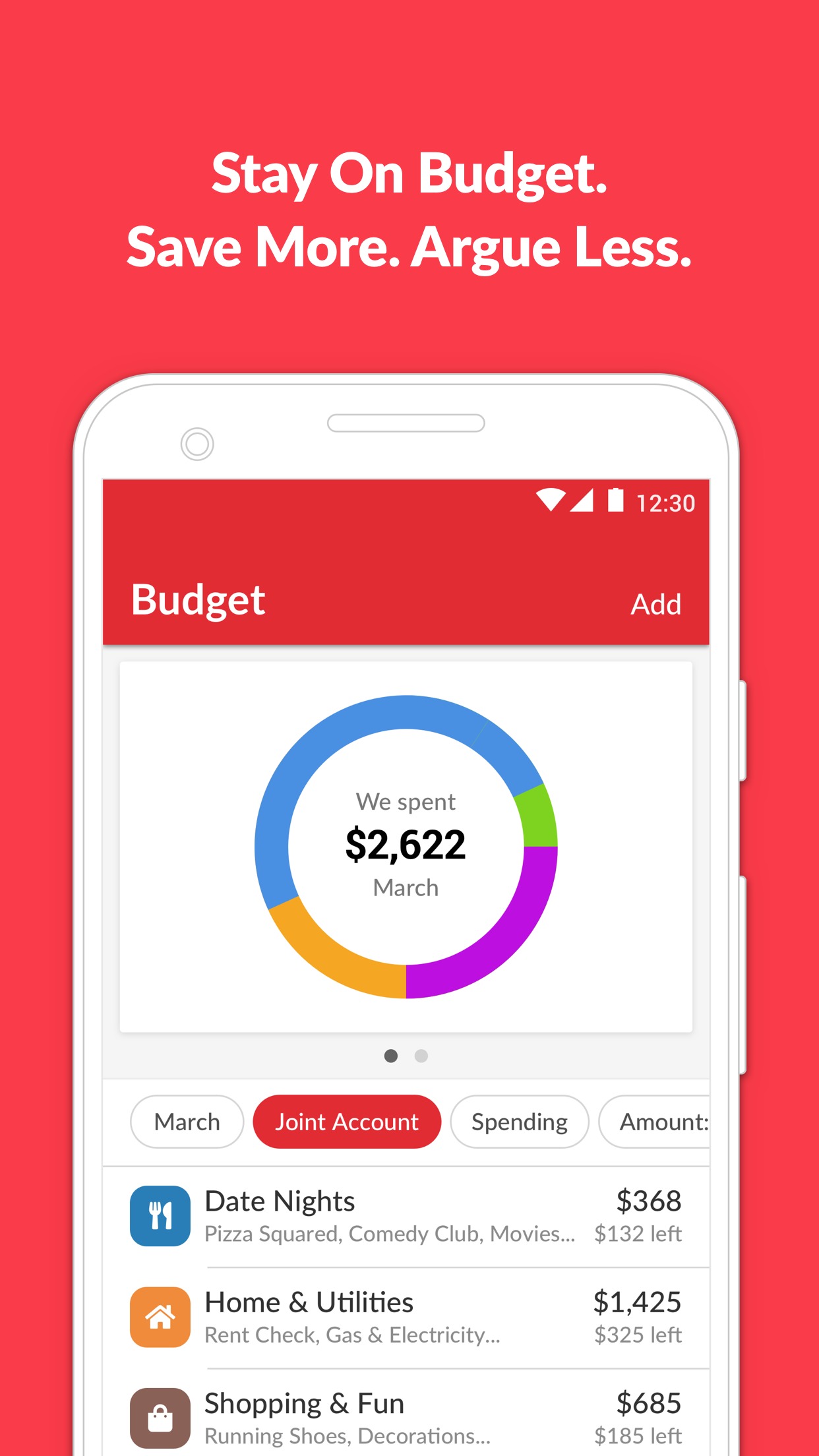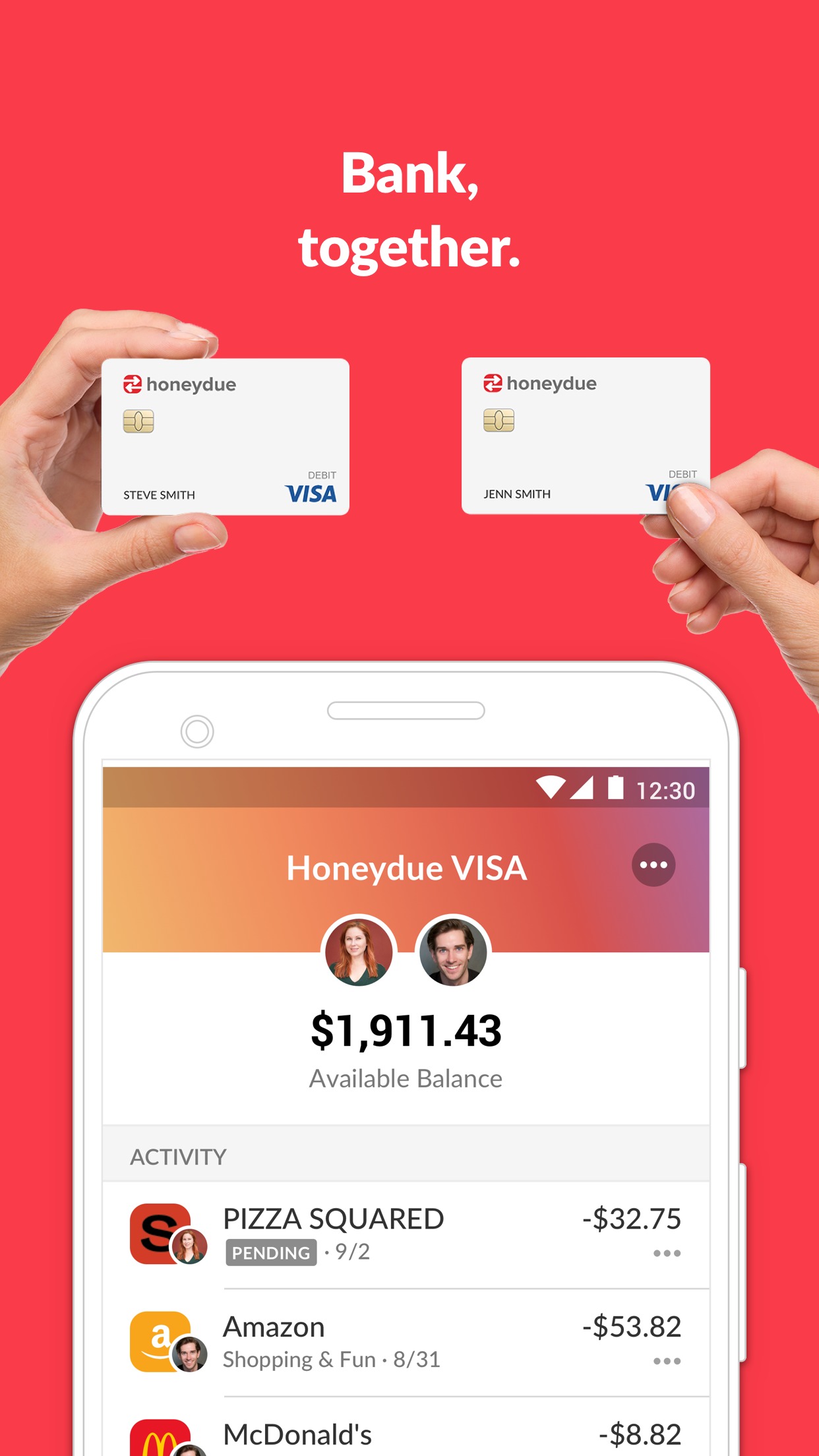 Lovewick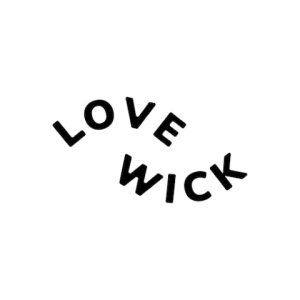 This game is great for strengthening your relationship with your partner. It includes various quizzes, questions and other interactives.
You will be able to answer questions that the app generates for each partner. This will allow you to get to know each other better. You will also be able to start your own tracker that will keep track of the time that you and your partner are together.
Also, the app will offer you different date ideas. This will allow you to come up with interesting leisure time together.
This service will have a calendar for you where you will be able to mark important dates together and receive notifications about them. If you already have ideas for shared dates, you will also be able to add them to the app.
If you and your partner are at a distance, video calls will be available for you, during which you can ask questions from the app. With more than 1,000 questions on various topics, you can get to know your soulmate every day.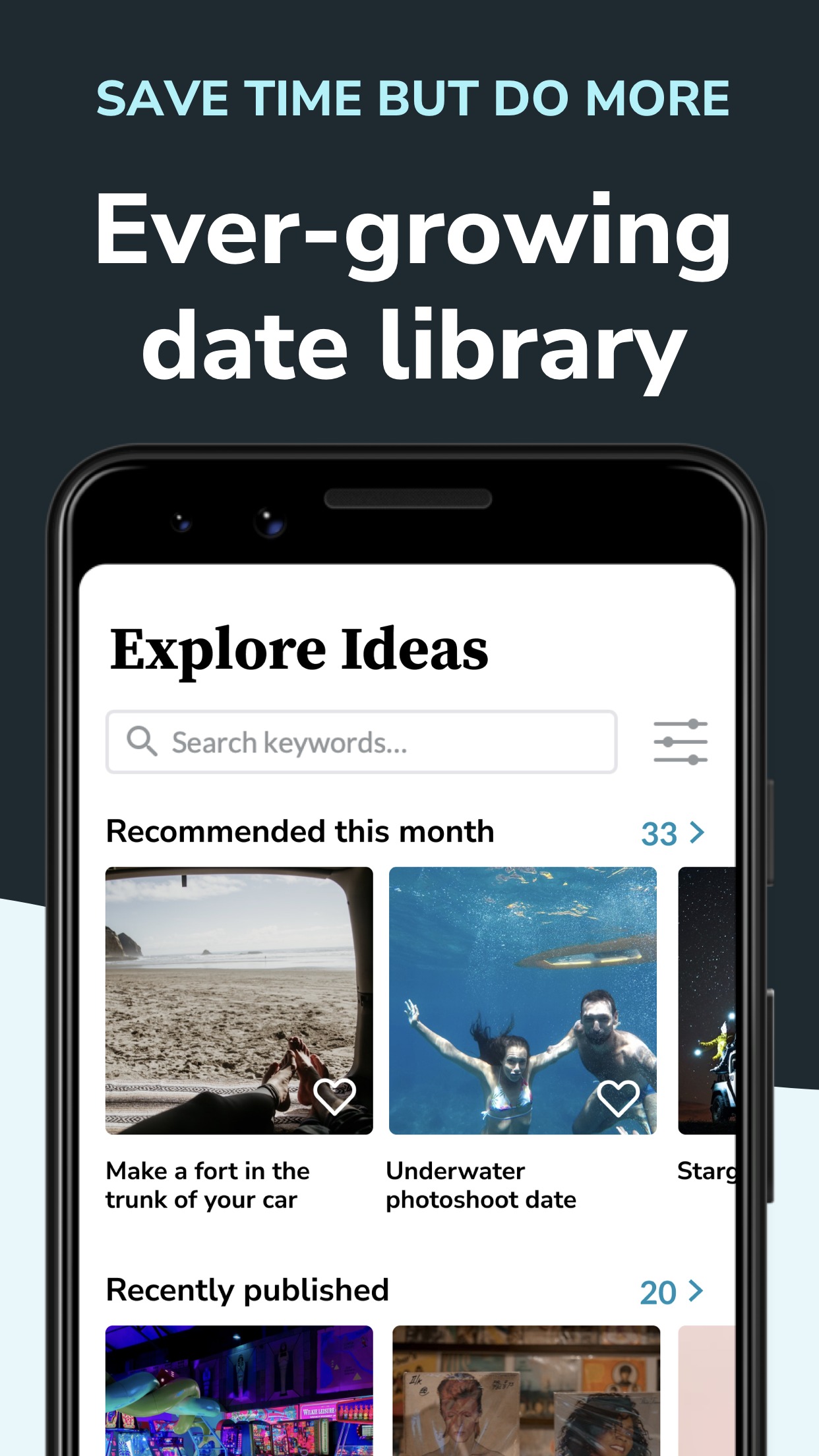 You may also like: 11 Best Fetish Dating Apps (Android & iOS)
iPassion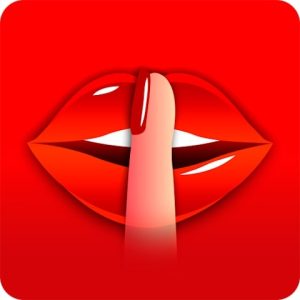 The app will let you get to know your other half better, no matter how long you've been together. Here you will find about 1000 questions on various topics, each of which will need to be answered. Take turns doing this to determine the winner in the end.
First, one partner has to answer all the questions. Then the other has to guess all the answers. The more answers you guess, the more points you get. For each correctly guessed answer you get 1 point.
Questions on different topics will allow you to find out much more information about your partner. Based on the results of your answers, the service will generate a winner.
There will also be a prize for him or her which can act as a service or other present. You can answer the questions an unlimited number of times, as the app will be absolutely free for you.