It's autumn now, and for many of us, it's time to wake up early in the morning to go to school or to work. It has never been an easy task though, so why not use some service or technology to help you build a healthy sleeping routine?
Here we have listed the top free alarm apps for heavy sleepers to wake up anyway so that you do not miss anything important. And for those who don't have problem with that, we also have an article about the best gentle alarm apps.
Early Bird Alarm Clock
The simpler – the better. Many people just prefer having a no-frills alarm app to wake them up, and if you are one of them, consider installing Early Bird.
The app is a basic alarm that has features that may sound interesting. What is most exciting about it is that you can set different themes that match your personality and help you to wake up in the morning.
You can also have some more customization and schedule the days when you will be having the alarm to make sure it doesn't disturb you at weekends.
If you are tired of a standard alarm sound (and we all are a little bit), Early Bird has a bunch of sounds, so you will hear a new one every day! Such an approach is quite reasonable even from the scientific point of view since people go back to sleep easier when they hear a familiar sound.
The team of the app knows how tired it is to wake up in the morning, so they prepared not only a variety of sounds but also several other methods to help you. It has a QR code, trace and write force and even voice recognition. The clock itself is talking so it will say what time it is when it rings.
Maybe it's easier to get up knowing that you have something exciting today. You can make all your days equally exciting by allowing the app to announce your plans for today when it's time to get up.
You can listen to a weather forecast program and start getting ready for the day immediately from the very beginning.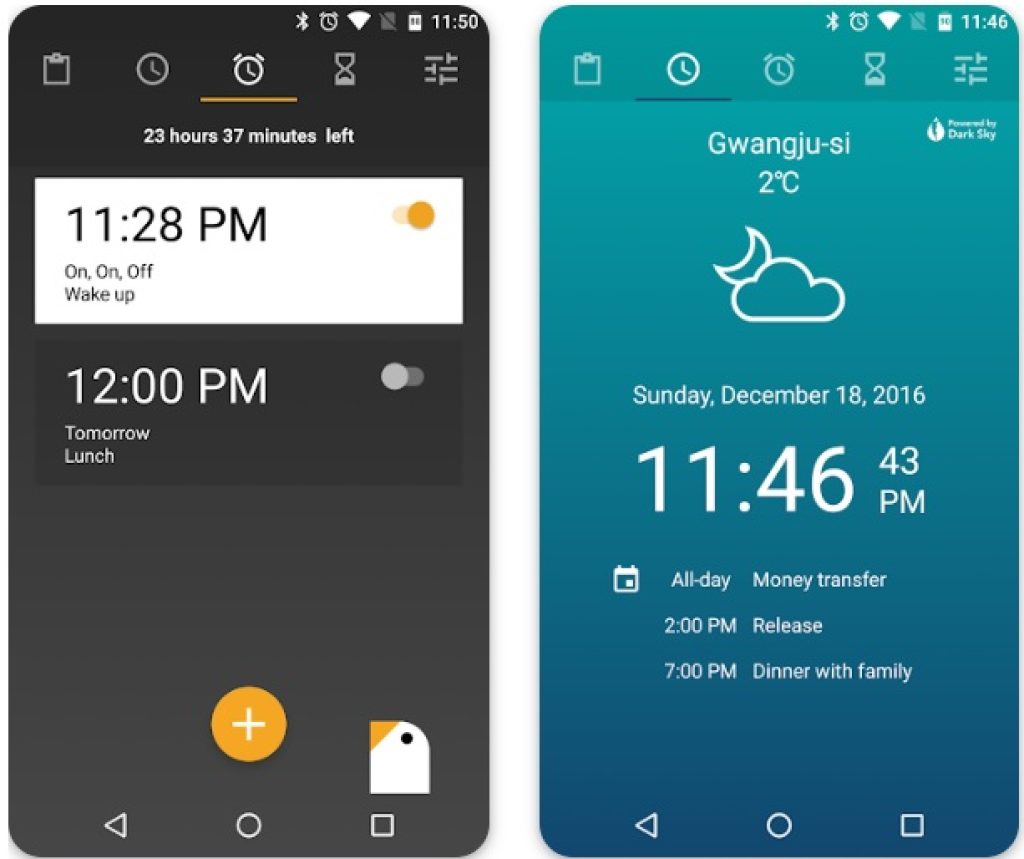 You may also like: 13 Best alarm clock apps for Android
Alarm Clock for Me
If you are an iOS user and want to opt for a simple alarm option, then Alarm Clock for Me is one of the best choices in the 'simple' category.
Though you can use the app as a basic alarm, it doesn't mean you can't opt for anything more specific. Though made simple, Alarm Clock for Me has a variety of functions containing every imaginable feature.
You can use the clock and the timer for any reason you like, such as cooking and studying since the clock here is multifunctional.
As for customization, you can browse the themes of the clock and find something suitable for yourself. You can choose the theme and then one of the colors listed. Then you can start creating your morning playlist. Listening to your favorite music will help you become energetic right from the start.
If you are afraid that you will simply tap the screen and go back to sleep again, in Alarm Clock for Me you can choose the way the alarm will go off. Maybe a little phone shaking? Or solving a math problem? Choose the option you like and set the schedule for it, or you can wake up differently every day.
Once you are up, maybe it's time to read some notes you left for yourself in the evening. You can write something positive and motivational to cheer yourself up a little bit or attach an important note with a to-do list for the day.
The app has a weather forecast function so if you are an early runner or have a habit of having a morning walk, it is of great help.
It's ridiculous, but a waking-up app can also ease the process of going to sleep. Try turning on a white noise function to go to sleep faster and wake up more energetic and completely ready for the day.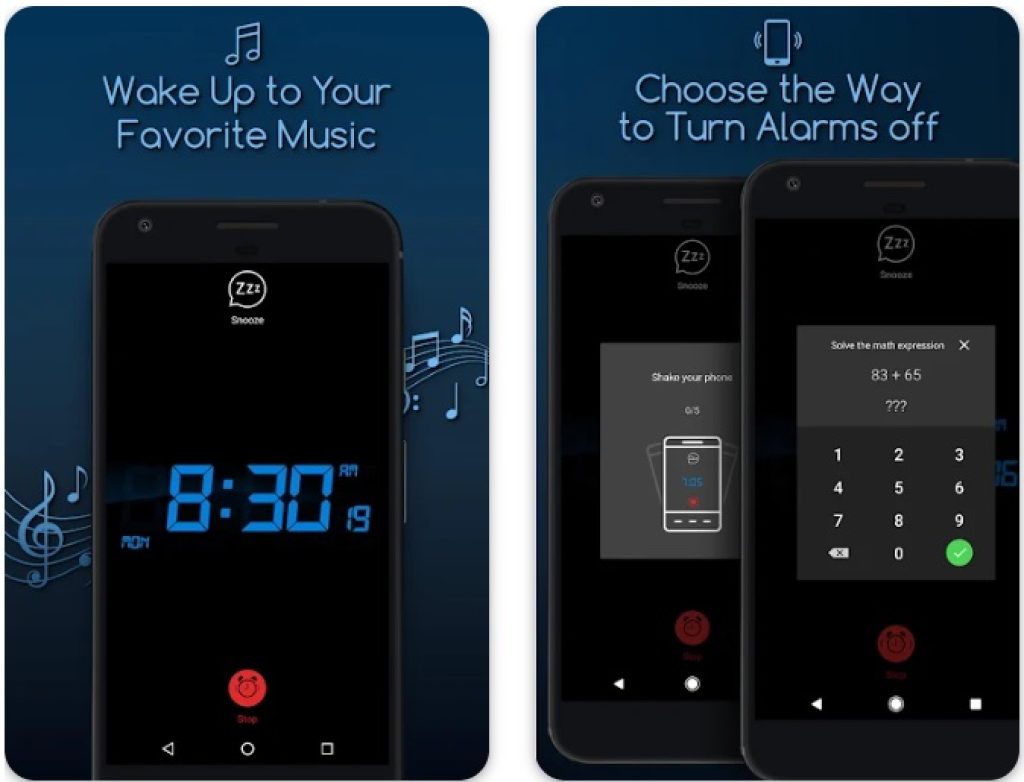 SleepCycle
No doubt waking up in time is important, but building a healthy sleeping routine to stop early wake-ups from being a nightmare is even more important.
Many people have already used the potential of breathe-tracking apps to get a healthy habit of waking up and going to sleep at the same time. SleepCycle is one of the best options to start.
The app works very simply: you set the time you need to wake up, and the service tracks your breathing and wakes you when you are in a light sleep phase.
It happens during the last half an hour before the exact time you need to get up. SleepCycle is very energy-consuming so make sure you charge your phone all night.
When it's time to go to sleep, the app will remind you of it. It will also tell you when it's better to put your work and social media scrolling to get thoroughly prepared for the night's rest.
Our body can't easily switch to sleep after a hard day of brain activity, so this notifying function is essential for building healthy sleeping patterns.
The app collects statistics on how much time you sleep and what the quality of your rest is. Pay special attention to it and you will be surprised how often we lack proper rest and don't do anything about it.


Smart Alarm Clock – AMdroid
The team of the app state they created Smart Alarm Clock, especially for heavy sleepers. If you are one of the genre, using this service will help you get up gently and naturally even after a very deep night's rest.
The strong side of the app is the customization opportunities. You can set a schedule, making different alarms play on different days. There are plenty of options to choose from: a recurring alarm, a one-time alarm, a countdown alarm to wake you up from a 'power nap', etc.
If you have trouble with rising and shining, there are many tasks and challenges to make sure you don't just turn the alarm off and continue dreaming. To prevent oversleeping you can use a flashlight, a Captcha, an NFC, a Barcode, or a QR code scanning and of course everyone's favorite math problems.
The app tracks your location and automatically turns off the alarm when you are in a different place. So if you are on a business trip, there's no worry your phone will play during an important meeting or conference.
One more advantage the service has is a 'power nap' function. If you are feeling drowsy, just set the stopwatch timer. The alarm will play if it's elapsed to naturally prevent you from oversleeping.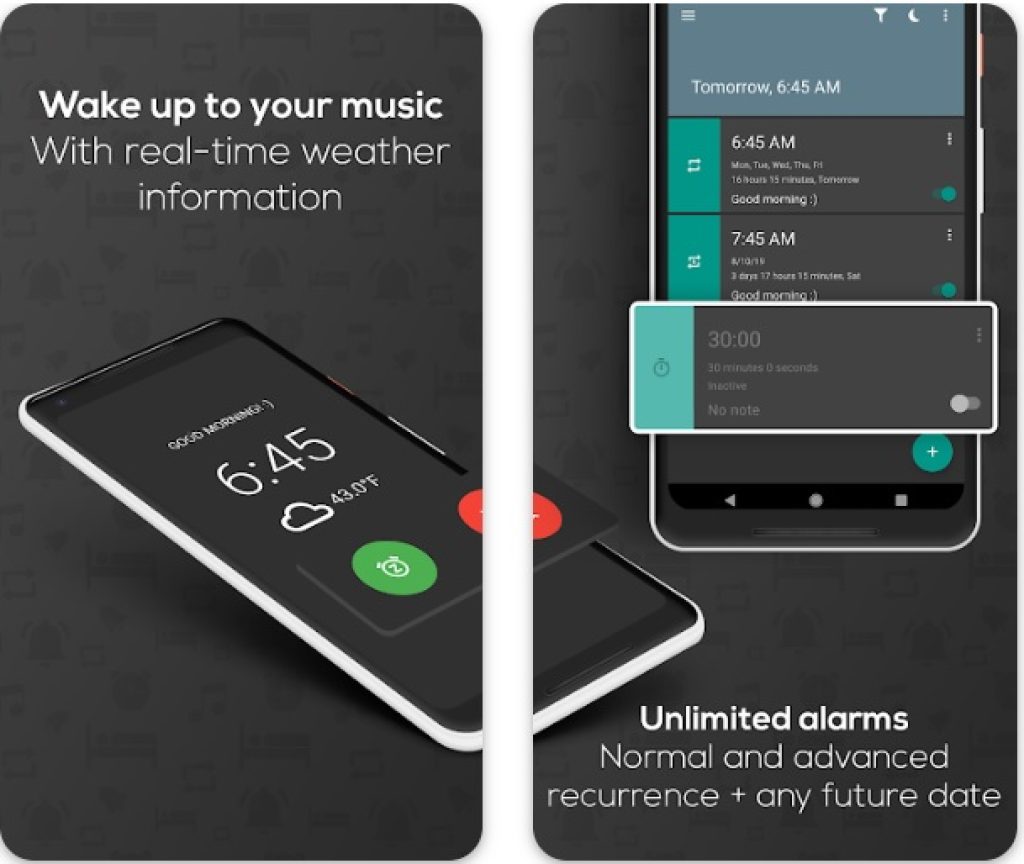 Loud Alarm Clock – the LOUDEST
Another favorable option for those who have tried thousands of alarms and still have struggles with oversleeping. Meet Loud Alarm Clock – the clock is made purposely loud and irritating.
The main feature of the app is that it plays volume-boosted audio. Waking up as if somebody dropped a bucket of cold water on you is quite an experience, so think twice if you are the one to do it. You better also ask your co-livers whether they are OK to follow the same sleeping routine as you do.
The service launches different sounds so that you are not used to any of them. However, all of them are equally loud and annoying. Forget about Edvard Grieg's 'Morning' and let's see what we have here: a fire alarm, nails on the chalkboard (our personal favorite), an emergency sound, a car alarm, and a police siren.
Okay, return to Edvard Grieg for a second: the app has a bunch of beautiful themes and pictures to set as a background, so you will have quite a memorable experience waking up to the police siren and looking at the luxurious mountain or sky star view. Did anybody steal a star?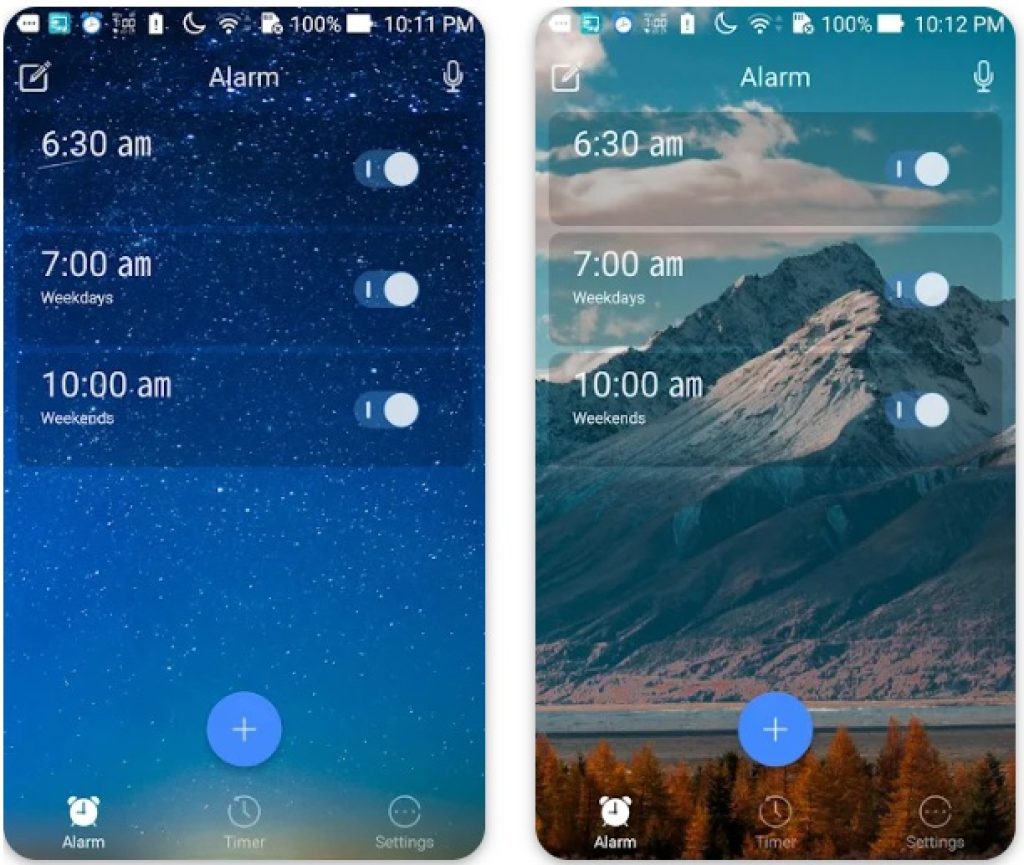 You may also like: 9 Best Alarm Clock Apps With Math Challenges
Alarm Clock Puzzle – Free Wake Up Alarm
Do you like solving math problems? If you don't, then some alarms we have already listed won't do with you. But if you still are into a bunch of puzzles, then we know what to offer you – Alarm Clock Puzzle.
The app is highly customizable and has a variety of mini-games so that you could find something you like. There's a memo game where you have to tap the buttons the right way, a maze game, basic math problems, and a retype feature.
If you struggle with solving a problem fast, you can choose a gentle alarm so that its continuous ringing did not cause any additional disturbance.
There's always a big temptation to return to sleep, even after a math class. The app's team knew it so they included a feature with a funny name – a "Wake-up Poke".
If you don't tap a push notification that will turn up 5 minutes after you got up, the alarm will go off again. You can also set a snooze limit –you will have a certain time when putting the alarm off will simply be impossible.
Waking up is a challenge, but a challenge can also be different. Motivate yourself by building a sustainable routine by imposing a challenge for yourself!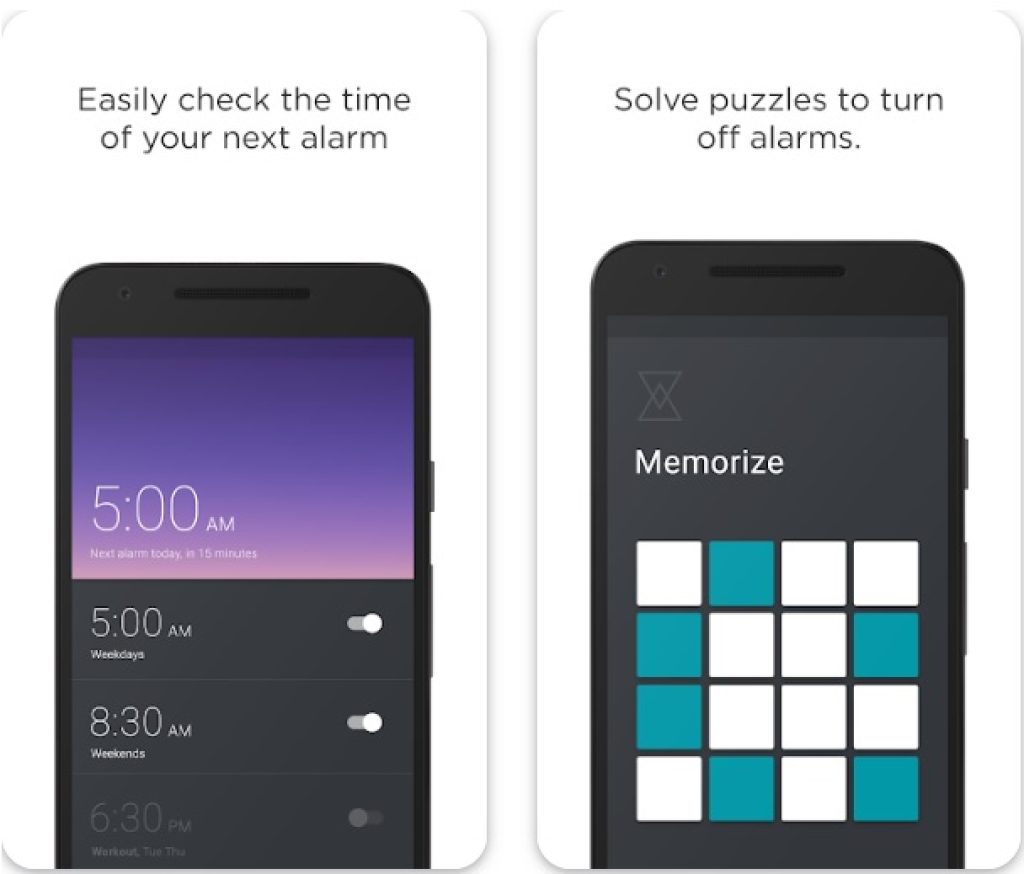 Spin Alarm Clock
You thought that we wouldn't succeed in finding something even more irritating than a fire alarm or a problem-solving game? Well, it seems that we did it again.
There's nothing more disturbing than getting on food out of your warm and comfortable bed straight away after waking up. And it is exactly what you have to do to turn off the alarm in Spin Alarm Clock.
To turn the alarm off you will have to get out of bed and spin around as many times as the number on the screen indicates. It won't be enough just to walk around the room or to get on your feet – this rotation movement is something that will certainly wake you up.
The name of the app is Jarvis, so you can call it like that to use a set of voice commands. You can say 'Jarvis set alarm for 7:30 AM', 'Jarvis light' for the flashlight function, and 'Jarvis time' to hear what time it is now.
You can customize the app and set a background picture from your phone gallery. Choose a fun voice of your favorite movie character from a sound library.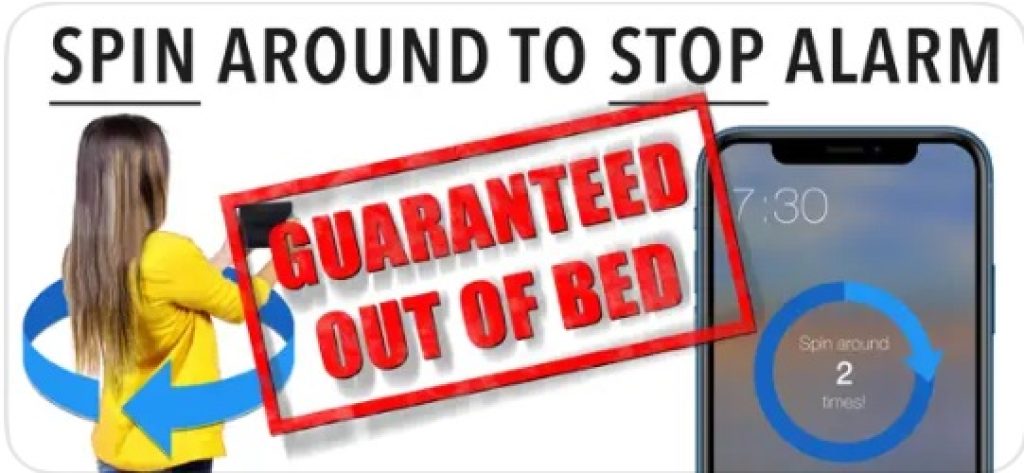 AlarmMon – alarm, stopwatch
This app already has 27 million users worldwide. Let's see what else attracts people to use it among the cutest design an alarm could ever have.
The service has any possible alarm to make your morning look exactly what you want it to. You can opt for a voice or a video alarm, make it loud or quiet, or even choose an idol band alarm to make your wake-up a pop concert.
If you are afraid of turning the alarm off and falling to sleep again, don't worry: AlarmMon doesn't even have such a function, so the alarm will ring until the battery on your phone is flat.
It is a fun nap to use for adults and especially for kids. It has many various characters to help you wake up, including everyone's favorites from Adventure Time and Tiny Farm.
It is a complete journey with your virtual friends where you will cope with multiple mini-games and tasks on your way to finally get up and kick off your day.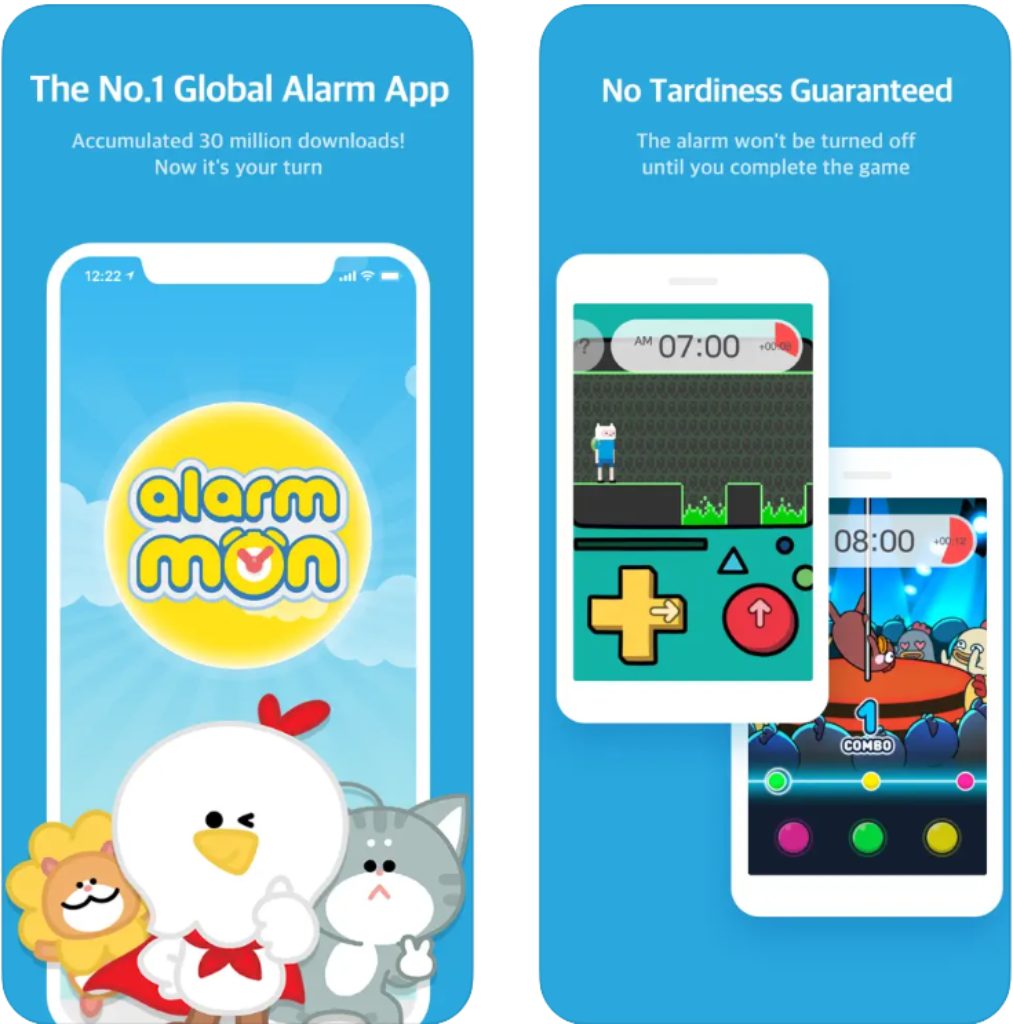 Clock
We are back on track with a more serious and less cute option for you to set a schedule and always have track of time. The laconic name says it all – it's just 'Clock', nothing more, nothing less.
The service is super simple yet extremely functional, as almost every Google product is. It has five different sections to work with – Alarm, Clock, Timer, Stopwatch, and Bedtime. To add a new alarm, you create a sticker-like note where you can customize all the features.
You can add a label to your alarm, set the days when you want it to repeat, and choose the sound you like the most from the ones the app offers.
If you don't like the standard varieties, you can look for something on YouTube Music, Spotify, or Calm. There's also a Google Assistant routine to make the app remind you of everything you have to remember right at the beginning of your day.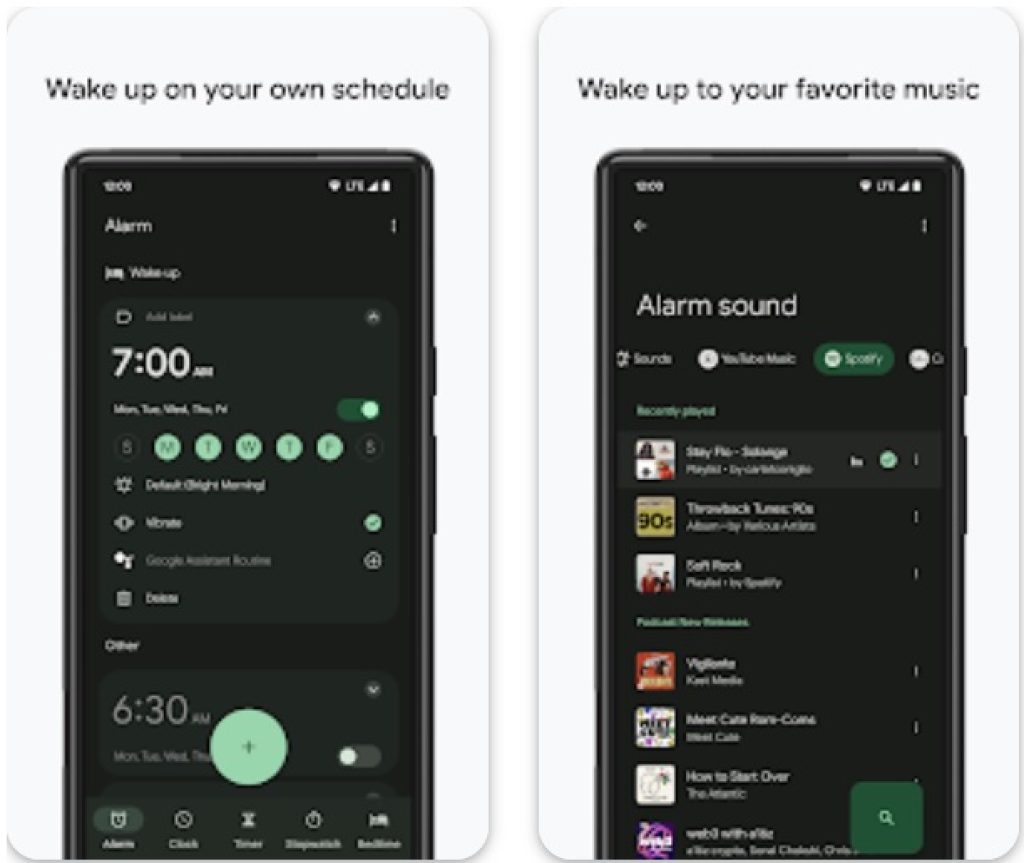 Sleepwave: Smart Alarm Clock
Sleepwave is much more than a basic alarm app. It is a complete health and relaxation service with its own unique motion-sensing tracking system.
The app detects your movements throughout sleep time. To make it work you will have to enable using the microphone and speakers of your phone since the platform uses the technology of the silent sound wave reflection.
When it's time you are naturally awakened the most, the app will wake you up with a gentle sound.
Wavescapes is a unique feature the service offers to feel relaxed and ready for bed. These are the visualizations to play with, responding to the moves you produce.
You don't even have to touch your phone – just watch how the picture changes and slowly relax your mind while the calming sounds of nature play around.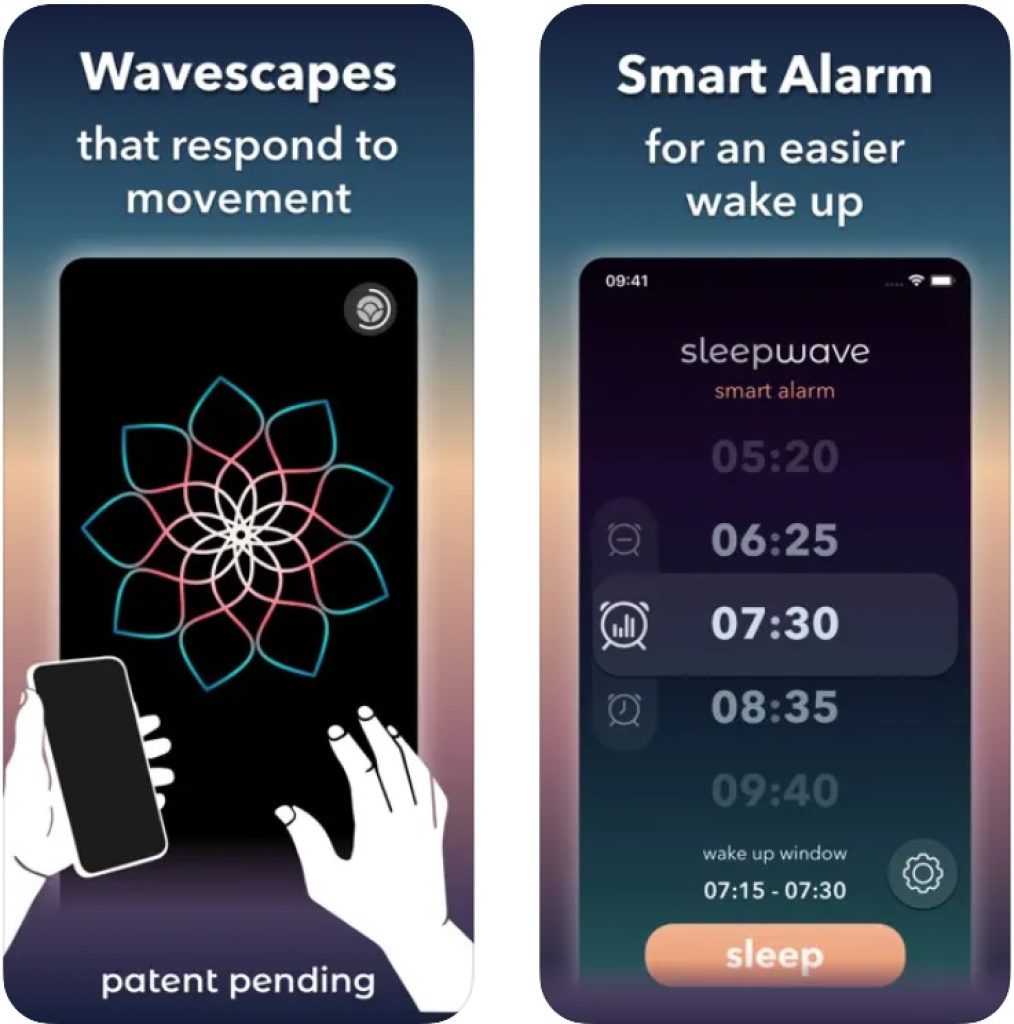 You may also like: 11 Best Talking Alarm Clock Apps for Android & iOS
TalkingAlarm – alarm clock
And the last option for those who are into classics. Though TalkingAlarm doesn't sound basic since alarms don't give more comments than a standard 'beep', this app has a minimalistic design that resembles a good old clock with green digit numbers.
The service's voice assistant won't probably have small talk with you but will remind you if you have an appointment today, what time and date it is, and what the weather is like.
You can choose how the screen will look, whether you want to see a dial with a luxurious nature background or if you'd rather opt for clean and simple hands of the clock only.