Love is what motivates people to live, pushing them to do something unexpected and courageous. Everyone strives to find their only destiny and soul mate to find happiness.
But a lot of people do not open up to strangers, hide the true essence, and try not to show emotions. And what if you are shy and embarrassed to meet someone? So your chances for a love relationship are getting smaller and smaller.
For shy people were invented dating sites. There are young and old people who get to know each other, find interlocutors from their own city or even hundreds of miles away, as well as make attempts to find love. In Asia, these sites are incredibly popular.
You may also like: 7 Best Wild Dating Apps for Android & iOS
And that is because people there are shy, and in a huge crowd not always even the most courageous will find the right person. But if you still do not lose hope for a great relationship that can lead to dating and a pleasant pastime, it is worth trying to create profiles on dating sites.
Many of these services have mobile applications so that you will always have access to conversations with new people. We have collected the best dating apps for you among Asians and are ready to introduce them to you right now.
AsianDate: find Asian singles
Is it important for you to communicate with people? We think so since you want to find a person through dating sites. In the AsianDate app, you will be able to talk to and get to know the person before you meet them directly.
The app is designed as a minimalist social network where you can see a list of profiles of the right people for you. The search gives you the most suitable personalities. The profile contains some personal information about the person: their name, age, several personal photos, and interviews.
By going to your personal profile, you can start chatting with the person. This way you will understand if you are interested in this person.
There is also a video chat feature in the AsianDate app. If the person you are talking to likes you and you like you, you can meet them via video link. In the future you will decide for yourself – maybe it is your destiny and you should meet in real life?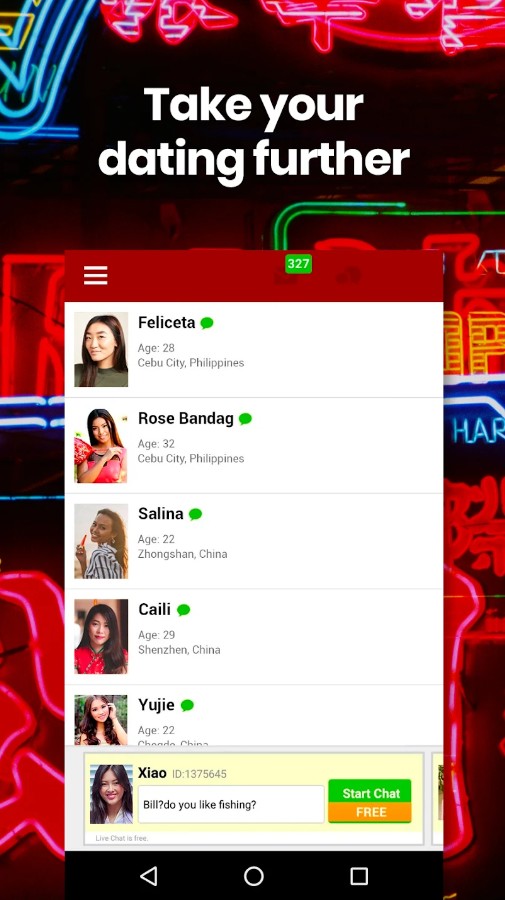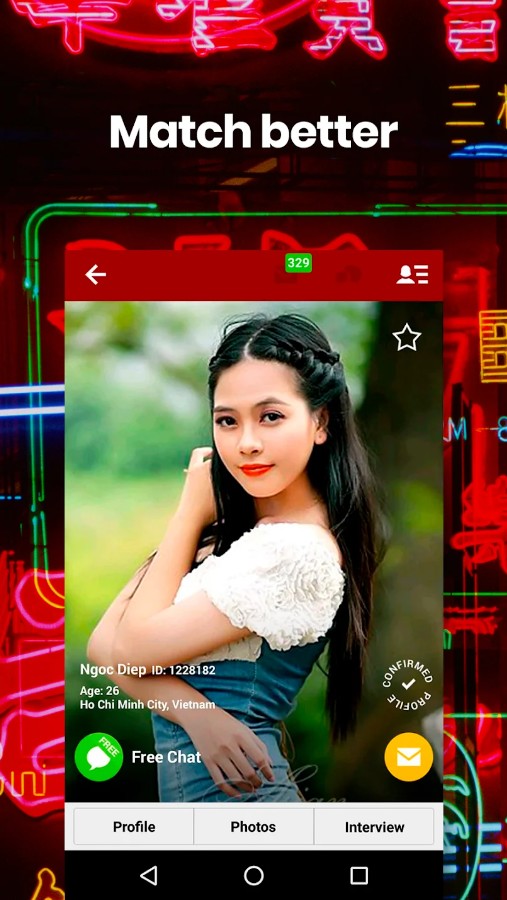 You can also check: 15 Best love poems apps for Android & iOS
ChinaLove: dating app for Chinese singles
Dreaming of a special person in your life? No matter where you are in the world, ChinaLove will help you find your love everywhere. The company has an office even in New York, so even in the United States, you can easily get to know the Asian man to build a relationship.
You can look for relaxed communication, one-night stands, or the opportunity to build a happy family. In any case, the app will help you. You can even look for your love far from your home – the modern world allows you to move freely around the world in search of real feelings.
Initially, you should register your profile, fill in your personal information, and upload some photos. After that, you get access to a huge database of registered users, want to find new acquaintances. Building a relationship has never been so easy – all you need to do is download the app.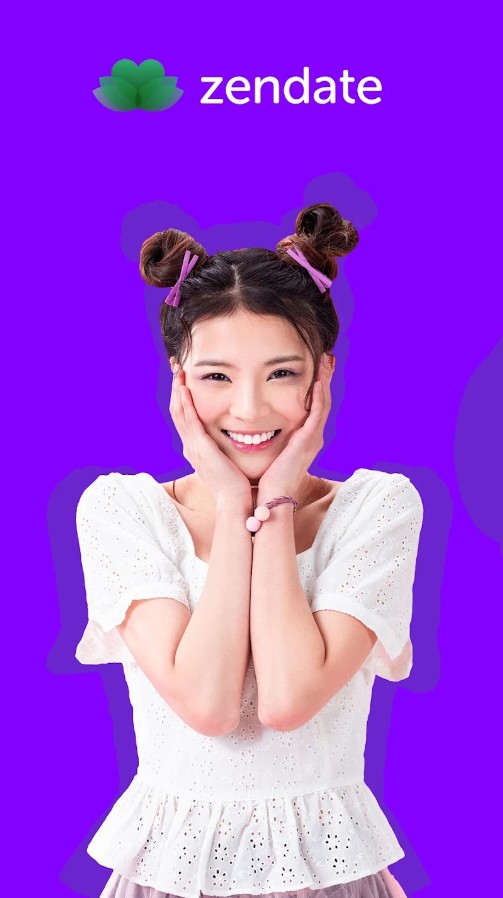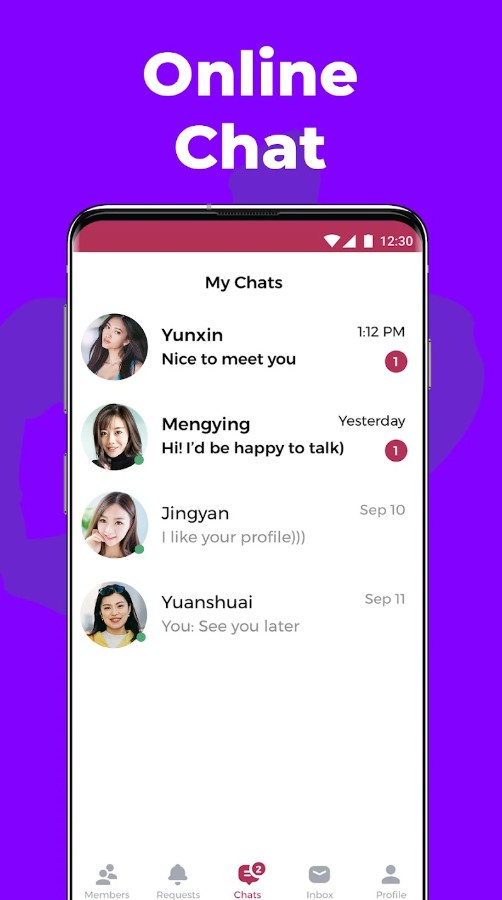 AsianDating
In case you are crazy about Asians and Asian type of appearance in general, you are in the right place. AsianDating contains a database of millions of accounts of lonely people looking for a soulmate and romance. So what is stopping you from helping each other?
Since you can download the application to your smartphone from anywhere in the world, you can register your profile from anywhere. Simply go through a small registration and you will be able to view the profiles of single Asians right away.
Pretty and lovely Asian women who want to find true love have been sitting on AsianDating for a long time. If you want to meet them, then do not hesitate: go to the profile of the girl you like and start chatting. Easy and relaxed conversation in the future can be the beginning of great love.
AsianDating – this is the project of the largest company, which combines several dating sites. Thanks to this, the profile database consists of single people from Philliping, China, Malaysia, and other Asian countries. Make new and interesting acquaintances on AsianDating right now by simply installing the application.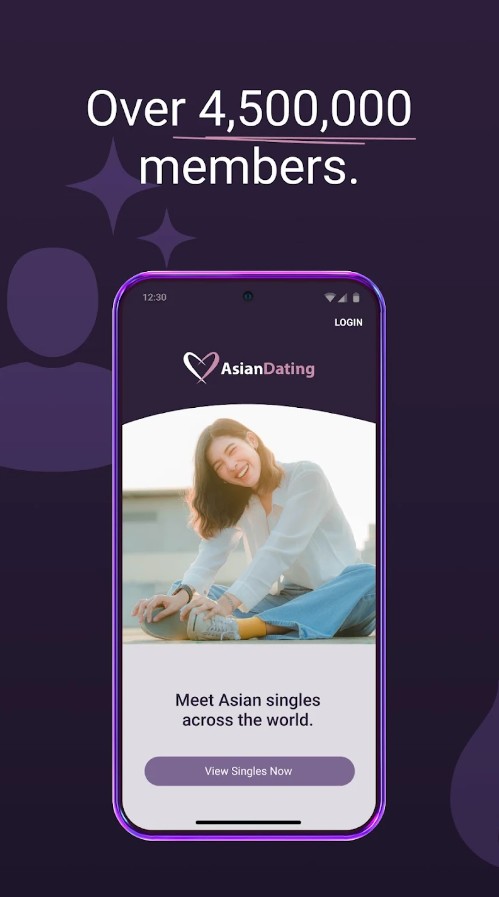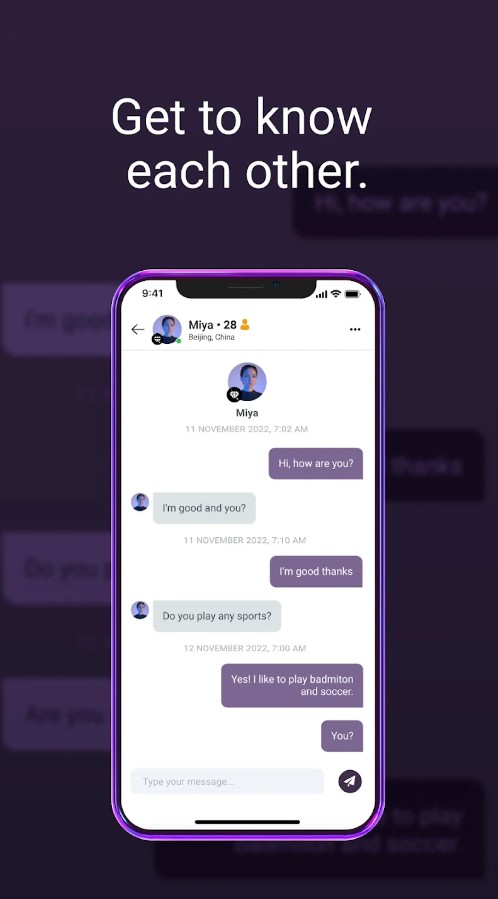 VietnamCupid
Are you in Vietnam or are you planning on going there? Do you want to find a company in advance in order to have a pleasant and enjoyable time? Then VietnamCupid will help you!
The app is designed to meet the people of Vietnam or just the people who are there. VietnamCupid is the leader among the dating people between Vietnamese singles. Your love story can start with a simple app on your smartphone!
Get your profile, fill in the information, and upload real personal photos. You will see hundreds of singles looking for new relationships. Find the right people to look for, and you will find out which profiles deserve your attention.
Advanced messaging features allow you to get to know your conversation partner a little better. Improve your membership and now you won't feel lonely in beautiful Vietnam – new acquaintances will entice you and make time interesting.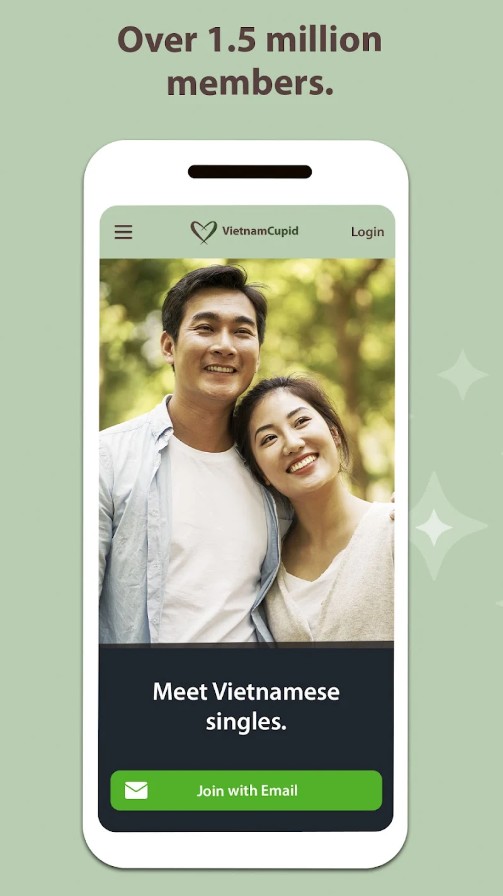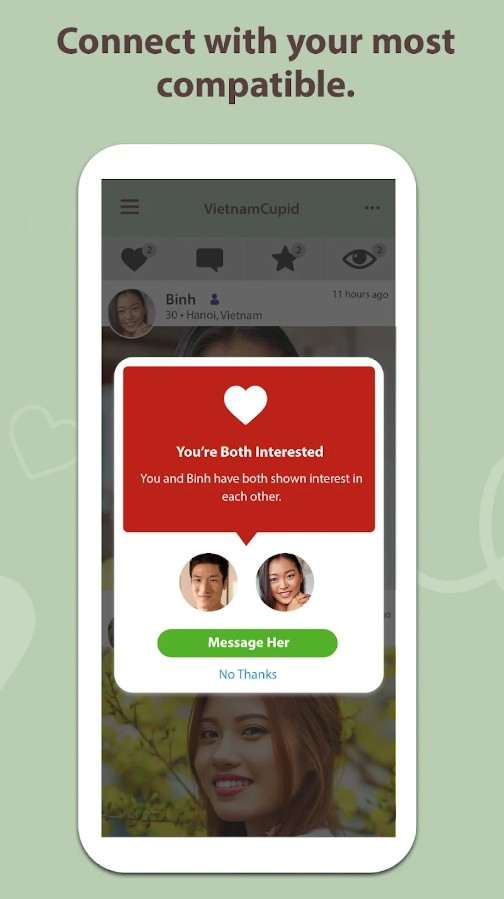 TrulyAsian
Hundreds of girls and young guys want to meet new people and maybe find their true love. TrulyAsian is one of the most popular dating sites among Asians, and now an official mobile app is also available. From the utility, you have access to all databases of the site so that the application is not inferior to the full version.
You can find your ideal pair in Thailand, Singapore, Hong Kong, and other Asian countries. All profiles are verified and the database is fully monitored. You can contact our support team 24 hours a day, 7 days a week if necessary.
Photos from personal albums are available for viewing by all interested parties. If you are a foreigner, the application can be easily translated into your native language. All messages, interests, and suitable profiles are instantly notified to your smartphone – so you will not miss your chance to find true love.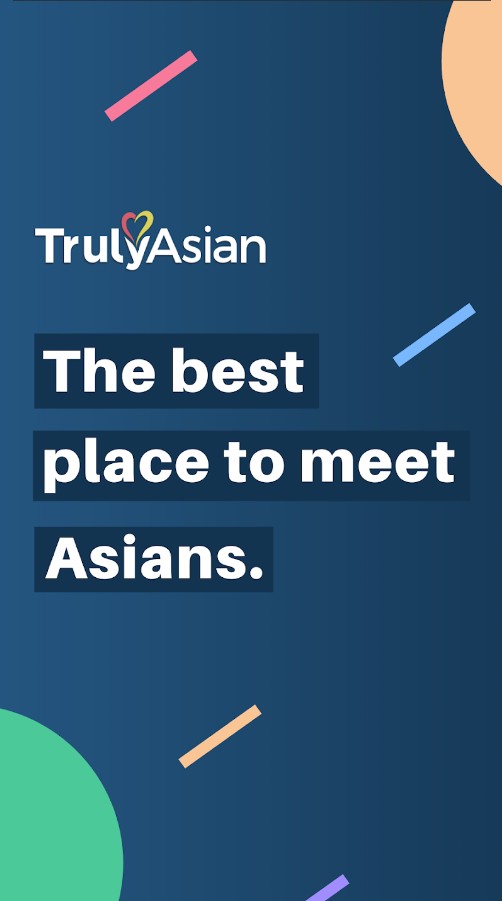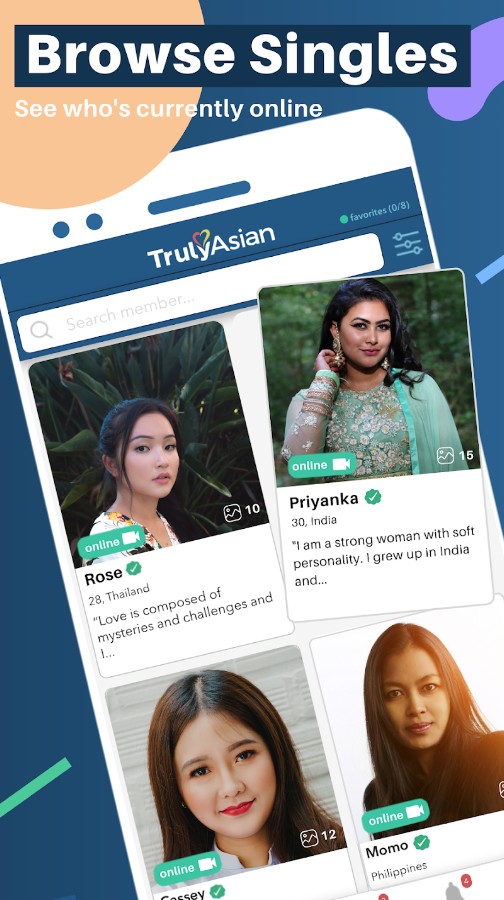 You may also like: 11 Best love horoscope apps for Android & iOS
Japan Social: Dating & Chat with Japanese & Asians
The love sphere in Japan is not the greatest one in the world. It doesn't mean the people are bad, just the culture has its aspects according to which demonstrating the feelings might consider as the impoliteness. What is more, Japanese boys and girls are actually very shy (in most cases) and that's why they go online for searching their love.
However, this app includes not only Japanese citizens, but all Asians in general. If you are in Japan and you want to meet the cute locals, then you should definitely check Japan Social out. The app might be interesting for foreigners as well since there are many people interested in Japanese culture.
Download Japan Social if you want to make new friends chat with, find a date tonight, or finding a long-lasting relationship. Creating a profile is easy here and won't take longer than 1 minute. All the profiles are verified and they can be both video and photo.
This app has a simple and a little bit plain interface design. The user interface isn't too friendly and you will have to dedicate some time to understand how to use it. However, it really works and many users say in comments they have already found the love of their lives in Japan Social.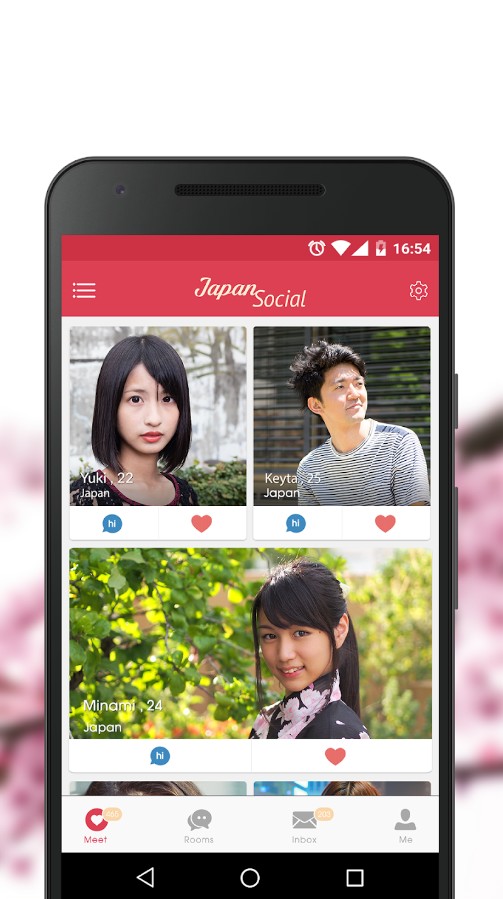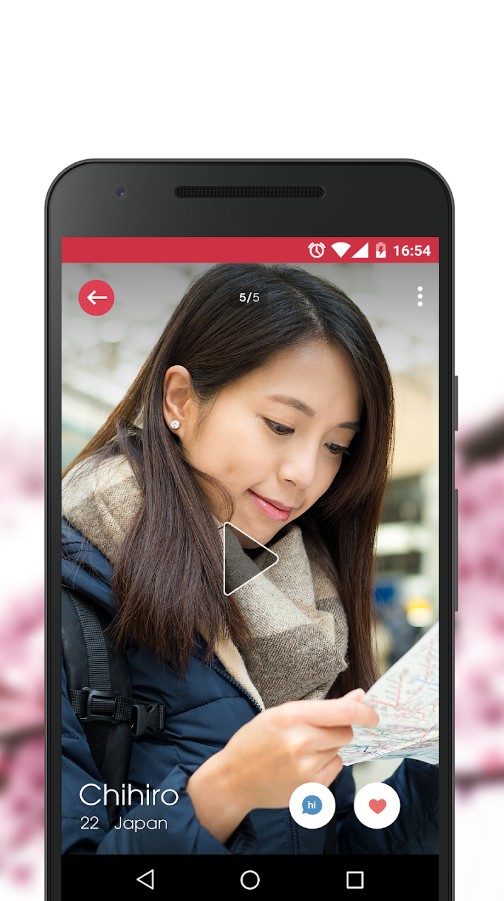 Date in Asia – Hookup Asian Singles. Dating & Chat
As a foreigner and simply a resident of Asia, or as an Asian type of appearance, you are looking for specialized services. The largest network of one of the most common nations in the world will help you to choose the most interesting person for communication.
In search you can find people by search categories – the filter will select the most suitable profiles for you from all over the world. You can meet Asians even when you are in another part of the world!
If you are tired of flipping through profiles and photos of people, you can simply choose a fast track search. It will show you the profiles of people nearby and you can start communicating right away.
If you are single and traveling in Asia, Date in Asia contains millions of profiles of single people. All of them are not against new acquaintances and you can safely meet them and spend some unforgettable romantic days.
These meetings can turn into real feelings – who knows? Maybe you will meet your true love somewhere in Malaysia and be happy for the rest of your life together.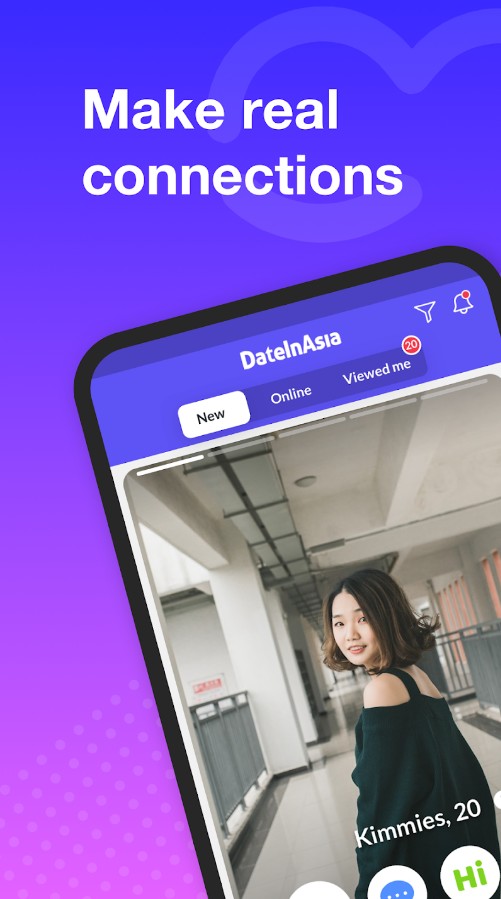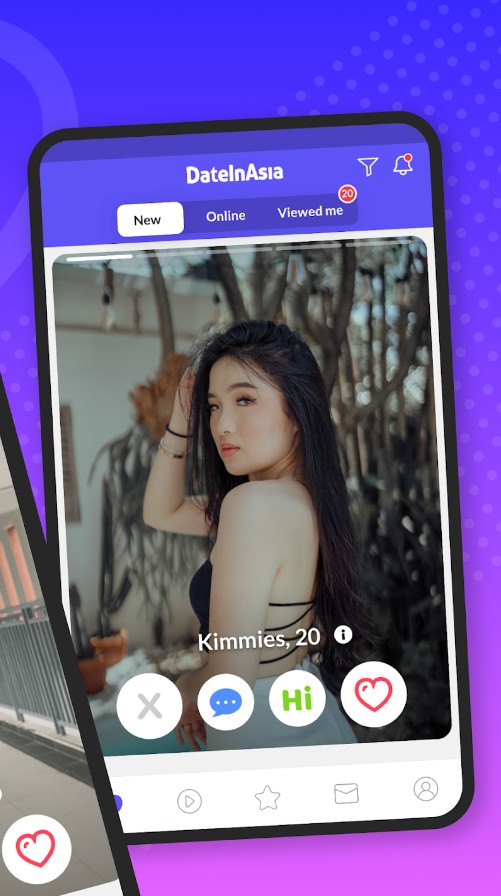 Asian Mingle – Free Dating and Chat
For those of you interested in video dating, Asian Mingle is an application designed specifically for you. It is considered to be one of the best dating apps on the Asian dating market and has high marks among users. Millions of single Asian guys and girls are waiting for someone to get interested and want to communicate.
For your convenience, there are tags in the profiles and chat rooms. With the help of tags when searching you can immediately find like-minded people or people with the same goals as you.
If you are interested in a simple meeting at the bar with a possible continuation, you will find at least a few profiles of the same users. You can meet people from all over the world directly from Asia, or you can meet Asians as a traveler. Locals are interested in finding new relationships – what if it is their destiny?
Asian Mingle has a new development of flash chats. These are chat rooms with a message timer. That is, you can send photos, videos, and audio content to new acquaintances, while they are removed after a certain period of time.
Your data is always protected and your chats are fully controlled by you. Install Asian Mingle and find someone you like.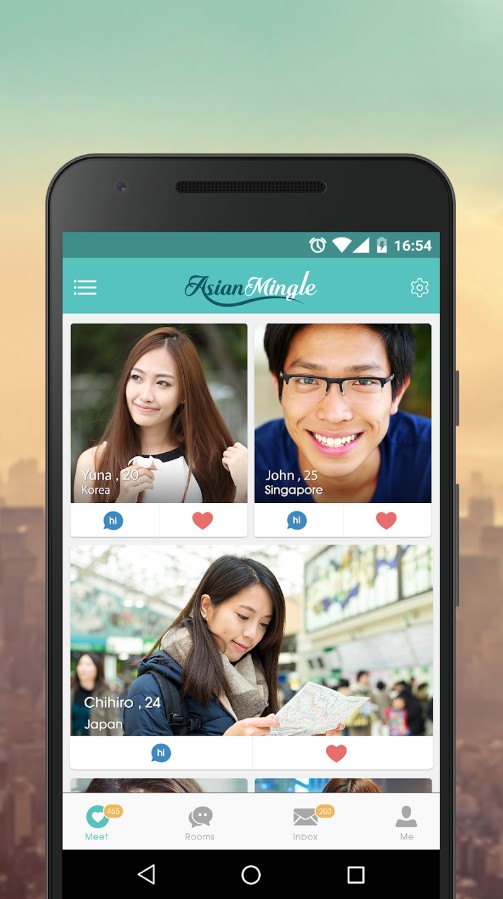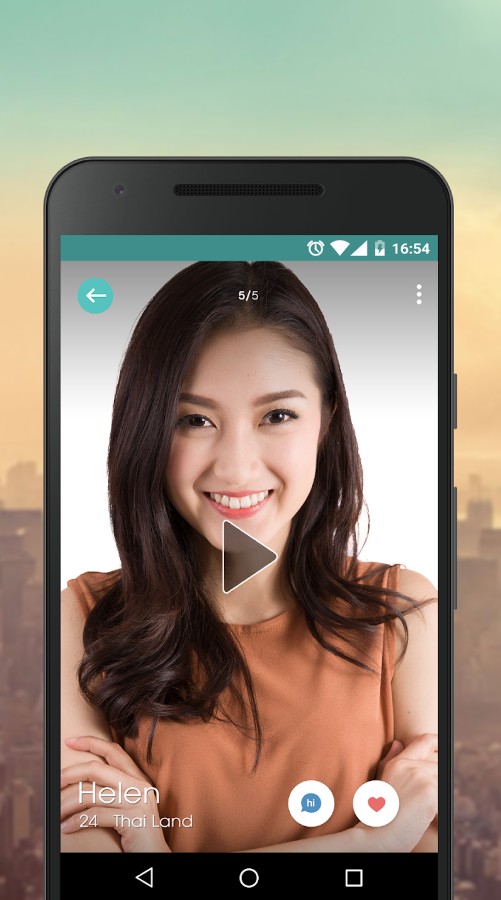 TanTan – Asian Dating App
The app's intuitive interface allows users to browse through profiles of individuals with shared interests and preferences. By swiping right, you express interest, and if there's a mutual match, you can initiate a conversation.
Through text messages, voice notes, and even video calls, TanTan provides a versatile range of options for getting to know your potential match better before meeting in person.
Its algorithm takes into account user preferences and behavior to suggest potential matches that align with their interests, increasing the likelihood of meaningful connections.
Also, the app's user base is diverse, providing a broader pool of potential matches, and its user-friendly interface ensures a smooth and engaging experience for users of all ages.
In conclusion, I can say that TanTan stands out as a dynamic dating app that simplifies the process of finding potential partners.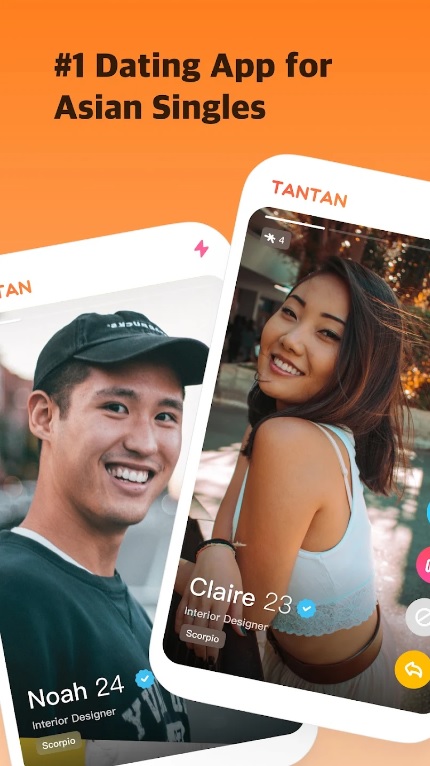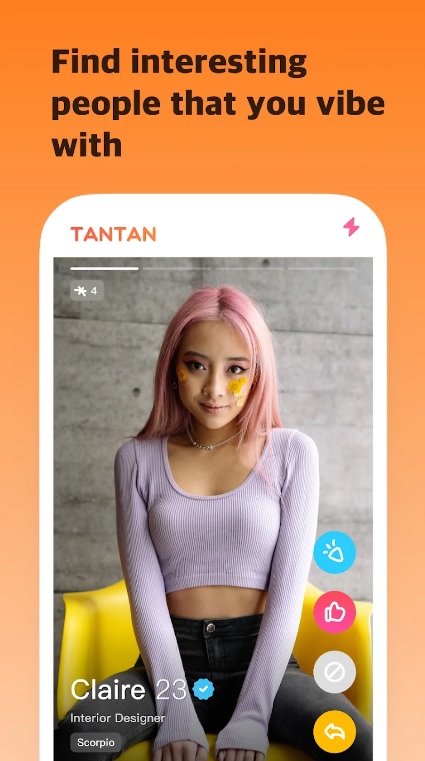 DateAsia
DateAsia, a remarkable dating app, brings people from different cultures together, providing a platform for meaningful connections and diverse interactions.
Users can create profiles that reflect their interests and preferences, making it easier to find like-minded individuals. The app's advanced search filters allow users to narrow down their choices based on criteria such as age, location, and interests.
For chatting, DateAsia offers a range of communication tools that cater to different preferences. From traditional text messaging to expressive stickers and even video calls, the app ensures that users can engage in conversations that suit their communication styles.
The app bridges geographical and cultural gaps, allowing users to connect with people they might not have encountered otherwise. It encourages cross-cultural understanding and appreciation, which can lead to enriching experiences and relationships.
Finally, I believe that this platform for dating can become your chance to find real love.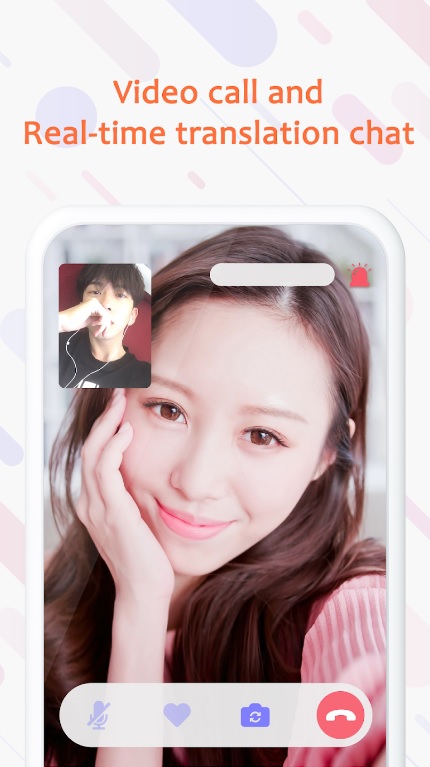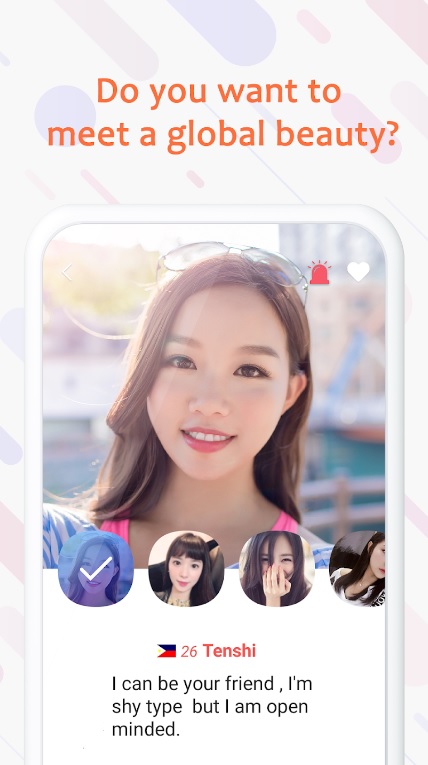 You can also check: 15 Best Bisexual Dating Apps for Android & iOS
Bluddle
This is the free dating app for Asian people for singles, single parents, gay and bi guys to connect and find their love match based on their Blood Type. However, it doesn't mean you will need to get the medical analysis card or something like that in order to find a match.
Blood Type is rather a metaphoric expression here. In reality, you can search partners according to gender, age, availability, ethnicity, distance, and blood type (obviously).
The app is made in a way that you get the quality over the quantity. What is more, Bluddle is the first video swiping chat app – so you won't be picking your match just by looking at the photos and guessing if they are real or not. Moreover, the video format makes you go out of your comfort zone.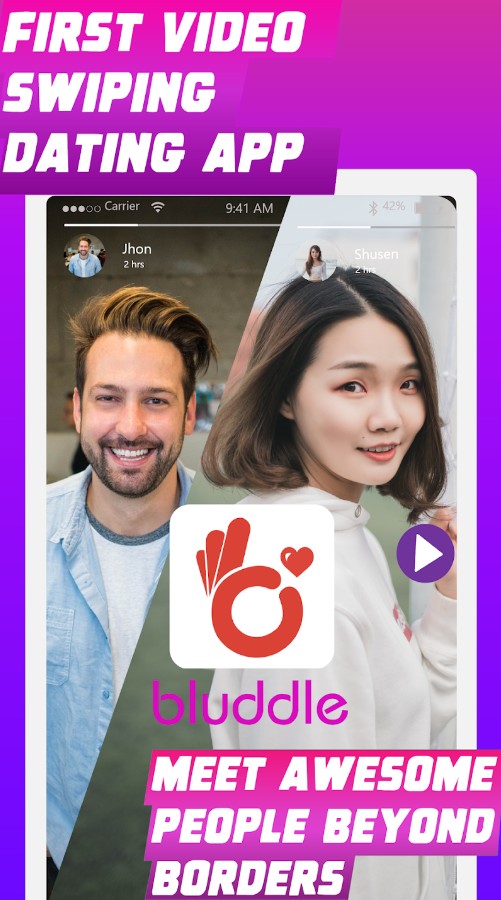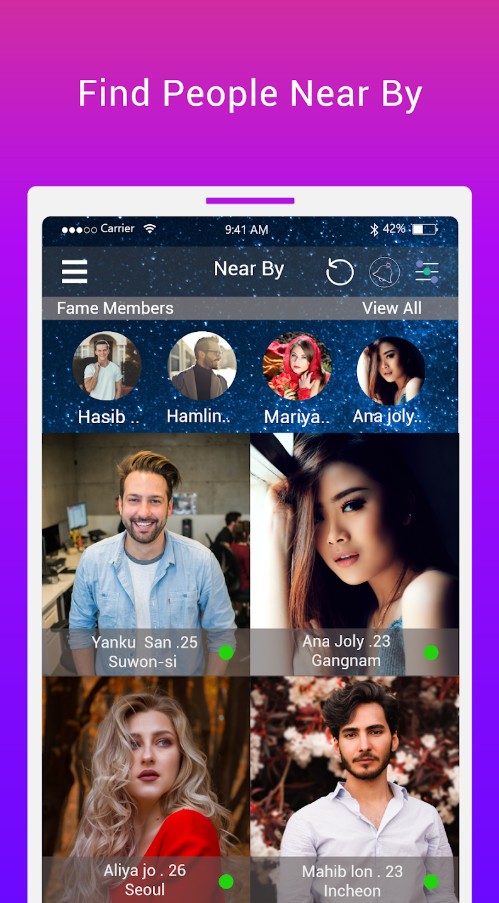 Accidentally ended up in Asia? Or have you been planning a trip there for a long time? It is not important at all! The developers have created a lot of applications in order to facilitate people's communication.
If you are a fan of Asian culture or you just like the appearance of nice Asians – then you will definitely become a regular user of such services. Dating sites are created in order to recognize from hundreds of simple people around you the "same" person, unusual and unique for you.
Your preferences are taken into account with the help of search filters. Travel can be brightened up with new acquaintances, light flirting, or distant relationships. The romance of such a relationship is amazing!
Find a company for the evening, plan your vacation, or just find someone to talk to for the evening. Asia is a treasure trove of interesting people and you can find several of them just by installing one of the applications on your smartphone. Open up to new people!