Being a student often means having twenty-five hours a day. Young people have to meet the deadlines at college, spend a solid amount of time on homework, and sometimes even work! To help students we have made a list of free time management apps for students.
The services in the list perform different functions such as file and information storage, task management, and concentration. And for even better productivity, we recommend students check our collection of day planner apps.
Google Calendar
Google Calendar is a powerful tool since it comprises everything you may await from a Time Management app. Firstly it automatically synchronizes with your Google Account and your Gmail Profile. The app adds all meetings (including virtual), ongoing events, urgent tasks, and even hotel reservations to your calendar tab.
Secondly, adding a new tab has never been as simple as here. You just pick up the date and enter the name of your new target, reminder, task, or event. Add all the necessary information: who can access the tab, whether your meeting presupposes a video call if you can attend it, etc.
Finally, write as many details as you like in the description field and attach files of any type. You can also mark whether the time of the event is specific or if the date only is important.
Once you have created your tab, you can change its color by choosing one or even create your own by using a browser extension. The Calendar offers the same function as a desktop version and helps you stay organized with any device you choose.
Therefore, you now have a great tool with a variety of features to make your life much easier and to use your time wisely.
Key features:
Google Account synchronization
An extensive set of features
Clear calendar visualization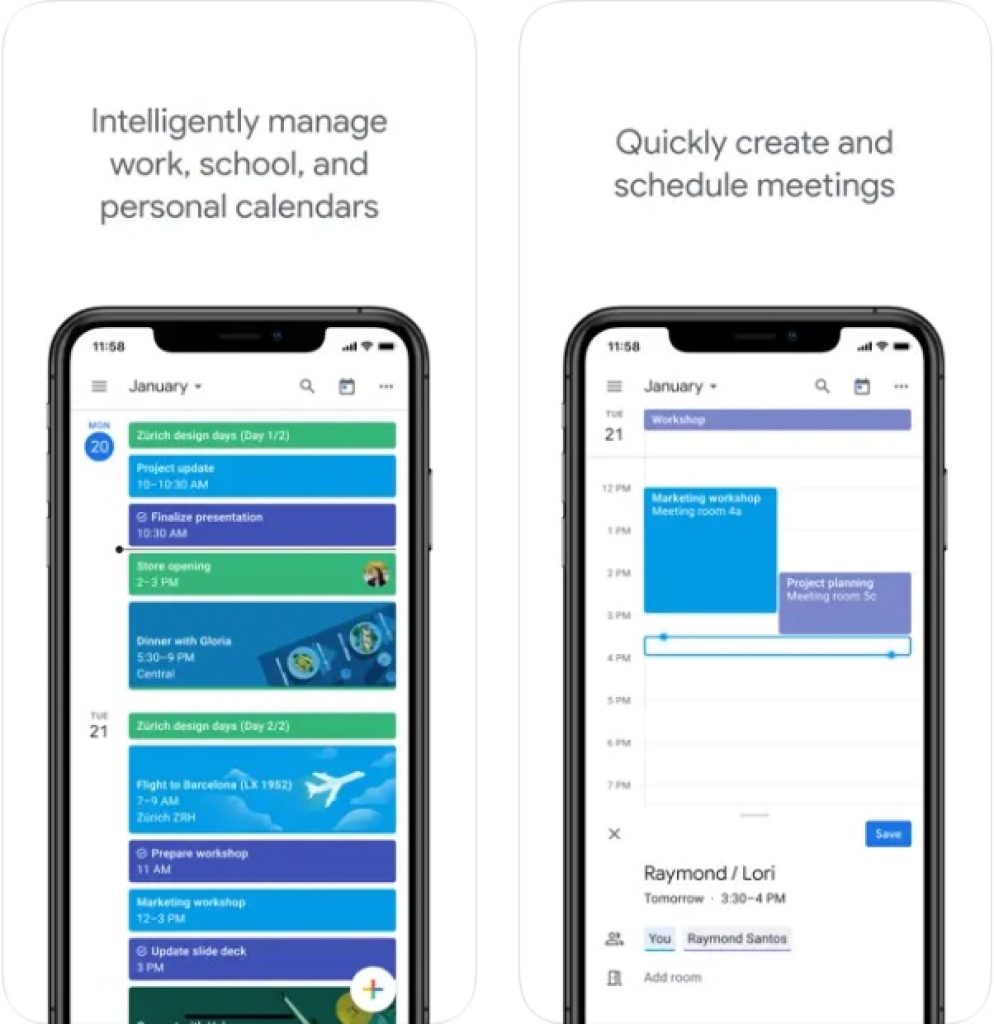 You may also like: 10 Best Time Blocking Apps For Scheduling
Google Keep
Google again? Well, it seems so, as these guys know everything about time management. Let's see what we can do with Google Keep – an app to bring your notes in order and save you hours of free time.
Like any other Google product, this one also connects all your devices. If you add a note in your phone app, it automatically appears in the desktop version.
As with the Google Calendar tabs, you can make your notes super personalized. After you type the title and content of your note, you can activate the 'Remind me' function. If you want to let other people edit the text, then add other collaborators who have their own Google Accounts.
As for the contents, you can press 'Show tick boxes' to make your note look like a list. Add an immediate drawing or a picture that you can upload from your phone files. And a very pleasant feature for students.
If you want to have any image you wish as an edible text version, simply upload it to Keep and choose Grab image text.
Your note can later become a complete DOC file. You can simply press 'Copy to Google Docs' and have your note as a text file in your Google Drive. What's more, you can share the text with any user on any messenger or social network.
Now let's take some notes about categorizing and organizing what we write. In Keep, you can make labels that represent categories. Give your note a label and enjoy an order that will establish when everything has its place. And don't forget about priorities – pin what's most important now.
Key features:
Google Account synchronization
'Grab image text' feature
Good categorizing system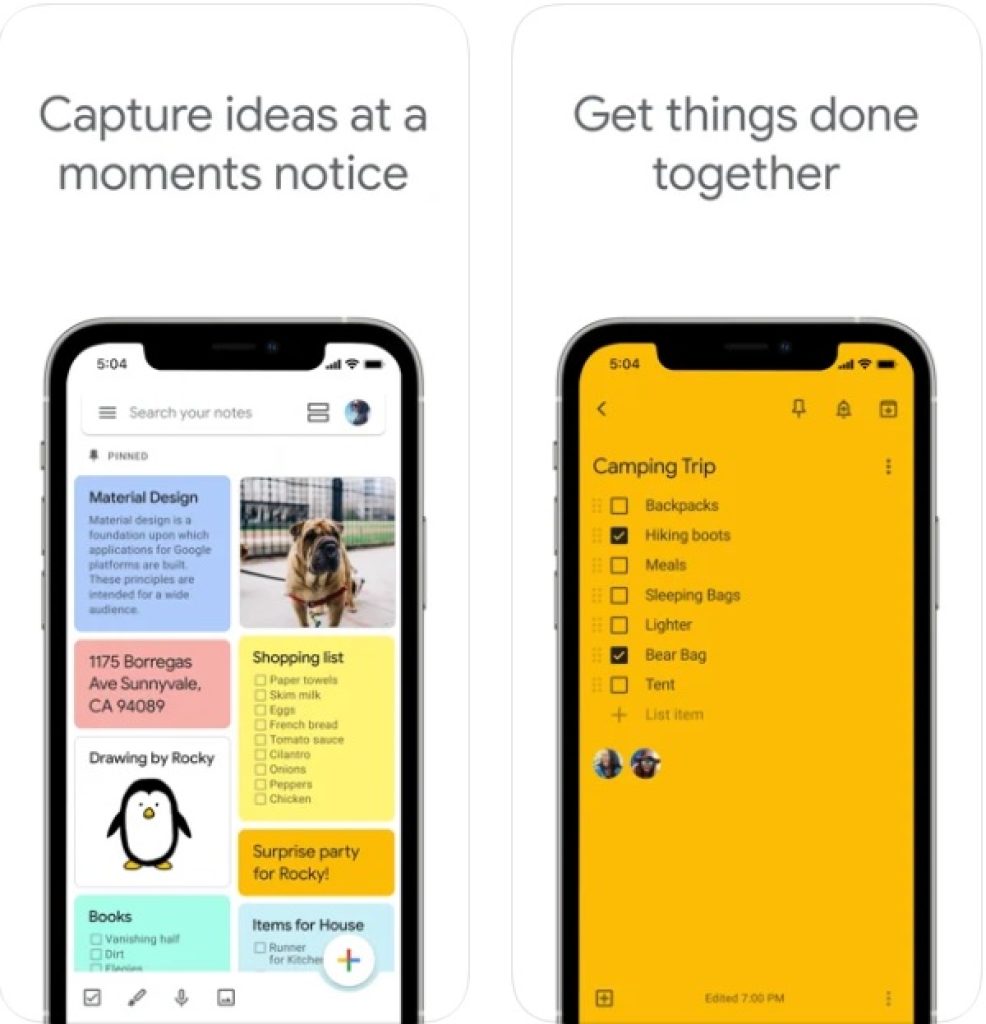 MindNode
We would like to continue the topic of notes and proceed to the following app, which is MindNode. The name of this one speaks for itself – MindNode focuses on the popular method of mind mapping.
A mind map is a way to organize information that visually represents connections and hierarchy between plans, ideas, goals, or anything you consider relevant to think over.
Start your mind map by creating a Main Mode – a central idea of your map. Next, you can add the so-called Parents and Children. A Parent is an idea of a higher level, a Child is the one of a lower one. Therefore, you get a branched map that makes prioritizing and analyzing easier.
You can also make your map look like a bulleted list. Such a visualization emphasizes the hierarchical relationships between the ideas. Unfortunately, this function is almost everything free mode can offer. Paid status Pro unlocks using ready-made maps, adding stickers, and many more functions.
Key features:
User-friendly interface
Beautiful visualization
A limited number of functions in the free version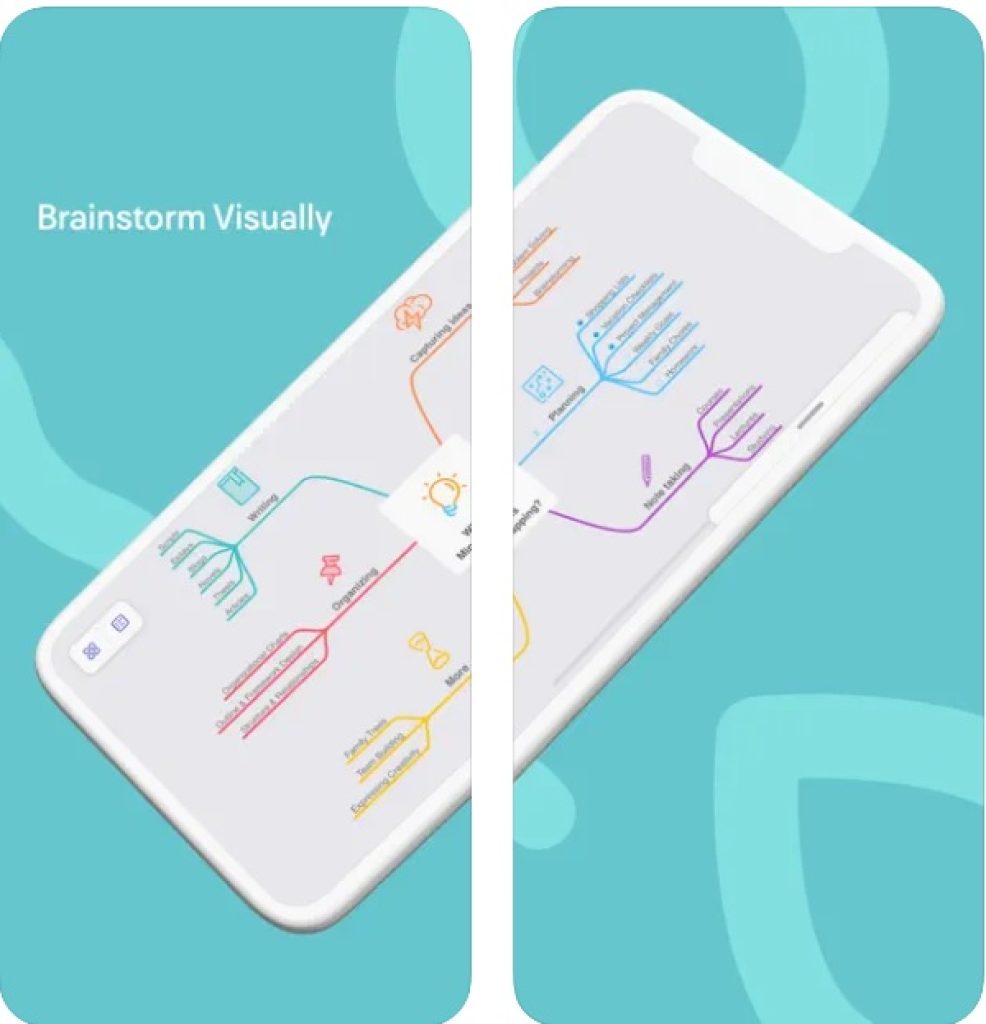 Quire
We have already discussed some apps based on the idea of note taking and some based on the calendar concept. Have you ever wondered what would happen if all that combined to help you organize your team projects without wasting your time and nerves? Even if you haven't, we have the answer – Quire will!
Quire's concept is a bulleted list that helps break down a big task into small steps. Not only it is more effective since this way it's clearer what to do, but also it benefits the mental state of the team since small steps seem much more realistic to accomplish.
After creating your task list, you can attach a team member who will be responsible for each step. You can add many details. Write the type of the event, where it will happen, and what aspects your team members have to supervise, like logistics, preparation, check, etc.
With the help of a Gantt chart, you can analyze and estimate the progress of your work. See the status of each step, whether it is ready or still in progress, and praise yourself for every little step complete.
Key features:
Extensive information about the tasks
A powerful community tool
Cool visualization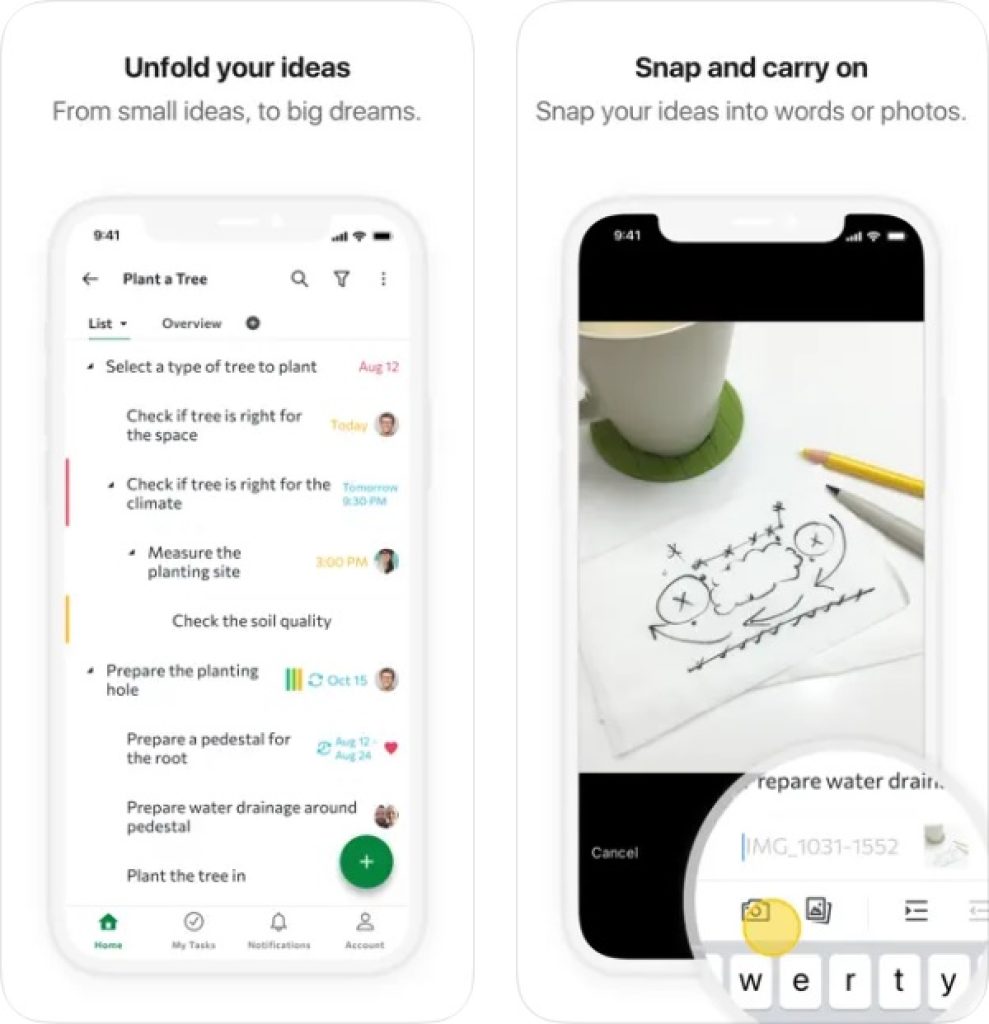 Trello
Another good opportunity to significantly simplify work if you have a shared project and have to work in a team is Trello – a team-oriented product from the Atlassian group.
Firstly, you will have to create an Atlassian account which gives you access not only to Trello but also to other tools from the company, such as Jira. Once you are in, you can start your work by creating a workspace.
A workspace in Trello correlates with the task you have to accomplish. To subdivide it, you have to create boards.
A board is a classic representation of a to-do list familiar to everyone since the times of "The Office". It seems that this idea has never lost its popularity, no matter whether we use modern technologies or not.
The division of the lists on the board that Trello offers is "To do", "Doing" and "Done". You can add cards to make any list longer, or create a new list that will look like a sticker pinned to an office pinboard. You can also label each card to simplify the searching and filtering process later.
If you are a great fan of classics, you can use this app for your needs. In Premium mode you can even have as many workspaces for you and your team as you like.
Key features:
Cool visuals
A team-oriented product
A classic idea of a time-management tool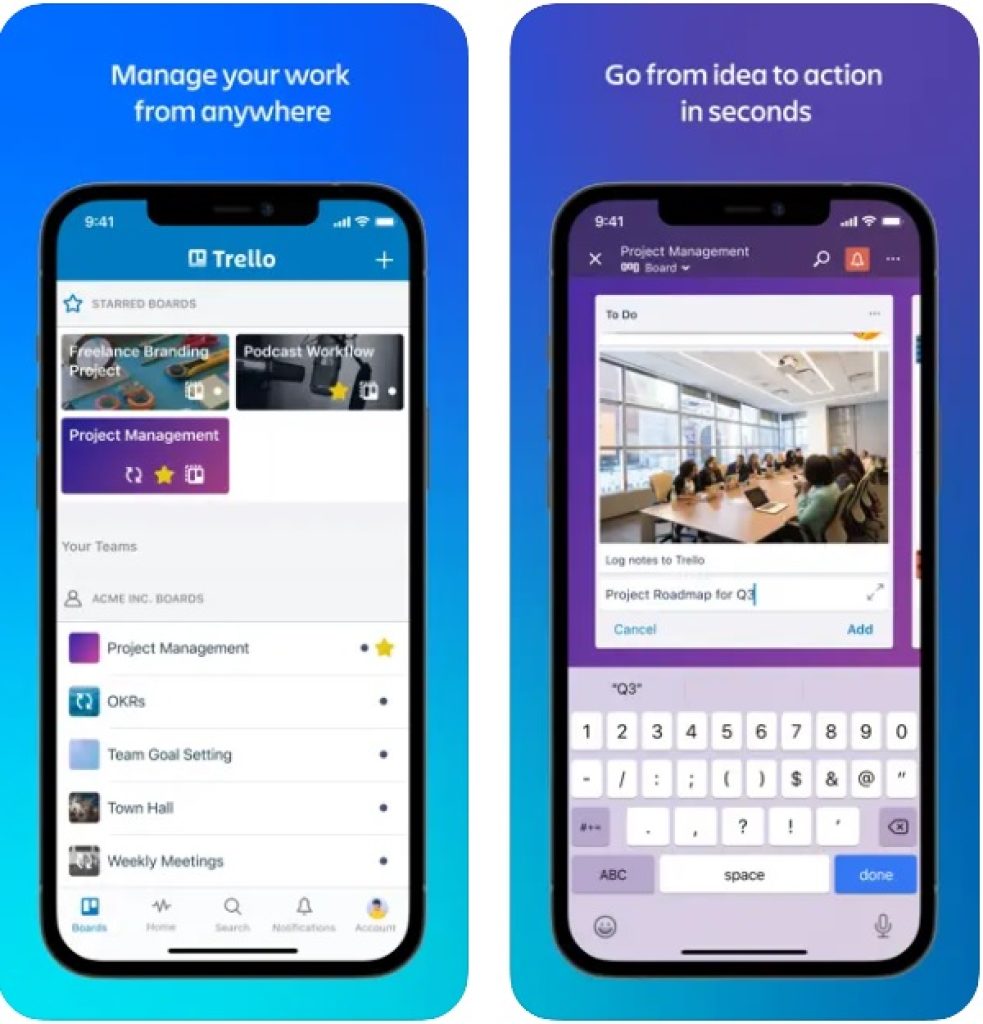 You may also like: 11 Best exam preparation apps for students (Android & iOS)
MyLifeOrganized (MLO)
Life Is Simple When Organized – it's hard to disagree with the motto of MyLifeOrganized, the app that was created either for Total Commander or Linux OS fans.
Okay, just a joke, however, it's true to some extent since if you have trouble with using Total Commander until you discovered File Explorer then you will find the interface of MLO a bit complicated.
Yeah, MLO is for passionate lovers of classics and of restricted sets of functions at the same time. The app is built on a classic system of a bulleted list: you simply add more general tasks and then break them into smaller steps.
You can add as many levels to the hierarchy as you want. If there are too many, you can opt for 'Zoom in' and 'Zoom out' functions to move between bigger and smaller tasks.
What unites this app with Linux is that you can use such options as <Move to the Root Folder> and some other of the type. As you can see, MLO will be great for those accustomed to the text and tired of many different variations many modern products possess.
Key features:
No visuals
Basic classic to-do list option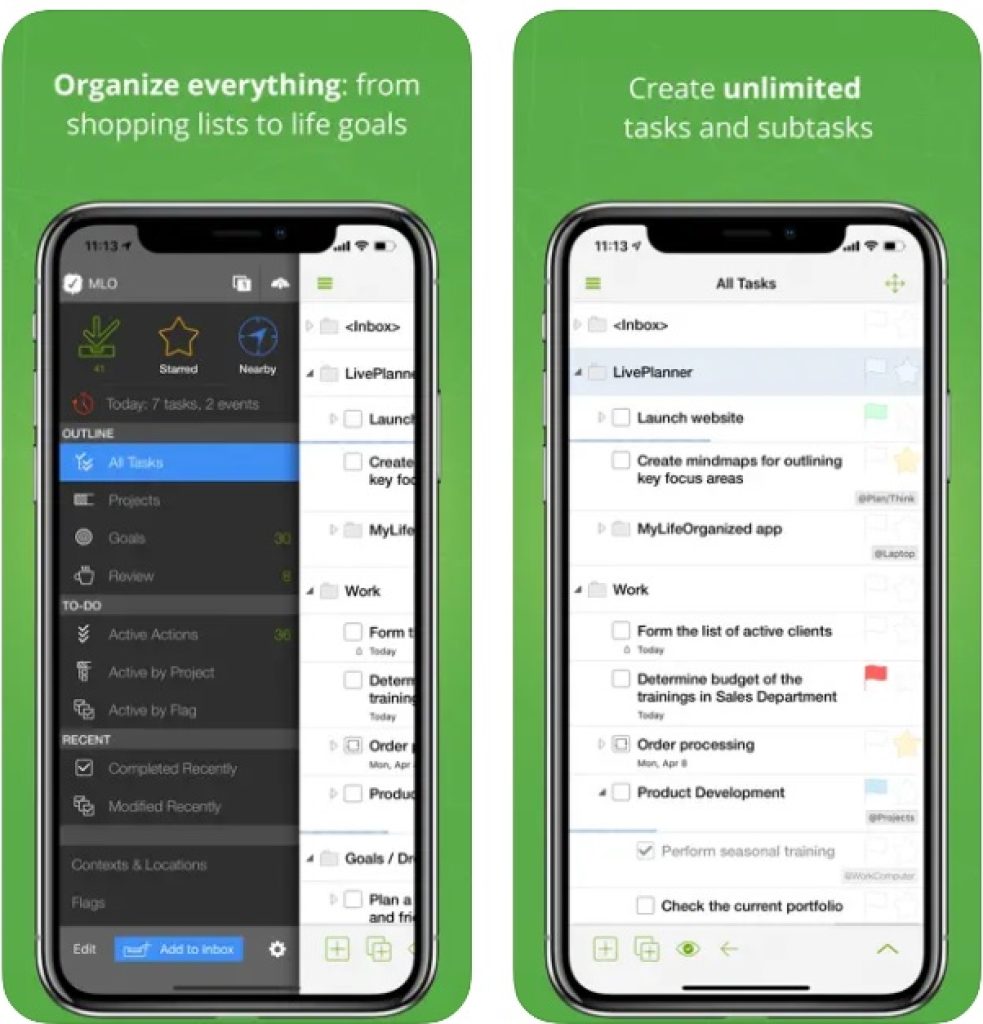 Forest
Aren't you tired of all those task managers? Well, if you are, then it seems we have forgotten about the Pomodoro technique. It is a well-known simple principle that divides work into 25-minute intervals, separated by short breaks.
The first app that helps you organize your work and break time we would like to introduce to you is Forrest.
It's quite hard to imagine how a timer can be more than a basic timer. Forest though is not only a timer – it's a game! When you are concentrated for 25 minutes and don't overuse your phone while studying you plant a tree in your private garden.
Premium access in every app gives a variety of opportunities. In Forest with Premium you will get guidance through your concentration journey, as well as very detailed colorful charts for the statistics. You will even have the opportunity to plant a real tree! Just by staying focused!
Key features:
Inspiring visuals
Share your garden with friends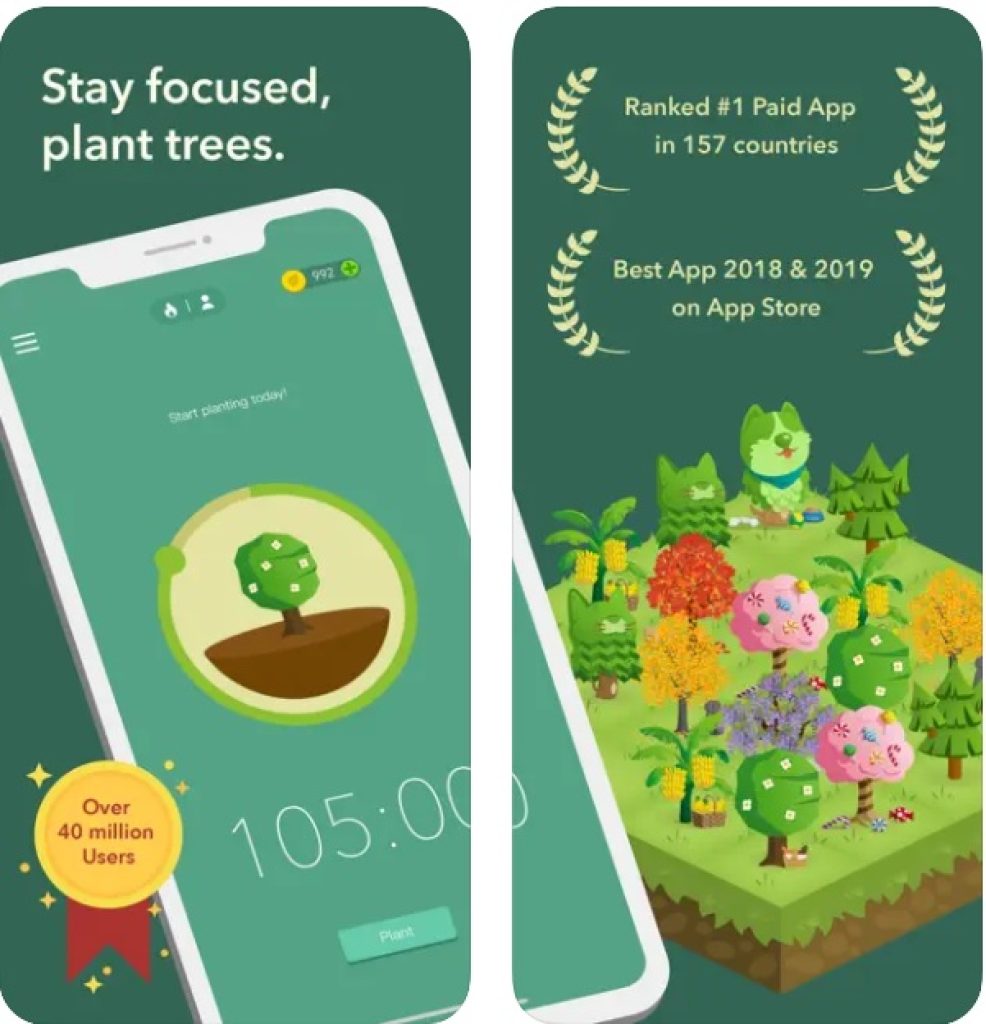 Plantie
Plantie is very similar to Forest. Here you can set your timer starting from five minutes and kick off your work. If you quit the app and start doing something else, you receive a notification that politely asks you to come back and focus on your task.
In Plantie you can choose various plants to grow, but you have to buy them for coins. You can only get coins once you stay focused during the time you set. The trees are quite expensive: the coolest one, the Christmas tree, costs 300 coins, which means you have to complete 300 timers to buy it!
The statistics here are not as detailed as in Forest. However, it is present here, and it is free. In Forest, you won't get any information until you upgrade your account to Premium.
In Plantie you will have a small calendar that shows your progress over time and how many tasks you complete each day. Quite a pleasant bonus.
And one more thing. Who doesn't love achievements? Quite a rhetorical question since we all like having a badge of pixels. Enjoy collecting badges in Plantie, given for collecting 10 coins, staying focused for 10 hours, etc.
Forest is paid in App Store, while Plantie is free both for Android and iOS users.
Key features: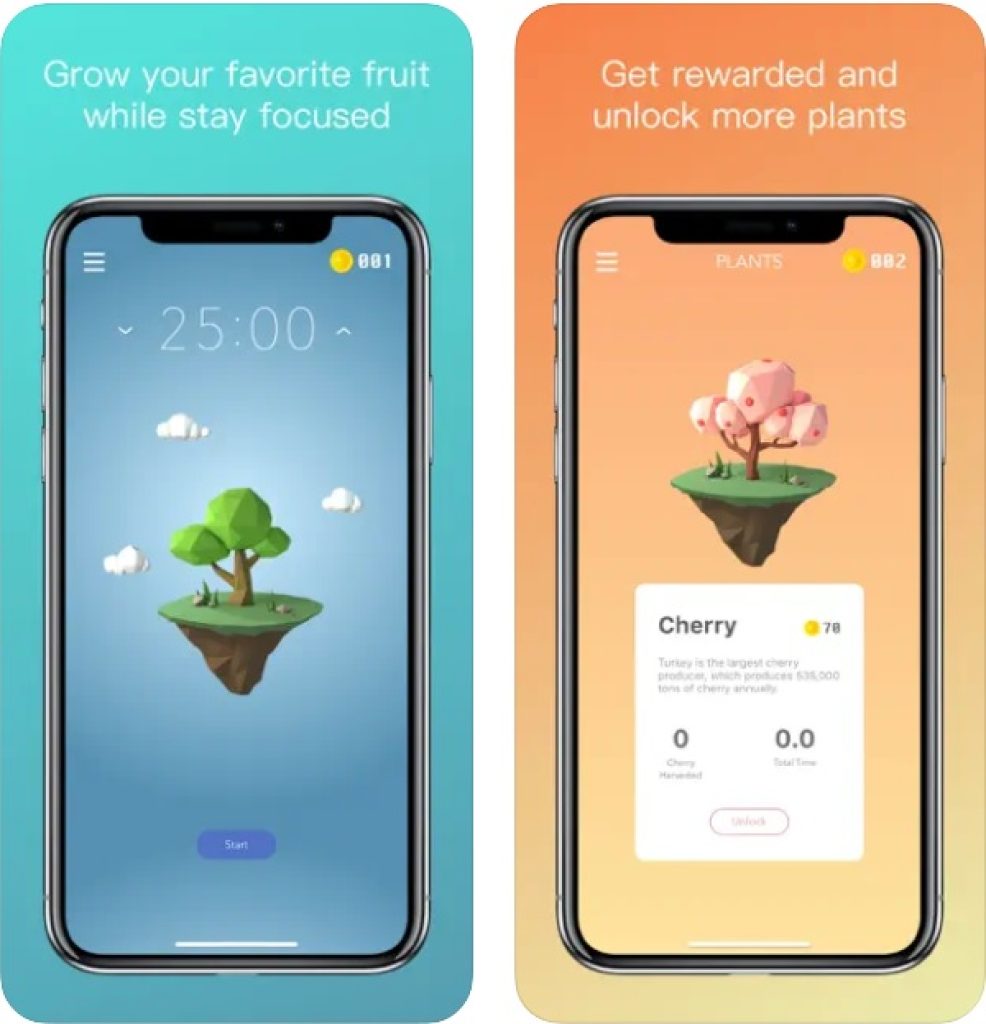 Focus Keeper
Another app that features the Pomodoro technique. It's clear when you look at the icon, which is a beautiful laconic tomato.
What is special about Focus Keeper is that you can not only stay focused but also understand what you are focusing on. Once you set a new timer, you have to write the name of your task.
Then add a stylish colorful icon – and enjoy a ticking clock dividing your time into work and break intervals. If ticking distracts you, just turn it off by choosing 'Mute Ticking'.
You can set tasks you would like to focus on depending on the day of the week. If you have studies on work days and swimming classes on weekdays, just add them to the calendar – and you will not need to set all the settings again.
As for statistics, here you can see your Daily and Weekly Overview. It comprises the number of sessions and total work and breaks time. You can opt for a Premium mode if you want more detailed data.
We can say that this app may seem basic, but it's the first impression only. It is in fact one of the best Pomodoro apps with quite an extensive variety of tools you can get for free.
Key features:
Set your schedule
Change the duration of work and break intervals
Give your timers names and description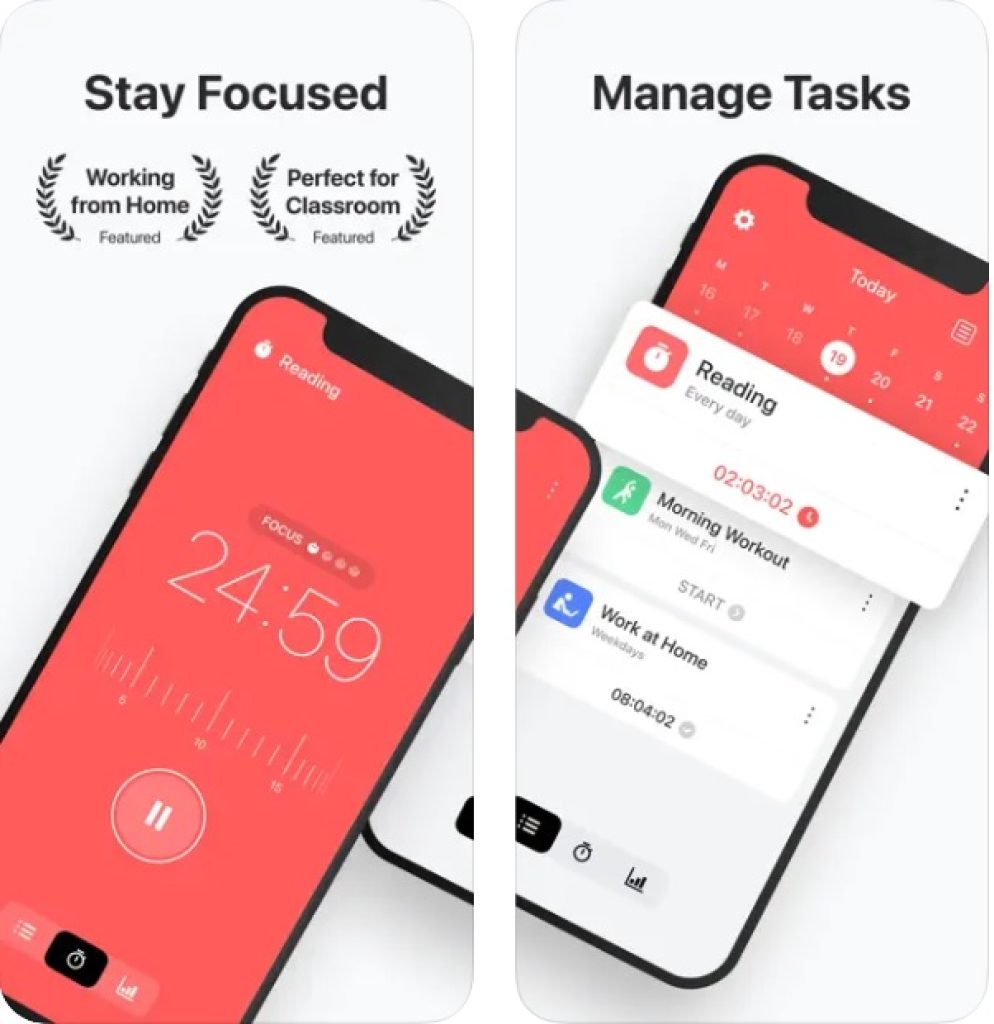 Toggl
The last Pomodoro app we would like to show you today. Are you already tired of entering all the numbers for the timers to stay concentrated? In Toggl you can control your time management with the help of your voice!
Simply tell the app how much you would like to stay focused – and it will do everything else!
What is also good about Toggl is that it synchronizes on all your devices. If you want to start working on your laptop and then switch to your phone, you are free to do so. The app saves your progress and your timer, so you can return to it whenever you want.
We appreciate calendars and think that they are helpful in life. In Toggl the tasks are visualized as a calendar. Here you can see your events, immediately create timers based on your schedule, and receive notifications not to miss anything.
Key features:
Device synchronization
Calendar function
Voice control
Widgets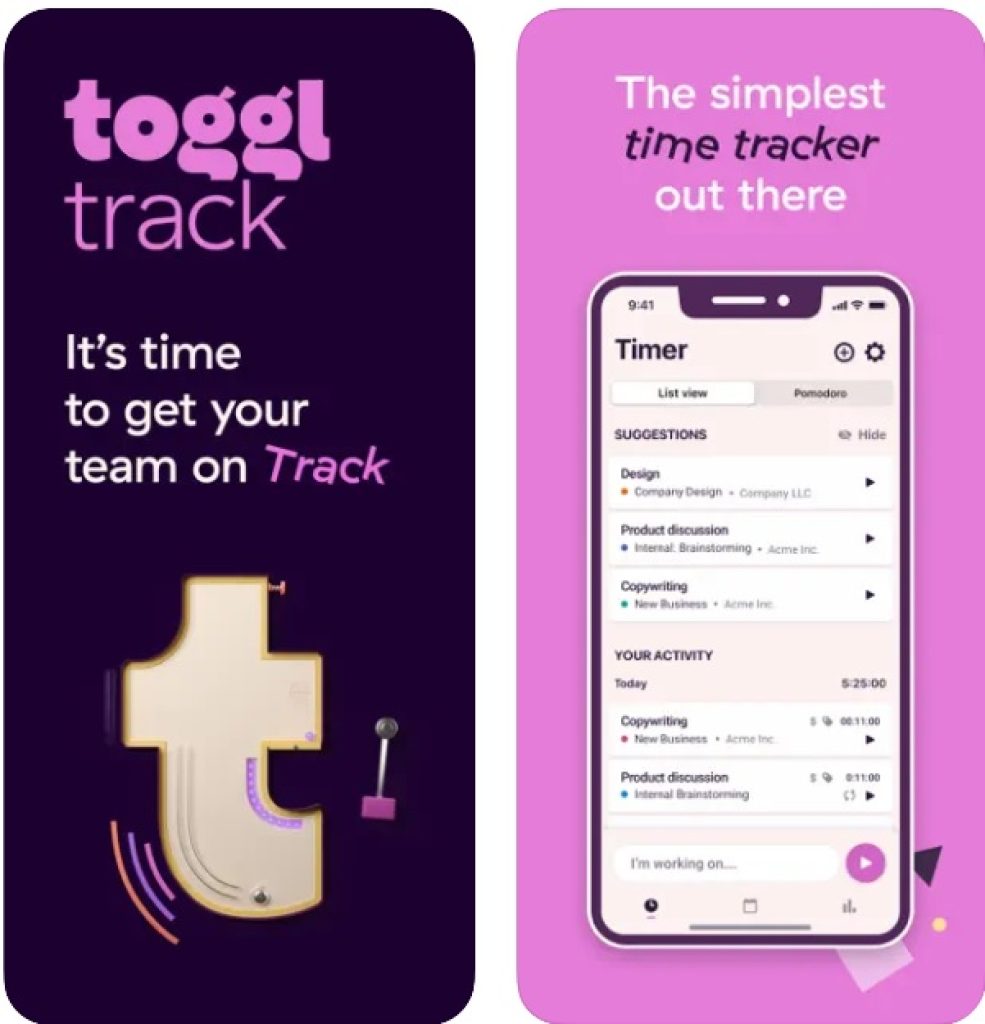 You may also like: 11 Best SAT Preparation Apps for Android & iOS
SleepCycle
Everyone who has ever been a student understands the difficulty to have a night of normal sleep. Tomorrow you have a test, today you have a night party, and yesterday you were on a romantic date. How can anyone even close their eyes when so many things happen?
Sleep Cycle is aimed at helping you to build more or less persistent sleeping patterns. It won't lecture you and reproach you that you don't sleep enough. It will just track the time you sleep and help you to wake up when you need it.
How is it different from a basic alarm then? The thing is that Sleep Cycle tracks your breathing and analyses which sleeping phase you have now. It won't wake you up if you sleep too deeply, but will wait for some time to help you get up with comfort.
Whenever you go to sleep, there's always a chance to wake up fresh since sleep phases change each other quite often. You can also watch the statistics and analyze the outline of your college life. Work hard, sleep hard!
Key features:
Sleep phases tracking
Pleasant alarm music
Statistics